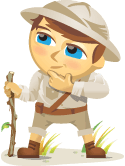 Are you looking for the hot marketing trends coming in 2016?
Do you want to know where social media pros are focusing their attention?
In 2015, new platforms made a big splash and several popular networks monetized.
To get you ready for what's coming next, we asked 14 social media marketing experts what to watch for in the new year.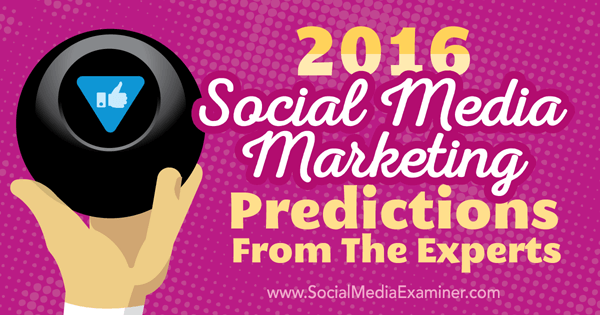 Here's what they had to say:
#1: Social Media Goes Private

Make no mistake about it, the most social of social activity is going to happen in two unique and private places: private groups and messaging apps.
Whether it's on Facebook or LinkedIn, we're already starting to see usage of private groups take hold and a surge in people creating them. It's no secret that if you ask power users on Facebook where they're seeing the most value from the platform, it's coming from the private groups that they're part of.
Snapchat started this, but the shift to messaging apps (think Facebook Messenger, WhatsApp, Line, etc.) is going to force brands to get a lot more private and personal with their social media expenditure.
What does all of this mean? We are pushing ever closer to a new kind of social media: one that happens on these public and for-profit channels and networks, but one where the best (and possibly most valuable) content can only be seen by those who are granted permission to see it… or by a small group of people.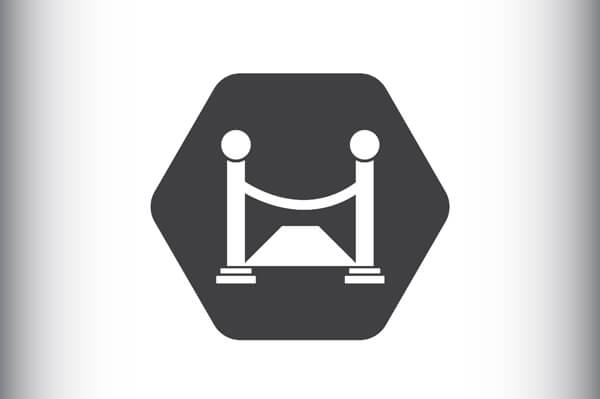 It also means that customer service is going to shift to messaging and private group spaces, and that brands will be expected to provide this level of communication between them and their consumers.
The last part of this equation, which proves to be most fascinating, is that this usage and growth is fundamentally a mobile experience. This will be brands' biggest struggle in 2016, as they're still ramping up to provide responsive web experiences that aren't mobile-first by design.
Mitch Joel, president of Mirum (formerly Twist Image), is the author of Six Pixels of Separation and CTRL ALT Delete.
#2: Get Ready to Pay More for Traffic
I predict big changes for the little blue bird. There are two reasons we're likely to see huge changes at Twitter. First, year-over-year growth in active users has stalled. The number of people using the social network is leveling off.
The Conference You've Been Waiting For
As a small business marketer, you can probably only pick one or two events to attend each year. Get an unbeatable conference experience and expert training at Social Media Marketing World in sunny San Diego, California—from your friends at Social Media Examiner.
🔥 As a valued reader, you can save $650 on an All-Access ticket if you act now! Sale Ends Friday! 🔥
CLICK HERE TO LEARN MORE
The second reason is the stock price. Tech investors are often more concerned with user growth than profit, until growth stops. When share price drops it's time to monetize and maximize the value of having have 300+ million users.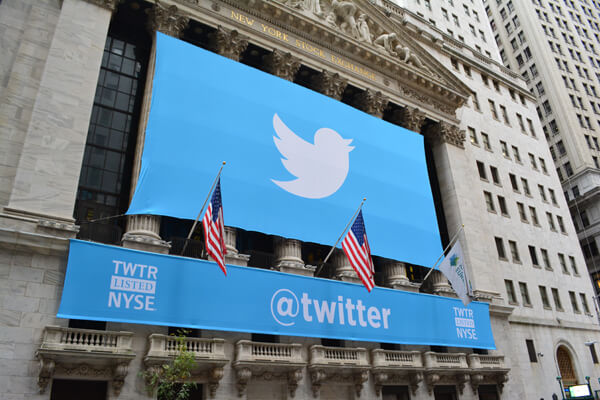 So what will happen next? Sometime in 2016, Twitter will create an algorithm that will affect which tweets are seen in which streams. Google has PageRank. Facebook has EdgeRank. Twitter will have TweetRank and it will prioritize ads. A year from now, your tweets won't appear in the streams of all of your followers. Organic reach will be throttled, Facebook-style, but you'll have plenty of options to boost the visibility for a small price.
The social media world will quake at the change. Marketers and the news media alike will worry, wonder and wail. But when the dust settles, brands will find that spending a bit more on Twitter will be worth it. In the end, investors will cheer the reversal of Twitter's financial fortunes.
If this doesn't happen, Twitter will eventually be a target for acquisition by Google or Facebook, which marketers might prefer, but those who prosecute antitrust cases at the Justice Department might not.
Andy Crestodina is a co-founder of Orbit Media.

My prediction for social media in 2016 is that more social networks will start charging for traffic. As social media networks adjust their algorithms, the only way brands can ensure they generate a decent amount of traffic is through advertising.
For example, Facebook was once easy to leverage; all you had to do was post a status update with a link on your fan page or personal page. Within minutes, all of your fans and friends would see your links and the traffic would flow in.
Now you're encouraged to boost your post if you want to get the maximum amount of traffic. Even if you have 100,000 fans on Facebook, the only way to get the majority of them to see your content is to pay for visibility.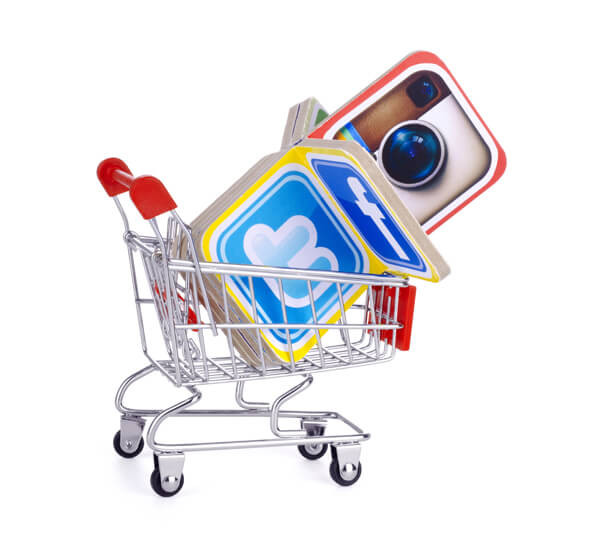 In essence, what happened with Google's algorithm years ago is the same thing that's happening with these social networks. The algorithms are continually becoming harder to leverage via organic means, so if you want maximum traffic you'll have to spend money on ads.
Neil Patel, co-founder of Crazy Egg and KISSmetrics, blogs at NeilPatel.com.
#3: Companies Adapt Social Strategies Around People

2016 will be the year where more companies implement adaptive social. The more we engage and collaborate with external and internal social media users for business, the more we need to adapt to their communities and needs for ultimate success.
This should become more the norm at forward-looking companies in 2016 with examples like these:
Influencer Marketing: Instead of creating campaigns around marketing initiatives, brands will realize these are long-term relationships and adapt to the needs of the influencers.
Employee Advocacy: Instead of pushing marketing content on employees for them to share, brands will realize that employees are their biggest advocates and adapt to employee behaviors. This will result in more participation and ultimately a greater reach and more authentic trust for your brand.
Social Selling: Instead of pushing content on their networks, brands will start from scratch and completely customize the content they share based on their customer's needs, whether that content comes from within the company or not.
Content Marketing: Instead of using social media only to promote content, brands will build a conversation with social media users using their language. They will adapt content and social engagement to the interests of social users, and depending on the community it might look very different from social network to social network.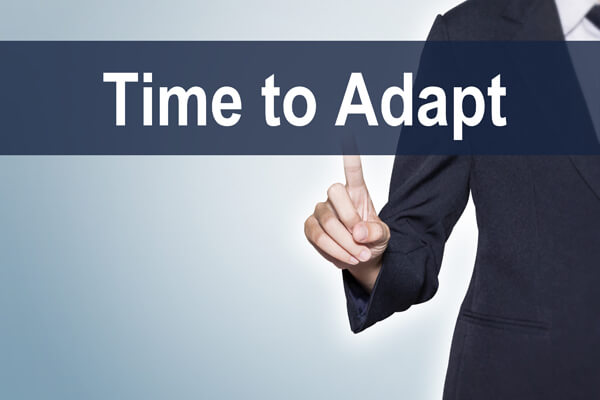 Adaptive social requires responsive thinking based on the fact that social media was made for people, not brands. For businesses to remain relevant, they'll truly need to adapt to these foreign communities of people we call social media users. Some companies have already found success in utilizing this principle. Will yours be next?
Neal Schaffer is the founder of the Social Tools Summit, the Social Media Center of Excellence, Maximize Social Business and author of Maximize Your Social.
#4: Visuals Customized By Platform Become Critical
Visual marketing will continue to grow in 2016, making it absolutely necessary for brands to have a solid plan for visuals including multimedia such as long- and short-form video for YouTube, Facebook and Instagram, as well as graphics for blog content.
Creating anchor content for your website and breaking it into contextual pieces to natively post to each platform will be essential. For example, one long video will be embedded into a blog post, tweeted with graphics, and a tip from it will be shared as a graphic on Instagram and a Pinterest quote. These will all lead to the blog content.
Peg Fitzpatrick is the co-author of The Art of Social Media: Power Tips for Power Users with Guy Kawasaki.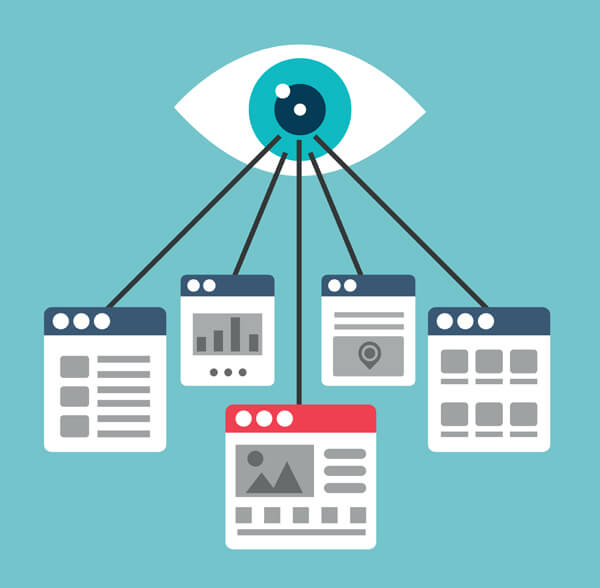 In 2016, smart brands will include visual content strategy as an integrated part of their marketing, not just an afterthought. It's no longer enough to just throw up a picture on a blog post.
Brands will need an image strategy that works across their primary platforms, tailored for Instagram, Twitter, Facebook and Pinterest. Tools like Canva for Work and Relay allow brands to quickly and easily create a suite of images.
But it's not just about where brands are engaging. It's about where fans are engaging. Tools like Twitter cards and plugins like Social Warfare and Yoast SEO can ensure images share with tweets or Facebook links and that website pages have the right pinnable images for fans to share.
Brands will integrate more major visual projects into their marketing and try new things!
Donna Moritz is the founder of Socially Sorted.
#5: Live Video Goes Mainstream

2015 started an era of live-casting with the introduction of new technology such as Periscope, Facebook Live and Blab.
In 2016 some of these live broadcasts will reach an entirely new level with the introduction of live 360 degree broadcasts that will allow people to move their mobile phones and experience the action as if they were actually present and moving their heads.
In addition we'll see the wide-scale adoption of cost-effective virtual reality devices that will enable fully immersive 3D experiences that are live. Much of this will be enabled by low-cost 360 cameras like the Ricoh Theta, combined with economical devices like Google Cardboard that transform the smartphones everyone already owns into a virtual reality device. This represents an entirely new opportunity for marketers to give factory tours and any other form of in-person experience imaginable.
Michael Stelzner is the founder and CEO of Social Media Examiner and hosts the popular Social Media Marketing podcast.
Attention Agency Owners, Brand Marketers, and Consultants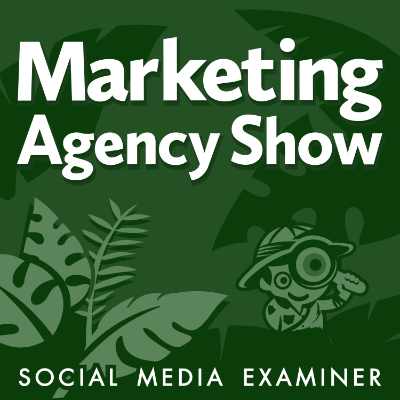 Introducing the Marketing Agency Show–our newest podcast designed to explore the struggles of agency marketers.

Join show host and agency owner, Brooke Sellas, as she interviews agency marketers and digs deep into their biggest challenges. Explore topics like navigating rough economic times, leveraging AI, service diversification, client acquisition, and much more.

Just pull up your favorite podcast app, search for Marketing Agency Show and start listening. Or click the button below for more information.
CLICK HERE FOR THE DETAILS

Live-streaming video gained momentum in 2015 with platforms like Periscope and Meerkat leading the way and new platforms like Blab.im and Appear.in entering the scene. Early adopters joined the video scene in 2015, but in 2016 live-streaming video will go more mainstream.
Live video already has the power to connect you to your audience in a much more personal way than blog posts, ebooks and even audio content like webinars or podcasts. Plus with live-streaming video there isn't quite as much pressure to edit and polish the content. You can go a little more off the cuff, which may scare people but may also be liberating in terms of time.
While Facebook Live was available only to certain accounts, access is opening up to more people, making it a bigger player.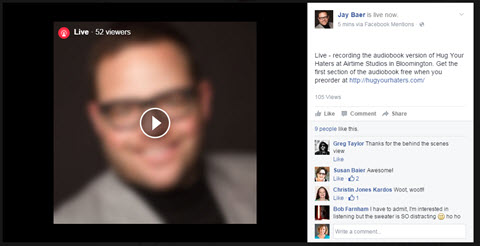 I think Blab.im will be a winner in 2016, as well. Because you can have up to four people at a time on the platform, people have been using it for interviews, conversations, Q&A and other helpful forms of content. I also predict the emergence of other easy ways to connect via video such as the private meeting area Appear.in.
In any case, video is becoming increasingly important as we look for new ways to stand out and connect with our audience. Give it a try in 2016!
Andrea Vahl is a social media coach, speaker and strategist and is co-author of Facebook Marketing All-in-One for Dummies.

The big trend I see in 2016 is putting your face in front of your audience. The best way to reach your audience and connect with them in 2016 will be to use videos and/or live-streaming tactics as a way to really connect in a more face-to-face way.
Social media users have a greater expectation from brands and companies on social media to be more transparent and authentic.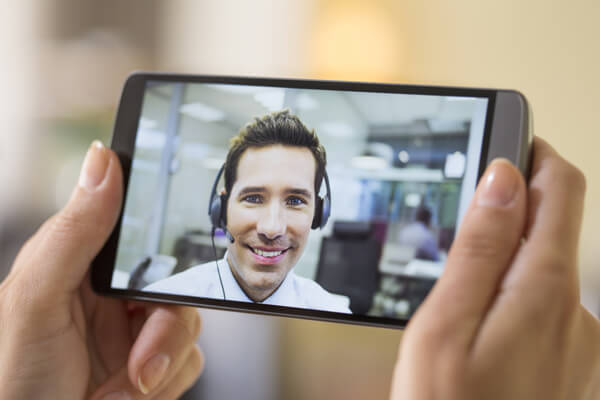 To really embrace this and provide the levels of interaction and customer service that your audience expects, you will have to embrace video marketing this year.
Jenn Herman is a social media strategist and the forefront blogger on Instagram marketing.
#6: Brands Syndicate Content on Social Networks

In 2016, more brands will stop focusing on follower counts and likes and begin to look at social media channels such as Facebook, LinkedIn and Twitter as pure syndication opportunities.
Why? We've learned over the past few years that we have no control over our connections on social platforms. The platforms control the flow of information and the data on your audience. They can show whatever they want to whomever they want, regardless of whether someone opts in to see your content.
What to do? Brands will continue to leverage these platforms, but will do so with a firm goal of building their own audience of email subscribers (where they have the most control and can communicate directly with subscribers).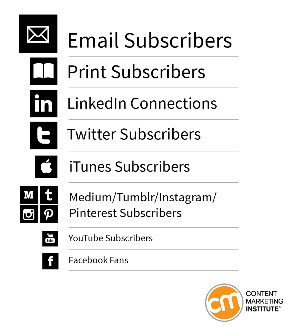 The goal, whenever possible, will be to move audiences up the chain toward email and print subscriptions.
Joe Pulizzi, founder of Content Marketing Institute, is the author of Content Inc. and Epic Content Marketing.
#7: Video Meetings Rise

Of course, live streaming and more visual content are going to be huge in 2016, but what about how we work, collaborate and communicate with one another?
I predict video conferencing, interviews, podcasting and working together will be a big social media trend next year. We are quite partial to Zoom, which for about $150 a year provides you HD video and audio (in separate tracks, if you want) and your team can join with the click of a link.
Not only have we been using it for both internal team meetings and client meetings, I use it for our Spin Sucks Inquisitions and Inside PR. It provides audio all on one track that's easy to pop into Audacity for production. And because it's HD, the quality is better than using a Zoom handheld recorder.

You have one meeting ID (which is just like having a phone number) and you can give it to anyone to use on command. All you have to do is click Join and enter your ID, and voila! You're hanging out with someone who could be thousands of miles away. Though nothing replaces the in-person experience, Zoom comes awfully close to having people in the same room.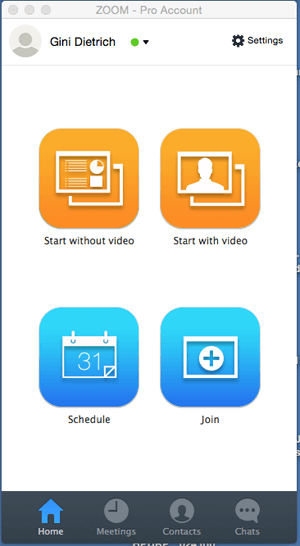 Sure, Skype and Google Hangouts both offer the same functionality, but I like Zoom for its quality, the number of people I can have in a room at one time and because it never crashes like the others.
Gini Dietrich is the founder and CEO of Arment Dietrich, the author of Spin Sucks, and co-host of Inside PR.
#8: Improved Facebook Ad Targeting

In 2016 I predict better Facebook ad targeting.
Facebook recently rolled out new communication tools that allow Facebook pages to learn more about the people they are communicating with. At the same time, page owners can begin to add keywords along with notes to tag the users they are connecting with.
I think we'll see this feature incorporated deeper into Facebook ads in 2016 so that businesses can improve the targeting of their ads in relation to the content a user might be interested in. Instead of blanket targeting a person based on broad interests, pages will be able to offer a more personal experience based on the interactions they've had with a Facebook user inside of Facebook.
Christian Karasiewicz, founder of Social Chefs, is a social media marketing professional.
#9: Instant Content Becomes More Prevalent

In 2015 trends emerged toward real-time content with the addition of instant articles and lead ads for Facebook and Twitter. In both cases the rationale is to keep users in the network by removing the hassle of visiting an external site, where traffic could be lost as users are exposed to distractions or affected by connectivity issues.
This trend will continue in 2016, as most networks aim to offer more content more rapidly, bringing more users to their platforms and keeping them engaged longer.
For example, Facebook has started testing immersive ads. The concept is very similar to instant articles but the landing page with the ad information will be displayed as users click on the ad. Meanwhile Twitter is also partnering with Google to create their own version of instant articles.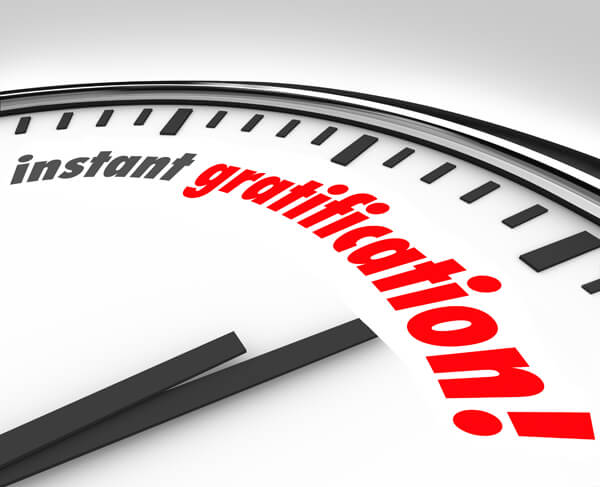 Quite probably ecommerce will also play an important role by delivering an instant shopping experience. Twitter has recently launched a Buy Now option and Facebook started testing their button last year. Both platforms offer this feature only in the U.S. through selected stores using very few ecommerce platforms, but it's only a matter of time before this buying option is offered in other markets and to any advertiser.
The world is moving faster every day, and users have become very selective about the content they consume; many times trying to avoid what doesn't produce gratification in a few seconds. And social media is ready to accept the challenge.
Antonio Calero is a social media strategist.
#10: Image Recognition Is Added to Monitoring Tools

We have so many text-based monitoring, filtering and analytics tools, but increasingly social content is based around imagery. In 2016, we'll see monitoring tools and platforms integrating image recognition software as part of their monitoring and search.
For example, Sysomos recently acquired Gaze, which provides image recognition and analysis software. Brands can enter a search for their logo and Gaze will identify images that contain the logo.
https://www.youtube.com/watch?v=TBh92hESt24
Image analysis is difficult and not foolproof, but the technology is getting better in this area so brands need to start thinking about the content of their imagery now.
Ian Cleary is the founder of RazorSocial.
What do you think? Which of these predictions are you ready for? Is there something more you think is coming? Share your thoughts in the comments below.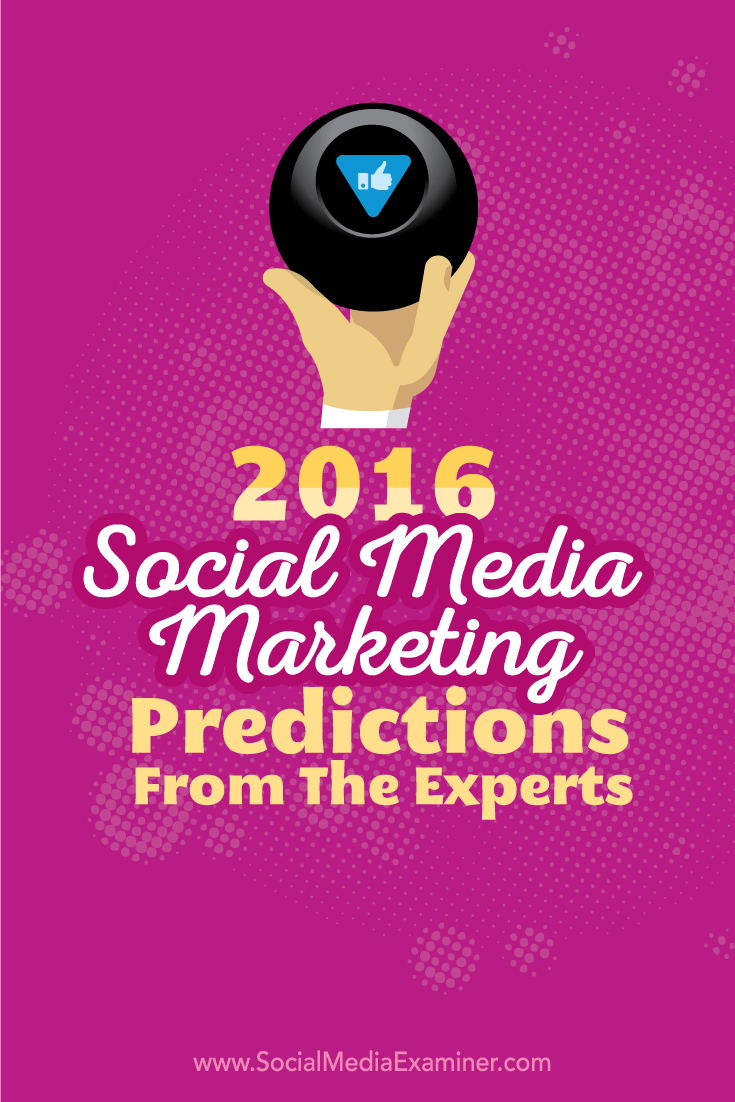 3 Days of World-Class Training—Zero Travel!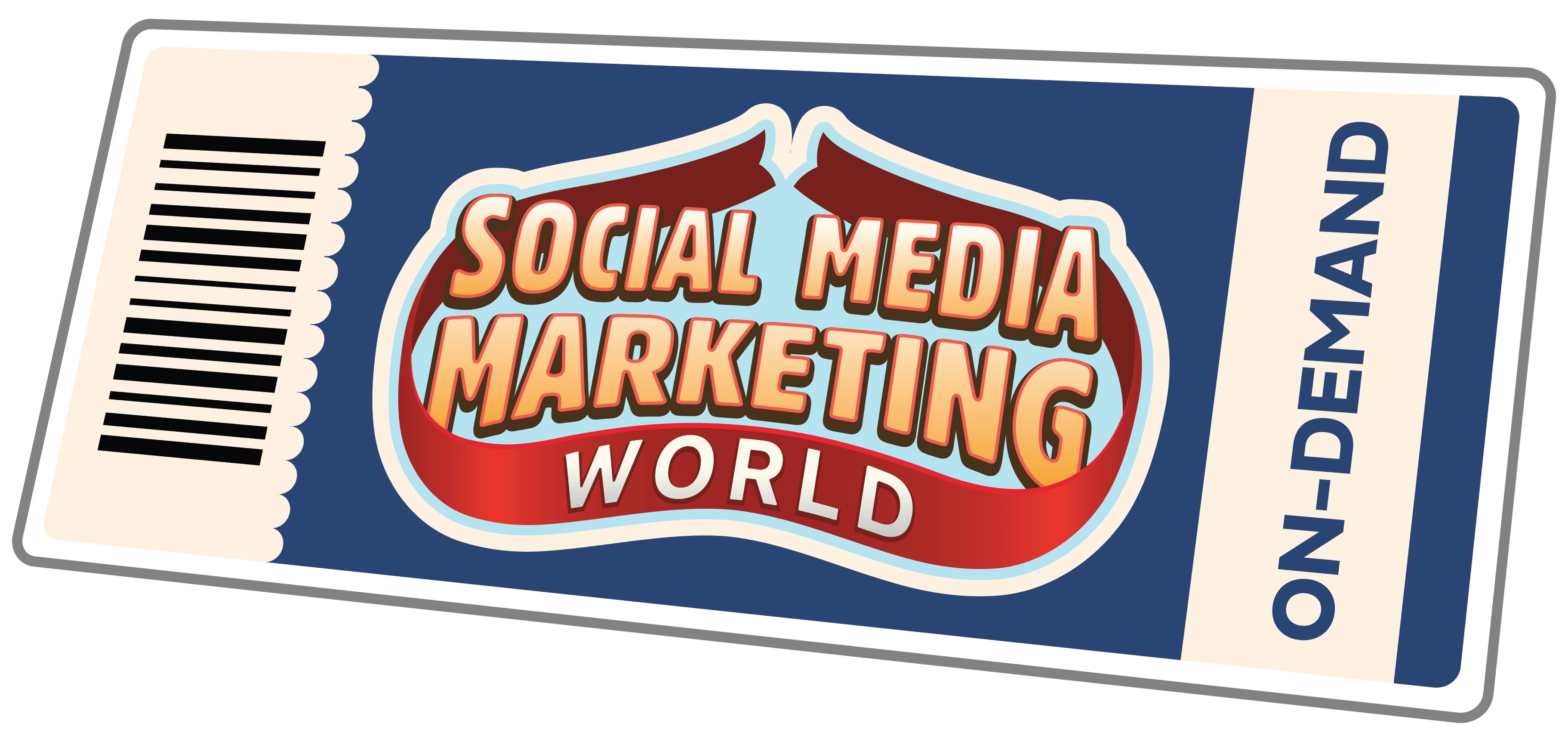 Travel to Social Media Marketing World off the table? Get all of the great content at a fraction of the price with an On-Demand ticket.

That's full access to recordings of every keynote, workshop, and session—the ones people travel thousands of miles to see. Don't wait. Get your On-Demand ticket and enjoy actionable content that you can watch anytime, anywhere.
GET YOUR ON-DEMAND TICKET NOW