Have you heard of YouTube Shorts? Wondering how to use shorts on YouTube for business?
In this article, you'll discover what YouTube shorts are and how marketers can take advantage of this new content type on YouTube.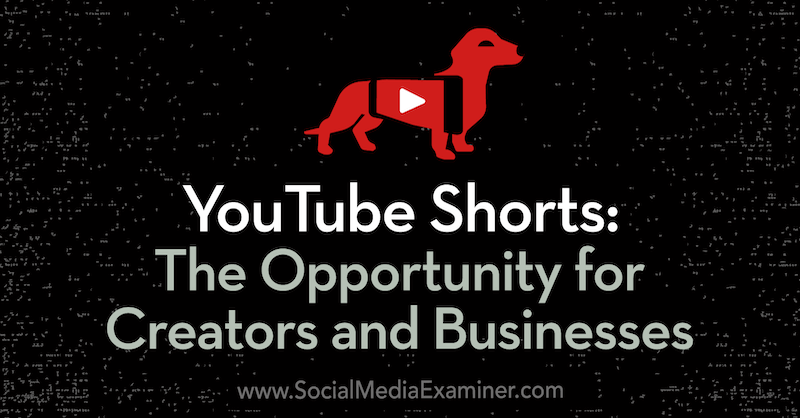 Why YouTube Shorts?
YouTube Shorts is YouTube's response to the rise in popularity of short-form video on platforms like TikTok. A YouTube short is a vertical video (a 9:16 aspect ratio) that takes up the entire mobile screen and can be up to 1 minute in length, offering a different kind of viewing experience for the platform's users.
Part of the appeal of short-form video, particularly with younger audiences, is that it's immediately satisfying to the viewer and they can go right into the next video to quickly get another satisfying moment. It has a stickiness factor.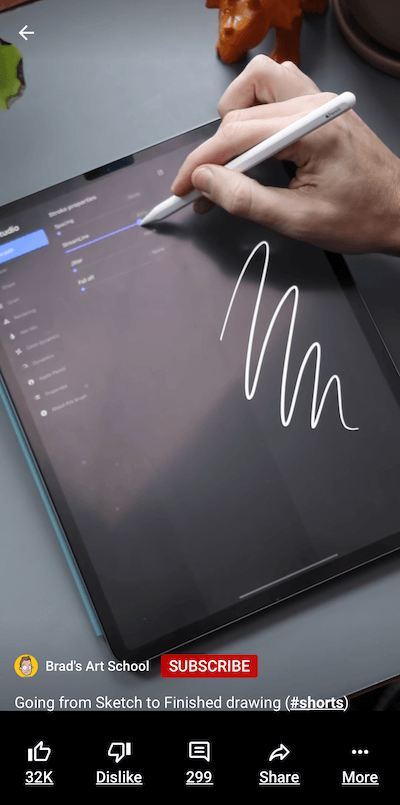 Right now, there's not a lot of competition with YouTube Shorts. Unlike with regular YouTube videos, where you're competing with content that has been released since 2005, there's not a lot of saturation in Shorts. So if you're an early adopter, you'll get more visibility.
Typically, when a new feature like Shorts comes out, YouTube does two things. They'll put a lot of money behind it—investing in both R&D and paying creators to make content—and focus on getting distribution out. YouTube is going to push and promote Shorts because they want you to succeed. This makes Shorts a huge opportunity for both marketers and creators.
Shorts is currently a level playing field for eyeballs, although bigger creators will have the advantage of more insight into what an audience will respond to. To find success, you'll need to publish consistently so you'll need a programming or content strategy.
YouTube Shorts vs. YouTube Stories
While YouTube Stories and Shorts are both short-form video, they work and are treated differently on the platform. With a YouTube story, you're tapping to get to the end of the story and then you're still in the ecosystem of that specific creator—or you can go on to another creator. They're shorter videos (up to 15 seconds) and there's a progression to them. And they're short-lived; they disappear after 7 days unless you save them.
Shorts are also short-form video but there's no progression to be completed and they stay on your channel forever (unless you delete them). So as with regular video, it's possible over time that YouTube might start showing them to more people and they could potentially take off.
#1: How to Find YouTube Shorts
You'll find YouTube shorts on the homepage in the YouTube mobile app. Just start scrolling down and you'll see vertical videos in the "short shelf." Deciding which videos will get pulled up in the short shelf is something YouTube is still figuring out. While there's no minimum length for shorts, in Derral's testing, videos under 5 seconds didn't show up at all on the short shelf.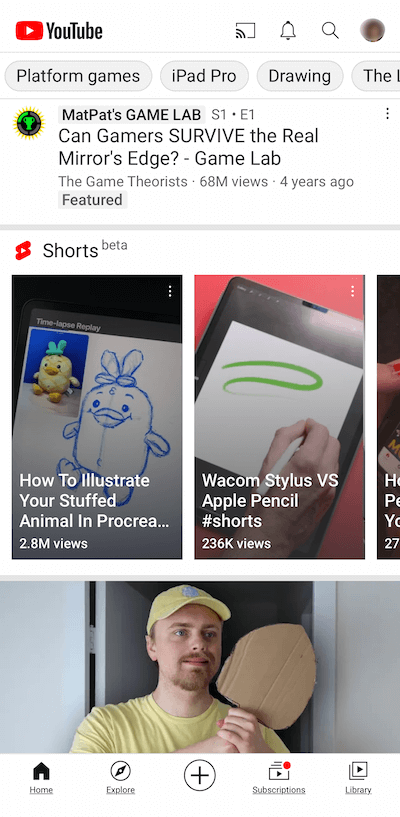 Once you get into the short shelf, the experience is completely different from stories. The feed is immersive and engaging and you swipe through content similarly to TikTok. You'll see random shorts that YouTube thinks you might be interested in based on your search and watch history on the platform.
A red Subscribe button is automatically included with all shorts. As of now, it appears at the lower left-hand side by the channel name.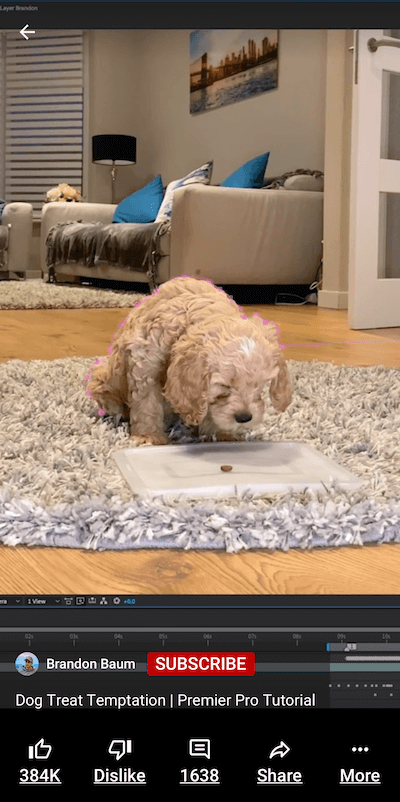 At the bottom of the screen, you'll see thumbs-up and thumbs-down icons, comments, and a share option. If you tap the three dots, you'll see a pop-up menu with an option to view the description. Keep in mind that the options you see here may change, as YouTube is still in the testing phase.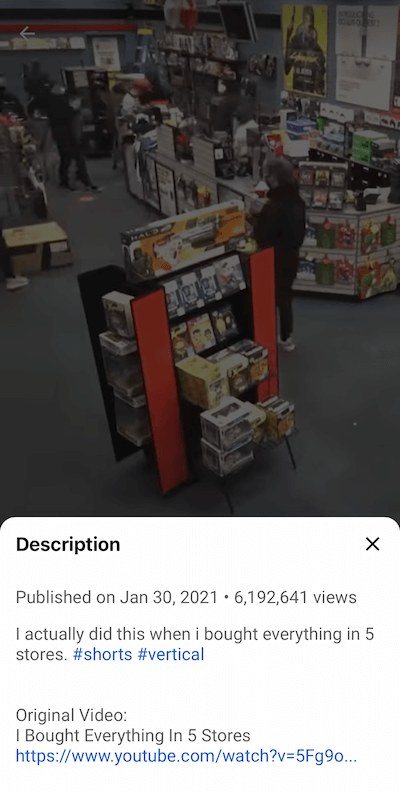 #2: How to Create a YouTube Short
Anyone can post a short right from the YouTube app on both Android and iOS. The video needs to be under a minute and vertically oriented, and you upload it as you would any other video.
There isn't an editor available yet for Shorts but there's one currently in beta. If you want, you could create a short with an external editor and upload the finished video to your YouTube channel. As with any video, you have access to YouTube's music library but the selection isn't as extensive as what you'd find on TikTok or Instagram.
As of now, there's no way to designate a video as a short when you post it. YouTube is basically just looking for those videos that meet the criteria of a short-form video. To increase the probability of your video showing up in the short shelves, make sure you use the #shorts hashtag in the title and description.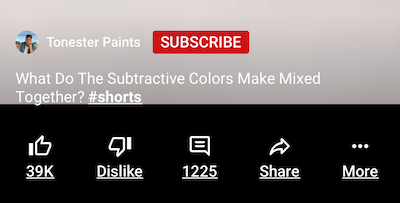 If your video gets picked up in Shorts, you'll see a different icon than just a Play button in YouTube Analytics.
While YouTube is working this feature into the platform, sometimes a video you want to be a short won't show up as a short and you'll get normal video traffic to it. In this case, you'll still get views from the YouTube home page, subscription feed, and recommendations. But it won't be near the volume of views you'd be getting if it showed up in Shorts because that's where YouTube is really amping up those videos.
While YouTube shorts can be up to 1 minute long, the ideal length depends on the audience you're going after. For instance, Gen Xers will typically stick on a 1-minute video even if it's dry. For Gen Z, though, the video needs to get right to it. If it's 15 seconds, you need to get to the point within the 15 seconds. If it's 1 minute, you better justify that minute.
If your short is 35 seconds or longer, you have the ability to add an end screen element. You'll have the same options you'd get with any YouTube video. When viewers click on an end screen element, it takes them out of the short shelf and puts them into the YouTube ecosystem.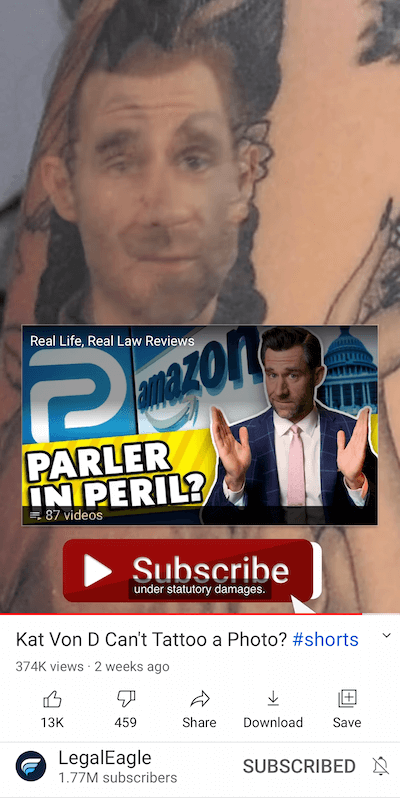 Note that you can embed a short-form YouTube video on your website only if it's not in the short shelf. So if it's not designated a short, you'll have all of the options you'd normally have.
Monetization With YouTube Shorts
Is there money to be made with YouTube Shorts? Yes, but it's a little complicated to explain. Basically, with Shorts, there'll be views coming from outside of the short shelf and those will be monetized. However, based on the length of the video, you wouldn't necessarily earn much.
When you upload a video to YouTube, whether it's a short-form video or a regular video, it creates a video ID. With that video ID, you can get views on all of the different traffic sources—the YouTube home page, a subscription feed, a suggested video, and even external. One of the other options is the short shelf.
If the video gets picked up on the short shelf, you're not going to get the monetization option to make a ton of money on it. You might get a lot of views, but where you make the money is where the ads will actually fire, and right now, that would be on the other traffic sources noted above. There's not an integrated option that fires and gives credit to shorts creators in that unique way.
So for businesses, the strategy right now with Shorts is to get exposure and hopefully subscribers to your channel so people will see some of your content outside of the short shelf. Ultimately, though, YouTube will figure out how they can compensate creators because they know that's important to their ecosystem.
#3: Business Use Cases for YouTube Shorts
There are already some creative ways that creators and marketers are using YouTube Shorts.
Some creators will integrate it completely into their channels. An attorney who goes by Legal Eagle creates YouTube videos that help make the law understandable to the average person. He's using shorts to give his input on legal issues in the news. These conversations wouldn't warrant a 15-minute discussion so short-form video is the perfect vehicle.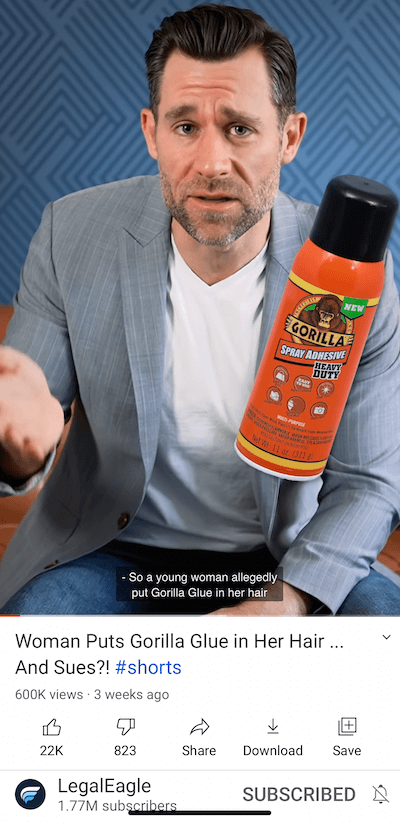 Other creators, such as Mr. Beast, have created separate channels for shorts. With Mr. Beast's shorts, he's been experimenting with footage that never saw the light of day and blending it with some TikToks that have been successful. These might be elements that would further explain a storyline in a main video that people would then want to watch.
For instance, the World's Greatest Samurai is a short with 71 million video views where he quickly opens and closes a samurai sword and the "arm" of someone in the background falls off. It's fun, on-brand, and people have liked and responded to it.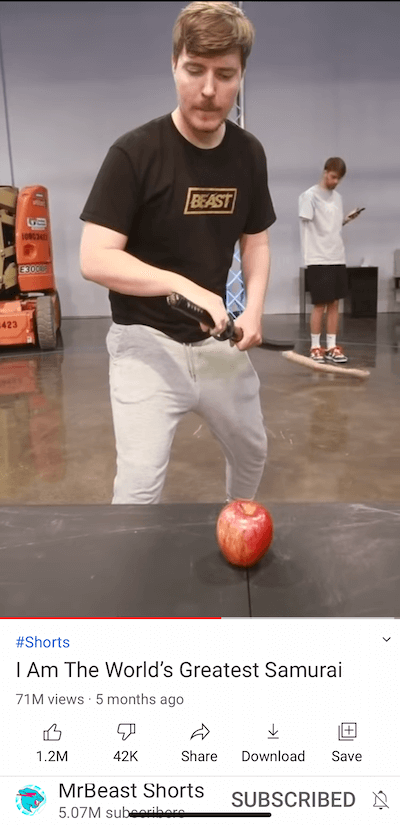 Based on the nature of the viewing behavior for short-form video on YouTube, content that has performed really well for you on TikTok could work as shorts. However, some of those videos actually contain music that you wouldn't be able to use on YouTube. That's the struggle that you have with using that content, but that's the type of ecosystem you're in.
When you're deciding whether to post shorts on your existing channel or create a new channel just for shorts, the key point to consider is whether posting shorts will disrupt your audience. Your subscribers have an expectation of what content they're going to see on your channel and they may not like it if you do something different. If they've subscribed to and watched hours and hours of your content, and then you put out content that's totally off-brand, that could be a problem.
It's a case-by-case situation, but 9 times out of 10, publishing shorts on your channel is going to disrupt viewing patterns.
Keep in mind that shorts don't necessarily have to be entertaining to be successful. However, they do need to fulfill a promise. If you're a fan of chess and you watch a short about how to sacrifice your queen to win at chess, the content should fulfill that promise. That's the key to a successful short.
Other Notes From This Episode
What do you think? Do you plan to use YouTube Shorts for your business? Please share your comments below.