Is your YouTube marketing delivering results? Wondering how to get more subscribers and prospects from YouTube?
In this article, you'll find tips to develop and optimize YouTube content that turns viewers into subscribers and leads.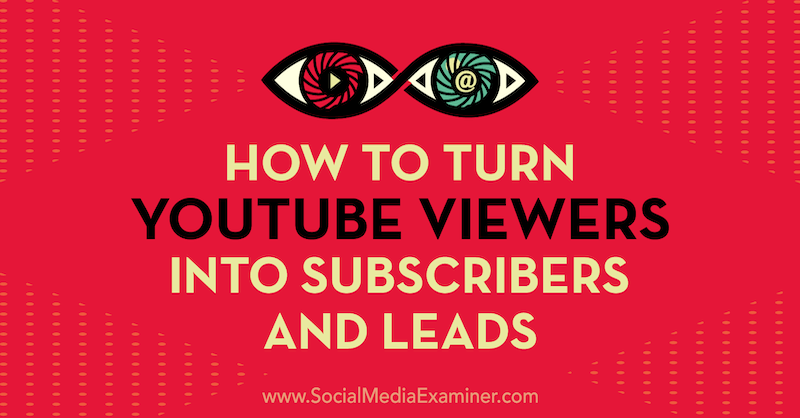 #1: Attract Cold Leads on YouTube With Topical Content
Total video views is one of the factors YouTube's algorithm takes into consideration when ranking videos. The more views your videos get on YouTube, the better your content will rank, which will help you rack up even more views.
Your goal shouldn't be to get just any views, though. You want to get views from your target audience—people who are likely to buy from you in the future. To attract this audience and get them to watch your videos, you need to create videos they'll want to watch.
Start by creating a persona that represents your ideal audience and put yourself in their shoes. Brainstorm keywords they'll be highly likely to search for on YouTube and begin searching for them yourself.
For example, suppose "healthy recipes" is a topic that's relevant to your audience. When you search for this term, YouTube will show you results based on a variety of factors.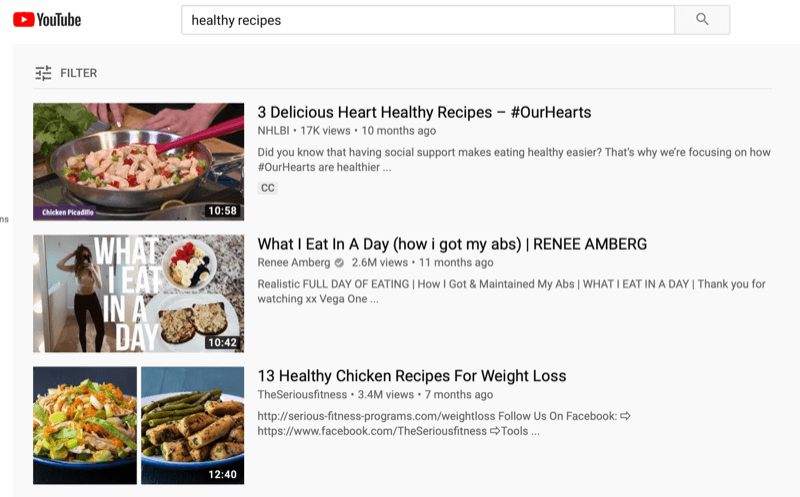 However, for your research, you want to see what types of videos get the most views for the search term "healthy recipes." To filter your search results based on view count, click on Filter and then View Count.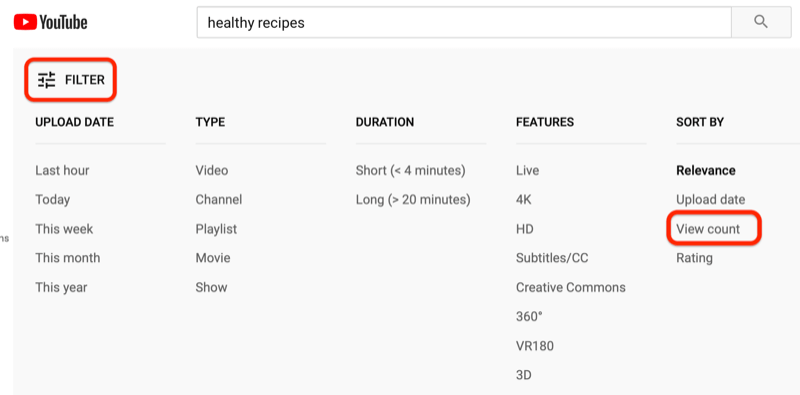 Looking at the results now, you can see that the most-viewed content for your search term seems to be list-type videos, where multiple ideas and recipes are shared in a single video. So to get more views for this keyword, you might create how-to videos where you share multiple ideas and recipes in each video.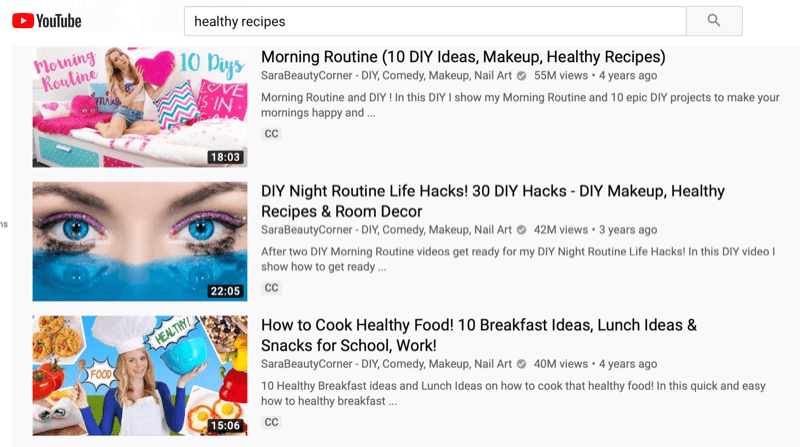 Keep in mind that videos that get a lot of shares will rank better on YouTube. So you want to create content that performs well on other platforms too.
You can verify what types of YouTube videos do well on social media by using a tool like BuzzSumo (plans start at $99/mo., with a 7-day free trial available). Copy the URLs of top-performing YouTube videos and paste them into the search box on BuzzSumo's home page.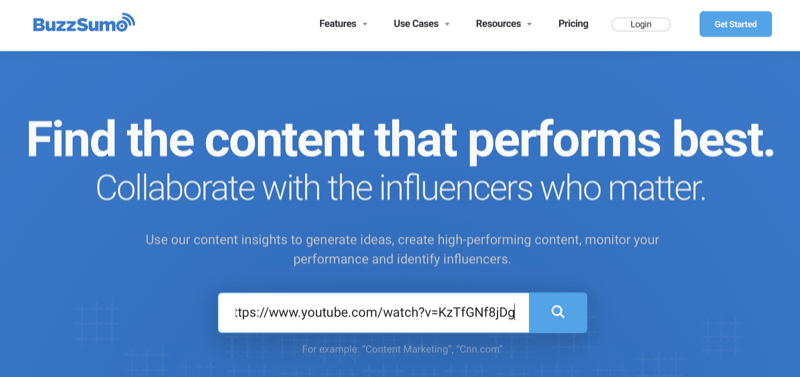 Below, you can see that one of the videos from the earlier search has received a good number of shares on social media. This suggests that creating a video on a similar topic could potentially drive more views through free methods such as outreach.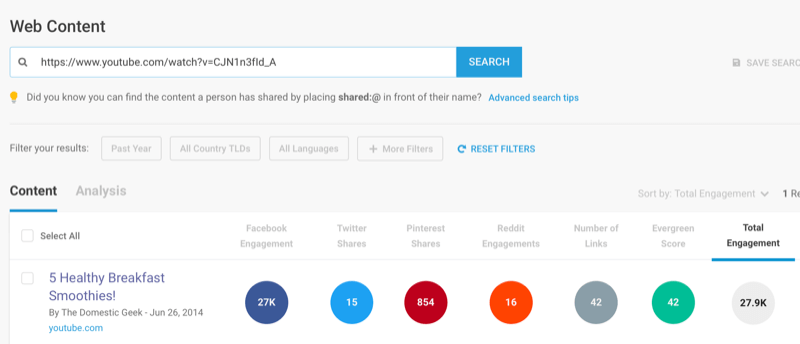 Optimize Your Videos for Exposure on YouTube
Publishing your video on YouTube and using outreach will help you drive up initial views. However, to continue getting views long-term, your video will need more exposure.
Remember that YouTube isn't just a social network; it's also the second-largest search engine in the world. To optimize your videos for YouTube search, you should include relevant keywords in your title, description, and tags.
To research keywords, start by looking at YouTube's autosuggestions. Just type in a keyword related to your niche and YouTube will suggest a list of potential keywords. You can then search the suggestions to find even more keywords.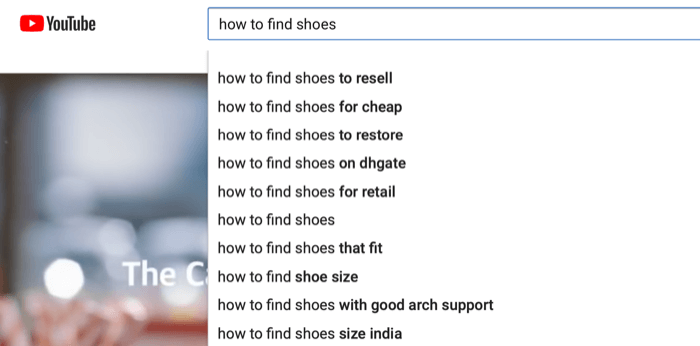 Once you've chosen the main keyword for your video, use it in the title and include the rest of your keywords in the video description and tags.
To find even more tags and keyword ideas, try the Keywords Everywhere Chrome extension. While there's a limited free version available, it's designed as a "pay as you go" tool, so rather than pay a monthly fee, you purchase credits as needed. For $10, you get 100,000 credits.
After you install the extension, every time you watch a YouTube video, Keywords Anywhere will show you keywords and tags that are related to the video you're watching. You can copy and paste these keywords as tags or weave them into your YouTube video titles and descriptions.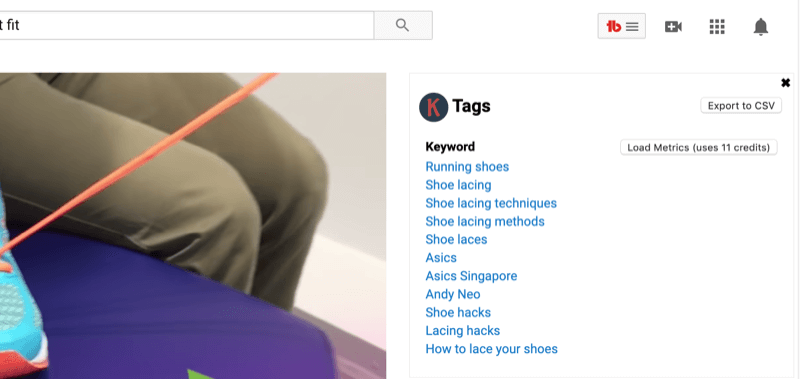 You can also drive more views by promoting your other videos in your YouTube endscreens. The endscreen is a component you add to the end of your videos, which can last from 5–20 seconds.
Here's an endscreen from a video from Dave Ramsey: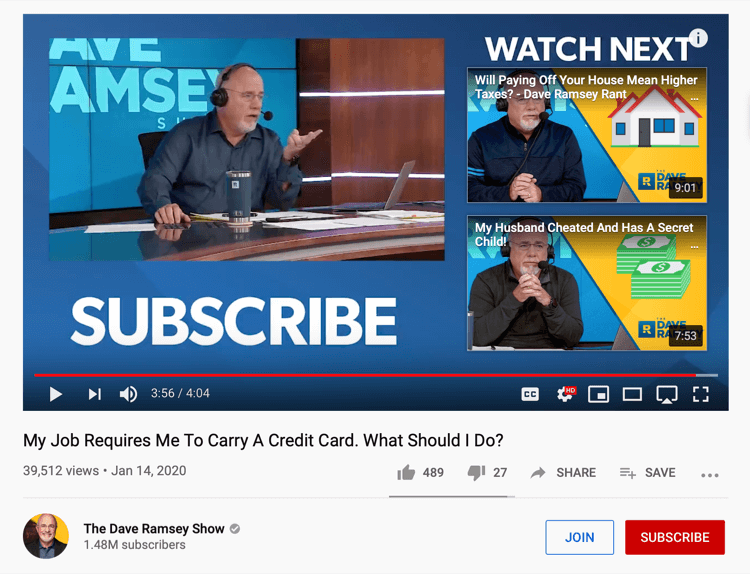 YouTube lets you add multiple elements to your endscreen, including the subscribe element and link element. To drive more views, focus mainly on elements such as video and playlist suggestions (i.e., playlists of your videos).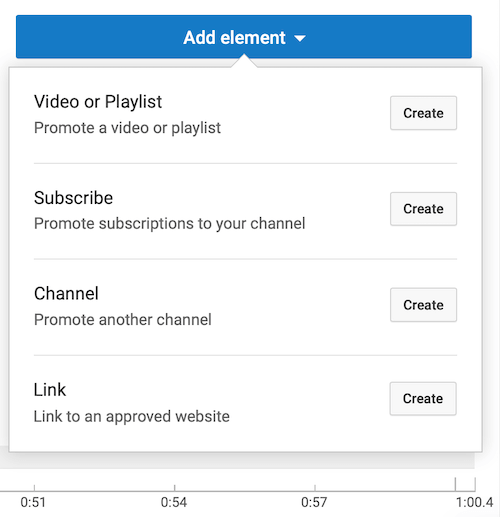 Pro Tip: Suggest only your most relevant videos to get people to watch more of your videos continuously.
#2: Create Calls to Subscribe to Your YouTube Channel
Creating the right YouTube content and making a good impression is a good start. Now you want to turn those viewers into subscribers whom you can nurture with more content and eventually convert.
Here are some ways to increase the chances of your viewers becoming subscribers.
Use the Subscribe Element in Endscreens
One way to get viewers to subscribe to your channel is to include the subscribe element in your video endscreens. This video from BBC Sport includes a subscribe element along with two playlist suggestions and a link element.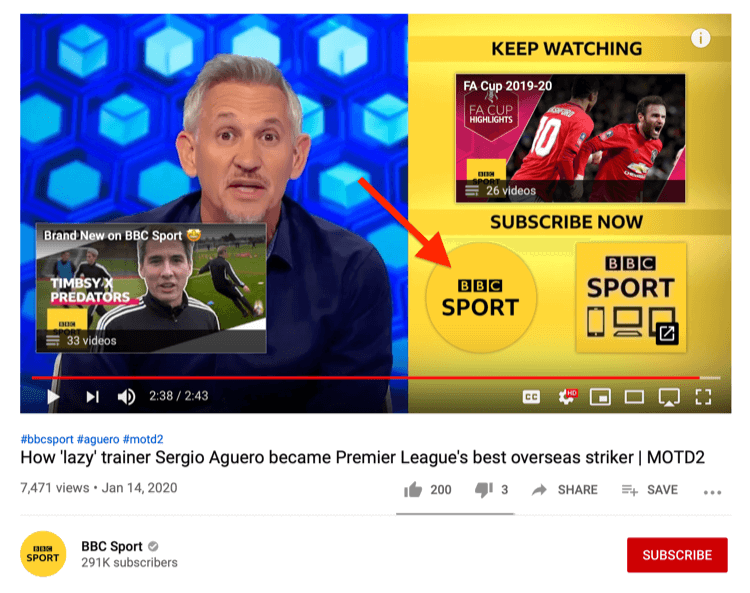 Include a Call to Subscribe at the End of Videos
You can also include a call to action (CTA) at the end of your videos asking people to subscribe to your YouTube channel. In the Dave Ramsey video above, he doesn't use a subscribe element, but rather adds the subscribe CTA right at the end.
In this video from Athlean-X, Jeff Cavaliere shows a visual on-screen and asks viewers to subscribe and turn on notifications.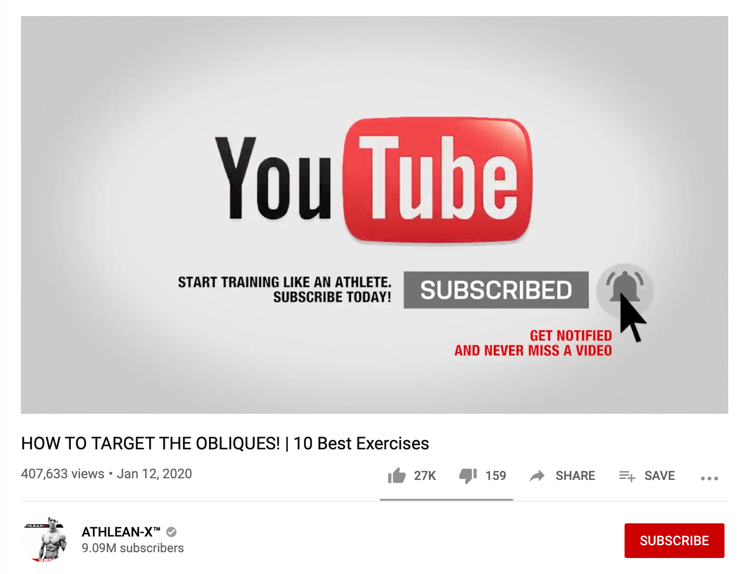 Hack the Branding Watermark
YouTube lets you add a branding watermark (usually your logo) to your videos. But rather than use your logo, use an image with the word Subscribe on it, as in this video from Munchies. Once the watermark appears on the screen, viewers can hover over it with their cursor. This will reveal a Subscribe button that they can click to subscribe to the channel.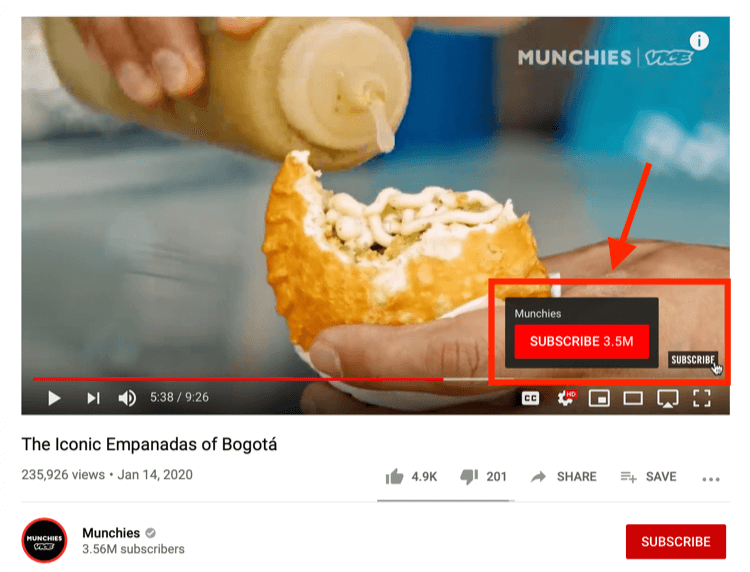 To add a watermark to your videos, open YouTube Studio and select Settings on the left. In the pop-up window, click Channel on the left and the Branding tab on the right. Select the image you want to use as your watermark and set the time you want it to appear in your videos. Your display time options are End of Video, Custom Start Time, and Entire Video.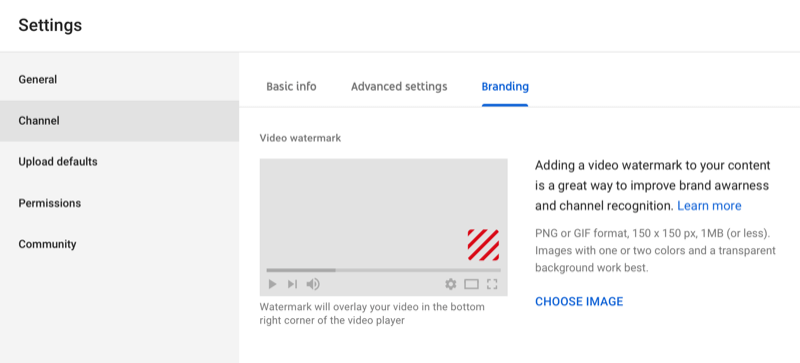 #3: Convert YouTube Viewers Into Leads and Customers
The next step is to convert all of those views and subscribers into traffic and leads. Here are a few ways to do this.
Ask People to Sign Up to Your List for More Content
The easiest way to convert YouTube views into traffic and leads is by asking people to visit your website and sign up for your newsletter or offer.
In this video from Backlinko, Brian Dean shares some SEO tips and at the end of the video, he asks people to visit his website and sign up for his newsletter.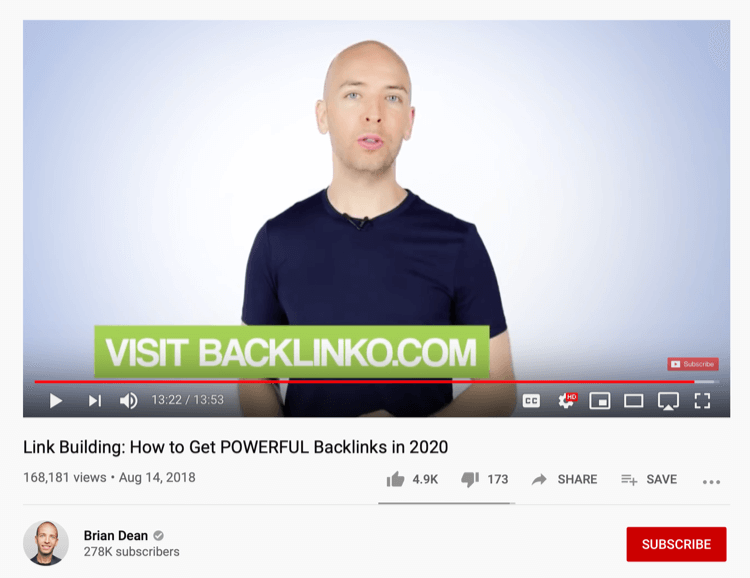 This tactic should help him generate leads because he shares valuable tips in the video and the people who watch all the way to the end will likely be interested in getting more of his content. Additionally, his home page is optimized for conversions because the opt-in box is right at the top of the page.
Another way to help convert those views into leads is to create a lead magnet like an eBook, checklist, or white paper that's relevant to the content you share in your video and then ask viewers to sign up to get it for free.
At the end of her video on how to write copy, Marie Forleo asks viewers to sign up for her free writing class, The Copy Cure.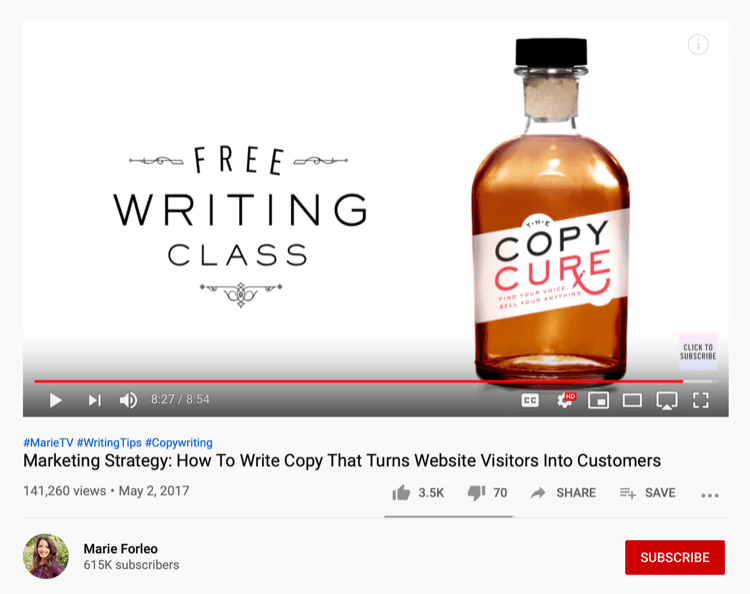 Promote a Lead Magnet in the Endscreen
If you've created a lead magnet, place a link element in the endscreen that takes viewers to the lead magnet. The link element in this video on the greatest misconceptions about memory takes viewers to a landing page for a free masterclass where Jim Kwik shares hacks for building a better memory.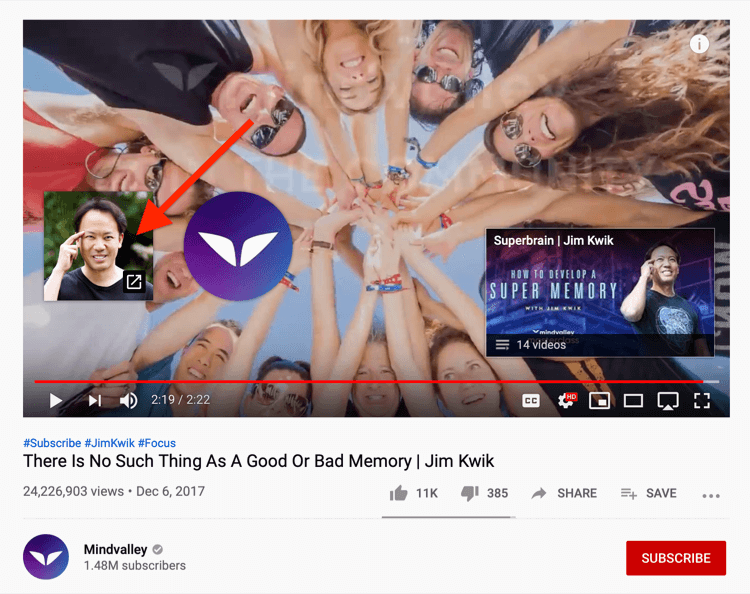 There's also a link to the lead magnet landing page in the video description for people who miss the endscreen.

Pro Tip: Use links in endscreens and cards sparingly. If you drive viewers off YouTube too often, it signals to the algorithm that the content is responsible for ending the user's viewing session and YouTube will stop suggesting it.
Use Video Content to Position a Purchase
Not everyone who subscribes to your YouTube channel will need to be nurtured the traditional way with lead magnets and email marketing. Some of them will be ready to make a purchase immediately.
To get these people to buy, you need to create different types of videos. Here are a few that might work for you.
An indirect way of selling your product is by sharing case studies. Create a video case study showing how a customer saw better results after using your product. Then share a link to the product at the end of the video and/or in the description urging viewers to sign up or buy.
This video from Dropbox shows how Dropbox Business helped Westchester Publishing Services improve their workflow. They included a link to the product in the video description to make it easy for viewers to talk to a representative and schedule a demo.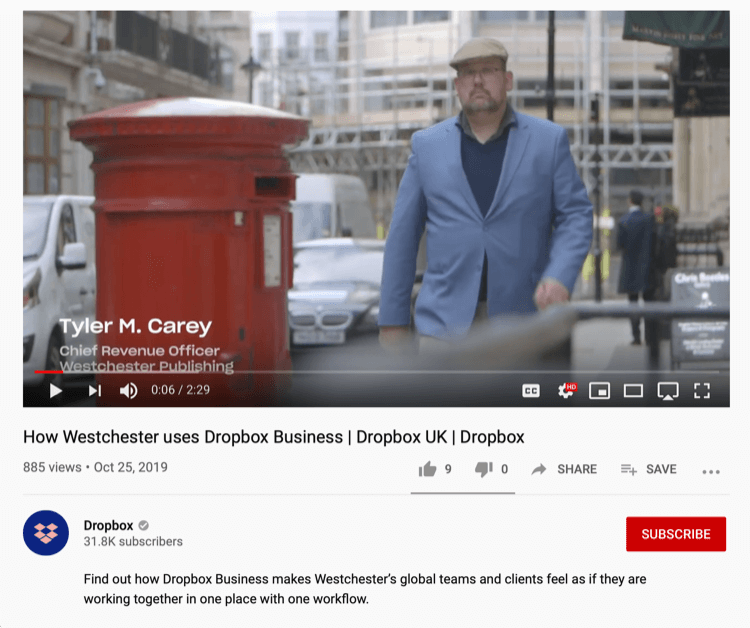 A more direct way to convert people who are ready to make a purchase is to create a sales video showing the product in action. To visualize this, this video runs down the key features of the first Sonos speaker with built-in Alexa functionality.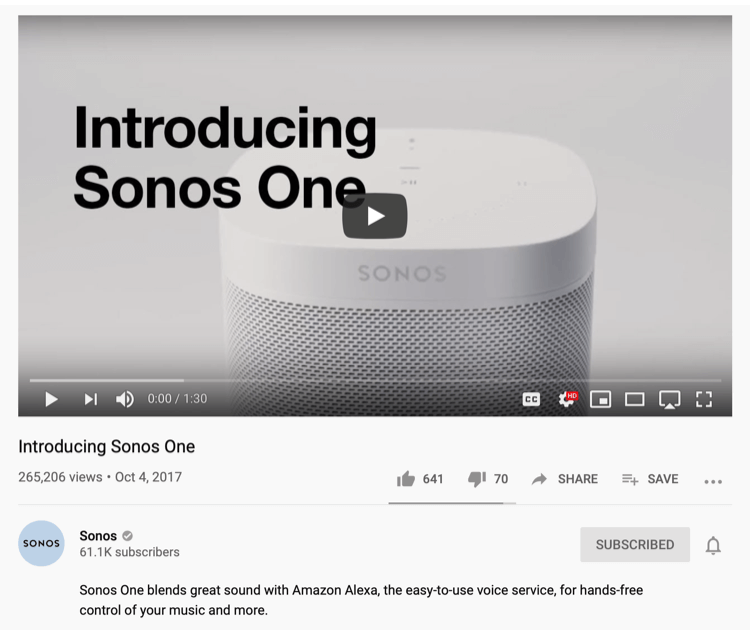 They include a link to the product page in the video description so interested viewers can just click the link to visit the store and make a purchase.
Conclusion
Following the steps in this article will help you gather the initial views and subscribers your YouTube channel needs and then go on to convert them into traffic and sales. While it might seem like a lot of work, it's an effective way to build a sustainable presence on YouTube.
What do you think? How do you generate more views and subscribers on YouTube? And how do you convert them to traffic and sales? Would you add any steps to the above strategy? Please leave your comments below.
More articles on YouTube marketing: