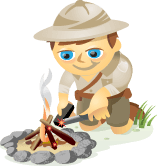 Are you looking for social media tools to get more out of your marketing?
Are you wondering what tools marketing pros are using successfully?
We asked fourteen well-known marketers to share the latest social media tools they've been using.
Discover how you can use these tools to help you to get more out of your social media marketing.
#1: Mention

Mention was developed as a user-friendly replacement for Google Alerts. They're a textbook example of how to build a platform by doing one thing better than anyone else.
As well as being an absolute joy to use, it captures so many more, ahem, 'mentions' online than any other platform I've used that it's become my #1 go-to social mention reference tool.
There are many clever things behind the way Mention is set up. They've taken the Apple approach to clean and simple UI to give you great functionality as a default and the power to modify settings to really hone in on what's important to your circumstances.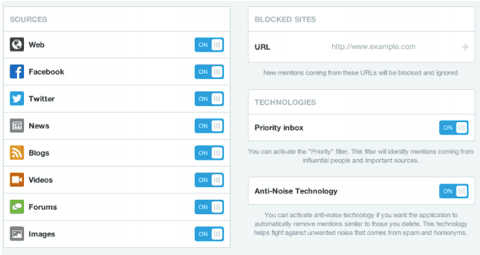 Apart from doing a fantastic job of identifying online mentions, some of my favorite features are:
Simple controls to turn specific sources off—but still be able to monitor them in the spam folder in case you mis-classify something.
Default alert emails that take you straight to source, rather than forcing an extra step by taking you to the Mention platform.

You can see how many online mentions you have in the left-hand column.
Of course, with success, they're quickly adding features—including an enterprise-level offering—that will make them seem increasingly like a lot of the more established players in the social tools space. So far though, they've done a great job of maintaining simplicity and delivering on their core offering.
Todd Wheatland, head of thought leadership at Kelly Services.
#2: Addvocate

My favorite new social media tool is Addvocate. I like it so much, I invested in the company and joined their board.
Addvocate solves a very common problem in social media, which is the need to decentralize your messengers. Almost always, the employees in your company have more social connections (combined) than the company does for its official social media outposts.
Thus, smart companies need to find ways to ask employees to occasionally share relevant information on their personal accounts. Amber Naslund and I wrote about this in The NOW Revolution, and recommended a "message of the day" email that is sent to all social media–active employees.
Addvocate takes that concept and makes it much, much better. Employees install a simple browser plugin that enables them to receive content recommendations from a centralized marketing team, while also enabling them to recommend content to the marketing team and to one another. The marketing team then gets detailed statistics showing which employees are sharing content on social, how many clicks and engagement actions each employee is generating, etc.
Get Your FREE Course: Web3 for Beginners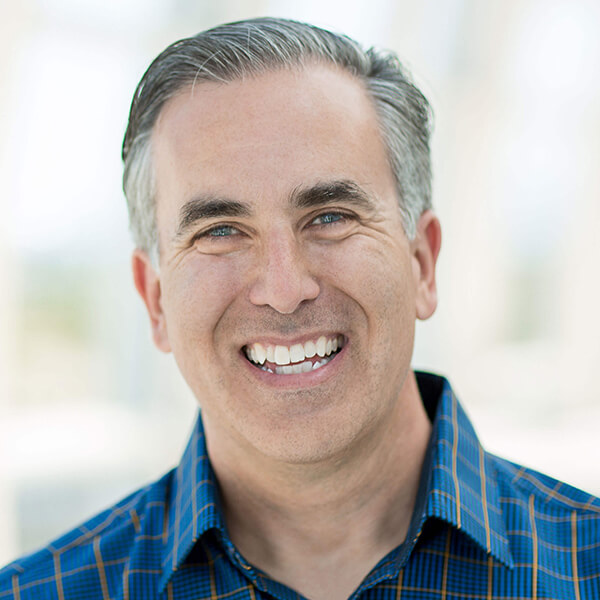 Curious about Web3, but don't know where to start or who to trust?

Introducing Web3 for Beginners, a course taught by Michael Stelzner, the founder of Social Media Examiner.

Learn the basics of Web3 and apply it to your business with this FREE comprehensive course.
CLICK HERE TO GET FREE ACCESS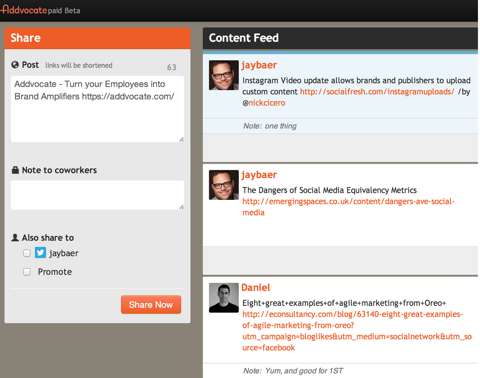 It's an incredibly easy-to-use, remarkably inexpensive (just a few dollars per month) social media tool that removes the pain of teamwork and content sharing/distribution. I use it constantly to share potential topics for inclusion in our daily email newsletter.
Jay Baer, founder of Convince & Convert.
#3: Swayy

The best new tool I've seen in many months is called Swayy. It's a platform that drops interesting content into a dashboard where you can scan or read the most interesting articles.
The best feature isn't the fact that the articles are dropped right in front of your nose. The best feature is the sharing.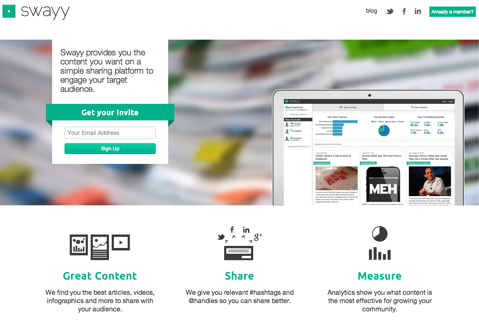 At the bottom of each article, you can click the "share" button and it automatically opens up your Twitter, Facebook and LinkedIn profiles.
With the click of a button, you're able to share articles across multiple platforms. Plus, you can schedule your sharing times well in advance. That way, you're able to share multiple articles across multiple platforms multiple times a day. Brilliant!
Jamie Turner, founder of the 60 Second Marketer.
#4: eGrabber's Account-Researcher

One of the reasons LinkedIn works so well is that it tells us exactly how we're related to the people in our network and the best ways of communicating with them (messages, invitations, introductions and InMails, in that order).
LinkedIn's limitation is with the folks who fall outside of our network; especially if we don't have $10 for each InMail we want to send. Another limitation is that LinkedIn is increasingly hiding our connections from us. First taking away last name, then whole name and picture altogether!
Let me start by saying eGrabber Account-Researcher is NOT a free tool. You can get a free trial, but it's so incredibly powerful for researching prospects that it's absolutely worth the $80 a month fee. Can you eventually find the same info on Google with the right algorithms? Yes. Will it take you hours and hours to yield results that aren't as comprehensive? Yes. Is your time worth more than that? YES!
Essentially, Account-Researcher gets through LinkedIn's restrictions to better research and find a prospect's contact and company information.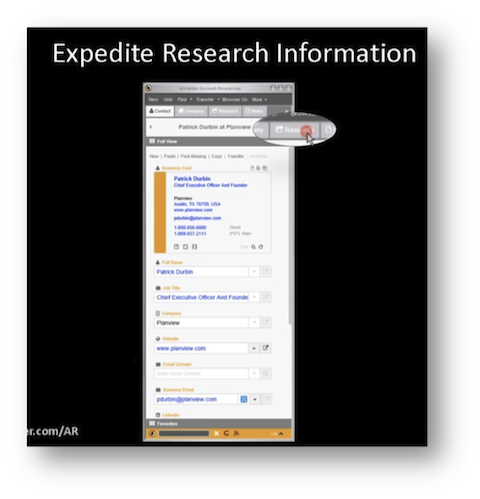 It cuts prospect research time down to a few minutes and will help you:
Find missing emails and phone numbers of prospects when you have only their name and company.
Quickly qualify a company and build a list of key decision-makers that includes name, title, email, phone and social media footprint.
Get talking points from news, patents, blogs, press releases and other sources for pre-call prospect research.

A quick way to find decision-makers within a company.
LinkedIn isn't about selling your stuff. It's about finding and engaging with people, developing that feeling of "knowing, liking and trusting." And once you've established a relationship with the person, you can move to the next stage in the game. The more you know about prospects, the better your chance of getting to that next stage.
The power of LinkedIn is that it helps us connect with real people in real life. We need to go old school. Do searches, do research and then pick up the phone! Account-Researcher makes that MUCH easier.
Viveka von Rosen, author of LinkedIn Marketing: An Hour a Day, host of #LinkedInChat and co-moderator of LinkedStrategies.
#5: Compfight

Photos are a great way to engage people on your blog and draw them into your post. They also grab attention when someone shares your blog post on Facebook or another social media channel. Unfortunately, good photography can cost a lot of money, and with regular blogging, the investment can add up fast. Enter Compfight.
Compfight searches Flickr's photos that have the appropriate Creative Commons license for Commercial Use.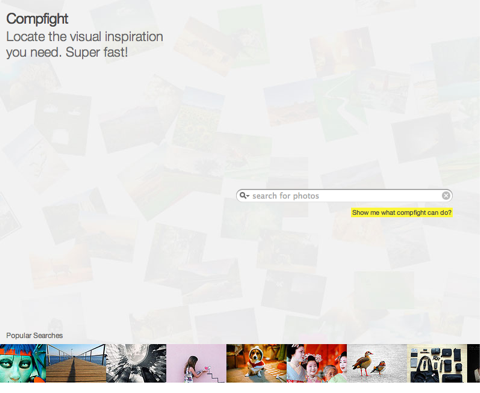 Do a quick search for ideas, objects, emotions—whatever will best represent the idea in your blog post. Compfight will even provide you with the HTML code for proper attribution. (Yes, you need to give attribution to the photographer, but that's a small price to pay!)
If you're blogging regularly but working on a shoestring budget, be sure to give Compfight a try!
Rich Brooks, president of flyte new media, a web design and Internet marketing company that helps small businesses succeed online.
#6: Tagboard

Tagboard is my new cool social media tool. To describe it simply, Tagboard is a way to monitor keywords (a.k.a. hashtags) across multiple social media channels.
To monitor conversations that revolve around specific hashtags on Twitter, Facebook, Instagram, Google+ and Vine, Tagboard pulls in content from all of these sites based on a specified hashtag and creates a custom board filled with content from all platforms.
Why Is it Useful?
1. Brand monitoring. It's useful to anyone who monitors their own brand or other people's brands as a part of their business. It is especially useful for small business owners who do not want to invest in social media monitoring.
2. Content Curation. It's a great way to find content around a specific topic. For example, if you want to find out what others are saying about breaking industry news, search by keyword(s) and find articles, conversations, etc. Once you conduct the search, narrow the focus to a single social media platform. In other words, view just tweets with that specific hashtag. You can even reply to the conversations right from within Tagboard!

3. Real-time Leads at Your Fingertips! Suppose you're a realtor in Miami and you're looking to connect with people who are moving to Miami. Search for real-time conversations that are taking place on multiple social media platforms using targeted keywords such as #MovingToMiami. Connect, share some valuable info and start working on building a relationship that will lead to a potential sale.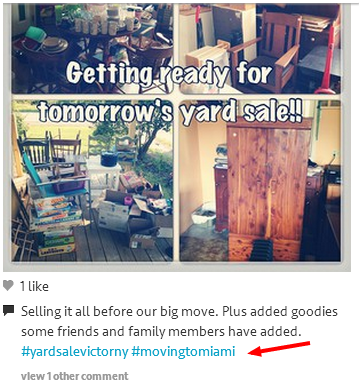 Best of all, it's a free tool! Check it out!
Kim Garst, CEO of Boom Social.
#7: ManageFlitter

A cool social media tool that has helped me get a better handle on effectively managing my Twitter account is ManageFlitter.
As you're probably aware, Twitter can be very noisy! A tool that can help you manage your account while growing your following with the right people is very valuable. The ManageFlitter motto is "Work Faster and Smarter with Twitter."
ManageFlitter integrates with your Twitter account to help you effectively:
Find relevant people to follow and connect with by searching Twitter bios, locations and keywords
Unfollow inactive accounts, spam accounts (you can force them to unfollow you as well) or accounts with no profile images
Schedule and post tweets at optimal times when your followers are most likely to see your updates
Monitor keywords, hashtags, usernames and even websites mentioned on Twitter
Get analytics on your Twitter account
Although some of the above features are paid, you can sign up for a free account and get access to basic features for testing the service. The Pro Plan for more robust individual users is $12/month.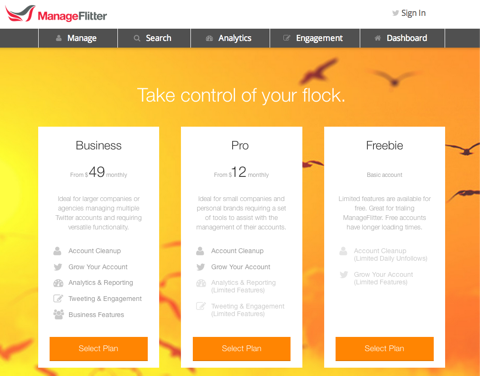 One caveat with ManageFlitter or any Twitter-based tool that can help you manage your account is to understand Twitter's following rules and best practices. Ultimately you're responsible for adhering to these rules. ManageFlitter has been working with Twitter for over 3 years and they've helped almost 2 million users.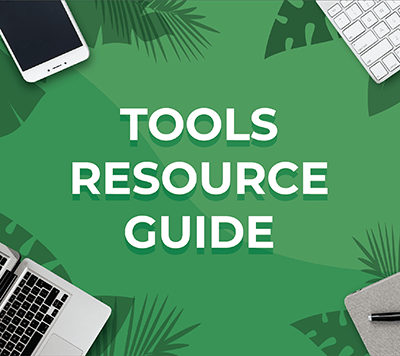 Looking for something to make your life easier?
Discover the tools we recommend to drive engagement, save you time, and boost sales across your entire marketing funnel or business.
Whether you need help planning content, organizing social posts, or developing your strategy, you'll find something for every situation.
FIND YOUR NEXT FAVORITE TOOL
I would recommend using ManageFlitter to build a more relevant following, keep your account cleaned up and prioritize quality over quantity!
Stephanie Sammons, founder and CEO of Wired Advisor.
#8: Socialbakers

Socialbakers has an effective tool called Analytics Pro, which provides an understanding of how your brand stacks up against your competitors, specifically across Facebook, Twitter and YouTube—for now.
The simple interface allows you to input a social media channel and gain insights into engagement rates and channel growth, and understand which contributors from your social communities are most active, providing an opportunity to build relationships and enable continued advocacy.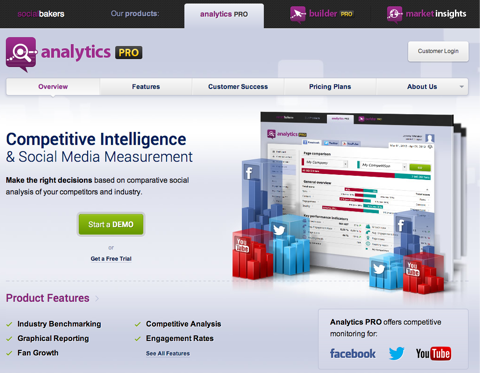 An otherwise painfully manual process, this tool also allows you to see how you're performing against your competitors to learn which campaigns, content and influencers are driving the most effective conversations.
While Socialbakers is a paid tool, a trial period will impress you and show decision-makers how much more effectively your time will be spent on reporting, gaining insights and informing social strategy.
Stephanie Shkolnik, social media director at Digitaria.
#9: Post Planner

Post Planner is a content management tool that runs as an application within Facebook. What's great about Post Planner is that in addition to providing the ability to schedule content, it also provides fantastic facilities for sourcing and adding content to your queue for later posting.
You can search a database of thousands of status updates on a range of general topics, find content that's trending in your niche or add Facebook pages, Twitter accounts or blogs and easily add content to your queue from these sources.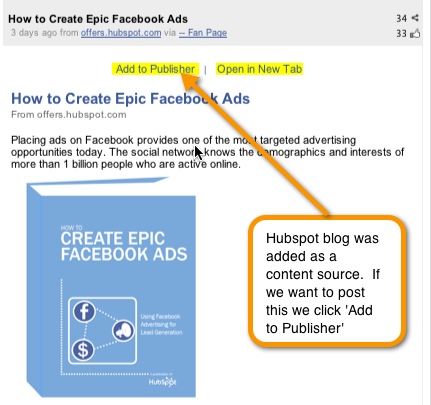 It also provides real-time analytics on posts, so you immediately see what's working and not working.
Post Planner is a time saver, enabling you to plan and manage your Facebook content in advance, rather than doing it off the cuff.
Ian Cleary, founder of RazorSocial.
#10: Komfo

There are a lot of Facebook page analytic tools and social media dashboards that include Facebook analysis.
A problem with some of these tools is that they try to do so much that it's hard to gain simple-to-understand, meaningful insight about your Facebook content strategy from them. Others just provide a lot of data, some in better-looking forms than others, without offering any other handholding as to how that data can be utilized to improve your Facebook engagement.
That's why it was refreshing to discover a new free Facebook page analytics tool from Komfo—a company claiming to be "the leading tool provider in the Nordics within the Social Media Marketing space."
Komfo provides analysis with additional handholding to help you analyze your Facebook content based on the following types of analytics:
Fan Penetration: In essence, this is EdgeRank—a figure that shows what percentage of your fans you're reaching with each post. If the average EdgeRank on Facebook is said to be 16%, you can easily see an average from your last 30 days' posts up to a maximum of 100. Of course, you can drill down into each post to see which is working for better or worse.
Viral Amplification: Don't be fooled by comparing this to the "viral" analytics provided by Facebook Insights. That number only looks at the percentage of People Talking About This compared to your total fan base. While that's a nice number to know, wouldn't you like to know the viral reach of each of your posts as compared to its organic reach? This is exactly what this data shows you for each post, with anything over 1.0 being considered "viral" (i.e., more people saw this post in a news feed via viral reach as compared to organic reach).
CTR: Once again, although the total number of click-throughs are provided in Insights as "Engaged Users," Komfo takes it one step further and gives you a click-through ratio for each post as a percentage of how many people saw the post.
Spam Score: We all know that negative feedback from your fans can have a heavy impact on your EdgeRank. Unfortunately, with the current implementation of Insights, you need to dig deep into seeing the "Engaged Users" for each post to check for mention of negative feedback. Komfo's tool conveniently shows the ratio of negative feedback as a percentage of total clicks.

Komfo is a great tool to help you analyze your Facebook content.
The tool also includes the "People Talking About This" number, which they call "Stories," as well as overall Reach. Another welcome feature is the ability to send an email and give others access to your report online without Facebook authorization. This is a nice touch that makes the tool even more useful for large and distributed teams.
Neal Schaffer, founder of Maximize Social Business.
#11: Rignite
An interesting tool I recently discovered is Rignite, which helps monitor several social media platforms—including Facebook, Twitter and YouTube—from one place. It was just launched in April and they will be adding features and other social networks.
The best thing about the tool is the team aspect of this product. You can have forums and chats within the tool, and assign tasks to people on the team. So this works well for teams of 3-6 people who are managing the same accounts.
They have tracking and insights incorporated into the dashboard.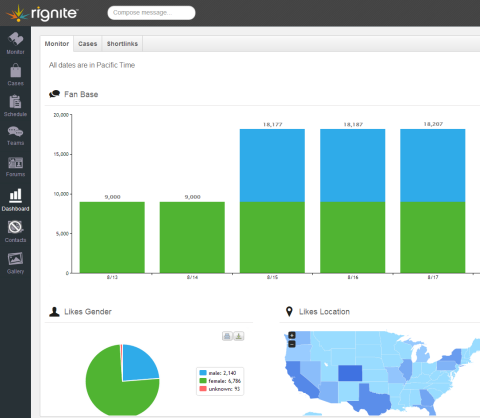 This tool will become even more valuable as they add some of the features they have planned to help monitor your social media contacts more closely. While the tool works well right now for monitoring and posting to your accounts for a team of people, I think this will be one to watch as it evolves!
Andrea Vahl, co-author of Facebook Marketing All-in-One for Dummies, uses her improv comedy skills to blog as Grandma Mary, Social Media Edutainer.
#12: SocialOomph

One of the coolest social media marketing tools that I've discovered and used is SocialOomph.
The challenge for most bloggers and social media marketers is not just creating the content, but also distributing it. Twitter is a great social media network to assist you with sharing your content to your followers, but having to tweet constantly is time-consuming.
SocialOomph (professional edition, which costs about $25 a month) allows you to not only load and schedule tweets, you can also make them recurring, saving you the onerous and time-consuming task of ongoing scheduling.
Load your tweets once, then set and forget.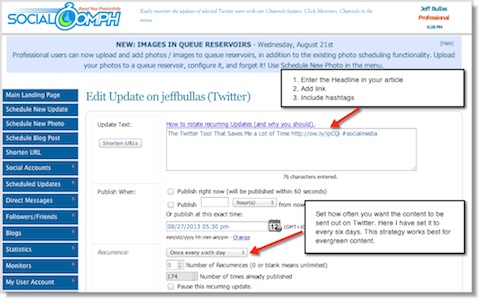 SocialOomph lets you load up to 500 unique tweets and the major benefit is that it saves me about 25-30 hours a week, or 100-120 hours per month, of ongoing tweet scheduling!
Jeff Bullas, blogger, author, strategist and speaker.
#13: Zapier

Zapier has changed the social media marketing game for me in the most dramatic of ways. This service connects systems in ways once only possible with a massive programming budget.
You can say things across the social networks like "text your email to (503) 405-4415 to get the free video (or just leave a message if you don't have texting)" and have that sync automatically with whatever email system you're using (from MailChimp to AWeber) and/or with any CRM you run (from Microsoft Dynamics CRM to Salesforce).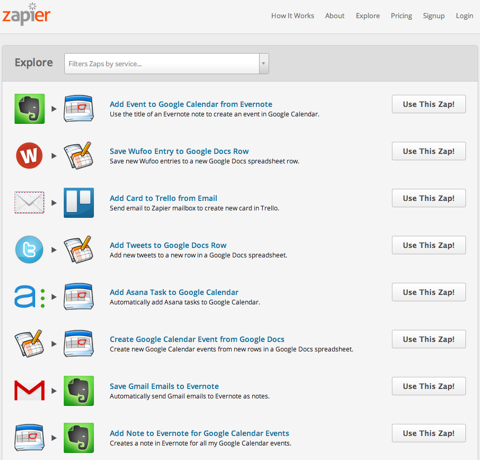 Zapier also automatically generates a Google spreadsheet for you that tracks every time a certain keyword is mentioned in Twitter and makes it possible for you to automatically send selected Facebook Posts to your blog. In addition, when you do a webcast (paid or otherwise) through Eventbrite, all of the information collected is integrated into everything else you're doing (I leverage everything they offer to make my event as social as possible).
The possibilities are endless, and you should see the running list of integration ideas I have.
At the time I write this, Zapier brags of 233 web services integrated. I'm sure they'll add more before this piece is published. With Zapier, social is now one big ecosystem, and I'm thrilled to play in it.
Paul Colligan, director of content marketing at Instant Customer.
#14: FixYourFunnel and Mobivity

Earlier this year, I was lucky enough to attend a live workshop given by the fabulous Pam Slim (author of Escape from Cubicle Nation, and a world-renowned business coach). At the end of Pam's talk, she told the audience that she had a handout for us.
Pam surprised me by announcing a phone number and saying "Text your name and email address to that number, and I'll send you the handout." I could see people whipping out their phones so they could text her. There were no messy sign-up sheets and people could follow her instructions on the spot—and she got their email addresses right away, so she could follow up with possible leads.
I had never seen anyone utilize text messages for that purpose, and thought it was a great idea, so I followed up with Pam later and asked her how she pulled off this cool process. She recommended two tools: FixYourFunnel (an Infusionsoft-specific tool) and Mobivity.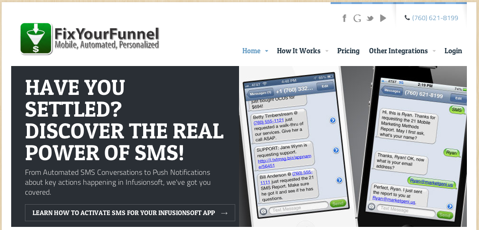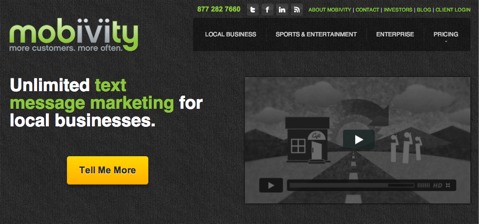 As a consultant and author who does regular public speaking and training, I can't wait to integrate these smart mobile marketing tools into my sales process and see the results I get!
Beth Hayden, author of Pinfluence, a speaker and social media expert.
Who are these social media pros?
The social media marketing experts who contributed to this article are all speaking at the Social Media Success Summit.
Social Media Success Summit 2013 is a live online conference that will empower you to use social media to gain more exposure, increase traffic, cultivate loyal fans and grow your business. More than 45 of the world's leading social media pros will show you how. The event is spread over four weeks in October.
Join nearly 3,000 fellow marketers at the online mega-conference designed to empower and inspire you with social media marketing tactics—brought to you by Social Media Examiner.
Why should you attend Social Media Success Summit?
You'll hear from 45+ of the world's top social media marketing pros as they reveal their newest social media marketing tips and practical, real-world, proven examples.
You'll be able to take your Facebook, LinkedIn, Twitter, Pinterest, Google+, YouTube, blogging, podcasting and video marketing to an entirely new level.
What do you think? Do you use any of these social media tactics? What's working well for you today? Please share your thoughts in the box below.

Get Your FREE Course: Web3 for Beginners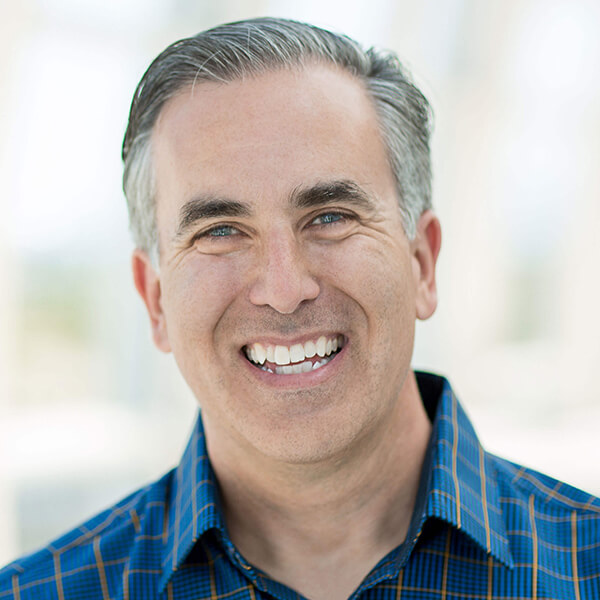 Curious about Web3, but don't know where to start or who to trust?

Introducing Web3 for Beginners, a course taught by Michael Stelzner, the founder of Social Media Examiner.

Learn the basics of Web3 and apply it to your business with this FREE comprehensive course.
CLICK HERE TO GET FREE ACCESS