Want to use your content on multiple social platforms? Looking for a system to batch the creation, prep, and scheduling of your marketing content?
In this article, we'll explore a strategy for social content repurposing.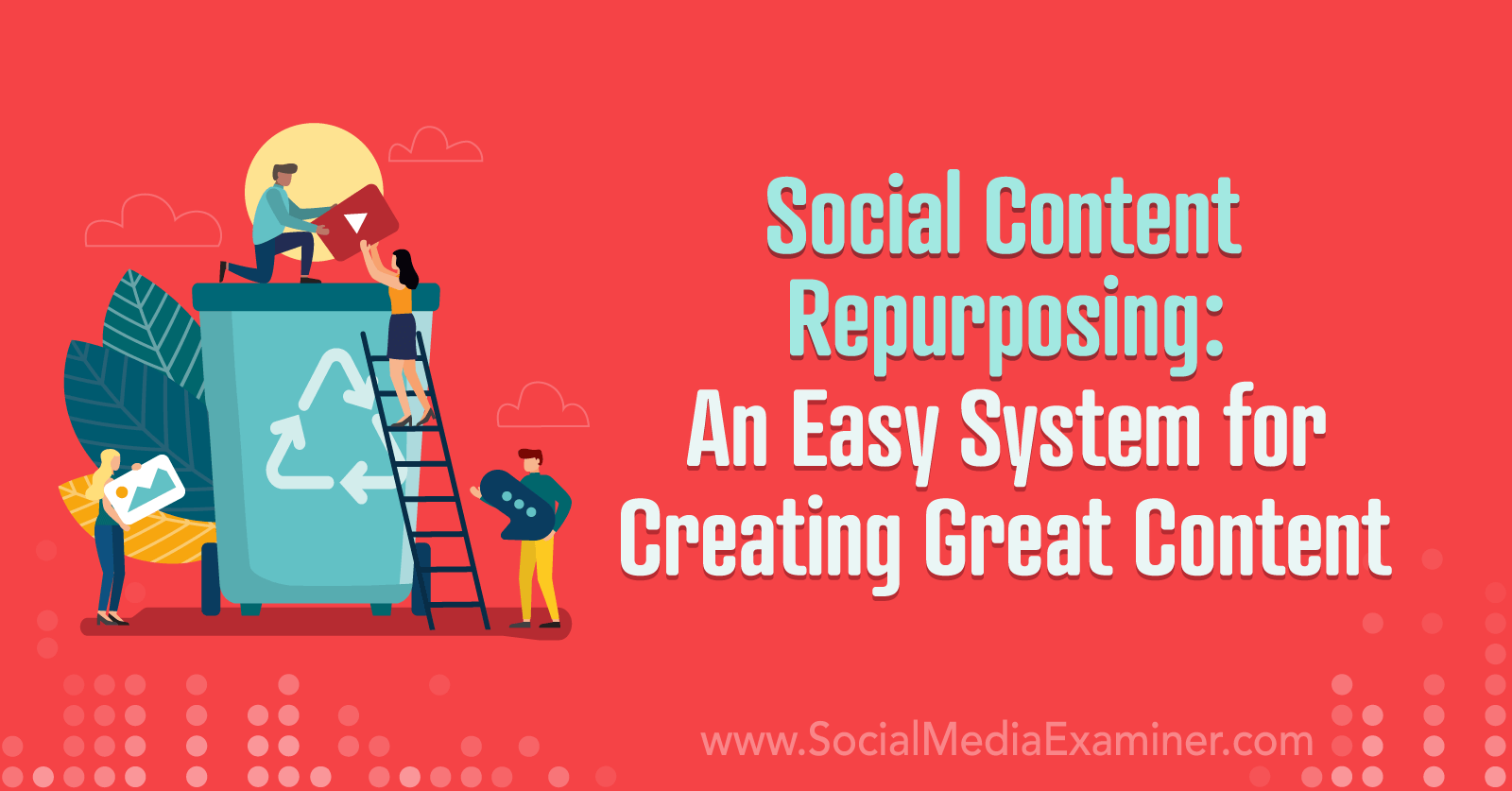 Why is Repurposing Content so Important for Marketers?
While some marketers might be hesitant to repurpose content across multiple platforms due to different algorithms, social content repurposing is a valuable strategy. It involves taking your existing content and tailoring it for use in different formats, social media channels, or platforms.
Let's say you're a teacher and teach a core curriculum year in and year out. You have foundational lessons but you find new ways to present them to students, like a new activity to spark learning and retention.
Approach your social media content repurposing the same way. Take your core content and find new ways to present it on different social media platforms. You're delivering the same message and value but giving it to your audience in new and meaningful ways. This allows your content to show up in multiple places and gives your audience the freedom to choose how they consume it—paramount for a small business owner or marketer.
Repurposing social content allows you to maximize your time and resource investment in creating high-quality content, and then modifying it to best suit each platform you want to reach. It helps you to avoid creator burnout from constantly starting from scratch while expanding your reach in more places. It also lets you meet your audience where they are, whether they prefer consuming video, text, audio, or other formats.
How to Repurpose Social Content: The Content Hero Strategy
Start by taking your high-level long-form content, like a YouTube video, and breaking it down into multiple, shorter forms of content. This allows you to disperse your message or topic across many platforms in different ways with your one core foundation of long-form content.
#1: Batch Your Long-Form Video Content Creation
The first step in social content repurposing is to batch-create your long-form content in one sitting.
Let's say it's November 1 and you batch-record your YouTube videos for December, making sure to post one video per week. You just created 4–5 videos in one sitting, setting you up for the month ahead in a matter of hours.
Think of batching in terms of meal prep: you cook everything on Sundays so your meals are ready to go for the week ahead. While batching long-form videos may seem overwhelming at first, it helps you overcome the initial hurdle of sitting down to create. Once you're in the flow of creating, it's easier to record multiple videos in one go. You'll also be saving yourself time in the long run.
Structure Your Long-Form Video Content
Start by outlining your videos in advance or on the same day as you record. Give yourself an hour or two to loosely script your outline. But keep your end goal in mind—it will help with repurposing later.
Next, structure your videos with a quick intro that hooks your audience (30 seconds or less) like "Don't get scammed by social media 'experts'". Then, give three main talking points that relate to your hook. Discuss three different points you see social media experts talking about online you want to debunk, for example.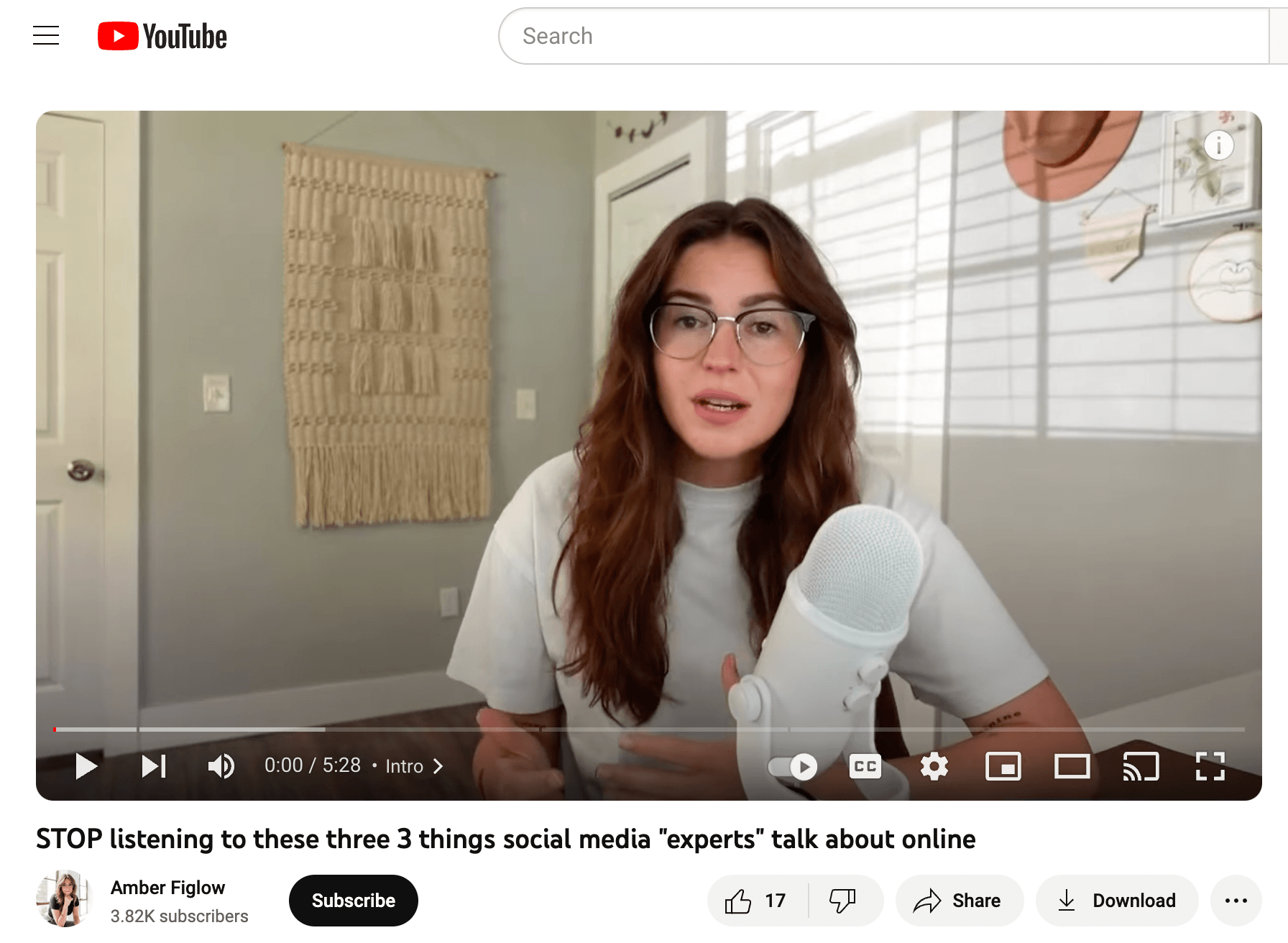 Finally, you'll end your videos with an outro that provides a clear call to action to watch another video or download a freebie, for example. This is especially useful if you're educating your audience on a particular topic. Maybe one of your three points in the example above is debunking content pillars. So, under that point, you can discuss why content pillars aren't dead and how to create them if you're struggling to do so. The talking points become natural, intentional segments for your short-form content like Reels or TikTok videos.
To batch-record your videos efficiently, follow these tips:
Schedule 4–5 hours on your calendar solely for creating videos. This time constraint pushes you to get it done. It also gives you time to create any supplemental content, like thumbnail images for your YouTube videos.
Start early in the day when you have the most energy and creativity.
Keep your videos 8–12 minutes long. This leaves room for you to repurpose them while keeping your viewers engaged. Keep in mind you may have to record for 20 minutes to get a good quality 12-minute video.
Don't script every word. Speak conversationally from bullet points. You want to sound natural, not like a robot. Pretend you're talking to a friend on FaceTime.
Record with ample space around you. This will make cropping easier for you in post-production.
#2: Prepare Your Content for Repurposing
The first part of preparing your content for repurposing is to edit your long-form video. You don't need to do any fancy editing. The goal is to perfect your long-form content.
Use AI Tools to Edit Your Long-Form Social Content
Use free tools like Descript with integrated transcripts and AI to expedite extracting your short-form content. Descript will help you condense your content by removing Millennial pauses (dead space longer than a second) and filler words. It will give you an auto-generated transcript based on your video so you can easily highlight the parts you want to cut. This process should only take you about 15–20 minutes per video.
Next, take your document or transcript from Descript and start breaking it down into other pieces of content. You'll want to use this transcript because it's your words, your authentic voice. Let's say you have a 30-second Reel idea, and you liked what you said in a certain section of your YouTube video. You can highlight that section of your transcript in Descript and click Create New Video. It pulls that part of the video out for you and creates a new vertical composition. Now you have a Reel!
Context is key—look for the little gems of information that will perform well as short-form content. You can aim to get 3–6 short-form videos (15–60 seconds) from an 8–12 minute video. Remember your 3 talking points from your YouTube video? You can easily turn those into 3 short-form videos or you can combine them into one video. Figure out ways to play to your strengths—use what's in your arsenal to repurpose your social content.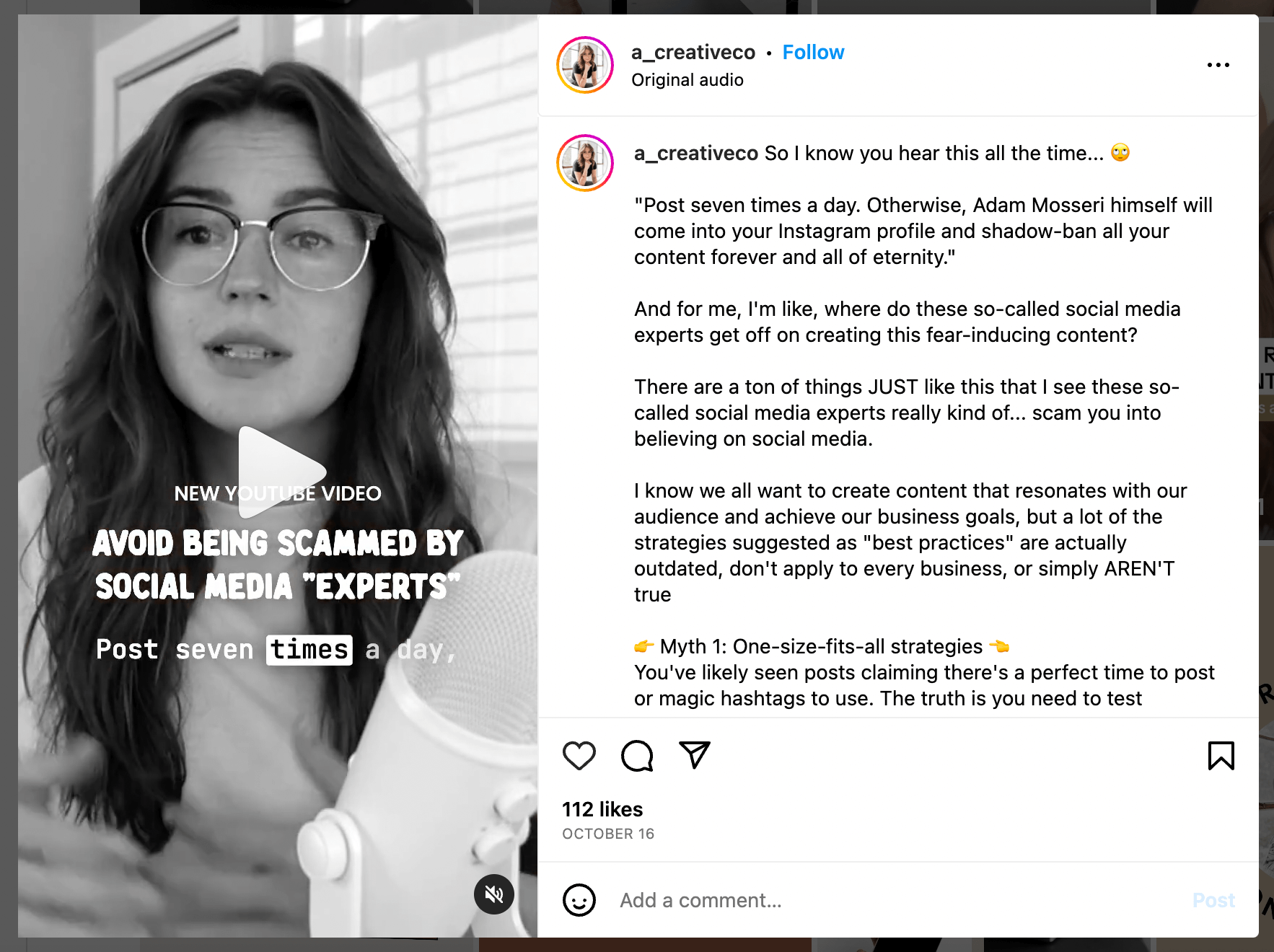 Perhaps instead of repurposing your YouTube video into short-form video content, you're wondering how you can create written content. Take the transcript from your YouTube video and plug it into an AI writing tool like Claude to create captions, outlines for blog posts, newsletters, etc.
Claude even picks up on your tone of voice so you're able to remain authentic when condensing your information. Using AI writing tools saves you a ton of time while also allowing you to reach your target audience on many different digital marketing platforms.
This also works great if, for example, you like to write long-form content. You can drop a piece of writing into Claude and have it create a script you can utilize for a TikTok video.
Test Your Short-Form Video Content
You can also test your short-form video content to see what resonates with your target audience.
For example, take a 20-second clip from your YouTube video and post that, say on a Tuesday. Then, on Wednesday take the audio from that clip and add it on a Reel with B-roll and captions. On Thursday, you could use that audio in text form and turn it into a post on Instagram Threads.
So, you're using the same audio, but in 3 distinct ways with different visuals.
#3: Schedule Your Social Media Posts
Now you have all this content and you want to start posting. The final critical step is scheduling and distributing all the repurposed content you just created.
Use scheduling tools like Later to get ahead and batch-schedule your content. This prevents you from getting derailed and helps ensure you stay consistent.
Follow these key scheduling tips:
Schedule your content in batches. Map out a week or month of your content at once.
Use each platform's built-in tools when possible (e.g. YouTube Studio).
Use Instagram business profiles to unlock more scheduling features.
Save your video drafts to your phone. Drafts in certain apps, like Instagram, are not backed up. So if you delete your IG app on your phone, you will lose your drafts if you don't save them to your phone.
Other Notes From This Episode
Where to subscribe: Apple Podcasts | Google Podcasts | Spotify | YouTube Music | YouTube | Amazon Music | RSS
✋🏽 If you enjoyed this episode of the Social Media Marketing podcast, please head over to Apple Podcasts, leave a rating, write a review, and subscribe.
---
Stay Up-to-Date: Get New Marketing Articles Delivered to You!
Don't miss out on upcoming social media marketing insights and strategies! Sign up to receive notifications when we publish new articles on Social Media Examiner. Our expertly crafted content will help you stay ahead of the curve and drive results for your business. Click the link below to sign up now and receive our annual report!