Thinking of expanding your ad spend beyond Facebook and Instagram? Are you looking for a comprehensive guide to Snapchat ads?
In this article, you'll get a complete walkthrough of how to use the Snap Ads platform including an introduction to its ad formats and tracking features.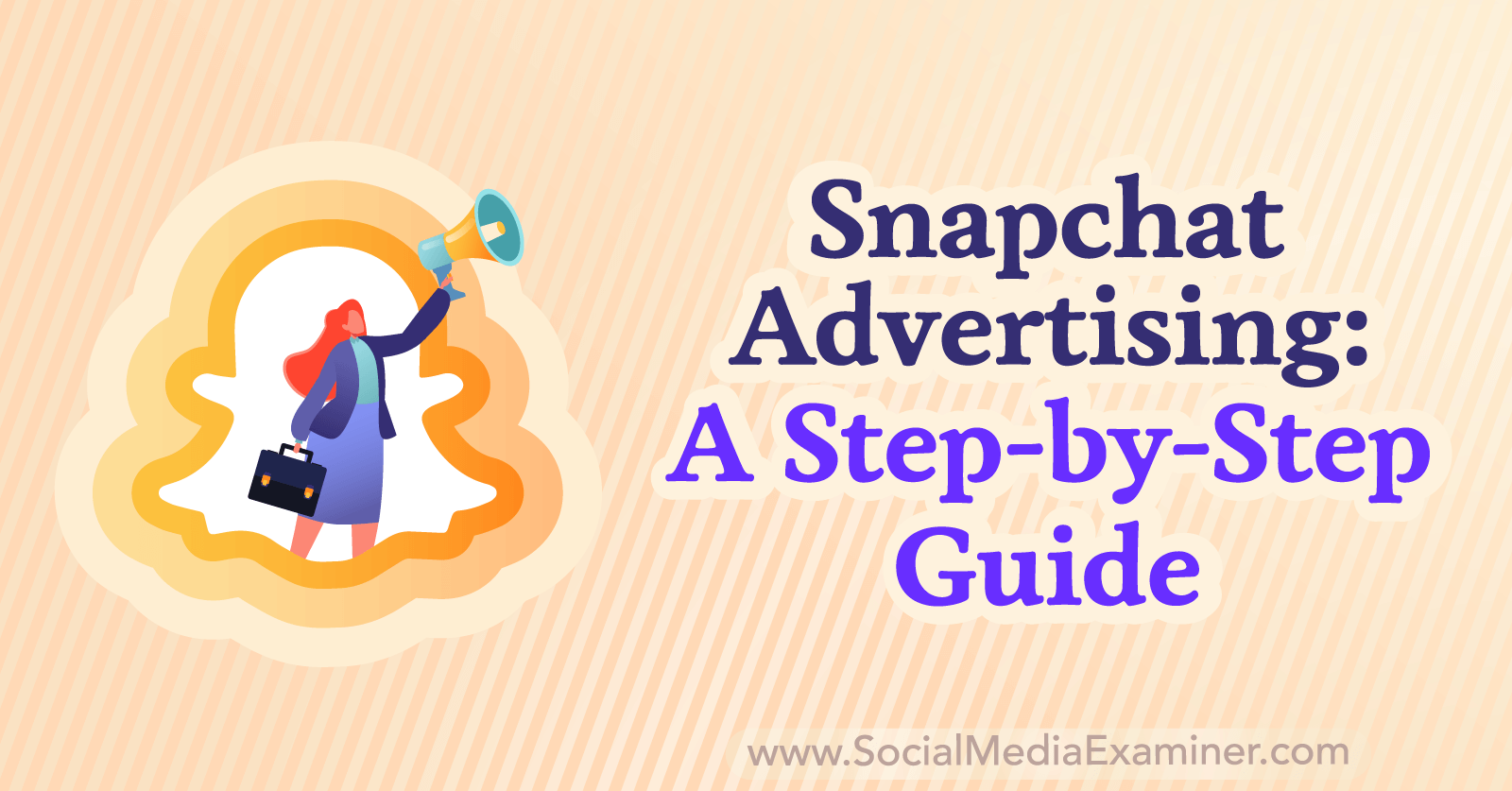 Why Your Business Should Advertise on Snapchat
With more than 550 million monthly active users, Snapchat's audience size ranks somewhere between that of heavy hitters like Facebook and Instagram and smaller channels like Twitter and Pinterest. But the Snapchat generation sets itself apart with these defining characteristics:
Users are 150% more likely to communicate visually rather than with words. That means eye-catching images and engaging videos can capture Snapchatters' attention.
Snapchatters' spending power totals $4.4 trillion—including nearly $2 trillion in North America alone. That means this platform can generate value and drive revenue.
Nearly 80% of Snapchat users in the United States are younger than 36 years old. If you want to reach 75% of Millennials and Gen Zers in the U.S., this platform is a good bet.
In addition, Snap Ads offers a ton of flexibility. You can use the platform's automated workflow to save time on campaign optimization. Or you can use the manual Advanced Create mode to get more control over every aspect of your campaign.
Getting started with Snap Ads doesn't have to be expensive either, as the platform's minimum daily spend requirement is only $5. That means the platform provides plenty of room for experimenting with messaging, creatives, and campaign goals.
Before You Advertise on Snapchat
Follow the steps below to set up your Snapchat advertising account so you can promote your business and track results successfully.
Create a Snapchat business account: If you haven't yet set up a business account for Snapchat, go to ads.snapchat.com and log in using your Snapchat account details. You'll see a prompt to choose a business type. As a general rule, national or global businesses should use Brand, and any other type of organization should use Small Business.
Next, set up a public profile so Snapchatters can easily subscribe to and engage with your business. From Ads Manager, open the main menu and select Public Profiles. Click the Create Profile button.
Then enter your public profile information including your location, website, and email. You can also add a 150-character bio and upload a logo so customers can easily recognize your business.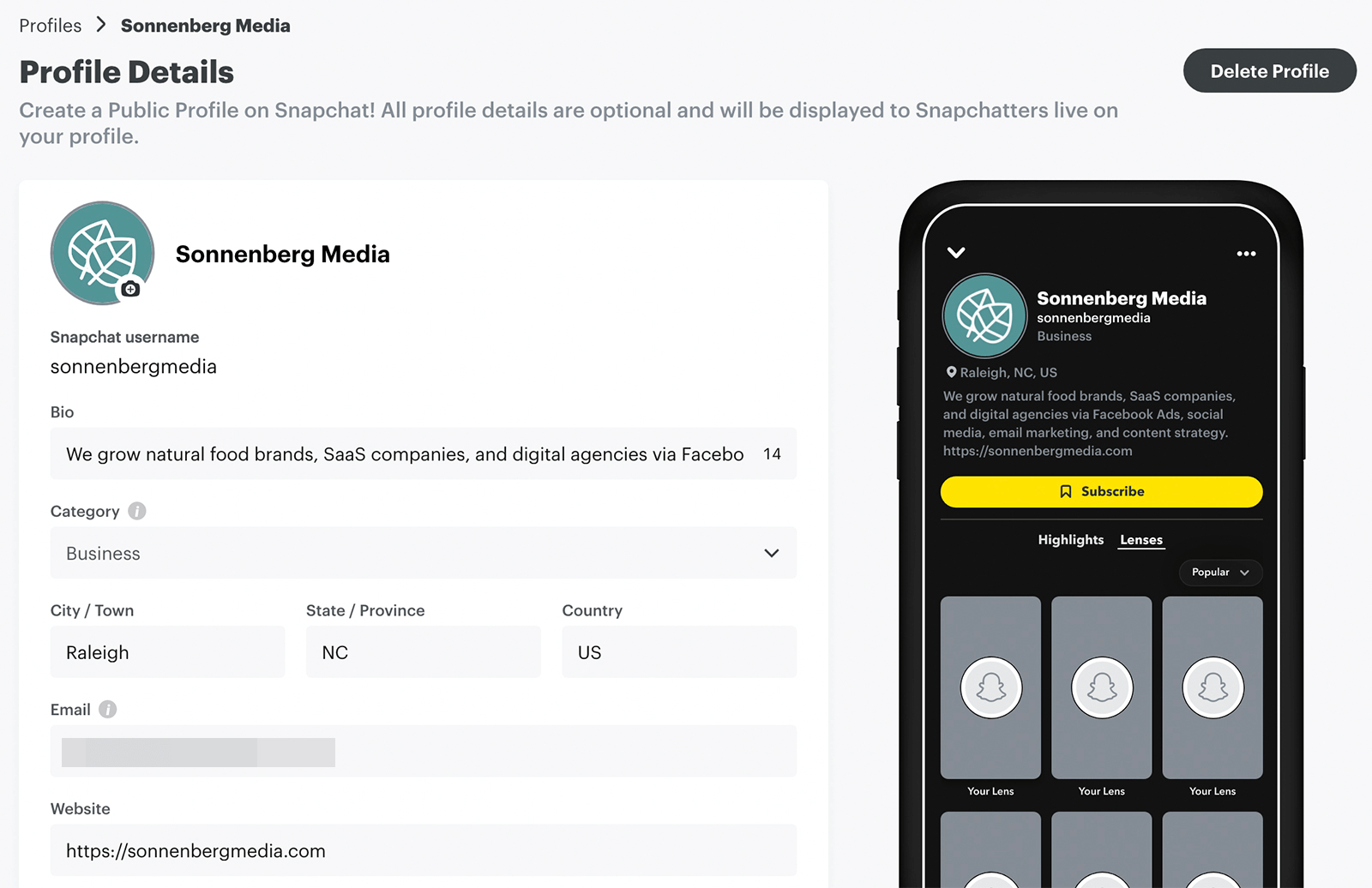 Install the Snap pixel: If you want to send Snapchat users to your company's website, installing the Snap pixel is essential. By adding a custom snippet of code to your site, you can track results, see what pages users view, and build remarketing audiences.
From Ads Manager, open the main menu and select Events Manager. Click the New Event Source button and choose the source: Web, App, or Offline. Then you can install the Snap pixel code manually or use a partner integration to streamline data sharing. Once you've set up your Snap pixel, you'll be able to see event tracking details in Events Manager.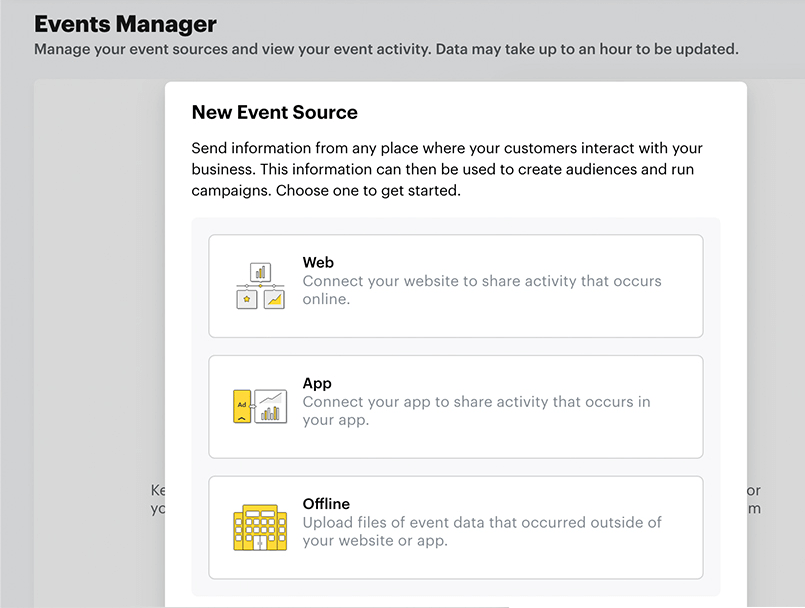 Build a Snapchat catalog: If your business sells products online, it's also a good idea to create a Snapchat catalog that you can use to advertise. From Ads Manager, open the main menu and select Catalogs. Click the Create a Catalog button and choose the type you want to set up.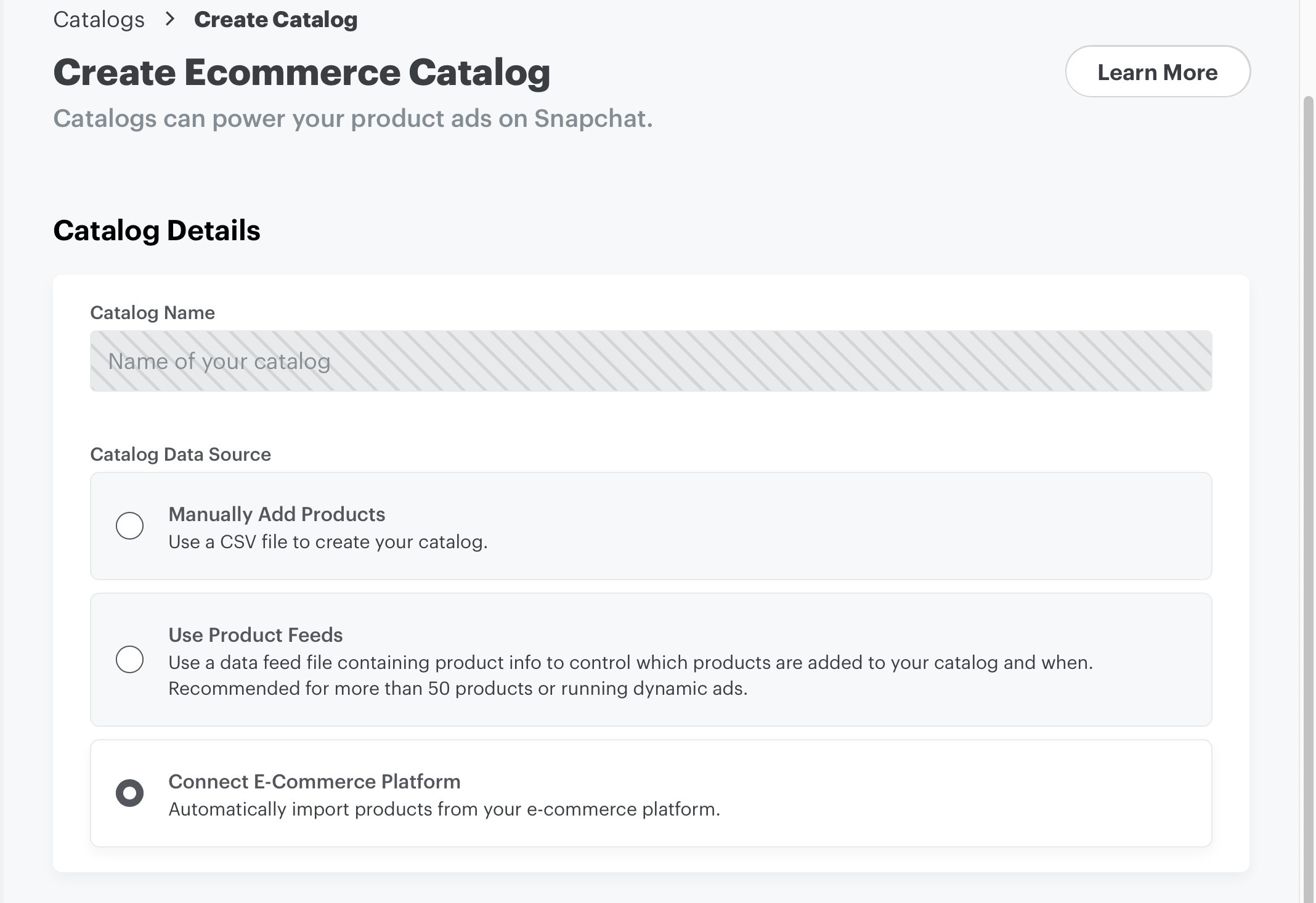 Snapchat currently supports eCommerce catalogs, as well as hotel and flight bookings. You can either add products manually or automate the process using product feeds. If you create an eCommerce catalog, you can also use the Shopify partner integration to connect your product feed instantly.
How to Run Ads on Snapchat
After completing the preliminary steps above, you're ready to advertise on Snapchat. Go to Snapchat Ads Manager and select Create Ads. Then follow either the Instant Create or the Advanced Create workflow to begin promoting your business.
Get Your FREE Course: Web3 for Beginners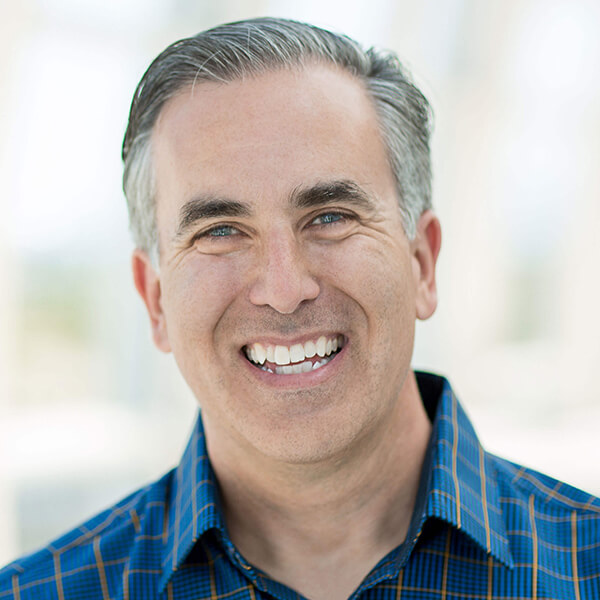 Curious about Web3, but don't know where to start or who to trust?

Introducing Web3 for Beginners, a course taught by Michael Stelzner, the founder of Social Media Examiner.

Learn the basics of Web3 and apply it to your business with this FREE comprehensive course.
CLICK HERE TO GET FREE ACCESS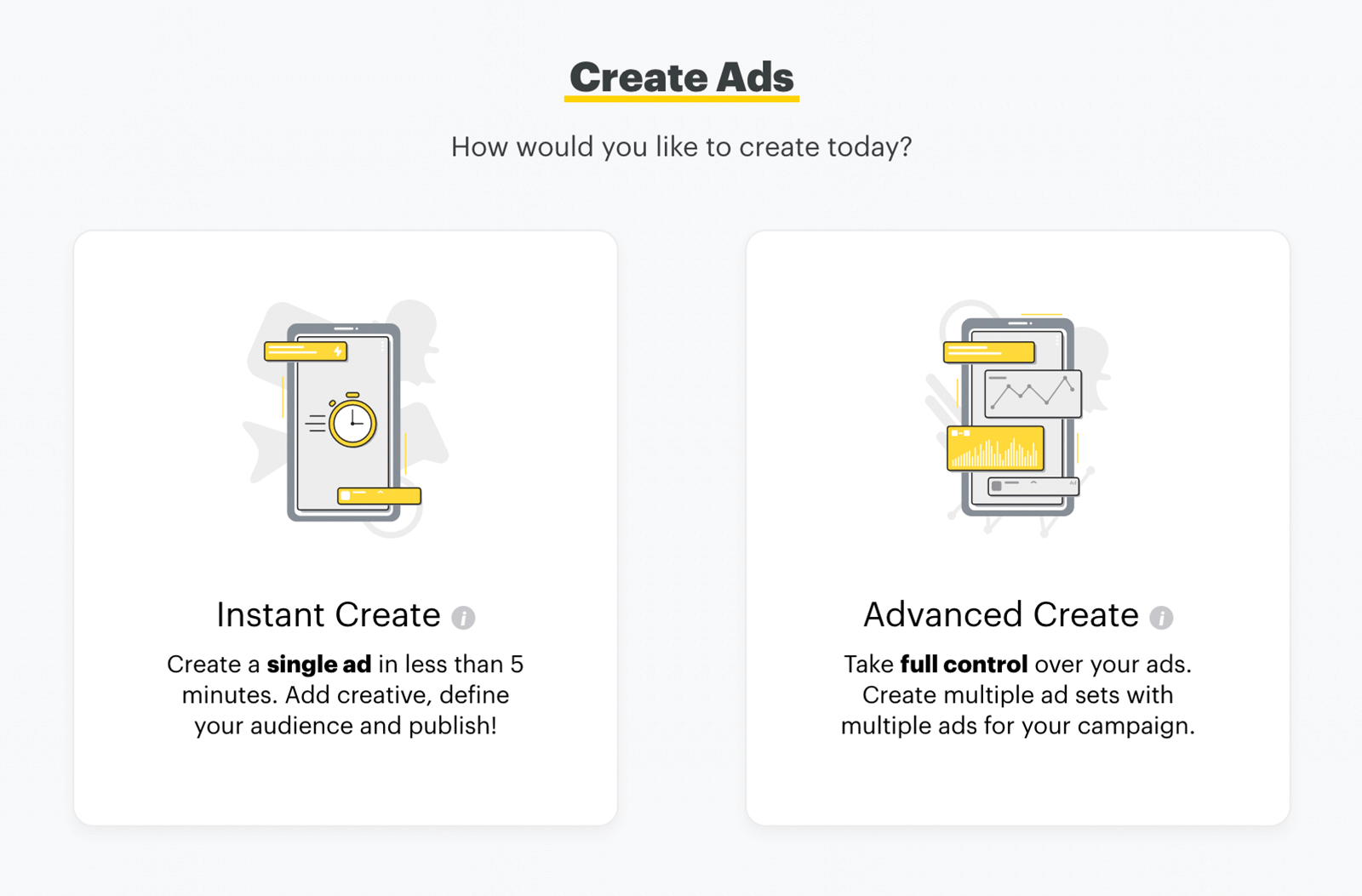 The sections below walk you through how to create your ads with both setup options.
#1: How to Create Snapchat Ads via Instant Create
When you want to create a single ad rather than a complete campaign, use Instant Create to get your promotion up and running in just a few minutes. Note that Instant Create works with single image and video ads only so you need Advanced Create for story, collection, lens, and other types of ads.
Choose an Advertising Goal
With Instant Create, you can choose from the following objectives:
Website Visits, which sends people to any URL you choose
Promote Local Place, which sends people to a physical storefront
Calls & Texts, which prompts people to connect with you outside of Snapchat
App Installs, which encourages people to get your app
App Visits, which gets people to open and use your app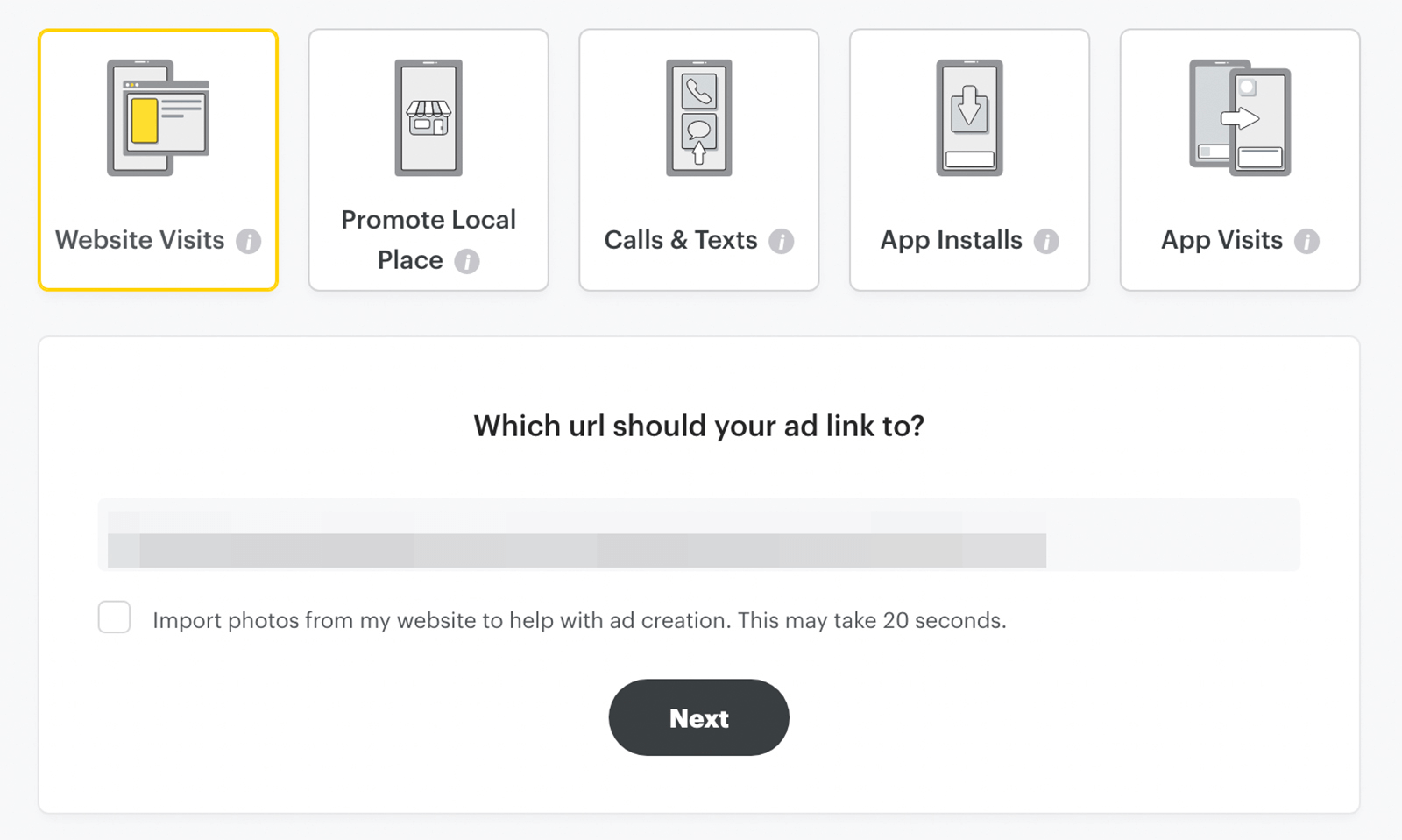 After selecting a goal, enter the required details. For example, you'll need to provide a URL to get website visits, and you'll need a business name and zip code to promote a local place.
Design Your Snapchat Ad
Next, upload your ad creative, which can be a single image or video. If you've already added media to your library, you can select from there. Use Snapchat's built-in cropping tool to size your creative for mobile users and click the Crop Image button to modify your image as necessary.
Then write a headline to appear at the top of your ad and choose a call-to-action (CTA) button to display at the bottom of your ad. Snapchat automatically displays your public profile details at the top of the ad but you have the option to change the brand name in your ad.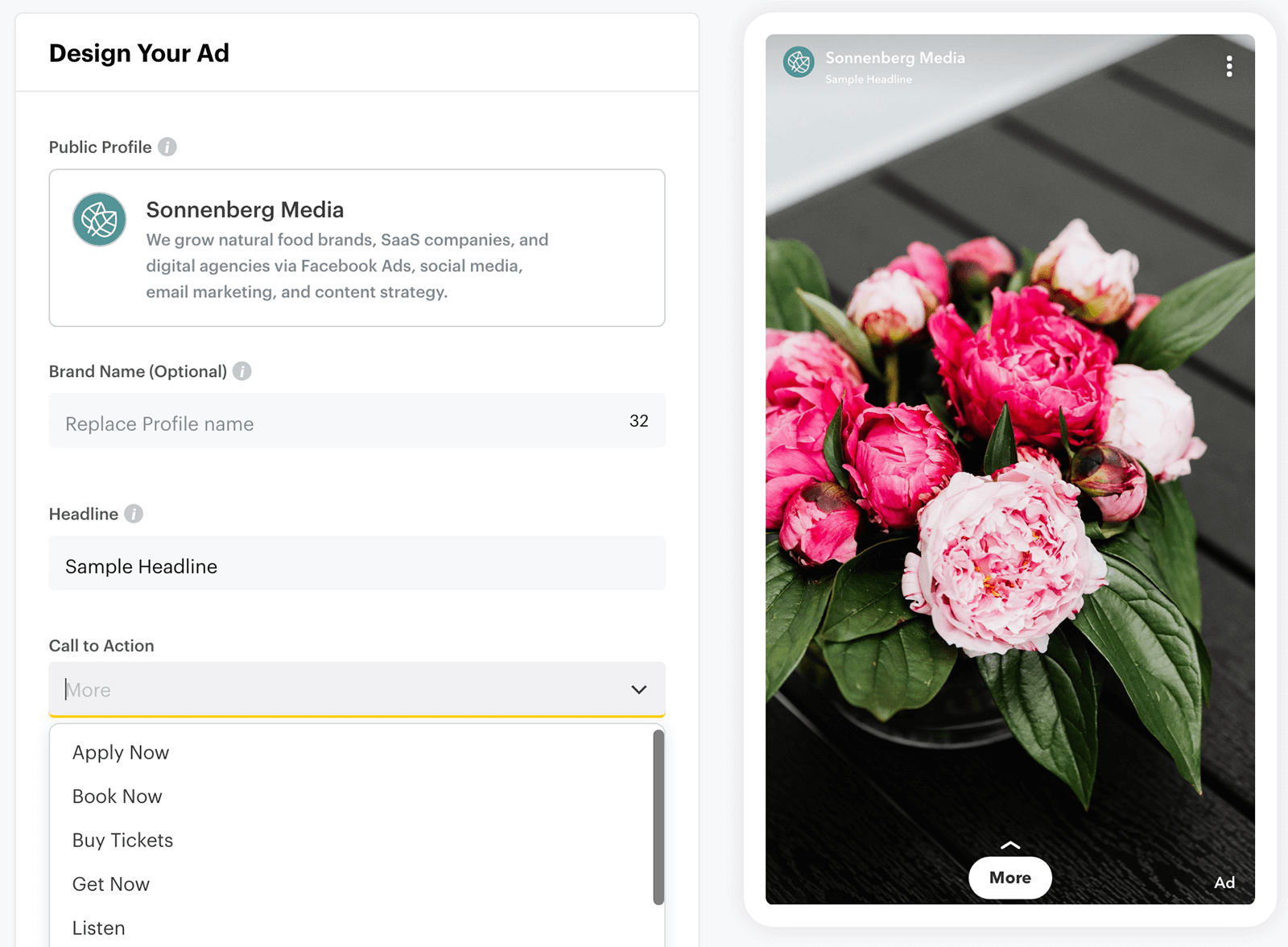 To encourage your audience to act, add a sample caption, which displays as a text overlay on your ad. You can also select from the available templates to change the look of your ad and unlock additional options. For example, you can add a logo to increase brand recognition.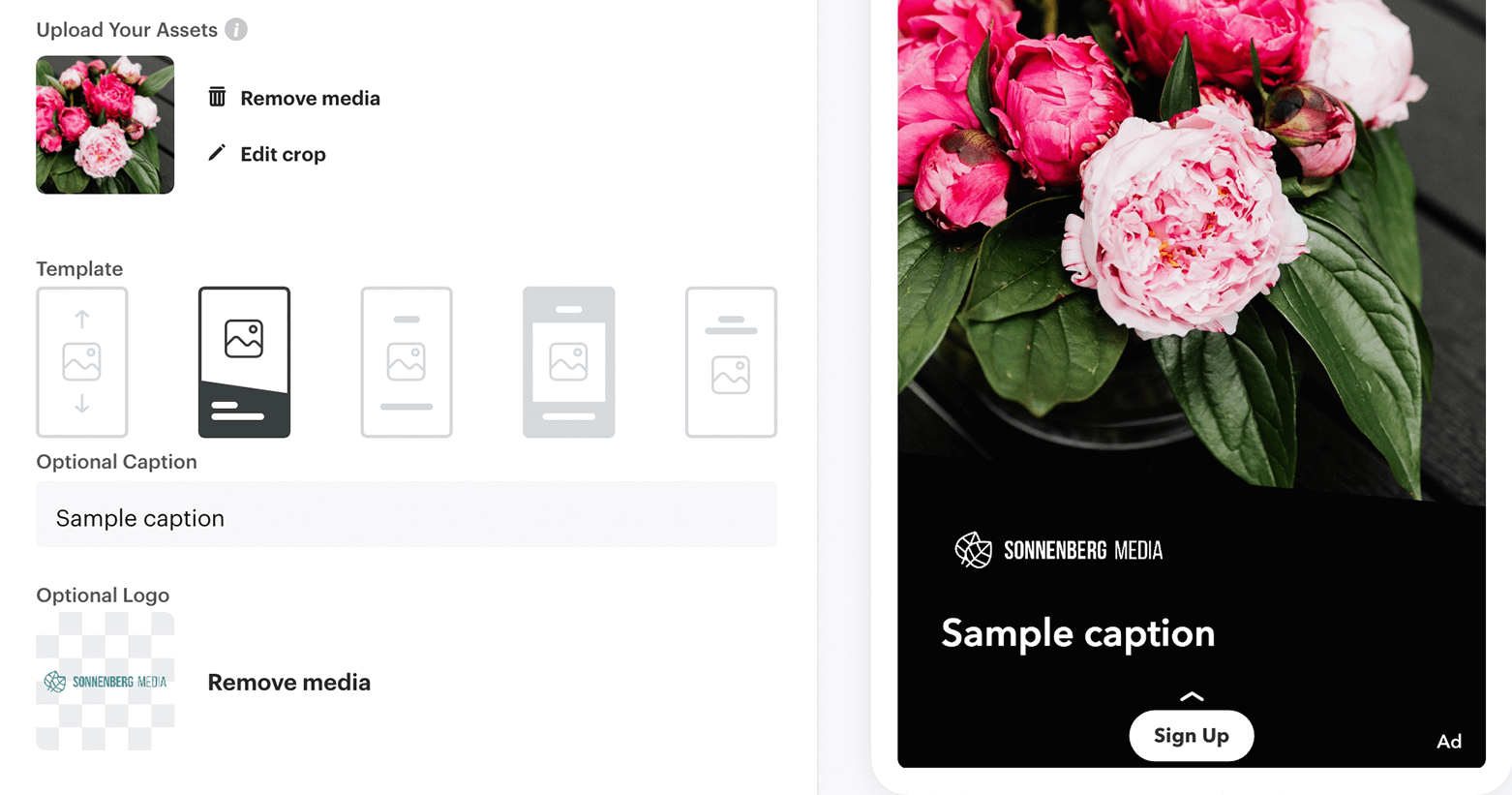 Set Your Ad Targeting
After designing your ad, click over to the Delivery screen to set the targeting parameters. Here's what you can change:
Demographics, including gender, age, and language
Location, including targeting at the country, state, city, or Designated Market Area (DMA) level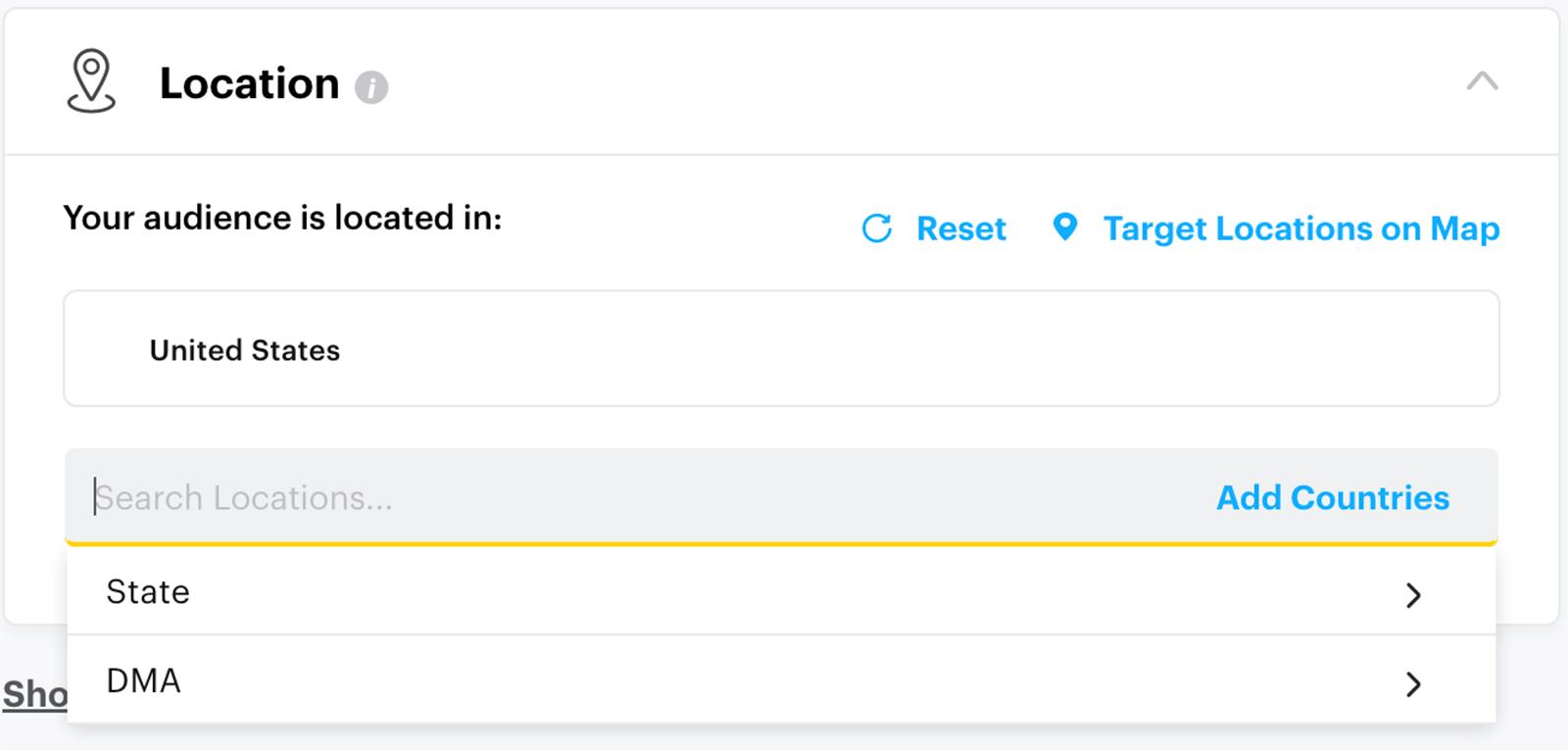 Devices, including operating systems and device makes
Interests & Custom Audiences, including Snapchat-designed audience segments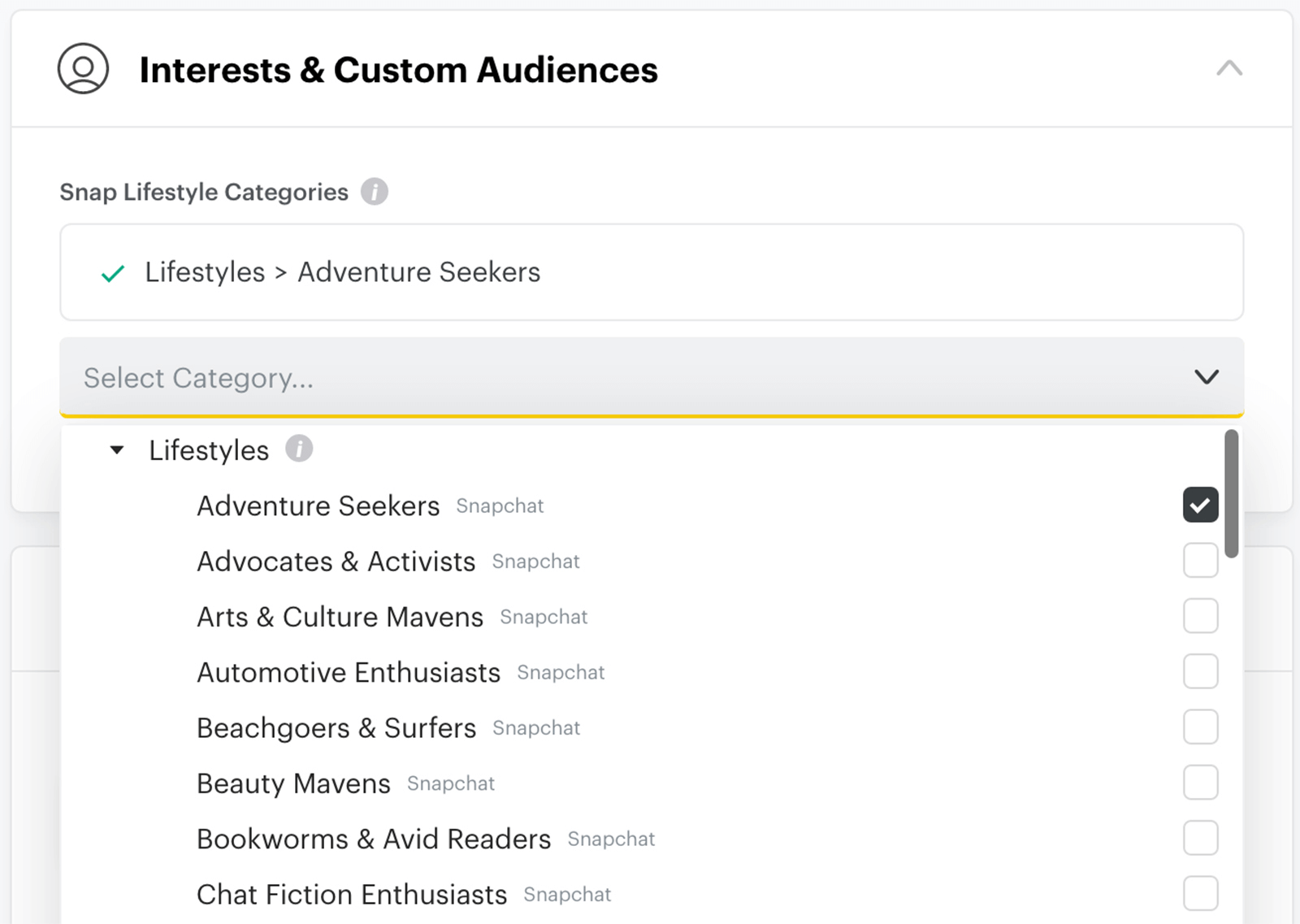 Next, set a daily or lifetime budget and a timeframe for your ad. You also have the option to change the bid strategy from auto-bid, which is optimized to maximize results while spending your entire budget. Target cost controls your cost per action, and max bid sets a limit on the amount you bid for each result.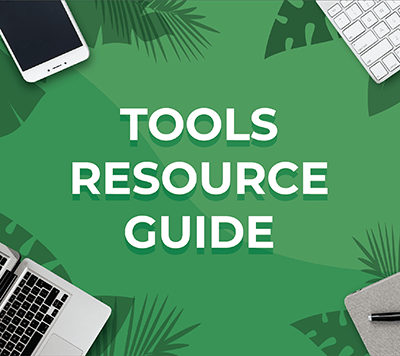 Looking for something to make your life easier?
Discover the tools we recommend to drive engagement, save you time, and boost sales across your entire marketing funnel or business.
Whether you need help planning content, organizing social posts, or developing your strategy, you'll find something for every situation.
FIND YOUR NEXT FAVORITE TOOL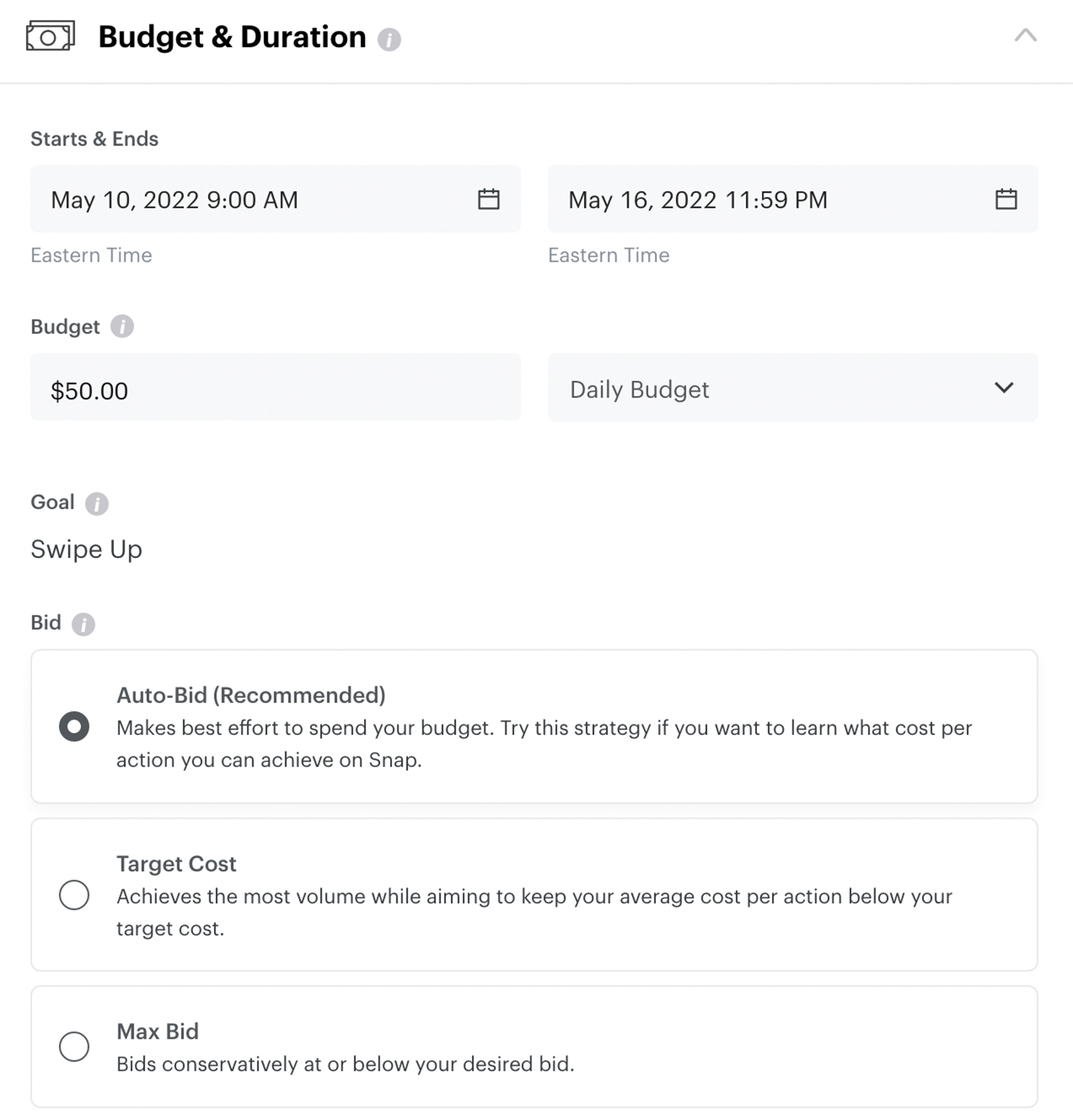 Finally, click Publish to schedule or start running your ad. You can monitor results and export reports by going to the Manage Ads tab from the main Ads Manager menu.
#2: How to Create Snapchat Ads via Advanced Create
Instant Create is ideal for running simple ads. But if you want to create full-fledged campaigns with multiple ads or ad sets and leverage the complete suite of Ads Manager tools, you need Advanced Create.
Select an Objective
If you're accustomed to LinkedIn Campaign Manager or Facebook Ads Manager, then the campaign objective structure in Snapchat's Advanced Create mode will look familiar. Snapchat Ads Manager divides objectives into funnel stages, with options for increasing awareness, driving consideration, and securing conversions.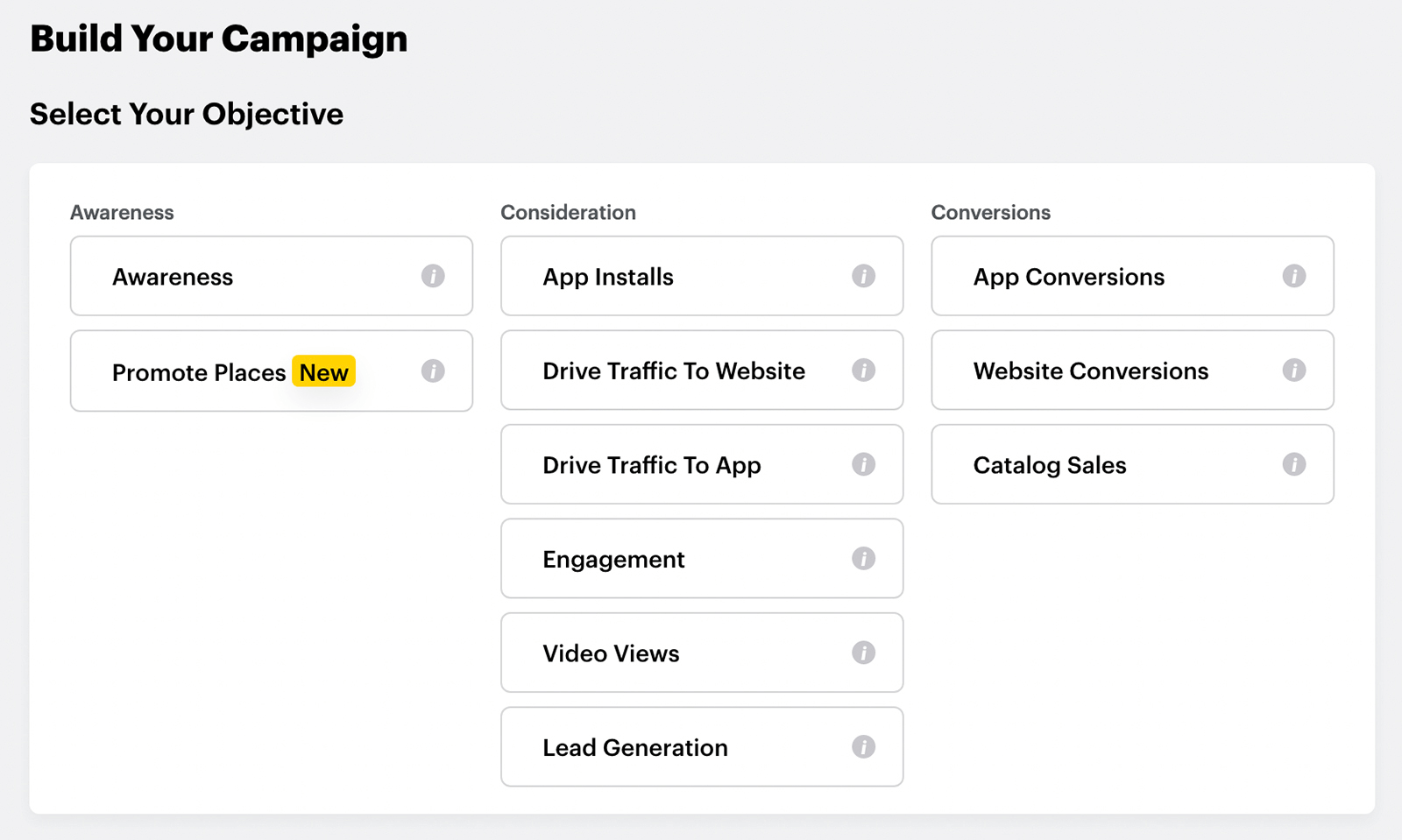 However, Snapchat offers a few campaign objectives that other social media advertising platforms don't have. For example, you can promote a local business to increase awareness and you can secure app conversions to drive revenue.
After choosing an objective, give your campaign a name and set the budget and timeframe. You can also create a split-test from the Advanced Create workflow—see the steps below.
Confirm Ad Set Details
At the ad set level, switch on your Snap pixel or Snap App ID Tracking and choose the placements for your ad. By default, Snapchat delivers your ad in the placements where it's most likely to generate the results you want. But you can determine placements manually instead. For example, you can opt out of delivering ads between content or you can choose to place your ads in content from specific categories and publishers.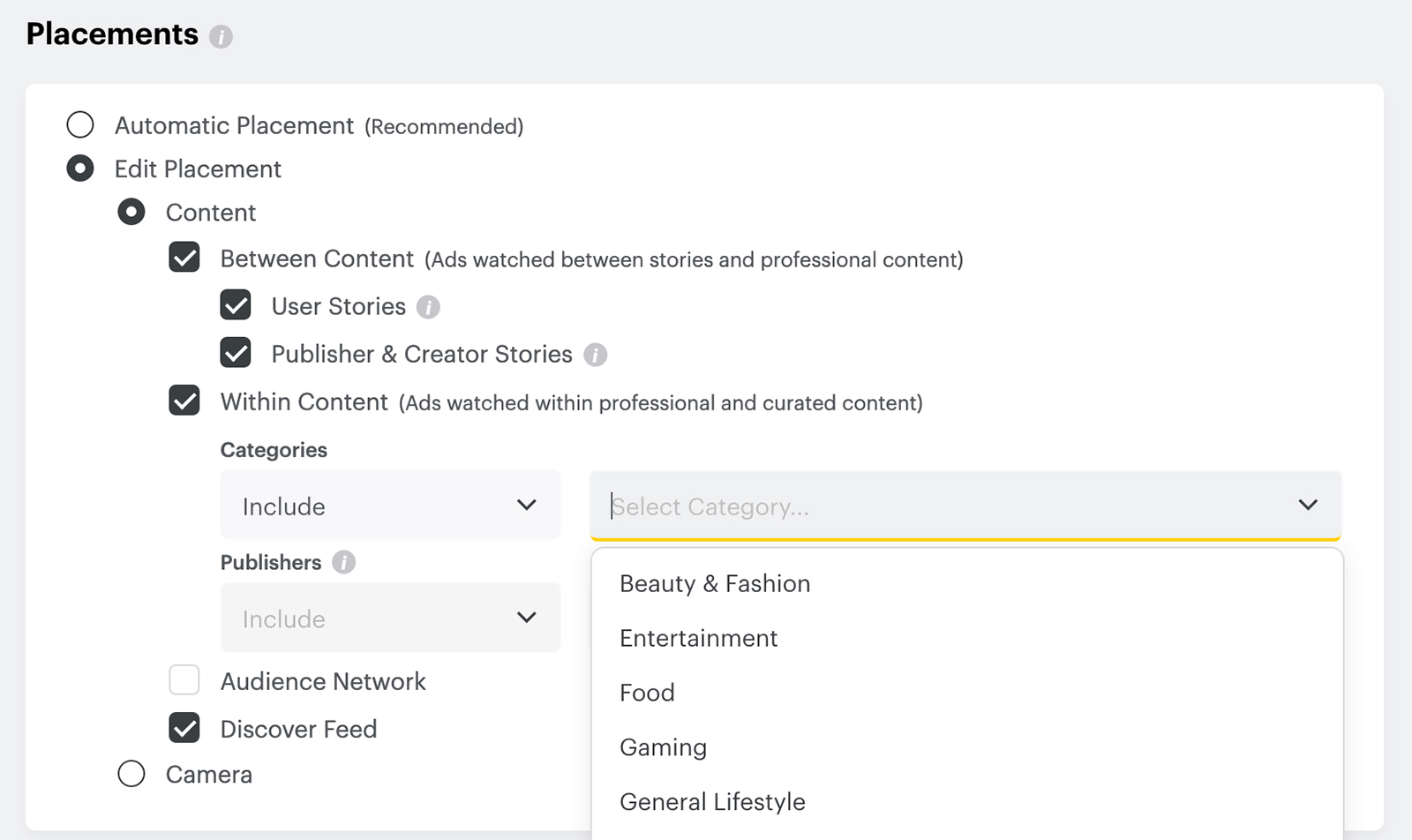 Next, set your targeting parameters. Like Instant Create, Advanced Create lets you choose demographics, interests, and devices. But you can also target people using advanced demographic options like household income or advanced device options like carriers and connection types.
In addition to Snapchat-generated audience segments, Advanced Create mode also supports custom audiences. You can create custom audiences using data from Snapchat or your website or app. Using your custom audiences as data sources, you can also create lookalike audiences that are optimized for similarity, reach, or balance.

Note that iOS 14.5-related tracking restrictions have affected Snapchat targeting capabilities and may impact your ability to reach the right people. Dynamic retargeting, pixel-based custom audiences, and Snap Audience Match are most likely to affect campaign results negatively, as they rely on third-party tracking. Consider using Snapchat's lifestyle categories, engagement audiences, or lookalike audiences to optimize your results.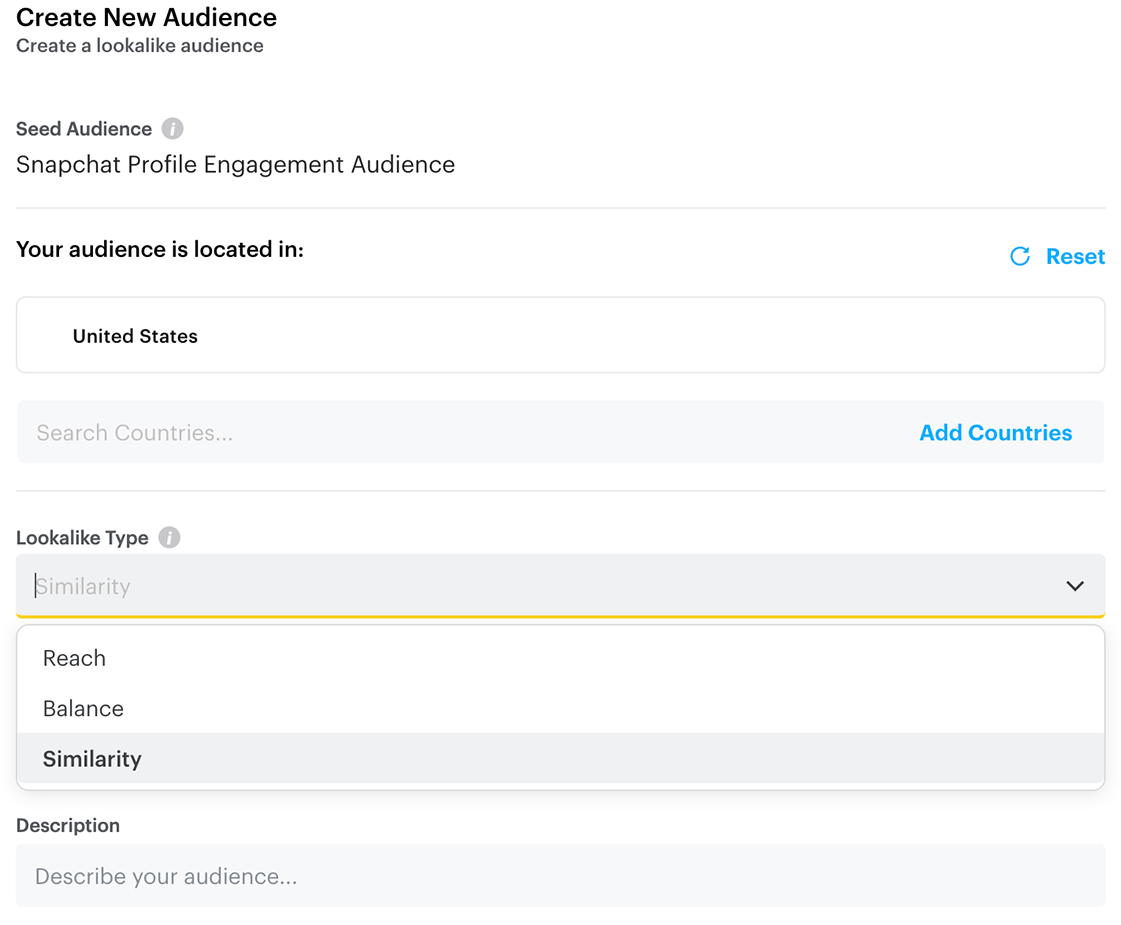 Before moving on to the ad level, confirm your bid strategy and ad set delivery goal. Depending on your campaign objective, you may be able to optimize for goals like story opens, Snap pixel purchases, and other options.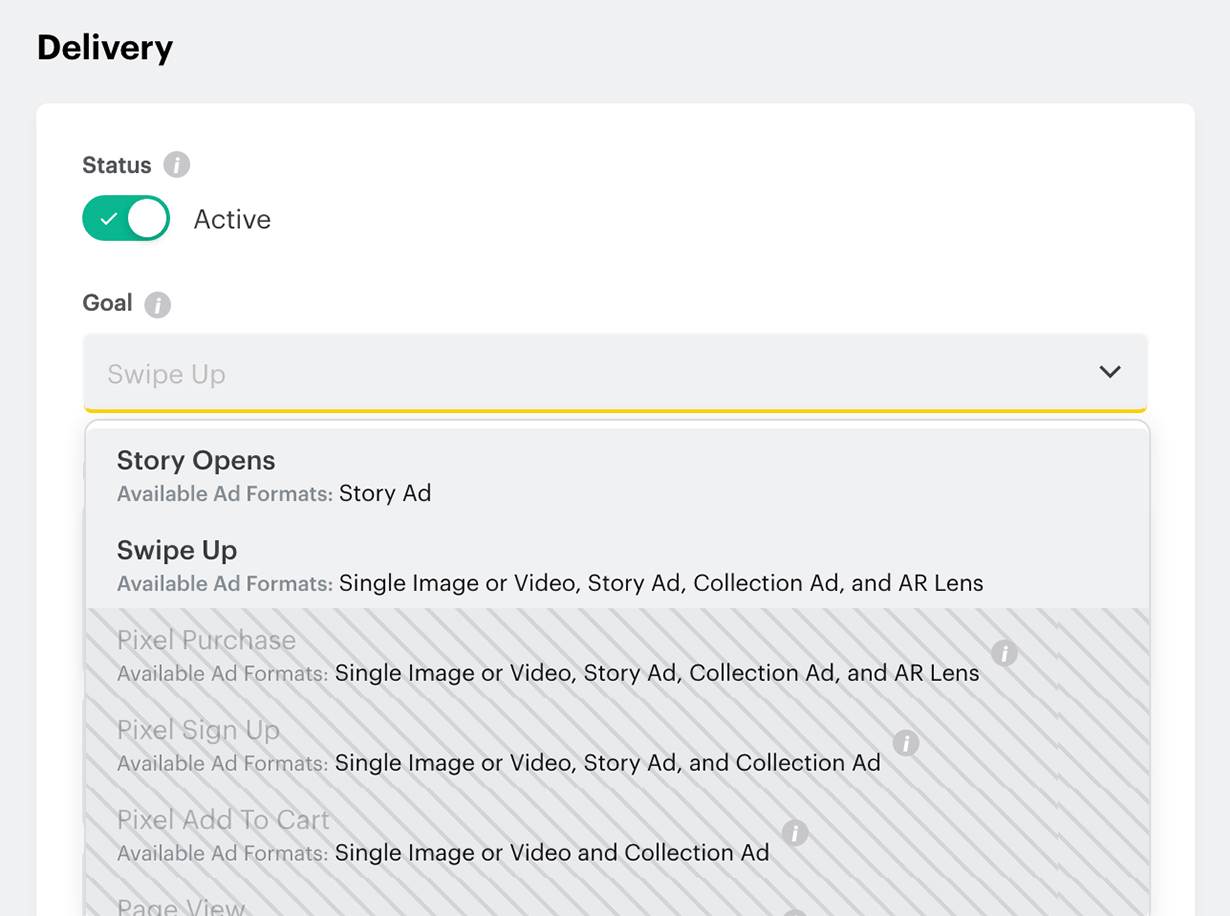 Create Your Snapchat Ad
Along with extra objectives, placement controls, and audience targeting, Advanced Create gives you more options for ad formats and creatives.
Depending on your campaign objective, options may include:
Snap ads display a single image or video after or in between organic content. To leverage the fast-paced nature of the platform, consider using a video or an animated GIF.
Commercials are 6-second video ads that run during premium content on Snapchat. These non-skippable ads are ideal for introducing your business and they're available with the awareness objective only.
Collection ads are designed for eCommerce businesses and can showcase up to four thumbnails. They're ideal for promoting multiple products and providing frictionless shopping experiences.
AR lenses let you create interactive experiences for your target audience. You can link your catalog to this ad format to allow customers to try on your products virtually.
Filter ads let Snapchatters apply graphics and text to add context to their Snaps. This ad format uses a geofilter to make it available to people in specific physical locations.
Story ads appear as branded tiles in the Discover section of the app. You can link up to 30 stories in a single ad and add different attachments to each, ranging from long-form videos to deep links.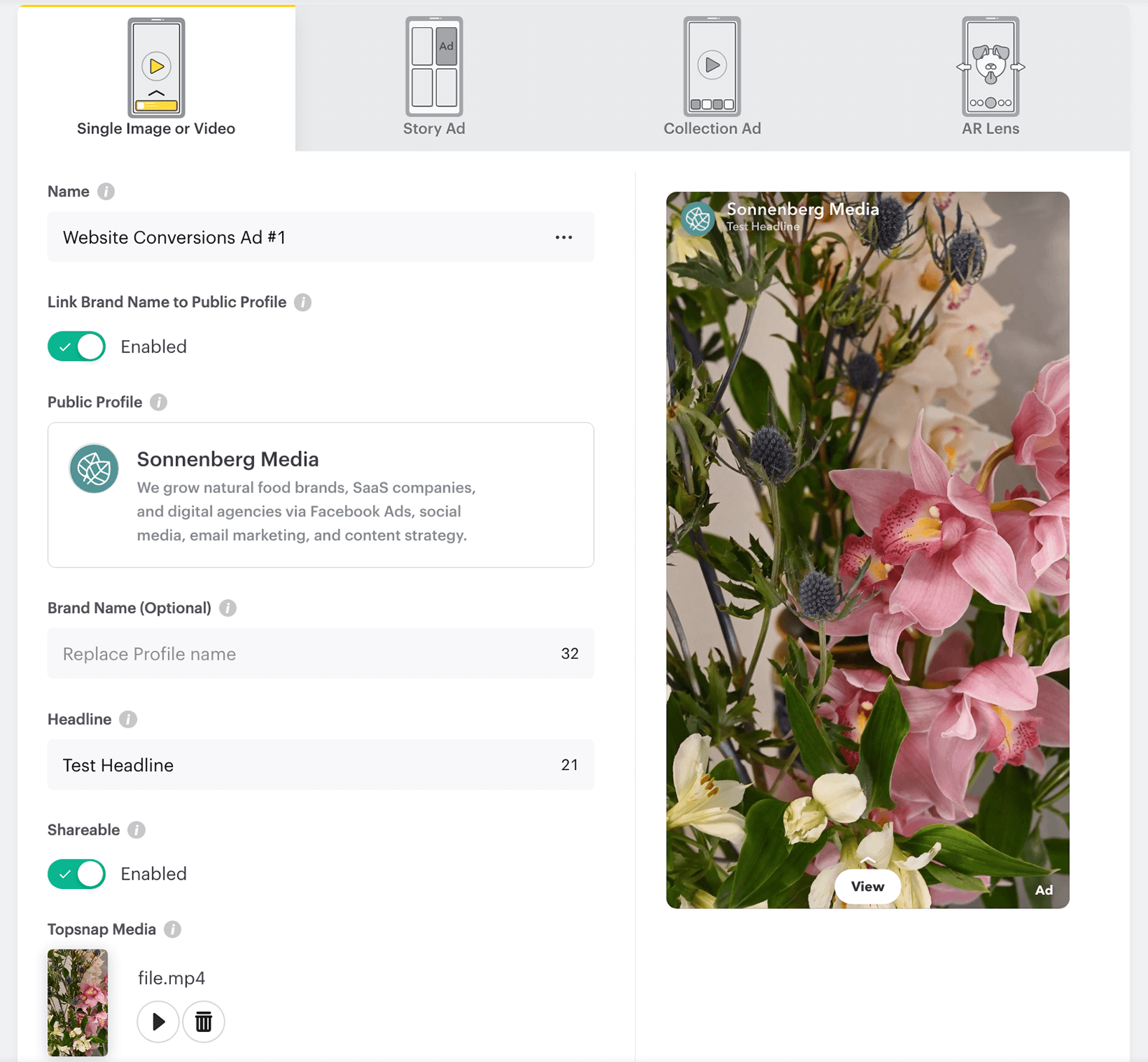 Complete the Campaign
Once you finish creating your first ad and ad set, you can create more of both. You can click the Create New button in the left-hand menu or click the three dots to the right of your ad or ad set to duplicate it. For example, you might create a single video ad and a story ad to connect with customers using a variety of formats and placements.
After completing the Advanced Create workflow, you can review and publish your campaign. From the Manage Ads dashboard, you can review metrics like:
Amount spent
Impressions
Swipe-ups
Swipe-up rate
2-second video views
#3: How to Split Test Snapchat Ads
When you want to maximize the value of your Snapchat advertising budget, it's important to get the messaging and targeting just right for your campaign. If you're trying to decide between two or more creatives, audiences, placements, or even goals, Snapchat's split testing feature can help you make a data-based decision. Here are two ways to set up a split test.
Advanced Create
In Snapchat Ads Manager, create a new campaign using Advanced Create mode. Choose an objective and then switch on the Create Split Test option at the campaign level. Select the test variable and then build the test by adding up to five versions. For example, you can split-test creatives by running multiple single image or video ads against each other.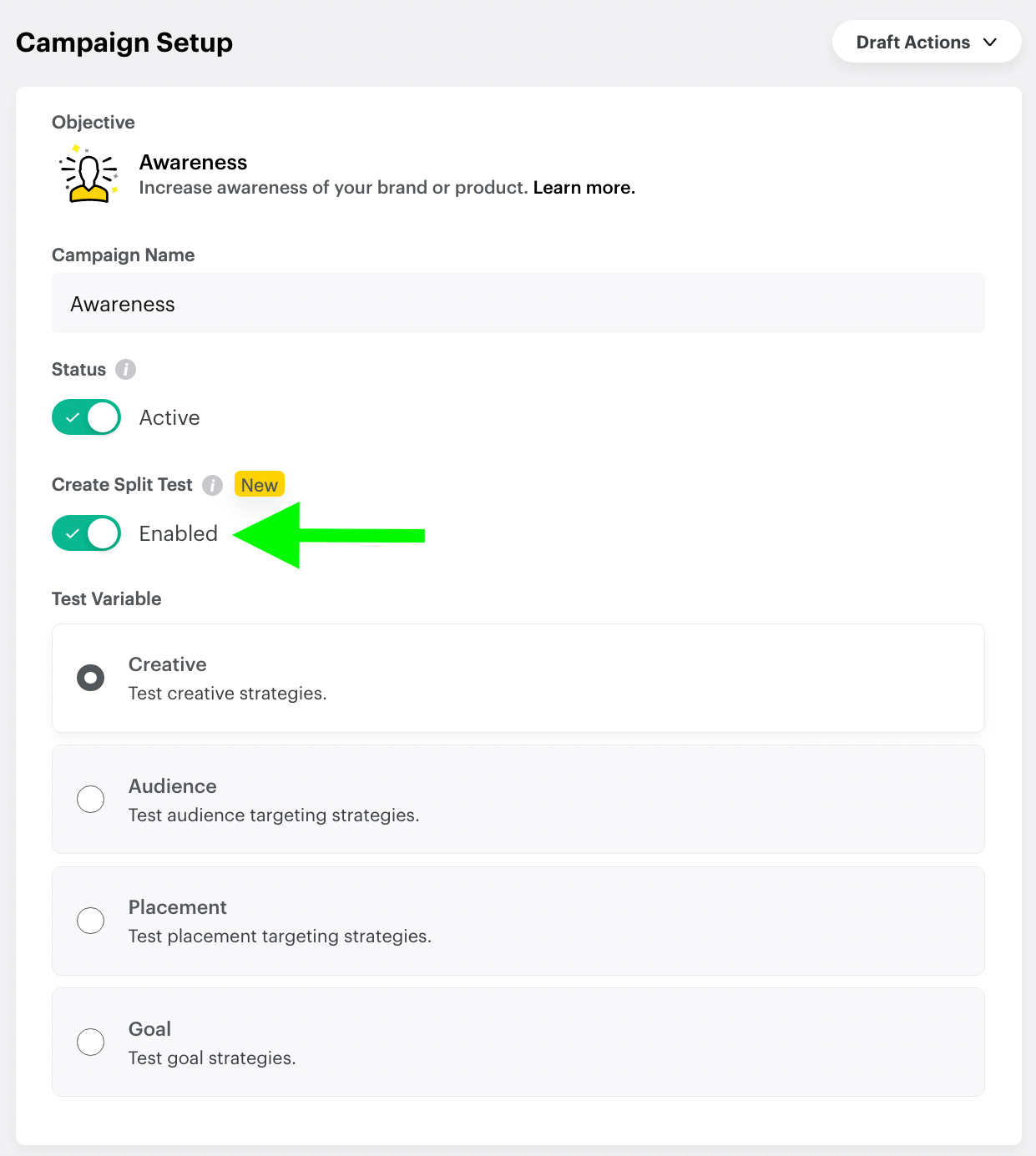 When you publish the test, Snapchat will automatically split your audience into equal groups and deliver your versions evenly. After the test finishes, you can see the winner and review the results. Then you can use what you've learned to create more effective ads for future Snapchat campaigns.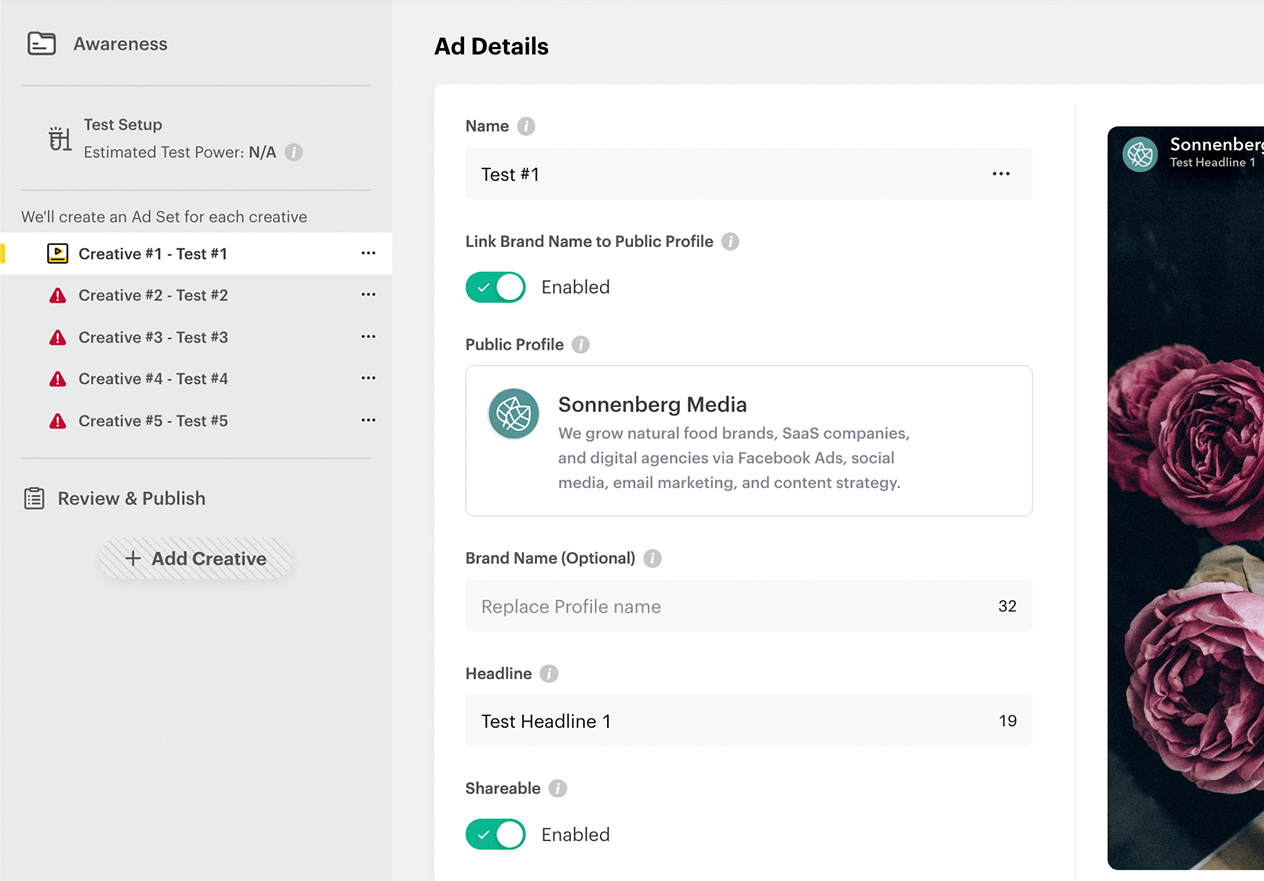 Campaign Lab
Alternatively, you can create a split test from Snapchat's experiments tool. From Ads Manager, open the main menu and select Campaign Lab. Then choose the type of test you want to create: Creative, Audience, Placement, or Goal.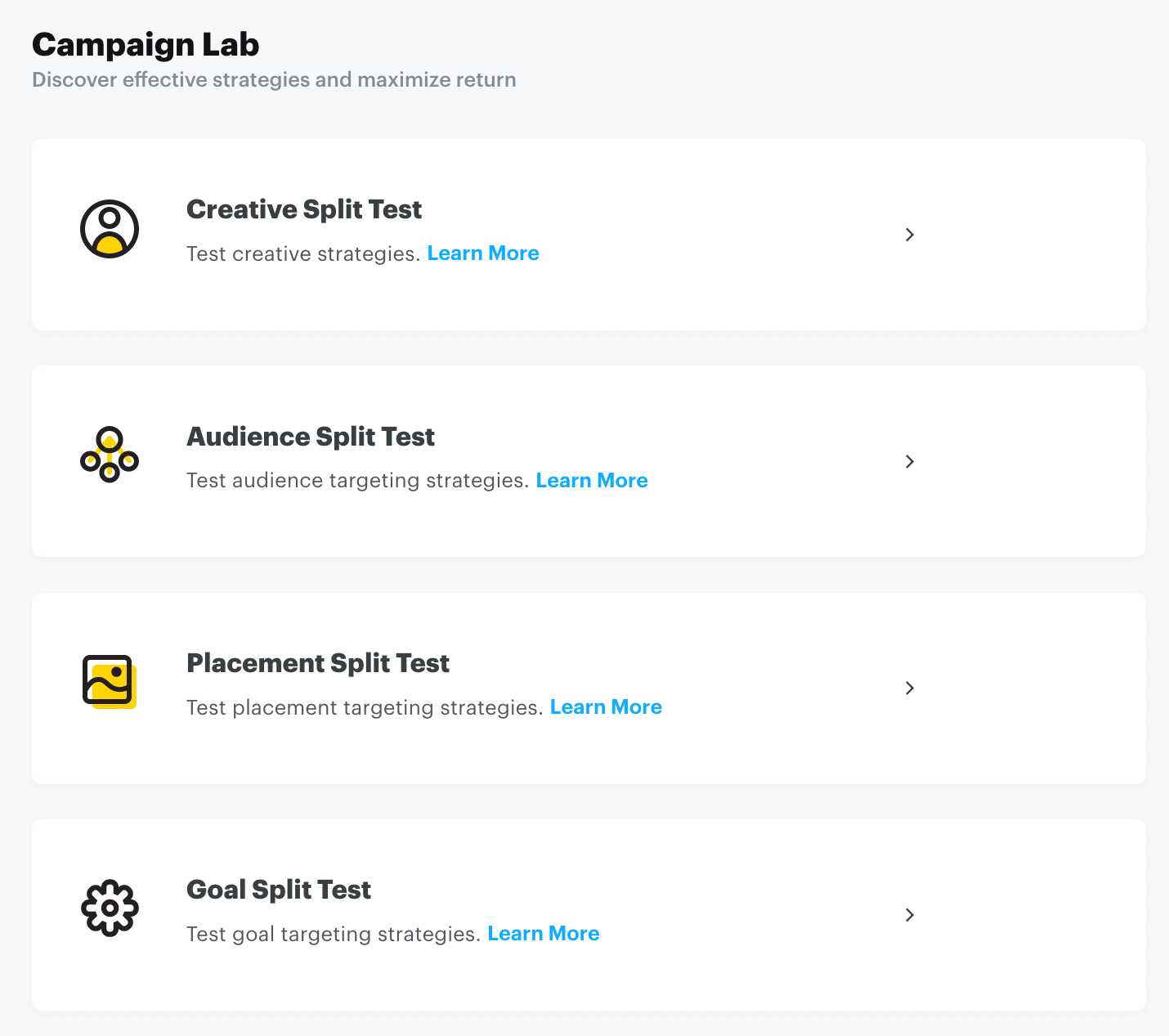 You'll automatically be redirected to Ads Manager and prompted to begin setting up a campaign using Advanced Create mode. Complete the basic campaign, ad set, and ad setup, and select settings for your various test versions. For example, when testing delivery optimization, every aspect of the test is identical except the goals and bidding strategies.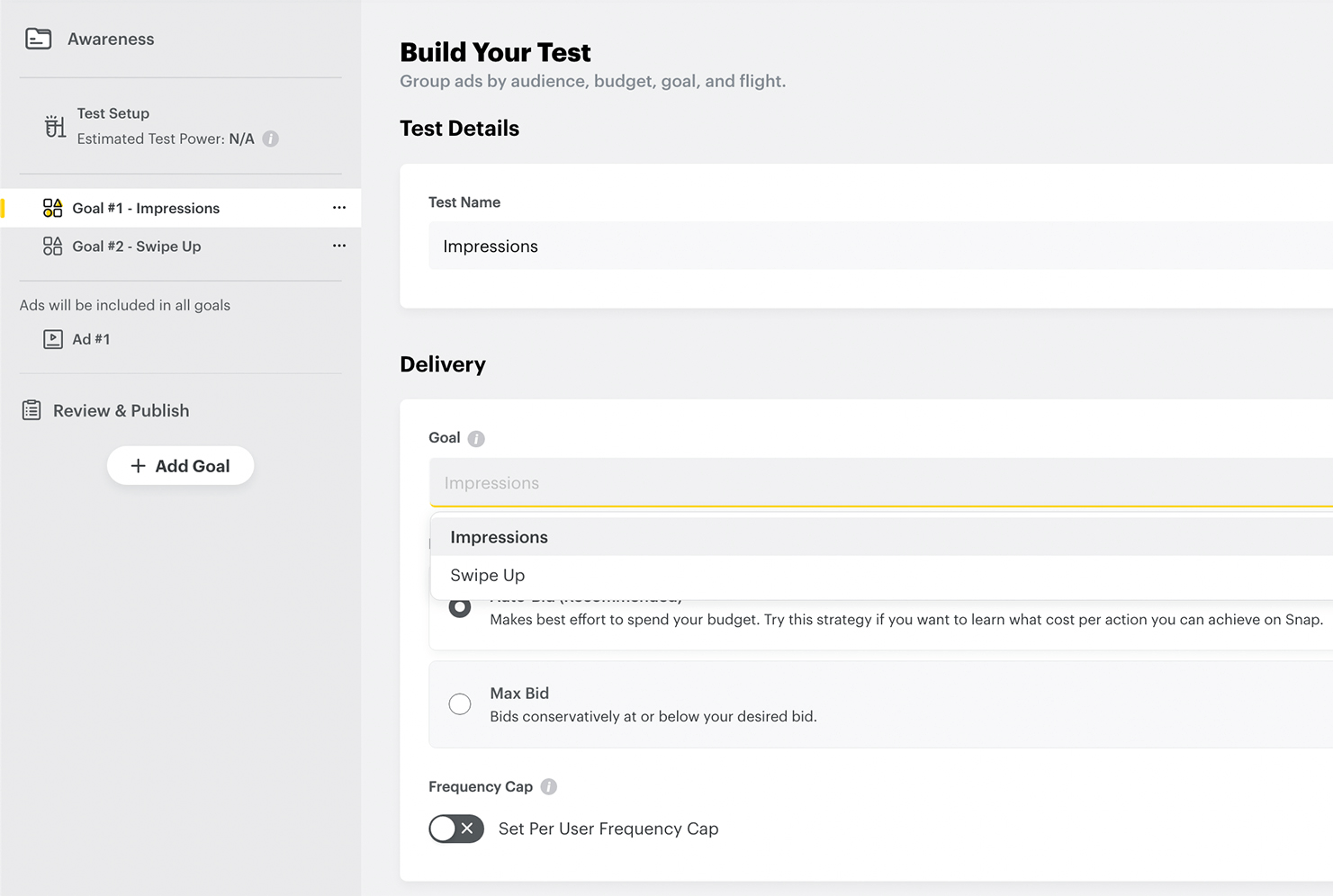 Once you publish the test, you can check the outcomes on the Results tab of Campaign Lab. Then you can use the insights you gain from the test to improve your Snapchat ad campaigns going forward.
Conclusion
Snapchat advertising is ideal for reaching Millennial and Generation Z customers, whether you want to improve awareness, encourage consideration, or get conversions. By using the platform's engaging ad types, pre-defined audience segments, and powerful split testing, you can build your brand and grow your business.
Get More Advice on Social Media Advertising
---
Stay Up-to-Date: Get New Marketing Articles Delivered to You!
Don't miss out on upcoming social media marketing insights and strategies! Sign up to receive notifications when we publish new articles on Social Media Examiner. Our expertly crafted content will help you stay ahead of the curve and drive results for your business. Click the link below to sign up now and receive our annual report!
Get Your FREE Course: Web3 for Beginners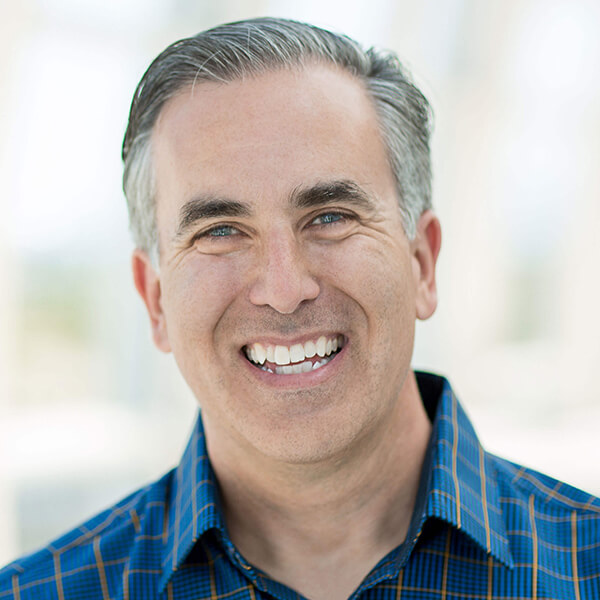 Curious about Web3, but don't know where to start or who to trust?

Introducing Web3 for Beginners, a course taught by Michael Stelzner, the founder of Social Media Examiner.

Learn the basics of Web3 and apply it to your business with this FREE comprehensive course.
CLICK HERE TO GET FREE ACCESS