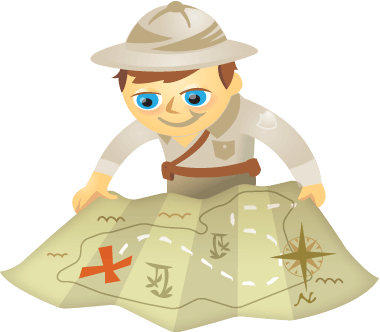 Do you promote your products online?
Are you looking for ways to use social media to increase your sales?
Both well-known and startup companies are mixing social media and e-commerce to garner more sales.
In this article I'll show you not only how they're doing it, but how you can do it too.
Combine Social Media and E-Commerce
Companies have tried to mesh social media and e-commerce before, most notably in 2012 when everyone from Gap to GameStop to JC Penney ended up shuttering their social media stores. Audiences weren't ready to buy from Facebook or other platforms.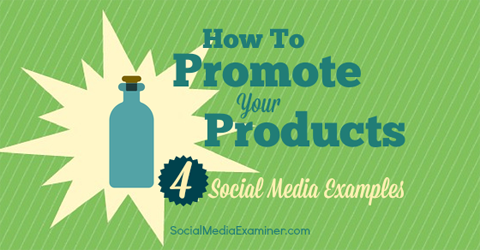 Pioneering companies are bringing social e-commerce back by integrating sites like Instagram with websites that look similar to the social sites users are familiar with (e.g., Pinterest).
Blurring the lines among social media, websites and e-commerce means these important marketing methods are no longer stand-alone components. Instead, they're one large, fully branded push to increase sales.
#1: Link Product Photos With Product Pages
Nordstrom's Instagram fans (all 530,000 of them) are looking for a quick fix of the latest trends and products. When fans find a product they can't live without, it's not uncommon for them to leave a comment asking how and where to buy it.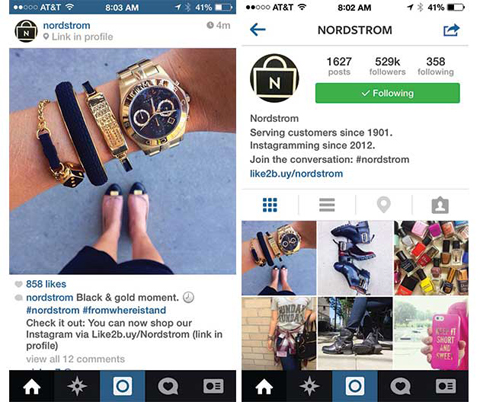 While Nordstrom continues to respond to those comments on Instagram, they're starting to send people to their new Pinterest-esque site that pulls in their Instagram product photos and links them directly to product pages.
Social Media Marketing Society (Ongoing Online Training)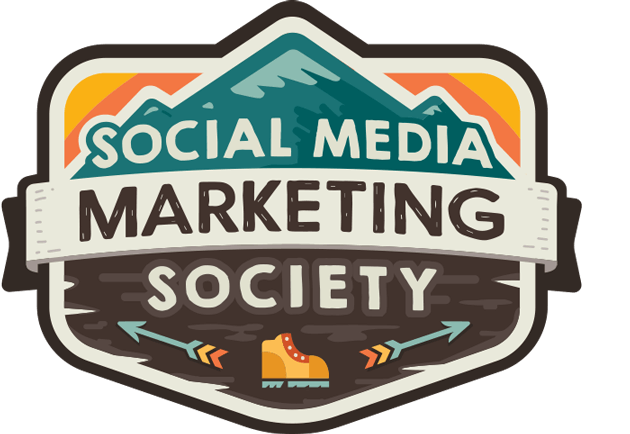 Want to gain marketing confidence and accelerate your career? Try the Society to discover new marketing ideas, improve your results, get support, and become indispensable. Join us for ongoing training, insight from pros, and a community of supportive marketers who understand you.
START YOUR TRIAL MEMBERSHIP
Nordstrom created the site with Like2Buy (by Curalate) to partner e-commerce with their significant Instagram engagement. The result is an easier way for fans to buy the products they love right then and there.
How You Can Do It Too
If you're ready to invest, you can try out Like2Buy yourself or look at Olapic. Olapic lets you republish user-generated photos within your site in various ways. However, both options are expensive.
If you're looking for a more reasonably priced option, you can start by creating your own Pinterest-themed website for your e-commerce merchandise. There are plenty of templates available and Pinterest user Robin Good has handpicked a few of the best for WordPress.
#2: Create a Familiar Space
Whether you're working with your website or your social media profiles, as a marketer your question is always going to be "how can we make money here?"
For example, Pinterest is a popular site for sure. The site makes it easy to find new ideas and organize your own. Its feed is filled with attractive pictures and the site is easy to use. In short, people love it. But you may not be making money there.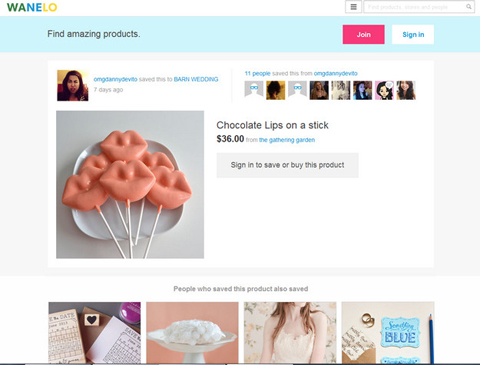 Social commerce site Wanelo is addressing that problem. They've created a "social shopping site that resembles a well-designed window display." In other words, it provides the familiar feel of Pinterest.
Similar to Pinterest, Wanelo visitors can find items they love, tag them and categorize them into neat little collections. When users browse and eventually buy from a store, that store in turn sends a portion of each sale back to Wanelo.
Put Google Analytics to Work for Your Business (Online Training)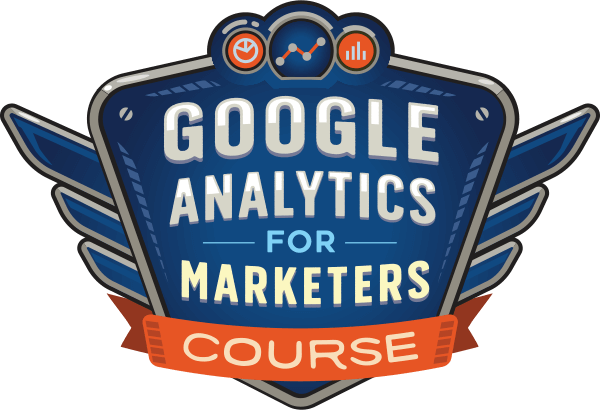 Ever thought, "there's got to be a better way" when it comes to tracking your marketing activities? Are you forced to make decisions based on limited data? With the right training, you can use Google Analytics to measure all of your marketing efforts with certainty.
You'll stop the leaks in your ad spending, justify your marketing spend, gain the confidence you need to make better marketing decisions, and know what's working at every step of the customer journey. Let the world's leading analytics pro show you the way. Check out our new Google Analytics for Marketers course from your friends at Social Media Examiner.
CLICK TO LEARN MORE: ANALYTICS TRAINING
How You Can Do It Too
There are plenty of photography collage-style themes out there that let you create individual galleries. You can use them to mix and match various products to create a whole set and link to your e-commerce shop.
The popular Sentinell theme allows for the same type of gallery function, but also holds YouTube and Vimeo clips if you'd like to incorporate video.
#3: Use Customers' Feedback
Like the Wanelos and Polyvores out there, Fancy lets users find, collect and buy items from various companies. To set itself apart, it also offers a monthly box subscription (Fancy Boxes) that delivers gourmet food.
So where does the social element come in? Fancy's 2 million+ members help curate (via voting) the foods that show up in each month's box.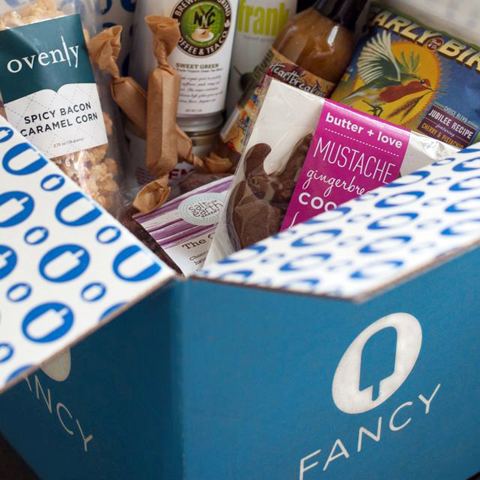 Encouraging this kind of customer input further reinforces that Fancy truly cares about customers and values their feedback. It's a great way to build brand loyalty and turn a profit at the same time.
How You Can Do It Too
The logistics of setting up a subscription goodie delivery service are far too involved to cover in just one article, but you can still benefit from the curation aspect. Use your website and social media profiles to ask customers what they'd like to see in next month's box.
The Ultimate Modern Magazine theme for WordPress lets you curate and spotlight those products and allows users to review and rate products.
Of course, if you'd rather, you can advertise your products on a curation site and take advantage of their technology and traffic!
#4: Include Customer Images on Product Pages
BlackMilk, a company dedicated to making women's leggings more than just a fashion accessory, asks customers to take pictures of themselves wearing the products and tag the pictures when they share them to Instagram or Facebook.
The company figures if you're going to take a selfie wearing their products, why not share it with other customers? The site even includes instructions on how to tag the photos using Facebook and Instagram.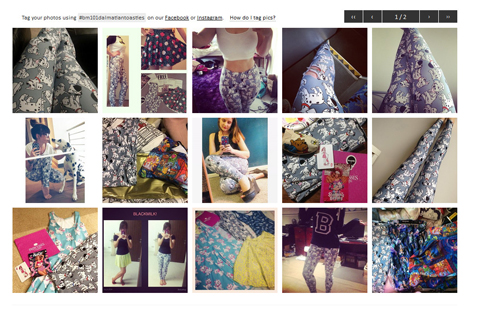 BlackMilk pulls the hashtagged pictures into their product pages so other customers can see how the clothing fits and looks on others—and see how fun it is to wear. Bringing social proof to product pages is one more way to encourage visitors to buy.
To give product pages this look-book functionality, BlackMilk uses the Show. See. Sold add-on that works with the Shopify platform. The add-on lets users zoom, rotate, spin and filter products to see exactly what they want, as well as buy directly.
How You Can Do It Too
BlackMilk has a lot of enviable functionality that other e-commerce stores would be wise to notice and possibly implement. To add this kind of tech to your own site, there are plenty of Instagram plugins for WordPress (and stand-alone sites) that will show your tagged photos, as well as other users' photos, in the sidebar of your website.
Over to You
You already have people shopping your site, finding your products on Instagram and hashtagging pictures of themselves using or wearing your products. Take advantage of that social interaction and make it easier for people to buy in the moment.
Recreating a familiar, Pinterest-like site with similar intuitive navigation makes visitors feel at ease. Pulling in your Instagram product feed and linking it directly to product pages makes it easier for fans and customers to buy on the spot—without having to click away to search for the product, click to the site and buy the product.
Expect to see even greater interactivity as sites begin to fully explore what's possible when websites, social media and e-commerce collide.
What do you think? Have you tried integrating social media with your website for more e-commerce? What tools do you use? Share your thoughts below!