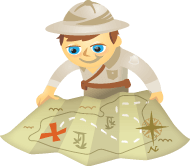 Is your blog content easy to share?
Is your audience interacting with you or just moving along to the next thing?
Making social sharing easy is an important part of creating a successful blog.
In this article you'll discover five tips to make it dead simple for your readers to interact with your blog content.
#1: Make Pinning Easy
If you have a business blog, you may not think pinnable images are important to your audience, but they are.
People use Pinterest not only for inspiration on what to buy, but as a way to keep track of articles they want to reference again. So definitely start adding pinnable images to your posts, like this one from My Kids' Adventures!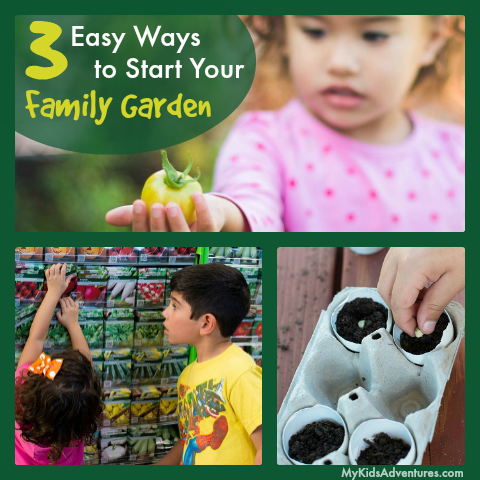 It's not hard for your readers to pin an image from your blog, so how can you make a simple process even simpler? Do the work for them.
When someone pins a post, they usually have to choose the image they want to pin, and then type in a comment about the pin. Help them along. Set a featured image for the post and add titles to any other images as well.
When you include a title with your image, that title populates the comment field on the pin. Without an image title, Pinterest fills in the pin description with your image name, which may very well be something generic like product-shot-3. That's not useful to you, your readers or their Pinterest followers.
Boogie Wipes gives all their images titles to increase pinnability.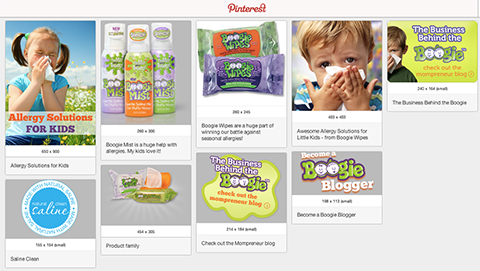 It's a good idea to use image titles for every image on your site too—headers, sidebars, everything—because while you hope a reader pins a particular image, you can't guarantee it.
Boogie Wipes uses many images in their blog posts and ensures each image has a title to make pinning easier.
#2: Showcase Sharing Buttons
I'll bet you already have social sharing buttons installed so people can pass along your great content to their followers or friends. Sharing buttons are probably the most obvious way to get more shares of your blog content, especially when they're set up with your audience in mind.
The Conference You've Been Waiting For
As a small business marketer, you can probably only pick one or two events to attend each year. Get back into the game with an unbeatable conference experience and expert training at Social Media Marketing World in sunny San Diego, California—from your friends at Social Media Examiner.
🔥🔥 As a valued reader, you can save $300 if you act now! Sale Ends Friday!
CLICK HERE TO LEARN MORE
Visibility, size and choice all play a role in whether people click the button.
Floating sidebars with social buttons, like this one on the Infusionsoft blog, are easy for your visitors to see because they move down the page as the reader scrolls. It's a constant reminder to pass the content on to friends. Just make sure the scroll is smooth, not jumpy (and distracting).
Editorial Note: In Jan 2019, the Infusionsoft brand name changed to Keap; the blog no longer uses a floating share bar.
Size definitely matters when it comes to sharing buttons. It's important to make sure they're big enough to be easily found. If they're too small, they're harder to spot. If people can't see them immediately, they'll probably just move on.
As you're choosing which social sharing buttons to put on your site, limit your readers' choices. You don't want them paralyzed with too many choices, so stick to the social media channels they use most often.
When you have your buttons in place, follow my previous Pinterest advice and create a customized sharing message wherever you can. Twitter is the easiest button to customize (though you can customize other sharing buttons as well).
With Twitter you only have 140 characters, right? Your readers aren't going to spend too much time trying to fit everything in. If it doesn't fit, they'll probably just stop and click to the next site.

Fix that by auto-populating tweets with your blog post title, link and your Twitter name. Now readers just have to click the Twitter share button and they're done.
It's these little things that really make a difference in whether people interact with and share your blog content.
#3: Embed Social Updates in Posts
While you want readers to interact on your blog, wouldn't it be great if they could interact with one of your social media platforms at the same time? Embedding social media content into a blog post can do just that.
Embedding your social media content into a blog post is easier than you think. In fact, you've probably already done it. Have you ever embedded one of your YouTube videos into a post? Then yep, you've already done it.
Integrating your social channels with your blog really simplifies the social experience by letting your readers start the interaction with a particular social media platform right from your blog.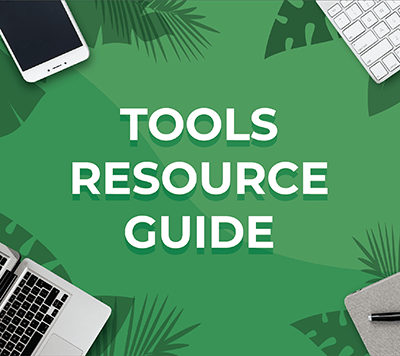 Looking for something to make your life easier?
Discover the tools we recommend to drive engagement, save you time, and boost sales across your entire marketing funnel or business.
Whether you need help planning content, organizing social posts, or developing your strategy, you'll find something for every situation.
FIND YOUR NEXT FAVORITE TOOL
For example, when you embed a Facebook update in a blog post, your readers can like the update right on your blog without leaving or you can direct them to the post on Facebook if they want to comment or share.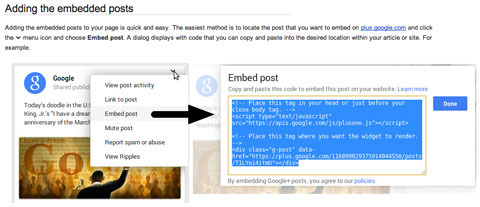 Google+ embedded posts let your audience +1 and comment on the update without ever leaving your blog.
People love visual content and video often adds value to blog posts. Go ahead and embed a YouTube video into your next blog post. Every time your audience watches it from your blog, it still counts as a view on your YouTube stats.
Continuing with the importance of visual content, try embedding an Instagram picture or video or a Pinterest board, pin or profile. When someone clicks like or comments on your Instagram content, they're directed to the post on Instagram's website.
When someone tries to pin an image, they get a pop-up to complete the task. For profiles and boards, a user can click an individual image to display the pin pop-up or click the See on Pinterest button to see your entire profile or board on Pinterest.
If you or someone else has a tweet that's relevant to your blog article, embed it. When someone clicks the Reply, Retweet or Favorite button, a pop-up window appears so a user can easily interact, and then close the window and keep reading.
4 Ways to Maximize Your Network With Social Media https://t.co/Lnz0E0XaSJ by @eventualmillion

— SocialMediaExaminer (@smexaminer) April 17, 2014
An added bonus of this trick is that the reader can also follow you from an embedded tweet.
#4: Write Fun (and Good) Content
People do business with people, so your blog shouldn't be a regurgitation of corporate press releases. No one wants to comment on a blog post full of corporate blah-speak, so feel free to get a little (or a lot) more casual on your company blog.
Your audience is more likely to comment on and share content that sounds like a real person wrote it, so it's okay if your blog's overall tone is slightly different than your product pages or your annual report. MailChimp's cheeky voice lends itself well to this type of content.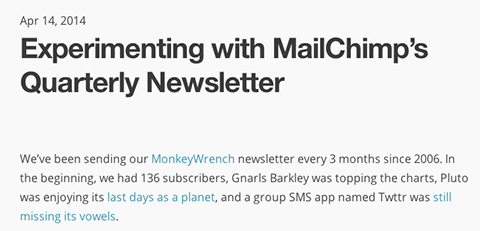 Give your content a double-whammy by making sure your images reflect your tone. For example, if your product descriptions are funny and vibrant, make your images colorful and use an interesting font. An added bonus is your images will be more pinnable too.
#5: Make Commenting Simple
Let's be honest: most company blogs are not abuzz with comments from readers. Don't take it personally. People are busy and aren't likely to take more than one action on your blog. Maybe they shared your post on Facebook instead of leaving a comment.
Even so, a blog with comments provides a sense of community. When one person comments, others are more likely to follow suit. And when you respond to comments, it shows you're listening and encourages the commenter (and others) to return.
If you feel like you've hit a roadblock with comments, there a few things you can consider. The more hoops your audience has to jump through to comment, the less likely they are to do it.
One hoop people really dislike is hard-to-read word verification. Turn word verification off. Few things are more frustrating than not being able to read a word verification in order to leave a comment. West Elm's blog lets readers comment easily.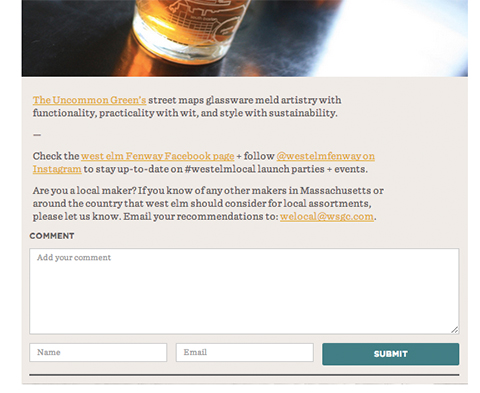 If you're using word verification because you have trouble with spam, consider moderating comments instead (or just moderating the comments of first-time users). Just be timely in publishing actual comments so the moderation process doesn't slow down the discussion.
The commenting system you use has a big impact on interaction too. The simpler the process, the more likely you are to get comments.
A lot of blogs use a service like Disqus that requires readers to create an account and log in before they can comment. If your audience is fairly tech-savvy they may not mind, but if they aren't this could be the thing that deters them.
To cut down on spam and make it easy for readers to comment, consider using a system like the Facebook comments box.
The Takeaway
With a smooth social user experience, you give readers clear paths to interact with your content and increase the chances that they'll develop an affinity for your brand (or "heart you," if that's more your tone).
What do you think? Have you used any of these tricks to make it easy for your audience to share your content? Which ones have been the most successful for you? Share your thoughts, successes or questions below.
Get Your FREE Course: Web3 for Beginners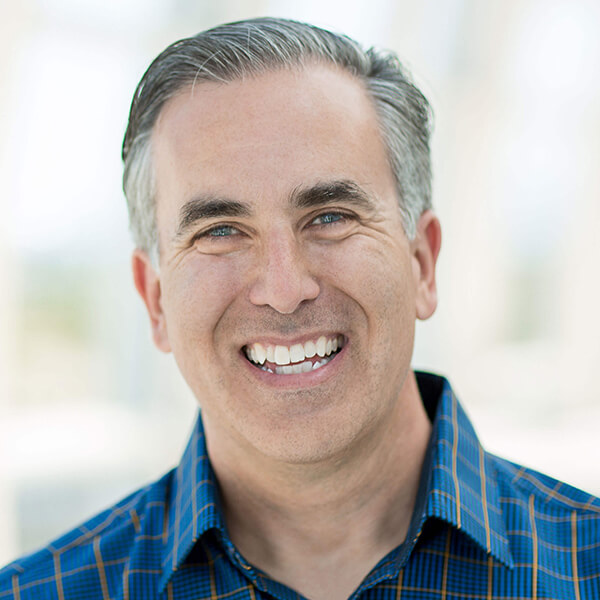 Curious about Web3, but don't know where to start or who to trust?

Introducing Web3 for Beginners, a course taught by Michael Stelzner, the founder of Social Media Examiner.

Learn the basics of Web3 and apply it to your business with this FREE comprehensive course.
CLICK HERE TO GET FREE ACCESS