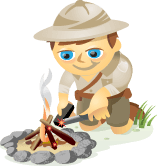 When social networks release a new version of their platform, the changes range from design to functionality. Digg has done a drastic overhaul to both.
Here is a look inside the new Digg – from the first login to submitting stories, advanced features, best practices and some things to consider.
Your First Login
When you first login to the new Digg site, you will see the first evidence that they are trying to get more people to be social with the following two-step process.
Find Profiles to Follow
In Step 1 after you first sign in, you will be given a list of popular profiles on Digg to follow. You can look at all topics or narrow it down to your specific area of interest using the categories in the left sidebar.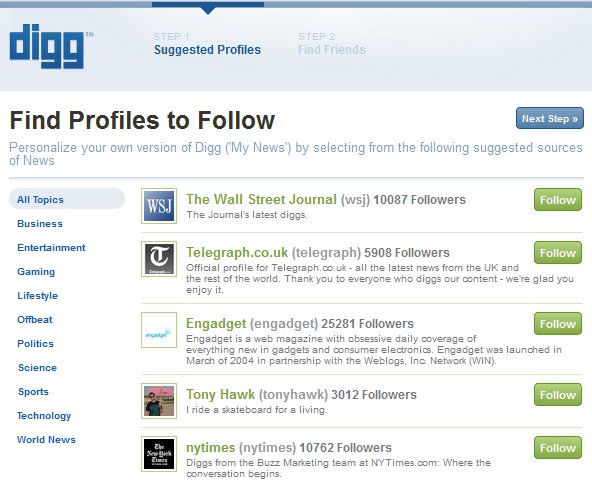 You are able to revisit the popular Digg users in each topic at any time, so you can skip this step for now if you choose.
Find Friends to Follow
In Step 2, you will be asked to connect your Digg account with your Facebook, Twitter and Google accounts to find your friends to follow from those networks who are on Digg.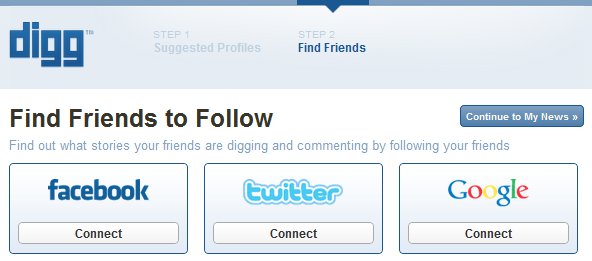 You are able to connect to your other accounts any time, so you can skip this step for now if you want to jump right into the new layout.
Your New Home Page
In the previous version of Digg, once you login, you are taken to the latest top news stories. Now, when you login, you will greeted with a Welcome to My News. This area shows the stories recently dugg by the people that you follow on Digg.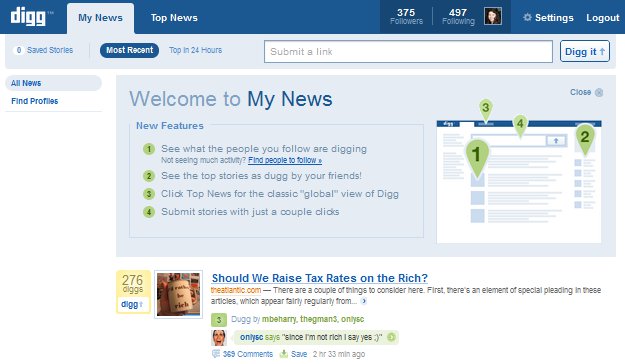 Alternatively, this is where the Find Profiles and Find Friends steps come in handy. If you are not following anyone, you will not have anything in your news when you first login to the new system.

If you prefer to just see what is popular on the main site versus just among your friends, you can simply switch to the Top News tab.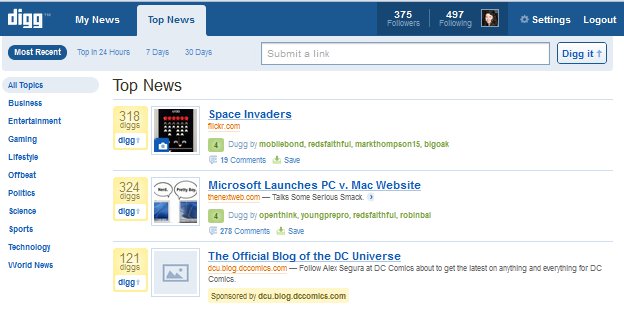 Your Profile, Following, and Settings
At the top of the new Digg layout, you can access pertinent information about your Digg account, as well as your settings.

Followers vs. Following
To see who is following you versus those you are following, click on the appropriate links underneath the numbers.

The unfortunate change in the new Digg system is that you can only see whom you are following (or not) in your followers. There is not a mutual following icon like in the old Digg system, however, so you cannot see if people you are following are following you back.
The Conference You've Been Waiting For
As a small business marketer, you can probably only pick one or two events to attend each year. Get back into the game with an unbeatable conference experience and expert training at Social Media Marketing World in sunny San Diego, California—from your friends at Social Media Examiner.
🔥🔥 As a valued reader, you can save $300 if you act now! Sale Ends Friday!
CLICK HERE TO LEARN MORE
Profiles
The new Digg profile has changed some, mostly in aesthetics.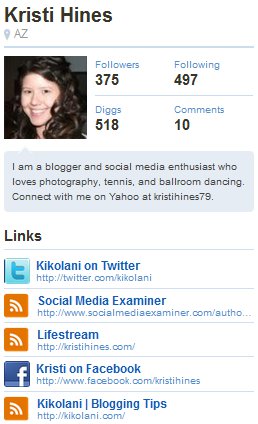 You can update your profile under the Settings menu > Profile.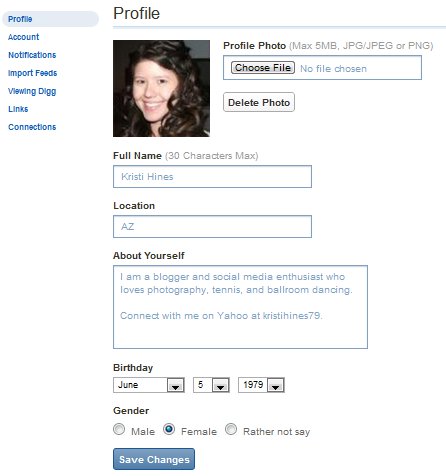 You can also add external links to your websites and social media accounts under Settings > Links.

Unfortunately, you can no longer enter an instant messenger handle like you could in the old version of Digg. If you want to build Digg connections via IM, you will need to include that information in your bio instead.
Import Feeds
One of the more convenient (and controversial) new features in the new Digg settings is importing a blog feed to your profile.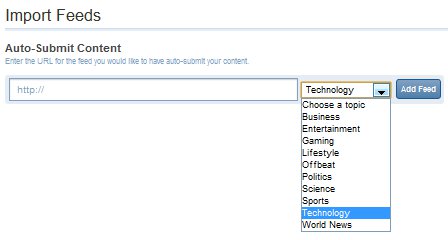 When you enter a feed URL, you can choose the category to which new posts should be submitted. After installing a verification code on your website to confirm you are the site owner, your latest posts will be automatically submitted to Digg.
It is suggested that you create a specific category; that way, only new posts in that category are auto-submitted. This would be especially useful if your blog covers topics that could fit in different Digg topics, as stories in the right category are likely to get more diggs than ones that are miscategorized.
Personally, I don't think I'm going to use this option for two reasons. First, if you auto-submit, Digg will choose your post's thumbnail for you. If you have multiple pictures within a post, it may not select the one you would prefer (not to mention it might pull Gravatar images, social bookmarking icons, etc.). Second, you won't have the option to modify the title and description to make it more appealing to other diggers.
More Settings
Additional settings that you can configure include: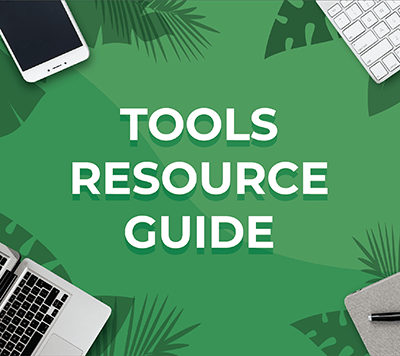 Looking for something to make your life easier?
Discover the tools we recommend to drive engagement, save you time, and boost sales across your entire marketing funnel or business.
Whether you need help planning content, organizing social posts, or developing your strategy, you'll find something for every situation.
FIND YOUR NEXT FAVORITE TOOL
Notifications: choose to receive email notifications when you get new followers and Digg announcements.
Viewing Digg: change specific settings for how you view Digg.
Connections: see what social networks your Digg account is connected to – if you skipped Step 2 earlier, this is where you go back to it.
Submitting a Story
The new Digg system has made story submission a lot simpler. From the My News or Top News tab, simply enter your URL in the Submit a Link box and click Digg It to get started.

If your URL is already in the system, it will show it to you immediately.

If not, you will get a simple submission form that allows you to select the thumbnail for the story, edit the title or description and choose a topic to place the story in and Digg It!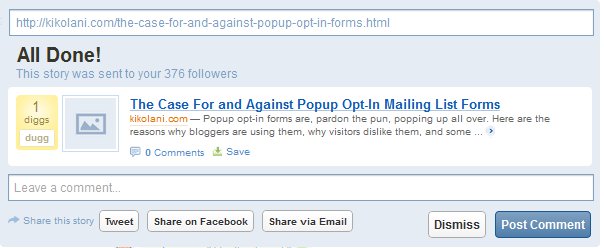 From here, you can Tweet your story, post it on Facebook, send it by email or add a comment. I would suggest adding a comment, because it makes the story stand out better when it comes up on your followers' My News tab. Also, the link it shares socially is direct – not to the story's page on Digg, but to the URL of the story itself.

Additional Features and Changes
The following are other significant changes and concerns about the new Digg platform.
Finding Profiles and Friends
If you skipped the initial Steps 1 and 2 on your first login, or you want to check your social networks to see if you have new friends on Digg, you can go under your My News tab and Find Profiles.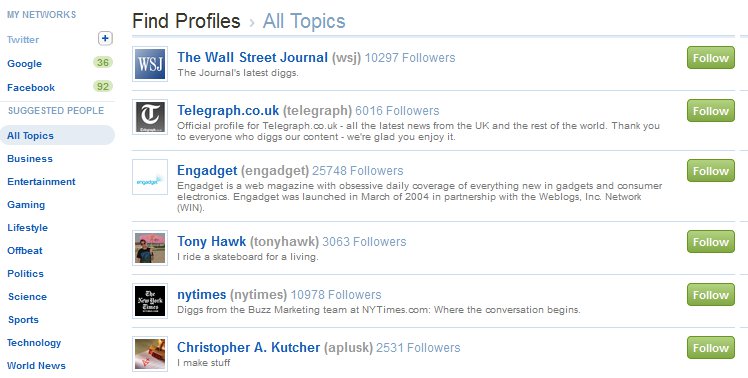 By clicking on the sites under My Networks, you can see and follow your friends on Twitter, Google, and Facebook.
Although you can't message people when you follow them, if they have email notifications turned on, they will be alerted when they follow you. This is why it is important to have a good profile as well as a strong Digg history, as the email links directly to your profile page. This could make the difference between gaining a new follower or not.
The Digg Monster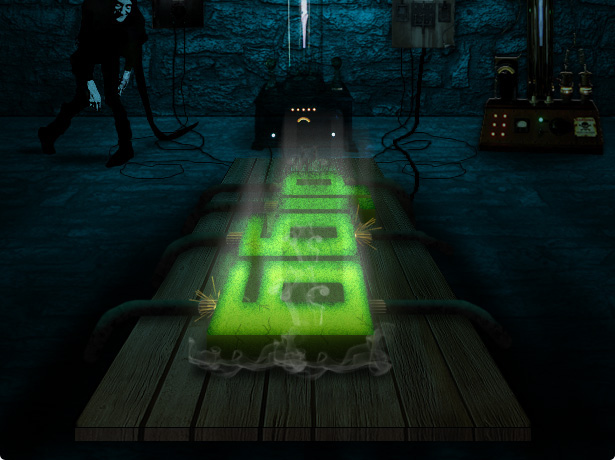 Reaction to the new version of Digg has not been pretty, to say the least. While those who are more concerned with the ability to see what their friends are doing on Digg are excited to have a little more community, those who enjoyed getting a variety of great stories from the homepage (including their own) are less than impressed with the new system. Posts that make the homepage seem to be only from major publishers like Mashable, Entrepreneur.com, Gizmodo, Techcrunch, and so on.
One of the more amusing reactions was angry Diggers flooding the homepage with Reddit stories. If you look at the most popular stories in the last 30 days, you will see that 22 out of the top 30 stories are all from Reddit.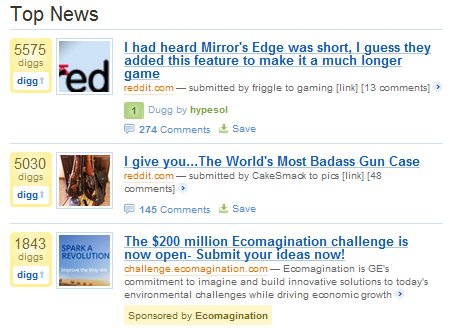 The other eight are from a random sponsored listing (which always comes up in the third spot no matter where you are in the site and changes when you refresh), Read Write Web, Huffington Post, I Can Has Internets, the Oatmeal, I'm a Weird, and imgur.
Upcoming Stories
Another major complaint with the new system was the missing upcoming news area where you could see what stories were not quite homepage ready, but on their way. Fortunately, this was fixed and now you can see the Upcoming stories tab in the main navigation.
Power Diggers
So with the My News tab and the new socialization, what does this mean to power diggers? Will the people with the ability (in other words, network) to get stories to the front page, leading to massive swarms of traffic, lose their power? Some say yes.
How did posts get to the homepage of Digg in the previous version? The simplest explanation I have seen is from PostRank Analytics. It is based on the speed at which the story gets dugg – if a submission goes live and then gets hundreds of Diggs within an hour, that is usually going to make it move to the homepage. There are also more lengthy details on getting a story to the front page.
The big questions before this new version was released were 1) whether this will change in the new system and 2) if people logging in are always directed to My News first, will the homepage popularity matter as much? The answers look like they will come from further changes to the new system, as documented on the Digg Update page.
Story Burials
One other function missing in the new Digg is the option to bury a story. Your only options in the new Digg are to report stories as offensive (assuming they are) or use the "x" icon to remove them from your news view. The upside of this is that there will be no more fear of the bury brigade. The downside is you cannot simply get rid of spam (which may get a little crazy with the new Import Feeds features), but you can remove it from your personal viewing.
Your Thoughts on the New Digg
Have you tried out the new Digg? Do you like the new changes that Digg has brought about to improve speed, personalization and diversity of content? Or do you think these changes will hurt the popularity of this news-sharing network? Share your comments in the box below.
Get Your FREE Course: Web3 for Beginners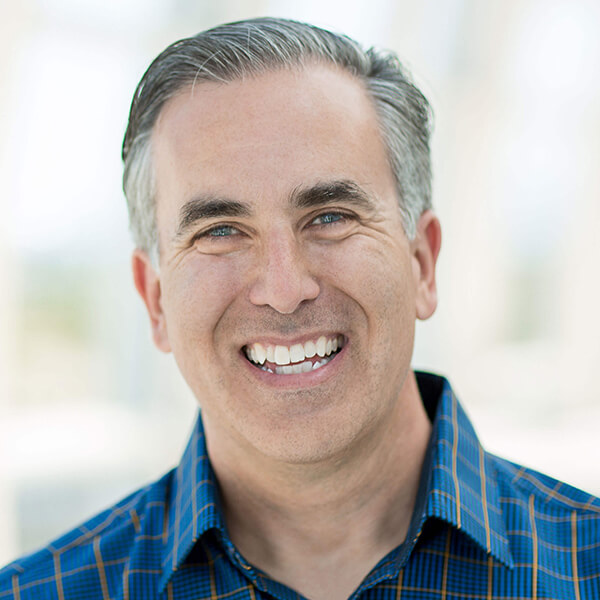 Curious about Web3, but don't know where to start or who to trust?

Introducing Web3 for Beginners, a course taught by Michael Stelzner, the founder of Social Media Examiner.

Learn the basics of Web3 and apply it to your business with this FREE comprehensive course.
CLICK HERE TO GET FREE ACCESS