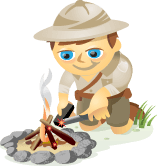 If you've been using Twitter, you've likely checked out an app or two to make your Twitter experience more robust, or even just a bit easier.  TweetDeck, Twitpic and Tweetie are all examples of Twitter apps.
What if I told you there was a magical place that could easily be your one-stop shop for all your Twitter needs? Yes, this place really does exist. It's called OneForty.com, the Twitter equivalent of the Apple App Store.
Twitter Still Rocks for Businesses
Before I jump in to tell you about all the benefits of OneForty, I want to point out that in recent months two reports have surfaced that show Twitter being the #1 choice of all social sites for professionals.
In a recent Burson-Marsteller study, 65 of the largest 100 international companies have active accounts on Twitter (the second being 54 on Facebook).
In addition, according to the 2010 Social Media Marketing Industry Report from Social Media Examiner, 96% of marketers with years of social media experience are using Twitter (and 91% are using Facebook). That's pretty impressive considering there are far more people on Facebook than on Twitter.  But these studies show that when it comes to business, Twitter is the social tool of choice.
The Ultimate Resource
If you find yourself gravitating toward Twitter as a business tool, OneForty is a site you don't want to miss. The service catalogs the best extensions and apps for Twitter through a community of users who share and rate each specific tool.
As of this writing, the site lists nearly 3,000 free and paid applications and services that leverage Twitter.  Here you can search, rate and buy Twitter services. It's a social app directory for Twitter that also has a social networking aspect focused on an ecosystem of sharing and supporting others.
When you sign in using your Twitter login, you're able to create a profile in which all of the apps you currently use will show up for others to see.  You also get a list of recommendations based on the type of desktop and phone you use.
When I logged in, the image below popped up to show me their recommendations based on my personal preferences.  This is such a great feature because there were a few on the list that I had never heard of and would not have tried if it had not been for OneForty's recommendations.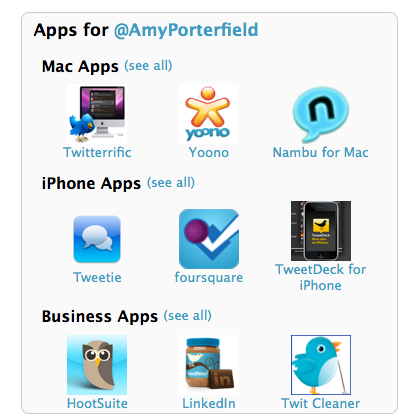 You have the option to tell people about what you're doing on Twitter, who you like to follow and where else you can be found online.  You'll be asked such questions as:
How would you welcome someone who clicked here from your Twitter page?
Top picks for #FF (Follow Friday) or favorite Twitterers overall? (Use @name to link to them.)
Got a snappy one-liner about yourself?
Where else can you find me online? (URLs will auto-link.)
What are your favorite blog posts or resources about Twitter?
These questions allow you to showcase who you are and what you're about, possibly leading to new conversations and partnership opportunities. Also, because you have the option to review any of the apps, a community of sharing is active throughout the site.
In addition, on almost every page that features apps, you have the option to share the info via your Twitter feed by clicking on the "Tweet This!" button.  When I clicked on the button from the "What's Hot" page, the message below appeared in my Twitter feed.  Now all of my Twitter followers can see what I've been up to on OneForty and check out the service for themselves.  This tweet allows me to provide a link to a great tool for my followers and allows OneForty to advertise their site (a win/win!).

The Conference You've Been Waiting For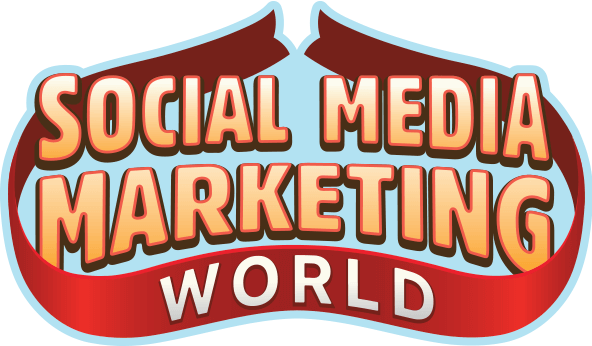 As a small business marketer, you can probably only pick one or two events to attend each year. Get back into the game with an unbeatable conference experience and expert training at Social Media Marketing World in sunny San Diego, California—from your friends at Social Media Examiner.
🔥🔥 As a valued reader, you can save $660 if you act now! Sale Ends Tuesday!
CLICK HERE TO LEARN MORE
The "Tweet This!" feature, no matter how insignificant it may seem, proves that the company walks the talk.  Every aspect of the site encourages social sharing and overall connection via consumer reviews, app suggestions based on preferences and developer spotlights. It's the real deal.
Get Expert Social Media Marketing Training from the Pros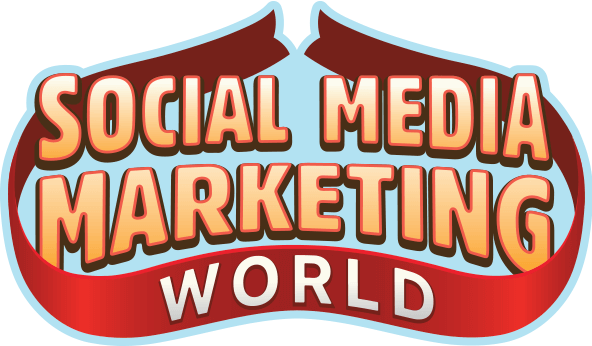 Want to get ahead of the competition and learn how to diversify your social marketing strategy?
Learn from the industry's most trusted experts, rub elbows with other smart marketers, and take your marketing to the next level during this 3-day event in sunny San Diego, California.
CLICK TO LEARN MORE
There are three sections of this site that stand out the most:  What's Hot, Essentials, and Toolkits.  All three are worth checking out a little closer.
What's Hot
This list does just what it says: it lists the top 100 apps that are the most popular right now across all categories.
The list is extremely valuable because it allows you to see what others are using.  If you're new to Twitter, you can model what's working for others instead of guessing what might work for you.  And if you are an experienced Twitter user, this list will allow you to find great apps fast without doing the research and testing yourself.  Here's a snapshot of what you might find on any given day: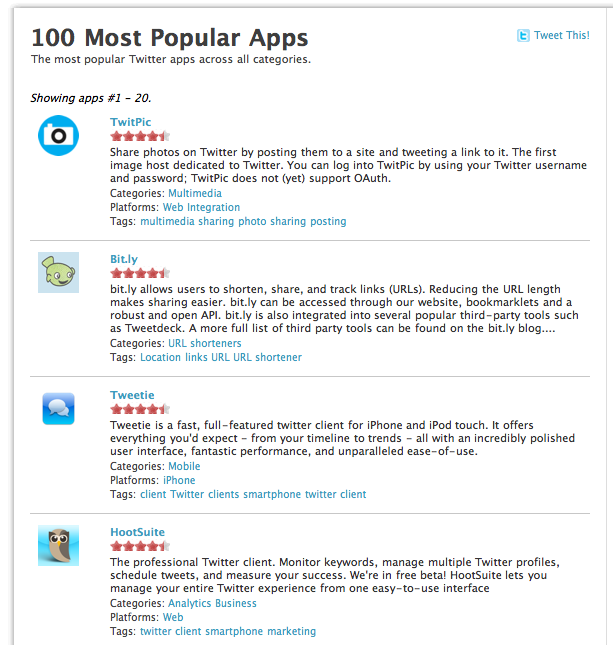 Essentials
This is a collection of must-have apps to get the most out of Twitter.  It's a fantastic list of the best of the best apps for specific categories such as your phone, analytics, desktop solutions, browsing and following. Below is a snapshot of what you might find on the "Essentials" page. Notice how the different categories with app suggestions make searching for what works best for your needs quick and easy.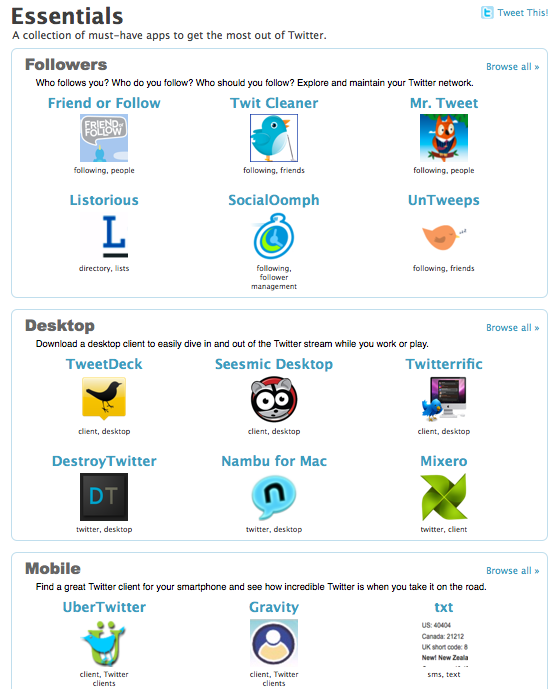 Toolkits
This was a brilliant idea from the folks at OneForty and really speaks to the spirit of social networking and sharing.  Toolkits are a way to share your Twitter knowledge and know-how with others.  You put together a collection of Twitter apps that works within a specific category you create and then share it with the world.
Some examples of toolkits include a Community Managers Toolkit, a Small Business Owners toolkit, New Media Tools from Real Estate Professionals toolkit, and a Cancer Killing Chemo toolkit.  If you need a Twitter app toolkit for your special needs, you'll likely find it here.
What I find most beneficial here is the caliber of social media celebrities who have created their own toolkits to share, including Brian Solis, Guy Kawasaki, Steve Rubel and David Armano.
By taking a look at their toolkits, you get a glimpse of some of the more up-and-coming apps you might have initially passed over. You also get to see what the pros are using. Priceless, to say the least!  Here's a snapshot of a few apps inside Guy Kawasaki's "Twitter Indispensable Tools" toolkit.  TweetDeck and Tweetie 2 are my favorites.  Take a look and see if you've used any of these apps as well.  If not, I encourage you to test out a few.  Guy Kawasaki is a social media expert (and a Twitter guru) so his recommendations are invaluable!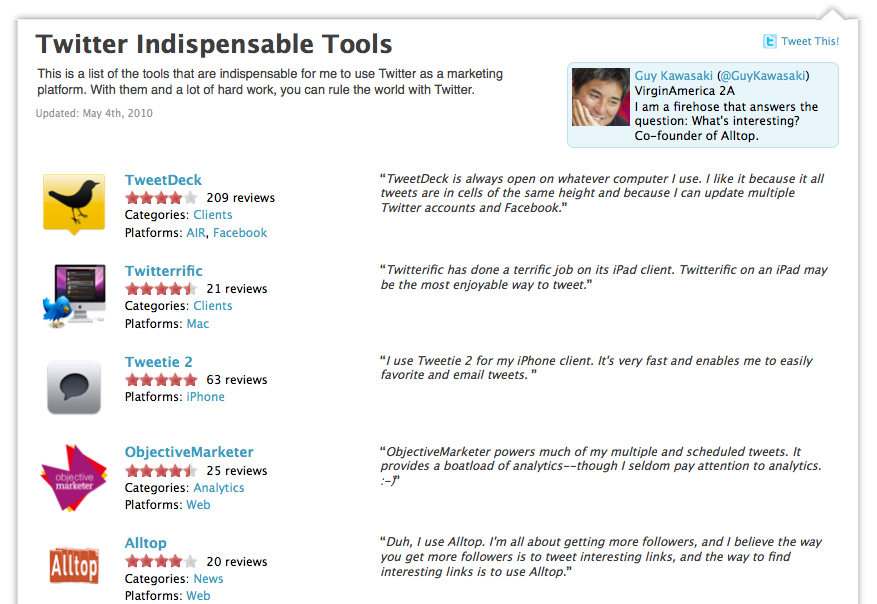 About The Company's Founder & New Plans
Just a few years ago, Laura Fitton was a struggling presentation consultant who initially used Twitter to build a business network when she moved to a new city.
According to Laura, "I was just my goofy, enthusiastic self, and I used the site to connect with interesting, like-minded people." She was quickly a huge draw on Twitter as people began to see her as Twitter's expert marketer and she began to get job offers and major exposure. As they say, the rest is history.  She went on to start Pistachio Consulting and became the co-author of Twitter for Dummies.
OneForty.com is currently in an alpha test of an e-commerce platform for one-time app purchases.  Now developers will have the opportunity to sell their apps directly from this site.
I encourage you to take some time exploring this extremely useful site because you're likely to find a handful of tools that you can apply instantly.
While doing research for this article, I stumbled upon a few apps I now can't live without.  One is called Topsy, a search engine powered by Twitter conversations that I use to find the best social media articles.  The other I found was Overheard.it, an app purely for fun that gives you a glimpse of all the funny things people overhear on Twitter.  It's pretty entertaining!
Now it's your turn!  What Twitter apps are you using. Share them in the comment box below.
Curious about NFTs, DAOs, and Web3?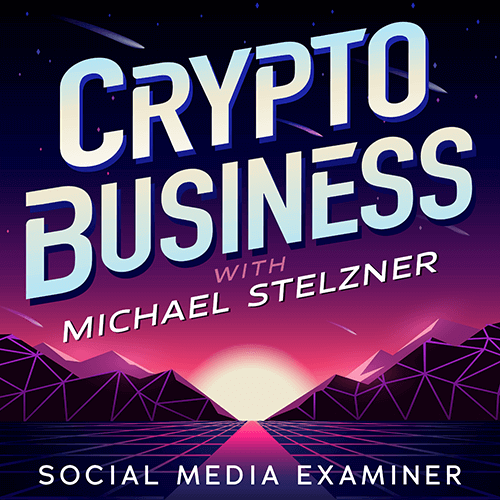 Follow the Crypto Business podcast to find out how NFTs, social tokens, DAOs (and so much more) will affect your business in the near future.

Every Friday, host Michael Stelzner interviews leading industry experts about what works right now in Web3 and what to expect in the future, so you can prepare your business for the shift, even if you're a total newbie.
FOLLOW THE SHOW