Want to do more with live video? Wondering how to simplify the process of going live?
To explore creating better systems for live video, I interview Tanya Smith on the Social Media Marketing Podcast.
Tanya is a video strategist who helps service providers demystify the video creation process. Her site is GetNoticedWithVideo.com and her course is Let's Go Live.
Tanya explains her threefold system for producing live video easily and regularly, and she shares recommendations for tools and equipment you can use to improve your own live video workflow.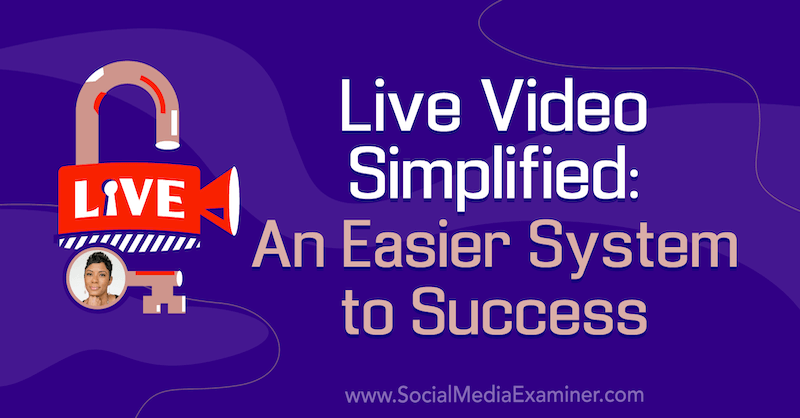 Tanya's online business journey began in 2007, and by 2010, she was working at it quite seriously. She was building online courses and following all of the rules of the day for blogging, networking, handing out business cards, taking home truckloads of business cards, and so on. By simply posting a tweet she could fill an entire virtual classroom.
By 2015, those types of activities weren't working for her anymore. Her Facebook page was dead, the content she was churning out wasn't getting seen, and her classes weren't selling.
At the same time, she was trying to juggle all of the aspects and struggles of a full-time job, the business, two daughters, and three dogs. It was becoming too much and Tanya was seriously considering letting the business go when a conversation with her kids changed her mind.
Her kids were starting to really get into social media and she was encouraging them to read more—to do things other than sit with a screen. She told them, "What you feed yourself is what's going to come back."
That got her thinking about brain food, and because she loves dogs, those thoughts translated to when you feed a dog what it wants, the dog gives you what you want—affection and play. It's the same with social media platforms. If you give a social media platform what it's asking for, you'll get views and visibility in return.
She had been hearing about live video. Facebook Live was coming on the scene and everyone was telling her she needed to do some live streaming, so by 2018, she committed to doing more video.
In 2019, she committed to doing at least one live video per week for an entire year. She didn't have a plan but she showed up to talk about topics related to content.
3 Days of World-Class Training—Zero Travel!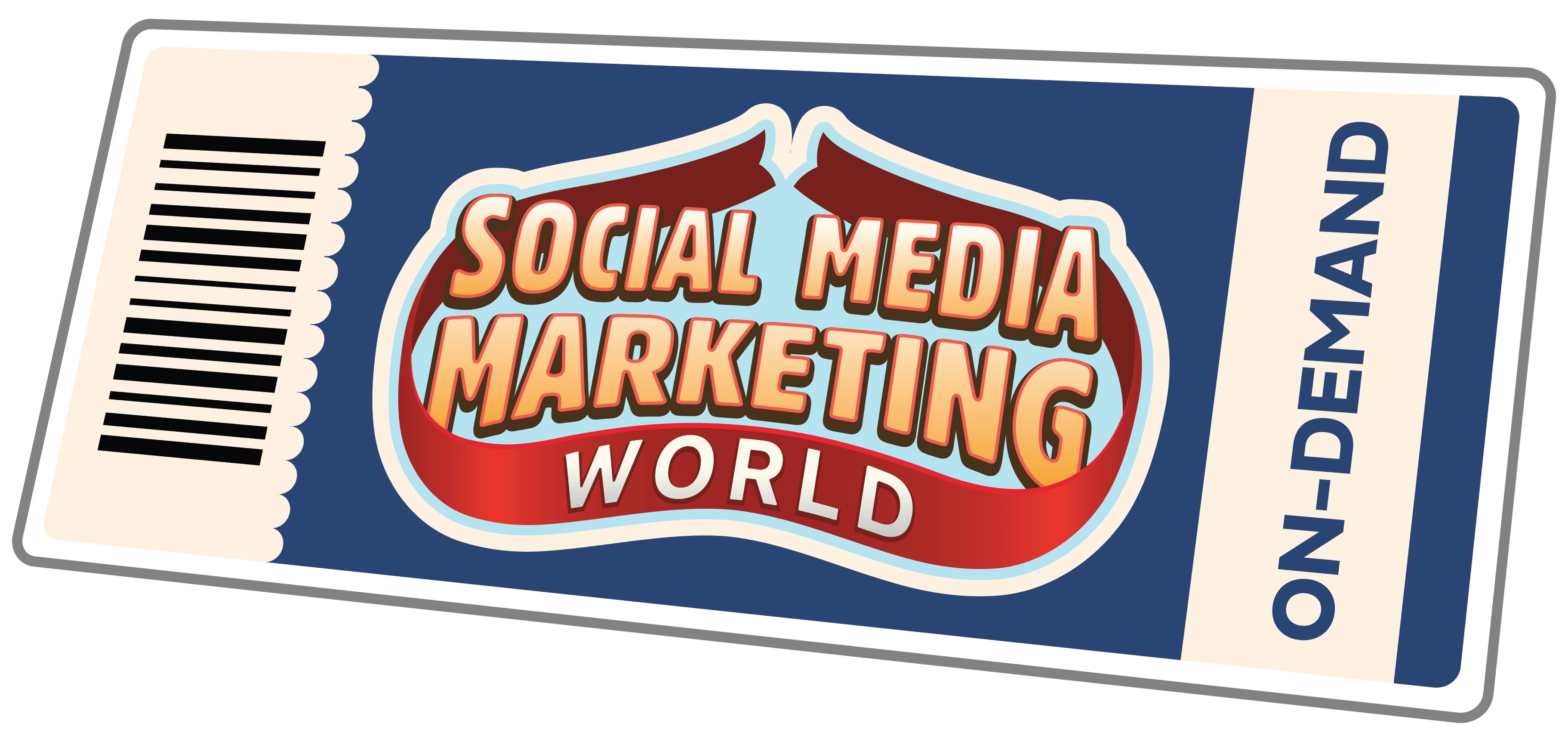 Travel to Social Media Marketing World off the table? Get all of the great content at a fraction of the price with an On-Demand ticket.

That's full access to recordings of every keynote, workshop, and session—the ones people travel thousands of miles to see. Don't wait. Get your On-Demand ticket and enjoy actionable content that you can watch anytime, anywhere.
GET YOUR ON-DEMAND TICKET NOW
Within the first month, her Facebook page came back to life. Her numbers grew and more people started seeing all of the content she was sharing, not only her live video content. Today, her business has grown dramatically, her courses are selling, she's been asked to speak at events, and more.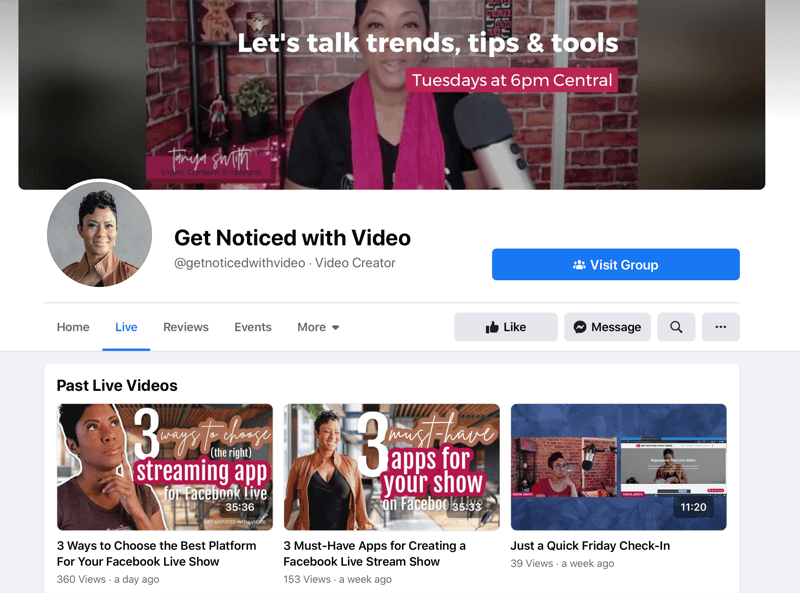 Why Is Live Video Better Than Recorded Video?
Live video has benefits beyond the fact that algorithms reward it because it keeps people on a platform longer.
First, live video is easier to create that recorded video. There's no editing, no uploading, and it's cheap to produce because you can stream from your smartphone.
Second, live video is imperfect by nature; viewers understand when your doorbell rings, the dogs are barking, or a child walks in and out of the video. People enjoy and appreciate the imperfection because it humanizes you and your business. Live video helps you connect with your audience as a real live human being and not somebody who's just trying to sell them something.
Third, live video is engaging. You can answer a question in real time and just perform a service for people who otherwise might not have ever connected with you. All of that can be done with live.
Finally, especially now when people are isolated and alone, they're craving connection. Live video allows you to show up and connect on a real level with the people you're trying to serve. It accelerates the process of people feeling they know who you are, and deciding whether they like and trust you. They self-qualify in or out quicker.
Why Do People Struggle With Showing Their Face on Video?
Tanya, who has a degree in psychology, says people struggle with showing their face on camera for a number of reasons. They all relate to confidence, content, and consistency, as well as biases we've adopted.
Confidence
Familiarity bias comes into play when you see yourself on video. When you look at yourself in the mirror, you're used to the reflection you see. When you're on video, you most often see the opposite of that mirrored reflection. What you see doesn't look familiar, it doesn't feel familiar, and your brain tells you it's not correct.
Some video platforms like Zoom have a feature that allows you to see the more familiar mirrored reflection of yourself, and that can help you feel more comfortable on camera.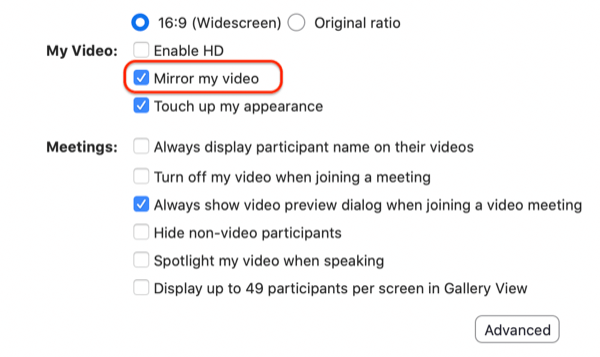 Confirmation bias affects your confidence when it combines all of the negative things you've heard about yourself over your lifetime. It then plays those negative messages back to you in your head over and over: You're not good enough, no one's ever going to listen to you, you're ugly, your nose is so big, your ears are too small.
Even if you're not consciously thinking about those negative messages when you're on camera, you're subconsciously thinking somebody is going to judge you. And if they are judging you? So what.
You've invested time to learn and understand something, you have experience and knowledge to share, and you're the only person who can share that message the way you share it. People may judge you but don't carry their baggage and let them stop you.
Building confidence is a habit. You're going to be scared and worry about things people say about you, but the more you do live video, the more confident you'll become.
Content and Consistency
When you're on video, you need to know what you're talking about. Many people struggle with video because they don't know what to say. It's important to spend time thinking about what you want to say and what people want to hear from you. Being clear on what you'll deliver in your content will help you be more comfortable on video.
Consistency or the creation of the habit is the third thing. You can't go live one time, see few or no viewers, and then decide live video doesn't work. It takes time to build an audience. Consistently going live at the same time on the same day or days will help you find those viewers.
A Simplified Live Video Production System
The goal of Tanya's system is to help you leverage live video as a tool in your toolkit, and keeping things simple makes using live video much more fun.
Simplify Your Equipment
Most people ask, "What should I buy? What should I have?" Tanya says when you first start out, go with what you have. Then, go with what you need. Then go with what you want.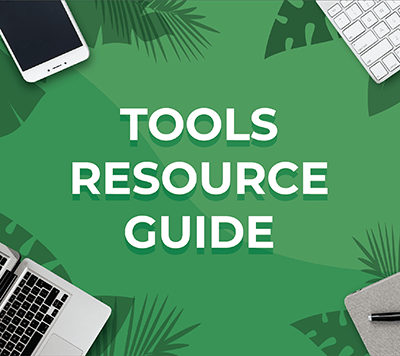 Looking for something to make your life easier?
Discover the tools we recommend to drive engagement, save you time, and boost sales across your entire marketing funnel or business.
Whether you need help planning content, organizing social posts, or developing your strategy, you'll find something for every situation.
FIND YOUR NEXT FAVORITE TOOL
Start with your smartphone or the built-in webcam in your computer or laptop. That's technically all you need to go live on Facebook, YouTube, and other streaming platforms.
Be sure to position yourself with natural light on your face so people can see you because they're trying to get to know who you are. If natural light isn't available, take a page out of Tanya's book. Her lighting was very dark when she started so she went to Home Depot and bought some inexpensive silver clip-on lights people typically use in garages.
You don't want poor sound quality to be the reason people move away from your live video. Whether you're using the mic in your Apple headset, your device, or your computer, be sure to run a test for sound quality. If you find the sound quality is low and it's difficult to hear you speak, you can buy an inexpensive lavalier mic for around $20.
When you feel like live video is something you'll continue to do, you can upgrade your equipment.
Upgrading doesn't necessarily mean purchasing a $600 DSLR camera, but purchasing a quality camera is a good place to start. Tanya uses a Logitech C922 Pro (approx. $100) and Mike uses a Logitech Brio (approx. $200).
To level-up your lighting, you have a variety of options. Tanya upgraded to soft box lights but you can also use LED panels or a large ring light (which is much bigger than a selfie ring light.)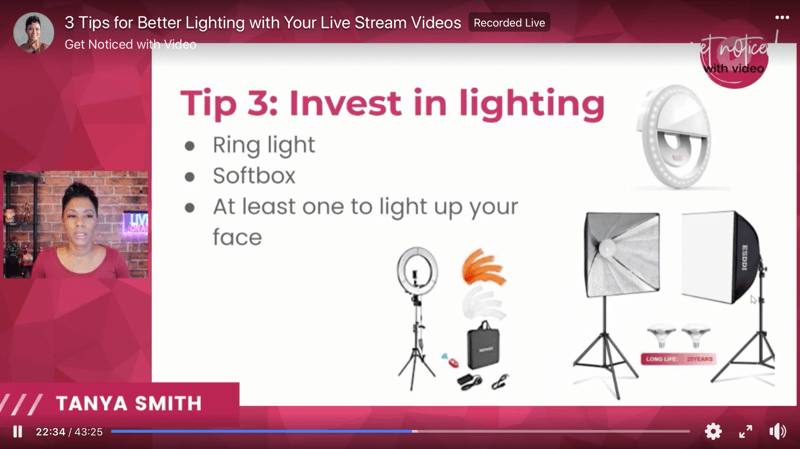 Next, you can upgrade your mic. Tanya uses a Blue Yeti (approx. $129) and Mike uses a Heil PR 40 (approx. $400).
Simplify Your Streaming Platform
To go live on any social media network, you need a tool that lets you broadcast. Facebook has its own native tools but some third-party tools and apps offer additional functionality such as the ability to add branded graphics to your live.
If you're starting with what you have, you can literally schedule a stream and go live—for free—from your profile or page from within Facebook via your mobile device or your desktop using Facebook Live Producer (which you can access via Creator Studio or by going directly to facebook.com/live/producer).
You can even run a private live that only you will see to test your video and microphone equipment. Running those private lives will also help you become more familiar and confident with the process before you open your live stream to the world on camera.

The next level, moving to what you need, is where you consider third-party tools and apps. When it comes to third-party platforms, Tanya recommends both RestreamIO and StreamYard.
She prefers StreamYard because it's easy for her to use and there are a number of benefits and features she appreciates.
First, you can stream to multiple social media networks at the same time—say, YouTube, Periscope, and Facebook.
Second, you can customize your stream with your brand colors and graphics so viewers will recognize your business.
Third, after your live ends, you can easily download the video or audio version of your live stream so you have a copy of your content. Facebook also allows you to download your video but Tanya notes the process isn't as user-friendly as it is with a tool like StreamYard.
Simplify Your Calendaring
Because a lack of consistency is related to the struggle to show up on camera, Tanya says scheduling time for your live streams is key to building consistency. She cites her family's motto: "If it's not on the calendar, it ain't happening."
By blocking out a day and time to go live and a day and time to intentionally think about what you want to cover, what went well with your last stream, and what didn't go well, you can hold yourself accountable. You'll establish a habit that leads to more consistent live streaming. Tanya uses Google Calendar but you can use an app, a paper planner, or whatever you're comfortable with.
She opens her calendar and blocks time for live streaming every Tuesday at 6:00 PM. She's committed to herself and her audience that she'll always be live on that day at that time, so if she doesn't show up, they notice. Then she has to explain why she missed the stream.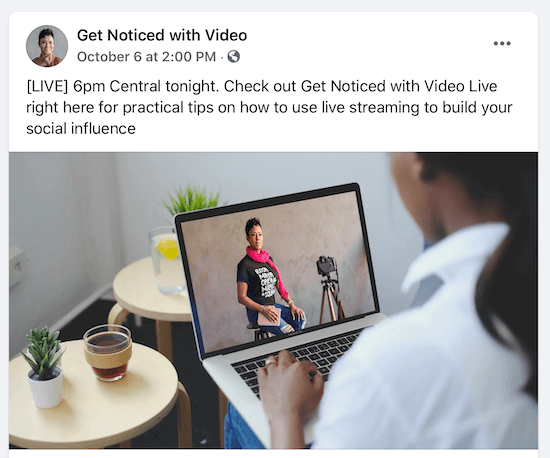 She also blocks time on Sunday evenings for live-stream development, during which she thinks through the topic and flow of her upcoming stream.
If you're just getting started with live streaming, you'd use this time to develop a template for your own show flow. Tanya's show flow begins with the opening and then a miniature video that introduces her to viewers. Then she moves into the content and the meat of the conversation. She closes with an outro that includes a call to action.
When you have a template to work from, you can map out and prepare your stream. Choose your topic, decide what you'll say, and develop some engaging questions to ask your viewers. Tanya's streams typically last 30-40 minutes and she includes three message points based on her core topic.
This preparation really helps you to feel comfortable when you sit in that seat on the day that you told people you were going live. You have something of essence to talk about.
Key Takeaways From This Episode:
What do you think? What are your thoughts on developing an effective workflow for live video? What does yours look like? Please share your comments below.
Get Your FREE Course: Web3 for Beginners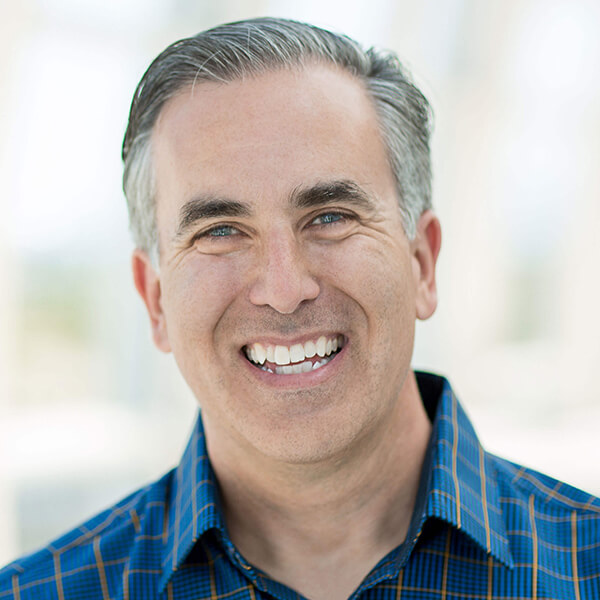 Curious about Web3, but don't know where to start or who to trust?

Introducing Web3 for Beginners, a course taught by Michael Stelzner, the founder of Social Media Examiner.

Learn the basics of Web3 and apply it to your business with this FREE comprehensive course.
CLICK HERE TO GET FREE ACCESS