Looking for proven ways to reach and engage your Facebook fans? Wondering how live video could help?
In this article, you'll learn how to use Facebook Live as the cornerstone of your marketing efforts.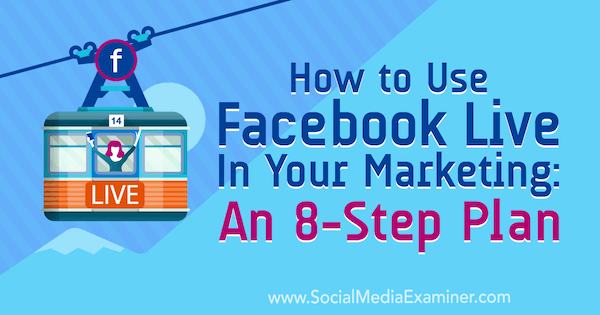 Why Facebook Live Video Is Still Relevant for Businesses and Marketers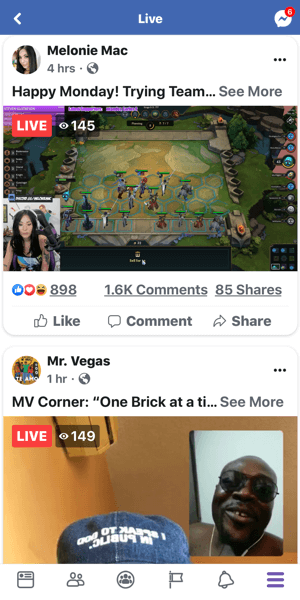 When it comes to video, Facebook wants pages to focus on creating content that's original, engages viewers, and has longer view times. Facebook has also said that it will "limit distribution for unoriginal or repurposed content from other sources with limited or immaterial added value."
Because Facebook wants users to stay on the platform and consume content, videos that capture and engage viewers will be given preferential treatment, especially if views are at least 3 minutes long.
A well-planned Facebook Live broadcast is a great way to share thoughtful, long-form content that engages viewers, ultimately playing to the algorithm.
Using live video as the catalyst for your video marketing will require some thought and a plan to make sure your broadcasts provide value to viewers. Here's how to get started creating a Facebook Live video strategy for your business.
#1: Define the Audience for Your Facebook Live Video
You aren't creating Facebook Live content just to make Facebook happy; you also need to provide value to your audience. So whom do you want to reach with your live streams? Take some time to review your customer avatar and look at your analytics to identify the people to whom you'll be talking.
#2: Identify Business Goals for Your Facebook Live Broadcasts
As with all of your social media content, every Facebook Live broadcast should serve a purpose. What do you want to accomplish with your live streams?
Information about who your live video viewers are and how long they're watching is revealed in your analytics. Find out what content people are engaging with and where they're dropping off during your broadcasts. Use this information to improve your live video and build brand awareness for your page, product, or service.
Also, keep in mind that it isn't always about how many people watch, but rather how many engage. A thousand views with only 10 engagements won't make Facebook (or you) as happy as 100 people engaging, commenting, and hitting those reactions during the broadcasts. A high number of interactions makes it more likely Facebook will put your live video and replay in front of a wider audience.
With an engaged following for your live streams, think of ways to start generating leads and revenue for your business.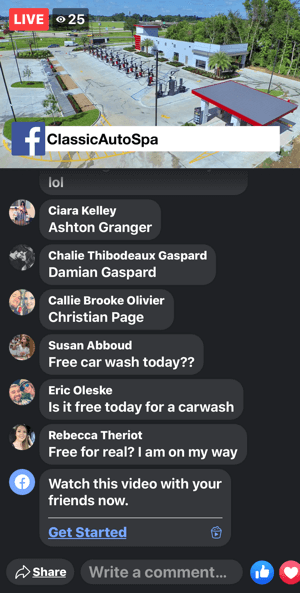 Generate Leads
One of the top reasons to have a Facebook page is to grow your business and part of that is generating leads. Your live stream can help position you as an expert in your field, making you the top resource for your product or service. It can also help you drive leads to your sales funnel to convert sales.
Get Your FREE Course: Web3 for Beginners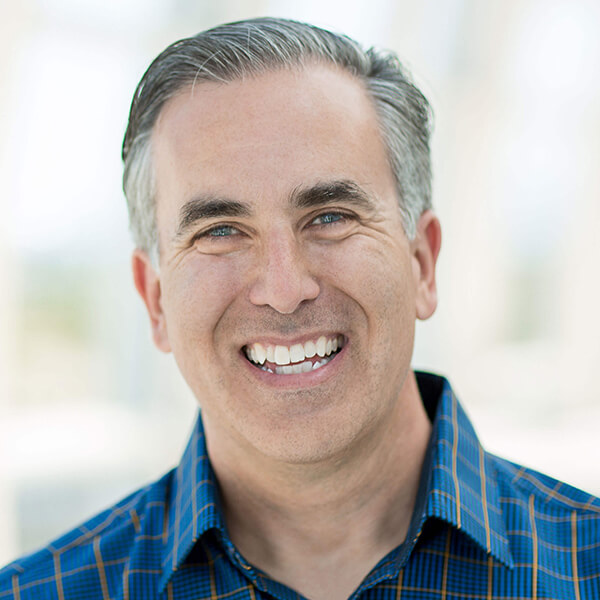 Curious about Web3, but don't know where to start or who to trust?

Introducing Web3 for Beginners, a course taught by Michael Stelzner, the founder of Social Media Examiner.

Learn the basics of Web3 and apply it to your business with this FREE comprehensive course.
CLICK HERE TO GET FREE ACCESS
A more aggressive approach is to promote your product or service during the broadcast with a "buy now" call to action.
Produce Revenue
There are four main ways to drive revenue with your Facebook live streams.
Sponsorships
Your Facebook page is a community based on a specific mission. The community is also a target demographic. Based on your page's purpose, other pages will likely want to partner with you to share your respective communities. Paid sponsorships are a great way to offer more to your page's live community while also generating revenue for your business.
Affiliates
Most Facebook pages have tools or products they love. Partnering with those companies to collect a commission for promoting their products or services to your page's community adds more revenue and credibility to your brand.
Gear Guide: How to Create Content at Conferences

Learning new skills, growing your network, and staying in the loop with what's happening in the world of social media are crucial for marketers.

Going to marketing conferences like #SMMW19 lets you tick off all three of these and you get to try out new tools or meet with brands you've been meaning to test drive.

Conference are also a fantastic way to broaden your knowledge AND a great way to create bulk content because you're practically surrounded by super smart people that you can interview then and there.

In this episode of Lights, Camera, Live, you'll get a behind-the-scenes look at how to create content at conferences as a brand, speaker, and attendee. This is also an opportunity to show off the cool new gear I picked up after #SMMW19!

IN THIS EPISODE, YOU'LL LEARN:
▸ Gear Guide Wishlist for Every Marketer
▸ 3 Tips for Collaborating with Content Creators
▸ How Sponsors Can Collaborate With Attendees

RESOURCES:
▸ Stephanie's Gear Guide: https://kit.com/heystephanie
▸ Join the Social Media Strategist Group: https://facebook.com/groups/smstrategist

UPCOMING EVENTS:
▸ 4/15 – 4/18 Midwest Digital Marketing Conference: https://bestmarketingconference.com/es/
▸ 6/18 – 6/19 Social Media Week Lima: http://bit.ly/SMWL19

🤖Leave the comment "Subscribe" and RoboSteph will notify you when we're live!

Posted by Stephanie Liu on Thursday, April 4, 2019
.
Stephanie Liu from Lights, Camera, Live! uses affiliate marketing for her live show to share the best products she's found for creating live streams, video, and more. Her Gear Guide includes affiliate links with companies and Amazon, which give her a commission from sales originating from her links.
Merchandise
Selling merchandise through your live broadcasts can add an unexpected layer of revenue. With print-on-demand services, you can easily build a community offline and have people promoting your brand in real life by wearing and using your merchandise.
4HUMANITEEs' mission is to design socially conscious t-shirts that spark social change and restore humanity. They broadcast live video daily to promote their newest merchandise and 10% of all purchases goes to a partnering non-profit.
WE GOT TEES & FREE SHIPPING
www.shop.4humanitees.com

Posted by 4HUMANITEEs on Sunday, June 9, 2019
.
Sales of a Product or Service
You can promote your products and services indirectly to viewers by providing valuable information that's directly connected to your offerings.
BeLive.tv broadcasts multiple Facebook Live shows each week to share tips for doing more with live streams and the BeLive.tv live-streaming tool. With a variety of hosts, they're able to connect with their audience regularly to inspire them to go live with the BeLive.tv service.
How to Start A Live Stream Show From SCRATCH! Zilch. Zip. Nada.

If your business is amazing but you really need more customers – then you've got to tune in RIGHT NOW…

Live Video Growth Coach Owen Video will be helping you get your LIVE Stream off the ground! Get your questions ready and ASK them LIVE in the comments!

💥BeLive Toolkit —> Type "Toolkit" in the comments

It's BeLive Weekly
Helping you GROW your FB Live SHOW
Mondays at 3pm EST

Hosted By: Owen Video
Produced By: Melissa Rotunno

Posted by BeLive.tv on Monday, May 13, 2019
.
#3: Decide What Type of Live Video Content to Share
Once you better understand your audience, think about what sort of content they'd be interested in, how best to deliver that information, and when you should be live-streaming. Here are a few of the different kinds of live streams you can create.
Conduct a Tutorial
Showing your audience how to do something related to your industry not only demonstrates your expertise, but also makes your live streams—and your page—resources for further information about that topic.
Vickie Howell does a weekly "Ask Me Monday" live stream to show people how to do yarn-related projects. The broadcasts usually revolve around showing viewers patterns and demonstrating how to do specific stitches.
Ask Me Monday #128: How to Knit a Brioche Stitch Pot Holder

Learn how to knit two-color Brioche Stitch to make a chunky, cotton pot holder. Free pattern & tutorial! www.vickiehowell.com

Posted by Vickie Howell on Monday, May 20, 2019

Looking for something to make your life easier?

Discover the tools we recommend to drive engagement, save you time, and boost sales across your entire marketing funnel or business.

Whether you need help planning content, organizing social posts, or developing your strategy, you'll find something for every situation.

FIND YOUR NEXT FAVORITE TOOL
.
Interview Users and Businesses
Interviews give you the opportunity to collaborate with others to share their stories and expertise with your audience. Guests can provide viewers with a different perspective on a topic related to your industry, as well as help share and promote your broadcast.
You can do interviews remotely with third-party tools like BeLive.tv (limited free version available), Ecamm Live (starting at $14.99/mo.), or StreamYard (free version available). Another option is to broadcast interviews on location, adopting Gary Vaynerchuk's approach of "being the digital mayor of your town."
Share Community or Industry News
Sharing community news during your Facebook Live show is a great way to keep your audience up to date on what's happening in your industry such as breaking news, new guidelines, and handy tools.
#4: Plan the Production
Consistency is vital to the success of any marketing plan, and going live at the same time every week lets your community know when to tune in. This helps you build loyalty (which the Facebook algorithm wants) while also giving you a dedicated platform for sharing with your community.
Often, marketers let their fear of tech or lack of technical skills stop them from making video of any kind. When it comes to live streaming, you truly only need three things: a webcam, mic, and solid internet connection. What's most important when live-streaming is that your viewers can see and hear you. Everything else is just extra.
If you want to boost your production value, consider investing in these tools:
HD webcam
Microphone
Direct internet connection via ethernet
Third-party live-streaming tools like StreamYard, BeLive.tv, or Ecamm Live
#5: Schedule Your Live Broadcast
You can schedule your Facebook Live up to 6 days in advance. Make sure you choose a catchy title and scroll-stopping description, and add the appropriate tags. If you plan to have a guest on the show, tag them and the business page they're associated with to maximize views. Sharing the broadcast schedule with their audience is in their best interest too, so by tagging them, they'll share your post as well.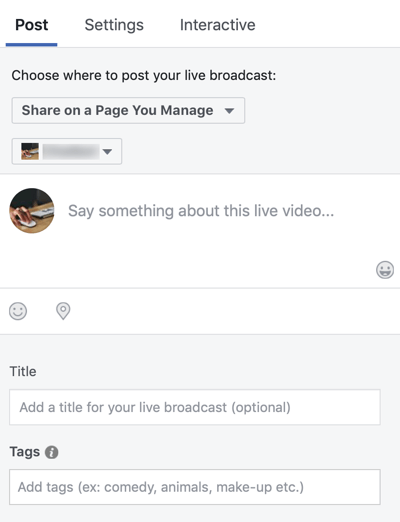 #6: Promote Your Facebook Live Video
Once you're fully committed to using Facebook Live to connect and engage users (and make money), how can you get your broadcasts seen by your desired community? Here are some pointers to create more opportunities for viewers to see your live streams.
Create a Facebook Event
Creating a Facebook event on your page allows you to directly invite people who would be interested in your live stream. You can also use Facebook ads to promote your event since you can't boost scheduled live streams until after you've completed your broadcast.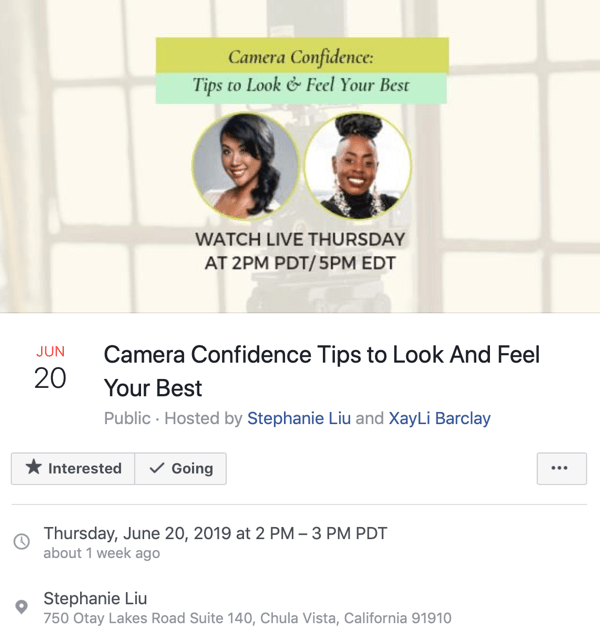 Announce Your Live Stream With Your Messenger Bot
Using your live stream to grow your Messenger bot list gives you a way not only to communicate and announce your latest live stream, but also to grow your email list. Check out this tutorial on how to use Messenger and comment bots to grow your email list.
Promote Your Show on Your Other Social Channels
To maximize reach and draw viewers to your Facebook Live broadcast, promote it on your other social media channels. An image tool like RelayThat ($25/user/mo.) makes it easy to create a thumbnail not only for Facebook but also for your other social media platforms.
Use Facebook Polls
Facebook wants to encourage engagement with live video so they have an advanced feature you can use to poll your viewers. It's an easy way to keep viewers participating and engaging while you learn more about them.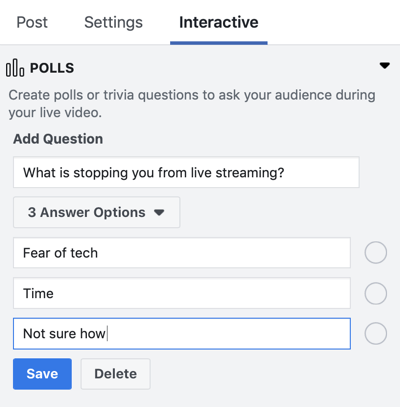 #7: Optimize Your Live Video Replay
After your live broadcast is finished, edit your live video post to optimize your replay.
Start by writing a catchy, relevant title and updating the message with any necessary links or tags. Then upload a custom thumbnail and add relevant tags.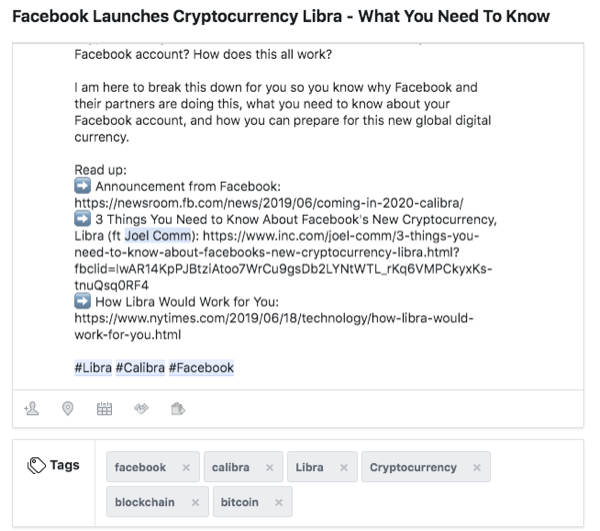 Turn on closed captions so Facebook will automatically generate captions for you. Even though they won't be perfect, it's better to have them.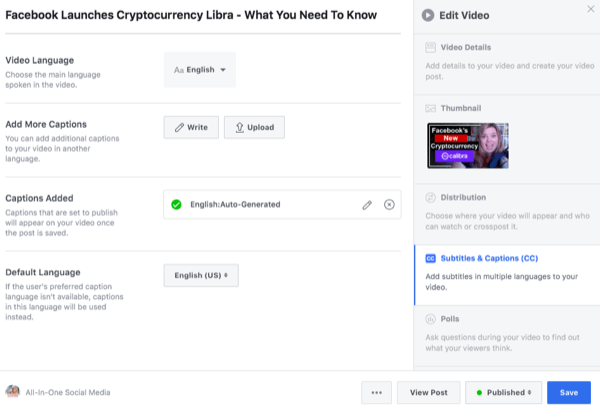 In the Video section of your Facebook page, add your replay to a playlist. Playlists let you organize videos into groups based on common themes or topics. Then you can easily share them with viewers who are interested in the replays of your live stream or specific topics.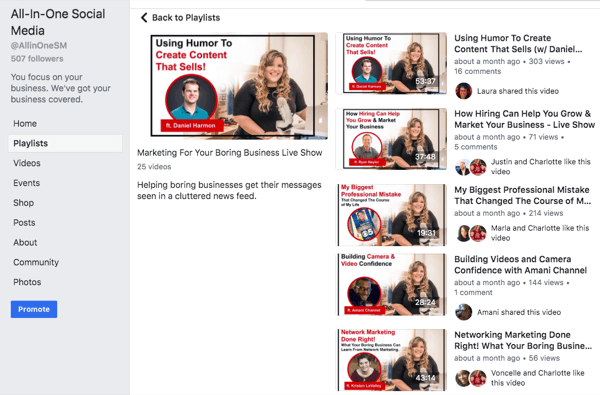 #8: Repurpose Your Facebook Live Video Across Platforms
The wonderful thing about producing any video is that you now have one piece of content that you can repurpose for multiple marketing pieces:
Use sound bites and quotable one-liners for GIFs, images, Instagram Stories, news feed clips, and more so you can keep sharing your live video content on social media.
Boost your replay to catapult your video into the news feeds of your target demographic.
Incorporate your video into your email marketing. Share your latest live stream by tailoring your email copy with your live-streaming goal in mind.
Embed the video on your website/blog. Blog posts incorporating video attract 3x as many inbound links as blog posts without video.
Repurpose your video as a podcast. Thirty-two percent of the U.S. population listens to podcasts monthly and the majority of those listeners consume content while doing tasks around the house or driving. Your audience may want to consume your content and support you but just don't have the time to actually watch the video.
Examples of Small Businesses Finding Success Through Facebook Live
Many different kinds of businesses have found great success with Facebook Live. Here are more examples of how businesses are effectively using live video.
To celebrate 10 years in business, Sitter for your Critter owner Crystal Hammond invested in 6 months of contests to thank her community. She not only gave away goodies and gift certificates for her business, but also partnered with local businesses with a pet niche to expand her reach.
She used Facebook Live to announce all of her contests, conduct live interviews, give reminders, and do live drawings to choose the winners. In what normally is a downtime in the pet industry, Crystal was able to triple her business by giving to her community.
Shannon Vavich of The Flying Kitchen is a more than 20-year Marine Corps spouse who used cooking as a way to help her and her family get through multiple moves around the world. On her Facebook Live broadcasts, she cooks and chats about life, moves, and food while focusing on growing her blog, podcast, and home-management mentorship program.
To build buzz around their event, the Midwest Digital Marketing Conference used Facebook Live on two fronts. Prior to the event, they did a live Q&A with speakers to give attendees and people who couldn't be there the opportunity to learn from speakers. During the event, they interviewed speakers, sponsors, and more from a live-streaming booth.
SPED Homeschool helps families connect with quality information and resources so they're equipped to home-school a child with special educational needs. With Facebook Live, they continue to add value to their home-school community and partners of their non-profit. Partners pay a per-show fee to be a sponsor.
Conclusion
A Facebook Live show allows you to be present consistently for viewers and share topical news, give behind-the-scenes looks, hold timely conversations, and more. This content can provide a lot of value to viewers and gives them a more intimate way to connect with you.
During your live streams, build community through comment engagement. As the show's host, you can reward live viewers with shout-outs, answer questions, offer giveaways, and more during the broadcast. By engaging with comments, viewers are more likely to share your streams and tune in whenever you go live.
What do you think? Are you inspired to try Facebook Live? Do you have some tips of your own? Share your thoughts and questions in the comments below.
More articles on Facebook Live video:
Get Your FREE Course: Web3 for Beginners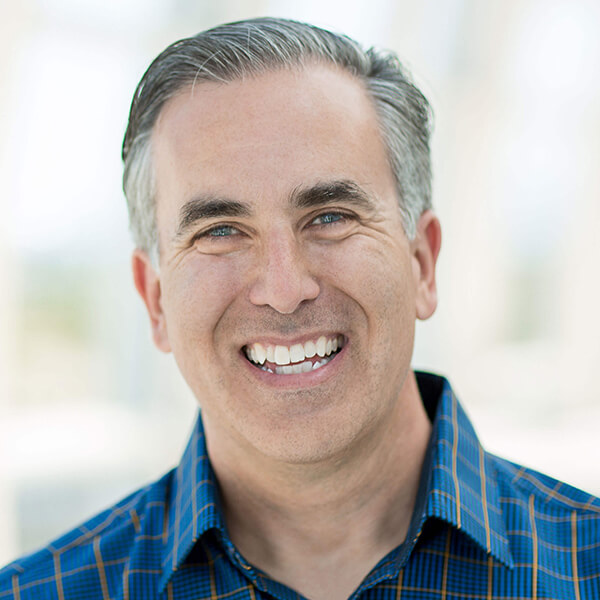 Curious about Web3, but don't know where to start or who to trust?

Introducing Web3 for Beginners, a course taught by Michael Stelzner, the founder of Social Media Examiner.

Learn the basics of Web3 and apply it to your business with this FREE comprehensive course.
CLICK HERE TO GET FREE ACCESS