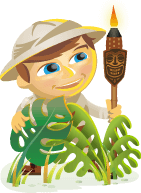 Do you want to grow your email list?
Wondering how social media can help you grow a list of prospects?
To learn how to grow your email list with social media, I interview Amy Porterfield for this episode of the Social Media Marketing podcast.
More About This Show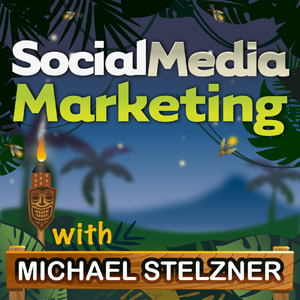 The Social Media Marketing podcast is a show from Social Media Examiner.
It's designed to help busy marketers and business owners discover what works with social media marketing.
The show format is on-demand talk radio (also known as podcasting).
In this episode, I interview Amy Porterfield, co-author of Facebook Marketing All-in-One for Dummies. She's also the host of the new podcast Online Marketing Made Easy and she specializes in online training. She blogs at Amy Porterfield.
Amy shares how Facebook marketing has helped grow her email list. You'll learn tactics that work for growing your list when it comes to using social media.
Share your feedback, read the show notes and get the links mentioned in this episode below!
Listen Now
Where to subscribe: Apple Podcast | Google Podcasts | Spotify | RSS
Here are some of the things you'll discover in this show.
List Building With Social Media
Amy's list-building story
Although Amy focuses primarily on Facebook marketing, she has noticed over the years that social media is a great place to grow your leads.
As an online marketer, her email list is really the heart of her business. Back in January 2010, her email list consisted of about 600 people. She realized she had to do something about it. From then on, she has made a conscious effort to focus on publishing content to attract leads. Today, she has an engaged list of around 50,000.
Amy goes into detail on how she attracted online marketers, entrepreneurs and small business owners to her content to get them interested enough to sign up for free giveaways and thereby grow her list.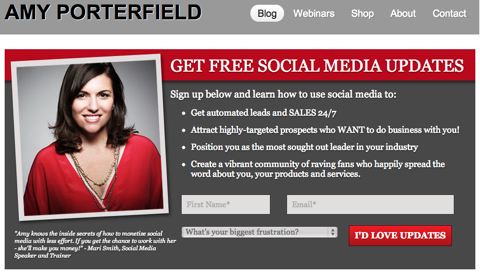 Amy explains how her business model is creating info products for people to learn how to use Facebook to grow their businesses and get more traffic to their websites.
Listen to the show to find out why having online information products is important.
Is social media alone sufficient?
Amy tells us although social media has become saturated, alone it isn't enough to get the exposure your business needs. You also need an email list.
Social media is a great way to build relationships, make connections and sell your programs, products and services. But when you pair social media with an email list, you will expand your reach.
It's a great combination for getting exposure and staying top of mind with your audience.
Listen to the show to find out why our email list at Social Media Examiner is the core of our success.
Some ways marketers can increase their list size
Amy loves to create Signature Promotional Giveaways (SPGs). You'll discover how these giveaways work to your advantage and why they are so effective.
Amy shares why she decided to create a webinar once a quarter as part of her strategy to grow her email list. When you opt in, you have access to a free 60-minute webinar and get live access to Amy. This gives you the opportunity to ask questions and at the same time get great content.
Other free high-value pieces of content can be an ebook or a video series you've created. Make sure it's premium content you give in exchange for a name and an email.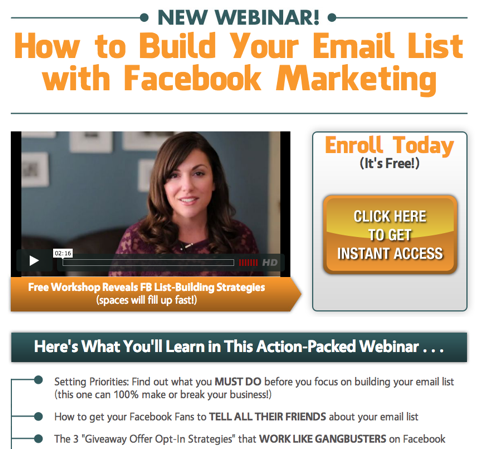 Amy shares one of the best tips she received from Derek Halpern of Social Triggers regarding using an opt-in on your blog. Hint: It's not just about them spending money with you.
Listen to the show to learn how Social Media Examiner added 10,000 names to our email list with the 2012 Media Marketing Industry Report.
Tips for using video and webinars to increase your email list
Amy explains the reasons behind the 2-minute videos she makes to promote her future webinars.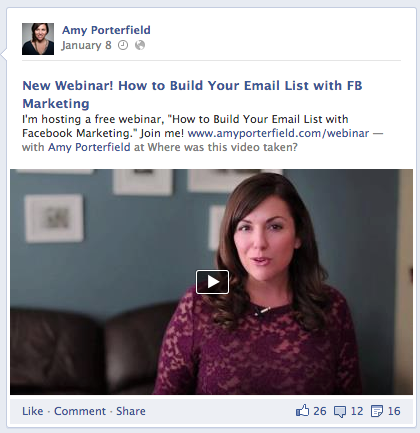 People's attention span on social media is very small, so make sure the videos are short and have a strong call to action.
Amy shares the strategy behind posting the videos on her Facebook Page and Facebook Page Post Ads. It's a way of filling up her webinars each time. Amy also believes it has to do with the personal touch of the video.
Amy explains the responsiveness of list subscribers versus Facebook fans and her process for maximizing response.
Her Page Post Ads have been well-received. This is because people think she is a pro. If you make an effort to ensure your ads are seen by the people who really matter to your brand, there is a perception that you are succeeding amazingly.
When it comes to ads, you'll find out what converts better—video or images.
Listen to the show to find out the advantages of using the same video on Facebook or YouTube as you do on your opt-in page.
How to use Facebook to increase your list size
The number-one way Amy grows her email list is with consistent SPGs every quarter. You'll discover the two tactics that work together to drive Amy's business.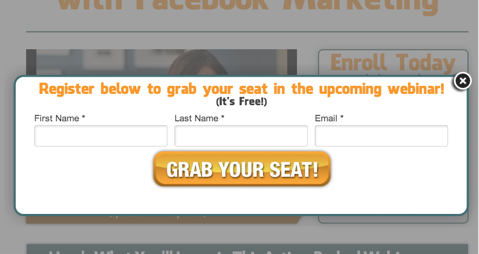 The email list growth from her blog posts comes in second. You'll hear Amy share why the feature box on her website and pop-up convert really well.
Listen to the show to hear how many more email subscribers Social Media Examiner received because of a pop-up box.
What to do with your list, once they've opted in 
When someone opts into anything of Amy's, they instantly receive an email. Amy explains what should be included in the email and why it's so important to start communication with subscribers instantly. Even though studies have shown that you can lose people if you email them too much, Amy has found that it's better to do it more often than not enough.
The times when Amy isn't running a webinar, she makes sure she has what she calls value-add emails going out regularly.
Listen to the show to hear why value-add emails are extremely important to continue to get people to open up your email.
New tactics to try when it comes to list building
Amy shares two things that are not necessarily new, but have proven to be great ways to grow a list.
The first is Clicktotweet. Amy explains how this helps promote her programs and extends her reach.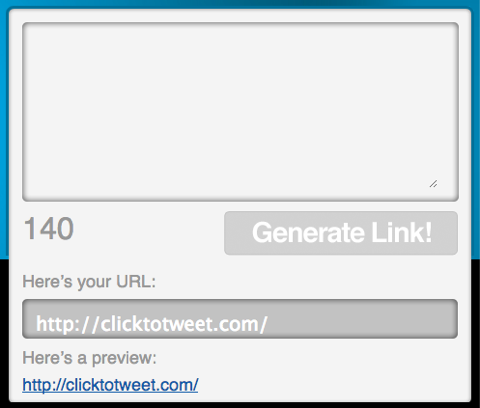 The next tool she uses is Facebook Offers. They are a type of Facebook Ad, but are easier and cheaper to use.
Amy gives an example of a friend who was doing a 3-day free cleanse and how she used Facebook Offers to grow her email list. The offer itself looks like a coupon and goes out into the news feed. When you click on the offer, Facebook sends you an email to your personal email account.
You'll find out why Facebook Offers are great if you are selling something or building your email list.
Listen to the  show to discover the cost of using Facebook Offers and Facebook Ads and how they can contribute to growing your email list.
Discovery of the Week
Do you sometimes want to read something online but don't have the time?  There's a cool tool called SoundGecko that can help you. This tool converts text into audio.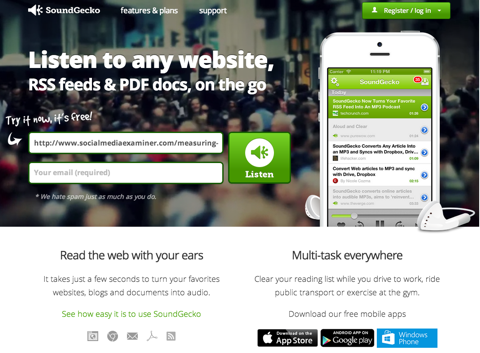 You can even set up an RSS feed. So if you have a favorite blog that you want to listen to, you can set up the RSS feed to receive notifications and listen to it in audio format.
There's a free version and a pro version.
Listen to the show to learn more and let us know how this works for you.
This Week's Social Media Question
Cynthia Sanchez from Oh So Pinteresting asks, "I've heard it mentioned a couple of times that it's a good idea to include an image with your Facebook post to draw more attention. When it comes to sharing websites or blog posts and using a screenshot, what should be included in that screenshot?"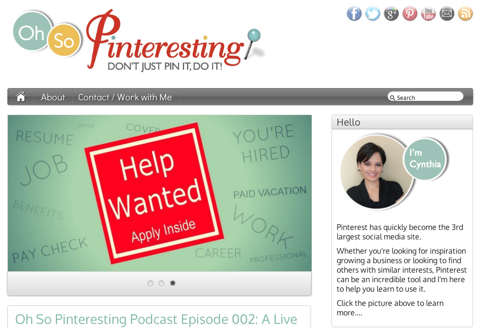 Cynthia, here is what you need to do.
When you take a screenshot to share on Facebook, make it a square screenshot. The reason this is important is because Facebook shrinks it down when it puts it in the news feed. For example, if it's rectangular, Facebook will crop it in a way that you probably won't like.
The strategy we use at Social Media Examiner is we try to grab the title and the first couple of paragraphs. Also try to include the retweet number too, as this helps with social proof.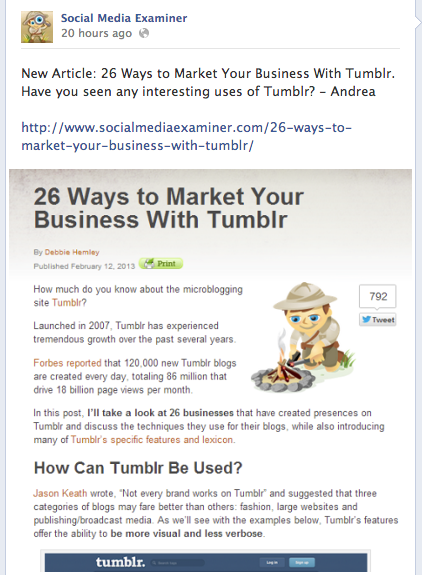 If it's someone else's blog, you'll want to make sure the masthead or the logo is included.
Listen to the show to hear more suggestions for Cynthia.
Call in and leave your social media–related questions for us and we may include them in a future show.
Other Show Mentions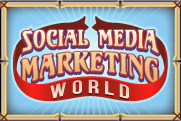 Social Media Marketing World is Social Media Examiner's latest mega-conference—taking place at the waterfront San Diego Marriott Marquis & Marina in San Diego, California on April 7-9, 2013.
As you'd expect, Social Media Examiner recruited the biggest and best names in the world of social media marketing for this conference. Only the best for you! Be sure to check it out.
Amy will be one of the presenters, along with over 50 others, who are some of the biggest names in the world of social media marketing.
There will be extensive networking opportunities—you'll make priceless professional connections because we built this event to include networking after keynotes and lunch, and catered evening events at the historic San Diego Natural History Museum and aboard the largest private yacht in Southern California.
Key takeaways mentioned in this episode:
Ways to subscribe to the Social Media Marketing podcast:

What do you think? What are your thoughts on list building with social media? Please leave your comments below.