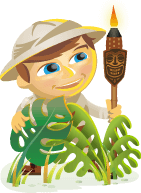 Do you publish long-form content?
Are you wondering if the new LinkedIn publishing platform can help your business?
To learn about the LinkedIn publishing platform and why you may want to consider it, I interview Stephanie Sammons for this episode of the Social Media Marketing podcast.
More About This Show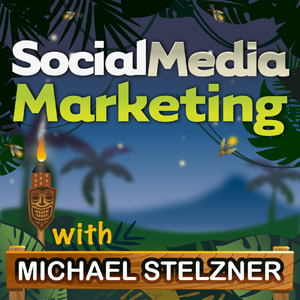 The Social Media Marketing podcast is a show from Social Media Examiner.
It's designed to help busy marketers and business owners discover what works with social media marketing.
The show format is on-demand talk radio (also known as podcasting).
In this episode, I interview Stephanie Sammons, who is a LinkedIn marketing expert and CEO of Wired Advisor, a digital marketing platform that helps financial advisors create and publish content. She blogs at Build Online Influence.
Stephanie shares how marketers can make the most out of the LinkedIn publishing platform.
You'll discover what type of content works best, when to schedule posts and how you can use the platform to grow a following.
Share your feedback, read the show notes and get the links mentioned in this episode below!
Listen Now
Where to subscribe: Apple Podcast | Google Podcasts | Spotify | RSS
Here are some of the things you'll discover in this show:
LinkedIn Publishing Platform
What is the LinkedIn publishing platform?
Stephanie explains that the LinkedIn publishing platform was first made available to around 500 LinkedIn influencers. These individuals were chosen by LinkedIn to be a part of the initial rollout.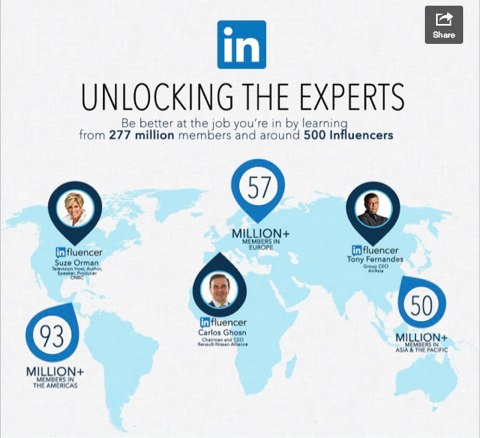 More recently LinkedIn has opened up the publishing platform to all 277 million+ members. It will be rolled out over time, allowing every single person the opportunity to publish his or her own content on the LinkedIn platform.
Listen to the show to find out why this new addition is great for publishing long-form content.
Does the LinkedIn platform support images and multimedia?
Stephanie says that you can embed content from SlideShare, which is owned by LinkedIn. It's a network where you can publish PowerPoint presentations, Keynote presentations, PDFs, white papers, infographics and embed videos from YouTube. In addition, you can embed images in the posts that you publish to LinkedIn.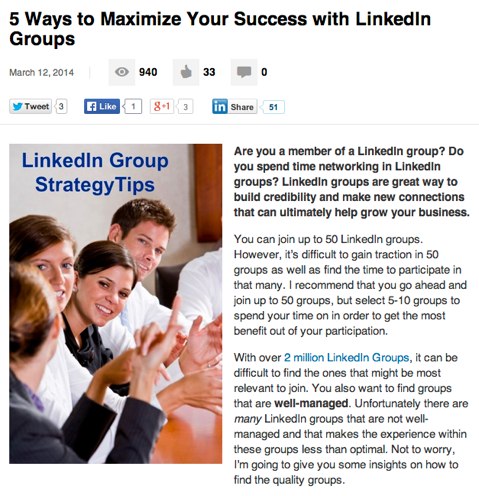 The formatting capabilities are very similar to a basic blogging platform. It's a little bit easier to use than WordPress, although you don't have the ability within the editor to categorize or tag your posts. You can use headers, bullets, numbered lists, bold, italics and hyperlink text as well.
Listen to the show to find out why it's really important to double-check your post before you hit Publish.
Marketers and business owners should consider posting content on LinkedIn
You have to remember that LinkedIn is your professional identity online and this not only gives you an opportunity to demonstrate and illustrate your expertise, but also to get in front of a very active and engaged audience.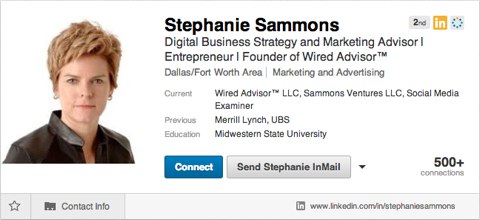 You'll discover why you now have the ability to grow a following on LinkedIn—even with people who aren't in your LinkedIn network—and how this can be a huge benefit to your business. It's still important to have your own platform that's away from all of the other social networks.
One of the real advantages of when you use the LinkedIn publishing platform is that you can grow an audience very fast. My friend Dave Kerpen, the founder of Likeable Media, is a great example.
Although he has mostly written for traditional print and didn't really have a huge platform online, he was able join the original LinkedIn influencer network. Since then, he has seen amazing growth as a result of the articles he has published on the platform.
You'll hear about an article that Dave wrote on the LinkedIn publishing platform about 10 Marketing Podcasts That You Ought to Listen to and how this affected the podcasts mentioned in a phenomenal way.

When you put your content together, Stephanie advises you to think about topics that have a broad appeal to the type of people who make up the LinkedIn professional network. Also check out the type of articles that Dave has published, as he is a great person to learn from.
Listen to the show to find out another benefit to being part of the LinkedIn influencer network.
The ability to repost published posts on LinkedIn
Stephanie says that there is no rule that your content has to be original. If you are a blogger who is already publishing long-form content on your own blog, then this new publishing platform gives you the chance to shine, especially if your audience is on LinkedIn.
The posts that Stephanie has already published on LinkedIn are repurposed blog posts. She made a few changes such as the title and a small amount of text. Remember that you've already put the hard work into your posts and this is just another opportunity to showcase it to a broader audience.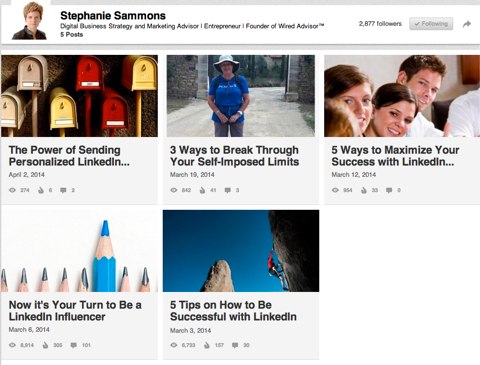 Not only can people comment on your posts, they can also share it on Twitter, Facebook, LinkedIn and Google+.
You have to be careful that the post is not self-promoting or salesy in any way. These posts are designed to educate your audience and help the members of your network and beyond. This is what you need to focus on.
When you create your own bio section within the body of the post, you should include a few sentences about who you are, what you do and who you help, and then you can add a link back to your blog or website.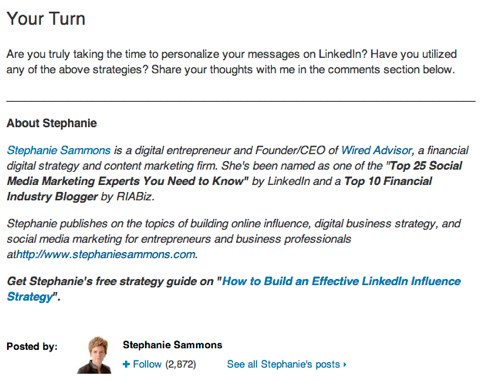 Listen to the show to hear why it's important to link your name in your bio to your Google+ profile.
Post frequency
You first need to start with a great headline and make sure you incorporate an image into your posts. With the first paragraph or the first few sentences, you should be able to reel someone in as they come across the post and want to learn more.
When it comes to the length of a post, LinkedIn recommends that you write 400-600 words per post. However, Stephanie's best post so far has 1500 words. Stephanie says that you should test for yourself to see what will work best for you.
The final stage is to figure out what time to publish. You'll hear the times that work best for publishing or sharing something on LinkedIn.
Once your post is published, it will appear as an update in the news feed with an image, if one is attached.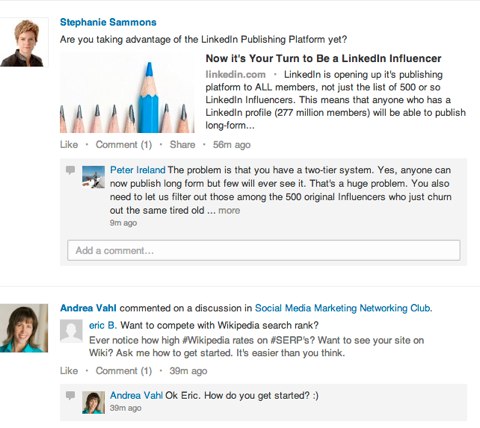 If you want to discover the people who write on this platform, you can find them on the Interests tab under Pulse when you log into LinkedIn.
When you visit the Pulse page, you'll see all of the influencer posts, plus all of the news that comes in from outside sources. This is where you can customize and choose the channels you want to follow. Now there is also a tab within Pulse for All Publishers.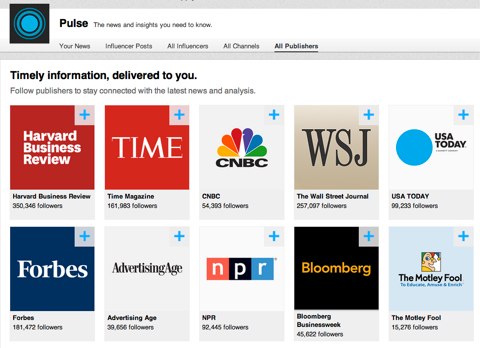 Just because there is an All Publishers tab doesn't mean that the content you publish on LinkedIn will be discovered there. You'll find out what Stephanie's opinion is on this and what will give your post more exposure.
When you do publish on the platform, all of the posts will be showcased under your basic headline on LinkedIn. This means they are above the fold on a screen and are very visible. People can then choose to follow you from the top of your profile.
From the moment you publish your post, you will be able to see how many people have viewed it, how many have shared it across the various social networks and how many comments there are.

You'll discover why it's so important to physically share the post with your network, and why it's essential to grow a high-quality network.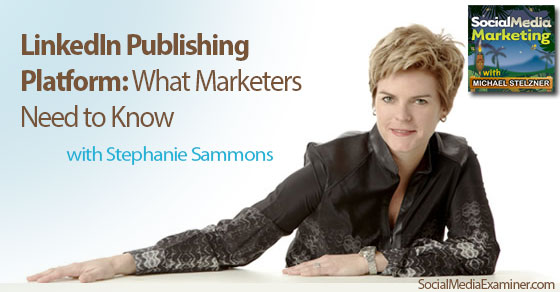 Listen to the show to find out the posting frequency of influencers and how often Stephanie posts.
Discovery of the Week
I recently discovered a tool called Twitonomy, which provides you with intelligence or insight into anyone on Twitter.
When you visit the site, you first need to log in with Twitter and then you can add anybody's Twitter handle. For example, I looked at Chris Brogan's.
It shows you some of the basic things you would expect such as most recent tweets, people you're following and people following you, but it also gives you some very interesting analytics.
For Chris, it shows me that he tweets on average at least 63 times a day and gets 141 retweets. On a graph it displays over time when he is most active and the people who have retweeted him the most. These are probably some of his biggest fans.
You can see the people he has replied to the most, mentioned the most, the hashtags he has used the most, the tweets that have been most retweeted by him and favorited and his tweets that have been most favorited.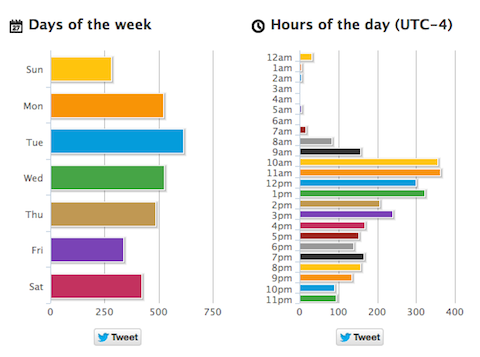 You'll discover the other kinds of analytics you can see and why it's also interesting to check out your own profile.
I highly recommend that you check out Twitonomy.
Call in and leave your social media–related questions for us and we may include them in a future show.
Listen to the show to learn more and let us know how this works for you.
Key takeaways mentioned in this episode:
Ways to subscribe to the Social Media Marketing podcast:

What do you think? What are your thoughts on using the LinkedIn publishing platform? Please leave your comments below.