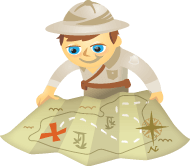 Would you like to find out when your social media followers are most active?
Do you want to know which social network drives the most leads to your website?
There are many social media statistics you can track, but it's important to track the data specific to your business's use of social media.
Track the right metrics for your community and you'll better understand how and when to share information, as well as what type of content drives the most traffic to your website.
In this article, you'll learn how to track and measure four important social media metrics to help you improve your social media marketing.
#1: Determine the Best Times to Post Updates on Twitter and Facebook
Twitter
Because Twitter moves at such a rapid pace, tweets get buried quickly. Knowing when your followers are online plays a crucial part in your tweet's visibility and success.
Luckily there are some great tools to analyze the activity of your followers.
Tweriod looks at the recent tweets of your followers and provides you with analytics and data that show when your followers are the most active.
Once you connect your Twitter account to Tweriod, it runs an analysis and summarizes the best hours of each day for you to reach your followers with your tweets. The report is delivered to you by email or a DM when the results are ready.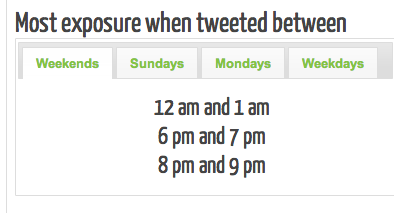 Besides recommending the best hours of each day to tweet, Tweriod also gives you an overall analysis you can review to get a sense of your community's most active days.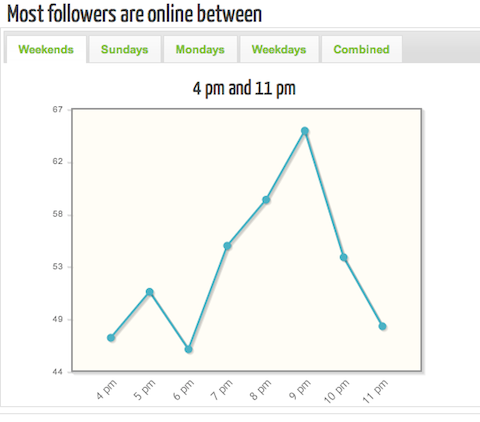 Tweriod also gives you the ability to synchronize this data with your Buffer account to automatically update your auto-scheduling hours.
Tweriod is free for accounts with up to 1000 followers and offers a monthly subscription if you have more followers or are interested in premium features.
Use the data from Tweriod to adjust the days and times you post on Twitter.
🌟 Ready to Supercharge Your Social Marketing Strategy? 🌟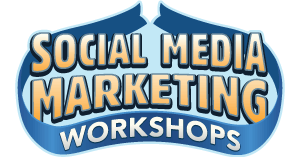 Struggling with your social marketing? You're not alone. The solution? The Social Media Marketing Workshops!

During these live 2 hour deep-dive workshops, you'll discover what's working now on Instagram, Facebook, TikTok, YouTube, and LinkedIn. Skyrocket your engagement, broaden your reach, and amplify your sales.

Become the marketing hero your company and clients need—without leaving your home!
🔥 Save $670 on an All-Access Ticket! Sale Ends Tuesday! 🔥
GET YOUR TICKETS NOW
Facebook
With Story Bump, EdgeRank and the sheer volume of posts that roll through the general news feed, it's getting difficult to make sure your fans see your page posts. To maximize the lifespan of your posts, you need to know when your fans are most likely to see them.
Facebook Insights offers a simple way to find out when your fans are most likely to be active on Facebook.
To find the best hours to share updates on your Facebook page, pull up the Insights dashboard, click on the Posts tab, and choose "When Your Fans Are Online."

Here, Facebook shows you easy-to-read graphs of your fans' diversity, including the average number of fans who saw your post in any given hour.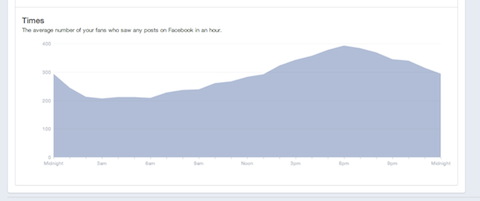 That's it. Now, you just have to post during your strong hours and highlight your most important posts during your peak exposure times.
#2: Find the Magic Number of Facebook Posts per Day
Many studies show the average brand should post about 1-2 times a day on Facebook. You need to know if that's true for your page.
Find the magic number of posts to share on your page, and you'll dramatically affect your engagement and community growth.
Facebook's new Insights dashboard gives you information about your recent posts and the frequency of engagement. To view the information, click on "See All" from your page to reveal the Overview tab.

Now, export the Overview data into a spreadsheet file directly from the dashboard by selecting "Data Type: Post-Level Data."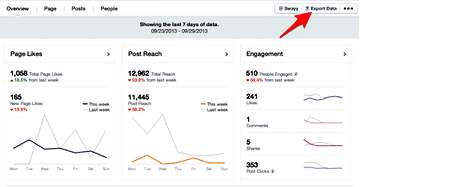 In the spreadsheet, group the posts by day and compare the average Lifetime Post Total Impressions and Lifetime Engaged Users columns.
For each day, look for the lower engagement numbers to discover which post count is decreasing the average metrics you measure.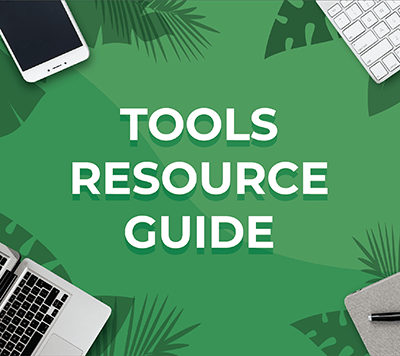 Looking for something to make your life easier?
Discover the tools we recommend to drive engagement, save you time, and boost sales across your entire marketing funnel or business.
Whether you need help planning content, organizing social posts, or developing your strategy, you'll find something for every situation.
FIND YOUR NEXT FAVORITE TOOL
That is your magic number of posts to share each day.
#3: Measure the Click-through Rate
If you're active on social media, you're likely to share a lot of content from your blog, website, YouTube channel or other media platforms.
When you share a link to your various platforms, your goal is to have people click on your link. The click-through rate (CTR) your links receive is most likely your primary metric for measuring success.
To measure your CTR, you need a URL shortener to track clicks.
Bitly is a free URL shortener with a set of tools to create shortened links, share your links and measure the CTR on your links.
You can shorten links from within the Bitly dashboard or use an extension for Firefox or Chrome to automatically shorten and share links straight from your browser.
After you've shortened a link with Bitly, click on it from the library at any time to get detailed information on its CTR, click sources, geographic distribution of clicks and more.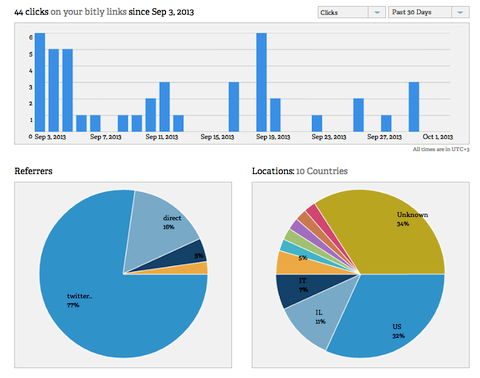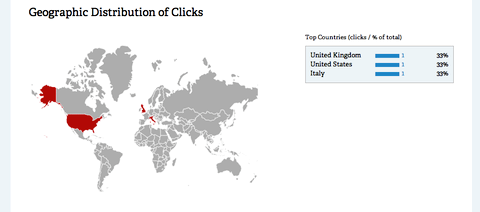 On the Bitly stats dashboard, you get both aggregated and individual statistics about the links you share from Bitly. Aggregated stats show complete global activity on a link and individual stats show activity specific to your shares of the link.
There are other tools to measure your CTR, but Bitly's analytics give you more detail than most, for free.

Spend some time analyzing the data behind your Bitly links to find trends in CTRs and shares that will help you deliver content suited to the needs and interests of your community.
#4: Compare Lead Sources and Conversion Rates
Most brands' social media strategies use more than one social media platform to drive traffic to their websites and generate new leads.
Although each platform has its place in your strategy, you won't receive an equal ROI from each one. You'll want to find out which platform generates the best ROI so you can put more effort into your marketing on that platform.
UTM Link Building and Google Analytics can help you track the leads and conversions from each social network. UTMs are tags you add to a URL that make it easy to track and monitor in Google Analytics.
Use the Google URL builder to create a measurable URL that Google Analytics can segregate into campaigns.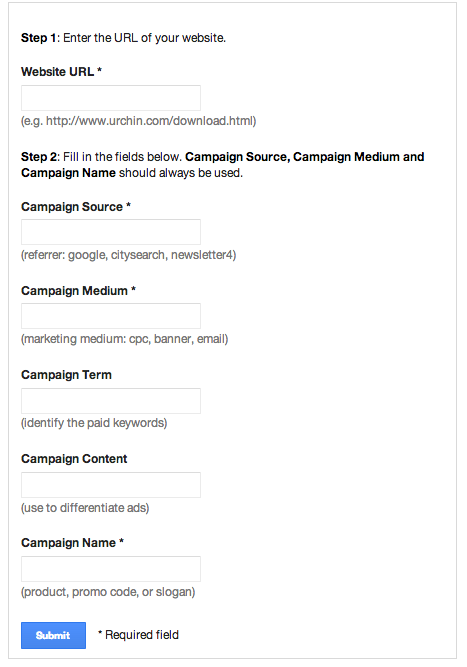 Google's URL Builder page has some helpful hints on how to use each of the UTM parameters:
Campaign Source. This helps Google Analytics identify the source of your traffic as a search engine, newsletter or other referrer.
Campaign Medium. This specifies whether the link is used in an email, a CPC ad or another method of sharing.
Campaign Name. This associates your URL with a specific product promotion or strategic campaign such as a spring sale or other promotion.
Build unique URLs for any landing page on each of the social networks used in your strategy. You'll be able to differentiate among leads that come from your Twitter bio, your tweets or Facebook.
If this seems too complicated, you'll want to get the help of someone with the appropriate technical skills.
To see which social network provides the most leads or conversions for a specific campaign, go to your Google Analytics dashboard and check out your campaigns.

Set up your goals, then look under Traffic Sources > Campaigns to see which source and medium drives more leads to your various landing pages and the conversion rate from each of them. Eventually, you'll see which source (social network) brings you more leads or more signups or sales (conversions).
Anytime you share an inbound link on social media, measure it with custom UTM parameters to get full ROI information on leads and conversions.
Summary
You can track many metrics on social media, but the metrics you choose to measure should reflect your business goals.
I recommend tracking these social media metrics because they give you the information you need to better market your business and products.
What do you think? What metrics do you track to measure the success of your social media efforts? Are there tools you have found to be helpful? Join the conversation below and let me hear your thoughts!
Get Your FREE Course: Web3 for Beginners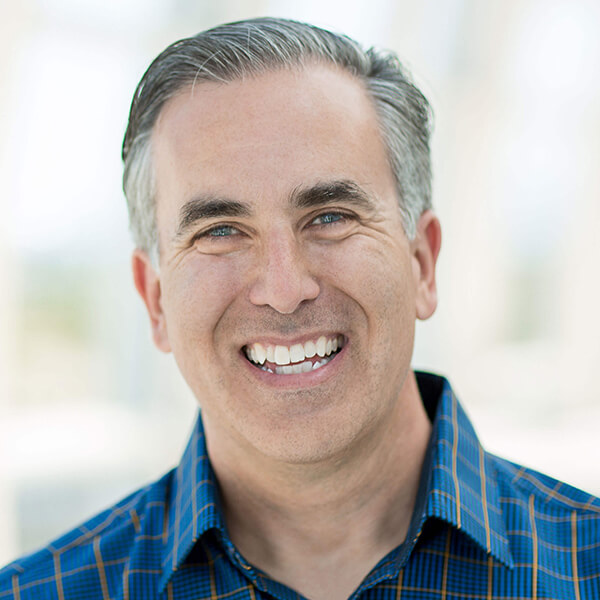 Curious about Web3, but don't know where to start or who to trust?

Introducing Web3 for Beginners, a course taught by Michael Stelzner, the founder of Social Media Examiner.

Learn the basics of Web3 and apply it to your business with this FREE comprehensive course.
CLICK HERE TO GET FREE ACCESS