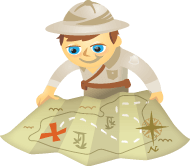 Are you looking for ways to get more Instagram engagement? Wondering how to build stronger consumer relationships?
In this article, you'll discover seven ways to improve your Instagram engagement.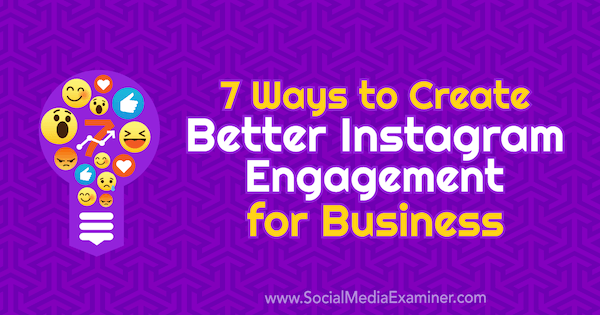 #1: Follow Through on Follower Engagement to Stay in Step With Your Community
While it's the first rule of social media marketing, lots of brands and marketers don't follow through on follower engagement with their content. When you share a post on Instagram, be ready to answer questions in the comments, highlight them in stories, and refer to them in other posts.
Beauty brand Glossier spotted a great question in their post comments, so they shared a screenshot in Stories, offered an answer, and took the chance to share a shopping link with their followers.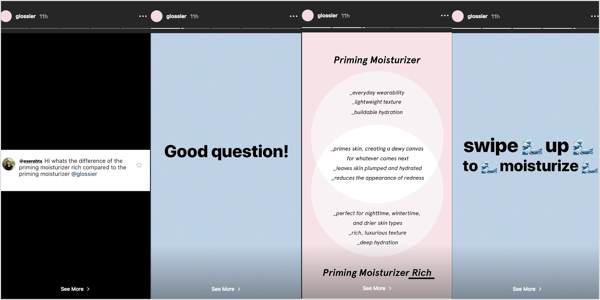 True engagement goes beyond just reacting to your followers. You should actively invite them to participate and then respond. Set up a topic, hear your followers' thoughts, give them feedback, rinse and repeat. In other words, have a conversation!
Instagram has a ton of features that make this easier. Question stickers, poll stickers, and emoji sliders are already popular tools for Instagram Stories. Run a poll to get clear-cut opinions or go deeper with an open question. Use these dynamics to entertain your customers, get quick product reviews, and even ask followers to choose the content they want to see in the future.
Food magazine Bake from Scratch gave their Instagram followers control of their content schedule with this quick poll.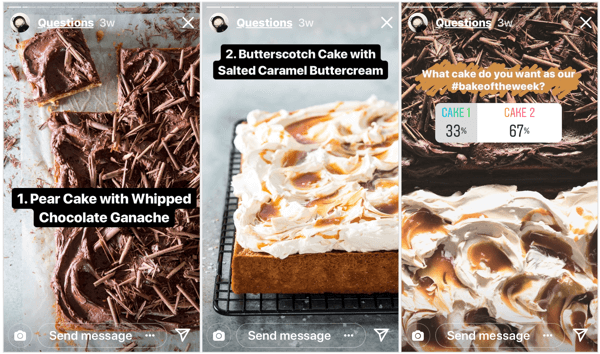 While Stories are great for having a conversation with all of your followers, the Quick Replies feature lets you connect on an individual level. With Quick Replies, you can write and store common responses to specific people in your DMs.
To visualize this, you can create a thank-you message to send to anyone who replies to your stories. It's easier than giving someone a public shout-out. But a word of caution: make sure your replies don't sound canned or artificial. The aim is to relate, not alienate.
#2: Incorporate Evolving Style and Platform Features Into Campaigns
Of course, every brand has its own unique style, voice, and values. While you don't want to move too far away from those, it's important to stay abreast of Instagram's house style, latest design trends, and even memes. If you're still posting content that looked good last year, your followers will lose interest.
Keep up with the latest Instagram features and releases, and watch your competitors closely to monitor trends. It's worth doing your research into what content and styles are popular, too.
For example, it's pretty common knowledge that photos with a single dominant hue and lots of texture score better with users. But you can also adjust your choice of colors and filters for the season, like L.L.Bean does below, or pick up tips from design experts to make your feed stand out.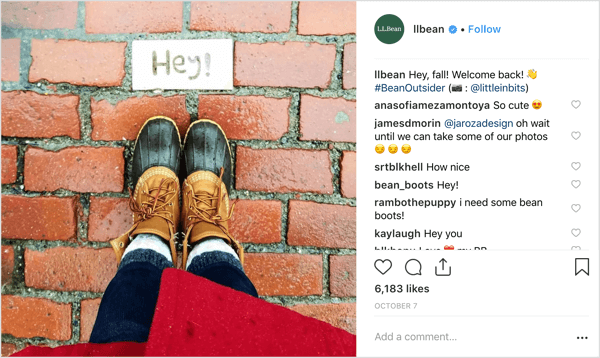 Although Instagram is a visual platform, don't forget about text. The way you use comments, captions, and text overlay can impact your posts. There are trends in text, just as there are in photo design. For instance, 2018 has been the year of deadpan humor for big brands on social media.
Hot Pockets has joined the trend for oddball humor and snarky replies. Posting this Twitter screenshot brings them in line with the multi-channel trend, too.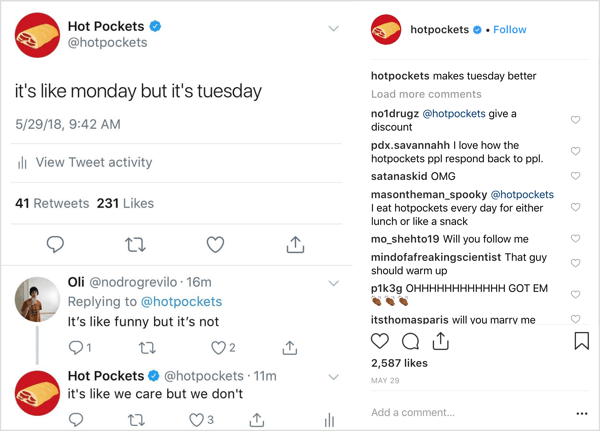 #3: Cross-Promote Content and Offers to Move Followers Beyond the Instagram Feed
Social media is all about connections, and that includes your marketing. You can't get the most out of Instagram unless you're making links with other channels, brands, and tools. Most importantly, you need to connect your social media content to the point of sale.
Let's start with the most obvious. Since Facebook acquired Instagram, the two networks have become ever more integrated. You can use Facebook ads to broadcast your posts on both Facebook and Instagram at the same time.
You can also achieve a lot by mixing features within Instagram. To illustrate, use your stories to highlight posts on your profile and vice versa. You can use stories or video posts as trailers for longer content on your IGTV, as Nike does here.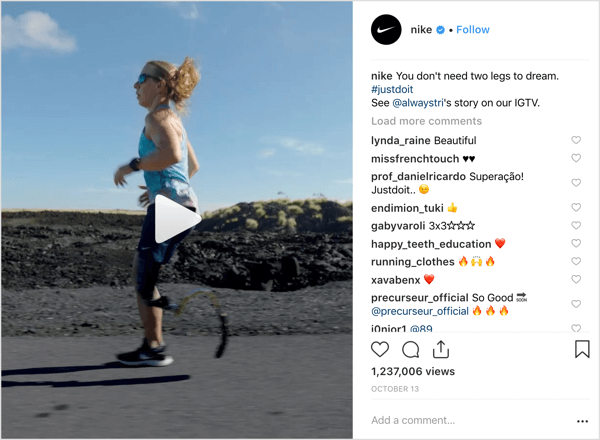 But remember, it's not only about increasing reach within social media. You can bounce followers among your social channels, website, store, and more. Introduce communities to a new range of content and encourage them to escape the "walled gardens" of individual social networks.
#4: Use Instagram Stories to Guide the Buyer's Journey
Instagram Stories is the secret to the social network's meteoric rise in the past year. More than 400 million users now watch stories daily.
As the name suggests, use Instagram Stories to tell a story. Just because the video format is short doesn't mean you can't build a narrative. Remember Vine? The short-form social network is long gone, but it taught us that you can tell an epic tale in 6 seconds or less.
Here's a simple, effective story from magazine Travel Insider. With one image, a short text overlay, and a swipe-up link, they've set the tone and anticipation for a full article.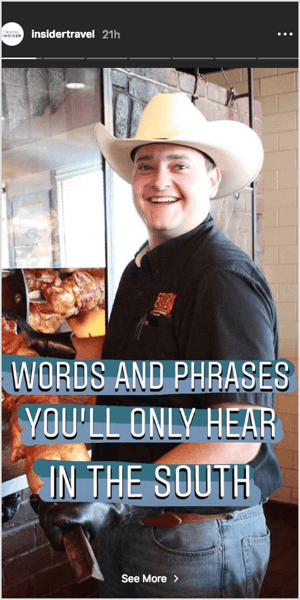 Try thinking about the story of the buyer's journey. How can you guide your followers from seeing your content, to interacting with it, to making a purchase? Of course, the tricky part of Stories is transferring that connection off Instagram. Check out the next two sections for some story-specific tips.
#5: Make Every Link Opportunity Count
One of the biggest challenges on Instagram is the scarcity of live links. Unlike other social networks, you can't share clickable links, except in your Instagram bio or via specific business tools. This helps keep the platform free of spam. In fact, it's one of the reasons that users enjoy Instagram so much.
So if you want to make a positive impression, the trick is to work with Instagram's limitations, rather than against them.
Make sure that every link counts. The way you use links depends on your industry, niche, and marketing strategy. You could connect to a landing page, update your link regularly with new content, or hedge your bets with a link channeling service such as Linktree.
Here are contrasting link strategies from two Instagram business profiles. ARCH Motorcycle sends followers to their main website, while The North Face's Instagram for climbing enthusiasts links to the schedule for a film tour of the year's best climbing films.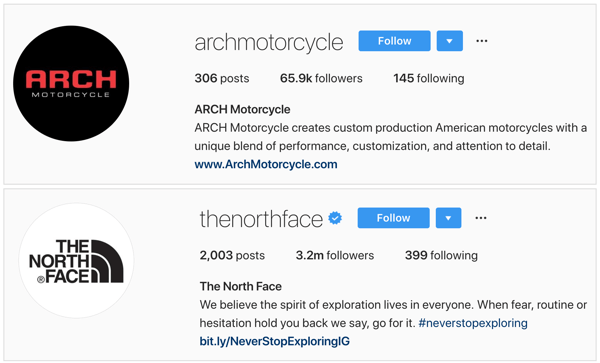 If you use your business profile to create ads, have more than 10,000 followers, or have a verified account, your options increase. You can add a swipe-up link to your stories or include links in ads.
However you share links, don't lose sight of your strategy. Give users an attention-grabbing visual and a clear call to action. Make sure that the link is fully functional for mobile viewers.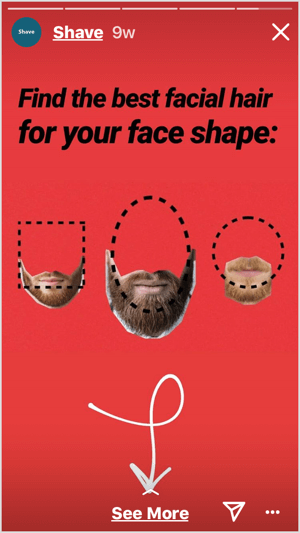 #6: Create Point of Sale Opportunities With Shoppable Tags
Shoppable tags are the most direct form of link marketing on Instagram. Users respond well to rich content and added-value links, but sometimes you just want a simple call to action and a sale.
Tags are also what differentiates Instagram from Snapchat. We all know that Snapchat's popularity with mobile users, especially young people, is unmatched. But so far, it's been impossible for most brands to monetize.
Instagram is the marketer's compromise. It combines visual, valuable content with the chance to drive sales. The trade-off seems to work for users, too: 90 million users tap to reveal tags in shopping posts each month.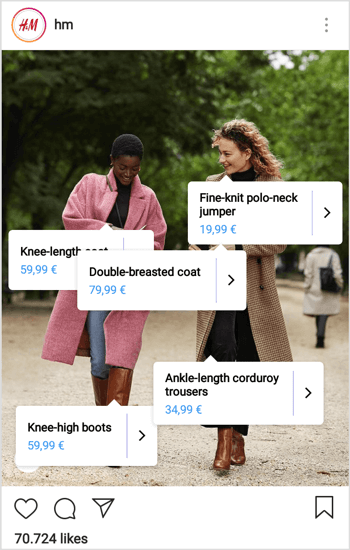 The platform is currently testing a dedicated shopping channel on the Explore tab. You may have seen this rolled out already or might still be waiting for the update. There are even rumors that Instagram could launch a separate shopping app.
After a shaky start for IGTV, some are questioning whether a stand-alone app would get enough users. On the other hand, apps such as Pinterest and 21Buttons are testing the concept of social shopping with some success. Either way, you should be keeping a close eye on how new Instagram features and user reactions develop.
#7: Reward Active Followers With Giveaways
So far, we've mostly discussed practical tools to improve Instagram engagement. But let's not forget the psychological side of things. You can promote user interactions with positive reinforcement. In other words, show your followers some love.
One popular method is an Instagram giveaway. You can highlight products and services, while encouraging engagement and showing followers they're valued. Subscription beauty brand Birchbox treated their followers to deals, giveaways, and surprises to mark Customer Appreciation Day.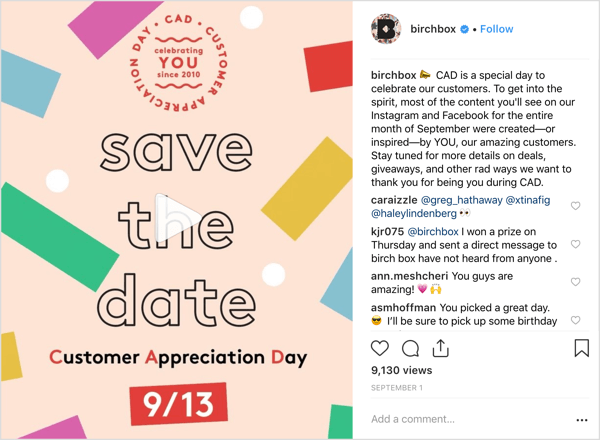 The success of a giveaway depends on how you carry it out. You'll need to publicize the deal in your posts, stories, ads, and even on other platforms. Include a clear call to action and give your announcements a sense of urgency.
Be sure to use all of the visual tools that Instagram gives you. Share a prize image, add filters, and layer on special effects such as Superzoom in your stories.
Subscription service Gentleman's Box runs regular contests and co-branded promotions. They keep giveaway stories listed in their highlights so new followers get a glimpse of previous rewards and offers.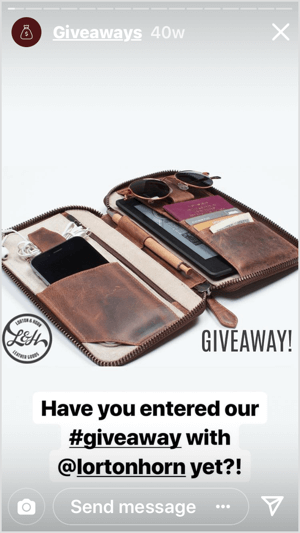 The prize you choose is key to your success. It has to be relevant, timely, and something that users will value. You can link prizes to themes or special events.
And don't underestimate the power of co-branding: you can team up with other brands or influencers to offer a wider range of prizes. The NBA teamed up with sponsor Kia Motors to give away game tickets to celebrate the new season.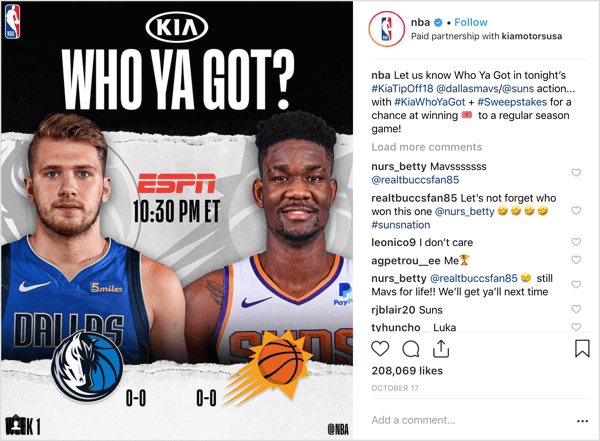 The best prizes are things your followers love, but wouldn't normally splash out on for themselves. Dollar Shave Club wins this one, with a prize that is literally out of this world.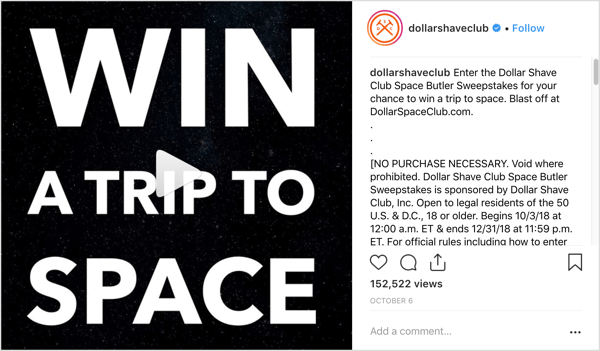 Finally, choose an exciting dynamic; don't ask users to follow you, spam their friends, or repost photos. In fact, reposting photos is explicitly banned in Instagram's Community Guidelines. In practice, this comes down to a difference in technique. There's a world of difference between sharing a single follower's photo with the original image and proper credit, and asking followers to post thousands of grainy screenshots of your posts.
Instead, try asking users an open-ended question or encouraging them to share original content. This improves the quality of your interactions, which is the goal of rewarding active followers. It also reduces spam and creates user-generated content that you can repurpose.
Conclusion
What does engagement on Instagram mean to you? For too many brands, it's as simple as getting likes and follows. But in 2018, that's no longer enough for a successful Instagram marketing strategy. Users' feeds are flooded with content and it's possible, even common, that someone could follow your profile and then never see your posts again. So how can you increase visibility and improve engagement for your posts?
Instagram's algorithm favors posts based on interest, recency, and your relationship with others. So you need to be posting attractive content on a regular schedule. And most importantly, you need to foster a genuine relationship with users online.
Quality engagement takes more effort than likes and follows, but it brings greater rewards.
What do you think? Which of these tactics do you use to engage with your followers? Do you have any tips to add to this list? Please share your thoughts in the comments below.
More articles about Instagram marketing: