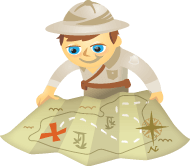 Do you want better results from your Twitter marketing?
Interested in using Twitter Analytics to find out what's working?
Looking at your Twitter metrics will help you make more informed decisions about your Twitter marketing efforts.
In this article, you'll discover how to use Twitter Analytics to improve your marketing.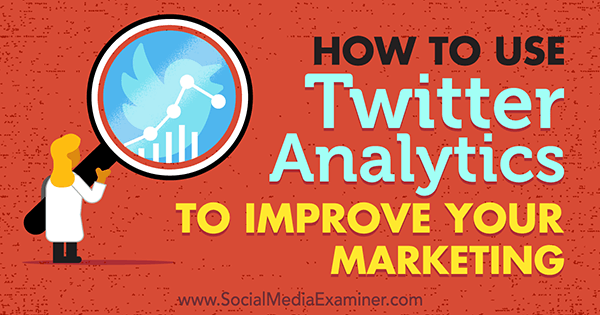 Twitter Analytics Basics
To access Twitter Analytics, you can either visit http://analytics.twitter.com/ or click your profile photo and select Twitter Analytics from the drop-down menu.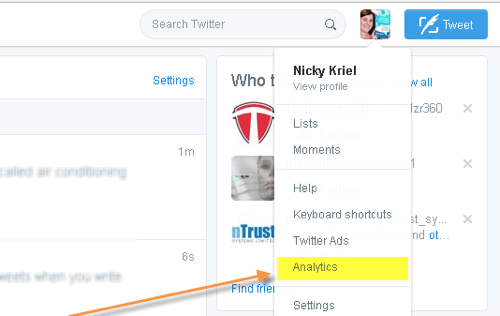 Twitter Analytics currently has five tabs:
On the Home tab, you'll get an overview of how your Twitter account has performed over the last 28 days, as well as the current month to date. You'll also find useful overviews of the top tweets and activities on your account.
Go to the Tweets tab to find out which tweets are working for you.
Check out the Audiences tab to get details about your Twitter followers and other audiences.

Click the Events tab to access a calendar of major events, holidays, sports seasons, movie premieres, and recurring hashtags.
On the More tab, find out how your Twitter cards are performing. Twitter cards show a preview box (below a tweet) that includes a picture, title, and brief description of the blog post. If you haven't set up Twitter cards yet, it's worth doing so now. With a WordPress site, it's simple to do with plugins. You want to know whether your actions are driving traffic to your website content.
While it's helpful to look at the general overview of your Twitter account, ultimately you want to dig deeper into these insights and adjust your tactics to help reach your goals.
#1: Track Audience Growth
Your total number of followers is a simple count of how many people have chosen to follow you on Twitter. Twitter Analytics will show you in a graph how your follower count has grown and give the actual numbers over a 28-day period or for the month. You can also see if this number has increased or decreased.
Obviously, a follower is not the same as a customer or prospect. It takes one click of a button to become a follower, and many accounts have automated following to build those numbers.

Here are a few reasons why you should pay attention to your number of followers:
You want to see that your audience is growing. The greater your number of followers, the better the chance your tweets will be seen and you'll get interactions. Additionally, there's a higher likelihood that potential customers will see you.
Your number of followers will provide social proof. Users often view accounts with a higher number of followers as having more influence.
Keep an eye on your follower/following ratio. Ideally, you want to have more followers than you're following. But when you're actively building an audience by following people first, this won't always be possible. If you follow very few people, you may be seen as less approachable.
#2: Delve Into Your Audience Makeup
Explore the data on the Audiences tab to find out more about your followers. You'll get a breakdown of your followers' demographics, interests, locations, gender, and more.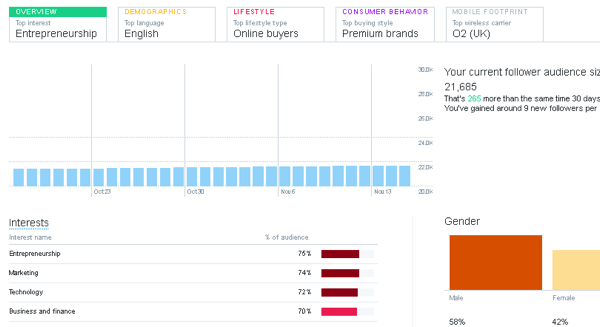 Do your Twitter followers represent your ideal customers? You can't control who follows you, but you can control whom you follow and the content you tweet.
If your followers and ideal customer don't match, you need to adjust your strategy on Twitter. Actively follow people who fit the profile of your ideal customer and make sure you focus on tweeting content that is interesting and useful to your customers and prospects.
#3: Measure Visibility
Twitter Analytics lets you measure awareness through impressions, reach, engagements, and engagement rate.
Impressions
Impressions is the number of people who actually see your updates in the timeline, in search results, or from your profile. If you use a Twitter tool for measurement, your impressions will appear higher than they actually are because it will use your follower count as impressions. Use Twitter Analytics to get an accurate idea of the visibility of your posts.

Reach
The reach of a post is the number of people who saw the post divided by the number of people who could have potentially seen it, expressed as a percentage. Strictly speaking, you should also include all of the followers of people who shared your post.
Reach = Impressions / Total Followers × 100
Engagement
Engagement is the number of interactions and clicks for each post. People can interact with your updates in numerous ways, such as shares, likes, comments, replies, and clicks on images, video, links, and hashtags.
Notice that a click for engagement is not the same as a website visit. Any action on the tweet (such as clicking on an image to enlarge it) counts as a click.
Engagement Rate
Engagement rate is the total number of interactions and clicks divided by the number of people who saw the tweet. It's expressed as a percentage.
Engagement Rate = Total Number of Interactions / Impressions × 100
Why do you want to know about engagement? Engagement shows that an audience has noticed your tweet and is interested enough in what you post to interact with it. Engagement is nice, but ultimately it needs to drive traffic to your website or to you directly.
#4: Discover Your Top Content
Analyze the performance of your tweets on the Tweets tab to find out what content is working for you, and then post more of that type. Twitter Analytics does a lot of number-crunching for you (such as working out averages) and creates relevant graphs. You can also download your data as a CSV file if you want.
Here's a screenshot of tweet activity for a 28-day period. The orange on the graph shows a small Twitter advertising campaign to test out video cards. Click the Top Tweets tab to reveal which tweets had the biggest impact.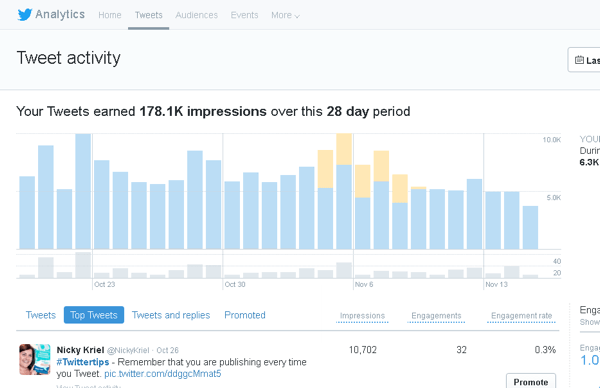 The impressions on the top tweet (10,702) had a far higher number of impressions than normal. It had a lower engagement rate (0.3%) than the average (1.0%), which is not surprising due to the large number of impressions.
If you click on a tweet, you can see a breakdown of the engagements.

Find out what type of content is having the most impact on your Twitter engagement rates. For example, if you analyze your tweet activity for the last year and see that images are working well for you, adjust your tweeting behavior to include more images.
#5: Identify Your Top-performing Blog Content
If you've set up Twitter cards on your blog, look at the More tab to see how many times your blog posts have been shared, how many people have seen them, and how many people clicked through to read your content. The data is based on the URL, so it doesn't matter if you shared the post in a tweet or someone else shared it from your website.
This tab also shows the top-performing content from your website on Twitter, so you'll know which tweets with Twitter cards drove the best response. This allows you to test the wording of tweets for the same blog post to see which one performs best, and then use those insights to get better results.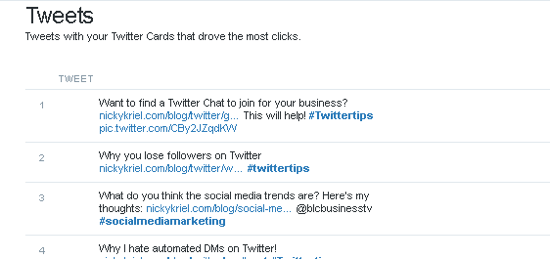 Conclusion
Keep in mind that Twitter Analytics doesn't measure all of the traffic to your website from Twitter. The Twitter cards show how well your content is performing when it's shared, the impact of other people sharing your content, and the click-through rate to your website from your website content on Twitter.
People will also visit your website by clicking on the link in your Twitter bio. Make sure that you check your Google Analytics for referral traffic from Twitter.
The Twitter cards in Twitter Analytics don't include lead generation and website cards that were generated through Twitter Ads. You'll find the analytics for those in Twitter Ads. If you've set up a Twitter lead generation card correctly, you'll measure the results by the number of subscribers who join your mailing list.
What do you think? Do you regularly check your Twitter Analytics? Which types of tweets work best for you? Have you discovered something new about your Twitter metrics? Please share your thoughts in the comments below.