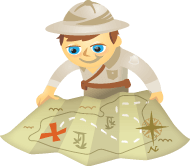 Do you need to up your hashtag game on Instagram?
Looking for tips to use Instagram hashtags more effectively?
In this article, you'll learn three ways to use hashtags on Instagram to achieve your marketing goals.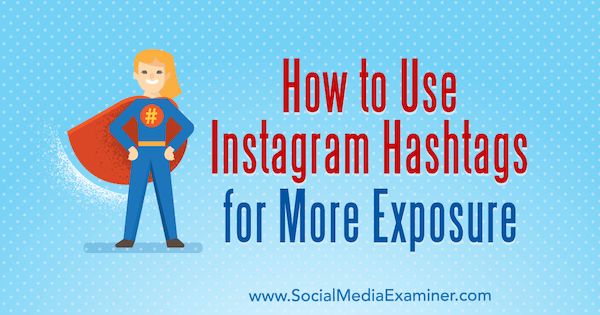 Why Instagram Hashtags Matter
Hashtags are an integral part of Instagram. They can do everything from help you expand your reach and connect to new customers, to track user-generated content (UGC) or spark discussion. There's a lot riding on using the right hashtag tactics to get more engagement and followers on the platform.
Instagram recently released a feature that allows users to follow hashtags in addition to other users. Users can now follow everything from #Seattleshopping to #Ravenclawforever. And if you can crack the hashtags your target audience is most likely to follow, you have an instant way to get into the feeds of audience members who may not have heard about you yet.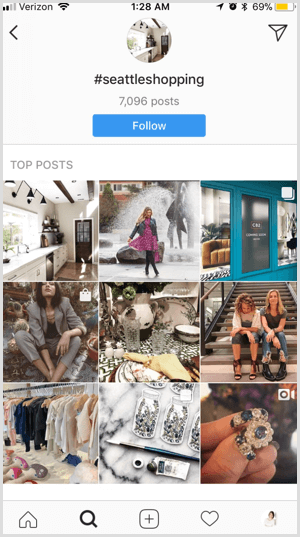 Fairly generic hashtags are the ones most likely to be followed by users in large quantities, like #TGIF or #retailtherapy, so those are a good place to start. Find a few really popular hashtags that apply to your business and start attaching them more frequently to your posts.
Subjects involving community of some sort may also have immense benefit, whether it's local or niche interest such as Game of Thrones or Star Wars. Own a bakery and have a butterbeer cupcake? Tag some popular Harry Potter hashtags.
Now let's look at three ways your business can use hashtags more effectively on Instagram.
#1: Use Multiple Location Hashtags to Build on Local Awareness
This hashtag tactic can help you increase follower count more than any other. If you're a local business (even if you're heavily ecommerce), using location-based hashtags is an excellent way to connect with your community. People love supporting businesses in their area, and are likely to scout out local events and places on the platform. This can help put you on their radar even if you weren't before.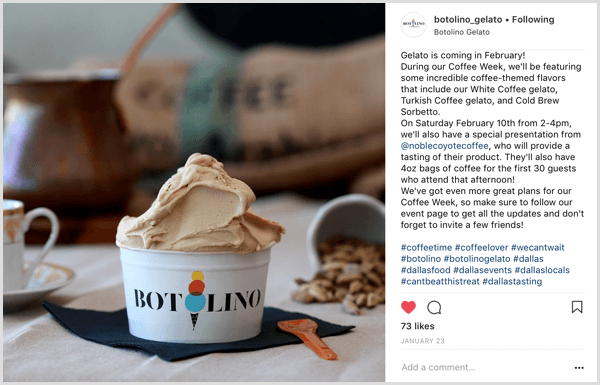 If you're a local business in Atlanta, for instance, you might use some hashtag variations like this:
#iloveatlanta
#atlanta
#atlantashopping
#atlantadessert
#atlantalocal
#atlantaevent
#atlantahalloween
Try using at least three location-based hashtags on every post for your local business. By diversifying the hashtags you use, you're more likely to reach different people in your target audience over time.
#2: Co-Opt Fun Hashtags to Command Immediate Attention
If it suits your brand, throw in a few fun or tongue-in-cheek hashtags. This is a great way to add personality to your profile to appeal to users and boost engagement. These are hashtags you may not expect a lot of people to search for, but they can add some extra oomph to your caption. This tactic can also give your brand a solid, distinct voice that people will want to follow.
The example below uses several variations of this type of hashtag exceptionally well, including #treatyoself and #wewonttell.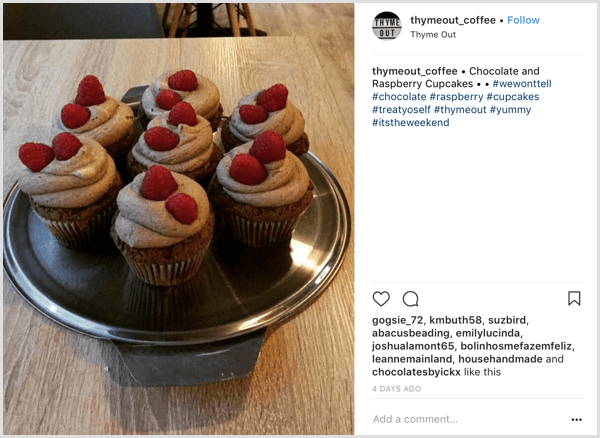 In some cases, these might be the very first hashtags you use in the sequence because you want users to read them; the others may be there only for reach purposes. To illustrate, if your business offers mint gelato, you might use the hashtag #getyourgreenon.
If you own a small boutique, try hashtag sequences like #whosaidshoppingcantfixeverything #theylied #yesitcan. It sounds a little goofy, but it can work, and you may find followers actually comment just on the hashtags on occasion.
#3: Create Branded Hashtags to Encourage UGC Campaign Participation
Having your own hashtag can generate conversation while simultaneously making it easier to track the discussion, even if it happens off of your channel. It's why all big-name brands have hashtags that often include their brand name (like #loveloft) and maybe even seasonal or contest-related hashtags (like #redcupcontest).
Having your own hashtag also gives you a distinct edge. A lot of brands struggle to get the UGC they want to help them promote their brand. Most customers, however, are more than happy to create content; they're just waiting for some instructions.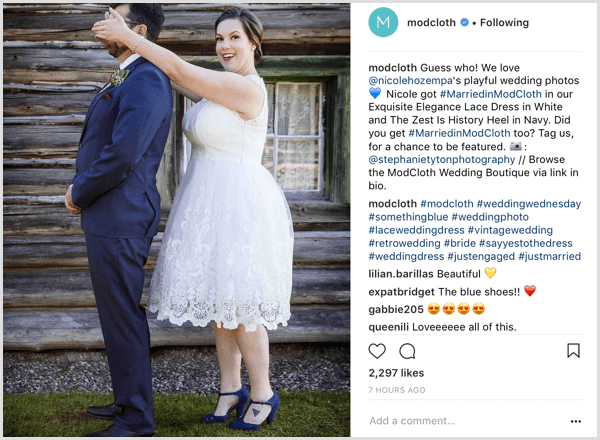 Give users ideas on what kind of content to create (like "Did you get #MarriedInModcloth? Let us know!") to encourage sharing. And here's the big bonus: When users attach the hashtag, they're sharing content in a way that you can track and benefit from, all while their friends and followers are being exposed to your brand, too.
Conclusion
Choosing the right hashtags can make a world of difference in both your engagement and reach on Instagram, so this isn't an area you want to ignore. Take time to do your research, test different strategies, and track results to see which hashtags seem to work best for you over time. Particularly with the hashtag following feature on Instagram, this can pay off even more than it has historically.
What do you think? What hashtag tactics do you use on Instagram? How do you research and track your Instagram hashtags? Share your thoughts, knowledge, and experience in the comments below!