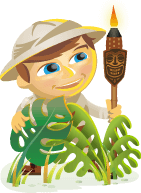 How do you promote your business locally?
Are you using Facebook and Instagram?
To explore how to reach a local customer base on social media, I interview Bruce Irving.
More About This Show
The Social Media Marketing podcast is an on-demand talk radio show from Social Media Examiner. It's designed to help busy marketers and business owners discover what works with social media marketing.
In this episode, I interview Bruce Irving, the host of the Smart Pizza Marketing podcast, where he helps local pizza restaurants master marketing. He's a former pizzeria owner and you can find him at SmartPizzaMarketing.com.
Bruce explores why social media marketing is worthwhile for local businesses.
You'll discover tips to get your local business started with social media video.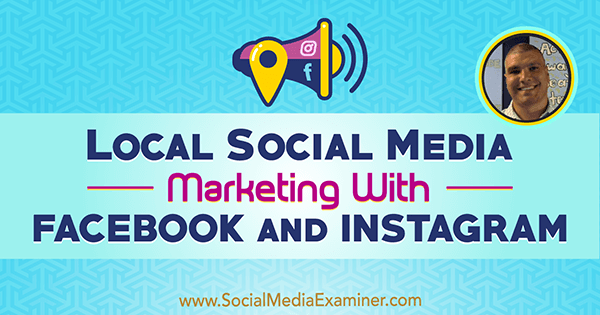 Share your feedback, read the show notes, and get the links mentioned in this episode below.
Listen Now
Where to subscribe: Apple Podcast | Google Podcasts | Spotify | RSS
Here are some of the things you'll discover in this show:
Facebook Marketing for Local Business
Bruce's Story
Bruce has been in the pizza industry since he was 16 years old. He worked his way up and then partnered with someone to run his own pizza business. The restaurant did a pretty high volume of sales for their style of restaurant, which had 10 seats plus takeout and delivery.
Starting in the late 1990s, Bruce and his partner used old marketing methods such as direct mail, which worked well until the mid-2000s. Around 2008, the effectiveness of that kind of marketing started to dwindle, so they tried marketing their restaurant on social media.
Even as the economy struggled after the 2008 economic crash, their pizza business was successful and growing. When relatives and friends in the pizza business started asking how Bruce and his business partner used different types of marketing to grow, they began sharing their methods.
Bruce decided he wanted to talk to other pizzeria operators so they could learn from each other. In 2015, Bruce started his podcast and the knowledge-gathering he did for it evolved into creating an agency that helps local pizza-specific restaurants run social media and digital advertising.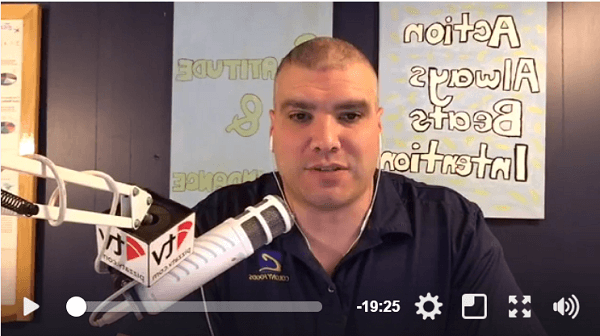 For the last 16 months, Bruce has been running the agency full time, helping local pizzerias grow their business and get better results with online marketing.
Listen to the show to discover why podcasting was a great way for Bruce to learn from other business owners while running his own pizza restaurant.
Video in Social Media
A pizzeria is a very visual style of restaurant. The cooks often work the pizza dough and put together pizzas in front of a big window because it's entertaining. Even more traditional restaurants are moving to the open-kitchen concept because the chef creating the food is part of the show.
To bring this entertaining element to the web, Bruce encourages clients to do video. A lot of them shy away from video in the beginning, but it's important to become comfortable in front of the camera.
Different styles of videos work in any business, not just restaurants. For instance, you can do tutorials. You can also give people a look behind the scenes. If you have the best pizza in town, show your fans why. Do you make your own dough? Do you use a special kind of sauce? Do you cut up all of your own vegetables?
Showing what makes your restaurant special helps you compete with every other place in your neighborhood and the big chains. Your personality also differentiates you from your competitors. If you're a personable owner and can be charismatic in front of the camera, your personality (along with your products and services) separates you from other brands.
Video is a huge strategy that's also easy for a restaurant owner to do because everyone has a smartphone in their pocket. Plus, your customers are more likely to watch a video than read a blog on a restaurant website or listen to a podcast about a local business.
Bruce shares tips for how you can become comfortable in front of the camera. First, practice by using Instagram Stories and Snapchat, because the video goes away relatively quickly (unless someone saves the video, which is rare). When you're ready to start communicating with customers, Instagram and Facebook are the platforms that work best right now.
Bruce and I also talk about the production value of videos for Instagram Stories versus regular Facebook video. Stories are short, raw, and authentic. You don't need to make those videos look polished; however, Bruce advises making Facebook videos a bit more professional.
However you produce your video, keep the humanity behind your local restaurant because people want to see the owner. Back in the day, someone would go to the butcher shop on Thursday and the butcher would know exactly who they were and what they wanted. Video revives that personal connection.
Through video, a local business owner can say, "I'm here. If you want to stop by, great. If you want to call me or use my online ordering, this is me."
In this way, people get to know who's behind their local businesses.
Listen to the show to learn why you should always practice in front of the camera.
Investing in Social Media
I ask how small business owners can know whether social media marketing is worth the time needed to create content. Bruce believes local businesses don't have a choice about whether to use social media. The only choice is which platform to use, whether it's Facebook, Instagram, or something else. And use a couple of platforms. That's where the younger generation is hanging out and you need to be able to communicate with them.
Social media creates awareness of local businesses. Your ad or video may not register with someone the first time they see it, but by the second, third, or fourth time, your marketing starts to sink in. Then, when there's a need for the service you offer, the people who've seen your marketing subconsciously think of you.
When I ask if clients are concerned about ROI, Bruce says of course. He frequently hears people say they tried Facebook and it didn't work. Then he digs deeper and discovers they have 72 likes and spent $20 on one ad with bad copy and a generic picture. Of course they didn't get anything out of it.
A social media presence doesn't happen overnight. You have to build a rapport with your audience. Bruce encourages his clients to stick with social media marketing for three to six months. As long as you're consistent over time and spend a little bit of money in the beginning to build engagement on Facebook, Instagram, or whatever platform, your social marketing will work.

As you get started, if you have a walk-in business like a pizzeria or an online ordering system, you can use those interactions to let customers know that you're on social media and they can interact with your business on the social platforms where you're active. You can also use online ordering to grow your email list.
Listen to the show to hear Bruce's analogy between social media marketing and an episode of Seinfeld where George Costanza used a hat to get noticed.
Facebook for Local Business
Facebook has the best advertising platform for a local business.
Bruce used to send promotional postcards with EDDM (Every Door Direct Mail), which is direct mail you can send through the post office to specific zip codes, specific carrier routes, and so on. You can do the same thing on Facebook for less money. For example, if you have a pizza business in a huge city like Boston, you can target only the specific zip codes you serve with a Facebook ad.
On Facebook, to target people by location, you can input the physical address of the restaurant and target only people who are within a radius of one to five miles. You can even target people who live in that area or were recently in that area. For example, restaurants that serve a lunch crowd will want to get to those who work in the vicinity but don't live there.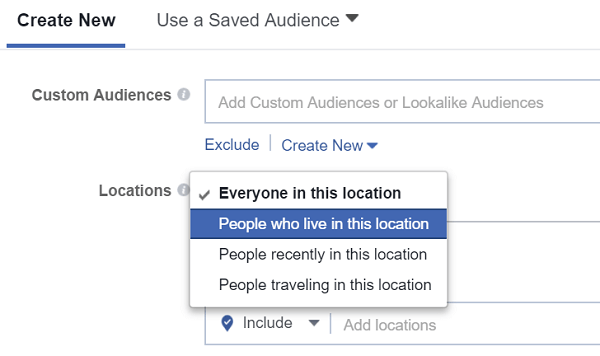 Another option is to upload your email list so you can target people who do or don't open your emails. To get the best return for your money, Bruce recommends targeting people who don't open your emails more aggressively so you can re-engage that audience. You can also target interests and fans of certain pages as long as those pages are big enough.
For clients, Bruce will run one ad targeting people who like a client's Facebook page and another ad to people who live in the area but haven't liked the client's page. For example, to attract new customers, Bruce might show a $4-off coupon to people who live in a five-mile radius around the business, include people who have an interest in pizza, and exclude those who already like the client's Facebook page.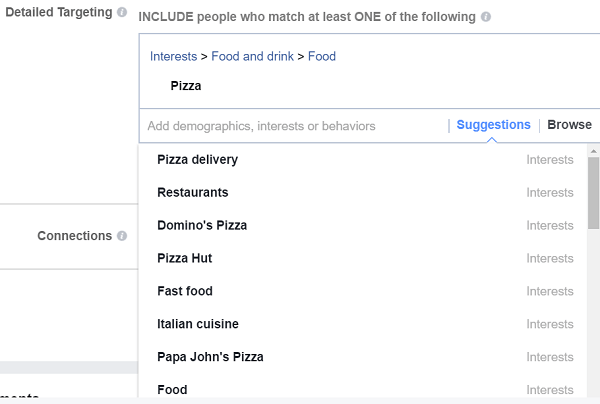 Bruce finds that some of the special-use tabs and tools on Facebook don't work so well. For example, you can promote a deal via the Offers tab, but Bruce finds ads that look like ads don't work well. Also, the Now Hiring tool allows you to put in your criteria and someone can fill out an application on Facebook. Although this method does OK, it doesn't work as well as your own creative idea that would prompt someone to visit your website and fill out an application.
For example, a recent video featured a young delivery driver with three or four pizza boxes on the roof of the car driving by the front door of the restaurant they were promoting. The ad said something like, "Hey, we obviously need some new delivery drivers. If you (or anyone you know) is looking for a job and wants to make $X, go here."
This funny video got attention and people shared it with others in the area who were looking for a delivery driver job.
I ask what local businesses can do to generate organic exposure or interest. Bruce explains it's difficult for someone starting from zero to gain traction without spending any money in the beginning.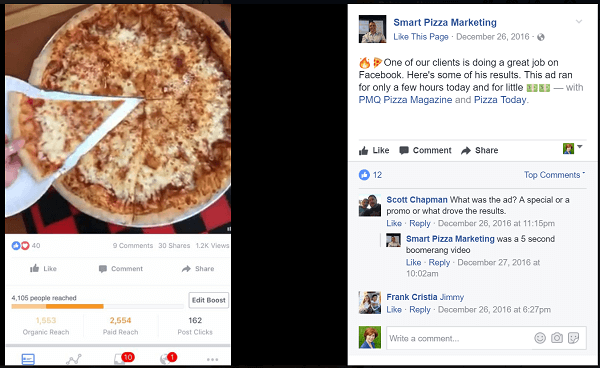 However, you can do things such as ask questions and develop contests and giveaways. For instance, in the restaurant industry, giving away an appetizer or a free pizza doesn't cost much. To build a following, you can say, "Like and share this for a chance to win a free pizza. We'll pick somebody at 8 PM." If 40 people share that offer with their friends, you can imagine how your reach can expand pretty quickly.
For food pictures, Bruce recommends using your smartphone camera. People think they need to spend a lot of money hiring a photographer to take professional photos, but the ones people take themselves work best, as long as they're good images. Because people are more aware of marketing, photos that look too professional make people think of advertising, which turns them off.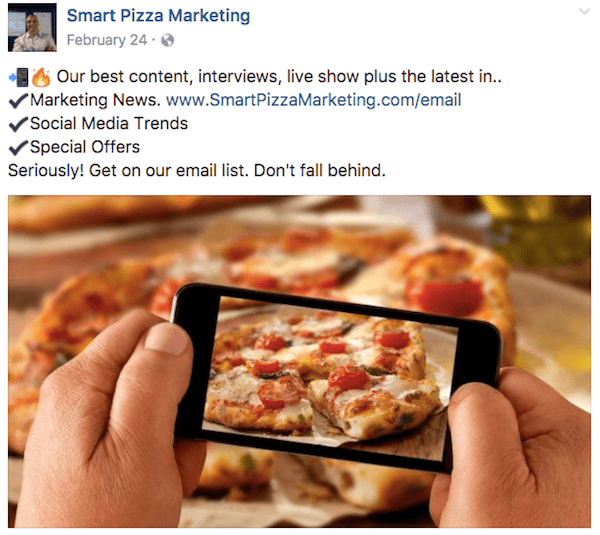 The more natural a photo looks in the environment, the better. Look at the photos people take of your food on Instagram and create the same kinds of pictures yourself. It's not necessary to spend all kinds of money to get a photo of a pizza, a dish, a salad, or whatever you're selling online.
Listen to the show to discover where you might use professional food photos instead of your own less-polished images.
Instagram Tips
A few months back, you could post one or two photos on Instagram a day. Now you want to scale back the number of posts a bit. You also really need one strategy for the Instagram feed and another for Stories.
For the feed, take really good photos of your products and services. Food, such as pizza (which is the number-one photographed food on Instagram), is really visual. You still want to use your smartphone, but take a little time composing the photo. Put the food in the right spot and make sure the angle and lighting are good. The copy really matters, too.
To keep your Instagram feed interesting, mix the subject matter (food, employees, the dining area), as well as the type of content (photos and videos). Boomerang videos, which turn a burst of images into a short video that moves back and forth, might show spinning the dough or sautéing in a pan. Mix those videos with pictures.
In the post copy, give a brief description and add hashtags. Really seek out and include your local hashtags because people still search on Instagram.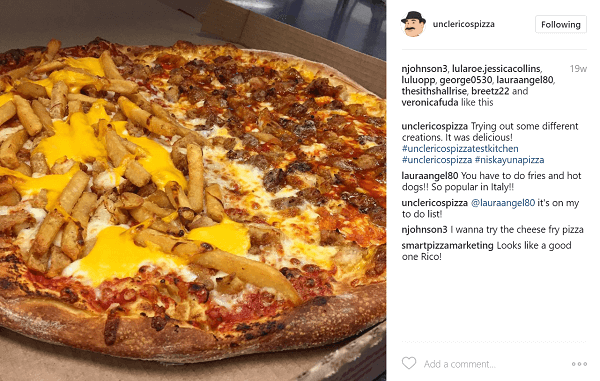 Use Instagram Stories the same way you would use Snapchat a few months ago. Give people a behind-the-scenes look at what goes on in your restaurant or local business. For owners and employees, the daily routine might feel boring. However, for your customers, every day in your restaurant is different and interesting. Show your customers what it's really like to work for your business. Doing this builds rapport with your customers.
For help with stories, ask your employees to create content. A trustworthy or senior-level employee can do takeovers for your restaurant, add their own creative ideas, and share what working in your business is like for an employee.
Another idea is to show your customers the rush hour. If your restaurant is really busy at dinnertime, show that in your Instagram stories in a quick 12-second video or a few back-to-back videos. If completing a pizza order is taking an hour, show your customers why it's taking an hour to get the pizza to them.
If you want responses to your stories, ask for them. If you ask people for replies, be sure to monitor them. The last thing you want to do is ask for a reply and then not engage with that customer when they do as you asked.
As far as frequency of stories is concerned, anywhere from four to five clips (a mixture of photos and videos) throughout the day is the sweet spot. Anything more than that tends to get a little long, boring, and repetitive. Anything less than that isn't really enough. The circles at the top of your feed are chronological. If you don't space them throughout the day, your content gets lost in the shuffle.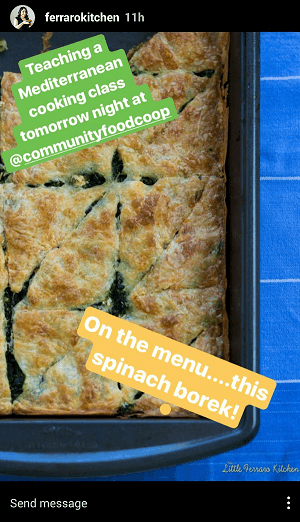 I mention how we had Jenn Herman on the podcast a couple of months ago talking about Instagram business profiles. When you upgrade to a business profile, you get metrics on stories and therefore see what really resonates with your audience. Bruce adds a few other advantages specifically for local businesses: A business profile for a local business can display an email address and a Shop Now link.
Bruce runs a lot of ads that feature a really good photo of a dish (like a pizza). For the ad, which costs about $5, he creates an audience on Instagram and adds a Shop Now button, which goes directly to an online ordering page. You can convert customers right on Instagram.
When you're a local business, you can get caught up in the day-to-day operations and things like social media go by the wayside. You really need to develop a strategy and follow it consistently. You don't even have to spend a ton of money.
Listen to the show to learn the weekly allotment for a small social media budget.
Email Recommendations
Bruce admits he doesn't necessarily believe in growing your email list for the sake of growing your list. Instead, grow your list and use those emails to target your subscribers. Then, when you do send an email, people open it and respond.
A giveaway is also a great way to increase email open rates. When you run a local business, the products you create don't cost that much in the grand scheme of things. So on your website, give something away every week.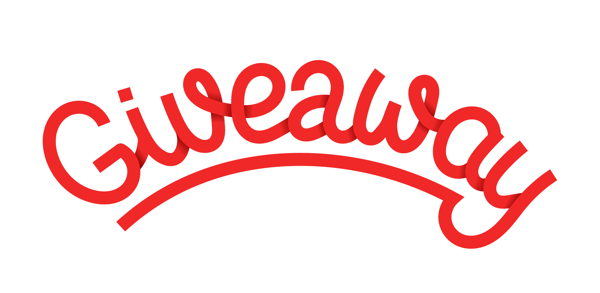 For instance, Bruce has clients who give away a free pizza. Through the giveaway, they collect emails on their website, and on Wednesday or Thursday they send out an email announcing the winner. The subject line reads, "This Week's Free Pizza Winner Inside. Is it you?"
When people open the email to learn about the winner, they send a signal to their email provider that they want to see those emails. Inside the email, the message announces the winner and talks about what's going on at the restaurant over the weekend.
You can run a weekly giveaway as a contest on social media; however, when someone visits your website, they usually already know who you are. That makes it a little easier to get them to choose to receive emails.
Bruce runs a mastermind group for the pizza industry and members of this group have doubled their business in the last year using only Facebook advertising. One person spends $500 to $800 per month on Facebook. Anyone in a local business who used to do direct mail knows that's nothing.
Listen to the show to discover why you don't have to put ads on all of your Facebook posts.
Discovery of the Week
Grids gives you a cool way to view and interact with Instagram on your desktop computer.
If you're a marketer looking to mirror the Instagram mobile experience on your desktop, this stand-alone app has a beautiful and intuitive interface.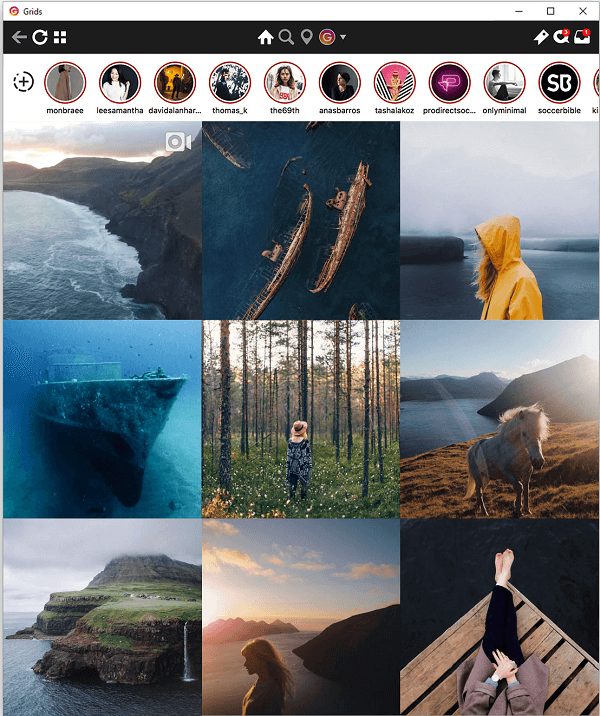 The big bonus is the ability to see Instagram stories. You can also switch accounts without having to log out and log back in, and you can bookmark people, locations, and hashtags that interest you.
To take advantage the larger desktop screen, you can view Instagram posts in several different grid views, as well as a widget view that looks like a mobile device.
Essentially, Grids creates the Instagram mobile experience on your desktop, with a few extra features.
Grids is a stand-alone app for Windows or Mac OS X. The free version is extremely limited. It doesn't include stories and you can add only one account; however, the features you get with the full version are well worth the upgrade.
Listen to the show to learn more and let us know how Grids works for you.
Listen to the show!

Where to subscribe: Apple Podcast | Google Podcasts | Spotify | RSS
Key takeaways mentioned in this episode:
Learn more about Social Media Marketing Society.
What do you think? What are your thoughts on Facebook and Instagram marketing for local businesses? Please leave your comments below.