Are your customers on Instagram? Wondering how to use Instagram for customer service?
In this article, you'll discover five tips to improve your customer service on Instagram.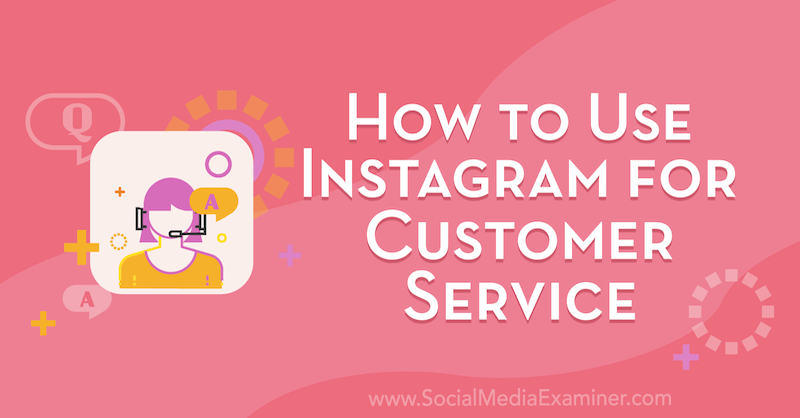 #1: Add Customer Service Contact Info to Your Instagram Bio
Consumers will lose confidence or interest in a business if their questions are ignored so make sure you tell them you provide in-app customer service on Instagram. Put this information in your Instagram bio because it's the first thing visitors will see on your profile.
In We. Society Apparel's bio, they tell users how to contact them in-app for customer service.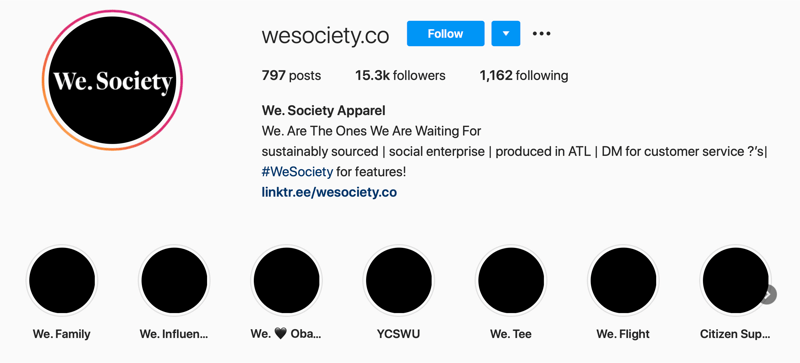 If your business doesn't provide customer service on Instagram, it's important to let Instagram users know and provide them with alternative options. Here's how Ryanair does it in their bio: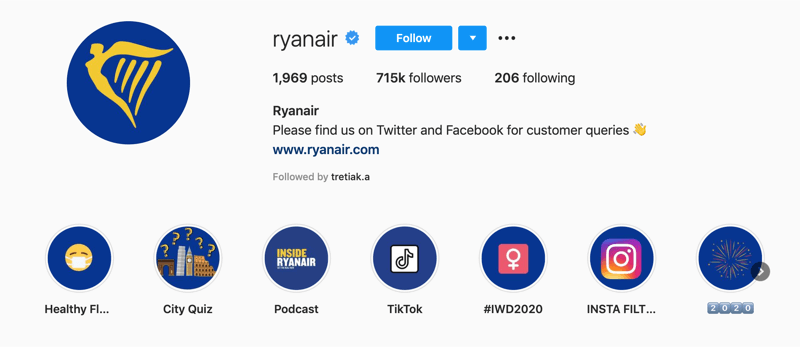 Most customers want to get answers on the platform where they ask their questions. However, just a few companies provide customer service on Instagram so it can take hours, days, or even weeks for people to hear back from them. Not all customers are willing to wait for a reply and therefore will seek out other contact options. To satisfy your customers' needs and provide an omnichannel customer experience, it's a good idea to provide several contact options on Instagram.
With an Instagram business account, you can add Instagram action buttons to your profile to make it easy for people to contact you. These buttons appear right below the bio section.
J.Crew allows Instagram users to send direct messages (DMs) and offers its email address and phone number as alternative contact options.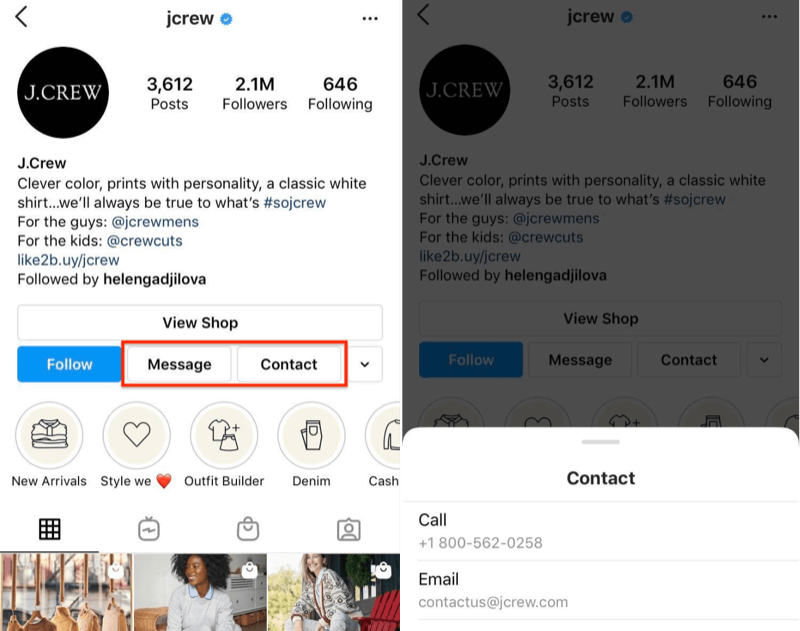 #2: Feature FAQ Solutions in Instagram Highlight Albums
Not all customers will reach out to customer support when they have a problem and prefer to find a solution to the problem themselves. That's why it's helpful to provide self-service options on your Instagram account.
One option is to create Instagram story highlights for FAQs. With a short 24-hour lifespan, Instagram stories don't clog your feed with content and the highlights feature lets you save story content permanently to your profile. You could gather multiple stories into one FAQ highlights album that your audience can view at their convenience.
Get Your FREE Course: Web3 for Beginners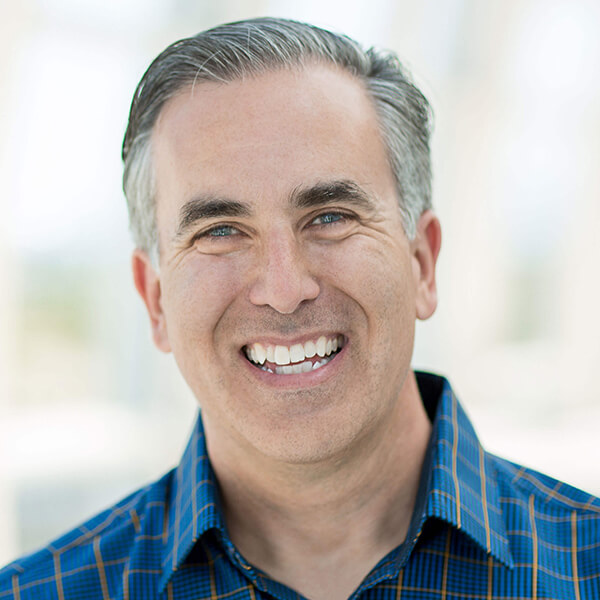 Curious about Web3, but don't know where to start or who to trust?

Introducing Web3 for Beginners, a course taught by Michael Stelzner, the founder of Social Media Examiner.

Learn the basics of Web3 and apply it to your business with this FREE comprehensive course.
CLICK HERE TO GET FREE ACCESS
Tattoo artist Kate Memphis regularly gets questions regarding her work so she created an FAQ highlights album for relevant stories. She calls attention to this highlights album in her bio so users can resolve service issues on their own if they want.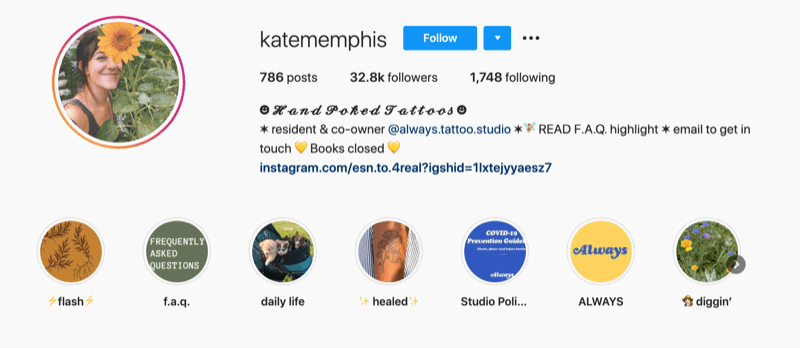 If you sell a variety of products, you may want to create several FAQ albums for your best-sellers as BaliBody has done here.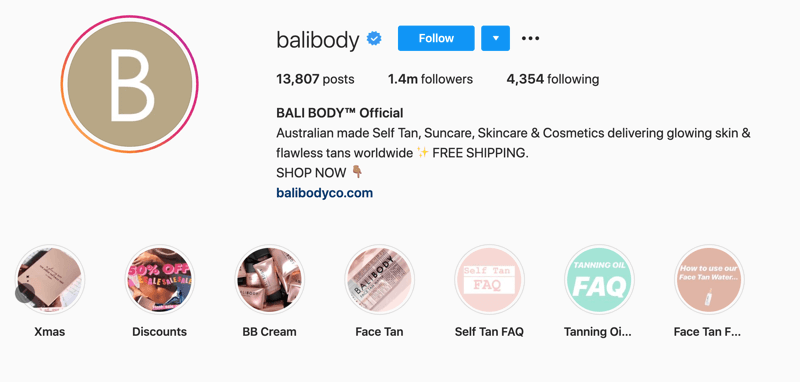 Instagram story highlights appear below the bio section on your profile so it's easy for Instagram visitors and followers to look for solutions to their problems.
#3: Set Up Instagram Quick Replies for Direct Messages
When consumers reach out with customer service inquiries via Instagram DMs, you're likely answering many of the same questions over and over again. Typing the same response to each customer can take a lot of time so it's helpful to set up Instagram quick replies for your most commonly asked questions.
Once you know your customers' pain points, create a list of quick replies for your account. Then when you receive a commonly asked question in an Instagram DM, simply choose the appropriate quick reply to respond to that customer. Check out this article to learn how to set up Instagram quick replies.
#4: Enable Instagram Notifications to Monitor Brand Mentions
When sharing customer feedback on Instagram, not all customers will visit your business profile to share their experience and many probably don't even follow you. Because you don't get notifications about these mentions, you may miss these conversations. Getting negative reviews that you don't know about can hurt your brand's reputation and make customers less likely to trust you.
If you use Instagram for social customer service, it's important to monitor brand mentions to know what your customers are telling their followers about your products or services. If you have a large number of mentions to manage, you may need to look to third-party tools for help. There's a variety of social media monitoring tools on the market so every business can find a solution that fits their budget.
Remember, customer response time matters. If your audience on Instagram doesn't get timely responses from you, they may switch to a competitor for their next purchase. That's why you'll also want to set up push notifications so you get notified about all comments, DMs, and brand mentions you receive.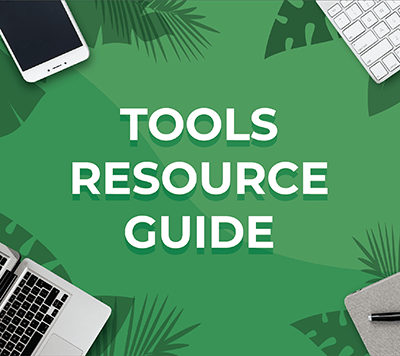 Looking for something to make your life easier?
Discover the tools we recommend to drive engagement, save you time, and boost sales across your entire marketing funnel or business.
Whether you need help planning content, organizing social posts, or developing your strategy, you'll find something for every situation.
FIND YOUR NEXT FAVORITE TOOL
You set this up in your account settings. Go to your profile and tap the three-line icon in the top-right corner. Then in the pop-up menu, select Settings.
On the Settings screen, tap on Notifications which will reveal a variety of push notification options to choose from. Browse through these settings to enable the notifications you want to receive for your Instagram account.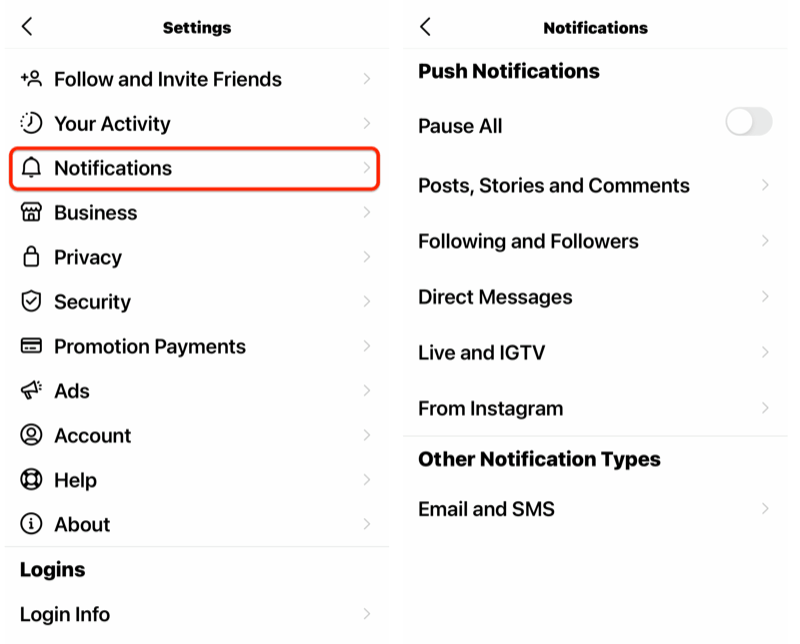 Manage Customer Comments Transparently
When your business responds to customer comments on Instagram, keep in mind that transparency is a key component to customer satisfaction. In a Pure Branding market research study, 73% of respondents claimed that they're more likely or very likely to pay extra for products from more transparent companies. Being more open about your products and features is a proven way to serve both potential customers and existing ones.
In the example below, Keepcup replies to a customer's question on Instagram by suggesting an alternative product that might better meet their needs.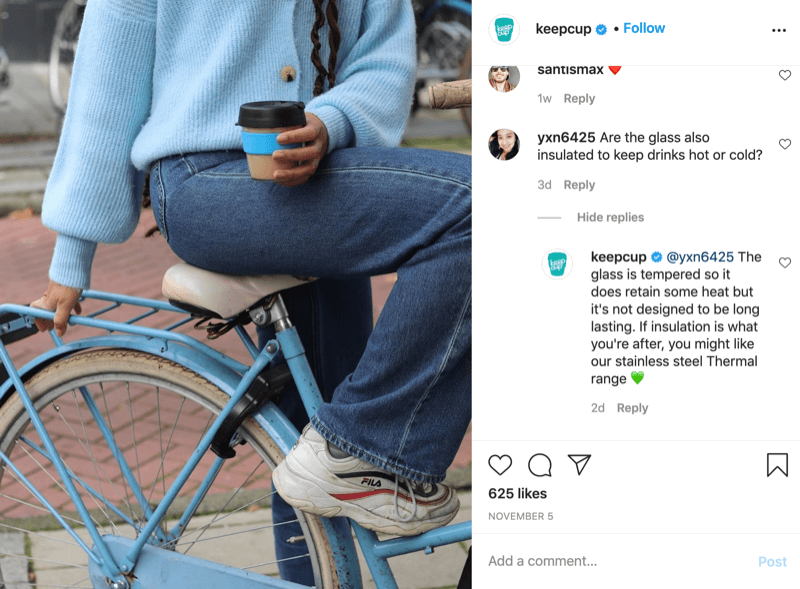 Understanding the emotions of customers is also important when communicating with them on Instagram. If your customer support team knows your customers' pain points and needs, they're more likely to provide quality customer support and increase customer satisfaction.
Simply put, it's important to show empathy to customers as Lululemon does in this reply to a negative comment.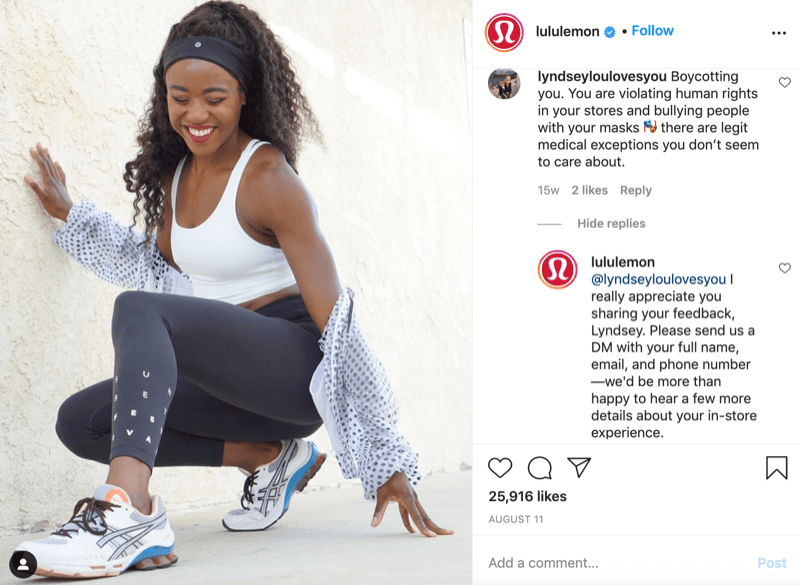 #5: Move Critical Support Conversations to a Private Channel
Dissatisfied customers will sometimes share their experiences in Instagram comments. Because negative comments can quickly gain support from other dissatisfied customers, most companies will promptly respond to these comments to avoid potential damage to their reputation.
When you reply to a customer complaint on Instagram, you'll often want to take this conversation to a private channel for resolution. When customers need to provide personal data (email addresses, order numbers, etc.) for you to resolve their issue, it's critical to protect their data.
In this Instagram post, Made.com apologizes to a customer for a bad experience and encourages her to share her order details via Instagram DM.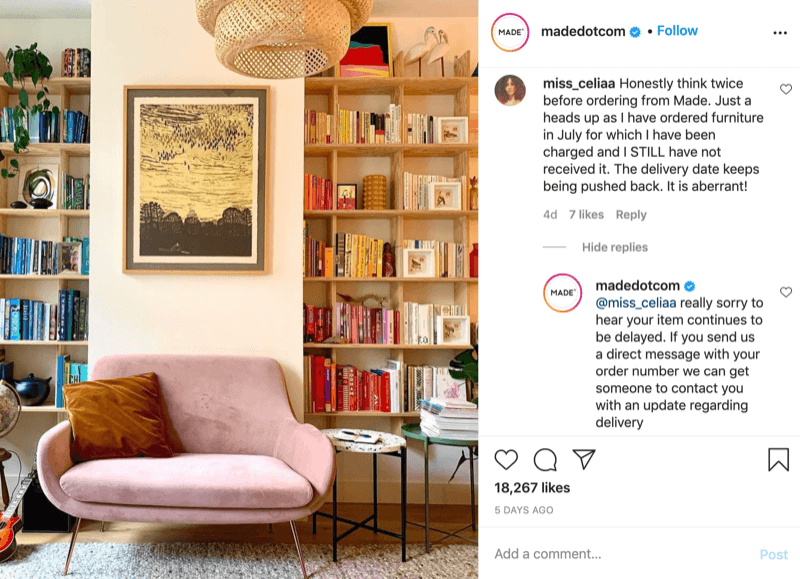 The more followers you have on Instagram, the more Instagram DMs you'll receive from customers. So if you have a large following, managing your Instagram inbox can quickly become unwieldy. In this case, a better option may be to solve customer inquiries via email instead.
Create an Instagram Customer Support eBook
Whether you're a large brand with a customer service team or a small business with a single moderator, you need to have guidelines in place for engaging with customers on Instagram so every response has a consistent voice.
Consider creating an Instagram customer support eBook with information about your products and services and other relevant areas of your company. This guide will not only help train your customer support team but also allow them to more quickly and accurately respond to customer needs.
Pro Tip: When consumers reach out to businesses on social media, they expect to receive a response in under 30 minutes. If you're short on staff, consider hiring a social media moderator to keep track of your Instagram comments, DMs, and brand mentions.
Conclusion
The idea of providing social customer service isn't new, as the number of social media users continues to grow and people crave brand communication on the platforms they use most often. If you're wondering whether you should use Instagram for social customer service, here are three main reasons to give it a try.
First, Instagram has 1 billion monthly active users and 37% of the U.S. population uses the platform.
Second, users want to communicate with brands in-app. According to Instagram, 90% of users follow at least one brand in-app and 150 million people have a conversation with a business every month.
Lastly, Instagram has business-specific features like group conversations in DMs, an Instagram story question sticker, clickable links, push notifications, and many others.
As a photo sharing tool, Instagram isn't the most obvious customer service channel for businesses, but if you have an Instagram presence and promote your business on the platform, you should be ready to handle Instagram customer service inquiries.
What do you think? Do you use Instagram for social customer service? Which of these best practices will you try? Please share your thoughts in the comments below.
More articles on Instagram marketing:
Get Your FREE Course: Web3 for Beginners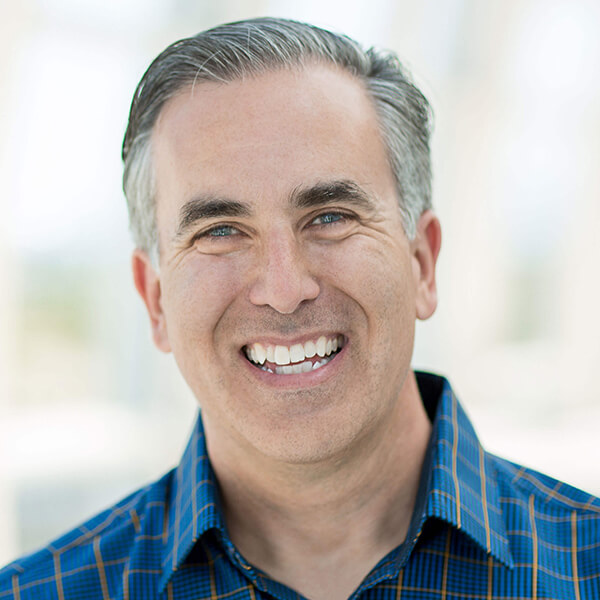 Curious about Web3, but don't know where to start or who to trust?

Introducing Web3 for Beginners, a course taught by Michael Stelzner, the founder of Social Media Examiner.

Learn the basics of Web3 and apply it to your business with this FREE comprehensive course.
CLICK HERE TO GET FREE ACCESS