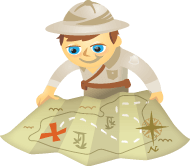 Wondering how to advertise on YouTube? Looking for a guide to creating a YouTube advertising campaign?
In this article, you'll learn how to set up and optimize a YouTube ads campaign.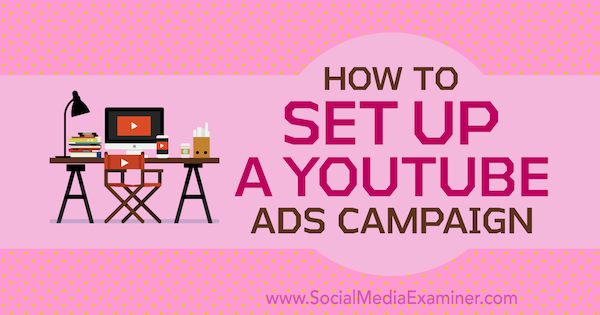 #1: Set Up YouTube Advertising
With the newly redesigned Google Ads interface, managing YouTube ads is now easier than ever. If you have experience with Google ads or Facebook ads, many YouTube ads features will look familiar to you.
Here are the steps you need to take to run YouTube ads for your business.
Link Google AdWords to Your YouTube Channel
The first step is to link your Google Ads account to your YouTube channel.
To do this, log into your Google Ads account (or My Client Center if you're an agency). Then click Tools at the top of the page and select Linked Accounts from the Setup Column.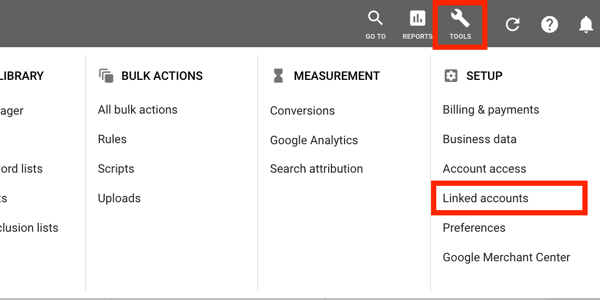 Follow the prompts to add your YouTube channel. If you're the account owner, the linking will happen automatically. If someone else owns the account, you need to enter the email of the owner and request access.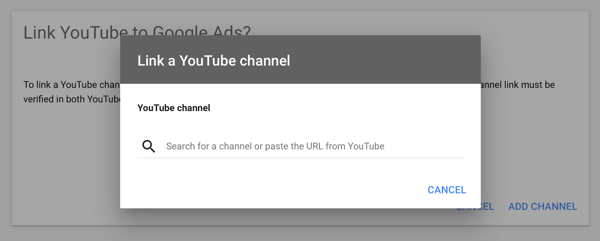 Follow similar steps to link your Google Analytics account. You'll need access to it for campaign analytics and retargeting.
Upload Your Video Ad to YouTube
To use a video in a YouTube ad campaign, you must first upload it to YouTube. The quality of the video and your ability to grab the viewer's attention right away are critical to its success. Focus on making an impact in the first 5 seconds.
#2: Choose a YouTube Advertising Campaign Objective
The next step is to create your campaign. Go to your Google Ads dashboard, and on the Campaigns tab, click the + button and select New Campaign.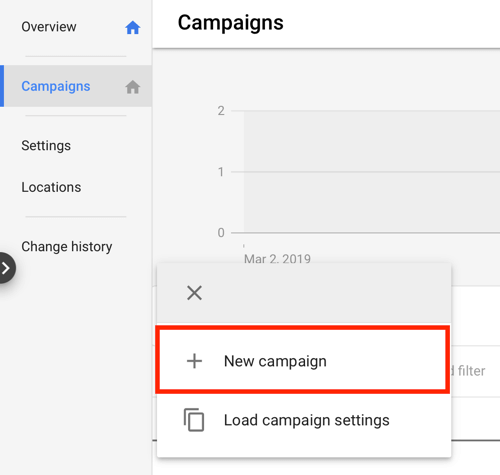 The Conference You've Been Waiting For
As a small business marketer, you can probably only pick one or two events to attend each year. Get an unbeatable conference experience and expert training at Social Media Marketing World in sunny San Diego, California—from your friends at Social Media Examiner.
🔥 As a valued reader, you can save $600 on an All-Access ticket if you act now! Sale Ends Tuesday! 🔥
CLICK HERE TO LEARN MORE
YouTube has options for creating several campaign types, which determine the type of ads you can run, the placements available, and more. Depending on your ultimate campaign goal, choose one of the following options for your YouTube video ad:
Leads and Website Traffic are the best options for driving traffic and generating conversions from your YouTube ads.
Product and Brand Consideration provides opportunities for generating broader brand awareness and putting your products in front of big audiences, including influencers.
Brand Awareness and Reach is typically used to generate brand buzz and includes more options for ad types.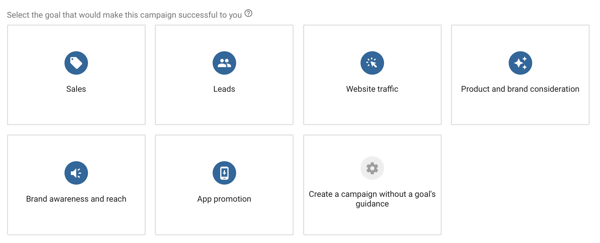 After you select a campaign objective, you'll see a list of available campaign types for that objective. Select Video as the campaign type. When you're finished, click Continue.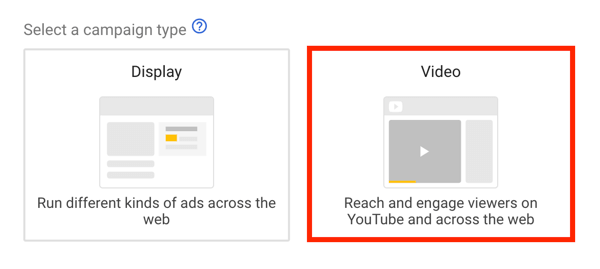 If you plan to track conversions, you'll need to set up conversion tracking. Check out this Google Ads support page for the steps you need to follow.
#3: Choose a YouTube Ad Format
The YouTube ad formats available to you depend on your campaign goal and video ad length. Here's a rundown of the most frequently used formats.
TrueView Ads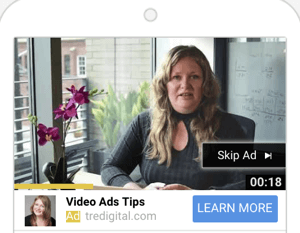 TrueView reach ads run before, during, or after the video and work best for creating initial awareness of your brand or product. They feature a Skip button that allows users to skip the ad after 5 seconds.
While you may pay less per view with Facebook ads, your return on investment on this YouTube ad type is higher because you only pay if the user watches 30 seconds of the video (or less for videos shorter than 30 seconds). Because your headline option is fairly limited (up to 10 characters), consider adding end cards and overlay calls to action (CTAs).
Another hidden benefit of TrueView ads is free social proof. YouTube will count (and publicly display on your YouTube channel) all of the video views regardless of whether the users skipped the ad.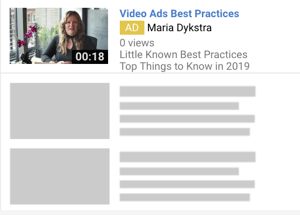 TrueView discovery ads appear on the YouTube search results page, next to related videos (rather than in-stream) or on the YouTube mobile homepage. You're charged every time users click on the thumbnail regardless of how long they watch the video.
These ads are great for promoting product consideration with a direct CTA. Discovery ads allow you to add longer headlines (up to 100 characters) and two lines of ad descriptions.
Non-Skippable In-Stream Ads
Non-skippable in-stream ads are available only for some campaign types (Reach campaigns) and can be 6–15 seconds long. If you try to load videos that are 16 seconds or longer, you'll see an error message. (Note: Some articles state that these ads can be 15–20 seconds but YouTube specifies 15 seconds or less.)
Just like TrueView ads, non-skippable ads run before, during, or after the video content. The benefit of these ads is you're guaranteed that viewers will see your entire message, which translates into a higher ad view metric.
The cost of these ads is somewhat higher because you're paying for each view. While this is a popular YouTube ad type, the true engagement value may be lower. Because users are forced to watch your ad, their engagement isn't as involved as those who choose to watch a skippable ad beyond the 5 seconds.

Remember: Watch for the hidden costs of each ad type and analyze the final return on investment.
Bumper Ads
Video ads that are 6 seconds or shorter can be used for bumper ads. Unlike TrueView or skippable ads, bumper ads don't change the view count of your videos. Users can't skip bumper ads.
You pay for bumper ads based on the CPM (cost per 1,000 impressions). This ad format works great as part of a video ad sequence to warm up an audience for a TrueView ad.
Pro Tip: When creating videos for bumper and non-skippable ads, YouTube rounds up to the next minute when you upload the video. Keep the raw video under 6 seconds, because 6.1-seconds of raw footage may turn into a 7-second YouTube video after you upload it.
#4: Set a Budget, Schedule, and Bid Strategy
After you select an ad format, enter a name for your campaign, set a campaign budget, and choose start and end dates.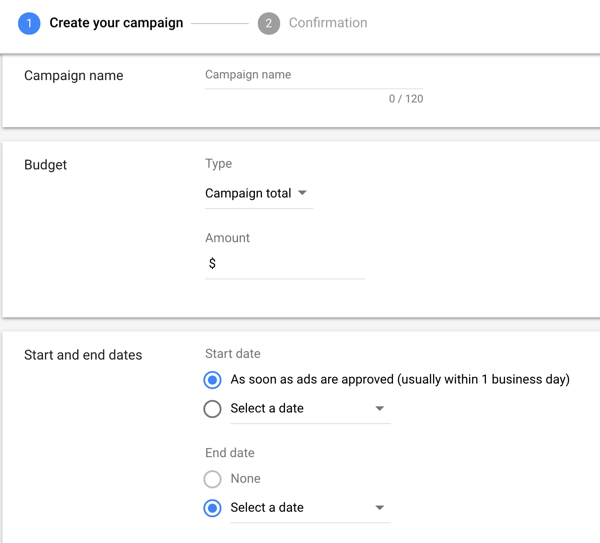 The cost of YouTube advertising is much lower than you may think. In fact, some campaigns can cost as low as $0.02 per view. But you must get the bidding strategy right because bids have a direct impact on the success of your campaigns.
There are many different types of bids and strategies to use. Select one of these two strategies to maximize results:
Maximum CPV is used with TrueView ads and tells YouTube the most you want to pay for each view of your ad. For discovery ads, it determines the maximum you're willing to pay for users to click on your ad. In some cases, it may make the difference between your ad appearing or not. For discovery ads, it also determines your ad's position compared to other ads.
Target CPV is the average you're willing to pay for your conversions. You may pay a bit more or less per individual conversion but your daily averages won't exceed your average amount.
For some campaign types, you may also see the Maximize Conversions option. This option is similar to automatic bidding and gives you less control over your action results. Therefore, it may result in higher costs.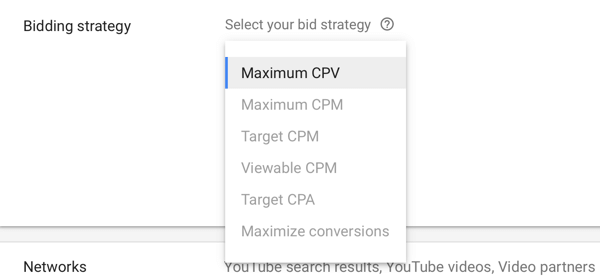 #5: Control Where Your YouTube Ad Will Be Shown
Next, you see three options for managing where your YouTube ads will be shown.
Networks
Choose from these network options to determine where your YouTube ads will run:
YouTube Search Results: This option is available only if you're running discovery ads. Uncheck this option for all other types of ads.
YouTube Videos: This is the best option for the majority of your ads with the best balance of price and quality.
Video Partners on the Display Network: Select this option if you want to run YouTube ads on partner sites outside of YouTube. While it may reduce your cost, it's also likely to significantly reduce quality.

Below Networks, you can also choose which locations and languages you want to target.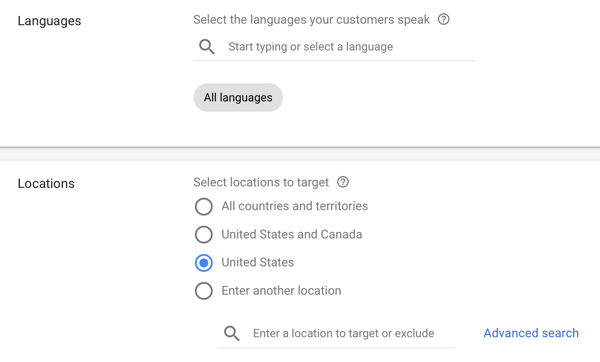 Inventory Type
YouTube gives you several controls to ensure that your ads run alongside quality content. Controlling the Inventory Type settings will help you avoid sensitive issues. Here's a rundown of your options:
Expanded Inventory: Choosing this option will help maximize your viewing potential but your ads may also run with some sensitive content. Consider avoiding this setting if you don't want your ads to run with mature content.
Standard Inventory: This is the option YouTube recommends and it's deemed appropriate for most brands. It still may involve some violence or language that may not work for your brand. You may want to opt for a safer choice.
Limited Inventory: This option is best if you want to be careful about your brand image and the content you're associated with. It typically excludes most types of sensitive content.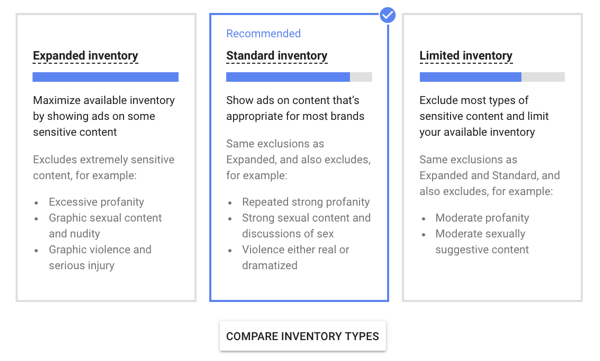 Excluded Content
You can further refine where your ads appear by excluding certain types of content such as tragedy and conflict, socially sensitive content, and shocking news. This lets you signal that you want your ads to be excluded from these categories.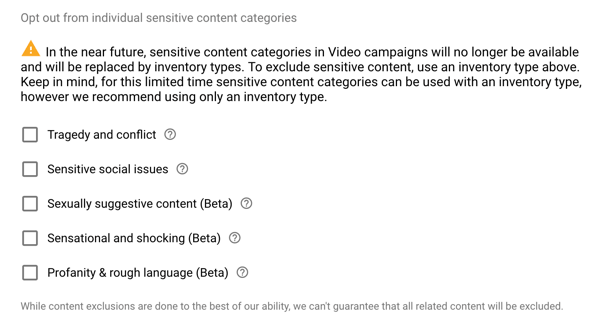 Excluded Types and Labels
YouTube also lets you exclude types or labels. For example, you may want to opt out of live-streaming videos because they're happening in real time, making them hard to categorize. Some of these broadcasts may contain shocking content and be inappropriate for your brand. Err on the side of caution when considering your exclusion options.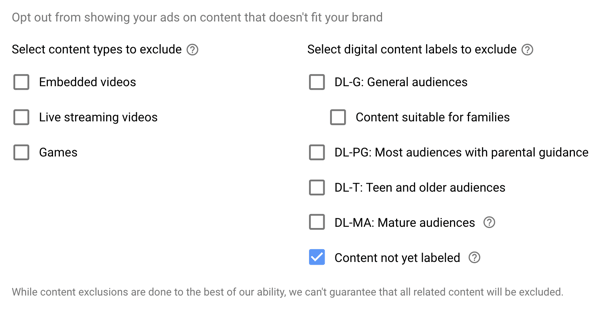 Pro Tip: Your ad costs may go up every time you add a filter, such as limiting inventory and refining your audience, placements, topics, or keywords. Keep experimenting to find the right combination of cost and results.
Set a Frequency Cap
You'll find the Frequency Capping option under Additional Settings of campaign setup. A frequency cap is especially important if your audiences are small. Unlike Facebook ads where there's a default frequency cap setting, YouTube leaves this option blank, which means you run the risk of burning your audience out.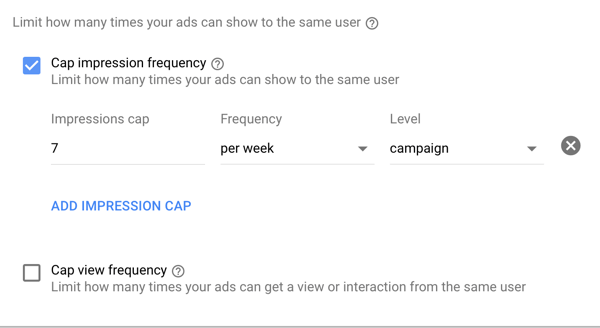 #6: Define the Target Audience for Your YouTube Campaign
YouTube's audience targeting options are quite robust. Additionally, the data from YouTube is supplemented by data coming from Google Search and partners. This combination makes YouTube advertising incredibly powerful.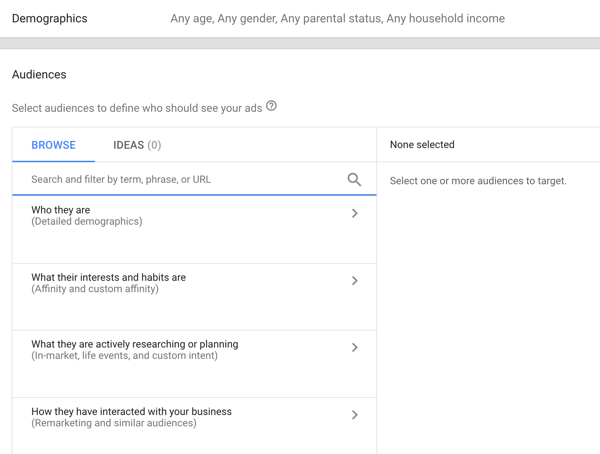 Remember, every parameter you add to your campaign is a filter. While restrictions improve the quality of the audience you can reach, the more audience filters you add, the higher your cost per view (CPV) will be. If you're just starting out with YouTube advertising, avoid the temptation to add too many filters to the same ad group.
Instead, start by understanding what moves users at each stage of the buying decision and create highly targeted ads for each audience group.
You have several options for grouping your audience, which include demographic, interest, and behavior targeting. Below are simple explanations and use cases for each.
Demographics Targeting
YouTube's demographic targeting options are fairly straightforward. You select the age, gender, income, and marital status of your target audience. Unlike Facebook or other platforms, YouTube viewers aren't required to log in to view videos, so YouTube won't know the demographics of unregistered users. Uncategorized YouTube viewers are added to the Unknown category.
Keep unregistered users in mind when selecting your audience targeting options or you may miss out on about 65% of the inventory. To illustrate, unless you only want to show your ads to the 18–44 age group audience, always leave the Unknown category checked.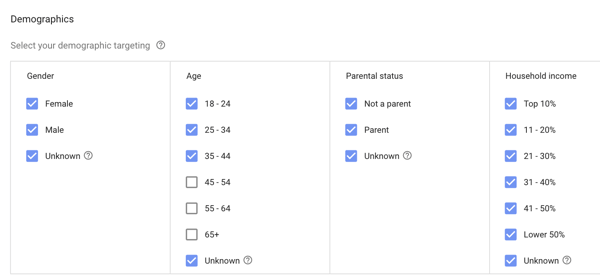 To further refine your targeting, add detailed demographic targeting information. To visualize this, you can narrow your audience to homeowners who are married.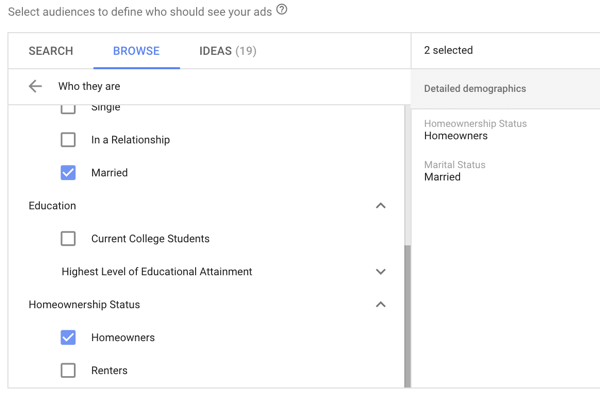 Attention Agency Owners, Brand Marketers, and Consultants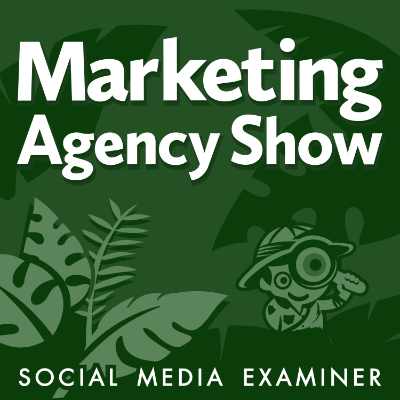 Introducing the Marketing Agency Show–our newest podcast designed to explore the struggles of agency marketers.

Join show host and agency owner, Brooke Sellas, as she interviews agency marketers and digs deep into their biggest challenges. Explore topics like navigating rough economic times, leveraging AI, service diversification, client acquisition, and much more.

Just pull up your favorite podcast app, search for Marketing Agency Show and start listening. Or click the button below for more information.
CLICK HERE FOR THE DETAILS
With Facebook ads, each level of targeting acts as an OR operator, but with YouTube ads, these filters act as AND operators. If you select the options above, the user would have to be age 18–44 (or unknown) AND be a married homeowner to view your ads.
Affinity and Custom Affinity Targeting
With affinity targeting, you can choose audience interests from Google's predefined categories, which include Banking & Finance, Beauty & Wellness, News, Sports & Fitness, Technology, Travel, and others.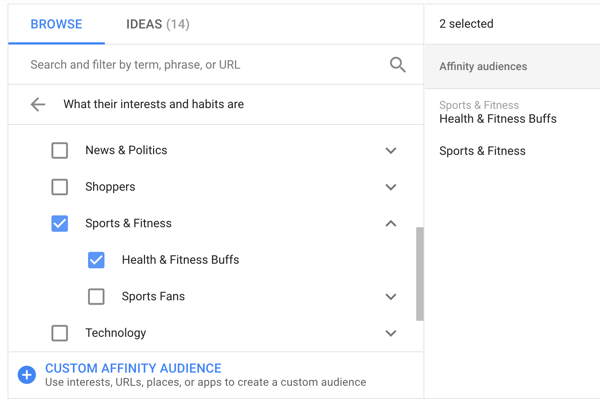 You also have the option to create your own interest grouping, called a custom affinity audience. It's similar to interest targeting on Facebook but more robust because YouTube data is supplemented by Google Search data.
A custom affinity group is built from users who searched on Google for specific keywords OR visited specific URLs, places, or apps. If you included Entrepreneur.com visitors in your affinity category, for instance, people who visited that site may see your ads on YouTube.
One use for a custom affinity audience is to target website visitors of your biggest competitors. Just add competitor URLs to the custom affinity group and let Google analyze their habits. You can then show your YouTube ads to people who are interested in products similar to yours.
To create a custom affinity group, click the Custom Affinity Audience option at the bottom of your audience selection. Then fill in the audience details.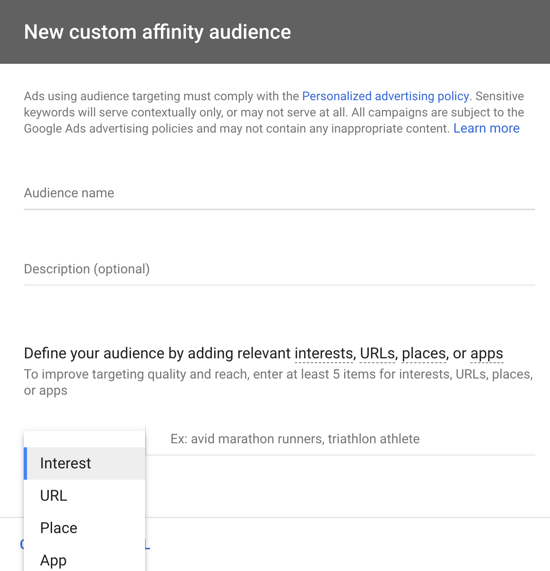 In-Market, Live Events, and Custom Intent Targeting
The key difference among custom intent, in-market, and life events targeting and affinity targeting is the user's readiness to buy.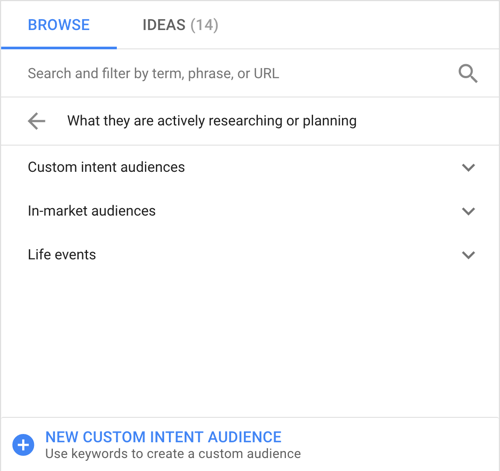 People in this category are either actively looking to purchase a specific product (such as Home Insurance – In-Market Audiences) OR experiencing a specific event (Home Renovation – Life Events).

Similar to a custom affinity group, you can create a custom intent group to further define your customer profile and the products they may be searching for.
To create a custom intent group, click the New Custom Intent Audience option at the bottom of the audience screen or via Audience Manager.
In the pop-up window, choose the top keywords that may be relevant to your product. In practice, someone ready to hire a Facebook marketing firm would likely search for "Facebook ads agency."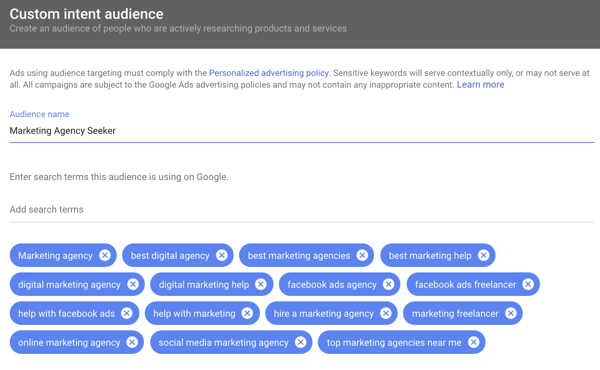 Custom intent targeting is one of the most powerful targeting options because it combines interest targeting (Affinity) with in-market targeting (Intent). Users in this category show relevant interest and are ready to buy, which makes them an ideal target audience for your product or service.
Remarketing and Similar Audiences Targeting
The Remarketing and Similar Audiences targeting option is similar to Facebook remarketing to engaged users and lookalikes of engaged users. And it's supplemented by several categories auto-generated by Google.
Cross-channel retargeting is also a lot more streamlined. This allows you to combine Google ads and Facebook ads visitors in one category OR retarget YouTube channel visitors who also viewed your Facebook ads and visited your website.
To start with remarketing, open Audience Manager by choosing Tools > Audience Manager at the top of the page.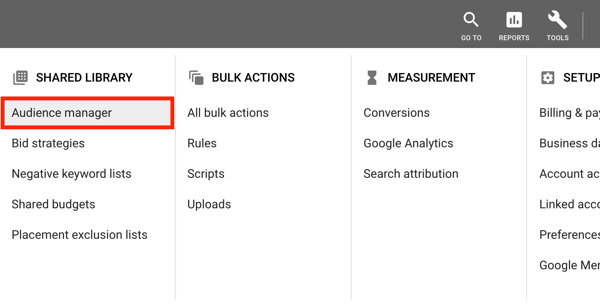 Then connect your data sources (e.g., Google Analytics).

Some of the audience retargeting and lookalike categories are auto-generated. Other categories (e.g., YouTube users) need to be manually created in Audience Manager.
To create a remarketing list for YouTube, select a specific action that YouTube users perform (e.g., Subscribe to a Channel).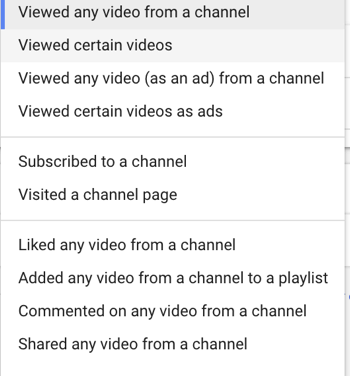 If you're just starting out, more generic categories (Viewed Any Video or Visited a Channel Page) are the best options. Then once you've grown your channel subscribers and visitors, you can start retargeting subscribers or visitors of a particular channel.
Another option is to further engage your website visitors with YouTube ads. The Visitor of a Page Who Did Not Visit Another Page option allows you to create a list of people who visited your main offer page but didn't sign up for your offer. Targeting this custom audience with a YouTube ad that addresses the top customer objections may help close the deal.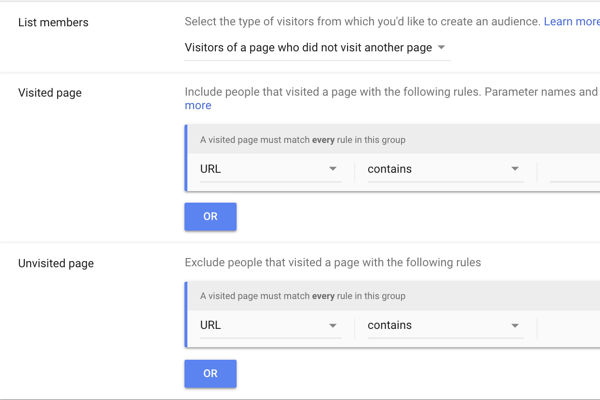 If you're planning a big launch, your goals may be omnipresent on multiple channels and drive users deeper down your marketing funnel. In this case, you could create a custom combination audience and show YouTube ads to users who checked out your website after seeing your Facebook and Google Search ads.

#7: Refine Your Ad Visibility With Keywords, Topics, and Placements
After you define your audience, you can choose from these three settings to narrow your reach.

Choose Relevant Keywords
Forget everything you know about keywords and topics. You're not looking for the keywords that people are searching for, but rather the keywords that appear in the YouTube videos where your ads will show.
YouTube will analyze keywords from the titles, tags, and descriptions of the video content, match them against the keywords you've selected, and insert your ads into the most relevant content.
To get keyword ideas, enter your own URL, similar URLs, or even your competitor's website address into the Get Keyword Ideas box.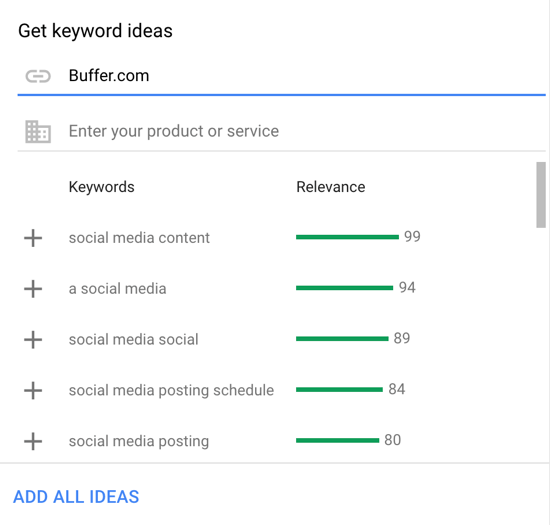 Select Relevant Topics
A similar approach works for topics. If you choose the Marketing topic, for example, your ad will appear in other marketing-related videos.
Keep in mind that topics are less specific or flexible than keywords. Use these for broader awareness campaigns that match your category.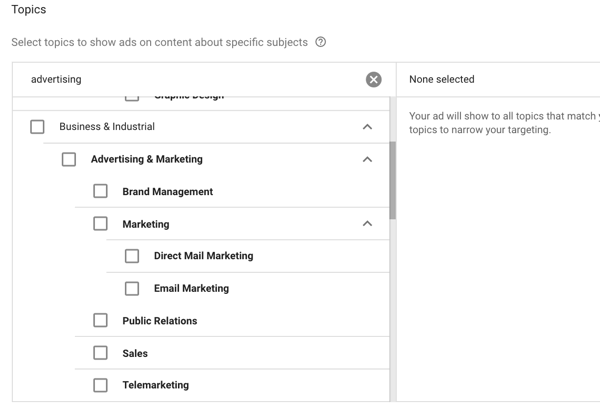 Choose Placement Targeting
YouTube placements are one of the underutilized gems of YouTube advertising, allowing you to hyper-target your videos.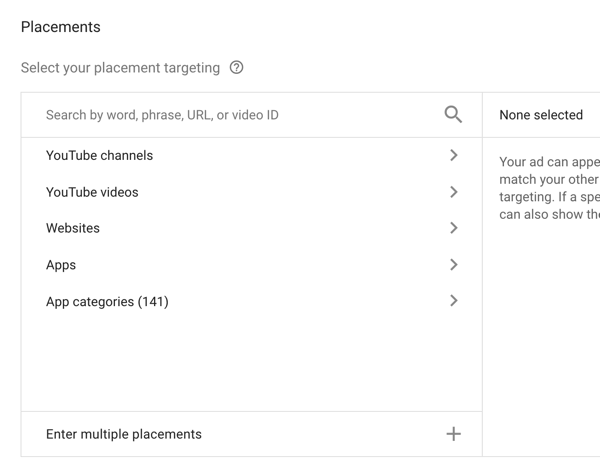 You can choose the exact channel (or even exact video) to place your ads on.
Suppose you want to reach emerging entrepreneurs with your products or services. By choosing Entreprenuer.com as a channel under Placements, you can reach the audience looking for early-stage advice.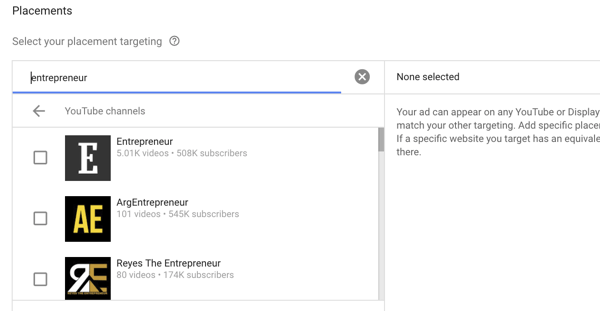 Or if you have an offer that rivals one of your biggest competitors, you can create a video ad that highlights your specific value and insert it into videos running on your competitor's YouTube channel.

You can even target a particular video for your ads. To reach emerging entrepreneurs building an eCommerce business, you might select top eCommerce videos to place your ads. Keep in mind that the more specific your targeting is, the higher your CPV, because the inventory becomes more limited.
Pro Tip: YouTube lets you prevent your competitors from running ads on your channel or in your videos. Go to the Advanced channel settings in Creator Studio and make sure that the Disable Interest-Based Ads checkbox is selected. This may cause an issue if you're monetizing your YouTube channel.

#8: Set a Bid Amount for Your Campaign
If you chose Maximum CPV as your bidding strategy, it's important that you don't set your bid too low because your ad may not run at all. To calculate the maximum CPV to use, analyze the historical data and average CPV estimated for your campaign.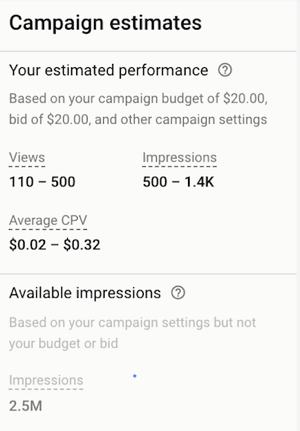 Pro Tip: The higher your Maximum CPV, the better your ad performance will be. To get your ads to show up higher at the beginning of the campaign, set your Maximum CPV at 3–5x the average. To illustrate, if the average CPV is $0.02–0.32, set your maximum CPM at least at $1.50 and then adjust it once you have the real data.
If you opted for a Target CPV bid strategy, the higher your bid, the better your performance. Don't be afraid to set a higher than average amount because Google will optimize over time.
#9: Select the Video for Your YouTube Ad
The final step is to choose the video you want to use as your ad. Either use the search box to find your video or paste the URL from YouTube. Because several videos on your YouTube channel may look similar, pasting the exact URL will get you straight to the right video.

Drive Deeper User Engagement With Advanced Tactics
YouTube has quite a few features that help lead customers through the buyer's journey and create opportunities for further engagement.
Ad Sequencing
You can use ad sequencing to break down your campaign into a number of steps. Once your sequence is set up, determine what ads to show to the users and in what order.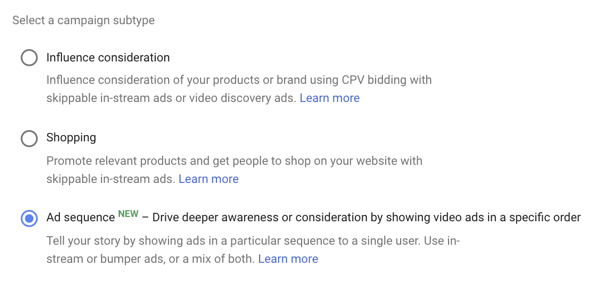 After the user sees the first ad in your sequence, YouTube will deliver the next ad and then the next ad after that until all of the ads are shown. Note that you can only show one sequence to the same user in a 30-day period.
While bidding strategy and targeting are determined at the campaign level, each ad within the sequence gets its own headline, CTA, and bid.
Here are two ad sequencing ideas for you to test:
Use a Bumper ad as a teaser and follow it with a TrueView in-stream ad that delivers the main content.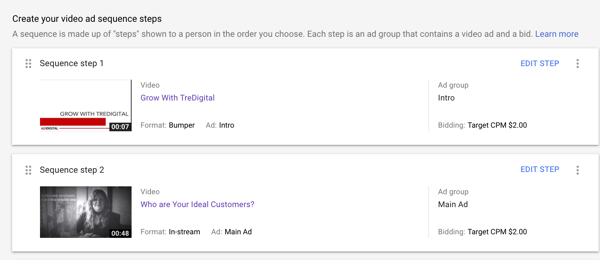 Create a three-step funnel using TrueView in-stream ads to drive people deeper down your funnel with each ad. Start with a broad awareness ad, follow it with a more specific ad delivering value, and close the sequence with a direct CTA ad.
Cards, Advanced CTAs, and End Screens
YouTube allows you to create engagement and CTA opportunities. These vary depending on the ad type and campaign goal. Refer to this Google support page to learn which CTAs you can create for your ads.
End Screens: YouTube will auto-generate end screens for several ad types (such as mobile install ads). End screens contain additional information about you (such as the name of the ad, the price, and a link to install the app). The end screen is another opportunity for users to engage with your business and doesn't cost you anything extra.
You can add an end screen to the last 5–20 seconds of your video. It gives you additional options such as promoting your channel or other videos on your channel. Consider creating an end screen for videos that are longer than 25 seconds.
CTA Overlay: A CTA overlay is a powerful yet little-known option. It's a small CTA box that appears over your video ad. It has a headline (up to 25 characters) and an optional small image. You can even use destination and display URLs that are different from the ones used in your video ad.
To set up a CTA overlay, use YouTube Creator Studio. Note that you must first create an ad using this video.

You can also use Google Ads by clicking the drop-down menu that appears in the Video Editing section within Campaigns.
Conclusion
YouTube is a fast-growing advertising platform that can deliver great results at a relatively low cost. Many factors play a role in the success of your campaigns. In addition to creating great ads, you also must understand the campaign setup best practices and experiment with different audiences and campaign sequences.
Start small, learn from your experience, and optimize your YouTube ads for the future.
What do you think? Have you used YouTube ads for your business? What types of ads and campaigns have you tried? Do you have any tips to add? Please share your thoughts in the comments below.
More articles on YouTube marketing:
3 Days of World-Class Training—Zero Travel!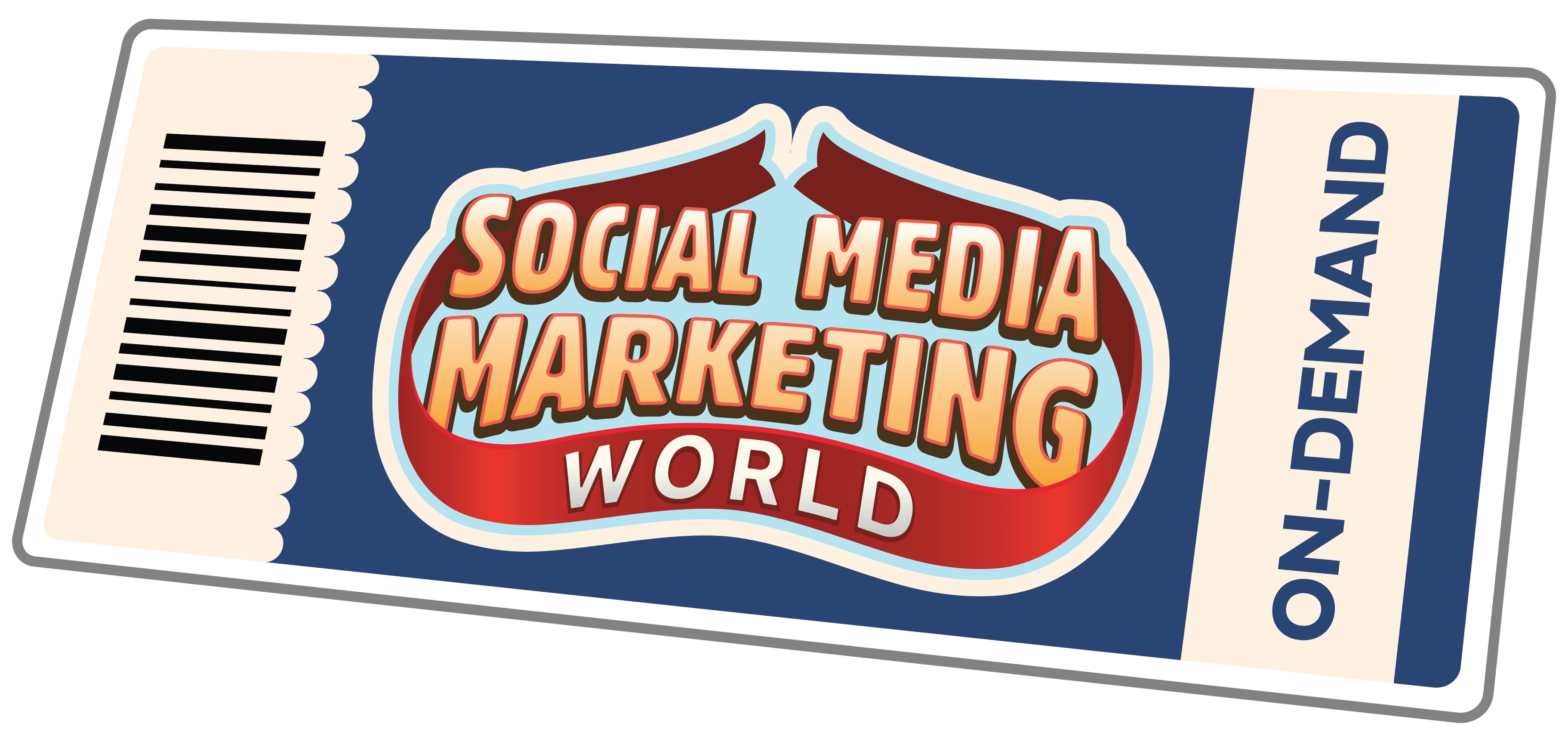 Travel to Social Media Marketing World off the table? Get all of the great content at a fraction of the price with an On-Demand ticket.

That's full access to recordings of every keynote, workshop, and session—the ones people travel thousands of miles to see. Don't wait. Get your On-Demand ticket and enjoy actionable content that you can watch anytime, anywhere.
GET YOUR ON-DEMAND TICKET NOW