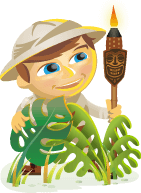 Do you want to reach more customers on YouTube? Wondering how YouTube Live can help you grow your audience and business?
To explore how marketers can benefit from YouTube Live, I interview Nick Nimmin.
More About This Show
The Social Media Marketing podcast is designed to help busy marketers, business owners, and creators discover what works with social media marketing.
In this episode, I interview Nick Nimmin, a YouTube expert. His YouTube channel is for YouTube creators and has more than 300,000 subscribers. He also hosts a weekly YouTube Live show called Nimmin Live and co-hosts the Business of Video podcast.
You'll find out how to optimize your YouTube live stream for more exposure.
Nick also shares the tools and process he uses to produce his live YouTube show.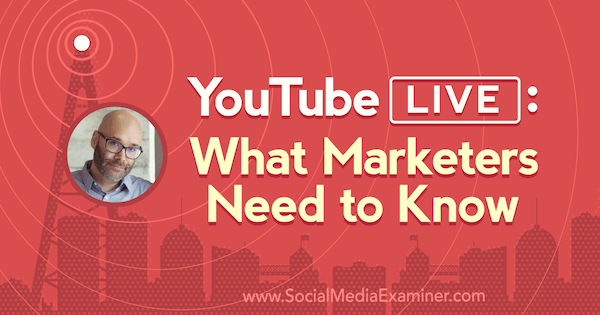 Share your feedback, read the show notes, and get the links mentioned in this episode below.
Listen Now
Where to subscribe: Apple Podcast | Google Podcasts | Spotify | RSS
Here are some of the things you'll discover in this show:
YouTube Live
Nick's Story
When Nick and his brother first moved to Thailand in the mid-1990s, the internet was full of business opportunities, and they ran a graphic design and media company. That worked well for about 12 years. But after they signed what seemed like great deals with clients, the relationship wasn't good. The clients were difficult, and Nick and his brother became unhappy in their business.
As an expatriate living in Thailand, Nick is self-employed and can't simply go get another job. As he searched for a different business opportunity, he became interested in internet marketing and YouTube. After watching Gideon Shalwick's and James Wedmore's YouTube channels, he began using YouTube to build an email list. At the time, he didn't grasp the power and potential of online video.
Because Nick had a background in media and experience shooting training videos, he was able to post good-quality videos beginning with his first upload in September 2014. Through a Facebook group, he connected with Derral Eves who offered to help him build a new channel. He took a 9 month hiatus from his original channel and worked on a brand new channel, while still trying to keep up with his graphic design company.
As Nick juggled his YouTube work with graphic design, he realized he preferred working on YouTube content. He enjoyed the community aspect of it, and his new channel was doing well. After a period of struggling to keep up with his graphic design work and the demands of consistently uploading to the new YouTube channel, Nick realized he had to make a choice.
He decided to return to his original channel, and focused on tips for freelancers such as how to stay focused while working in a café.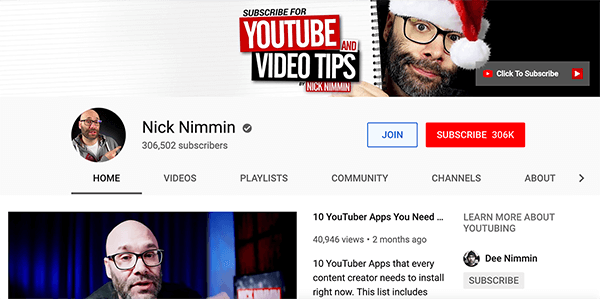 Then a friend asked him to collaborate on a video about how to help your videos rank higher in YouTube search results. His audience responded well to that video, so Nick began focusing on videos about YouTube and his channel became a resource for YouTube creators.
Nick's first live video demonstrated how it worked for his audience. Although he continued to go live, he never had many viewers until YouTube released a live feature for the mobile app. When he learned about the feature, he began streaming from the mobile app and continued for 3 hours. It was his first taste of people responding to his live video and getting respect from other creators.
Eventually, Nick and his brother created their live show, Nimmin Live. They rented an empty condo where they built a studio for live-streaming. Because the response was good, they continued building the show. Now, 2 years later, they stream every Saturday.
Listen to the show to learn more about Nick's collaboration with Derral Eves.
Why Marketers Should Consider YouTube Live
YouTube Live offers several advantages over Facebook Live. First, YouTube Live replays are easier to find and thus get more views. On Facebook, after a short time, content is hard to find.
On YouTube, live videos are part of an archive and have replay value, especially if you organize them into playlists. People watch Nick's live videos from a year ago because they're organized, and viewers can watch at their leisure.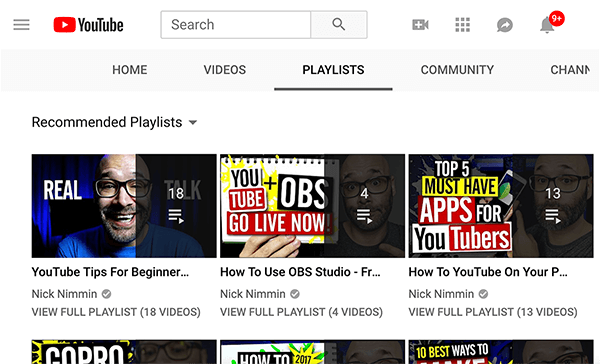 YouTube Live converts people into leads just as effectively as Facebook. When Nick was consulting, he would have 10 hot leads in his email inbox after a live stream. Because he was sharing his knowledge of the platform, people trusted him to know what he was talking about.
YouTube Live videos also get more views compared to Facebook because YouTube's algorithm helps interested users find your video. So people who may not know about you are more likely to visit your live stream. Say someone watches a live stream with a topic similar to yours. YouTube is more likely to serve that person your live stream.
Also, when you go live on YouTube, people who opted in will receive an email notification. If they enabled push notifications on their phone, they receive a notification that you're live. These notifications increase the likelihood of people visiting your live stream when you go live.
YouTube viewers have a different mindset from Facebook viewers. YouTube users visit the platform with the intention of watching video, whether they have 5 minutes or 2 hours to spare. Facebook users are more interested in interacting and sending messages back and forth; however, YouTube has a Super Chat feature.
YouTube Live video also offers helpful features Facebook doesn't have. On YouTube, creators can make money with Super Chat and link to a website in a video description. Live video can display cards that pop up and link to other videos or channels. If you meet the requirements, you can link cards to your website, too. To get direct feedback while you're live, you can show a poll card.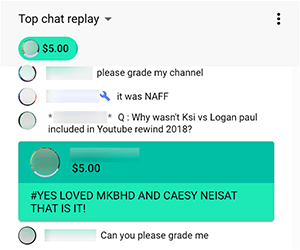 After a YouTube live video turns into a regular video, you can trim the video. With the built-in editor, you can trim the live video to remove a part that didn't turn out well or something specific to your live stream that isn't relevant to replay viewers.
I ask if marketers new to YouTube should use email to drive their audience to YouTube. Nick says letting your audience from another outlet know about your YouTube videos is extremely important. If you email your audience before you go live and people come to your live stream via the email, you're starting YouTube sessions. You're credited for their watch time of your video and their whole YouTube session.
These watch time credits help your channel grow. YouTube sees your channel as authoritative. Both SEO and channel authority help your videos rank in search and compete on YouTube. Because watch time proves that people will watch your videos, YouTube will present your videos more often elsewhere on the platform.
Listen to the show to hear Nick share more about notifications and subscribers.
How Nick's Live Show Helps His Business
Nick's show is live for about 5-6 hours every Saturday starting at 9:00 AM Eastern time. He co-hosts the show with his brother and it's like a radio call-in show except people ask questions about YouTube via chat instead of calling the show.

Participants on Nimmin Live learn a lot about how YouTube works but Nick also has a great relationship with his brother. The audience gets involved in their banter and jokes, too.
The Q&A format is a great way to learn about YouTube because you hear people's frequently asked questions about the stuff they want to know. Although you can learn about a topic by watching a video, when somebody else is asking questions, you hear things you don't know about and might want to understand, so people learn from each other.
The audience treats the show like an event. 15 minutes before the show, people begin waiting for the show to start and chat with each other. About 60-70 people watch the whole show and keep chatting after the live stream until Nick and his brother turn off the chat. Some people send a message when they can't make the show. Others ask if the brothers are okay or get mad if they take time off.
The live show has strengthened Nick's relationship with his brother and helped his business. When Nick was consulting, the show generated lots of leads. Now it generates affiliate sales, which are linked in the video description. The show drives signups for Nick's personal website. Nick and his brother also make money through a show sponsorship from TubeBuddy.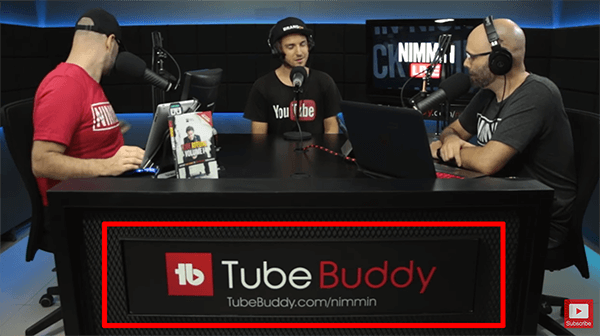 The live show has also increased Nick's authority in the industry. When you go live on any platform and field questions for hours, people see that you know your subject matter and can help people. The live show has helped Nick build connections with other well-known YouTube creators who can verify that his advice is correct, which helps him build authority and recognition.
Listen to the show to hear Nick share more about how his show has strengthened his relationship with his brother.
Tips for a Long Live Show
Nick's live show has lasted up to 7 hours, but YouTube doesn't limit the length of your live stream. For example, when April the giraffe was close to giving birth to her calf, the live stream lasted for more than a month. Someone new to long live video might host a show for 1-2 hours.
For the long show, the key is to have some type of structure, especially if you're hosting the show by yourself. Your show structure includes your technical setup, show topics, and audience interaction.
Technical setup: Your technical setup determines what you can show and how complicated running the show is. If you've never done live video, Nick recommends going live directly through YouTube (instead of using a third-party encoder). With this option, live video streams through your webcam. You can't use multiple cameras or show graphics. If you're just trying live video, that's okay.
For a more dynamic show with multiple cameras like Nick's, you need video encoding software. Your options include Streamlabs OBS, vMix, and Wirecast. This software acts as a bridge between your computer and the live platforms so you can set up scenes for different cameras, display viewer comments and other graphics on-screen, and so on.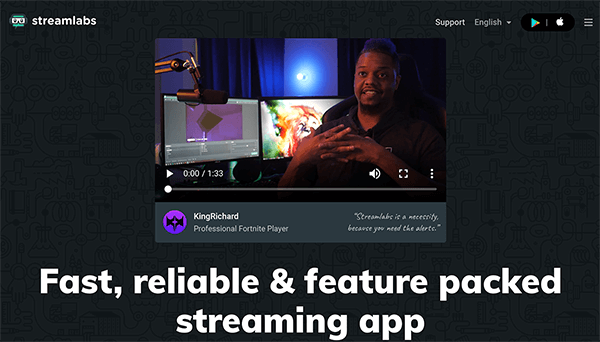 The more elements you add to your setup, the more complicated running your live show becomes. You have to deliver information or answer questions while changing scenes or graphics. A moderator or co-host can help you. On Nimmin Live, Nick's brother manages the cameras and on-screen graphics while Nick does most of the talking. However, with practice, this work becomes easier.
You don't need high-end cameras to go live on YouTube. When Nick did a live stream for TubeBuddy, he used a Logitech C922 webcam. This 1080p camera costs about $80-99 (less than the $200 Logitech Brio 4K camera I use). Nick says his camera looks fantastic. Where he lives, the internet can only handle 1080p, but 4K streaming video is emerging in areas with better bandwidth.
Show topics: During your show, you need to avoid dead air. If your live show has lots of silent periods, the show can feel awkward and uncomfortable, and people will lose interest and leave. You want to always keep your show moving. To help, prepare talking points that will help you stay focused and provide a fallback to use in case you start running out of things to say.
If your live show doesn't have a large community yet, Nick emphasizes the importance of choosing a topic for your show and preparing bullet points that outline what you want to say about that topic. It's a like a roadmap. If your mind wanders as you manage scenes or check audio meters to make sure your mic is working, your bullets can quickly remind you of what you want to discuss.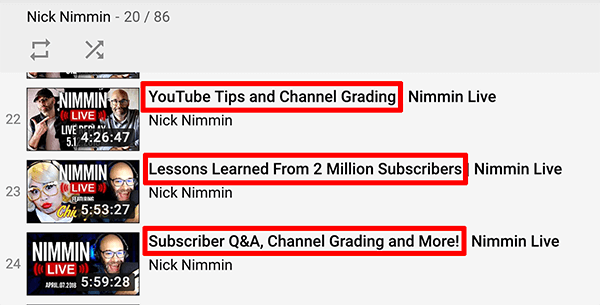 After you build a community, you can ask them questions to avoid dead air. When Nick starts running out of steam during his live show, he asks his audience to share questions about YouTube via chat. Answering questions can be a nice break or restart after he's been talking for a while.
Audience interaction: Interaction makes a live show special, and recognizing people during your show by saying hello or answering questions is important. For some people, hearing their name makes a difference. Recently, Nick answered a viewer's question about YouTube. They later posted a video that mentioned how they felt invisible and that recognition was an emotional experience for them.
I mention that Nick gave me a shout-out when I visited his live show. I thought that was the coolest thing because I wasn't the only guy there. After I left a comment, Nick said, "Hey Mike Stelzner," and mentioned that we met at another conference. That made me want to keep watching.
Nick agrees that acknowledging people helps them feel involved. In real life, when someone says your name and greets you, you'll stop to see who said your name and confirm they're talking to you. During a live video, saying someone's name helps them realize you're answering their question. It's a fantastic way to pull people into your show.
Basic questions are a great way to involve your whole audience rather than a specific person. You can ask people who are new to comment with the hashtag #new. Ask people where they're from. Ask for feedback. These little cues for interaction (such as the hashtag #facereveal shown here) can better engage people who are watching passively.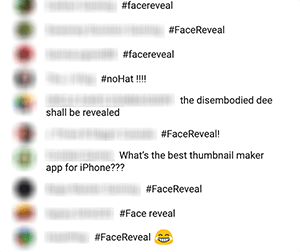 Sometimes, people chat with each other while they listen to your show. Nick says this interaction makes his live stream like an event, and he promotes his show as a great place for content creators to hang out online on Saturday. People hanging out in his live stream have become friends or created side communities as a separate live stream so they can continue chatting outside of his show.
Listen to the show to hear my thoughts about preparing bullets and fostering community interaction during the Social Media Marketing Talk Show.
Discovery of the Week
Juicer aggregates social media posts based on hashtags or search terms so you can share them on your website or on giant screens.
With Juicer, you determine which hashtags or search terms you want to pull together from different social media channels such as Twitter, Facebook, Instagram, and so on. Then you can moderate and curate those posts through the dashboard. With a WordPress plugin or an embed code from Juicer, you can share those posts on a specific page on your website.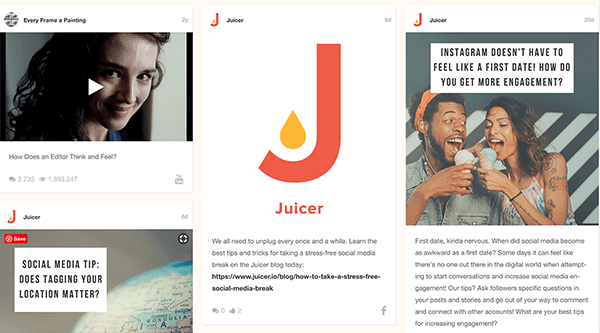 For example, if you want to curate images or videos from your event, Juicer helps you put them all in one place on your website or on a giant screen at the event. The power of Juicer is the ability to curate the posts you show. Even with the free plan, you can moderate and curate the feed to show the best of the best. Nobody wants an uncurated feed.
Juicer allows you to curate posts from almost every social platform including Facebook, Twitter, Instagram, YouTube, and Flickr. You can choose which social media accounts you want to connect with Juicer.
Listen to the show to learn more and let us know how Juicer works for you.
Key takeaways mentioned in this episode:
What do you think? What are your thoughts on YouTube Live video? Please share your comments below.