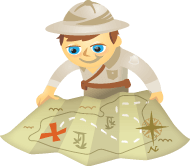 Is social selling part of your LinkedIn marketing strategy?
Do you know how to measure and track your efforts?
LinkedIn gives businesses a number of metrics for tracking the effectiveness of their marketing throughout the selling process.
In this article, you'll discover how to measure and track the effectiveness of your social selling on LinkedIn.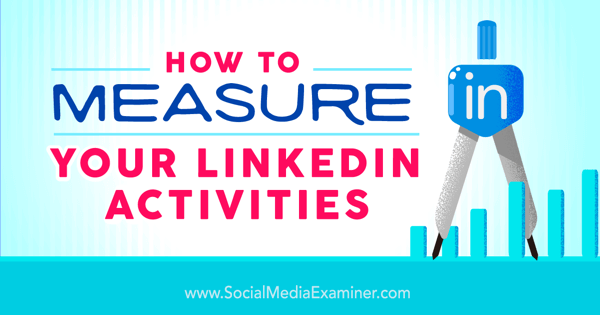 Listen to this article:
Where to subscribe: Apple Podcast | Google Podcasts | Spotify | RSS
What Is Social Selling?
Social selling is the process of developing and building relationships via social networks by providing valuable content to your target audience. Ideally, this occurs at each stage of the buyer's journey, which are specific points buyers go through to make a purchasing decision. Those three stages are awareness, consideration, and decision-making.
Here's how you can measure your success at reaching prospects at each of these stages.
#1: Monitor Awareness Metrics
With LinkedIn, you can monitor several short-term results of your social selling efforts, such as an increase in your number of personal connections, content shares and likes, and follower engagement with your company page and showcase pages. These indicate increased awareness and visibility of your business.
A great strategy is to include employees in your social selling process, which will increase the likelihood that potential customers will learn about you and eventually follow your LinkedIn company and showcase pages.
Number of Connections
It's easy to track the number of LinkedIn connections you and your employees have, which provides a meaningful data point for your long-term social selling efforts.
Why does this data point matter? Let's say that 30 of your employees are part of your LinkedIn employee engagement program, and they actively share and promote company-related content and information. Assuming that each employee has an average of 200 connections, this means you could potentially have 6,000 people viewing and engaging with content related to your company.

If you can get your employees to share content authentically, it'll have a bigger impact because humans want to connect with humans within their trusted networks. By leveraging this human network, you can harness the ripple effect.
Content Shares and Likes
The Conference You've Been Waiting For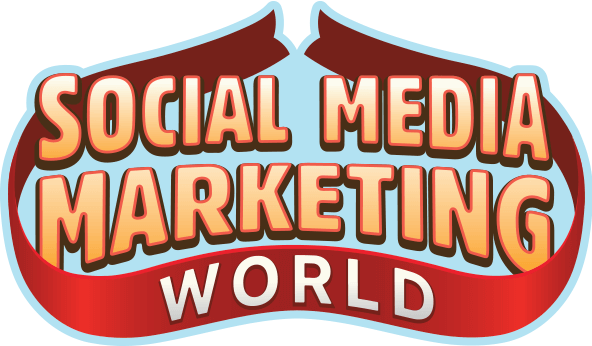 As a small business marketer, you can probably only pick one or two events to attend each year. Get back into the game with an unbeatable conference experience and expert training at Social Media Marketing World in sunny San Diego, California—from your friends at Social Media Examiner.
🔥🔥 As a valued reader, you can save $640 if you act now! Sale Ends Tuesday!
CLICK HERE TO LEARN MORE
Implementing a sophisticated content marketing plan is a huge component of your social selling strategy. You need to develop a focused content roadmap around your target audience.
A great way to get started is to do a content gap analysis to see what pieces are currently missing from your existing content.
Develop a team-based content calendar to ensure that your team shares high-quality content on a regular basis, either by publishing articles or sharing status updates. Eventually, that content gets served to their personal connections. In return, your employees' connections may end up following your LinkedIn company and showcase pages. You can then monitor and track the number of times people share, like, or comment on company-related status updates. This will give you a clear picture of which content resonates with them.
As an administrator of your company's LinkedIn page, you can access your page's analytics to see which topics people gravitate towards and what topics you can phase out. In the example below, the last status update reached 529 people. Five people clicked on the post and also interacted with it, resulting in an overall engagement level of 1.89%.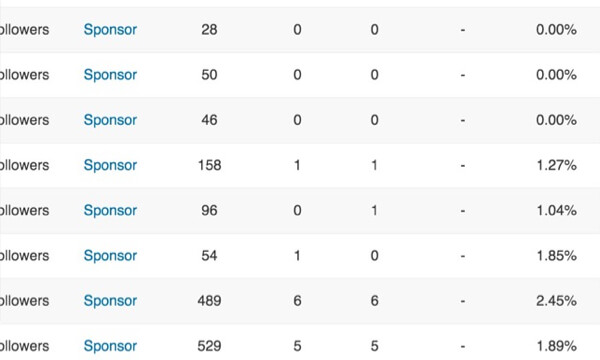 To boost your inbound marketing efforts, feed this information back into your search engine optimization strategy.
Number of Followers Who Find and Engage With Your LinkedIn Company and Showcase Pages
One of the goals of having your employees share company-related content via their personal LinkedIn profiles is to grow the follower base of your LinkedIn company page and showcase pages. This strategy boosts the visibility of your digital assets, and you'll be able to reach entirely new audiences you didn't have access to as a company. Now that your follower base is growing, serve your followers high-quality content regularly to keep them engaged.
The built-in analytics of your LinkedIn company and showcase pages allow you to monitor metrics such as the overall reach and engagement of your posts.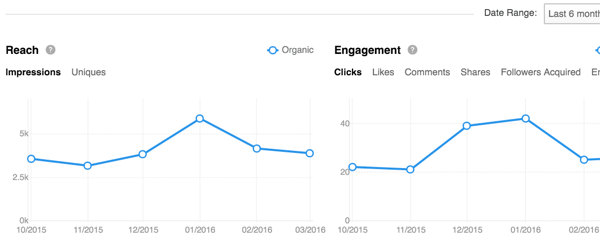 You can also monitor and track the increase in followers, their demographics, and much more.
Get Expert Social Media Marketing Training from the Pros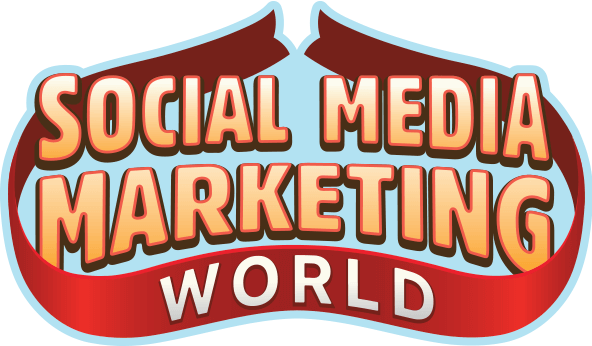 Want to get ahead of the competition and learn how to diversify your social marketing strategy?
Learn from the industry's most trusted experts, rub elbows with other smart marketers, and take your marketing to the next level during this 3-day event in sunny San Diego, California.
CLICK TO LEARN MORE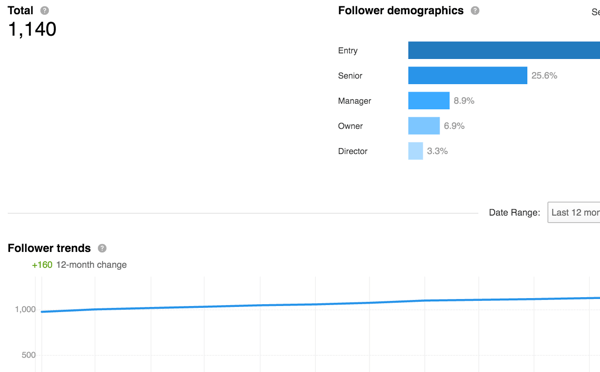 When people engage with a company on LinkedIn, they've moved into the interested phase of the buying cycle. Ideally, they'll interact with your content by sharing or commenting on it. To gain even more followers, make sure to cross-promote your LinkedIn company and showcase pages through other social media channels.
#2: Track Consideration Data
Gauge the success of raising awareness and visibility by measuring longer-term results. Track buying consideration data such as the number of people who visit your website and engage with it.
Referral Traffic From LinkedIn to Your Website
Compelling, high-quality content should encourage interested buyers to follow a link in your status updates that will send them over to your website.
Make sure you have clear calls to action in the content you're sharing via LinkedIn. You can, for example, share a link to a newly published case study, white paper, webinar recording, best practices blog post, or anything that's of real value to your audience.
You can use Google Analytics to track the number of people who made their way over from LinkedIn to your website. Access your Google Analytics, and click on Acquisition > All Traffic > Referrals. You'll see which websites send referral traffic your way. If LinkedIn is displayed as a referral source, click on LinkedIn to analyze how much referral traffic you're already receiving.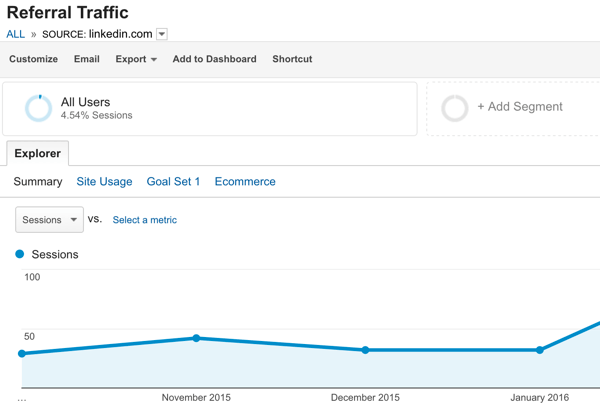 Number of Customers Who Engage With Your Website Content
Realistically, your website is the place where most conversions happen, so make sure it's optimized. Also, ensure that your website is easy to navigate and provides rich, helpful content to retain people's interest.
Use Google Analytics' Social Users Flow feature to monitor how people interact with your content. Access your Google Analytics and click on Acquisition > Social > User Flow. It's a fun, easy way to see which social networks work best for you.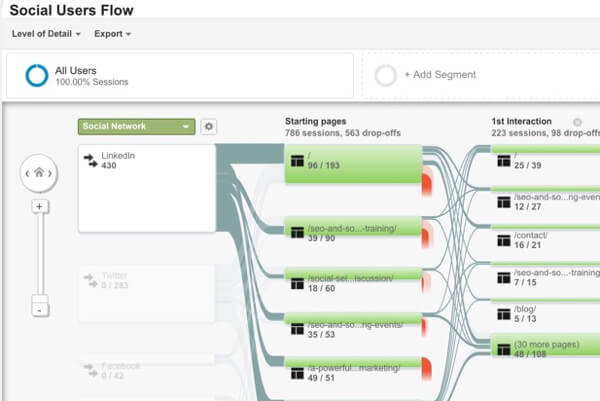 #3: Measure Conversion Rates
Ultimately, you want to convert your LinkedIn referral traffic into customers. Here are some measurement ideas to gauge the number of sales opportunities and sales generated from your LinkedIn social selling efforts.
Number of Connections / Sales Opportunities
If your product or service requires educating your potential buyer in person, then at some point you need to get out from behind the computer and turn the connections into interactions. This might be as simple as making a phone call or scheduling a face-to-face meeting.
Nothing beats a human connection. Potential customers want to make that connection. Track how many sales opportunities your team generates through calls and meetings from their LinkedIn connections.
Number of Sales Conversions
Obviously, you want to convert as many connections into sales as possible. Google Analytics tracks goals and purchases completed from any website referral traffic, including social networks such as LinkedIn.

When you set up goals in Google Analytics, it's crucial to link accurate numbers and dollar amounts generated to your social selling strategy. In the example below, a goal was set up in Google Analytics to track online sales directly related to referral traffic from LinkedIn. In this particular case, 310 referral visits resulted in four online transactions worth $597.97.
Want more like this? Explore our LinkedIn for Business guide!
.
Conclusion
Selling on social is no small undertaking. This article only covered the tip of the iceberg. Management consultant, educator, and author Peter Drucker said, "If you can't measure it, you can't manage it." There are many ways to track and measure your efforts, so find the ways that work best for you.
What do you think? Are you a pro in tracking and measuring your social selling efforts? Please share your ideas in the comments below!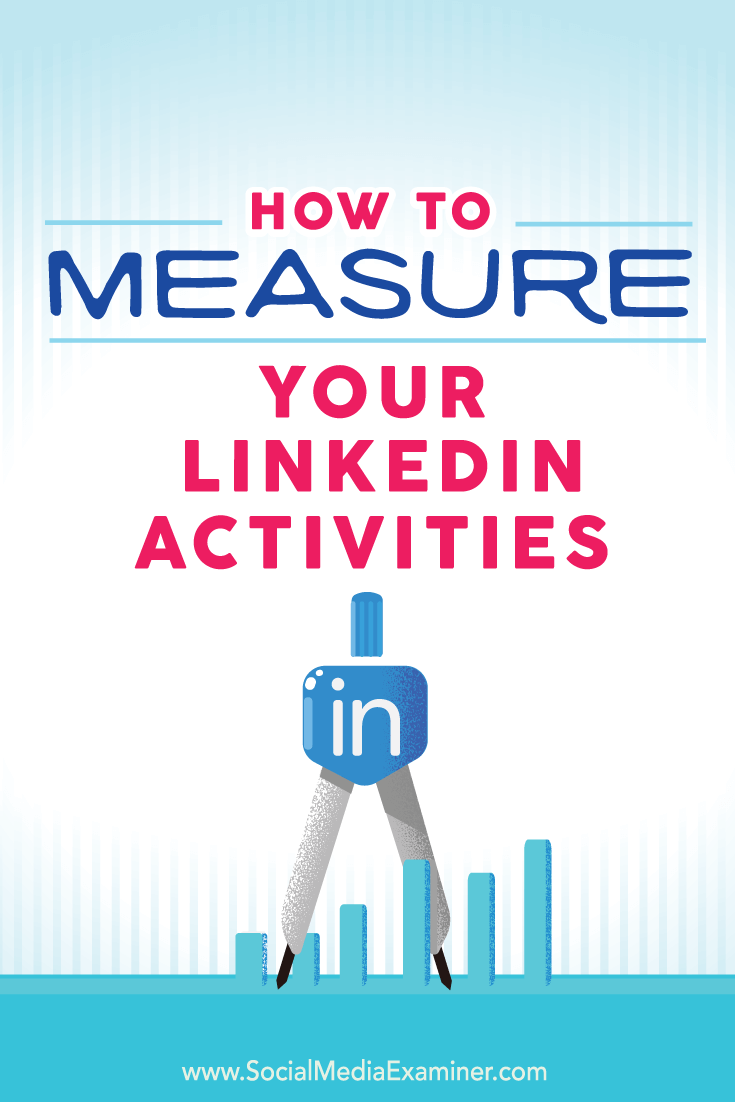 Curious about Web3?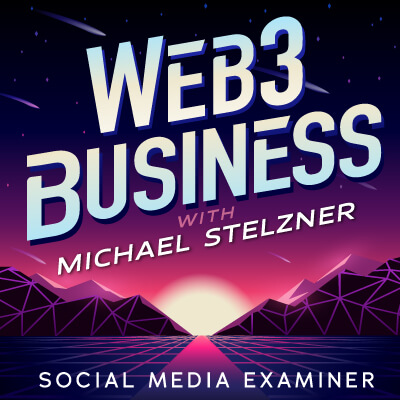 Follow the Web3 Business podcast to find out how Web3 will affect your business in the near future.

Every Friday, host Michael Stelzner interviews leading industry experts about what works right now in Web3 and what to expect in the future, so you can prepare your business for the shift, even if you're a total newbie.
FOLLOW THE SHOW