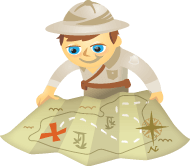 Has your Pinterest traffic dropped off? Wondering how to encourage more pinners to interact with your content?
In this article, you'll discover four tips to develop pins and boards that spark engagement from your audience on Pinterest.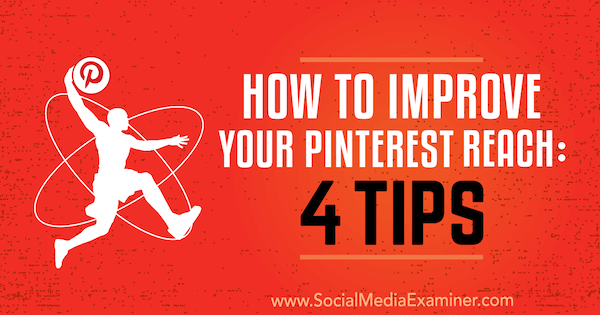 Pinterest Can Work for Your Business
Many businesses struggle with how to successfully establish themselves on Pinterest, especially if they don't produce items that are particularly pinnable, or offer services rather than products.
If your Pinterest presence is stalling, don't write off your account as not working just yet. There are ways to rework your profile for better outreach. The tips below will help you develop a more Pinterest-friendly presence for your business.
Note: You need to work with a Business account on Pinterest to reap the full benefits. It gives you access to helpful tools for tracking which content is pinned from a website. Switching to a Business account will also give you access to analytics tracking for Pinterest users interacting with your brand.
#1: Answer Questions With Dedicated How-To Boards and Explanatory Pins
People come to Pinterest to research everything from castles in Europe to fan art for their favorite TV show. If you can establish your brand as an authority on a certain subject, people will follow you with the confidence that you'll provide the knowledge they're seeking.
The Endless Bliss blog uses this tactic for organizing their travel advice content on Pinterest. Not every user wants travel advice about the same region, so they use clear, direct titles describing where pinners can find advice. This allows Endless Bliss to serve a wider audience of users, many of whom may not be familiar with their blog.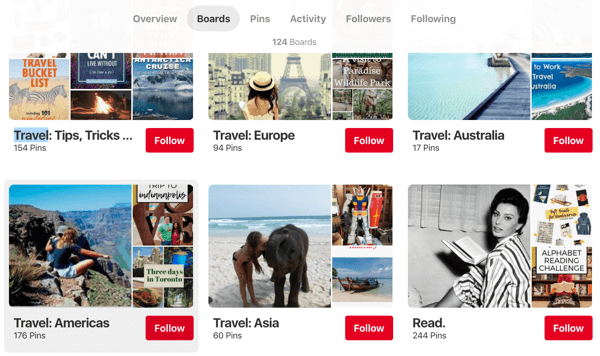 For your own marketing, anticipate the questions a hypothetical user may have when searching on Pinterest and use that information to name your boards. This is why it's important to conduct proper keyword research on Pinterest, ideally before building your boards. But it's never too late to adapt.
#2: Spotlight Customer Success Stories
If pictures of your products are falling flat on Pinterest, enlist your customers to help you!
With permission, customer-driven content can perform surprisingly well. It's helpful to choose product photos that are kinetic (i.e., showing the product in use by actual customers) so people can picture themselves using your products. That can go a lot further than a picture of a product against a white background.
Brit Morin of lifestyle blog Brit + Co. used her Pinterest account to spotlight readers using the party ideas featured on the blog, as shown below. The pins were a departure from the account's usual pinning style, showing photos of fans throwing the parties that were discussed in the blog's content.
You can also use customer quotes as text on pins to promote a general feeling from the images about your brand. Tools such as Canva and PicMonkey can help you overlay text onto images in a way that will resonate with your audience (while still keeping a gorgeous Pinterest aesthetic).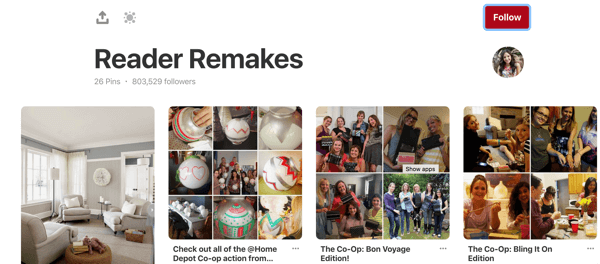 #3: Pin and Repin Others' Content to Curate Valuable Boards
Pinterest began as a relatively inclusive community, and brands that came into the space solely to pin and promote their own products weren't always welcome. Not unlike Reddit, brands needed to pin from within Pinterest—not just pin their own products—to signal they were on the platform to develop genuine customer relationships.
The Pinterest community has since grown much more open to brands and commerce. But the spirit of inclusion persists, and if you're looking to expand your business's presence on the platform, pin within Pinterest as well as from your own website.
There's no "magic ratio" of how many pins should come from within Pinterest compared to outside. It depends on the goals of your brand.
If you're looking to connect with other Pinterest influencers, consider creating a group board to collaborate and share content. This is an easy way to gather more content from within Pinterest while making connections for future collaborations.
Simple Pin Media uses group boards to collaborate with other users and expand the account's reach within Pinterest.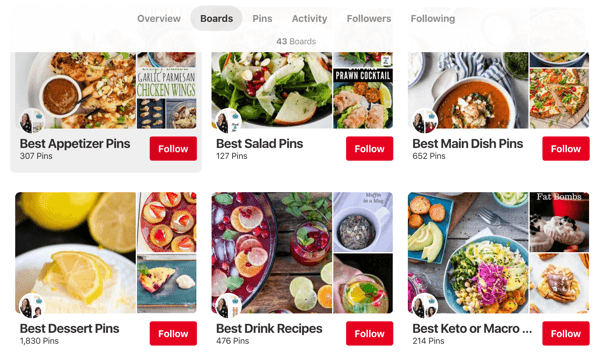 The more you pin from within Pinterest, the more your brand will present itself as authoritative if you work to repin the hot content within the Pinterest network. Your account may also appear inactive (or worse, spammy) if a user opens your account and sees only material promoting your products.
#4: Use Expressed Fan Interest to Inform Your Pinterest Board Strategy
Pinterest is a great provider of social proof for content strategy. If people are pinning a post's image, that's an immediate sign that customers are looking for that content. It's even better if they're clicking on the pin to consume the actual content!
But Pinterest can also serve as a valuable tool for conducting customer research. If you're a restaurant, you can easily track which foods from your account are attracting the most interest. Even if you never decide to run Pinterest ads, Pinterest community feedback is a useful tool all by itself.
One of Pinterest's most unique features is its division of all pins into separate interests. Interests are subjects that best classify a pin by topic.
Pinterest has updated its main feed to exclude searching by topic. To search, users must manually enter their desired topic in the search bar on desktop.

However, topics are still used when classifying user interests in Pinterest Analytics. The Audience Insights feature in Analytics is currently in early access and is available to business accounts in English-speaking countries.
If your business is granted access, I highly recommend taking time to explore the data provided about what your most loyal followers are interested in. Is there a relevant topic you can develop a board around?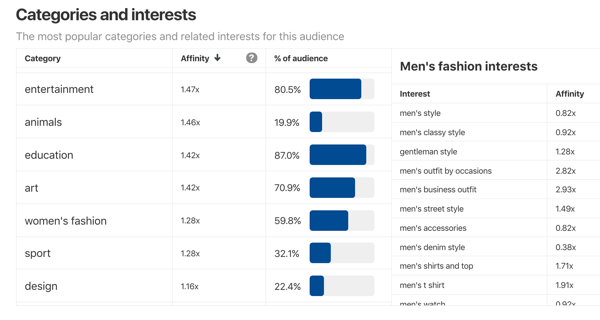 One fun idea you may want to try is to build a board around a "unicorn" pin. This is a term for a pin that experiences a sudden rush of popularity. Perhaps it's particularly aesthetically pleasing or answers a seasonal need.
Smitten Kitchen, a popular recipe blog, took an unconventional approach toward serving their Thanksgiving audience (a popular time to search for recipes on Pinterest). They split their Thanksgiving boards into sweet and savory to better serve their audience. Those who were seeking sweet recipes would find exactly what they needed without having to wade through the typical Thanksgiving fare.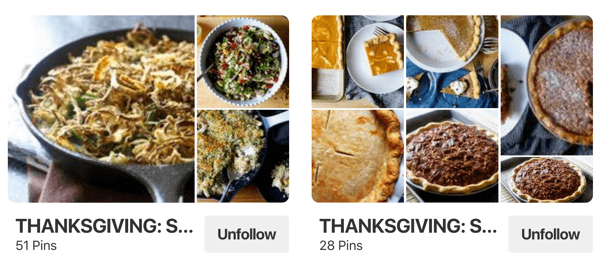 By separating your boards according to your fans' desires, you'll be able to more quickly help people seeking a specific interest.
Conclusion
In 2015, Pinterest gained its 100 millionth user, and people have continued to use the network to search for and aggregate new ideas for their lives. The platform requires a complete paradigm shift from networks like Facebook or Twitter. And there are fewer opportunities for brands to speak to their potential customers one on one.
Precisely because of this, you must present your brand as a one-stop shop for knowledge and answers for your industry. Remember that Pinterest is mainly about serving the needs of the user. It's used as a hub of knowledge, curated from the best and most beautiful corners of the Internet.
But you have the opportunity to flesh out your brand's personality in a more complex way. By curating the small pieces of content that may lead a customer to you, you have the power to reach your prime customer in new and nuanced ways.
It's not just bakeries and fashion labels that can do well on Pinterest. If you're willing to think critically about what a customer may find appealing about your brand, you'll find your Pinterest-worthy side. If you can be useful to your audience by answering the questions they're bringing to the platform, you'll be referenced again and again by users.
What do you think? Which of these Pinterest tips work for you? What are your stories of Pinterest success? Share your thoughts and insights in the comments!
More articles on Pinterest marketing: