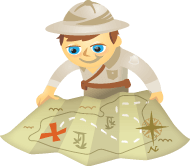 Do you attend live events? Wondering how to maximize your prospecting efforts at events?
In this article, you'll find a strategic plan for identifying and connecting with prospects via social media before, during, and after an event.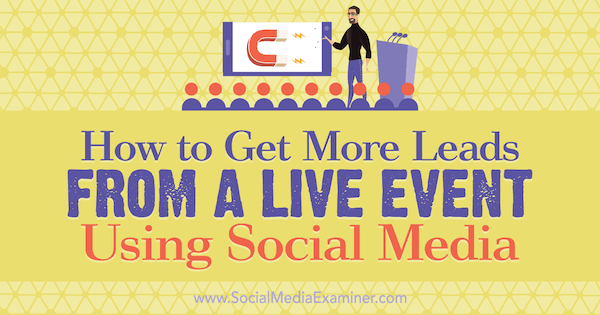 Why Social Media Matters for Live Event Prospecting
Events, expos, and tradeshows were the pinnacle of prospect outreach in the Mad Men days of marketing. Simply attending or combining a sponsor booth with your sales pitch could net you a year's worth of prospects if you attended the big annual event for your industry.
Industry events are still big opportunities to meet prospects but the marketing landscape has changed. Let me be clear: Events matter, but the competition for attendee attention is different now because of social media and the broader world of digital marketing.
Today, you need to approach your in-person marketing with digital and highly social marketing tactics in mind to stay competitive because prospects are directly and indirectly engaging with marketers dozens of times each day instead of waiting to attend an expo.
Digital marketing has made industry events more challenging because we go online to make new connections and discover new products and services. Prospects still go to events but they're not walking in the door looking forward to being sold to. They're courted year-round and more inclined to attend a panel presentation than they are to make an appointment with someone or saunter up to a booth to talk to hungry-eyed salespeople.
Instead of waiting for the big show to meet new people, prospects and salespeople alike are actively doing online research. They're connecting on LinkedIn. They're working both ends of Facebook marketing. They're reading white papers and clicking on retargeting ads.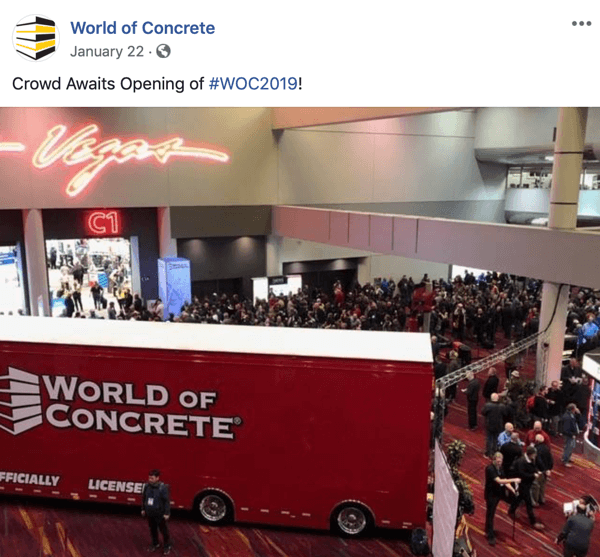 You still attend shows—and possibly pick up a booth and a sponsorship—because you rightly recognize that your prospects are there. But how can you make the event more lucrative for your business? Big hint: You can do way more than tweet using the event hashtag.
Here's how you can tap into a range of tools available to the modern social media marketer. These tactics will put you in front of prospects, before, during, and after the event, which can lead to more engaging conversations and therefore more sales.
#1: Develop a Pre-Event Prospect List
A multi-day live event can pass quickly. If you've invested in attending or sponsoring an event and flying yourself, your team, and your materials out, you should do everything you can to make it as productive as possible. Before the event even begins, connect with as many prospects and contacts as you can. By the time you get to the show, you should have at least a few worthwhile meetings on the books already.
That advice sounds self-explanatory but the execution may not be so obvious.
If you're a sponsor, the easiest way to make this happen is to ask the event organizers for a list of attendees, sponsors, and press. The answer is usually (and probably should be) no, but all sorts of factors can make that a yes. Sometimes if you're a big enough sponsor, if the event is small enough, or if you have a referral relationship with the organizers, email lists end up not being very big asks.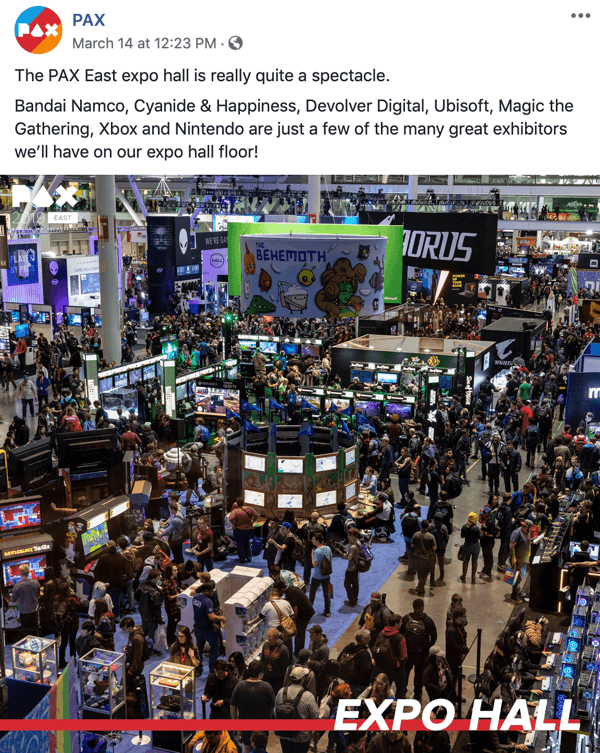 Get Your FREE Course: Web3 for Beginners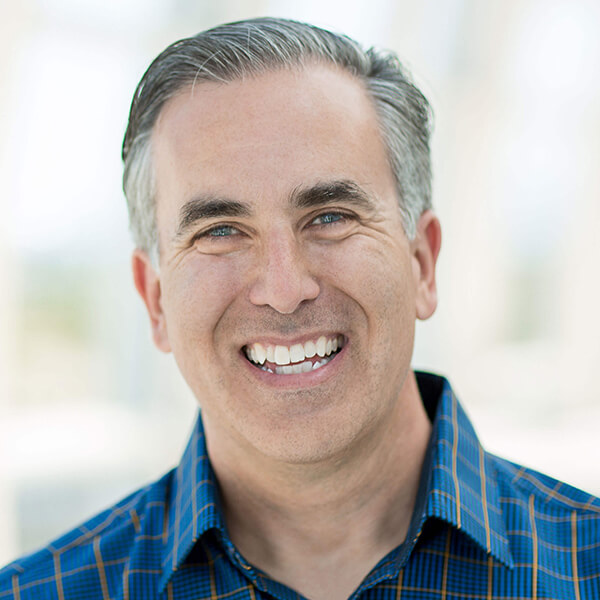 Curious about Web3, but don't know where to start or who to trust?

Introducing Web3 for Beginners, a course taught by Michael Stelzner, the founder of Social Media Examiner.

Learn the basics of Web3 and apply it to your business with this FREE comprehensive course.
CLICK HERE TO GET FREE ACCESS
If you're an attendee, you can build your own list of contacts. Here's how:
Use social media listening tools and native search functionality to see who's posting about being excited to attend the event (and check back periodically for new posts). Most events use a standard hashtag that includes the year at the end, so look at who tweeted or posted about being at last year's event.
Sponsor and speaker lists are generally public on the event website and in materials and often include contact information. Use these to build a contact list by hand. You can also use data-scraping tools (such as LeadIQ, from $60/mo.) to rapidly pull emails from LinkedIn profiles or rock out with your Google-fu to find the email addresses you're looking for.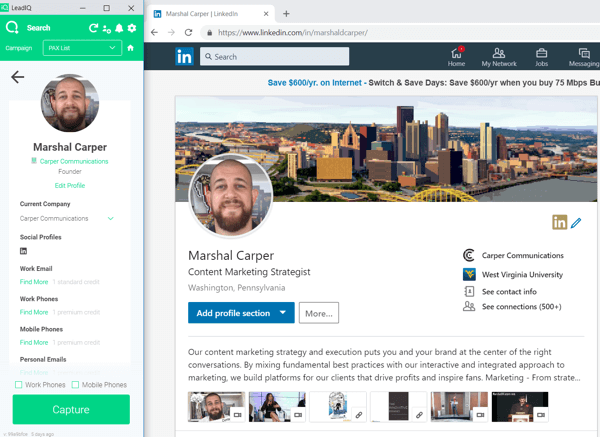 Email your clients to find out if they're going and if they know anyone else who's going, making a freebie bonus offer to incentivize engagement.
Ask the event director if you can offer a pre-event giveaway, which you can use to drive traffic to a landing page where you can collect emails.
Next, you'll want to scrub your list of any dead email addresses. To do that, run your full email list through a service like BriteVerify (starts at $0.01/email).
Building your list with the techniques above will never be as good as the event organizers handing you a list of everyone who registered, but every contact matters. Some interaction prior to the event is better than none and gives you a better chance of setting sales meetings or driving booth engagement.
Important Aside: I'm not advocating email spam. Be mindful that prospects you identify with these efforts haven't opted into hearing from you. Don't dump your new lists into your MailChimp or Constant Contact newsletter. Email them directly by hand as a person would, and at most, use a CRM like Nutshell (from $22/user/mo.) or Salesforce (starting at $30/user/mo.) to automate some parts of that outreach.
At the end of the day, you should be a person trying to connect with a person, and all of the behaviors adding up to that should be genuine and organic.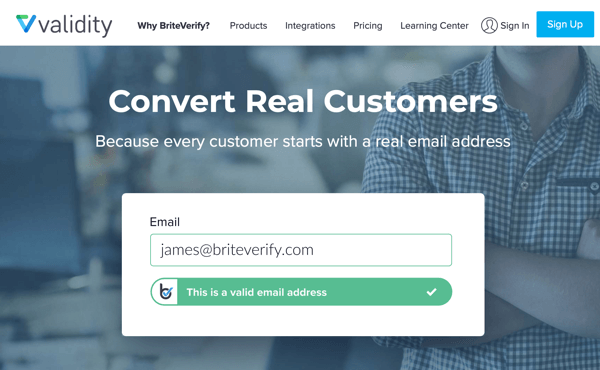 #2: Leverage LinkedIn, Twitter, and Email for Pre-Event Outreach
At the event, you're one vendor out of hundreds or thousands or one booth out of several dozen or several hundred, depending on the scale of the show. If you can start to build familiarity ahead of time, prospects are more likely to seek you out personally or check your booth out during the show.
Important Aside: If you buy into the theory of the importance of repeat impressions that advertisers often flaunt—the idea that a prospect needs to see you or your brand several times in a variety of contexts before making a meaningful connection to it—then betting on your booth being the standout during the chaos of a tradeshow is a losing proposition.
Email is the most direct way to reach out if you were able to collect those addresses. In the cases where you could only find a sponsoring business, you can do some legwork and ask a few questions to find out who'll be the company representative on the ground to talk with.
When you can't find an email, a LinkedIn message is second best, with Twitter a distant third. A direct Facebook message to a cold connection isn't even in the ballpark; unlike a LinkedIn InMail, it's more likely to feel stalkerish than anything positive.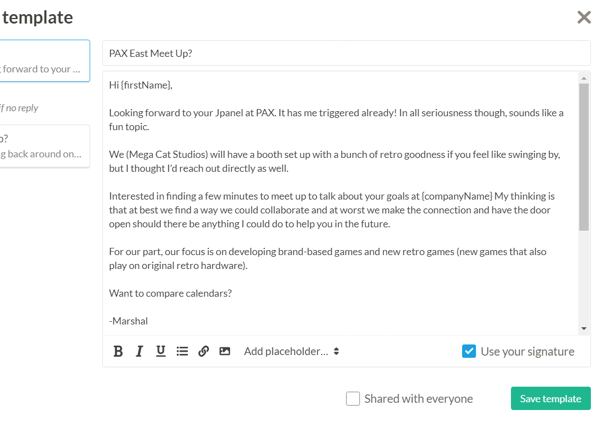 Regardless of where your direct touch comes from, keep the following points in mind: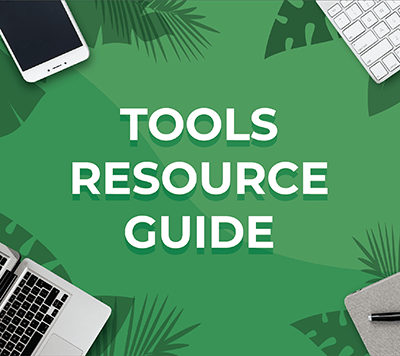 Looking for something to make your life easier?
Discover the tools we recommend to drive engagement, save you time, and boost sales across your entire marketing funnel or business.
Whether you need help planning content, organizing social posts, or developing your strategy, you'll find something for every situation.
FIND YOUR NEXT FAVORITE TOOL
Make sure the message feels like you just typed it out, not like you blasted 100 leads with the same message.
Plan for at least one follow-up touch to check in with a prospect.
The initial message should be built around bringing value to your prospect, so go in with an offer or a really gripping sales point.
Always keep the prospect experience in mind. How would you like to be treated if you were on the receiving end of the message?
If you've found the prospect on LinkedIn, my typical recommendation is to hold off on a LinkedIn connection invitation until after they've replied to a first message. The alert that you viewed their profile is a soft first nudge, and that can make your email feel more familiar when it lands in their inbox. For a platform like Twitter or Instagram, go ahead and follow the prospect ahead of time. That pattern of behavior is more typical there.
#3: Use Geofencing and Custom Audiences to Serve Targeted Ads to Prospects During the Event
You've heard the advice about using event and location hashtags before, so I'll spare you that spiel. For a more direct and aggressive approach to getting in front of leads, you want to accomplish three things:
Remind people you've already contacted that you're at the event, without being spammy.
Engage prospects you haven't connected with yet in a way other attendees or neighboring competing booths haven't.
Build up an audience of people to market to when the event ends.
While you're running your usual in-event organic posts—sharing photos, videos, and updates from the floor—you can use targeted advertising to extend your reach. If you have the event list from the organizers, you can import that list into Facebook or LinkedIn to target those specific attendees. You may run into list size issues with this approach, however.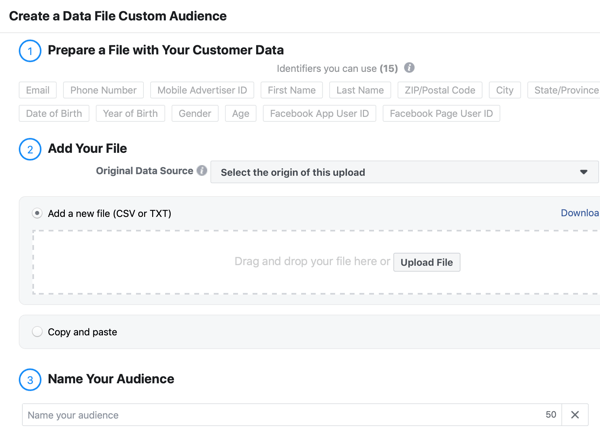 At that point, you can beef up the targeted list with other leads in your database who may not be at the event but probably won't be upset to hear that you are. That will mean a few empty swings, but the tradeoff could be worth it, depending on the value of your leads. Do the math on spend and return to figure that out.
If you don't have the attendee list, you can use geofencing to get in front of your event leads in an approximate way. If you're unfamiliar with geofencing, it's essentially a way to target ads based on geographic location, often in a very narrow, specific capacity.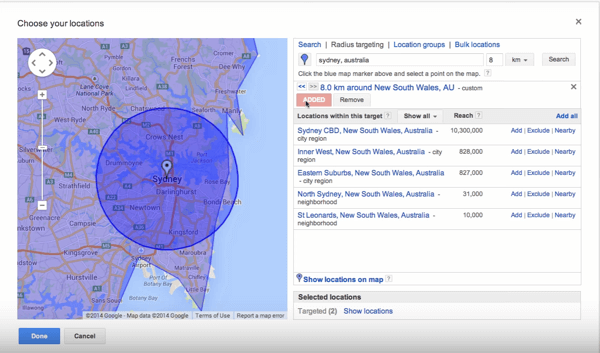 With the dominance of mobile internet browsing, that means you can target people not only in a broader regional market but also in specific places (like a particular business or a specific end of the street) based on the present location of their mobile device. If you know what building the event is in, you can target with surprising accuracy the devices that are present at that event.
Various display marketing platforms such as the Google Ad Network allow you to use geotargeted ads. One agency I met geofences a prospect's corporate headquarters whenever their sales process begins so that everyone in the company—including the decision-makers—see ads for the agency.
On its own, that might not win the sale, but in conjunction with the rest of the sales and marketing efforts, the geofenced ad campaign can be a clever way to stay top of mind and push additional education into the prospect's view.
Facebook also offers geofencing, but its radius is limited to 1 mile. That's not as accurate as drawing a map around a convention center. However, if you're thoughtful about the other targeting demographics you use, you can get pretty close to hitting the people who are in Las Vegas for the martial arts convention instead of the ones who are in the same hotel but using the secondary ballroom to celebrate retro video games.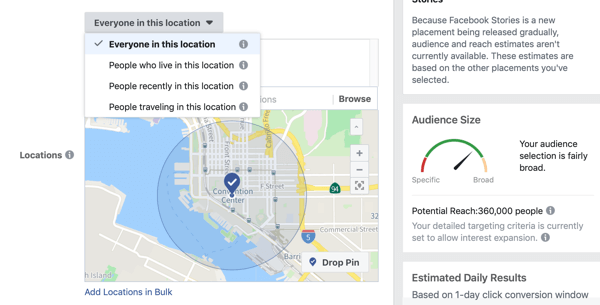 As with the pre-event messages, the quality of your content matters and so does your long-term execution. Consider the following:
Build the ad with an event-relevant offer and message.
Direct users to a landing page built specifically for the event where they can claim the offer and track you down at the show.
Incentivize email capture on the landing page with some sort of lead magnet such as a download or discount code.
Install tracking pixels for your ad platforms of choice on the landing page so you can remarket to visitors later.
Promote the landing page itself on your physical collateral again incentivizing people to visit.
Note: Tracking pixels are how marketers retarget or remarket to consumers who have visited their site. If you've ever had an ad follow you around after you went online shoe shopping, you were being retargeted. I talk more about these ads in the next section, but when you're in the planning phase, double-check the minimum audience size on the tracking pixels you use.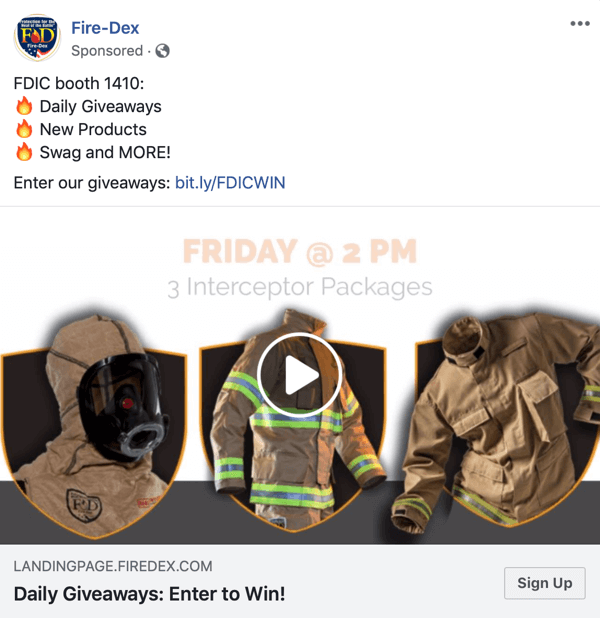 You often can't begin to run ads against a tracking pixel until you reach a minimum audience size. In other words, if you're attending a small industry event or using a small advertising budget at the event, you may be better off using the same tracking pixels on the landing page that you do for the rest of your site.
#4: Establish Social Media Connections With Warm Leads After the Event
What you do after the event isn't that different from what you did beforehand. While the event was progressing, you should have been engaging with leads on social media via the event hashtag and via keyword listening, and that enabled you to build a list of people to contact when the event concludes.
Just as most marketers don't do pre-show marketing, even fewer do post-show marketing. This gives you another opportunity to leverage your event participation to build a conversation, even if you never actually met the person at the event.
If you have the person's email collected through one of the prospecting efforts described above or perhaps handed to you on a business card, email them directly. For platforms like Twitter, Instagram, and LinkedIn, that follow-up behavior can mean that you add connections and send direct messages, either in place of or in addition to the email outreach.
As you execute that direct outreach, you can kick off a new round of ads targeted toward your updated email list and the audience you built with the tracking pixel on your landing page. These ads should reference messages relevant to the event and remind leads of the value you provided at the event.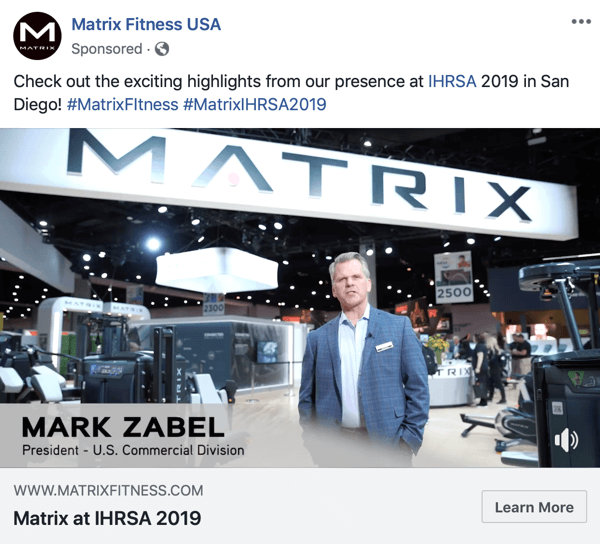 Without diving into a creative discussion, the ads that seem to perform best in this context often incorporate an insider view of the event like an inside joke or a major takeaway idea that organizers pushed every day. If your leads liked the event, that kind of creative shows them that you were listening and your brand is part of that momentum.
If you're like most industry-specific organizations, you'll probably be back at the event next year, so keep track of all of the data and collateral you've collected or built so you can jump into the upcoming round more smoothly a year from now.
Conclusion
Industry events are still special for the same reasons they've always been: Your target audience is in a highly concentrated place for reasons directly associated with what your business does. That's awesome. Just because marketing to these audiences in these situations has become more challenging doesn't mean that you should give up on them.
You have a slew of new tools at your disposal as a marketer, and you should be using these events to be more social and more engaging in person and online.
What do you think? How do you engage with prospects before, during, and after a live event? Share your thoughts in the comments below.
More articles on getting leads from social media:
Get Your FREE Course: Web3 for Beginners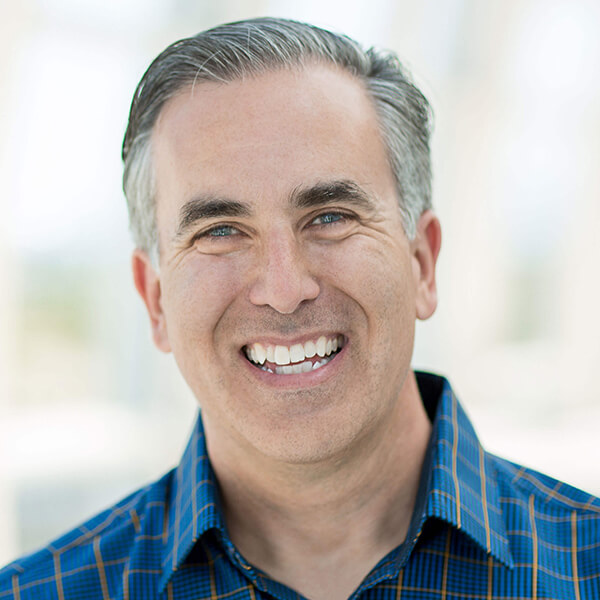 Curious about Web3, but don't know where to start or who to trust?

Introducing Web3 for Beginners, a course taught by Michael Stelzner, the founder of Social Media Examiner.

Learn the basics of Web3 and apply it to your business with this FREE comprehensive course.
CLICK HERE TO GET FREE ACCESS