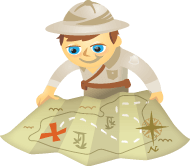 Are you planning a live event? Wondering how to use Facebook marketing to reach and stay in touch with attendees?
In this article, you'll discover how to promote your live event or conference on Facebook before, during, and after the show.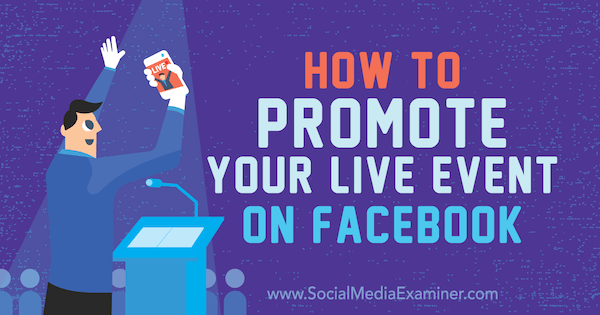 #1: Design a Facebook Frame for Your Event
Facebook allows you to upload your own branded frame for Facebook stories and it can be timed and geo-pinned to activate in your event location. When event attendees open their Facebook Camera to create a story, they'll be able to apply your event frame to their video or photo.
To create a frame for your event, head to www.facebook.com/frames/manage and click Open Frame Studio.

In the Create a Frame window, make sure the correct Facebook page is selected and choose Facebook Camera.
Next, click Upload Art and select your event frame or logo file. The graphic needs to be in PNG format with a transparent background. After you upload it, drag the graphic to the position you want. You can add multiple PNG files if you want to layer images.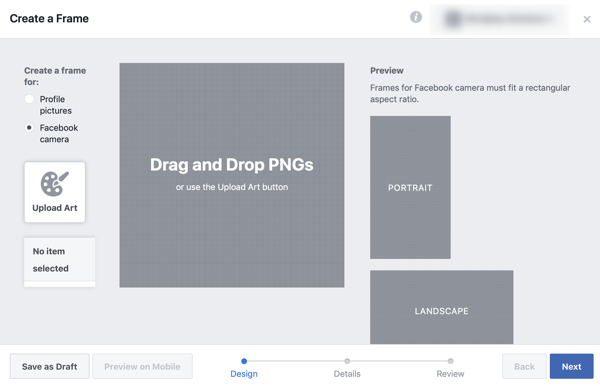 When you're happy with the layout of your frame, click Next.
Now name your frame. Under Location, select Only Available in a Specific Location. Zoom in on the map to the exact location of the event and drop a pin on the area. Adjust the radius of the pinned area to zero in on your event attendees.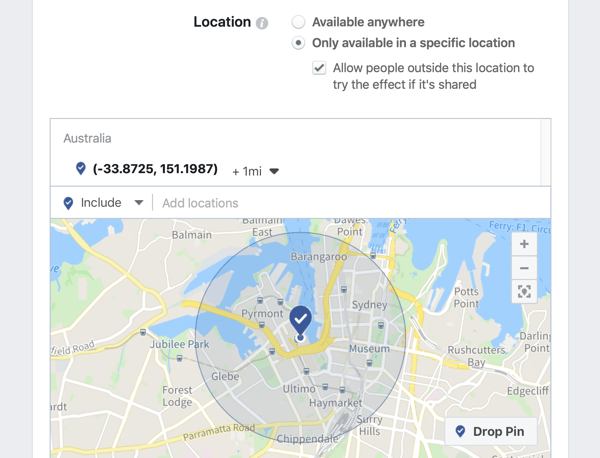 Set the dates when you want your frame to be available and then list up to 10 keywords that will help people find your event frame. Use the name of the event and the location, as well as your brand.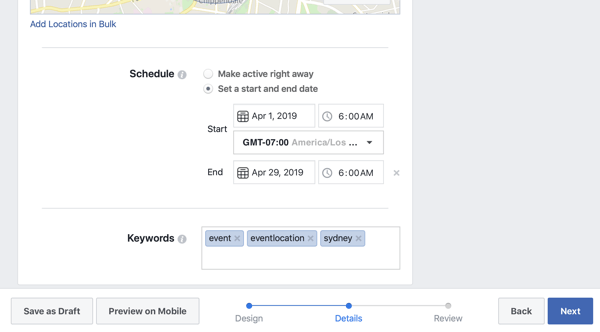 Click Preview on Mobile to send a preview of your frame to your mobile phone to make sure it looks okay. When you're happy with it, click Publish. It will undergo a short review process before becoming available.
Make sure you activate your frame, share a post about it to your Facebook page, and encourage people to use it. The more fun, creative, and relevant your frame is to your event, the better your chances that people will engage with it.
#2: Activate an Event Hashtag
When you create your event hashtag, choose something that's short and snappy so it's easy for attendees to type in and remember. Abbreviations for the event name or your brand work well. And adding the year to the end of the tag will make it easy to reactivate it for next year (if you hold the same event again) and compare usage rates year over year.
Be sure to encourage attendees to use your event hashtag. Here are some ways to do that:
Run a competition for the most creative or inspiring photo from the event. Make sure you follow all of your country's rules around competitions.
Offer a discount or incentive for anyone who shares content with your hashtag.
Physically create or print your tag in a way that people can interact with it.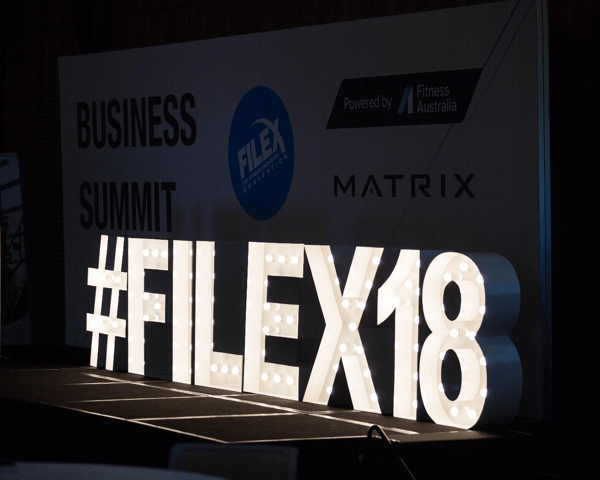 If you have a community manager, make sure they're available to respond, engage, and share content in real time. If you don't have a community manager, use a tool like Keyhole to monitor when your hashtag is used and respond and share content as quickly as you can.
#3: Set Up Geotargeting to Reach Mobile Users With Facebook Video Ads During the Event
If you market your business on Facebook, you've likely dropped pins when building an audience in a certain location to create a tight radius around an area or event. However, what if a Facebook's minimum radius is too broad?
This is where exclusion pins come in. They'll help you narrow your targeting to an exact location.
Set Up a Saved Audience to Target the Event Location
To set up geotargeting, create a Facebook saved audience and drop a pin on the event location. If a lot of attendees travel to the event, make sure you include the event hotels. Then bring the radius down as small as you can.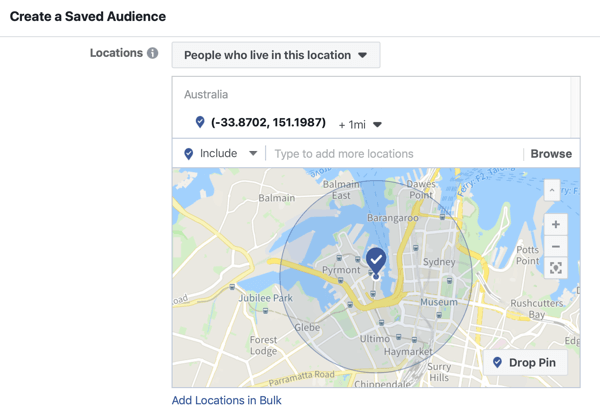 Next you want to use the Exclude feature to build an exclusion zone around the event location.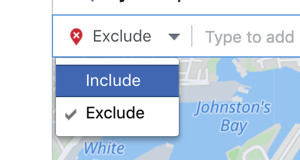 Repeat the same steps with drop pins to remove some areas and create a tighter geo-fence around your event.
You may get a notification from Facebook saying your audience is too small or too specific, but the location will fill up during your event. You can estimate the audience size based on previous attendees and use that info to set appropriate ad budgets.
Run Video Ads During the Event
Facebook video ads are a great way to grab attention and get a quick call to action or message across to event attendees, and they're also useful for building a custom audience for further targeting. This is ideal because you know your event is likely to host a high percentage of your ideal prospects.
Why mobile placements? Most people who attend events are either traveling or away from their offices and laptops, so mobile browsing is more prevalent at events. You can cross-reference this with your research to see how many attendees typically travel to attend the event. Using mobile placements will maximize the opportunity of your ad being delivered to event attendees.
Use either square or vertical format videos to increase the amount of real estate you take over in the Facebook news feed on a mobile device to make sure your ads don't go unnoticed.
When you create your videos, keep them between 10 and 15 seconds and make them punchy. Your goal is to grab the viewer's attention and build awareness. Later, when you retarget viewers, you can work with longer format videos and different ad styles.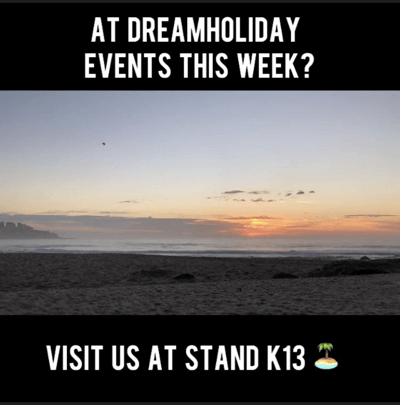 #4: Retarget Attendees After the Event
During a busy event, prospects aren't likely to be in the right mindset to engage with you fully. That's why following up and nurturing them after the event are essential.
You can use the data you gathered from your video ads during the event or from your Facebook event page to create custom audiences to retarget. Exclusions will help you refine your audiences to ensure post-event messaging matches the audience you're connecting with.
Create Custom Audiences Based on Video Views and Your Event Page
To create a custom audience based on video views, go to Audiences in Facebook Ads Manager and create a new custom audience. Select Video as the source for this audience.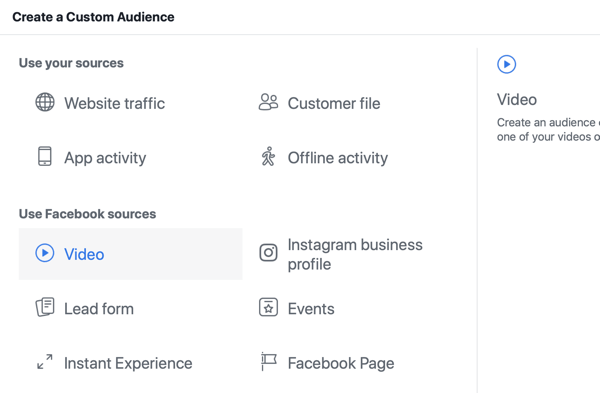 Next choose the videos used for the ads you ran during the event. Set the date range to cover the event dates and name your audience appropriately.
When you're done, click Create Audience and allow Facebook a few hours to fully populate this audience.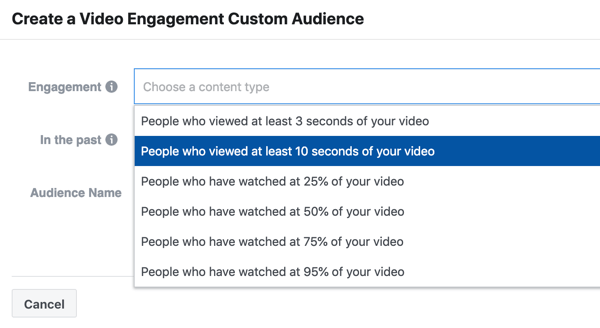 This audience will be highly relevant and more engaged because they've attended the event and watched your video ads.
To build a custom audience of people who engaged with your Facebook event page, create another custom audience and select Events as the source.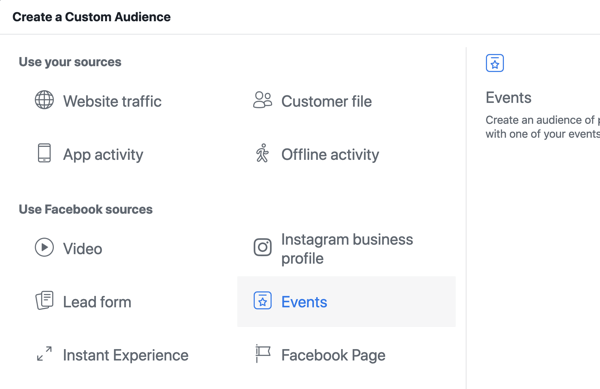 You can narrow the type of engagement people had with your event and create much more relevant audiences.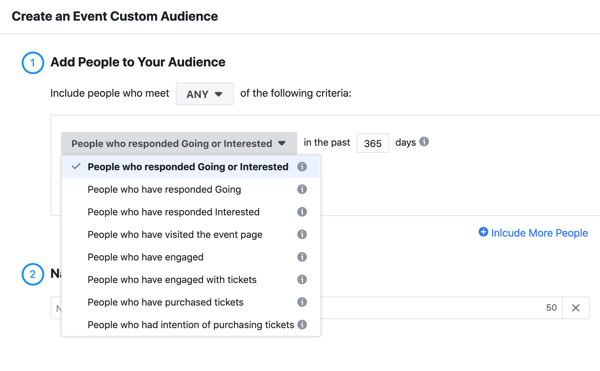 Target Your Custom Audiences
Now you can tailor your follow-up messages to your audiences based on how they interacted with your event. Use this framework for your next communication with them because it will build both curiosity and connection.
Here are some examples of messaging you might use with people who didn't attend your event but showed an interest.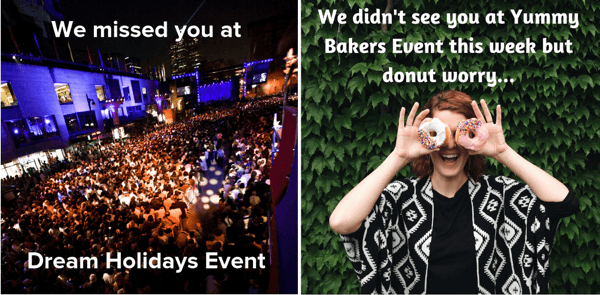 Make sure your nurturing cycle for these potential customers is set up to run over a number of weeks because many people (especially for events that attract a high number of visitors from overseas) will combine attending an event with a vacation.
Understand that your potential customers may not be ready to engage or buy from you while at the event, but your custom audiences will help you reach new prospects and start a conversation with them to be nurtured and followed up on later.
Conclusion
Facebook can play a vital role in driving awareness and ultimately ticket sales and attendance for your event. In addition, it provides a great opportunity to connect with attendees during the event and deepen your relationship with them after it ends. You can also gather precious data to use later in nurturing leads.
Make sure you have a game plan in place for how you'll engage before, during, and after the event. Know which tactics, ads, and offers you'll use and in what order to maximize your reach from the event.
What do you think? Which of these tactics will you use to promote your event on Facebook? Do you have any tips to add to this list? Please share your thoughts in the comments below.
More articles on promoting live events on Facebook: