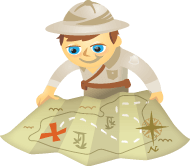 Want to learn how to publish Instagram Stories?
Wondering how engagement works for Stories on Instagram?
Instagram Stories allow you to record live video or take photos with your smartphone and add them to a story that lasts for only 24 hours.
In this post, you'll discover how to make an Instagram Story and respond to people who engage with your Stories.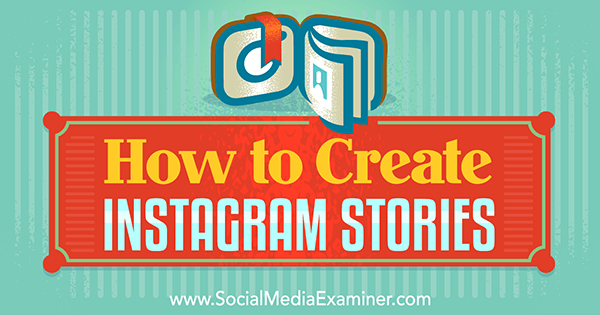 What Instagram Stories Look Like
First, let's look at what Instagram stories look like. When you log into your Instagram app, you'll see the latest Instagram stories by the people you follow at the top of your news feed.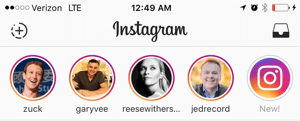 When you tap on one of these circles, you'll see that user's Instagram story for the day in 10-second increments of photos or video.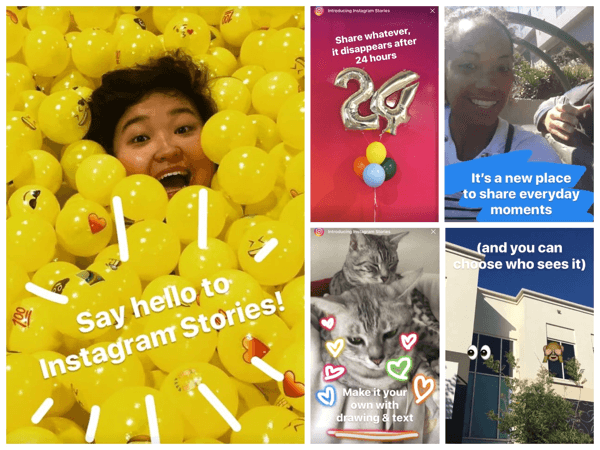 When you visit another Instagram user's profile that has a current story, you'll notice a circle around the user's profile photo. When you click on the profile photo, you'll be taken to that user's current story.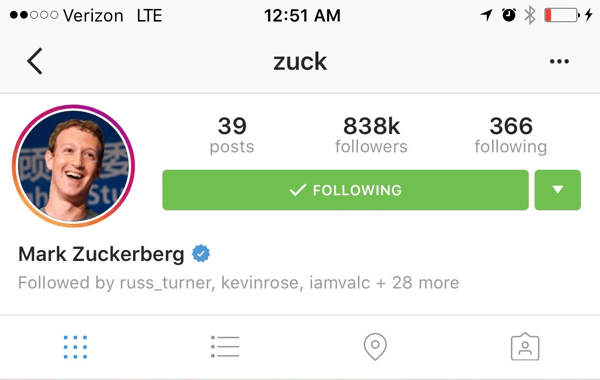 When you view a story where the creator allows messaging, you'll see the option to send a message at the bottom left of the story. The message will end up in the story creator's Direct Message inbox, as opposed to a publicly visible comment on the story.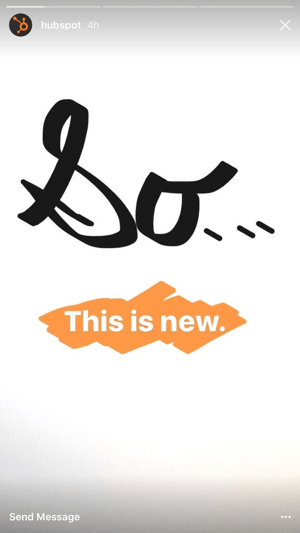 Now that you know how Instagram stories look, let's examine how you can create one for your business.
#1: Update Your Instagram App to Access the Stories Feature
Your first job is to update your Instagram app to see if you have the ability to create Instagram Stories. On the App Store, the update looks like this.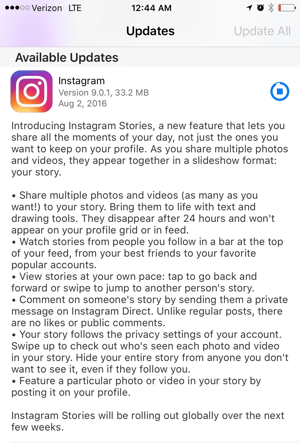 Once you've downloaded this update, you should see the new feature at the top of your Instagram app, along with the latest stories from those you follow who are already using it.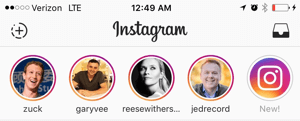 #2: Configure Your Story Settings
When it comes to Instagram Stories, you have two options. You can modify your privacy settings for each individual story you publish or for all of your stories from your main Instagram settings. To do the latter, go to your Instagram profile and click on the settings wheel icon at the top right.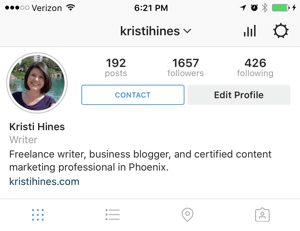 Next, click on the Story Settings under the Account section.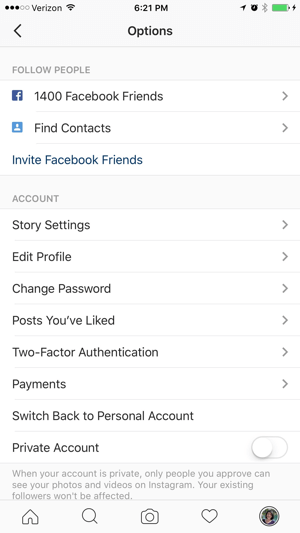 From here, you can select specific people whom you do not want to see your stories. You can also choose whom you want to be able to send you messages from your stories.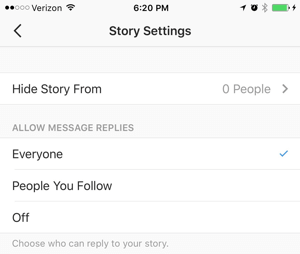 Note that these are the same settings you'll have for each individual story you publish as well.
#3: Create Your First Instagram Story
When you're ready to create your first story, tap on the circled + button at the top left of your Instagram screen.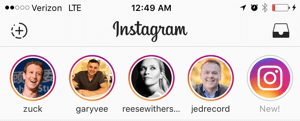 From here, you can use the icons at the bottom of your screen from left to right to configure flash settings (if you're taking a photo), take a photo or video, or switch the camera from front- to rear-facing. If you tap and hold the center button, you can record a 10-second video.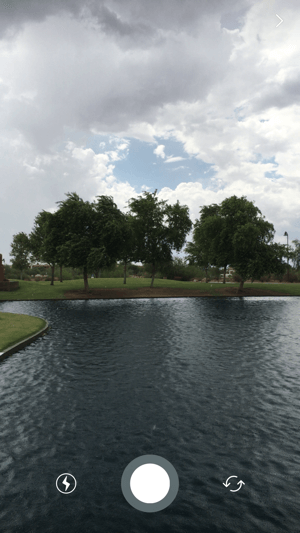 Note that you can turn your camera orientation to landscape, but Instagram will post your photo or video in portrait mode to your story.
Once you finish taking your photo or recording your video, you have the option to add text or draw on your photo or video using the options at the top right of the screen. At the bottom of the screen, you have the options to cancel and start over, or download the photo or video to your camera roll.
Once you're satisfied, tap on the checkmark at the bottom to add the photo or video to your story.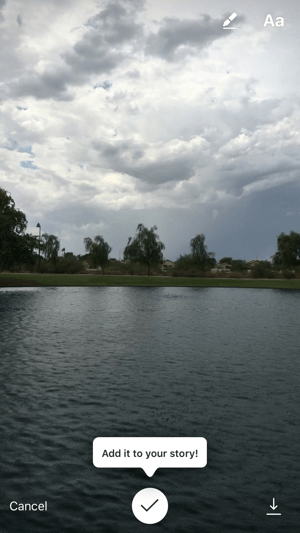 Once you've created your story, you'll see your own profile photo at the top of the news feed. Your photo will always appear first so you can easily access your current story at all times.
Become the Social Media Marketing Rockstar for Your Business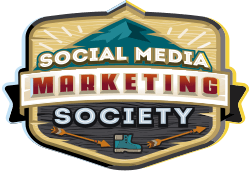 Meet your secret team that makes you look like a social media genius and empowers you to embrace change! We're a genuine community of marketers from your friends at Social Media Examiner. And we're here to support you. Think of us as your career insurance policy. We keep you focused on what matters. We make sure you won't be left behind as the changes keep coming. Join the Social Media Marketing Society. Get access to monthly online training, expert support, and a thriving community of marketers who will empower you to succeed.
CLICK HERE TO ENVISION A BETTER FUTURE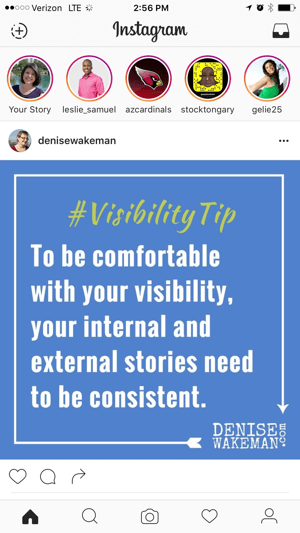 If you want to add to your story, tap on the circled + icon at the top left to record video or take a photo. Each new video or photo you take will be added to the end of your story and lasts for 24 hours.
#4: Edit Portions of Your Story
When you first tap on your story, you'll see three dots at the bottom right. Tap the three dots to bring up the following options.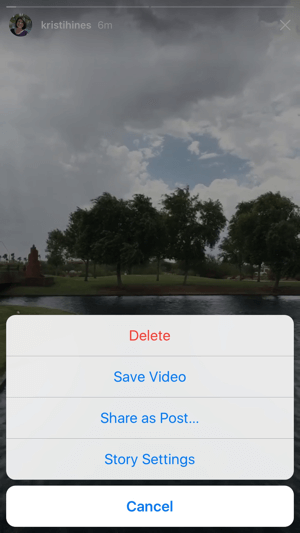 Note that each of these options applies to each 10-second increment (photo or video) of your story. This means that you can do the following:
Delete the part of the story you're viewing.
Save the photo or video portion of the story you're viewing.
Share the photo or video portion of the story you're viewing as a post on your Instagram profile.
Change the story settings for the portion of the story you're viewing.
As you add more photos and videos to your story, the same applies. You can delete individual photo or video portions of the story, save individual portions of the story, etc.
#5: View Analytics for Your Story
When people start to view your story, you'll see a number at the bottom of each portion of your story.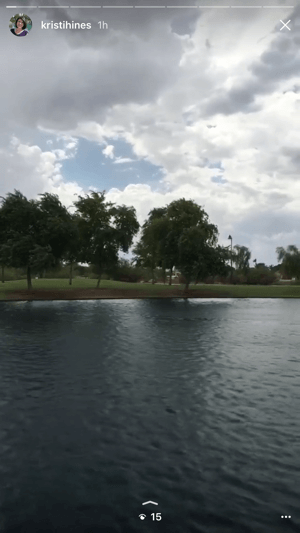 You can swipe up on that number to see more details such as how many views you have for each portion of your story and who viewed those portions of your story.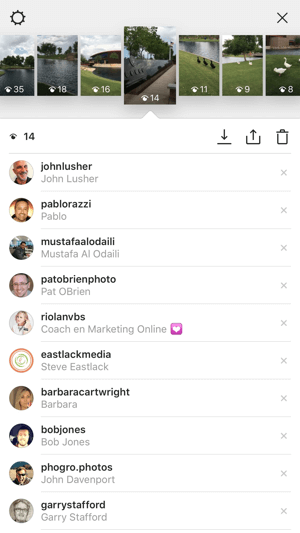 From this view, you can also download the photo and video portions of your story, share the photo and video portions of your story as a post to your Instagram profile, or delete the photo and video portions of your story. You can change your story settings using the settings wheel icon at the top left.
How can you use these analytics? Let's say that you have one particular photo or video that is getting a lot of views. You may want to share that to your profile and use it to encourage more people to view your story. Or, if you notice a significant drop-off of views at a particular part of your story, you might want to delete that photo or video to see if people will continue viewing past that point once you've removed that particular photo or video.
#6: Review Messages From Your Stories
If you give viewers the option of sending you a message from your story, you'll need to be vigilant about checking your inbox. Keep in mind, too, that when someone that you don't follow sends you a message, it will end up as a message request, and you won't get notified that the person sent you a message about your story.
To check your messages, tap on the message box at the top right of your Instagram screen.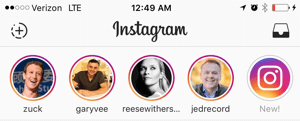 There, you'll see whether you have messages and message requests. It's somewhat similar to the filtered messages you have in your Facebook Messenger.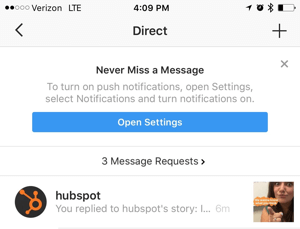 When you tap on the Message Requests link, you may find some spam, but you may also find some messages in response to your story. Those will come complete with a snapshot of the portion of your story where the user sent you the message.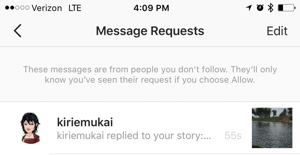 If you encourage messages from your stories, be sure to reply to them, as the whole point to social media is to engage with your audience!
By the same token, if you respond to other people's stories, your message will end up in the same place. If you really want a reply, you might need to ping them in a comment on one of their actual Instagram posts because they might not know your message is being hidden from them.
Combine Portions of Your Story Into One Video File
One of the great things that Snapchat allows you to do is download your entire story from the day into one video file. Unfortunately, Instagram does not have that option. Not yet at least. You can only download each photo or video of your story individually.
If you want to combine your Instagram story into one movie file to share on your Instagram profile as a post (assuming it's under 60 seconds long) or on other social networks, you'll need to find a third-party app to combine the photos and videos from your story.
If you've used only photos, you can use apps like PhotoGrid, collage-making apps, or slideshow apps to combine your most-viewed photos into one photo or a video slideshow of photos.
For videos, you'll need to find an app that can merge video on your phone or on your desktop. There are a lot out there, but some are configured to handle just landscape video, and others will watermark your video or allow you to add only so many clips in before they charge you. So a lot will depend on how badly you want to create that one combined story for the day to repurpose and share elsewhere.
In Conclusion
With the new Instagram algorithm in place, it's important to find ways to rise to the top of the news feed. By adding new content to your Instagram story, you can keep your business at the top of your followers' news feeds throughout the day. The key is knowing when they'll be online and what type of live content will keep their attention!
What do you think? Are you using Instagram Stories? What has been the reception so far? Let us know in the comments below.