Want more qualified leads from Instagram? Looking for a simple step-by-step framework to follow to improve your lead gen efforts?
In this article, you'll discover five ways to drive better leads with Instagram ads.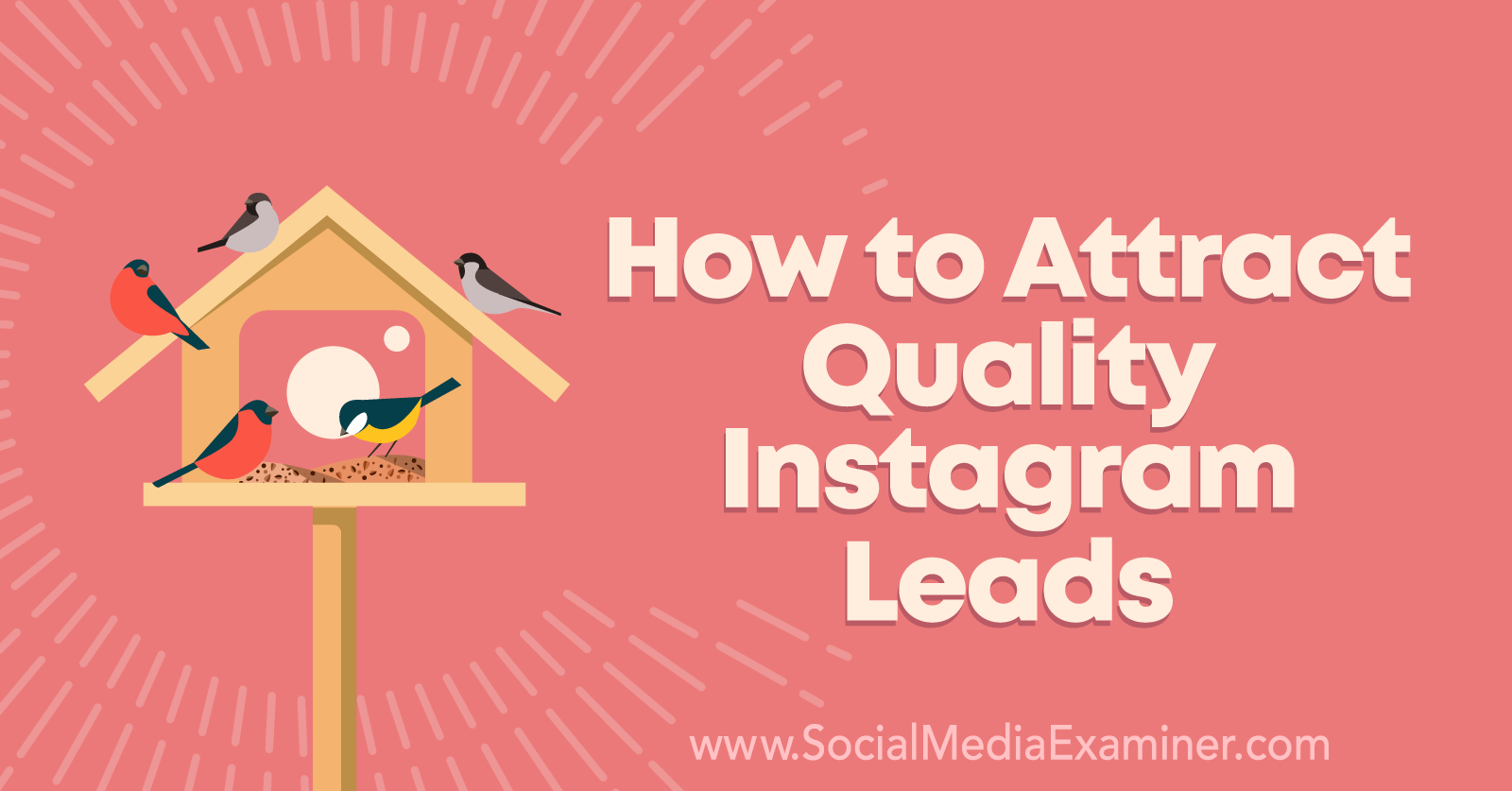 #1: Collect Lead Details on Instagram
With Ads Manager's lead generation objective, you can qualify prospects and collect their contact details right in the Instagram app. Campaigns with this objective can use either automated chat or instant forms for lead generation.
When you go with automated chat, you essentially set up a chatbot to engage with your target audience. If you ask the right questions, you can automate the qualification aspect of lead gen and easily determine if prospects are good fits for your business.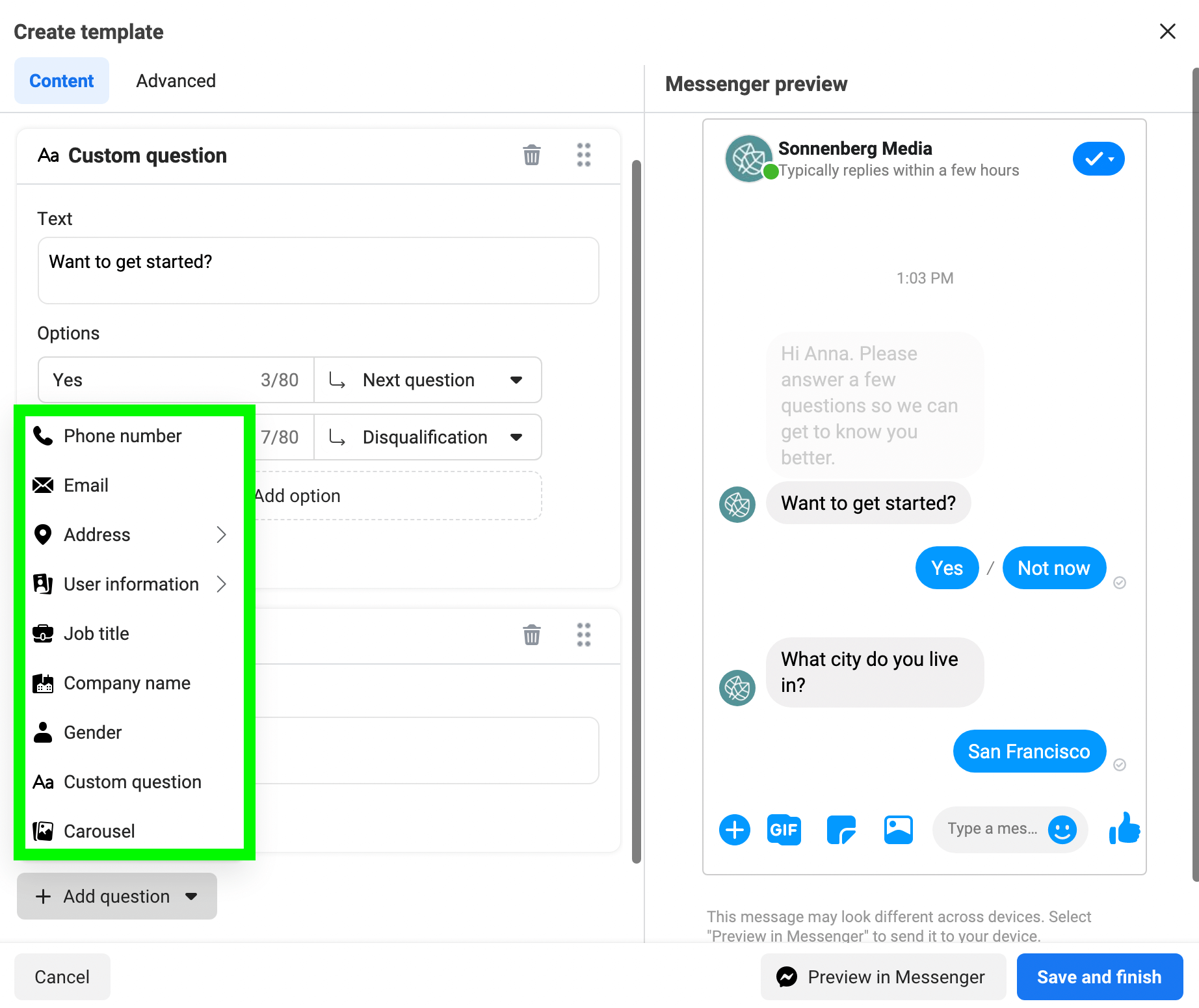 For example, you can ask about users' job titles and employers, needs and interests, and even purchase intent. If they don't sound like the right fit, you can automatically disqualify them with no hard feelings. But if they sound like leads worth pursuing, you can request phone numbers and emails so you can follow up with them outside of Instagram.
When you go with instant forms, you can ask qualifying questions and collect contact details, with no need for an automated back-and-forth conversation. Because instant forms autofill with basic user information and contact details, prospects can complete them relatively painlessly.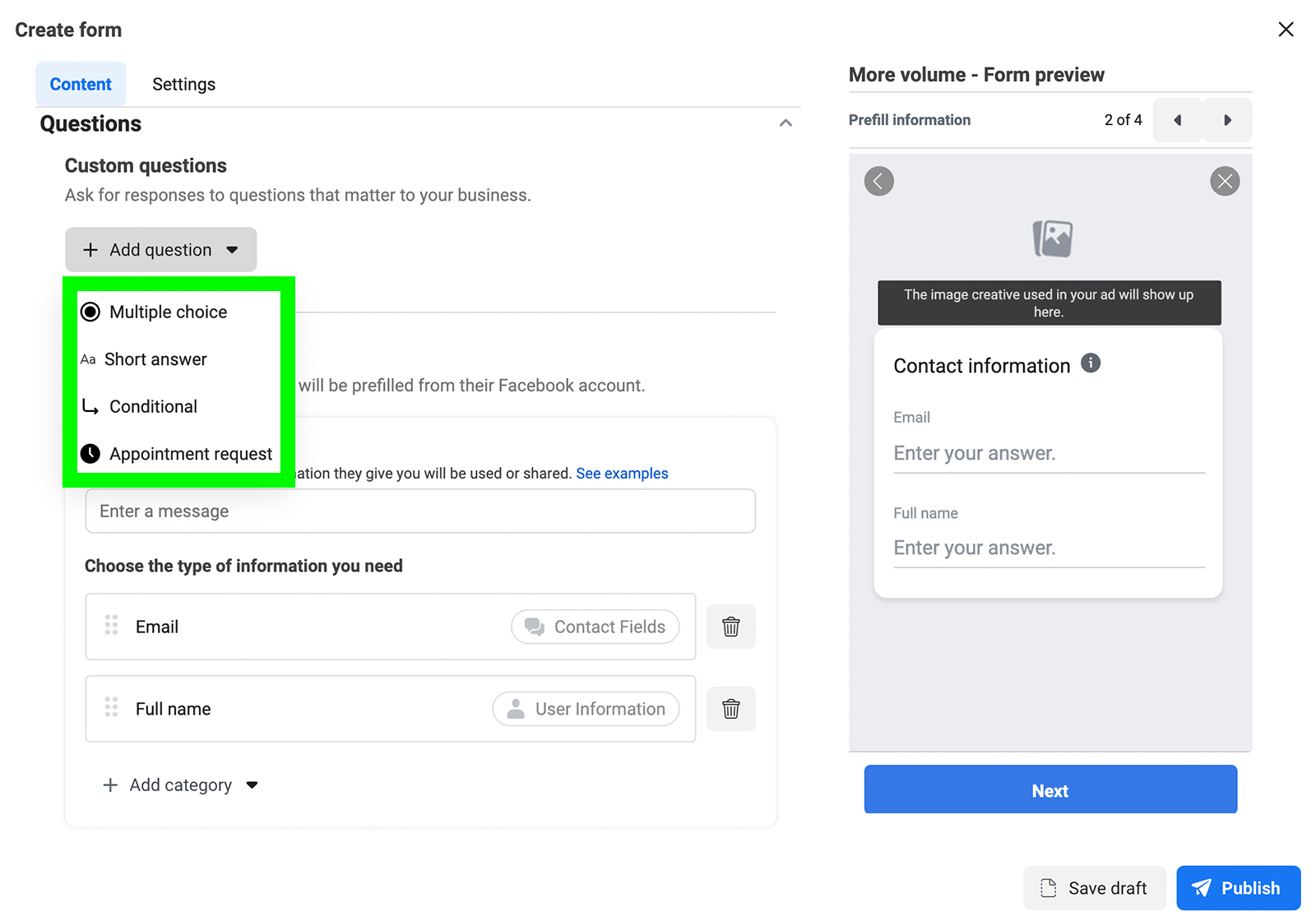 To meet your campaign goals effectively, you can design instant forms for more volume or higher intent. You can also use the number and detail level of your questions to drive lead quality. For example, asking more in-depth questions is likely to attract a smaller group of prospects who are more likely to convert.
Pros of Using the Lead Generation Objective
The biggest benefit of this objective is that the end result—lead generation—takes place in the Instagram app. There's no need to get prospects to click out of the app and you won't run into the reporting issues that may arise with tracking conversions outside of Instagram.
Cons of Using the Lead Generation Objective
Prospects who chat with your business or fill out your instant form won't necessarily visit your website. If you run multi-channel ad campaigns that depend on website analytics, then using this objective could compromise your ability to retarget on other channels.
#2: Collect Lead Details Off Instagram
With the conversions objective, you can get prospects to self-qualify and submit their contact information outside of Instagram. Campaigns with this objective use conversion events to drive actions on your website or in your app.
When it comes to conversion events, Ads Manager allows for extensive customization. That means you can set them up in almost any way that works for your business or campaign. How does your team define a lead? You can optimize campaigns to get more form submissions, completed registrations, free trials, or other outcomes that align with critical steps in your sales funnel.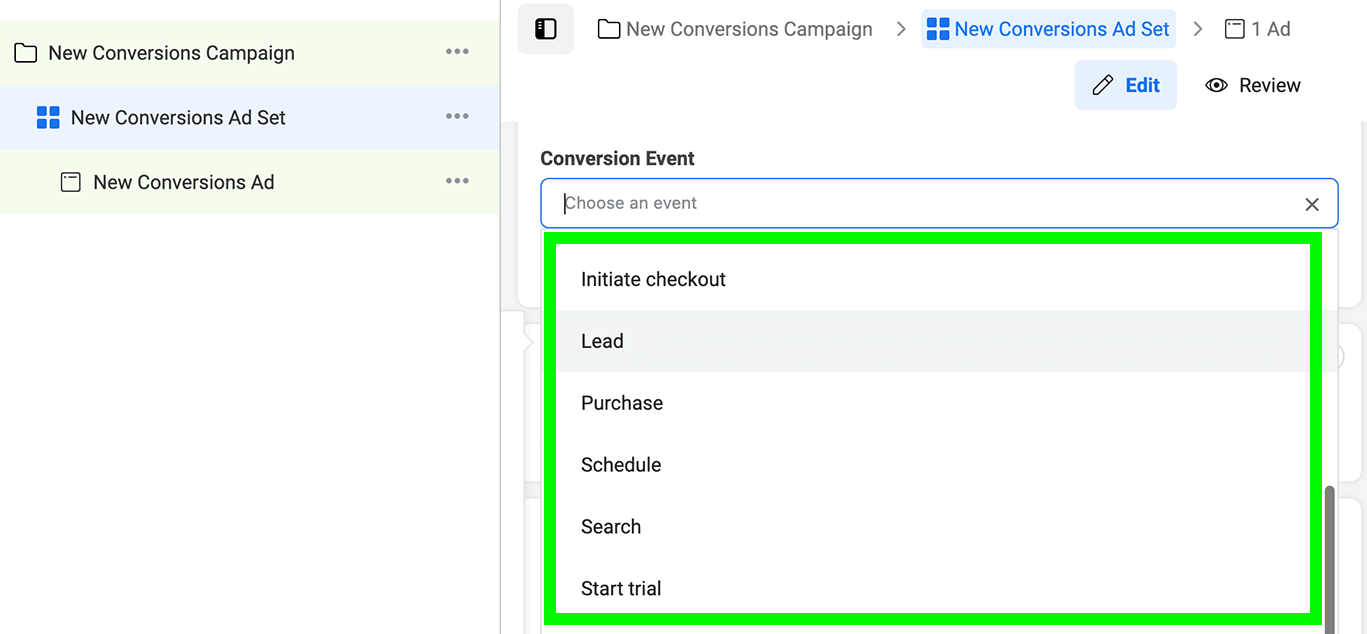 Pros of Using the Conversions Objective
Compared to the lead generation objective, the conversions objective is much more flexible. When you build a conversions campaign, you can define lead generation and configure events in the optimal way for your business. Because this objective requires prospects to visit your website or app, you can track their actions and remarket to them on more platforms.
Cons of Using the Conversions Objective
However, Ads Manager reporting for conversion events is delayed (by 72 hours) and relatively limited in scope, especially when it comes to breakdowns. That means you may not be able to access in-depth insights for the audience segments that responded to your ads.
Due to iOS-related privacy issues, Ads Manager may not be able to build comprehensive remarketing audiences from your website data. That may limit your website retargeting capabilities on Facebook and Instagram.
The Conference You've Been Waiting For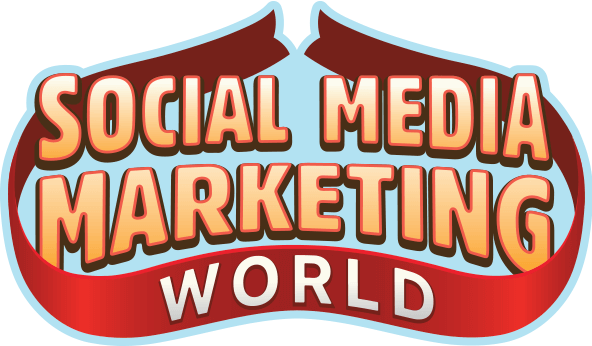 As a small business marketer, you can probably only pick one or two events to attend each year. Get back into the game with an unbeatable conference experience and expert training at Social Media Marketing World in sunny San Diego, California—from your friends at Social Media Examiner.
🔥🔥 As a valued reader, you can save $640 if you act now! Sale Ends Tuesday!
CLICK HERE TO LEARN MORE
Set Up Conversion Events
When you choose the conversions objective, you have to optimize for a specific conversion event at the ad set level. It's worth reviewing your event setup every time you launch a campaign to make sure you're prioritizing the right outcomes.
To get started with configuration, open Events Manager and locate your Facebook pixel in the list of available data sources. Select the Aggregated Event Measurement tab, and then click the Configure Web Events button. (If you haven't set up a pixel or verified your business' domain, follow the linked instructions first.)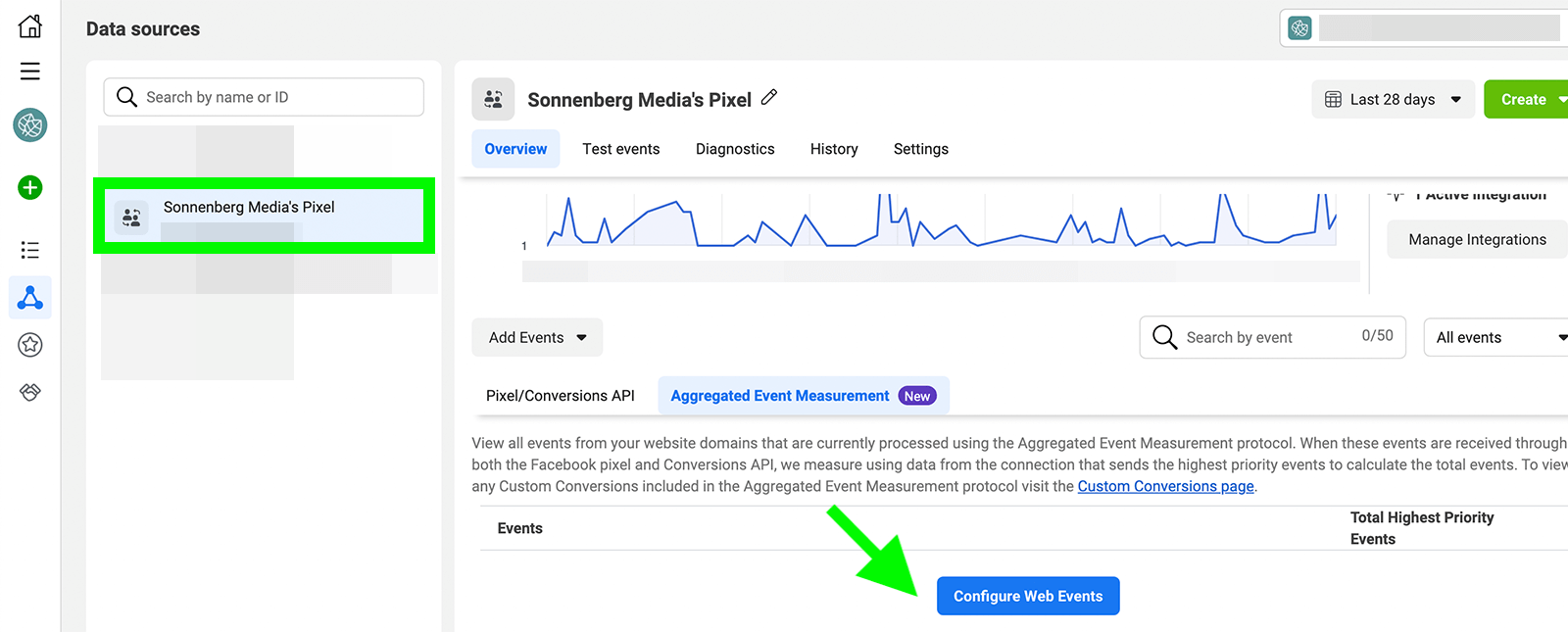 Next, click the green Add Events button to begin tracking the leads and conversions that matter to your business. Under Event Name, choose the standard events that align with your lead generation process such as Lead, Schedule, or Subscribe.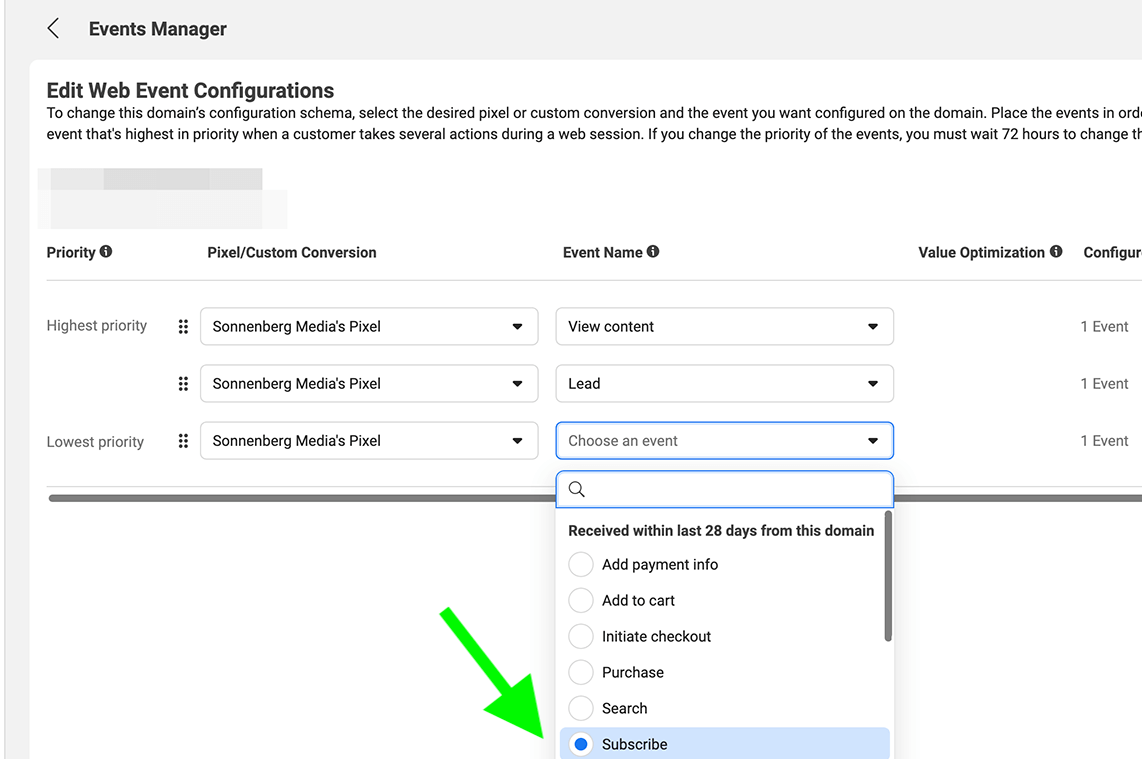 While you're at it, configure the conversion events that align with the very bottom of your sales funnel (like Purchase). While you won't use them with lead generation campaigns, you may use them to retarget leads further down the line. Altogether, you can add up to eight events per domain so choose wisely.
You aren't limited to Events Manager's standard events either. You can also create custom conversion events that match the actions you want leads to complete on your website. Add the URL where the custom conversion takes place, enter an optional value, and add the event to your list.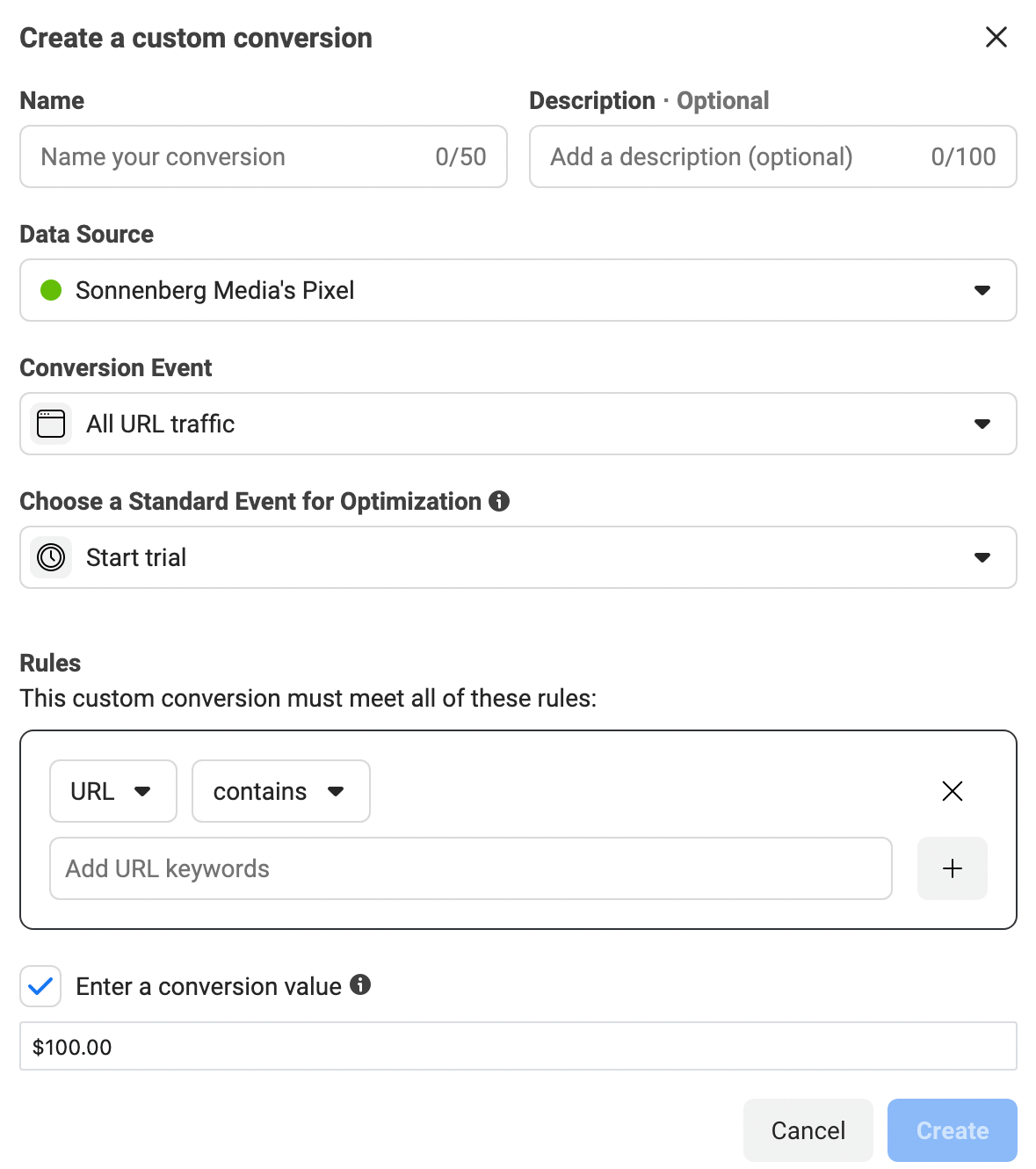 Finally, drag and drop all of the conversions you've added, placing the highest-priority event at the top of the list. Keep in mind that Ads Manager reports one event per user in a given conversion window, even if the user completed several conversion actions. If the conversions you care about most (like Leads) are below more common but less-critical events (like View Content), Ads Manager may not be able to report accurately on your lead generation efforts.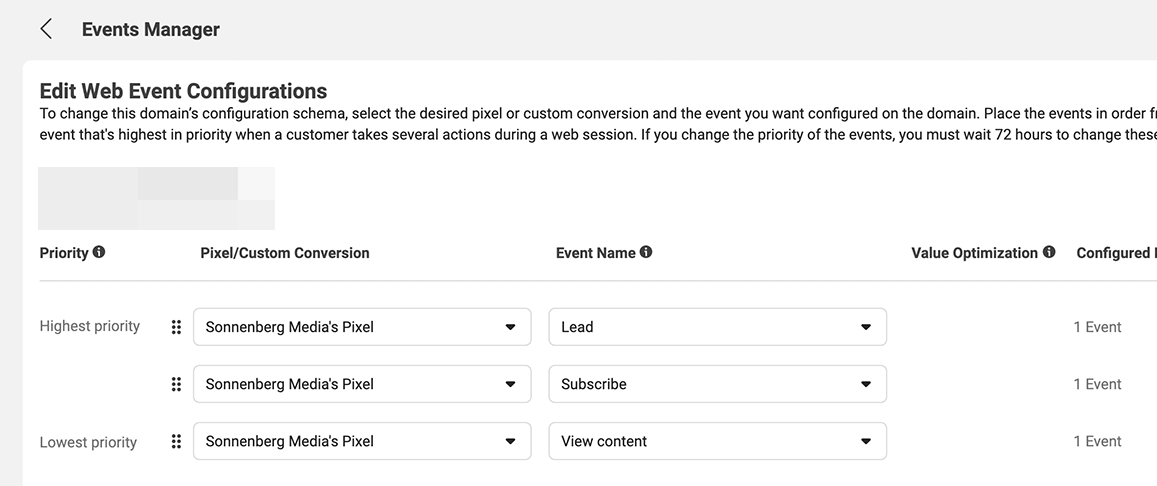 In most cases, this list should look a lot like the major steps in your sales funnel, only in reverse. The lowest-priority conversions should be upper-funnel steps (like View Content or Search), while the highest-priority events should be lower-funnel steps (like Lead, Start Trial, or Purchase).
#3: Build Remarketing Audiences to Maximize Budget and Target Warm Prospects
Without the right audience, lead generation can be unnecessarily expensive and produce disappointing results. To keep your costs in check and get the leads you want, use the guidelines below to build audiences that are more likely to convert.
Target Audiences by Instagram Account Activity
Does your business have a strong Instagram organic strategy that generates a lot of engagement? Have you already run paid content to drive awareness or engagement? Your Instagram account can be a useful data source for lead generation.
Get Expert Social Media Marketing Training from the Pros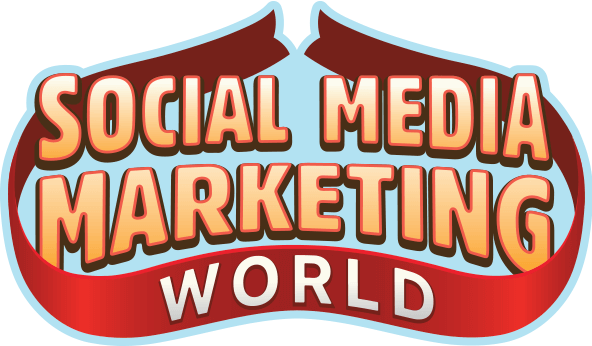 Want to get ahead of the competition and learn how to diversify your social marketing strategy?
Learn from the industry's most trusted experts, rub elbows with other smart marketers, and take your marketing to the next level during this 3-day event in sunny San Diego, California.
CLICK TO LEARN MORE
At the ad set level, create a new custom audience using your Instagram account as the source. Then choose the event you want to target. For lead generation, consider focusing on an audience that's shown a higher level of intent. For example, you might choose people who saved or engaged with a post or ad or people who have messaged your account.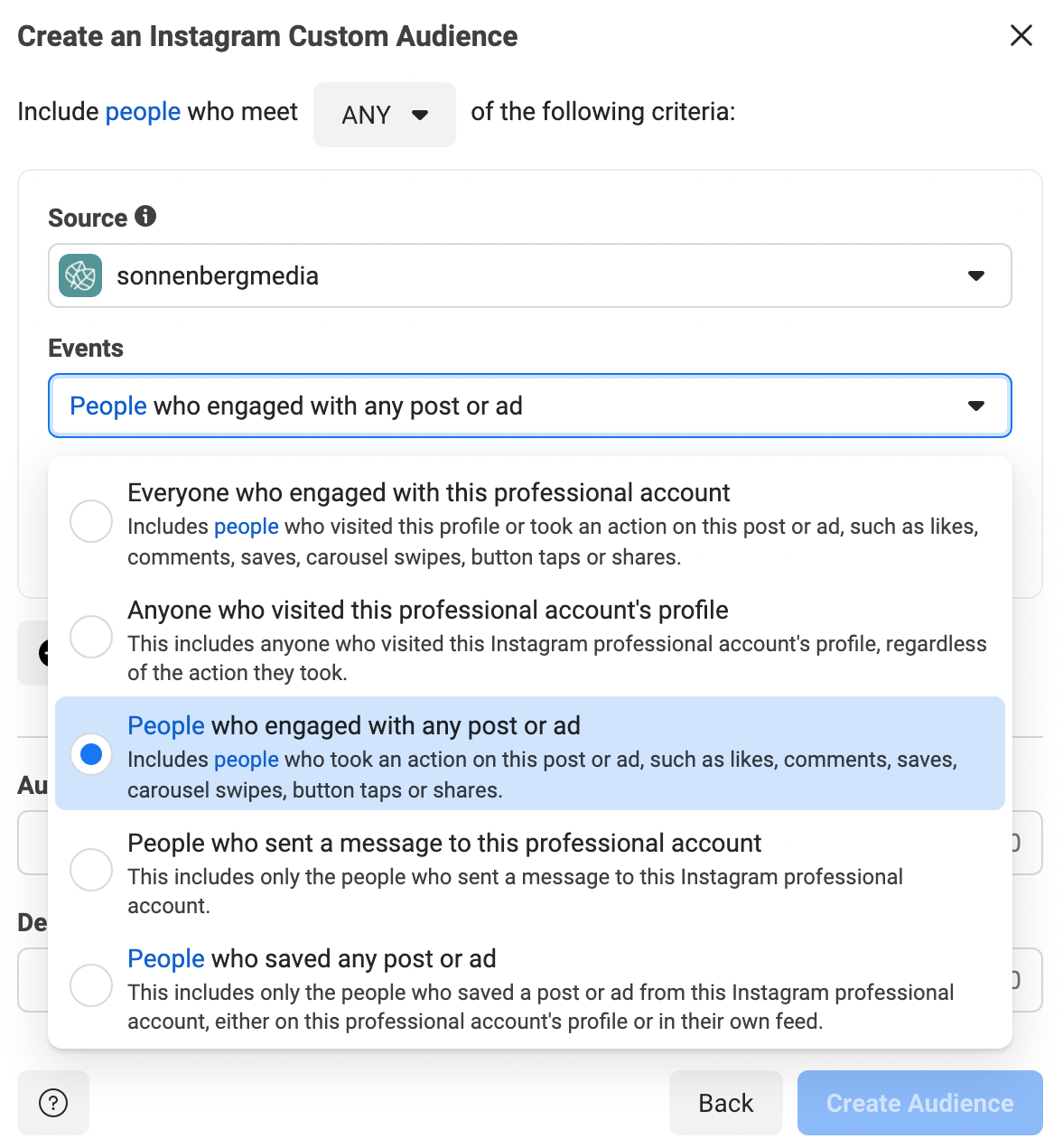 To add multiple groups to a single custom audience, click the Include More People button. Then choose another high-intent event to target and save the audience.
Target Users on Your Customer List
Do you have a list of prospects who've already shown interest in your business? Are you ready to guide them further along your sales funnel and get them closer to a conversion? Your customer list can also be an excellent data source for lead generation.
When creating a new custom audience, choose Customer List as the source. Then upload the list using a template or import it from an integrated service like Mailchimp.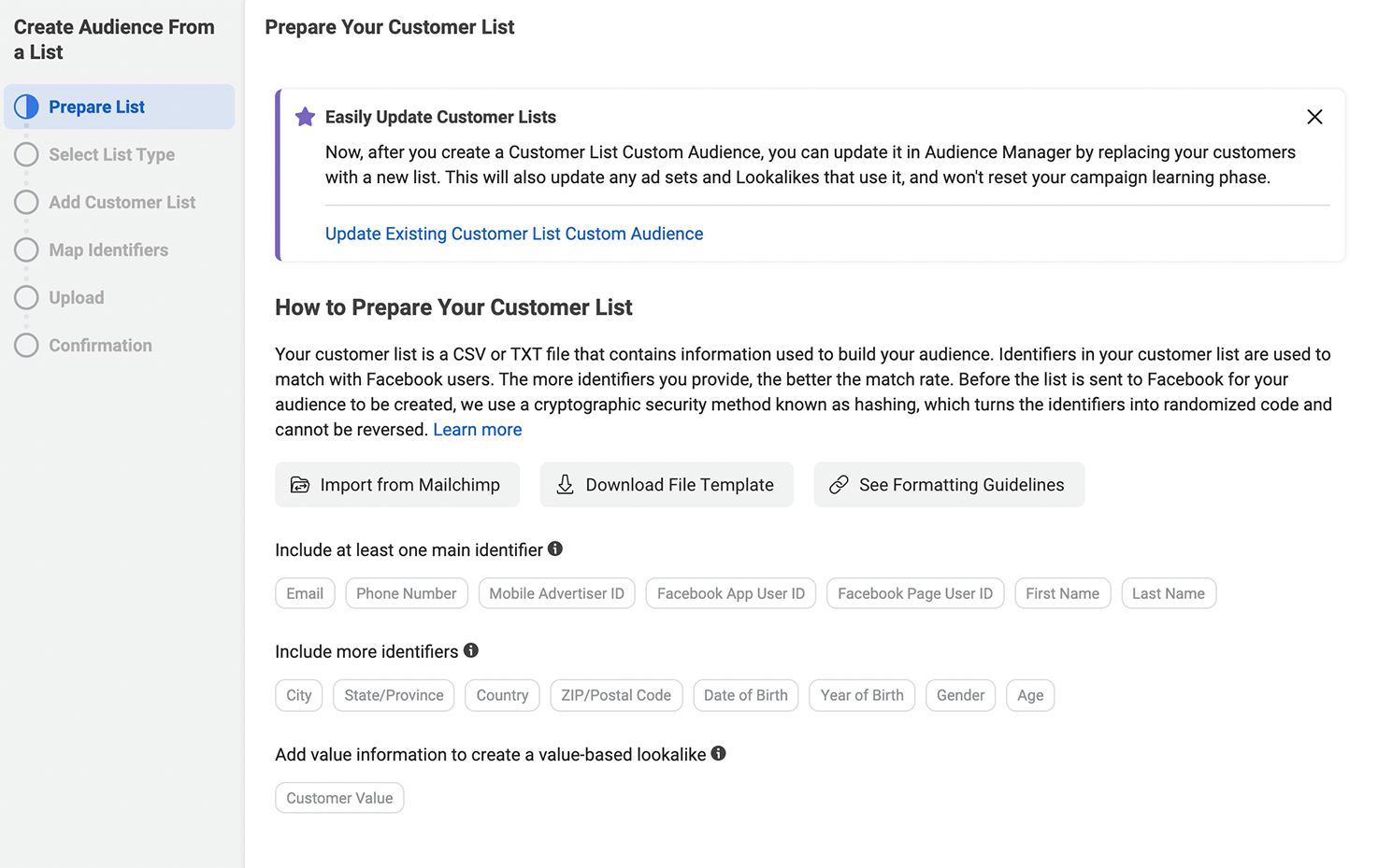 For best results, don't upload your entire customer list to create a lead generation audience. Instead, filter out cold leads and current customers to create a segment that includes prospects or warm leads only. That way, you can target the people who are most likely to respond to your offer.
Target Users by Website Activity
Does your lead generation strategy drive a lot of traffic to your website? Does your site have content geared toward people at specific stages of the sales funnel? You can use your website as a valuable data source for your custom audience.
To target the most responsive audience, avoid choosing all website visitors. Instead, target visitors who spent longer than average on your site or those who visited specific pages. For the latter, choose pages geared toward highly engaged prospects who've demonstrated an intent to purchase.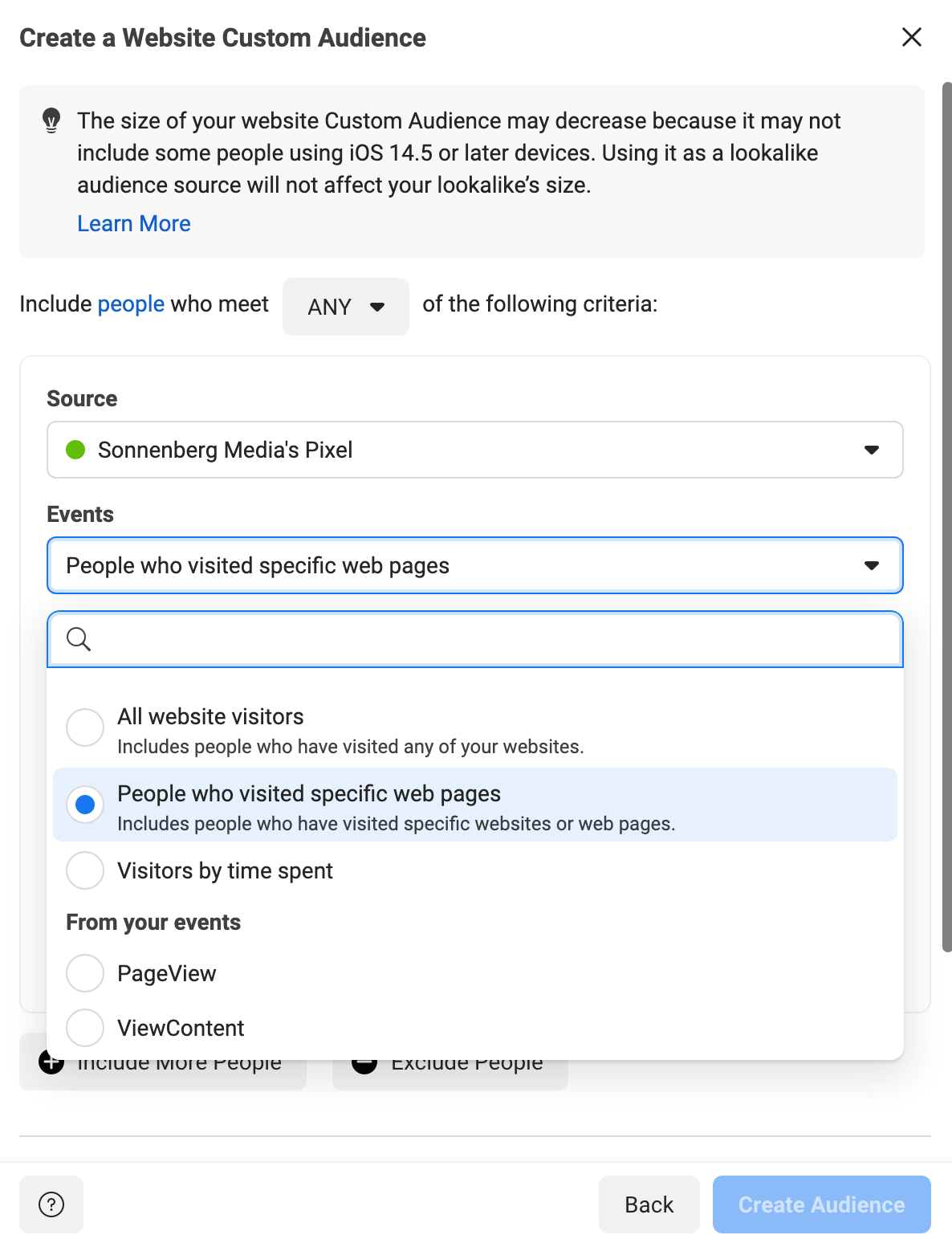 #4: Design Creative That Attracts and Captures Leads
Choosing the right target audience, campaign objective, and conversion event is a great start. Next, you need an ad. Use the ideas below to create an Instagram ad that attracts the leads you want.
Offer a Downloadable Asset
Lead generation campaigns typically work best when you offer something of value. Naturally, prospects are more likely to answer questions or share their contact details when they get something they want in exchange.
So what should you offer? Downloadable assets can provide prospects with useful information, help them navigate a challenge, and increase their trust in your business. From reports and white papers to eBooks and guides, lead magnets come in all shapes and sizes.
For example, this @getshogun Instagram story ad offers a downloadable lead magnet. The blueprint highlights five key pillars of eCommerce to help retailers differentiate their online businesses and create more memorable experiences for customers.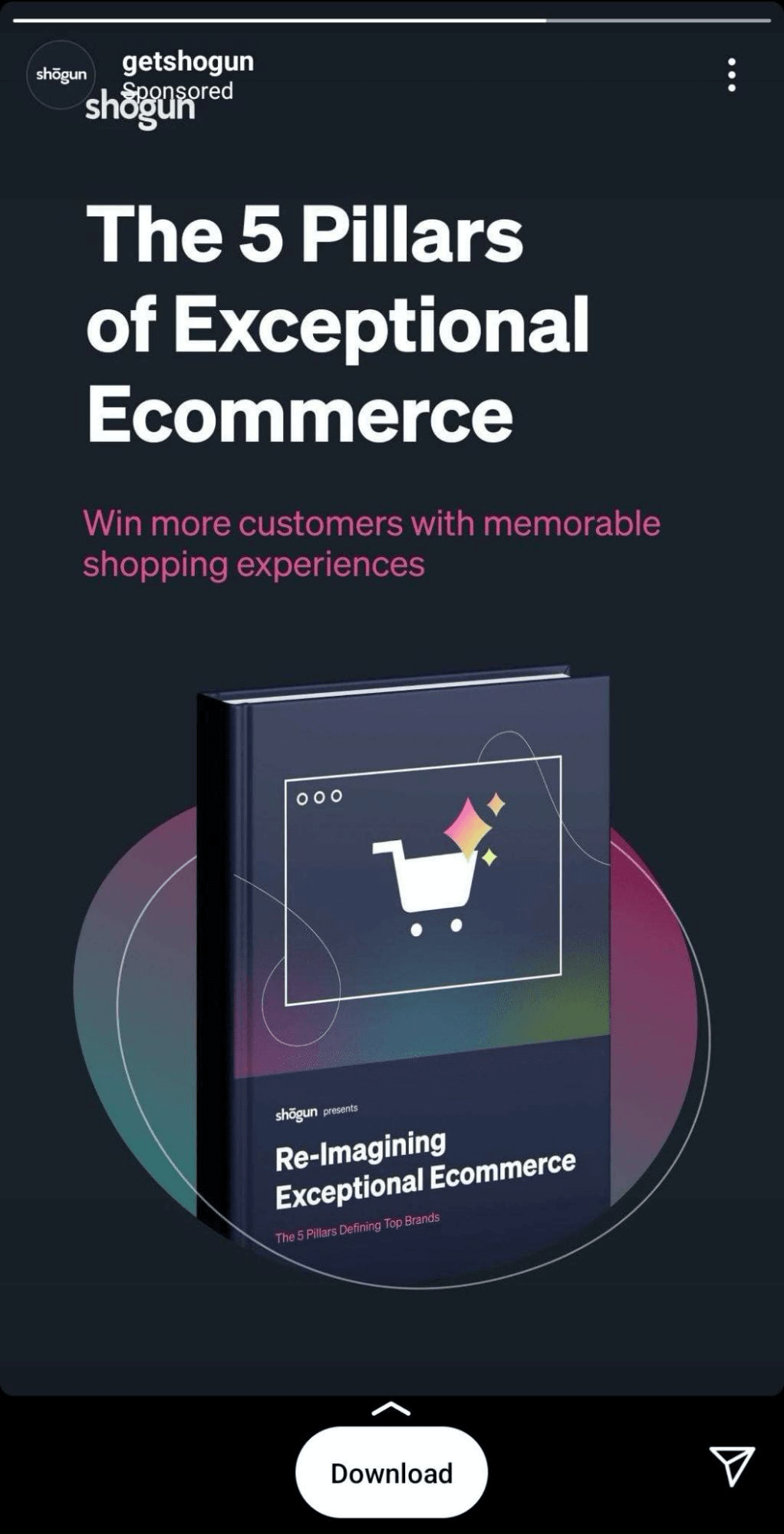 The @shopifyplus Instagram ad below offers a free guide. By sharing their email addresses, prospects can get help resolving site speed issues while self-identifying as potential customers for the eCommerce platform.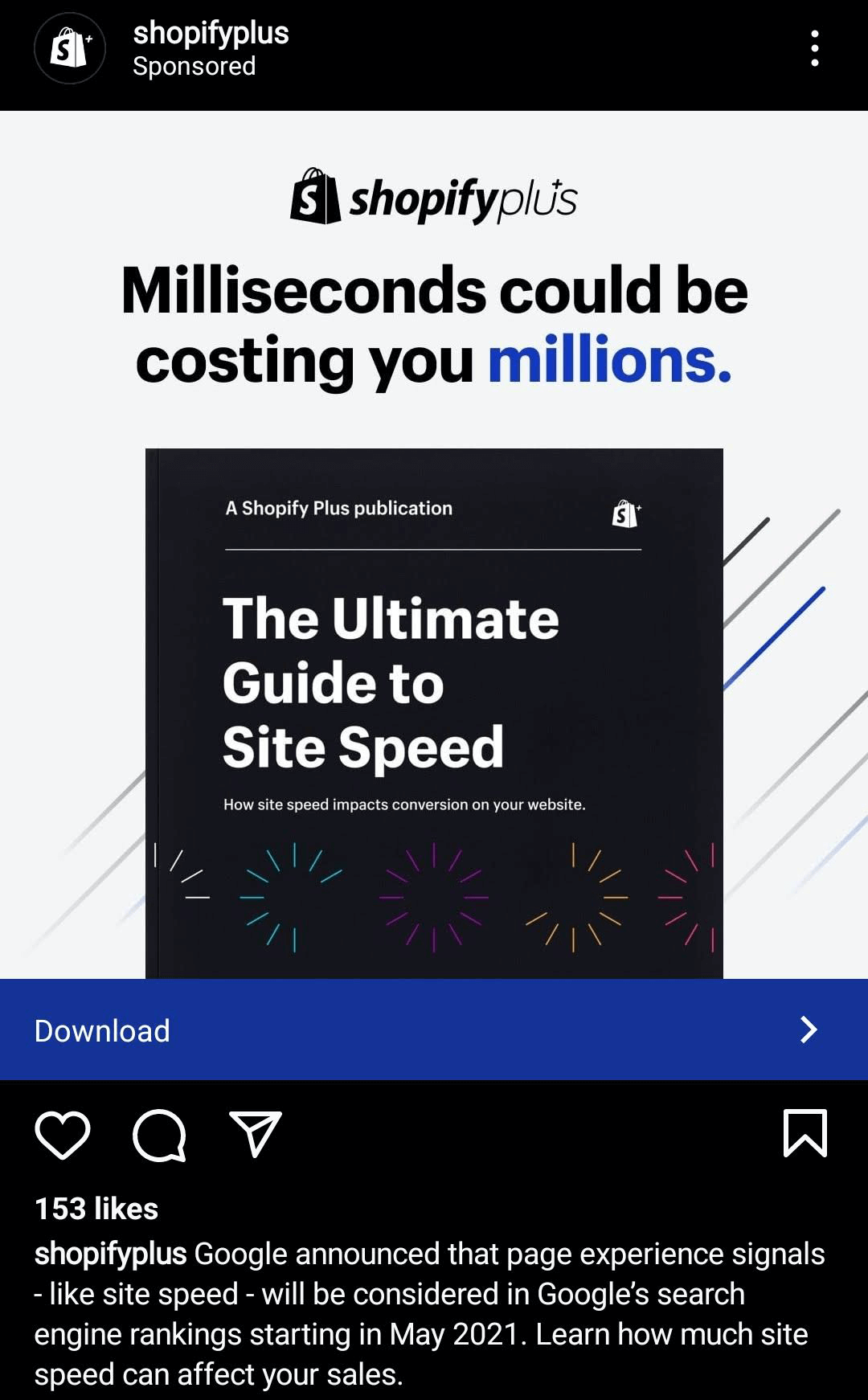 Provide Immediate Guidance That Leads to Next Steps
Downloadable lead magnets are ideal for prospects who want to access research, understand the challenges they're facing, and test DIY solutions. But some prospects want answers quicker, without having to digest an entire eBook.
If your target audience prefers interactive pursuits to downloadable assets, quizzes can be the ideal solution. Because they can also automate the lead qualification process, quizzes can provide serious value for your business.
For example, the @noom Instagram ad below prompts users to take the weight loss brand's quiz. The quiz offers insight into a common concern: how much time users realistically need to reach their goal weight. But the quiz also helps the company understand more about its leads, including reasons for weight loss, lifestyle factors, and health concerns.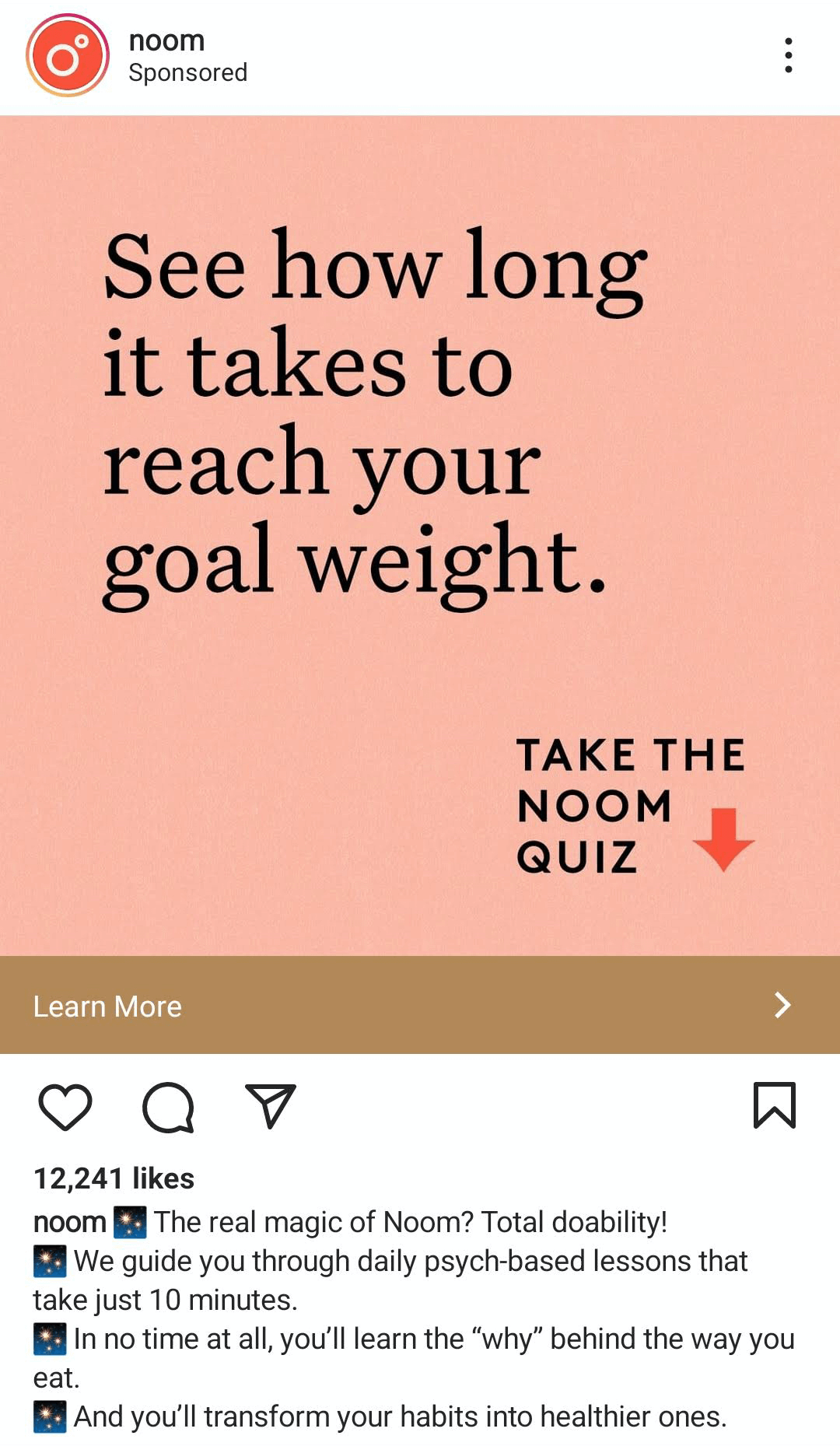 Show a Demo or a Tutorial
When prospects already know your business and are curious about the solution you offer, showing them how it works can be incredibly valuable. A brief walkthrough or mini product demo can give prospects a better idea of what your solution can do for them, which can increase interest levels.
A professionally produced walkthrough can certainly do the job. But in some cases, user-generated content (UGC) can give your Instagram ad a more authentic feel and make your business seem more trustworthy.
For example, the @honeybook Instagram story ad below uses UGC to show prospects how the business management platform works. The ad features a video from a graphic designer, who walks viewers through her onboarding process. Prospects can swipe up to sign up for a free trial as they consider a subscription.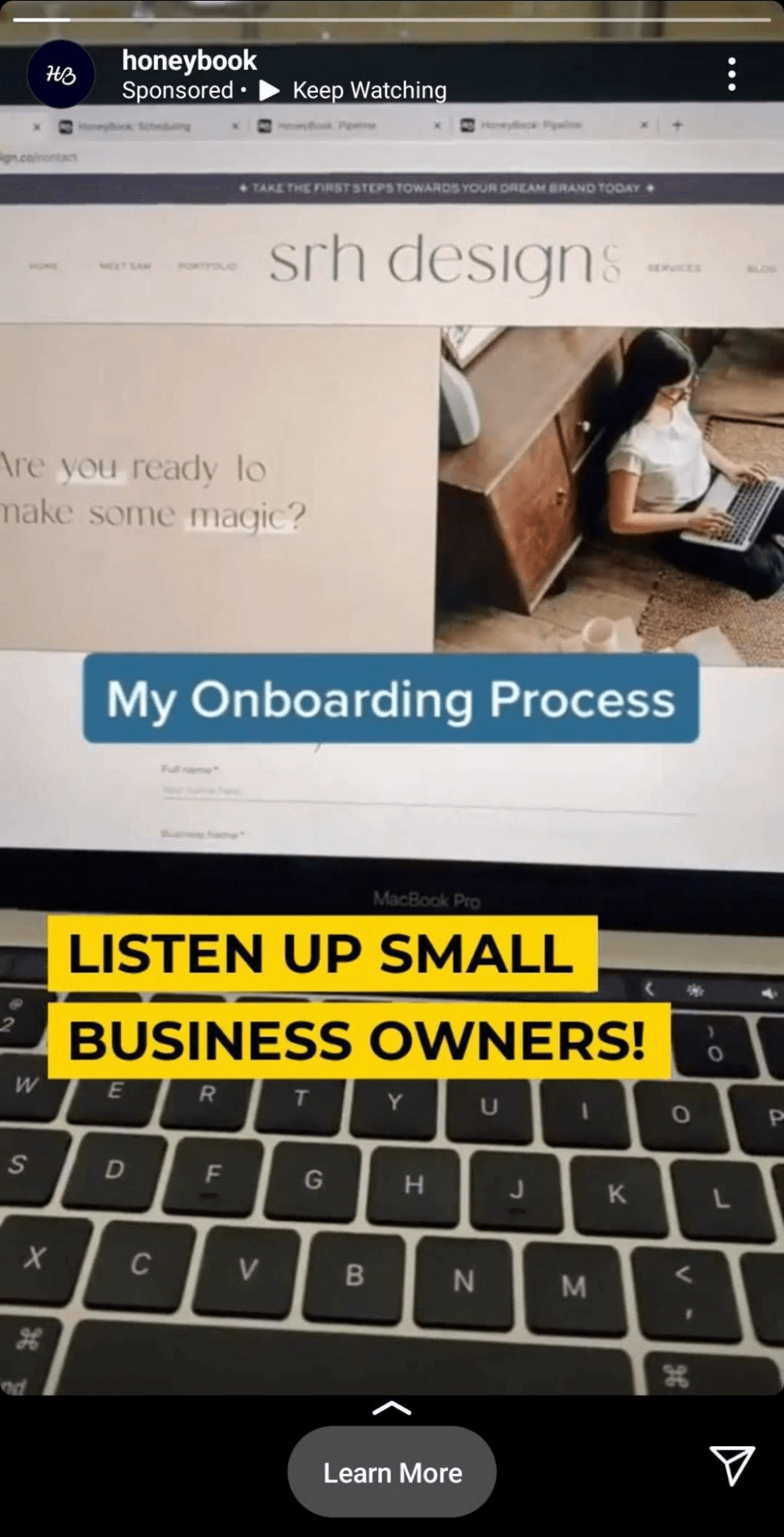 #5: Turn Instagram Qualified Leads Into Customers
Lead generation is a critical mid-funnel objective and a smart way to identify interested prospects. But for most businesses, it isn't the end goal. Instead, the next step is turning those leads into customers.
The good news is that your lead generation campaign has already laid much of the essential groundwork. If you've collected leads' contact information, you can add it to your customer relationship management (CRM) tool and start following up with drip email campaigns or sales calls.
You can also use Ads Manager to remarket to pre-qualified leads on Instagram and Facebook. Using the conversions campaign objective, optimize for one of your highest-priority events (like Purchase or Start Trial). Then create a remarketing audience based on the people who engaged with your lead generation campaign.
Here are a few data sources to consider:
People who messaged your Facebook or Instagram account, especially if your automated chat drove a lot of responses
People who visited the landing page you used for your lead generation campaign, especially if it generated a lot of website traffic
People who engaged with your lead form, especially if it resulted in a lot of opens or submissions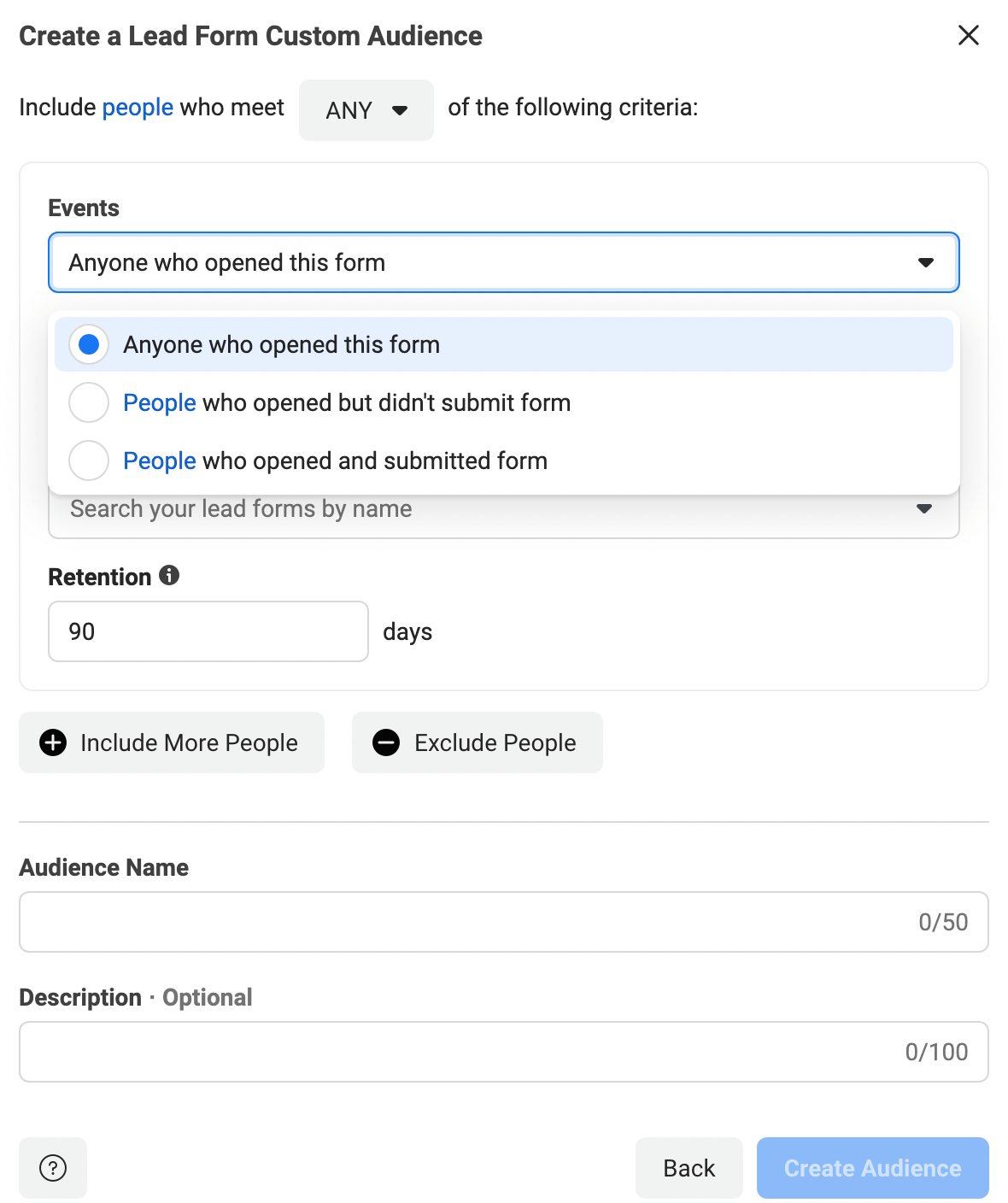 When it comes to conversion campaigns, more qualified leads often contribute to better results. That means you have a better chance of making the sale when you retarget warm leads with an irresistible offer.
Conclusion
Instagram is an ideal platform for lead generation as long as you know how to run successful campaigns. With the right objective, audience, creative, and conversion sequence, you can use Instagram ads to drive lead generation and fill your sales funnel.
Get More Advice on Instagram Marketing
Curious about Web3?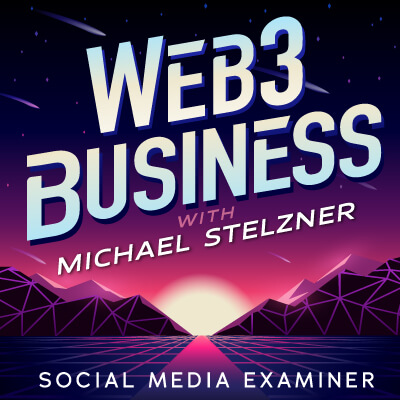 Follow the Web3 Business podcast to find out how Web3 will affect your business in the near future.

Every Friday, host Michael Stelzner interviews leading industry experts about what works right now in Web3 and what to expect in the future, so you can prepare your business for the shift, even if you're a total newbie.
FOLLOW THE SHOW