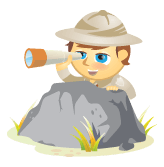 How can wineries use social media to increase sales when the law prohibits them from giving away product samples?
Whitehall Lane, a 20-year-old Napa Valley winery run by the Leonardini family, has hit on a winning social media formula that pays dividends in both increased sales and brand loyalty.
Wineries face special challenges in promoting their business on social media. The federal Alcohol and Tobacco Tax and Trade Bureau, known as the TTB, considers social media "advertising," and regulates what wineries can do.
The regulations primarily affect Whitehall Lane in two different ways. They cannot run contests that give away wine, and they must monitor user-generated content for anything that might promote irresponsible drinking.
"We don't fool around with the TTB regulations," said Katie Leonardini, direct sales manager for Whitehall Lane. But that hasn't stopped them from successfully using social media to grow a loyal fan base outside the tasting room. This in turn has increased both wine club membership and direct sales. Here's how they do it.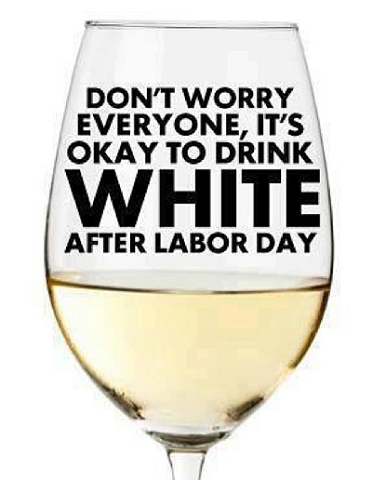 Organization: Whitehall Lane Winery
Social Media Handles & Stats
Highlights
Direct sales have increased month-to-month with no increase in tasting room walk-ins
Wine club member sales increased 39% from September 2012 to September 2013
Wine club member retention has increased to over 99% each month
Wine dinners at partnering restaurants sell out, and wine club signups at the dinners have increased dramatically
Whitehall Lane started using Facebook and Twitter in 2009. They've since expanded onto Instagram, Pinterest and a blog within the last year and a half.
By keeping an eye on their brand while experimenting through trial and error, they've hit on a social media formula that reaches beyond the tasting room by: 1) partnering with complementary brands, 2) rewarding loyal fans and 3) educating and telling stories vs. selling.
Partnering With Complementary Brands
Contests and giveaways are standard tactics on social media for retail brands. But TTB regulations prohibit wineries from giving away alcohol. Whitehall Lane has overcome this challenge through some creative thinking.
Leonardini identifies complementary brands that fit with their objectives for contests. The winery has given away wine glasses and cookbooks, for example. They've also done giveaways with Whitehall Lane estate olive oil.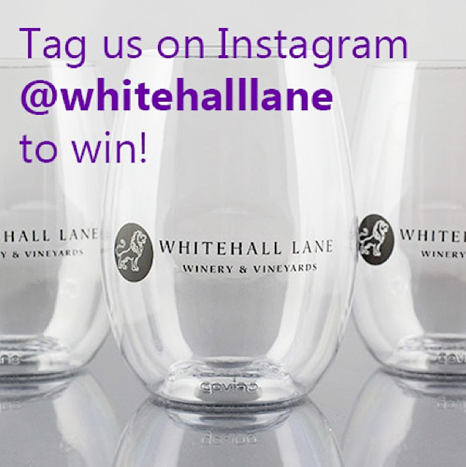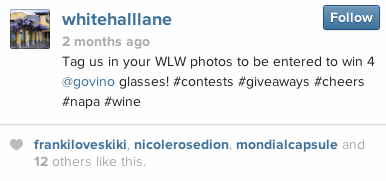 Whitehall Lane also retweets content on Twitter and likes Instagram photos of complementary brands that promote tourism in Napa Valley.
The Conference You've Been Waiting For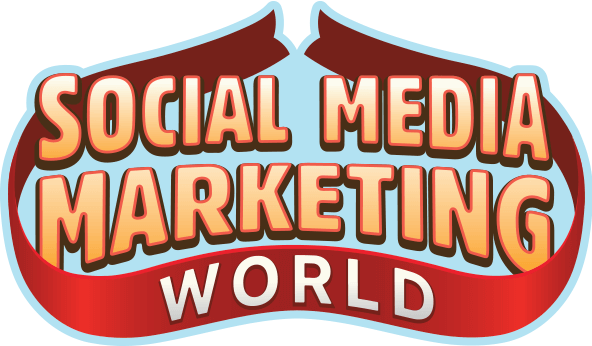 As a small business marketer, you can probably only pick one or two events to attend each year. Get back into the game with an unbeatable conference experience and expert training at Social Media Marketing World in sunny San Diego, California—from your friends at Social Media Examiner.
🔥🔥 As a valued reader, you can save $640 if you act now! Sale Ends Tuesday!
CLICK HERE TO LEARN MORE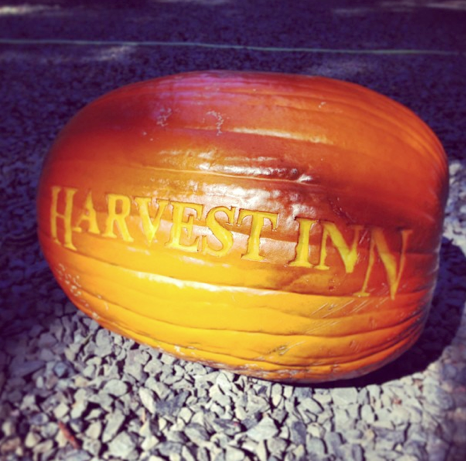 Rewarding Loyal Fans
Whitehall Lane does not run contests on social media to get new followers. They run them to reward existing fans. "It's never a refer-a-friend type of contest," said Leonardini.
They would rather use contests to collect email addresses of current fans for their database than inflate follower numbers with people who aren't true fans of their brand. Whitehall Lane also does not advertise on Facebook.
Get Expert Social Media Marketing Training from the Pros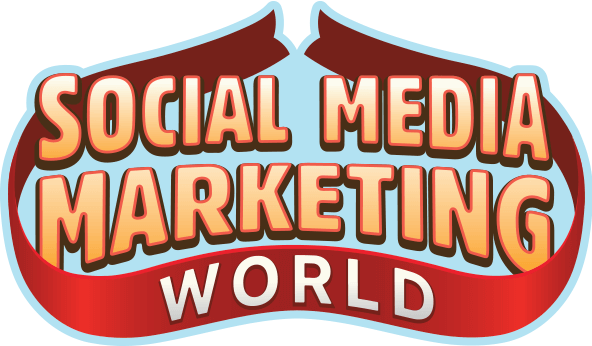 Want to get ahead of the competition and learn how to diversify your social marketing strategy?
Learn from the industry's most trusted experts, rub elbows with other smart marketers, and take your marketing to the next level during this 3-day event in sunny San Diego, California.
CLICK TO LEARN MORE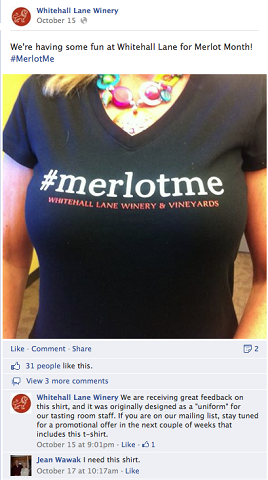 "All of our fans are genuine," said Leonardini. "Whitehall Lane isn't about hundreds of thousands of fans, it's more about the quality and the conversation," she said.
The winery also rewards fans informally by liking their photos on Instagram and giving shout-outs on Facebook and Twitter. In return, fans naturally share Whitehall Lane content.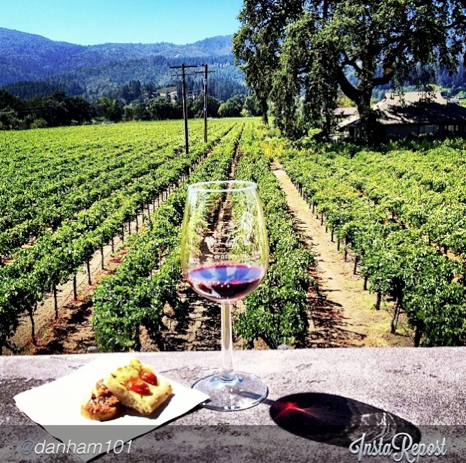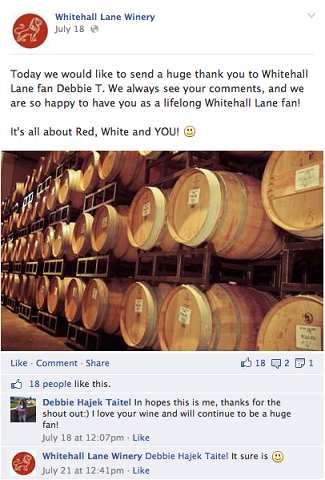 "We've found that when you have genuine, authentic followers, you don't even have to ask them to RT or share your posting, because they'll do it on their own," said Leonardini.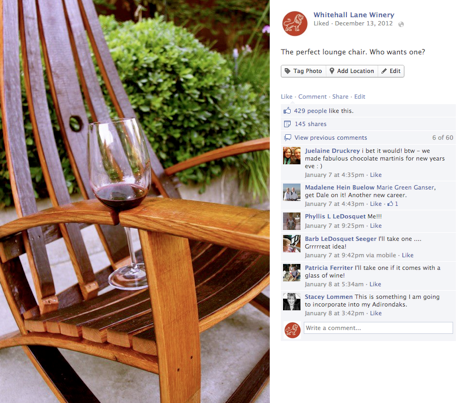 Their focus on growing a fan base organically has an added benefit—they almost never have to remove user posts or comments for spam or encouraging alcohol abuse. This makes it much easier to comply with TTB regulations.
Educating and Telling Stories vs. Selling
When Whitehall Lane first started using Twitter, they would search for people who were asking which Napa Valley wineries to go to or who had checked in at another winery. They would then tweet with a 2-for-1 offer to come in to their tasting room.
It did bring in traffic. "But they were people looking for free tastings," Leonardini said. Although numbers in the tasting room went up, sales did not follow. They decided to change their Twitter strategy.
Now the winery uses Twitter primarily to educate fans about food and wine pairings and share facts about Napa Valley and winemaking. The interaction they receive tells them this is what their followers want.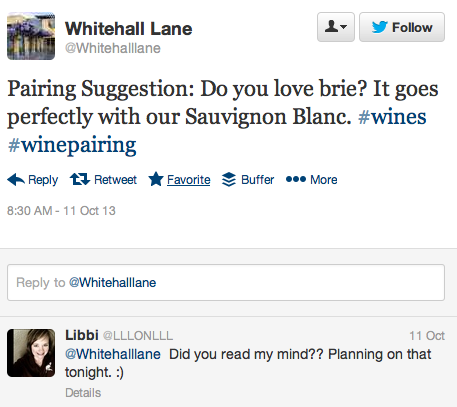 "When we tweet something that's educational, we get an average of four to seven retweets," said Abbi Whitaker of the Abbi Agency, a public-relations firm that works with Whitehall Lane.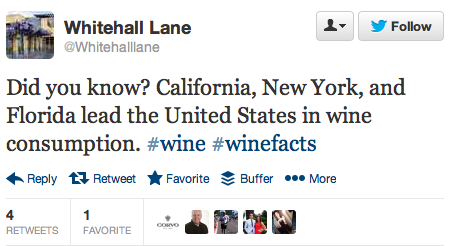 The winery has also started a blog where they post recipes, updates from the winemaker and harvest notes. Though blog subscribers are fewer than they would like right now, they're focusing on consistency and quality content and believe the numbers will follow.
"We're not just going to buy a list and shoot out our blog to them," said Leonardini. "We want it to grow because people want to [subscribe]."
Results: Successful Wine Dinners and Increased Wine Club Sales
Subscribers to Whitehall Lane's wine club get three to four shipments of wine a year; the club is a big part of the winery's business. But they were getting calls from subscribers, often after three shipments, asking to cancel. When asked why, subscribers would often say they loved the wine, but they belonged to three wine clubs and had to let one go.
"We've been able to greatly reduce that [problem] because of social media," Leonardini said.
Whitehall lane encourages club members to follow them on social media. "Even though they live in North Carolina or Nebraska, they get the feeling that they're still here in touch with us, and our retention rate has changed dramatically," said Leonardini.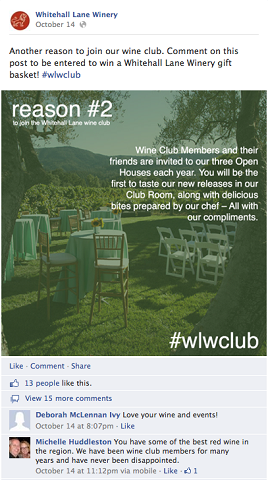 The winery also partners with fine restaurants across the country to put on wine dinners. The dinners are not a new idea. What's new is the response they now get.
Because of their social media following, restaurants now approach them about helping to promote the wine dinners. RSVPs are now up to the point that the dinners sell out—a win-win for the restaurants and the winery.
"Wine sales at these dinner events now exceed a busy Saturday in the tasting room during the high season," Leonardini said.
In addition, the number of wine club signups at the dinners has increased dramatically. "It's a whole new outlet for us," said Leonardini. "Previously the only venue to sign up club members was through the tasting room, but now we can sign them up at these dinners throughout the country."
Over to You
Despite federal advertising regulations, Whitehall Lane has found a way to successfully use social media with tangible results to their bottom line.
What do you think? Is your business in a regulated industry? How have you used social media to increase brand loyalty and sales? Include your comments and questions below.
Curious about Web3?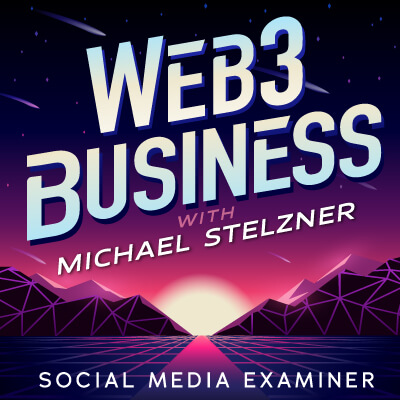 Follow the Web3 Business podcast to find out how Web3 will affect your business in the near future.

Every Friday, host Michael Stelzner interviews leading industry experts about what works right now in Web3 and what to expect in the future, so you can prepare your business for the shift, even if you're a total newbie.
FOLLOW THE SHOW