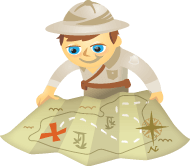 Do you want to drive more Facebook traffic to your blog?
Wondering how to optimize your shares of your blog content for visibility and reach?
In this article, you'll discover a five-step plan for promoting blog posts on Facebook.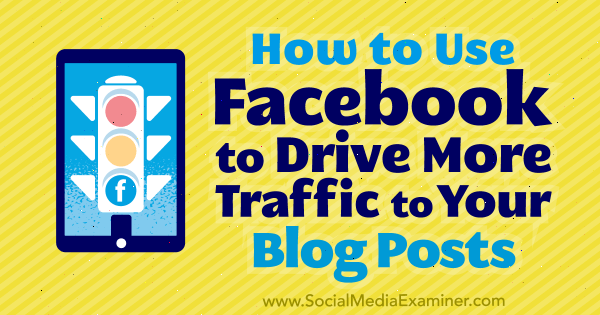 #1: Compose a Facebook Post to Entice People to Click
Publishing a Facebook post that people want to read is easier said than done. However, most Facebook posts that catch people's attention in the news feed have the same qualities: a catchy headline, a design that immediately draws your eye, and text above the image that makes you want to read the entire article.
If you nail these three points, you increase the chances your post will drive more traffic to your blog.
Pique Interest With the Headline, Text, and Link Description
When you add a blog article's URL to a Facebook post, Facebook automatically pulls the headline, image, and link description from your blog. So make sure your blog articles contain a strong headline and meta description before you post them to Facebook.
In this Facebook post by Buffer, the article headline uses a number and its promise ("you can implement today") is highly actionable. The post text mentions an impressive number (1.3 billion) that's sure to grab people's attention. Moreover, the fire emoji at the end of the post adds personality and emphasizes the preceding exclamation mark.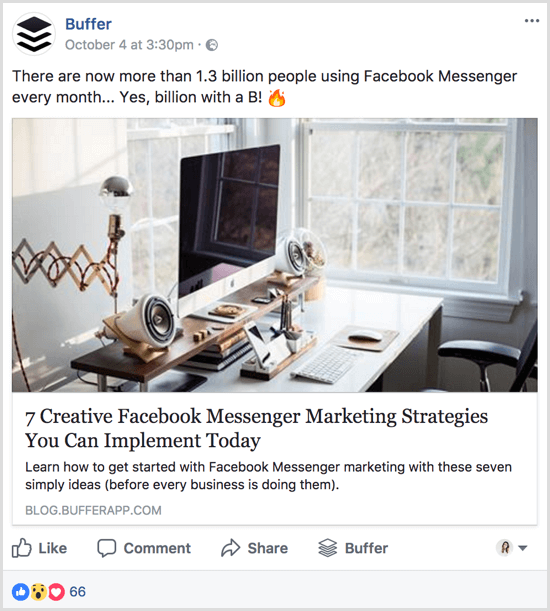 Grab Attention With an Appealing Visual
Not all Facebook promoted posts have a headline and link description. Sometimes, businesses publish posts that include a large image and above-the-image copy. Posts with large images can boost visibility because they take up more space in the news feed.
For example, HSN uses this tall photo collage to promote a holiday-themed blog post.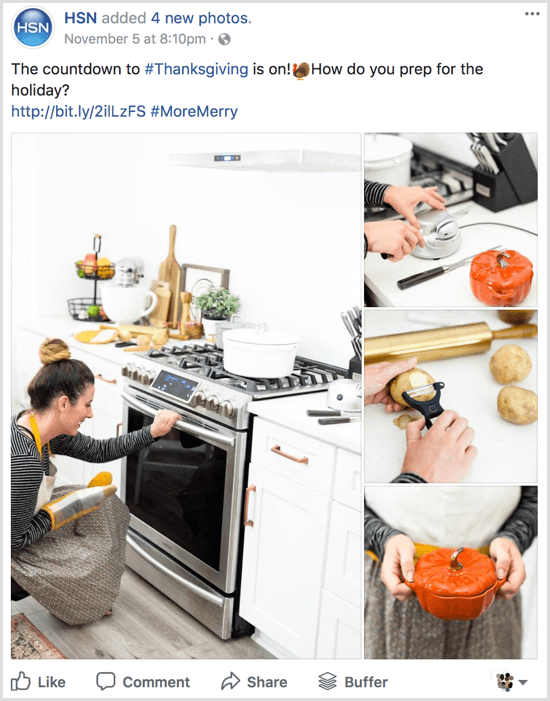 Tip: Use large images in posts to share infographics and charts. Don't forget to add a link to the full blog article in the text. Otherwise, people won't be able to reach your blog.
A carousel post is another interesting format you can use to share multiple blog posts at once. You can add a different URL to every image in a carousel post; simply hover over the image to find a link icon and change the URL.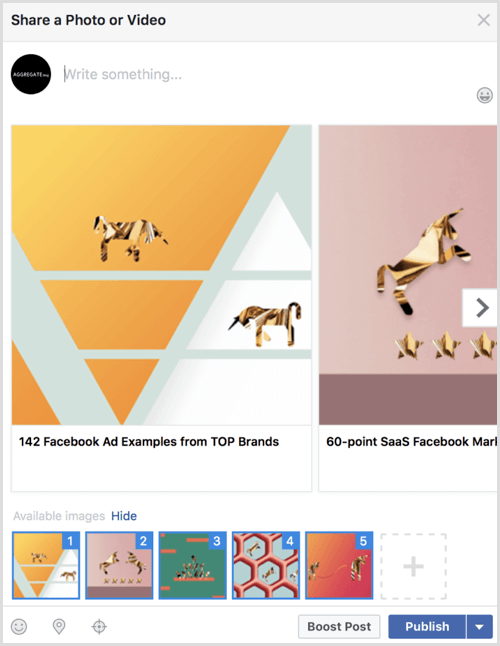 If you want your Facebook post design to get extra points for creativity, use a GIF like MailChimp does in this example: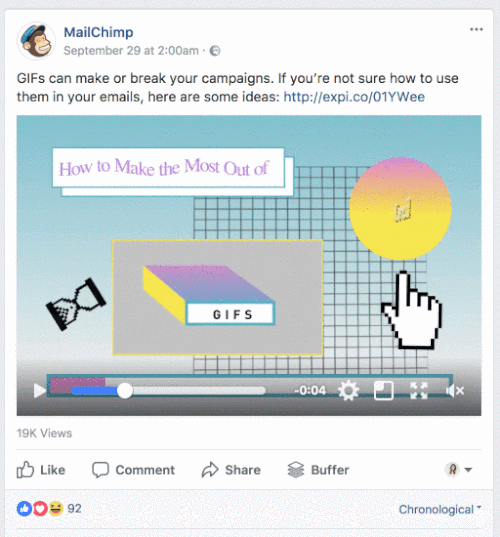 #2: Optimize Your Post for Organic Reach
When you're happy with your Facebook post, you're ready to publish it. If you share it when most of your fans are online, it has a higher chance of getting many likes and a high organic reach.
To see when most of your fans are online, navigate to your Page Insights and select Posts. Here you can see the weekdays and hours of the day with the highest potential for reaching your audience.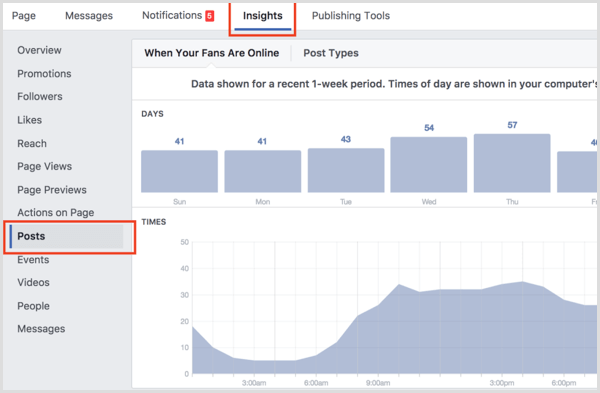 As you scroll down the page, you'll see individual posts and their time of publishing. After you publish five Facebook posts at different times of day, you'll have a good overview of which posting times work best.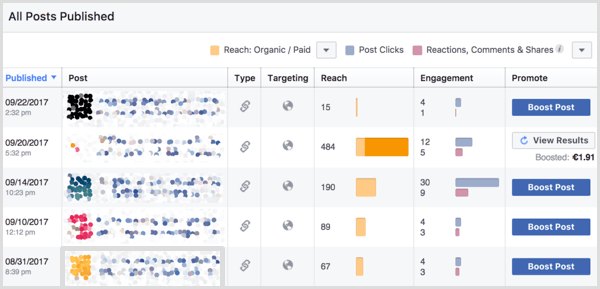 If you want your Facebook post to reach more people organically (for free), ask your team members to like and share the post. That way, your post could already show up in hundreds of people's news feeds.
#3: Boost Your Post to Fans or a Custom Audience to Generate Social Proof
The next step in promoting your blog post is to boost your Facebook post. Target one of two audience groups: people who like your page and their friends, or people who have previously engaged with your page. Promoting your post to one of these audiences first generates social proof that your post is worth liking and sharing.
To target people based on page engagement, you need to create a custom audience. In the Facebook Ads Manager, navigate to the Audiences page. Then click Create Audience and select Custom Audience from the drop-down menu.
Next, click the Engagement option and set up the ad audience to target people who have engaged with your page.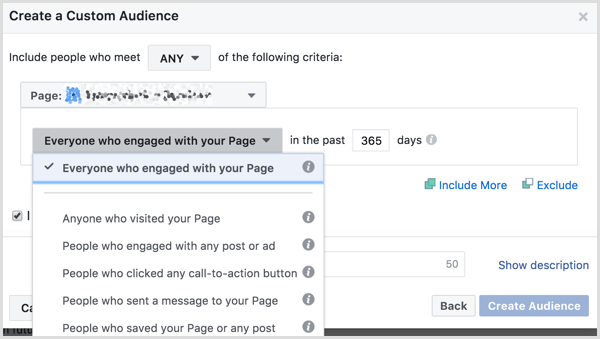 When you set up targeting in your boosted post, choose the custom engagement audience you just created.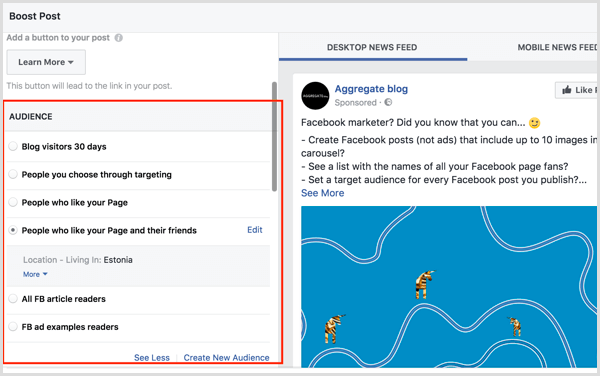 You also need to set a budget and duration for the promotion. You don't need a big budget to start boosting your Facebook posts. Try setting up a one-day promotion with a $20 budget and if the promotion shows good results, extend it for another 3-5 days.
If you want to reach a large audience, you can boost your posts for much higher sums.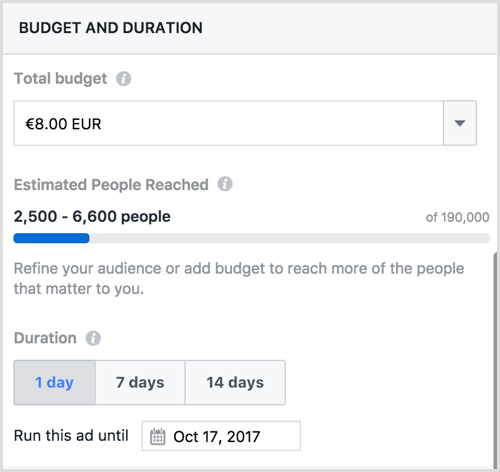 #4: Create an Ad Campaign to Target a Broader Audience
After you've gathered some likes and shares, wait a few hours for the results to come in and then expand your promoted post's audience. If audiences see that people have already approved of your Facebook post by giving it a like, they're more likely to trust you and click your article. After all, would you be more inclined to click a Facebook post with no likes or 30 likes?
Target High-ROI Audiences
To broaden the audience of your promoted post, try targeting these high-ROI Facebook audiences:
Blog readers who previously visited your articles about a topic similar to the one you're sharing
Customers whom you need to keep engaged through product or topic education and current content
Warm leads in your marketing funnel who need a little nudge via your blog to make a purchase
People interested in the topic or topics related to the one that your blog article discusses
If you're planning to target an interest-based audience, keep in mind that you're targeting a cold audience. To improve your chances with this audience, start with a little research. Use Facebook Audience Insights to see what interests your core audience has and develop your interest-based audience from there.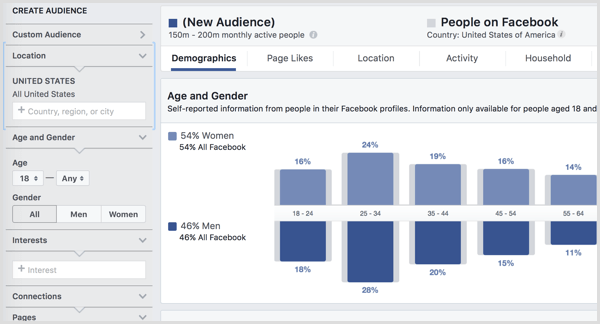 Create a Campaign in Facebook Ads Manager
Although the boosted posts option lets you promote posts more quickly, as you expand your audience, you'll need additional options available only in the Facebook Ads Manager.
Specifically, when you set new target audiences for your boosted post, you can't separate your budgets depending on the audience. To solve this problem, go to the Ads Manager and create an ad campaign for promoting your blog article.
You can easily set up a new ad campaign and select the Use Existing Post option to include the post from your Facebook page.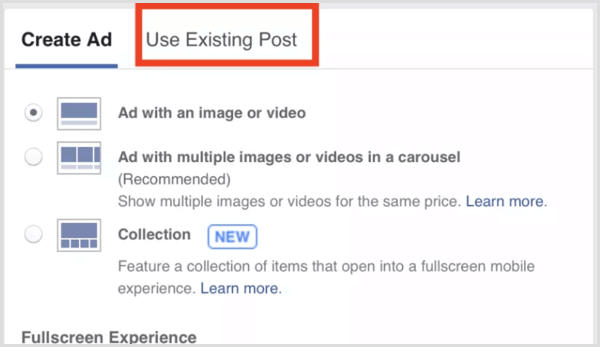 By setting up your promotions via the Ads Manager, you can optimize your ad placement; promote the same Facebook post to multiple audiences at the same time; and optimize your ad delivery for reach, clicks, and conversions.
#5: Evaluate Campaign Results
After you run a Facebook promotion for a while, check how well it's performing.
If you look at the Boost Post report on your Facebook page, you can see a limited set of campaign metrics.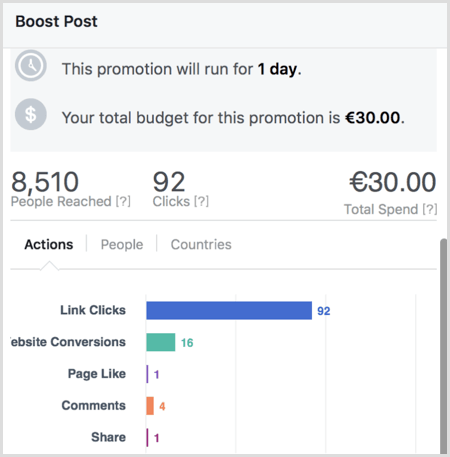 This report leaves out many important metrics you need to track, including:
The click-through rate of your promotion
The cost per click of your promotion
The average time people spend on your blog article
The number of pages people look at during their visit to your website
The number of conversions, such as newsletter subscriptions
You can find most of these metrics in the Facebook Ads Manager. To see all of the relevant metrics, click the Columns drop-down menu and select Customize Columns.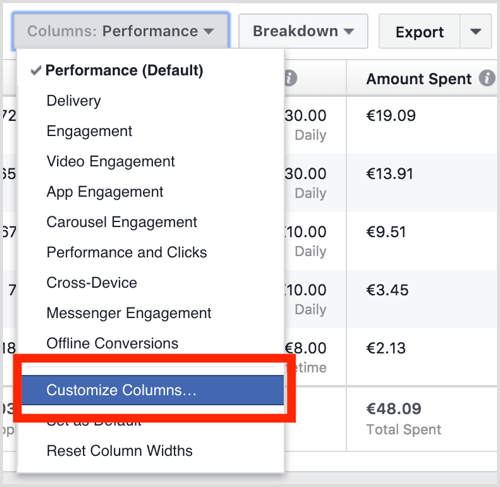 In the Customize Columns window, select the checkboxes for the data you want to include in your ad reports.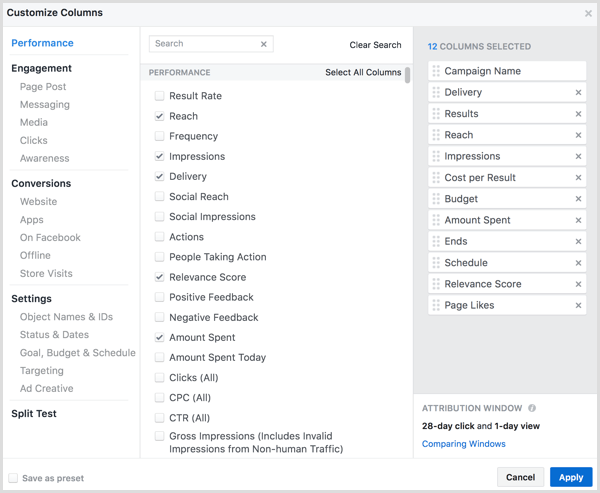 To see the average time on page and the number of pages visited, check your Google Analytics reports.
When looking at your promoted post's results, your past campaigns are your best benchmark. Are your latest blog post promotion's click-through rate (CTR) and cost per click (CPC) higher or lower than those of previous posts? If your Facebook post brings you many conversions and engages people at a high rate, you can extend the campaign to run longer.
Conclusion
Sharing your blog articles on Facebook at the right time to the right audience will significantly improve your post's reach. If you're also able to write compelling copy and use an eye-catching design, you're bound to succeed.
What do you think? Have you tried any of the tactics shared in this article? Do you plan to adjust your approach based on this suggested framework for promoting blog posts? Please share your thoughts in the comments.