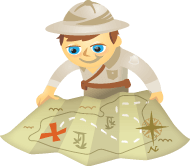 Want to use multiple images in a single Facebook ad or post?
Have you tried Facebook's Carousel feature?
The Facebook Carousel feature allows you to publish multiple images and links in one post or ad.
In this article you'll discover how to set up and use Facebook carousel posts and ads in your Facebook marketing.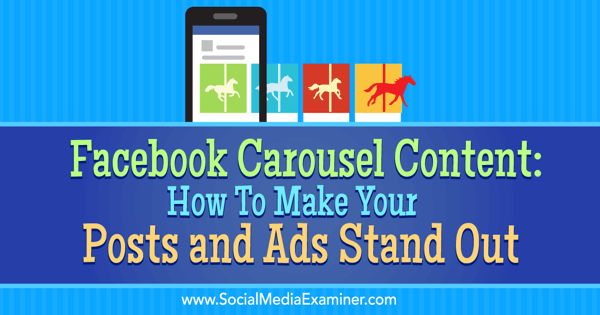 Listen to this article:
Where to subscribe: Apple Podcasts | Google Podcasts | Spotify | YouTube Music | YouTube | Amazon Music | RSS
Why Create Carousel Posts and Ads
A Facebook carousel post or ad is a creative way to get more content into a smaller space. You can feature five unique images, each with different headlines, descriptions, and URLs all within the same story. Publish a carousel post or ad as an organic story on your page wall and/or an ad unit; either can easily be viewed on desktop and mobile.
According to a report by Kinetic Social, carousel ads perform 10 times better than regular ads. Plus, since 90% of Facebook users access via mobile, that's a great use of a small amount of real estate. Advertisers should get much more for their dollars by doing a horizontal ad unit that can scroll back and forth. Carousel ads are also available on Instagram.
There are a few options when it comes to carousel posts and ads. Create an organic carousel post, turn an organic carousel post into an ad, or create a carousel ad from scratch.
#1: Create an Organic Carousel Post
To create a carousel post directly on your page, type or paste a link on your wall. It automatically populates a preview, which should have at least one image. Remember, the more images in your blog post, the more will populate and the fewer you'll need to upload directly.
Typically, Facebook's og:image tag on blog posts preselects the link preview image and most blogs only have one that populates when the link is shared on Facebook. So when creating carousel format wall posts, you'll need to get creative with sourcing additional images. Usually you can find more images on the blog post you're sharing.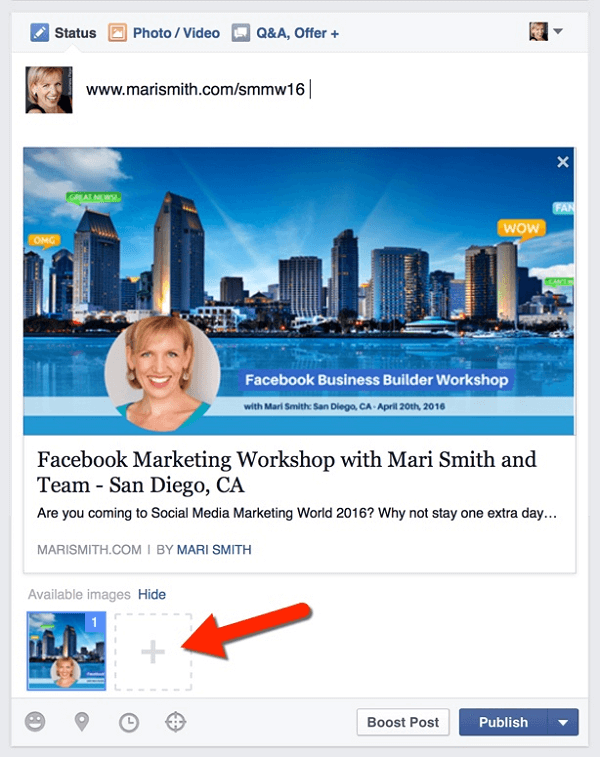 Most links you share on Facebook will automatically populate with that preview image, which is 1200 x 628 pixels, the standard dimensions for a link post or ad.
However, since carousel images are square, Facebook will crop out the center of the image. If the original image gets cut off in a way that doesn't make sense, you may need to remove the image that populates, and upload a square one. It's recommended that you size carousel images at 600 x 600 pixels.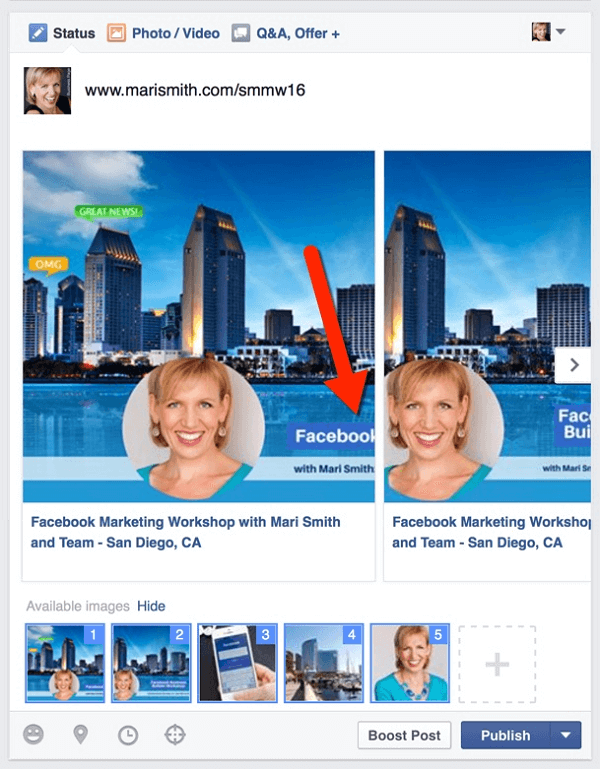 Click the plus sign and then upload additional pictures (up to five total) to use for your post.
Select high-quality images that contain less than 20% text. This is especially important if you plan to turn your carousel post into an ad. Use Facebook's Grid Tool to make sure your images will be approved, should you decide to turn the post into a carousel ad.
Drag and drop your images to change the order.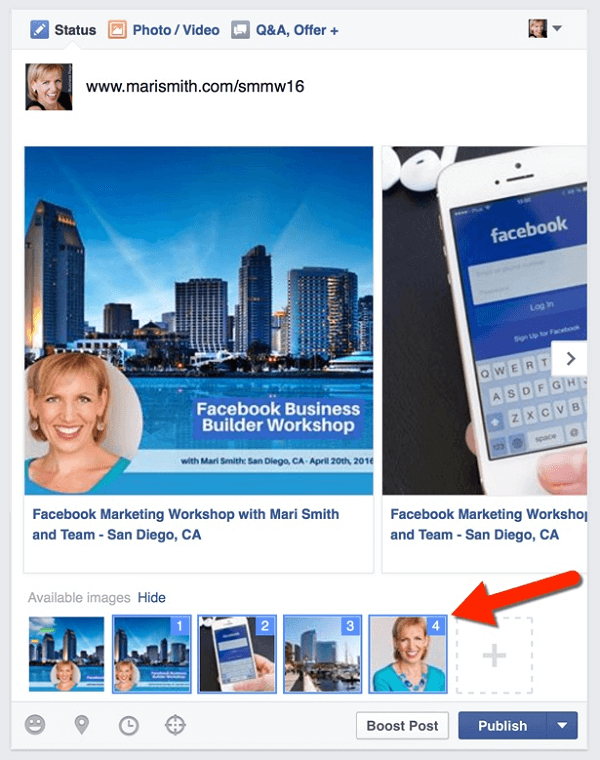 Hover over each image and click the link icon to edit each destination URL.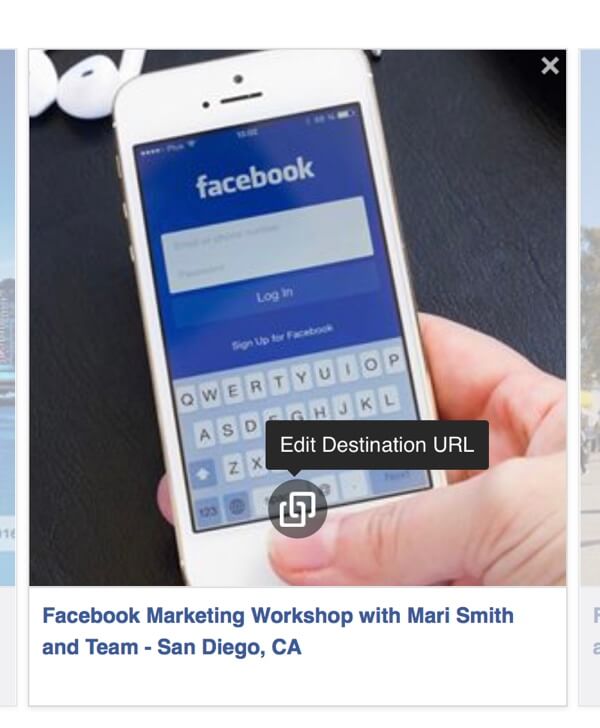 You're also able to edit the headline.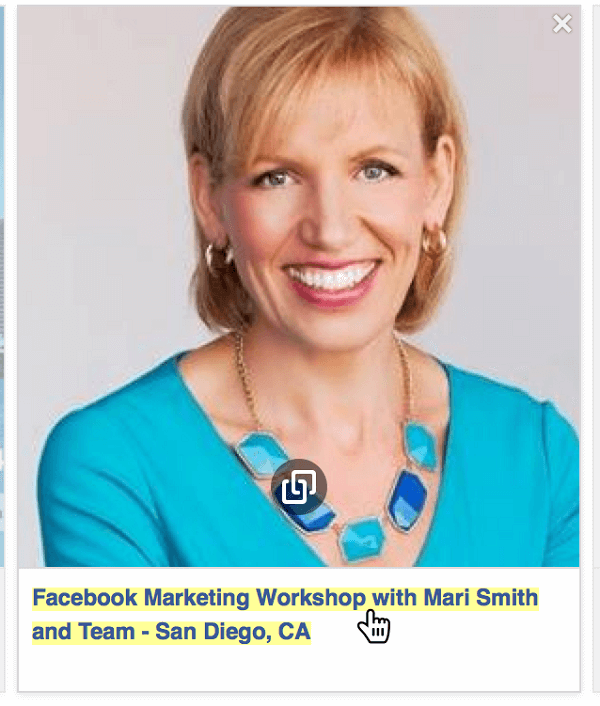 Click on the headline and then edit the text.

Your other option is to build a carousel post from the photo upload section. Go to upload Photo/Video and select Create a Photo Carousel.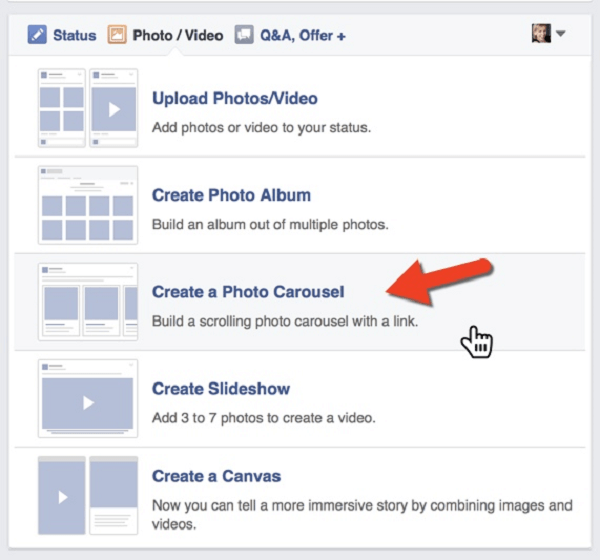 Then add the link. It will populate the images and allow you to add more.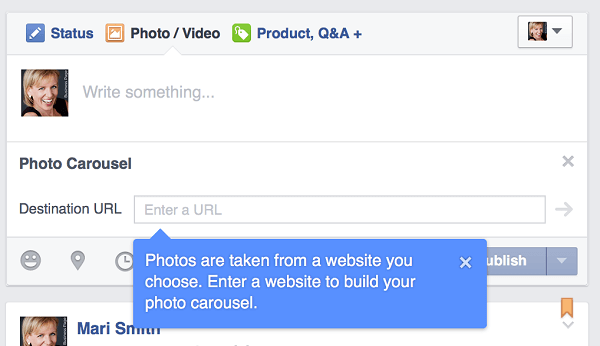 Facebook will populate your images into the carousel post. Add new pictures if necessary, and then edit the links and headlines as above.
Boost Your Carousel Post
After your carousel post gets some organic reach and engagement, you can easily turn it into a carousel ad by boosting the post. I recommend doing this through Ads Manager, rather than the Boost button, because there are more targeting and placement options.
Go to Ads Manager and click Create an Ad. Select Boost Your Posts, and choose the page and the post.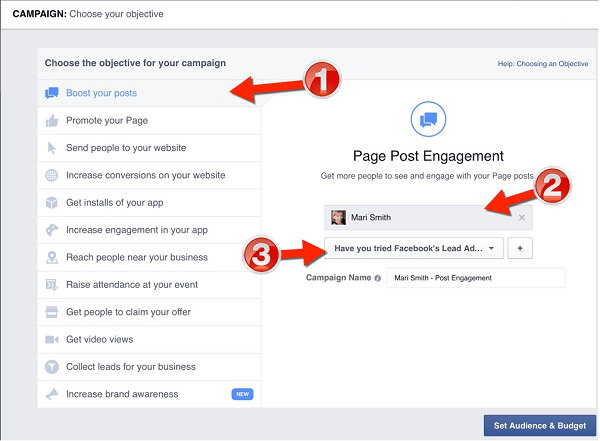 Set your audience, budget, and schedule. Then preview your ad.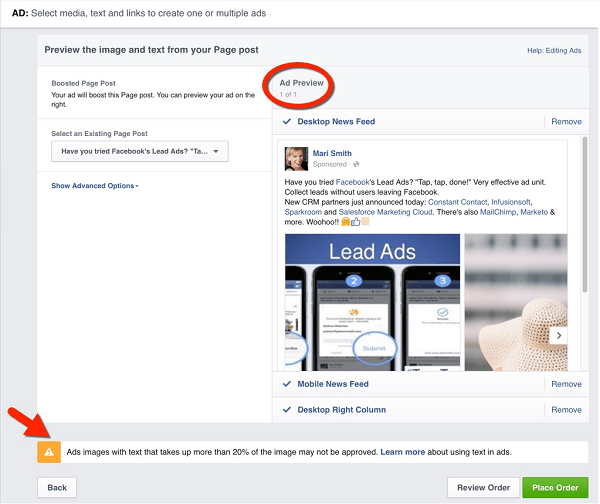 Click the Place Order button when you're satisfied with the ad.
Again, keep in mind the less than 20% text rule. The carousel ad in the example above would likely not be approved. It's not possible to change the images of carousel posts after they've been uploaded. So to turn my post in the above example into a carousel ad, I'd need to start again with a fresh carousel post or carousel ad from scratch.
#2: Build a Carousel Ad
To create a carousel ad from scratch, go to Ads Manager or Power Editor. Select Create Ad and choose the objective.
Decide between sending people to your website or getting conversions or downloads. The Facebook ads algorithm optimizes ads to be shown to users who have a history of taking the action you select. Therefore, I suggest you select Send People to Your Website as the objective, since there are many more steps to identify people who have a history of converting. It's far better to send people to your website and use the Facebook pixel, so you can then retarget visitors to your site.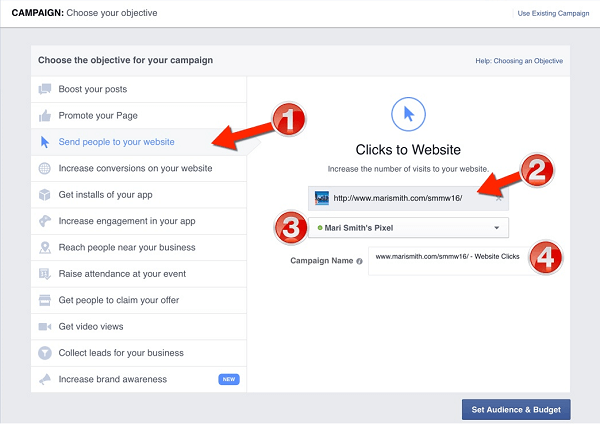 After you set the audience and budget, choose your ad creative.
Select Multiple Images in One Ad and upload your images.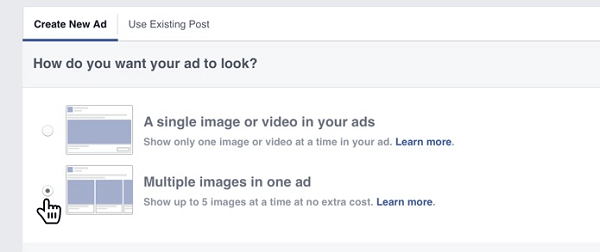 Edit the destination URL and add a headline for every image (which Facebook refers to as a "card"). Note: The ability to add video is rolling out gradually and will only be available in Power Editor.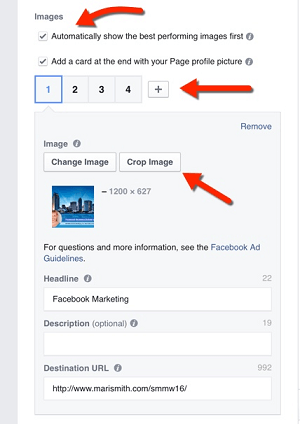 If need be, you can also crop the images from here.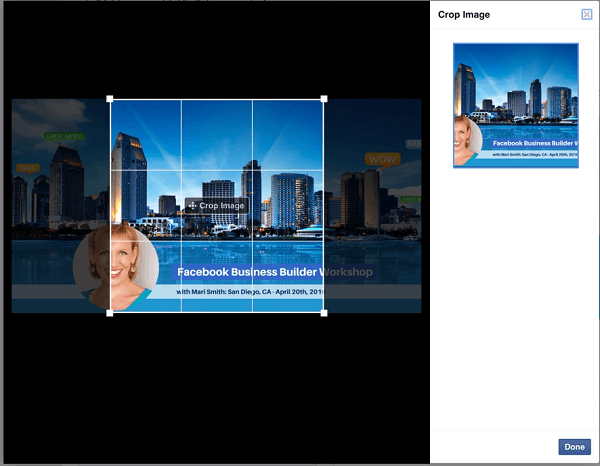 You may also want to add a call-to-action button. However, keep in mind that adding a button will reduce how much space is available to show your headline and description.
Another recommended option is to set your ad to show the best performing images first. You can also connect your Instagram account to show the same carousel ad on Instagram and maximize your visibility.
When you've finished all of your customization, preview your ad and place the order.
Final Thoughts
Although carousel posts and ads show up great on desktop, it feels like they were made for mobile. Smartphone owners love scrolling through content without losing their place, and are easily engaged by these images.
Whether you go the organic or promoted route, carousel posts give your readers fun, creative content with multiple places to click. They're the perfect showcase for promoting your business's story, products, and services.
What do you think? Do you use Facebook carousel ads and posts? What fabulous carousel posts have you seen? Please share your thoughts in the comments.