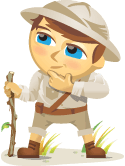 Fan-gating or Like-gating is the practice of displaying certain content only to users who Like your Facebook page.
It's an increasingly common practice and something I discuss with clients almost daily. But is it a good idea?
What is Fan-Gating?
Fan-gating is accomplished by creating two versions of a tab on your page—one that's shown to users who already Like your page and one to those who have not Liked the page.
The non-fans are encouraged to Like in order to "unlock" the content behind the tab. Because information about whether a user has Liked your page is easily accessible through Facebook's Graph API, it is relatively easy to implement a gate, or "reveal tab" as it is sometimes called. There are many companies that provide tools to do this and a list of some of them can be found here.