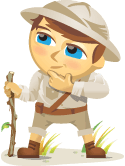 Have you noticed the tried-and-true forms of marketing are rapidly losing their luster? People aren't responding. Prospects are harder to find. Customers are tuning out.
As a marketer or business owner, what in the world can you do to grow to your business? I've struggled with these very issues.
I've got good news and bad news for you. The good news: You really can rapidly grow a loyal following. The bad news: You may need to rethink the way you market your business. If you're ready for change, keep reading.
In this article I'll reveal a new (yet proven) method of achieving rapid growth in the social age. It's the very model I employed to grow Social Media Examiner into one of the world's top business blogs.