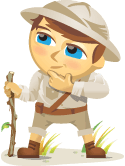 Do you wonder if your blog has the potential for a big payoff?
Here are 5 tips to position your blog to attract corporate buyers.
The $315 million–dollar acquisition of Huffington Post by AOL definitely raised some eyebrows as bloggers started to realize that they're holding "real" assets that can attract top-dollar investments.
But for many, it may seem like selling your blog isn't even a remote possibility. Perhaps you're still trying to figure out how to make it attractive for readers.
As you consider what's next for your blog, start thinking like an entrepreneur and recognize that your blog has the potential to earn income like any other business.
Here are tips to take your blog to the next level, while making it more attractive for corporate buyers.
#1: Develop the right "mix"
In business it's all about finding the "right stuff" to get the job done. Companies don't buy blogs because they don't have enough money to develop their own, they do it because the blog has already done a lot of the legwork of attracting the right audience, developing the right content or building a content distribution model that would take the company too much time to achieve on their own.
Think about the type of companies that would be interested in your readers. What type of content strategies could you develop to better serve your audience? How can you extend the reach of your content? How can you build your email list? How can you get your content to rank better in search engines?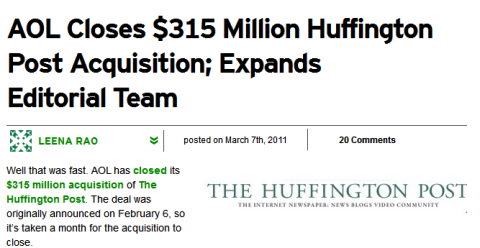 #2: Establish trust with your readers
As a blogger, your voice is what establishes trust and resonates with readers even after corporate acquisition. This trust is a valuable resource for the corporate buyer and is something many times they do not want to lose after the acquisition.
Ultimately, if you have successfully established trust, you will be more likely to continue to play an active role in the blog even after the acquisition.
What does that mean? It means you could get a paycheck when they acquire you and then an ongoing salary for continuing to be actively engaged. That's a win-win!
An example of what can happen when a blogger had developed trust with his readers and then left can be found with the departure of Michael Arrington from Tech Crunch. Arrington's departure was bittersweet for AOL and his readers, which required AOL to quickly reestablish trust with the audience they paid a lot of money to acquire.
Poynter reported, "Readers come to TechCrunch for the latest information, but what makes a blog stand out is the trust in the people running the site, the editorial voice, and a site's adherence to its own standards. That same trust wouldn't automatically transfer to AOL's appointed editor in this era of blended norms."
Make sure that every step of the way you are establishing a genuine relationship with your readers. Figure out what they need from you and do your best to deliver it. When a corporate buyer comes along, make sure you protect your readers and your integrity to the best of your ability.
The Conference You've Been Waiting For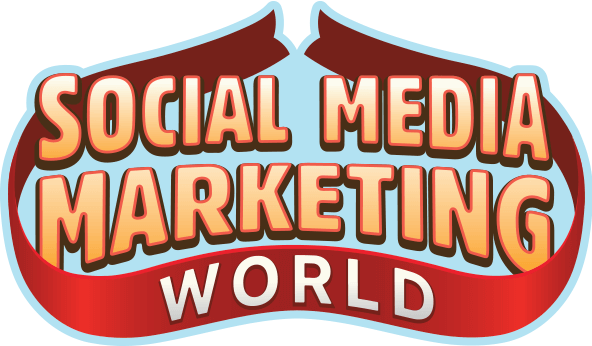 As a small business marketer, you can probably only pick one or two events to attend each year. Get back into the game with an unbeatable conference experience and expert training at Social Media Marketing World in sunny San Diego, California—from your friends at Social Media Examiner.
🔥🔥 As a valued reader, you can save $630 if you act now! Sale Ends Friday!
CLICK HERE TO LEARN MORE
#3: Determine where your blog fits into the competitive landscape
What's your blog's competitive advantage? What do your competitors do really well?
Companies will look at your blog and compare it to your competitors to determine which has the best chance to reach their audience, so it is important that you survey the landscape and work on building a differentiator that will help you stand out.
To illustrate, we'll look at a few blogs from the personal finance industry. WiseBread provides a wide variety of content focused on frugal living. Likely, the site is focused on providing a superior distribution channel for content and driving organic rankings.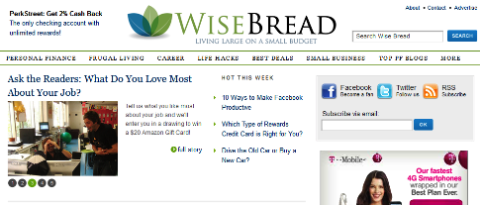 Man vs. Debt provides tips and personal finance education through compelling and authentic personal stories of getting out of debt and being financially aware. The author's tips hold a lot of credibility with readers because he has been there.
Get Expert Social Media Marketing Training from the Pros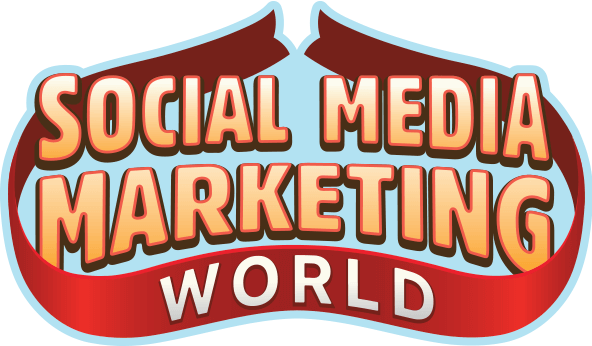 Want to get ahead of the competition and learn how to diversify your social marketing strategy?
Learn from the industry's most trusted experts, rub elbows with other smart marketers, and take your marketing to the next level during this 3-day event in sunny San Diego, California.
CLICK TO LEARN MORE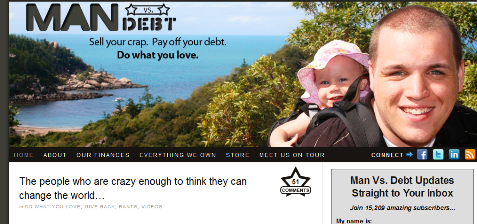 Budgets are Sexy provides readers with personal finance tips with flair. The blogger is known to rock a Mohawk and talk about finance with a friendly, down-to-earth tone that makes it all seem much simpler.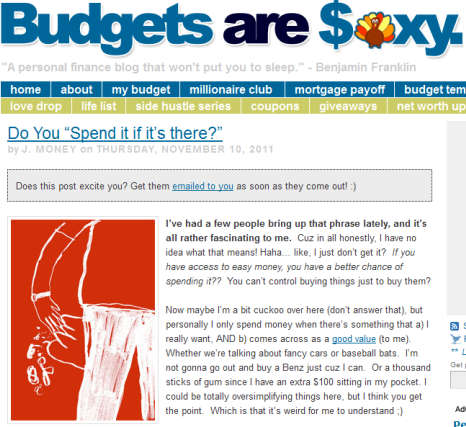 With just these few examples, you can see there's a wide variety of blogs that are operating in industry verticals, and each has unique, but attractive, qualities to a corporate buyer.
As a blogger, think about what makes your blog unique, how you would describe your relationship with your readers and how your differentiator can be leveraged by a corporate buyer. Ultimately, it's important that your blog fills a need. It should fill a need for the buyer and for the reader.
#4: Test the revenue waters
A corporate buyer wants your blog for a reason. And ultimately, it's to help generate revenue for the company.
There are two primary ways of generating revenue from a blog: selling advertising space or leads to third-party advertisers or advertising the buyer's products/services. A great way to better position your blog for sale is to be able to show a consistent revenue stream from advertising.
Start testing different types of advertising mechanisms on your site to see what will work to convert readers into buyers. If you don't have third-party advertisers knocking down your door, start by advertising products that you have developed for sale. If you don't sell "products," look at developing an information product like an e-book or training course.

#5: Be prepared to let go
Don't kid yourself and think that you'll sell your blog to the highest bidder and continue running your blog like you always have. It's common for bloggers to maintain a strong management presence in the content on their blog after a corporate acquisition, but that doesn't mean that it comes easily.
Heather Starr Fiedler, the former owner of Pittsburgh Mom, which was purchased by the Pittsburgh Post-Gazette, said, "the hardest thing for me has been trying to maintain ownership of the voice of the site, but recognizing that I don't own it anymore when I'm asked to take a different direction or add a feature to the site. It's about forming a good partnership with the people you work for.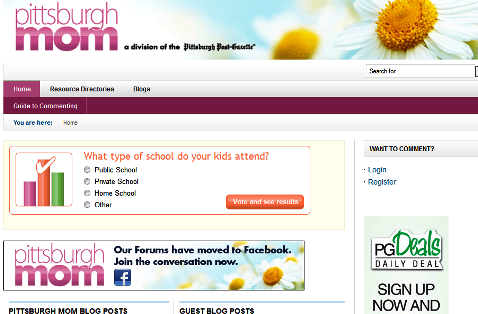 "I've had a 'few different bosses' and each has had a different philosophy of what the site should be, so I've had to be flexible, but also stand up for what I built the site for. Ultimately, it's your name on the blog and you have to be comfortable with what's there."
Heather has worked with her management team to create revenue streams through sponsorships that are organic and natural for her readers. She says, "the big challenge is trying to do it respectfully… that is the big debate. So far we haven't had any negative feedback from the audience so I think we've achieved that."
Whether you started blogging because you loved it or started with a payoff in mind, there could be an opportunity to reap the rewards of your hard work. There are two sides of this fence: those who feel that bloggers are "selling out" and those who respect and understand the economics of the decision. Whichever side you are on, it's hard to ignore the potential.
Even Perez Hilton, who recently offered his blog for sale on Howard Stern, stated that he would sell for $50 to $100 million depending on whether the deal included a TV project.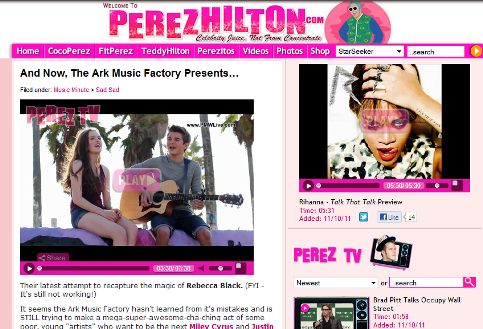 Whether you ultimately decide to entertain offers on your blog or not, these tips will help you strengthen your following and establish your brand.
The best way to position your blog for sale is to build a rock-solid following. To help you get there, check out 17 Ways to Grow Your Blog From Top Bloggers and Michael Stelzner Explains How He Built Social Media Examiner to Be a Top Blog.
Did you sell your blog? Are you a company that has acquired a blog? If so, what tips would you offer readers? Leave your questions and comments in the box below.
Curious about Web3?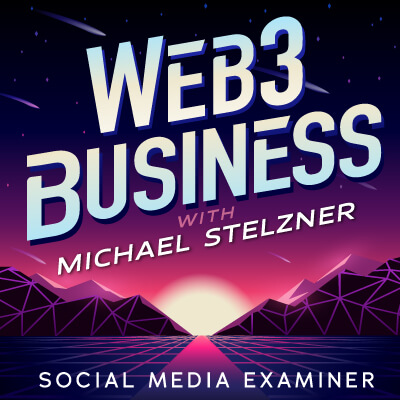 Follow the Web3 Business podcast to find out how Web3 will affect your business in the near future.

Every Friday, host Michael Stelzner interviews leading industry experts about what works right now in Web3 and what to expect in the future, so you can prepare your business for the shift, even if you're a total newbie.
FOLLOW THE SHOW