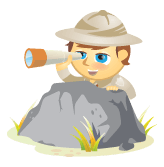 Do you own a small business? Are you tired of hearing how big businesses are succeeding with social media?
If so, Social Media Examiner has some exciting news…
But first, much has been said about big companies such as Red Bull and Cisco, and how they harness social media to drive massive traffic to their sites and generate enormous sales.
But when small business owners are asked about social media, many have no idea how to use it in a practical way that can impact their business goals.
And frankly it's hard for small businesses to get ideas from the big guys that seem to have unlimited resources.
Small Businesses Thriving With Social Media
Not knowing "how" to leverage social media is a huge problem for small businesses, because they typically get most of their customers through word-of-mouth referrals.
Savvy entrepreneurs are tapping the power of social media marketing.
Take Curtis Kimball, for example. In the Mission district of San Francisco where he's known as the Crème Brûlée Man, Curtis uses Twitter to advertise his daily specials, "secret menus" and specific locations where his cart will be parked.

Curtis, who says he has no marketing budget, currently has more than 20,000 followers, many of whom literally follow him around from neighborhood to neighborhood to get a taste of his delicious custard treats.
And then there's the story of Alex Morrissey. He leveraged Facebook to garner 500,000 fans and a very successful business called JamaicansMusic.com.
Responding to his social media experience, Morrissey said, "It's better than traditional media or even advertising."
What about you? Has your small business really tapped into the massive opportunities presented by social media marketing?
Small Business Social Media Stats
Here's evidence of the opportunity for small businesses:
Mass consumer adoption of social media: There are more than 800 million active Facebook users, 80% of all Americans use a social network and Americans spend more time on Facebook than any other U.S. website (Nielsen). Your customers are there.
Small businesses see big results with social media: A significant 61% of small businesses are landing new customers through social media activities (CrowdSPRING). Plus, more than 70% of small businesses using social media see increased traffic and more than 60% improve search rankings (2011 Social Media Marketing Industry Report).
Smaller businesses find social media costs very low: Nearly 60% of small- and mid-sized businesses spend less than $100 to market via social media (Marketing in a Digital World, Zoomerang).
Are you "all in" with your social media activities? Want to fast-track your success?
Social Media Examiner Announces Small Biz Success Summit
Acknowledging the massive need to empower small businesses, Michael Stelzner (founder of Social Media Examiner) said, "It's time to help ultra-small businesses really thrive with social media. Heck, we're really small ourselves and I just don't see anyone focusing on the needs of the small guys."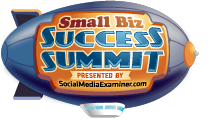 Mike and his team recruited 25 of the world's top small business experts with strong social media backgrounds for a brand-new summit: Small Biz Success Summit 2012.
Get Instagram Marketing Training - Online!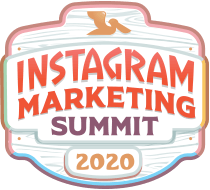 Want to improve your engagement and sales with Instagram? Then join the largest and best gathering of Instagram marketing experts as they share their proven strategies. You'll receive step-by-step live instruction focused on organic Instagram marketing, content creation, and Instagram ads. Become the Instagram marketing hero for your company and clients as you implement strategies that get proven results. This is a live online training event from your friends at Social Media Examiner.
CLICK HERE FOR DETAILS — SALE ENDS JULY 7TH!
If you're not familiar with these events, they're large online conferences (so you don't need to travel).
Typically, thousands gather at Social Media Examiner Success Summits to discover new social media tactics, network with peers and discover how other successful small businesses are using social media.
Here's what's unique about this summit:
100% small business focus: No big businesses and no speakers who target big businesses. This is fully for the tiny business.
This is totally new content: Broadcast new media, Google+, video marketing, blogs plus search and much more. Social media is always in flux and this event will cover what you need to know now about Facebook, LinkedIn and Twitter. If you're working off what you learned six months ago or longer, you are ages behind.Need more??
Social Media Examiner's biggest conference ever: Study the line-up—25 speakers. If you learn some useful new tactics, then it pays for itself.
Every presenter is a small biz owner. This is highly customized for you.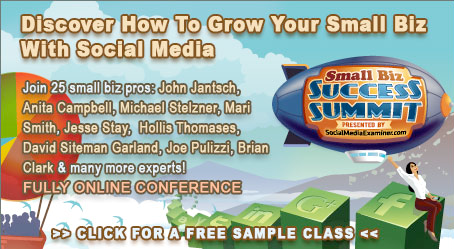 All the speakers are themselves small business owners who are deeply entrenched in social media marketing. They include:
John Jantsch of Duct Tape Marketing
Anita Campbell of SmallBizTrends
Jesse Stay, author of Google Plus for Dummies
Hollis Thomases, author of Twitter Marketing: An Hour a Day
Michael Stelzner, founder of Social Media Examiner
Mari Smith, co-author of Facebook Marketing
David Siteman Garland of The Rise to the Top
Joe Pulizzi, founder of Content Marketing Institute
Brian Clark, founder of Copyblogger
Ramon Ray of SmallBizTechnology.com
Lee Oden, founder of Top Rank Online Marketing Blog
Amy Porterfield, co-author of Facebook Marketing All-In-One for Dummies
Ed Gandia, co-founder of International Freelancers Academy
Marcus Sheridan, founder of The Sales Lion
And many others
Because this is a fully online conference, you don't have to worry about missing a session. If something comes up and you're not able to attend, transcripts and recordings are provided!
There also will be plenty of networking opportunities via LinkedIn and you'll have access to thousands of people who are expected to attend.
Justifying Your Expense
Are you worried about getting funds to pay for the summit? It's a valid concern.
Can you really afford to not give social media marketing a try?
If you land just one or two customers as a result of attending the summit, the investment may have paid for itself.
Even if you don't need the summit for yourself, it would make a very special Christmas gift for a friend, son or daughter who owns a small business.
Here's what Paul Rodriguez, an attendee at our previous summit, had to say:
"If you're using social media to promote your business (and you're crazy if you're not), this summit is a must. The instructors and content were excellent!"
Tickets are currently on sale for 50% off if you act now. Click here for details.
What do you think? Is your small business struggling with social media? Share your story in the comments box below.