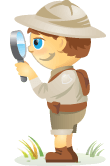 Are you trying to improve your content marketing?
Wondering how to connect the dots between content and customers?
In this article you'll find important best practices, backed by research, to help improve your social media marketing.
Brand new research from Content Marketing Institute and MarketingProfs shows that while there are universal challenges in content marketing such as measuring ROI and producing engaging content, there are certain best practices that mitigate these problems.
Here's our take on the research.
#1: Have a Documented Strategy
Fifty-four percent of the most effective B2B marketers have a documented content strategy and most of them follow it "very closely." Furthermore, 60% of those with a written strategy consider their organization to be effective in content marketing, compared to 32% with only a verbal strategy.
One of the biggest differences between effective content marketers and those who fail is a documented strategy.