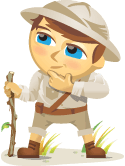 Guest blogging is one of the most efficient, yet misunderstood, social media marketing tactics.
It's not new. In fact, it's almost as old as blogging itself.  It started becoming a standout tactic just a few years ago.
This post answers one of the most frequently asked questions: Is guest blogging good for "big guys?"
By the way, "guest posting, the time waster" is one of the myths I busted in my previous post for Social Media Examiner. Today's article is one more argument in favor of guest blogging.
Guest blogging is about placing your content for free outside of your own blog to increase its reach. A guest post thus is a piece of content you write for someone else's blog and include your author information to build exposure and awareness of your brand.