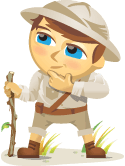 Small businesses can stand out in a big way with Facebook.
If you're looking for some creative examples of Facebook pages from the small guys, look no further!
More than 1,800 nominations came in from our contest. These represent over 500 small businesses.
Our panel of Facebook experts carefully reviewed the nominees and finalists, analyzing their landing pages, engagement, reader involvement and creative use of promotions (among other things).
None of these businesses have huge budgets, yet they all have achieved amazing success. The following are the winners of Social Media Examiner's Top 10 Small Business Facebook Pages for 2012:
#1: How to Market Your Horse Business
How to Market Your Horse Business is an award-winning social media marketing company focused on horse businesses and other small businesses.
Fans: 6,628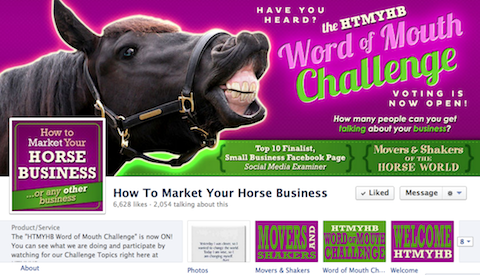 What the judges liked:
Amazing engagement
Good use of pinning and highlighting
Effective use of contests and spotlighting contest entrants
Good visual branding with apps and cover photo
Answers every post
Publishes a good variety of content
#2: Recruit Military
Recruit Military is a military-to-civilian recruiting firm, helping veterans and transitioning military service members and military spouses find civilian jobs, buy businesses and improve their education.
Fans: 42,022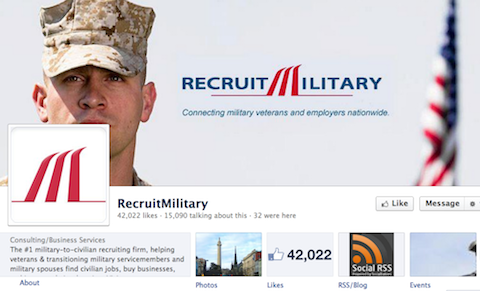 What the judges liked:
Great use of images and quotes
Love the way they are using Facebook events for their job fairs
Clever use of "Find a Job Friday"
Excellent combination of posts on military facts, pictures and resources
#3: Talking Finger
Talking Finger is a social media marketing company.
Fans: 3,289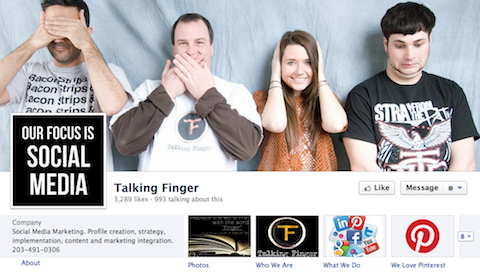 What the judges liked:
Great fan engagement
Nice use of apps—especially love the TF Services app
Good combination of fun posts and valuable posts on social media
Superb visual branding, particularly on apps
#4: Earthegy
Earthegy is retailer of ancient gems and modern jewelry.
Fans: 10,169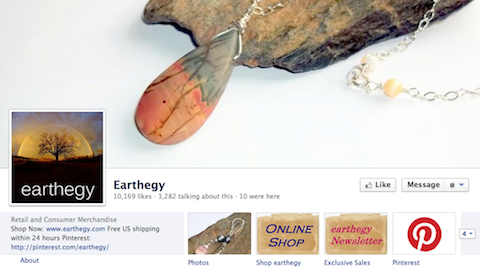 What the judges liked:
Cool use of shopping page
Good fan engagement with photos
Great use of discount promotion
Lots of recommendations
Rewards app is a smart way to get continual engagement
#5: The Chicken Chick at Egg Carton Labels by ADozenGirlz
The Chicken Chick at Egg Carton Labels by ADozenGirlz is a retailer of chicken egg carton labels and other chicken-related products.
Fans: 14,376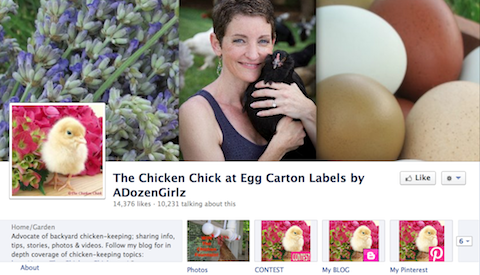 What the judges liked:
Blog app is very well done
Great niche site with tons of tips and images
Fantastic engagement
Good use of contest
Good variety of posts demonstrating fun, chicken care, chicken crafts and personality.
#6: PoolSupplyWorld
PoolSupplyWorld is an online retailer of parts and products for swimming pools and spas.
Social Media Marketing Society (Ongoing Online Training)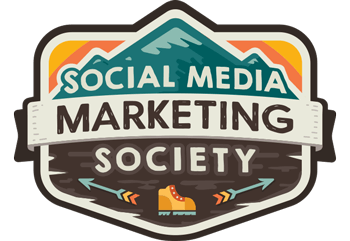 Want to confidently secure your future? Is your mission to bring in more revenue, attract better leads, or increase exposure for your company or clients? The Society Media Marketing Society is the ultimate resource for marketers—a place where you can discover new marketing ideas, improve your results, get support, and become indispensable. Join thousands of your peers and receive ongoing training, support from pros, and access to a community of supportive marketers who understand your struggle.
JOIN NOW - SALE ENDS MARCH 9TH!
Fans: 53,112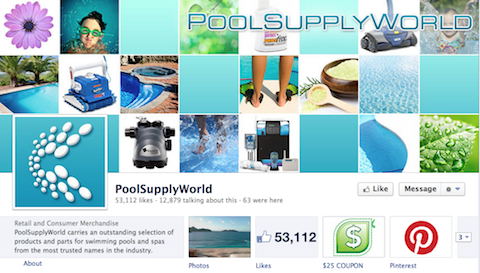 What the judges liked:
Great timeline cover photo
Coupon option is well done
Underwater camera giveaway aligns well with niche
Good use of call to action in posts to spark engagement
#7: Social Media Branding with Kim Garst
Social Media Branding with Kim Garst is a social media marketing business.
Fans: 23,001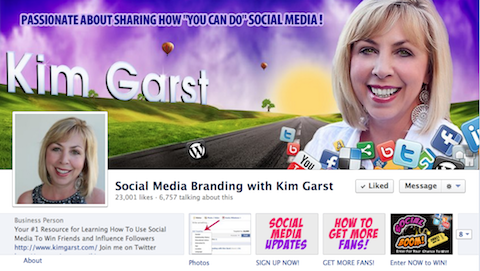 What the judges liked:
Great page with good use of photos
Engaging posts with good business motivation
Excellent visual branding
#8: Legendary Whitetails
Legendary Whitetails is a family-owned business selling unique casual apparel, gifts and gear for whitetail hunters through their catalog and website.
Fans: 677,079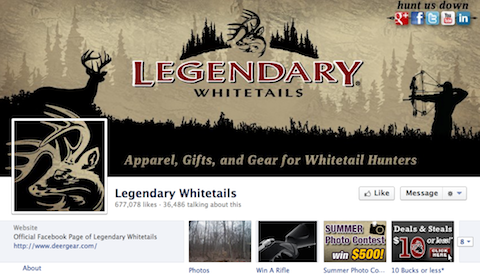 What the judges liked:
Great cover photo
Excellent use of apps
10 Bucks effectively gets more fans with the Reveal tab
Fantastic use of photos
They get lots of shares because they ask for them
#9: Dog Pack Snacks
Dog Pack Snacks is a producer and retailer for human-grade dog treats.
Fans: 1,732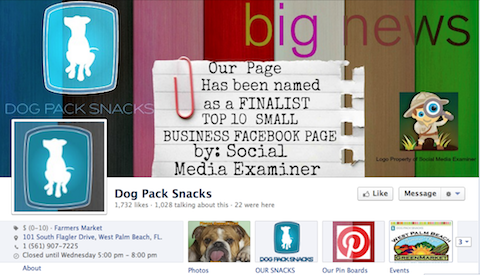 What the judges liked:
Great use of photos—especially the Social Media Examiner tribute
Dog biscuit app works great
Nice-looking storefront and email opt-in
Good variety of posts—particularly like the mix of voices between dog and owner
#10: Chocolate for Breakfast
Chocolate for Breakfast is the business page for Sue Ann Gleason, a culinary nutritionist and marketing strategist.
Fans: 9,858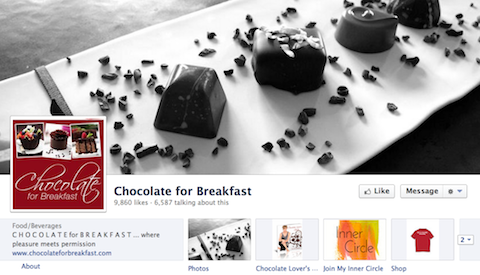 What the judges liked:
Outstanding engagement on page—over 60% Talking About This
Good use of photos
Entertaining, educational and inspiring posts—particularly like the use of recipes
Good opt-in app
Congratulations to the winners. Be sure to check out these amazing pages!
The Prizes
Each of our winners receives the following:
A free pass to Facebook Success Summit 2012: Each company wins a pass to attend the web's largest online Facebook marketing conference.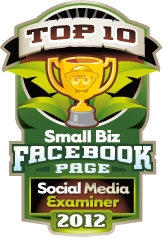 The badge of distinction: If you're a winner, you can post the image you see here on your blog or Facebook page and please link back to this page.
A special thanks to our judges—Amy Porterfield, Andrea Vahl and Phyllis Khare (co-authors of Facebook Marketing All-in-One for Dummies) for their participation!
What do you think? Share your questions and comments in the box below.