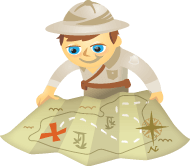 Do you advertise on Pinterest?
Wondering how to add video to your promoted pins?
Autoplay video pins aren't yet commonly used so adding them to your Pinterest marketing now will help you stand out in a sea of still images.
In this article, you'll discover how to create promoted video pins that autoplay on Pinterest.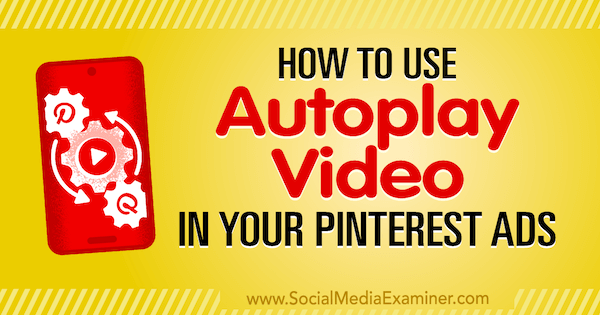 Why Use Pinterest Promoted Video Pins?
While videos aren't as commonly used on Pinterest as other platforms, their numbers are increasing. According to Pinterest's own calculations, the platform saw a 60% increase in video pins from 2015 to 2016, and that trend has continued in 2017, suggesting users are receptive to seeing video pins.
Videos stand out more in users' feeds, which helps give you an edge over your competition. It's also worth noting that the March 2017 update to the platform allows promoted videos to autoplay on mobile as soon as viewers come across them in the feed.
While Facebook has a larger and more diverse audience, Pinterest has an audience that's actively using the platform to browse, save ideas and products, and buy. Many people use Pinterest as a tool to research buying decisions, so why wouldn't you want your video pin to pop up in their searches and show them all of the ways your product can solve their problem?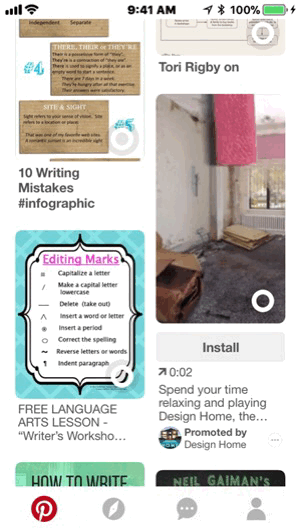 Create a Promoted Video Pin Campaign
Creating Pinterest promoted video ads is similar to creating any other promoted pin campaign. As a reminder, only business accounts can run ad campaigns.
Upload Your Video Pin
Before creating your campaign, it helps to know Pinterest's technical requirements for video:
.mp4 or .mov file
H.264 encoded
Minimum of 240 pixels
2GB maximum
Under 30 minutes, although Pinterest recommends keeping it between 15 and 30 seconds
Recommended aspect ratios are 1:1 for square formatting and 9:16 for vertical formatting
If you want to upload a new video pin, click the + button at the top of the page and select Upload Video from the drop-down menu. Make sure to choose a strong thumbnail, and add a description and link to the site where you want to send traffic.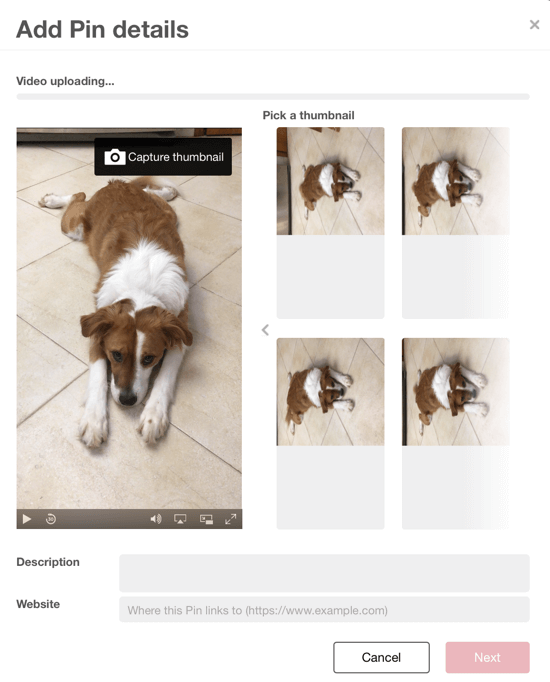 Create Your Campaign
Once you've uploaded the video pin you want to promote, you're ready to create your campaign. Click Ads at the top of the screen and select Video Awareness Campaigns.
Your Guide to the Future of Business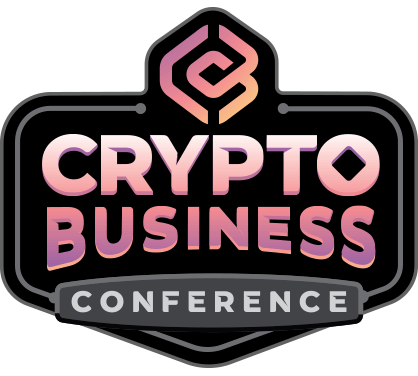 The Web3 renaissance opens up new opportunities for entrepreneurs, creators, and marketers who are ready to embrace the changes. But, who can you trust?

Introducing the Crypto Business Conference; a premium event for anyone who wants to learn how to put Web3 to work for their business.

Join us in sunny San Diego, California, for the first-ever crypto conference for business pioneers…not finance and tech nerds. You'll get actionable, business-building ideas from proven innovators—without all the techie jargon.
CLAIM YOUR SEAT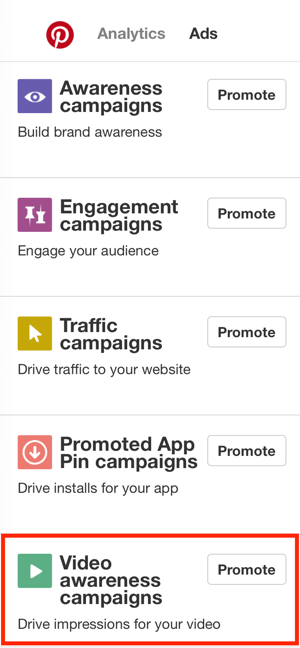 On the next page, choose the Build Brand Awareness Through Video objective, name your campaign, and add a daily or lifetime cap on spending (if you want). Then click Add More Details.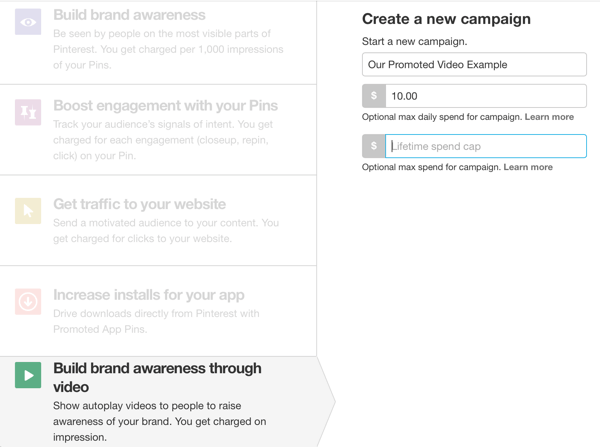 Now you'll flesh out the ad group. For those more familiar with Facebook ads, Pinterest's ad groups work a lot like Facebook's ad sets; it's just one tier in the ad creation hierarchy, falling under a campaign.
Name the ad group and set an ad group budget, which is required. Then select start and end dates for your campaign or choose to have it run continuously.
Get Expert Social Media Marketing Training from the Pros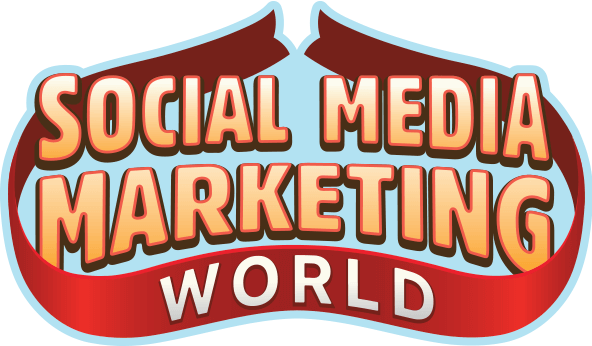 Want to get ahead of the competition and learn how to diversify your social marketing strategy?
Learn from the industry's most trusted experts, rub elbows with other smart marketers, and take your marketing to the next level during this 3-day event in sunny San Diego, California.
CLICK TO LEARN MORE

Now set up your targeting criteria. You can create a custom audience (based on site activity, Pinterest engagement, or a list of customers), use interest targeting, and/or select keywords.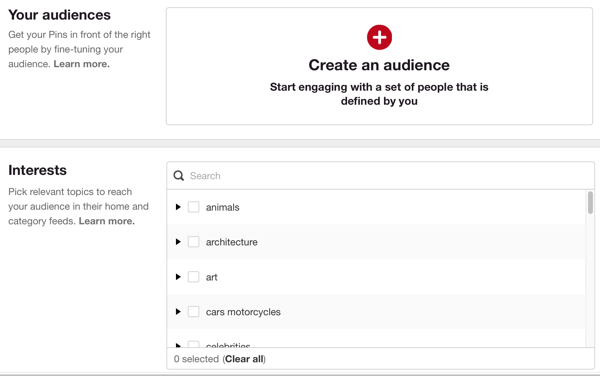 At minimum, choose plenty of keywords because they'll help you show up in the right searches where people are further along in the buying cycle and actively looking for you. When you type in a keyword, Pinterest will automatically suggest keywords similar to those you're searching for. Get creative, and use both specific and general keywords.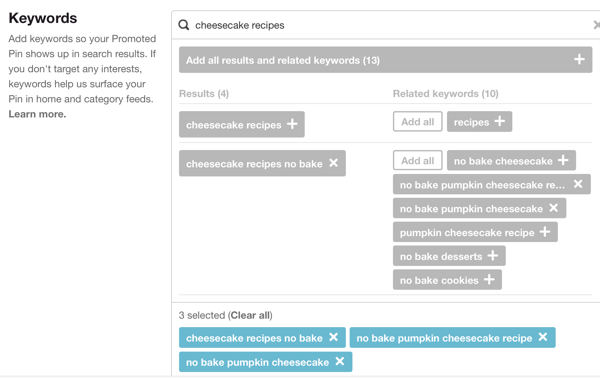 Next, finalize your targeting. Choose locations, languages spoken, and gender(s). Also set your maximum bid per 1,000 views because video view campaigns are charged based on impressions. Your bid needs to be at least $6. When you're finished, click Pick a Pin.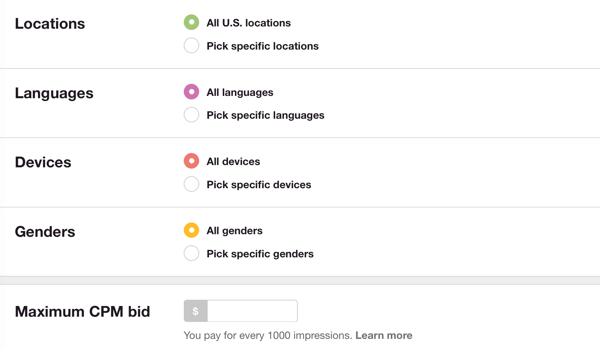 Select the video pin you want to promote, and add a name (optional) and destination URL. Once you do this, your ad is ready to go. Just submit it and wait for it to be approved.
Three Best Practices for Promoted Video Pins
There are a few best practices to follow to get the most out of your promoted video pins.
Create Videos That Appeal to Your Audience
When creating your video, show content that users want to see first, and then introduce your product.
For example, in the promoted video pin below, Pier 1 didn't simply tout their Forest Friends figurines. Instead, they showed viewers how to create a miniature tent using a colorful placemat. The how-to content catches the audience's attention, increasing the likelihood of clicks and conversions.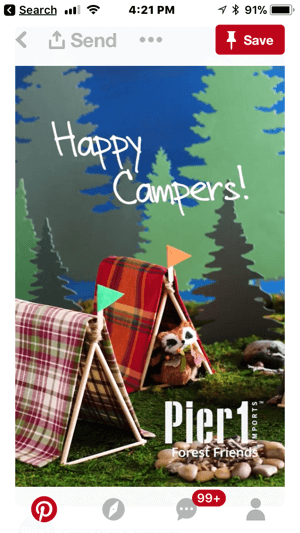 Use Feature-Benefit Selling
If you want to aggressively sell your product (and there's absolutely nothing wrong with that in promoted pins), focus on feature-benefit selling. List a feature, and then explain how it directly benefits the customer. With this tactic, you not only convey the solution your product provides, but also explain how it will do so.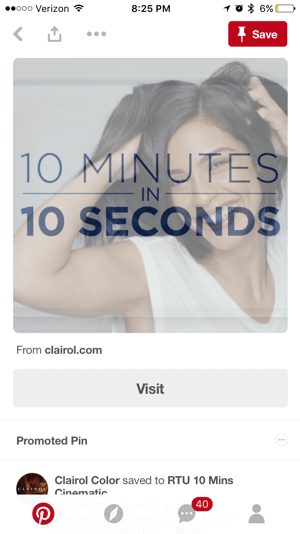 Showcase Quality
When creating video ads, remember that many people come to Pinterest to research buying decisions. If you're able to demonstrate superior quality to your competitors, your campaign is more likely to generate the results you're looking for.
For instance, this promoted video pin from Tieks informs viewers that it takes three days and more than 150 steps to make a single pair of shoes, highlighting the company's commitment to quality products.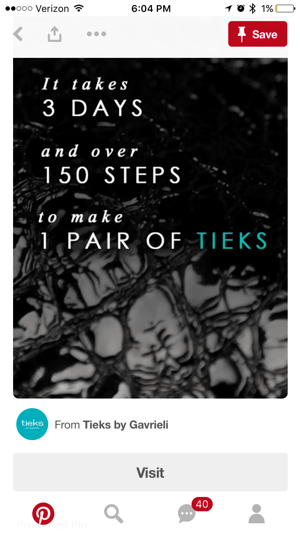 Final Thoughts
Pinterest promoted video pins give you one of the biggest advantages you'll see thanks to the autoplay feature (on mobile) that visually jumps out at users from a feed of still images. Video is an excellent format to build brand awareness on Pinterest, and the long allotted time allows you to cover everything you need to drive conversions.
What do you think? Do you use promoted video pins for your business? What results have you seen? Which strategy are you most excited to try? Share your thoughts, knowledge, and experience in the comments below!
Curious about NFTs, DAOs, and Web3?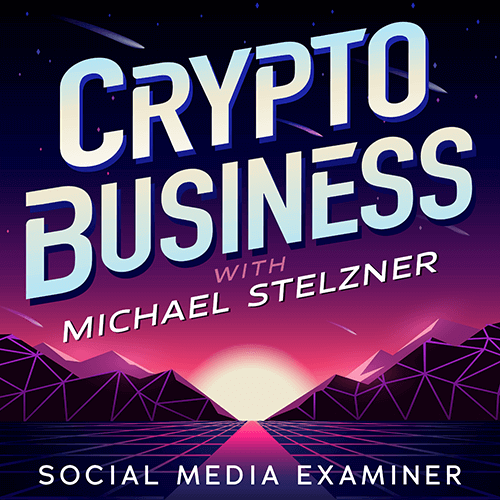 Follow the Crypto Business podcast to find out how NFTs, social tokens, DAOs (and so much more) will affect your business in the near future.

Every Friday, host Michael Stelzner interviews leading industry experts about what works right now in Web3 and what to expect in the future, so you can prepare your business for the shift, even if you're a total newbie.
FOLLOW THE SHOW