Want to grow your business? Wondering how to use Facebook ads to reach more customers at scale?
In this article, you'll discover three advanced strategies for scaling Facebook ads to grow your business.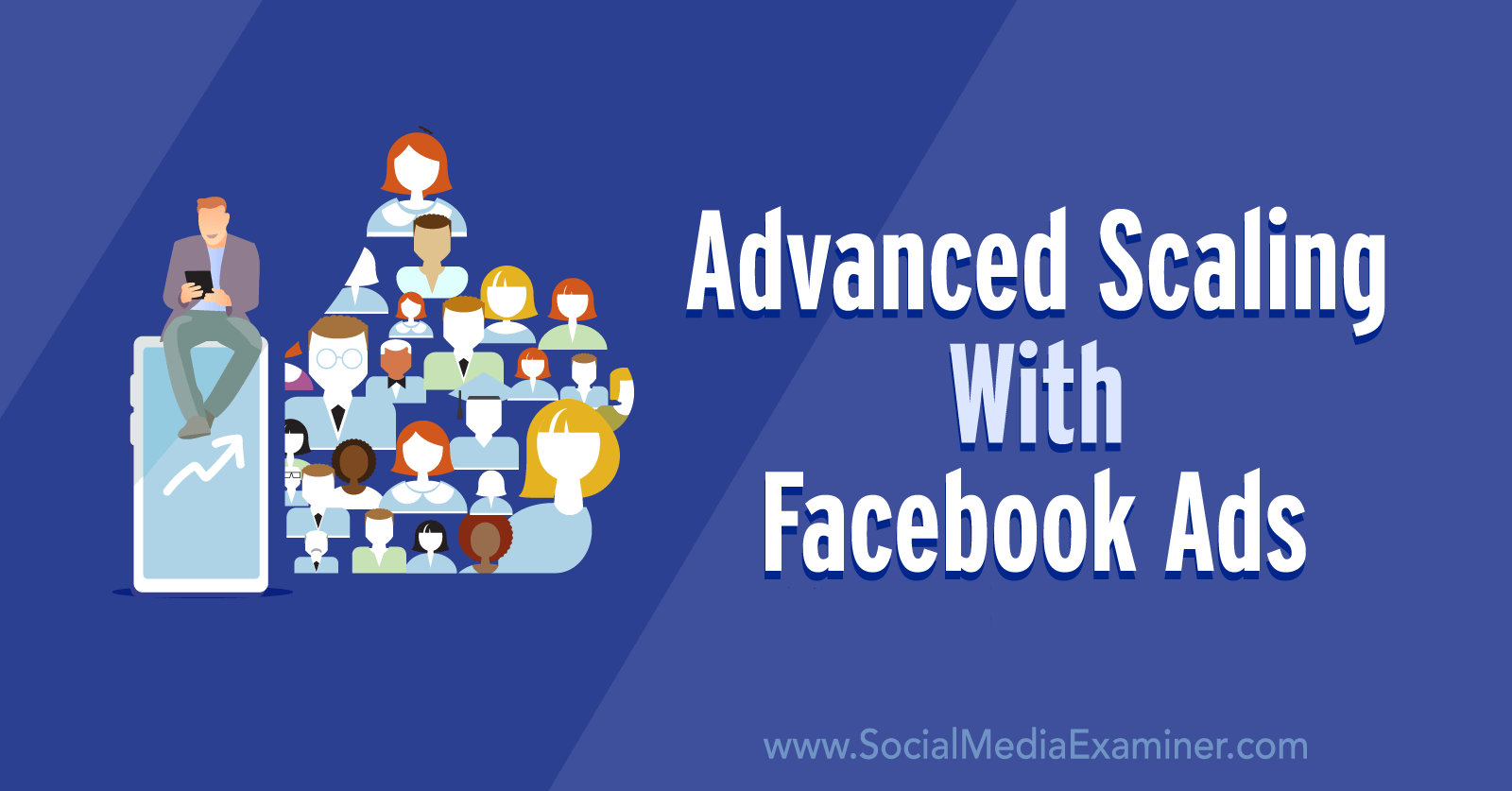 How Facebook Ads Can Scale Your Business
Facebook ads aren't for everyone. In fact, social media ads in general aren't for everyone. Depending on your business stage, you might be better off with organic content.
If you're getting organic traffic that always converts to clicks and sales, then you don't need ads.
If your business is new and you haven't figured out who your target audience is yet, then you don't need ads.
But for everyone else—the other 99% of brands on Facebook—paid ads are the way to go.
Paid ads help your business grow faster than anything else. It's like pouring gasoline on a fire. You might already have a good fire that's burning well. But the gasoline will make it bigger, hotter, and more visible than ever.
The other main benefit of paid social is that you can measure it effectively. You can see exactly where your budget goes and what impact it has.
With organic content, you're still in the dark. You don't know where users came from or what content they engaged with before visiting your site. With paid social media, you can track and attribute leads far more accurately.
The bottom line: if you want to grow and learn fast, then Facebook ads are for you.
#1: The Shotgun Method of Scaling Facebook Ad Campaigns
If you're experienced at running ads on Meta but you want to go bigger and better than ever before, using the shotgun method to scale Facebook ads fast is the best option.
How It Works
To understand the shotgun method, you have to understand how Facebook ads work.
The ads algorithm will show each ad in a set to about 300-500 people. Then, based on the response to each ad, it'll give more impressions to the best one.
However, you can't predict which ad will be the successful one, which means that ultimately, it's a numbers game. The more ad sets and ads you post, the more chance you have of finding something really good.
The shotgun method comes down to two elements:
Create a lot of ads to increase your odds of success.
Cut your losses quickly on poorly performing ads to save your budget.
As you take ad spend away from bad ads and give it to the high performers, you'll see a gradual improvement in ROAS overall. So although Facebook ads are still a lottery, you'll have more chances to win every day.
Experience shows that this method works for most other ad platforms, too. Search ads, Meta, and native advertising all use similar algorithms that reward high performance and punish poor performance so the same methods apply.
How to Do It
You need plenty of budget to start the shotgun method, enough for at least 200 conversions per day. For example, if your cost per lead is around $10, then you need a budget of $2,000 per day.
But don't worry. The whole point of the shotgun method is that it enables you to be profitable every day, even on an unpredictable network like Facebook. Whatever ad strategy you use, you have to spend a lot on Facebook, but with the shotgun method, you're more likely to get that money back.
Next, set up your campaign.
Create at least 20 ad sets to get enough data.
Optimize ads for conversions.
Set up broad targeting so your ad sets reach a range of audiences. At most, you should only use the same audience across two different ad sets. Use a mix of interests, lookalikes, and broad targeting to create as much variation as possible.
Create 5-10 ads within each ad set, depending on your budget.
Use a mix of images, videos, and image carousels in each ad set.
Set the starting budget for each ad at 10 conversions. For example, if your conversions cost $10, then each ad starts with a budget of $100.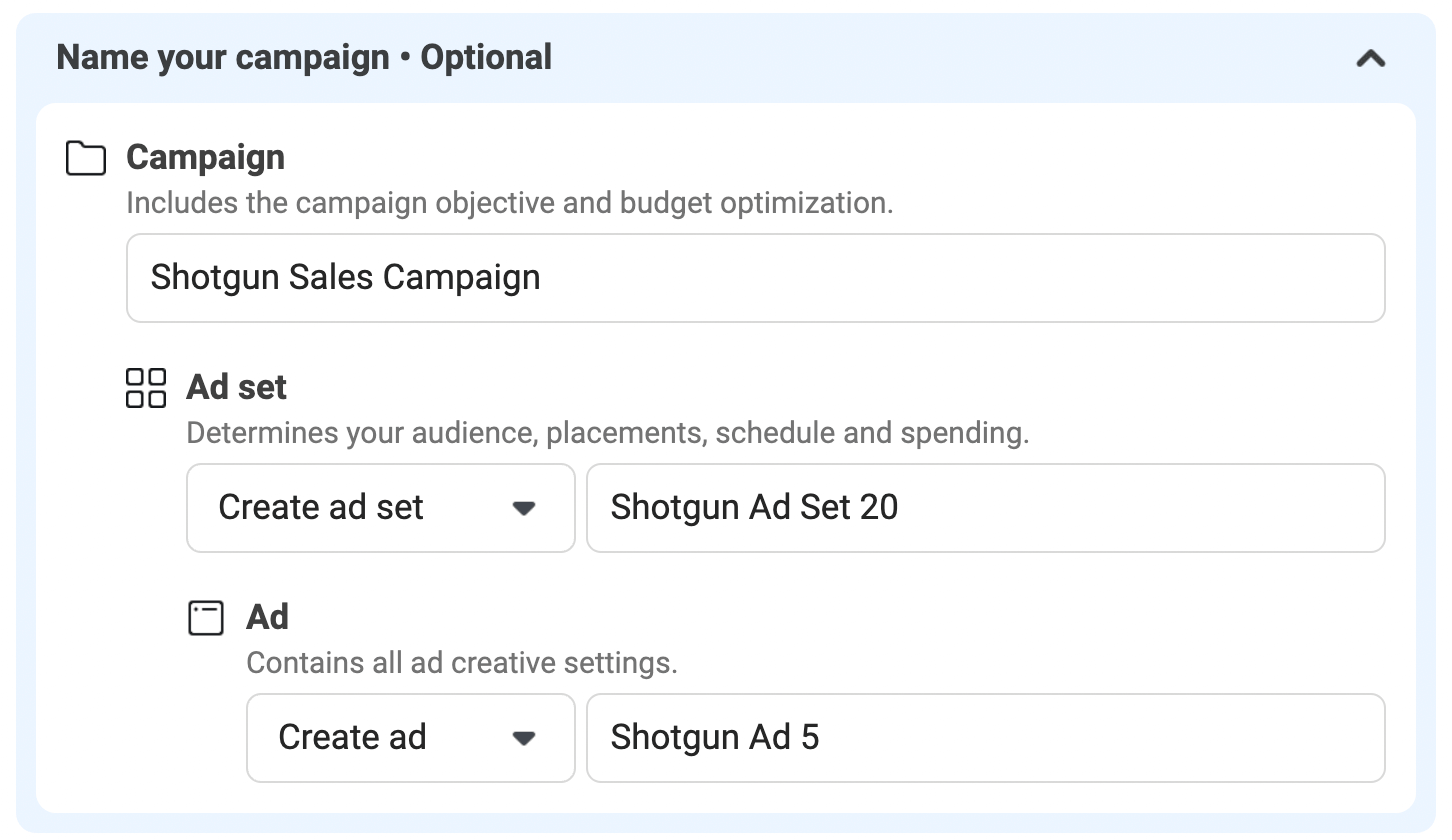 The reason for setting up a broad audience, using a wide range of assets, and starting with a high budget is always the same: to give the Facebook ad algorithm enough data to work with.
If you only target a small audience, your reach will be limited. If you only share one kind of creative, then you'll miss out on the audience that prefers other content formats. And if you only have the budget for one or two conversions per day, then the algorithm will get locked into serving that smaller audience, instead of gathering data and learning from a broader range of people.
Once you've created the ad sets, you've fulfilled the first part of the strategy, which is setting up lots of ads to improve your chances of success.
Next, it's time for part two: cutting your losses quickly on underperforming ads.
4-6 hours after going live. Go into each ad set and pause the worst-performing ads. If an ad has no or only a few conversions, cut it out now. Note that right now, we're pausing individual ads, not whole ad sets.
8-9 hours after going live. Pause any ad sets that aren't profitable. If any ad sets are almost profitable, they can stay live for now. At this point, the algorithm has enough data that it's not worth pausing individual ads, just whole ad sets. You'll probably lose about 5-7 ad sets out of 20 at this point.
12 hours after going live. Pause any ad set that isn't profitable, including ad sets that are close to profitability. At this point, you'll probably cut another 5-7 ad sets, leaving you with 6-10 profitable ad sets.
14-16 hours after going live. If any ad sets have dipped below the profit line, pause them now.
After that final check-in, you can let the remaining ad sets run for the rest of the day.
Here's the magical part. There's a high chance that you'll be unprofitable early on. By 8 AM, you might have a negative return on investment (ROI) of 30%. But by midnight, you'll be solidly in the black.
At midnight, when you've seen your profit for the day, you reset the entire campaign. Switch every ad in every ad set back on. We reset the campaign at midnight because Facebook ads essentially run on a 24-hour cycle. If something failed today, it might be a huge success tomorrow and vice versa.
You'll repeat this 24-hour cycle for 4-5 days. At that point, you'll have enough data to review which ad sets were consistently worth their budget. You'll probably find that you have about 15 great ads, and 5 that can be permanently scrapped.
Once you have your winners, you can create more ad sets to get back to your initial number of ad sets. If you started with 20 and ended up with 15 good ad sets, then you'll need to create 5 new ones to reset the campaign and do it all over again. Keep testing, resetting, and scaling until your Facebook ads are a money-making machine.
Automate with Revealbot
Does the shotgun strategy sound like a lot of work? Well, fortunately, there's a way to automate the process.
You'll need to start the strategy manually. However, once you reach a point where you're regularly profitable each day—usually after 1-2 weeks—then you'll have enough data to set up automations.
Facebook does have some built-in automation rules. For example, you can set rules to pause or restart ads based on their cost per acquisition.
However, we're going to go a step further and use a tool called Revealbot. Revealbot is like Facebook rules when they've eaten their protein, gone to the gym every day, and taken a bunch of performance drugs. You can automate a lot more things with a lot more detail.
The other key difference between Facebook automation and Revealbot is how quickly they update. Facebook checks performance and triggers automation every 30 minutes, while Revealbot checks every 15 minutes. When you're running a high-budget campaign at scale, those 15 minutes can make a very big difference.
#2: The Bully Method of Scaling Ads
The bully method is exactly what it sounds like. You use high manual bidding to bully competitors out of your target audiences and keywords. Just like the shotgun strategy, this method works when you have budget to spend and are ready to scale. It also works across multiple ad platforms, not just for Facebook advertising.
How It Works
A standard bid means that your ad gets shown in a standard place. Maybe it would be the 10th or 15th or 20th ad that a user sees when they scroll through their home feed. Just like search engine rankings, the lower your ad is in the news feed, the less likely you are to get conversions.
A bully bid means that your ad is shown at the top of the feed and gets a higher click rate. The click rate sends a signal to the Facebook algorithm that your ad is a success—resulting in a lower cost per click.
Meanwhile, your competitors will slowly disappear. You're taking traffic from them, lowering their conversion rate, and raising their costs.
Result: bully bidding gives you higher-quality leads, higher conversion rates, lower competition, and lower cost per click. It can even result in a lower cost per conversion than if you were auto-bidding or offering standard manual bids.
How to Do It
Let's use the same example, where your cost per conversion is around $10. At that rate, a standard manual bid would be between $10 and $20—just slightly more than your conversion cost. A bully bid would be 5-10 times more, from $50 to $250.
The most important rule for the bully bid strategy is that you set your bid cap, not your cost cap. If the bid cap is high, then you can outbid competitors and get a lower cost per click overall. But if you accidentally set your cost cap very high, then you'll just end up paying more.
You'll also need some patience. It can take 2-3 days for your competitors to notice the effects of bully bidding and pause their ads. You might see a higher cost per conversion for those first few days and then your costs will come down.
#3: The Surfing Method of Scaling Ads
Every surfer knows that there are good waves and bad waves. You want to wait for the good waves that you can ride all the way to shore. It's not worth wasting time on small waves that don't go anywhere.
How It Works
With the surfing method, you bet on the best-performing ads. But you do that while working with the algorithm.
As we've seen, the Facebook ads algorithm runs on a roughly 24-hour cycle. So if you see an ad performing well, you can increase the budget—but only for 24 hours.
Because you're running this method on a short cycle, you can also afford to bet more. If you wanted to raise the budget for a week, you'd have to spread your money around. But because you're only raising the budget for 24 hours, you can go big.
How to Do It
Check in on your ads after they've been live for about 12 hours. If you spot an ad set that's performing well, double the budget. Don't mess around. Go straight for the double.
For our purposes, performing well means at least 8-10 conversions. Two to three conversions might be a good sign but it's not a clear enough marker for you to spend more money. You also need to look at the ad set level. Don't try to use this method on individual ads. The only caveat to this is if you're only just starting to make a profit. At that point, you might choose to raise the budget by just 30% to preserve your profit margin.
Just like the shotgun method, you're going to run this strategy on a 24-hour cycle for several days, always resetting the ad budgets at midnight. If you have an ad set that's worth a higher budget for multiple days in a row, then you can leave it set to that higher budget. It's clearly a winner and will use the money well.
How to Combine All Three Strategies for Facebook Campaigns
What's better than one winning strategy for Facebook ads? Three winning strategies!
You can combine the shotgun method, bully method, and surfing method to create a truly powerful Facebook ad campaign.
Here's what that would look like as a work schedule:
Midnight. Ad sets go live, bidding manually at 5-10 times the cost per conversion.
6 AM. Pause the lowest-performing ad sets.
8 AM. Pause any unprofitable ad sets.
Noon. Pause any unprofitable ad sets. Double the ad budget on any ad set with 10 or more conversions.
4 PM. Pause any ad sets that have become unprofitable. If your surfing ad sets are performing well, double the budget again.
When you implement all of these strategies at once, you will fully maximize profitability on your Facebook ads. You'll be able to spend anything from $20,000 up to $100,000 a day—all while staying profitable.
Whatever is good for the day, you just crank the budget up on that to maximize profitability and that's how you can spend anywhere from $30 to $100,000+ per day profitably pretty much every day.
Other Notes From This Episode
Where to subscribe: Apple Podcasts | Google Podcasts | Spotify | YouTube Music | YouTube | Amazon Music | RSS
✋🏽 If you enjoyed this episode of the Social Media Marketing podcast, please head over to Apple Podcasts, leave a rating, write a review, and subscribe.
---
Stay Up-to-Date: Get New Marketing Articles Delivered to You!
Don't miss out on upcoming social media marketing insights and strategies! Sign up to receive notifications when we publish new articles on Social Media Examiner. Our expertly crafted content will help you stay ahead of the curve and drive results for your business. Click the link below to sign up now and receive our annual report!