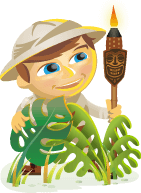 Do you use Facebook ads?
Want to bring your Facebook advertising to the next level?
To learn how to use Facebook advertising to your advantage, I interview Jon Loomer.
More About This Show
The Social Media Marketing podcast is an on-demand talk radio show from Social Media Examiner. It's designed to help busy marketers and business owners discover what works with social media marketing.
In this episode I interview Jon Loomer, a Facebook marketing expert who specializes in Facebook advertising. His blog, JonLoomer.com, was the top pick in our 2014 top 10 social media blogs.
Jon explores the benefits of Facebook advertising.
You'll discover new tools for publishers on Facebook, information about conversion tracking, custom reporting options and more.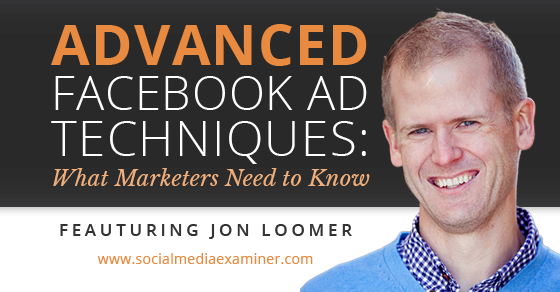 Share your feedback, read the show notes and get the links mentioned in this episode below.
Listen Now
Where to subscribe: Apple Podcasts | Google Podcasts | Spotify | YouTube Music | YouTube | Amazon Music | RSS
Here are some of the things you'll discover in this show:
Advanced Facebook Ad Techniques
New Facebook tools for content publishers
Before going into detail about the four new features aimed at content publishers, Jon explains the difference between an organic post and a Facebook ad.
An organic post is something you share with your fans that's free and will also show up in the news feed. If you want to promote a post or create a separate promotion, that's an ad.
The first new feature is the ability to target organic posts by interest to your fans. Targeting interests was previously something you could only do with ads.
Jon shares why a marketer might want to try targeting fans. Facebook's algorithm only shows content to people who are likely to engage. After these fans engage, Facebook will show it to more people. So, if you target a post to people you know are highly likely to engage, you'll get the benefit of more Facebook visibility.
Note: You can target by demographics, as well as to fans of other pages and fans in specific categories.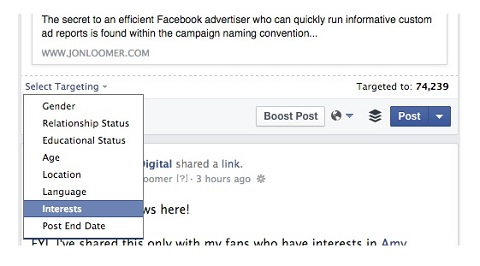 The next change, which has been rolled out to a small number of big media companies, is smart publishing. This is auto-publishing, based on user engagement. Facebook looks at the most popular links people share on Facebook, and will share them with your fans. It won't post on your fan page, it'll just appear in your fans' news feed.
Third is post end date. If you share something that's going to expire, you can put a post end date. It will disappear from your page and the news feed when that promotion is over.
You'll hear about the final update, which is improvements to domain insights.
Listen to the show to hear Jon's take on dark data, as well as how to generate and use UTM codes to better track link engagement and conversions.
How Facebook tracks conversions
By default, Jon explains, Facebook records a conversion when somebody has clicked your ad and converted within 28 days or viewed your ad without clicking and converted within 1 day. However, if you use your custom reports, you can adjust that window. You can get rid of view-through, or you can set view-through and click-through conversions for 1 day, 7 days or 28 days.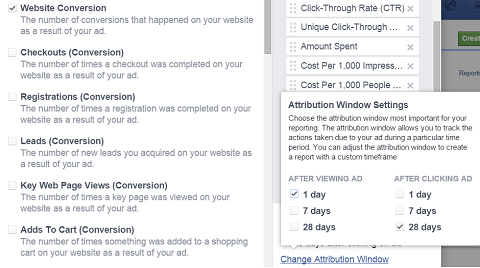 When you have that conversion pixel on your site, Facebook knows three things: whether someone viewed your ad, clicked your ad or if they ever fired that conversion pixel. Facebook uses these metrics to determine whether your ad resulted in a conversion.
To get to custom reports, go into your Ads Manager and click on Reports. Then click on the Customized Columns button, and then in the bottom right-hand corner of the window, the Attribution Window pops up. This is what you change to include any or all six reporting options.
Listen to the show to discover what happens to your view-through and click-through conversions when you target the right way.
Why bloggers should consider using Facebook ads
Jon says that there's nothing more important than traffic to your website, other than the eventual dollar. The more traffic you get, the more people you can remarket to later and ask to opt-in or buy something. Ads will bring more people to your website.
He explains that when he publishes a new blog post, he shares it to Facebook and also sends it to his email list. Six hours after posting it organically on Facebook, he turns it into an ad. He'll schedule campaigns that go to two different groups of people: one targets fans, one targets website visitors. This is especially important because not all visitors are fans.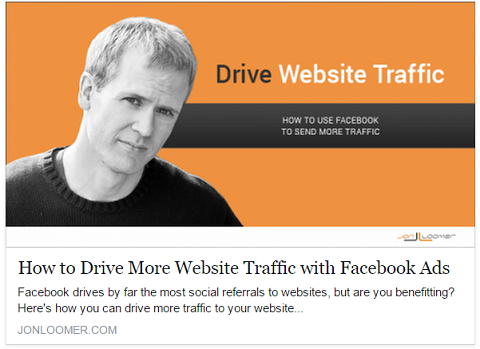 For Facebook ads for his blog Jon spends $10 per day per ad set ($20 a day) with the goal of driving website traffic. Jon's rule of thumb is if you have the potential audience to reach 100,000 people, and you have optimized for a website click or some sort of action, Facebook will optimize it and show it to the top 5% to 10% of those people.
The key, Jon says, is to create an ad that goes to the right people, with the right message, at the right time. That way, it doesn't stick out as an ad and you'll get similar types of engagement whether it's an ad or organic.
Listen to the show to learn the math behind Jon's budgeting for ads.
Facebook's new rules on organic promotional posts
During the show you'll hear Jon go over the three types of posts that are affected by Facebook's new rules.
Posts that solely push people to buy a product or install an app will get limited visibility. The workaround is in the content. Jon suggests you can change the language in your post and share a link to a product.
Posts that push people to enter promotions or sweepstakes with no real context will also be limited, as will posts that reuse the exact same content from ads. It'll be interesting to see how these new rules play out.
Listen to the show to find out how, according to Jon, these new rules may hurt well-meaning pages.
Discovery of the Week
Want to save time by streamlining your activities? Looking for a mobile tool that helps you create custom automated tasks? Check out Workflow.
Workflow is an iOS app that automates tasks on your iPhone and iPad. It will pull a piece of information, such as text, graphics or video, from one app and send it to another app. From that app, it'll send it over to another.
When you open up the Workflow app, it shows you a sample of how it works. It has you take three photos manually, then converts them into a GIF before it brings it to a place where you can add text and tweet it. Once you set up any type of Workflow, the app saves it forever.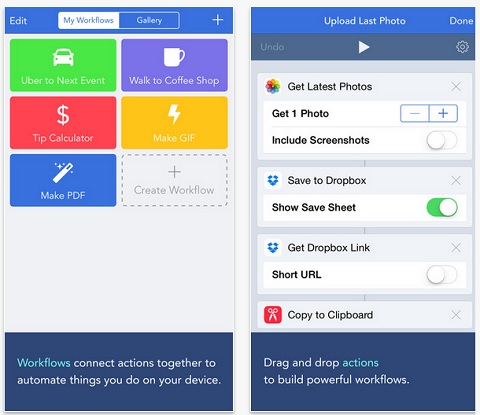 Choose from Workflows that have already been created or make your own. It's a huge time-saver, since you can do a bunch of steps with the push of a button, rather than take the 5 minutes to do them all.
Another example of a Workflow is called cross post. You can set it up so when you hit the button, it takes the photo or your text and sends it to all of the different social networks you plugged into that workflow.
Workflow is a new app. It currently costs $2.99, but the price may go up.
Listen to the show to learn more and let us know how Workflow works for you.
Other Show Mentions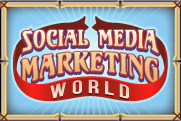 Today's show is sponsored by Social Media Marketing World 2015.
We are super-excited about Social Media Marketing World 2015. It's the world's largest social media marketing conference. By attending, you'll make connections with 100+ of the world's top social media pros (plus 2,500 of your fellow marketers) and you'll discover amazing ideas that'll transform your social media marketing.
Hear testimonials from our 2014 conference speakers.
This is just a sample of industry experts talking about their experience at Social Media Marketing World.
In the show, Jon Loomer recalls how amazed he was two years ago when he experienced Social Media Marketing World for the first time as an attendee. Last year, he became a speaker. Like many others, Jon believes there is something special about the conference, as it's an excellent place for social media marketers to gather together. This year, Jon will speak about "How to Sell to the Right People Using Remarketing and Other Advanced Social Advertising."
Social Media Marketing World 2015 has a lot going for it with the great content, excellent presenters and valuable networking opportunities.
Take your social media marketing to the next level and join us in warm, sunny, beautiful San Diego, California on March 25, 26 and 27, 2015. Hundreds of people have already secured their tickets. Click here to check out all of the speakers and the agenda, watch our video and grab your tickets today.
Listen to the show!


.
Key takeaways mentioned in this episode: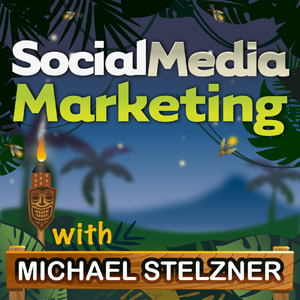 Ways to subscribe to the Social Media Marketing podcast:
How to Subscribe to this Podcast on an iPhone
Watch this quick video to learn how to subscribe on your iPhone:
.
What do you think? What are your thoughts on Facebook ads? Please leave your comments below.