Wondering how to get more engagement on your Instagram reels? Looking for practical tips?
In this article, you'll discover nine ways to use Instagram Reels to boost your Instagram engagement.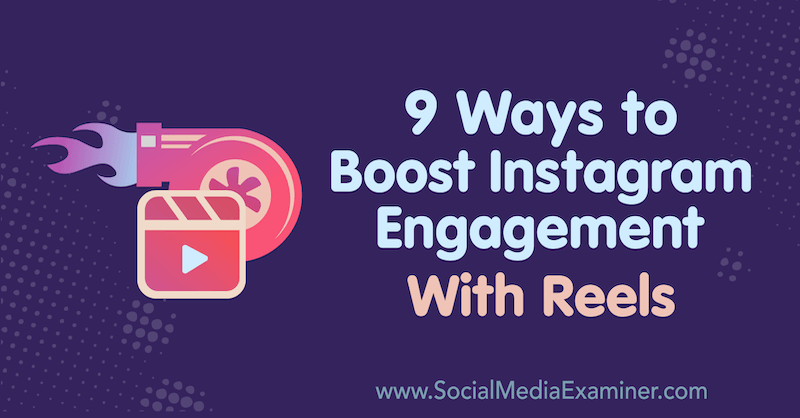 What Type of Content Works Best on Instagram Reels?
Stories and IGTV and Reels—oh my!
With so many options, when should you use Reels instead of the other two options? And is there content that performs better on Reels?
Unlike Instagram Stories—which are a string of temporary videos meant to expire after a short period of time—and IGTV—which are long-form videos that can be edited and produced—Instagram reels are short-form videos that can live on your profile indefinitely. And while they can be presented as a series, each video stands alone in the feed.
Instagram Reels is the perfect place to share fun, behind-the-scenes glimpses into you and your brand, as well as casual, unrehearsed peeks at your products or services. The casual format of Reels video helps remove some of the pressure that comes with producing and editing video or presenting live video.
Follow these tips to get more engagement on your Instagram reels.
#1: Use Native Reels Tools to Create Your Content
Reels has editing tools, music, and visual effects that you can add to make your videos really pop. And Instagram recommends that you use them. In true Instagram fashion, once they've released a new feature, they really want you to use that feature and will boost your exposure if you often use that feature and the tools on the app related to that feature.
Therefore, to maximize your reach, try to record, edit, and add effects to your Instagram reels from within the app, rather than uploading a video you've recorded elsewhere.
Keep Your Instagram Reels Looking Native
Instagram reels don't quite work if they don't look native. They should be recorded in portrait (or vertical) orientation using your smartphone's full screen, rather than encased in a frame, squared off, or set horizontally.
If you want to repurpose a video you recorded for a different channel or with a different orientation into an Instagram reel, it's going to take a little bit more work than to simply post it. Kind of how a Facebook post doesn't quite work on Twitter.
Besides this, according to Instagram, a recent survey of its users revealed that those Instagram reels that had been repurposed or uploaded from sources outside of the Instagram app looked blurry and the watermarks placed on them from the other apps were distracting and made the overall user experience less enjoyable.
Now, I haven't experienced a blurry Instagram reel after repurposing my content from another app so I can't speak to the accuracy of that claim and I don't know how widespread that issue has been.
Get Your FREE Course: Web3 for Beginners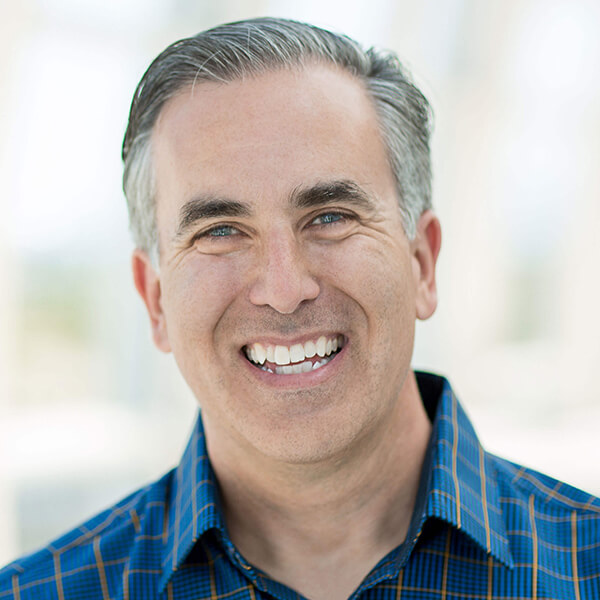 Curious about Web3, but don't know where to start or who to trust?

Introducing Web3 for Beginners, a course taught by Michael Stelzner, the founder of Social Media Examiner.

Learn the basics of Web3 and apply it to your business with this FREE comprehensive course.
CLICK HERE TO GET FREE ACCESS
However, it's important to note that Instagram has said it will no longer push Instagram reels out into the Explorer feeds if they have a watermark from another social media network. That's one more reason to keep your Instagram reels looking as native as possible. So either record them inside the Instagram app itself or use a program that won't leave a watermark on them.
#2: Pull Viewers in Immediately
As with video content on other channels, the first few seconds of your Instagram reel are the most important. You want to do or say something that stops the viewer and immediately pulls them in and gets them to watch more. This might be a flashing piece of text or a sticker along the top edge. It might be the first words out of your mouth. It could even be you telling them to stop.
Rachel Pedersen (@themrspedersen) often uses her hands, stance, or text to stop the scroll on her reels. In this example, she also uses the strobe light effect and music to grab viewers' attention right away.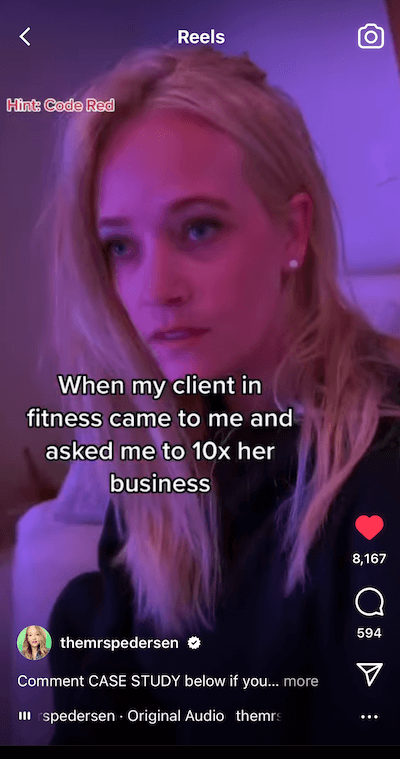 #3: Use Creative Edits and Transitions in Your Reels to Keep Viewers Engaged
You might think that 15 seconds is long enough for anyone to watch a video all the way through but humans have proven that 15 seconds can sometimes be too much time to invest in a boring video. To keep viewers watching longer, add some interesting edits and creative transitions to keep their eyes engaged on your reel.
Edits can be as simple as stopping and starting the recording to create a cut. A cut is a simple but abrupt transition from one scene to the next. It might be used to reposition yourself in the camera, record at a different angle, or zoom in on yourself or your subject. It does this in a way that's abrupt and causes the eye to jump a bit. This slight jump helps keep eyes focused on the video itself, which keeps viewers engaged for longer.
Olivier Wong (@wonguy974) creates Instagram reels that showcase behind-the-scenes looks at his photography and uses simple edits to cut from one step to the next.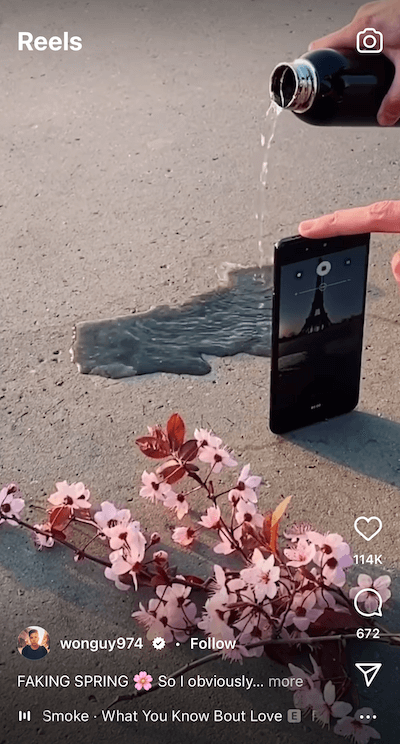 Transitions are trickier because you're trying to do more than simply cut from one scene to the next. You might try to make one scene melt into another scene, or do a transition that tricks the eye and keeps people watching to see what happens next.
Kyle Nutt (@kylenutt) posted a behind-the-scenes example of how to create smooth transitions within the app.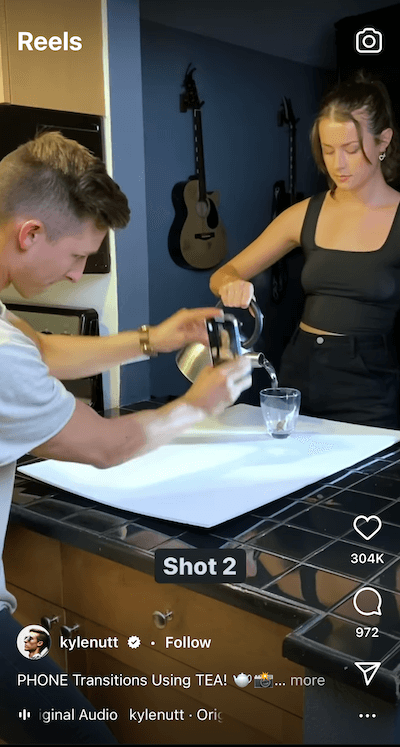 #4: Leverage Q&As in Your Instagram Reels
When it comes to thinking up content ideas, nothing beats the brainpower of your own community.
Using Instagram reels to answer questions is a great way to keep viewers coming back for more. End one of your reels with a call to action (CTA) for people to leave more questions for you in the comments and you'll have an endless supply of content ideas.
Simply take a question from one of those comments and use that to create the content for your next Instagram reel. This tactic will give you a series of semi-related content. And it will keep your people coming back for more as they want to see their questions answered. The more questions you answer, the more questions you'll get.
#5: Deliver CTAs to Drive Taps
Reels are also a great way to offer valuable tips and advice on almost any subject. However, once you give out that advice, viewers usually want to know where they can go to get more.
Using a CTA in your Instagram reel to direct viewers to where they can go for more information will help you garner even more engagement on your content.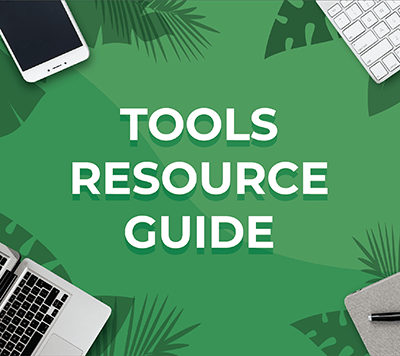 Looking for something to make your life easier?
Discover the tools we recommend to drive engagement, save you time, and boost sales across your entire marketing funnel or business.
Whether you need help planning content, organizing social posts, or developing your strategy, you'll find something for every situation.
FIND YOUR NEXT FAVORITE TOOL
Instagram expert Sue B Zimmerman (@theinstagramexpert) does a great job of this inside of her Instagram tips reels. She records her tips as normal and then ends every reel with a CTA to get more information from the description. The CTA could be to go to her website, opt-in, landing page, or even the next Instagram reel. By directing her viewers to tap on the description for more information, she's inviting more engagement on that Instagram reel.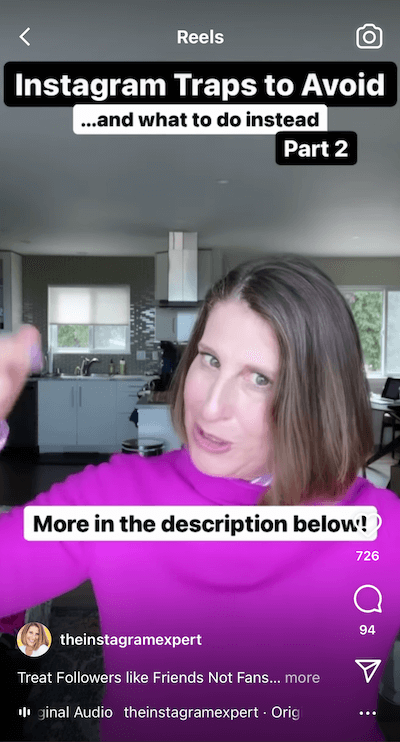 #6: Tell a Complete Story
Fifteen seconds may not seem like a lot of time but you'd be surprised at just how much you can say in that brief time span. As you know, storytelling is one of the most important factors of any social media marketing no matter what platform you're posting to, and Instagram Reels is no exception. So make sure that your Instagram reel is telling a complete story.
Katrina Lebar (@katrinalebar) uses Instagram reels to talk about her journey as an entrepreneur, including this one in which she talks about some of the fears and obstacles she faced and how she overcame them.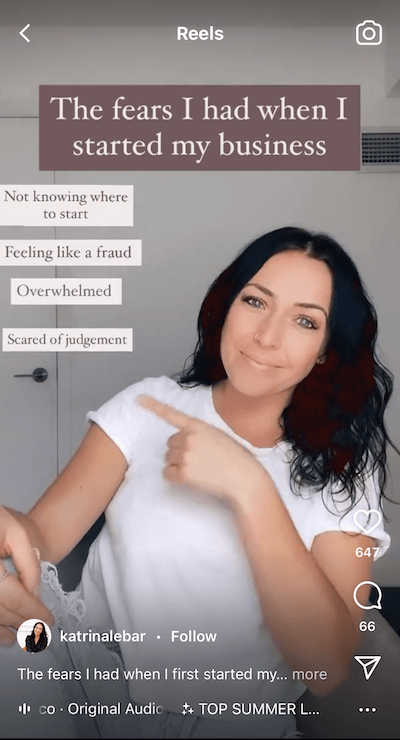 Rebecca Minkoff (@rebeccaminkoff) also gives humorous behind-the-scenes looks into her personal life, such as this reel about how she prepares a recipe.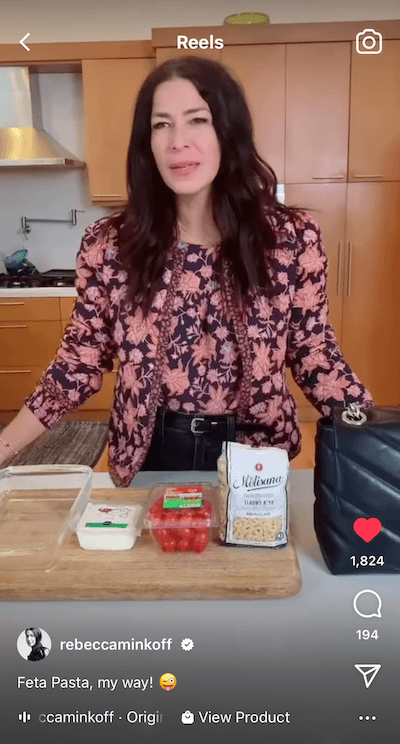 #7: Spotlight or Shout-Out Your Community
One of the fastest ways to get people talking to you is to use your reels to talk about the people you want to engage with. Ulta (@ultabeauty) does this by regramming Instagram reels from their followers who have tagged them or included their hashtag in their reel.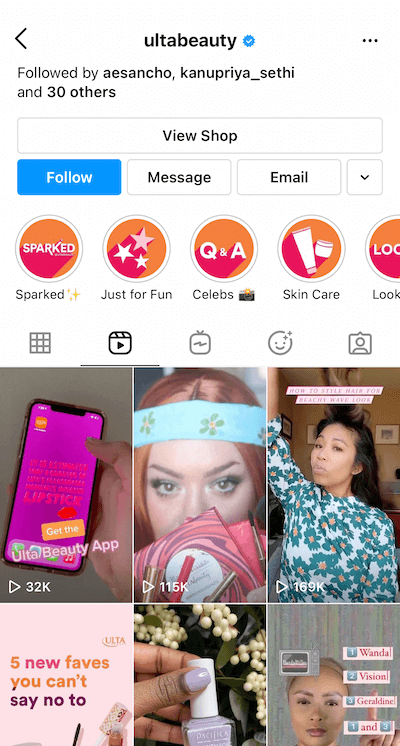 People love being noticed—especially by brands and influencers who tend to seem unapproachable. To have those brands and influencers not only take notice but also shout us out on their platform feels good and makes us feel valued. And in response, we'll often go back to those brands and continue to engage with them—commenting on more of their posts, sharing more of their stories, and investing more of our time on the platform overall.
#8: Create a Custom Reels Thumbnail to Drive Views From the Feed
When you create a new Instagram reel, you get an opportunity to choose a thumbnail—the still shot that will be seen on your profile. You can either select a frame from within your video or upload a custom image. By creating a title template in your favorite graphics editing program, you can create a cohesive, branded look to the Instagram reels on your profile.
Note that your reels thumbnails won't be visible in the Explore feed. However, when people are viewing your Instagram profile, custom thumbnails will make it easier for them to find videos of interest, find answers to questions they may have, and get a sense of what sort of content you post, all without having to scroll through all of your reels.
To see an example of a profile with branded thumbnail covers, check out Kelsey G (@thekelsg) on Instagram. Her thumbnails all feature the same shade of pink in a "Title: Subtitle" format. This makes her Instagram Reels feed easy to sift through to find a video to watch on demand.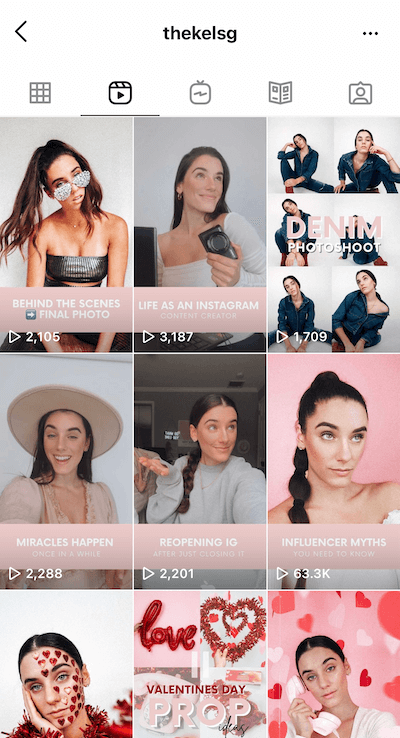 #9: Respond to Your Audience
Of course, a conversation can't be a one-way street. If your viewers are commenting on your Instagram reels, you'll need to respond right away to keep the conversation going.
As you grow your Instagram presence, your ability to respond to every single comment will diminish over time. However, while you have the time, and as often as you can without putting undue pressure on yourself, go through the comments and respond to any from viewers.
Pro Tip: If you include a question in your response to a viewer, they'll feel compelled to reply and continue the conversation.
Monique at The Socialista (@thesocialista_) is a prime example of someone who tries to respond to as many comments on her Instagram reels as she can to keep the conversation going and boost her engagement.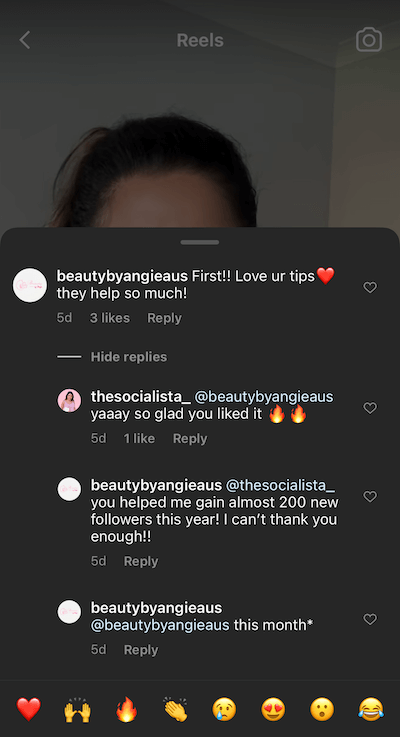 Conclusion
Once a platform like Instagram releases a new feature, that feature gets pushed into the feeds at a higher rate than their older features. When Instagram released Instagram Stories, stories started getting far more exposure and reach than the Instagram feed received. Likewise, when they released carousels, those carousel posts received much more engagement and exposure than their normal photo posts received.
Following this pattern, it should come as no surprise that Instagram Reels, the latest feature to be released by Instagram, tends to get far more reach and exposure than other types of Instagram content.
If you've been feeling bored with your Instagram game lately, Instagram Reels might just be the feature that can breathe new life into your Instagram presence. The good news is that Reels is an easy feature to learn and doesn't take a lot of time and energy to create. If you follow these tips, you can boost your organic engagement on Instagram almost immediately.
Get More Instagram Marketing Advice:
Get Your FREE Course: Web3 for Beginners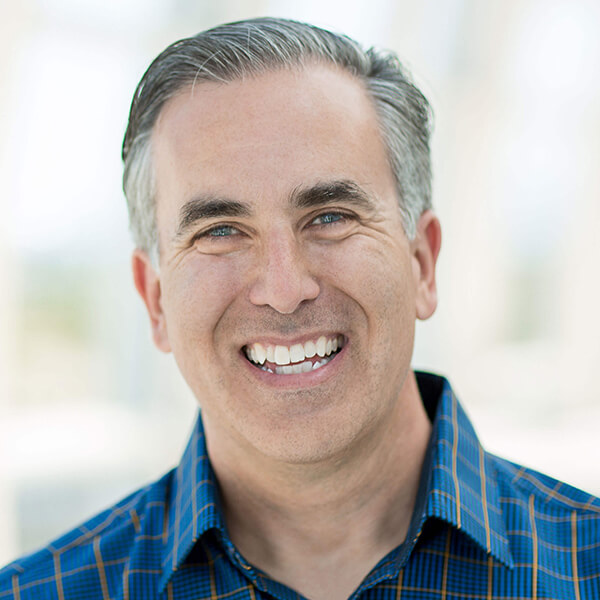 Curious about Web3, but don't know where to start or who to trust?

Introducing Web3 for Beginners, a course taught by Michael Stelzner, the founder of Social Media Examiner.

Learn the basics of Web3 and apply it to your business with this FREE comprehensive course.
CLICK HERE TO GET FREE ACCESS