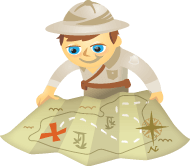 Do you want more exposure for your business on LinkedIn?
Are you using your LinkedIn company page to its full potential?
LinkedIn company pages let you provide value to your audience while giving them the chance to engage with your business, effectively establishing your credibility as a trusted resource.
In this article you'll discover seven ways a LinkedIn company page can help your business stand out on LinkedIn.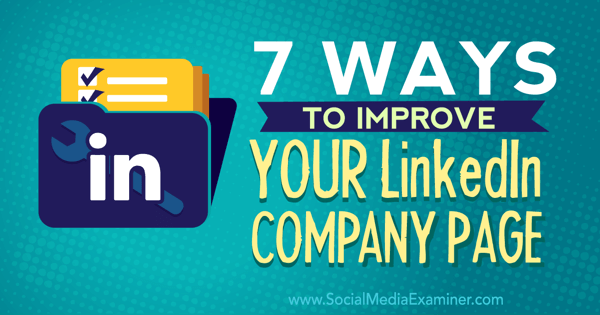 Listen to this article:
Where to subscribe: Apple Podcast | Google Podcasts | Spotify | RSS
#1: Support Brand Recognition
There are two primary visuals to be aware of on your LinkedIn company page: your company logo, which should be consistent on all websites and marketing materials, and the banner image on the top of your profile, which you can customize for LinkedIn and change whenever you'd like.
The banner (or background) image is important to brand your company. Since you may have a different audience on LinkedIn from your other social networks, keep certain graphic elements that define your brand such as colors, fonts, and design, while adding visual variety.
For example, HubSpot's LinkedIn banner image has their colors, along with the words "Academy & You," to promote the #FindYourAnd hashtag campaign for their HubSpot Academy educational program.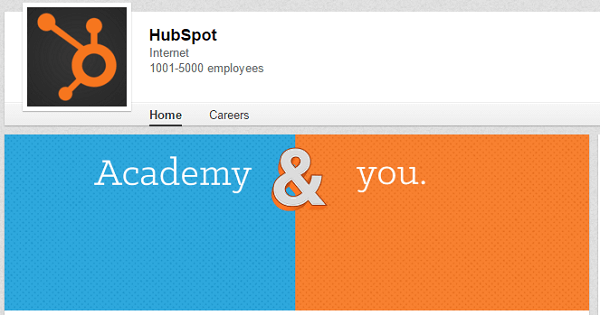 Even though there's a place for your website link on your LinkedIn company page, I recommend that you add your URL and central phone number (if you have one) to the banner image. You don't need to include your logo, since it will be right above the image on your page. Add a call to action, tag line, or hashtag to invite some engagement from your audience.

In addition to a main primary banner image, create custom background images too. This can promote upcoming events, a new content series, a product launch, a hashtag campaign, your best clients, or new hires.
For instance, Ventiv Technology features their new CEO in their current background image.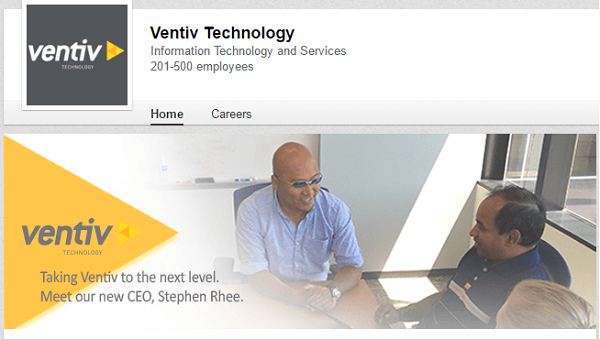 More than anything, your visuals should be consistent and reflect your other social media and business branding.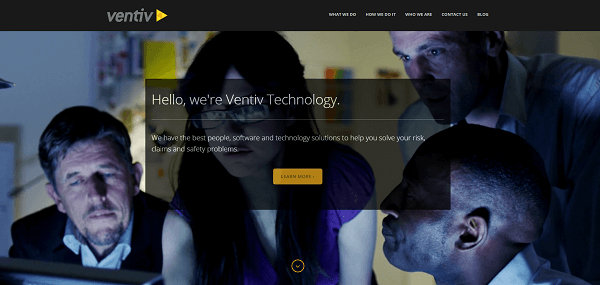 To update your company page images, or really anything on your page profile, click Edit on the right side of your company page, then Edit Page.
#2: Promote Specialized Landing Pages
Your website URL is required for your company page, and it's likely you'll want to keep the main one most of the time.
Get Your FREE Course: Web3 for Beginners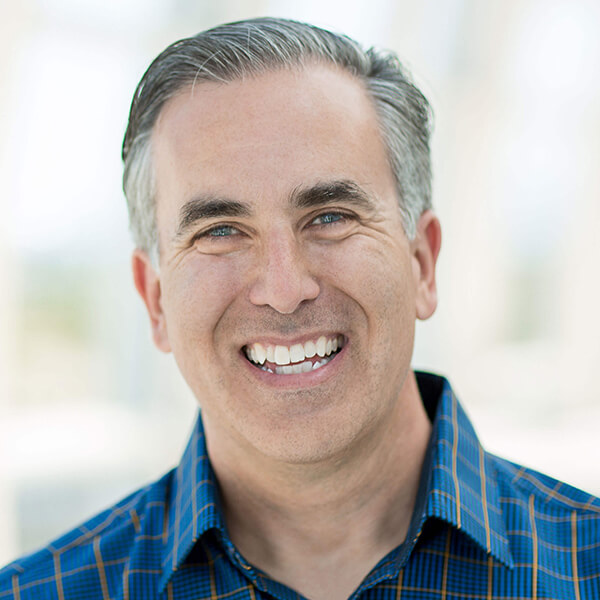 Curious about Web3, but don't know where to start or who to trust?

Introducing Web3 for Beginners, a course taught by Michael Stelzner, the founder of Social Media Examiner.

Learn the basics of Web3 and apply it to your business with this FREE comprehensive course.
CLICK HERE TO GET FREE ACCESS
However, if you're launching a book or promoting something, change your website URL to point to your blog or a product or event page.

Putting your website URL in the banner image gives you the freedom to change the link for your website at any time.
#3: Speak Directly to Prospects
In a lot of situations, the company description is someone's first impression of your business. Whether they're job seekers looking for more info about your company, vendors seeking strategic partnership, or potential customers and clients checking you out, you want to captivate them immediately.
Most businesses copy and paste their About section from the company website. While that's better than nothing, there's a way to step it up a notch. Write a description that directly speaks to the people who are visiting your company page, letting them know who you are and how you can benefit them.
In her description, Jeanne Bliss of CustomerBLISS tells her company's story and her background, shares the pain point of her ideal client, and then states how she can help. Plus, the image is an excellent visual representation of what she has to offer.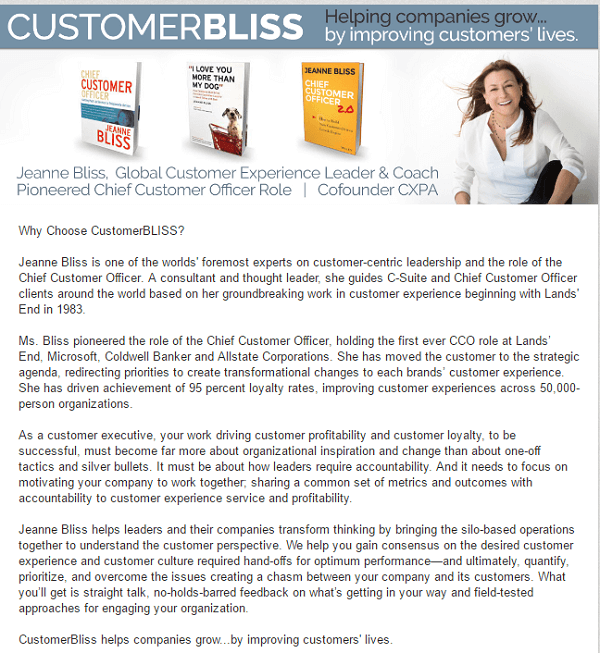 Speak directly to the client with a description that builds your and your business's credibility.
#4: Improve Visibility in Search
Go to the Specialties section and add your keywords. This will make your company page a little easier to find.

Your keywords are likely your specialties. Make them known, so those searching can find your company.
#5: Feature Specialties
Showcase pages are really subpages of your company page. You may want to use showcase pages if you have an annual event or a key product. You may even want to create a showcase page for customer service.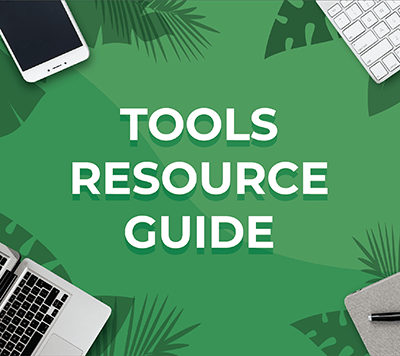 Looking for something to make your life easier?
Discover the tools we recommend to drive engagement, save you time, and boost sales across your entire marketing funnel or business.
Whether you need help planning content, organizing social posts, or developing your strategy, you'll find something for every situation.
FIND YOUR NEXT FAVORITE TOOL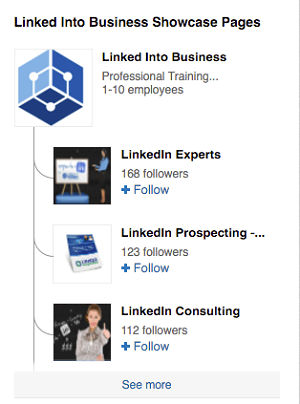 Each showcase page is meant to be a stand-alone page, with its own visuals, audience, content, and analytics.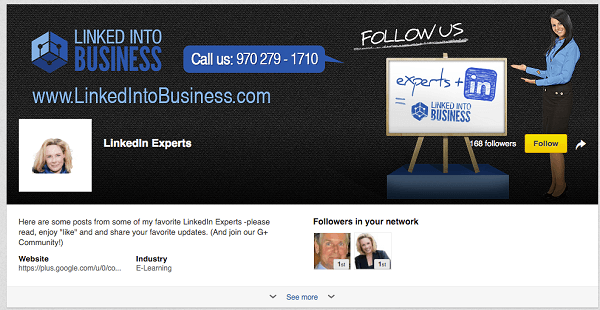 Note: Don't create a showcase page for every product you offer. That's why LinkedIn has product pages. However, if you want to call attention to something special your company offers, this is one way to do it.
#6: Stay Top of Mind With Your Audience
Company page updates are where a lot of people drop the ball. A LinkedIn update is just like a Facebook update or a tweet. It is a few lines into a link. You may also want to create custom images to go with your updates, just as you would do on other social media platforms.
There's a lot of competition for attention in the LinkedIn feed. Post at least once, but ideally a few times a week, with content that will bring people to your company page. This will also keep your page relevant.
One way to keep updates top of mind (and part of your social media process) is to make sure you add your company page to whatever social sharing tool you use, such as Hootsuite, Sociamonials, or Oktopost.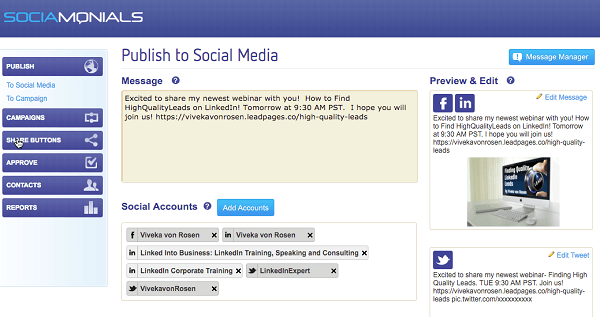 When you share an update, you have three choices.
General. This will push your post to everyone who follows your company page.
Targeting. This is a free option that enables you to direct your posts to specific audiences. For instance, if your company focuses on a bunch of verticals or niche markets, target the most relevant audience for your update. As long as you have at least 100 people in each targeting audience, you can share content specifically to them. Target by company size, industry, function, seniority, geography, and language.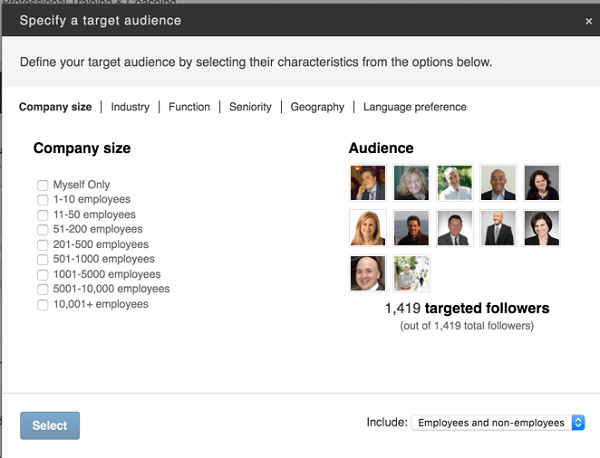 Sponsor. To promote your content to people who are not yet following your company page, pay to sponsor that update.
Ideas for LinkedIn Company Updates
Write new posts or find content to repurpose to use as updates.
One way to capture people's attention (and get them coming back for more) is to do a series. Each day, share an update with link on a theme to a previous post. Use branded visuals for cohesion.
For instance:
Tip or Tool of the Day: Sort your blog articles by category, choose a theme, and then pick 5 to 10 of your favorite posts to run however many days in a row. For example, create a series of marketing tips, social media tools, or favorite productivity hacks. This allows you to repurpose content you already have while invigorating your company page feed.
Feature Top Employees or Clients: Write a series of updates featuring your favorite people. Employee features have the added benefit of increasing company morale, while client posts give you the opportunity to show off your best clients. This will also increase engagement, as the people you highlight are likely to share.
Countdown to a Holiday: Product businesses especially can benefit from these kinds of update series. Share the top 10 gifts, best party favors, or favorite decorations. Be sure to include why they're special to add a slant to the update.
Series posts don't need to be done every week or even every month. Make them special events. Do them quarterly or on a seasonal basis, relating to a holiday. As a bonus, you can turn the ideas you generate for LinkedIn updates into awesome content for your blog.
When you post updates, especially as a series, it encourages people to come back to see your next post. Plus, they'll likely scroll down to look at your older content, too.
Once you start creating regular content on LinkedIn, keep an eye on your analytics, specifically your follower demographics. Make sure you're attracting the right people to your page.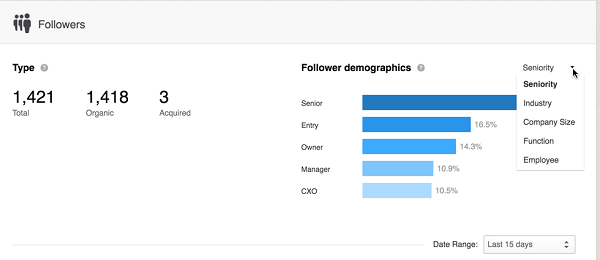 Also monitor your follower trends to make sure you're continuing to build your audience. The more often and consistently you update, the more followers you'll attract.
#7: Engage With the Community
Keep an eye on your LinkedIn page notifications. This will show you how many people like, share, and comment on your updates.
You can sort your notifications to see who's engaging with your page. Sort by comments to quickly reply and develop relationships with your audience.

Engagement breeds more engagement. Stay on top of notifications to gain a reputation for responding quickly, which increases trust and loyalty with your audience.
Final Thoughts
When you have a LinkedIn company page, you need to let people know. Sponsor updates and try LinkedIn ads to get the word out. Also, put calls to action to follow your company page in your header and in updates. Plus, share your company page with your audience.
Your LinkedIn company page should be in your email signature. To get the best results, send an email blast. Let people know you have a company page on LinkedIn and the benefits of following it.
LinkedIn is a business platform, so it's fitting for your business to have a LinkedIn company page. Develop a page that stands out, and you'll have a strong presence on this prominent business-focused social network.
What do you think? Do you have a business page on LinkedIn? What have you done to make it stand out? Please share your thoughts in the comments.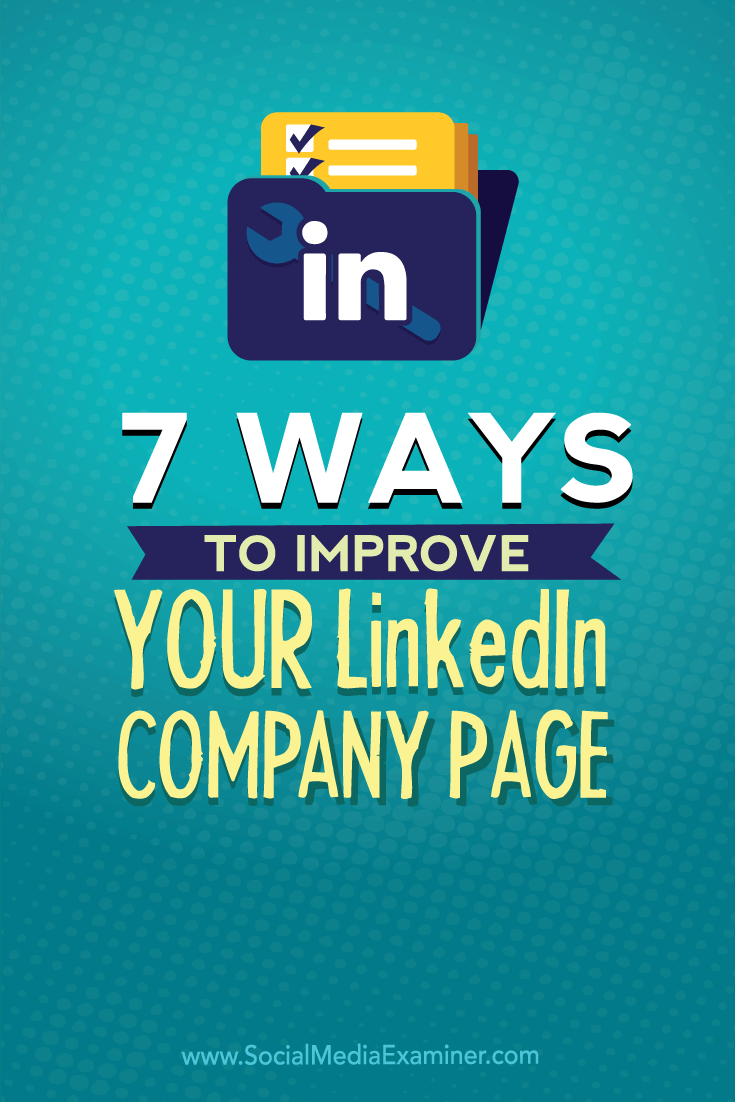 Get Your FREE Course: Web3 for Beginners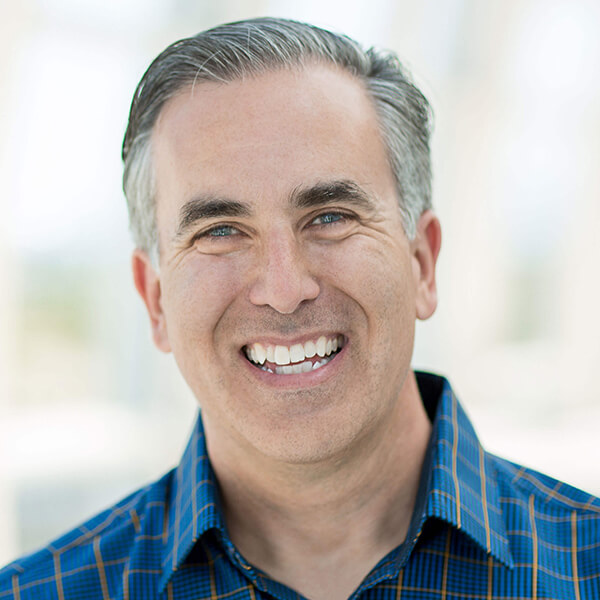 Curious about Web3, but don't know where to start or who to trust?

Introducing Web3 for Beginners, a course taught by Michael Stelzner, the founder of Social Media Examiner.

Learn the basics of Web3 and apply it to your business with this FREE comprehensive course.
CLICK HERE TO GET FREE ACCESS