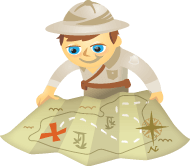 Do you want to increase the ROI for your social media campaigns?
Have you considered fan content?
Using fan photos in your marketing is an effective way to highlight your brand, products and customers at the same time.
In this article you'll discover five ways to drive ROI with user-generated content campaigns on social media.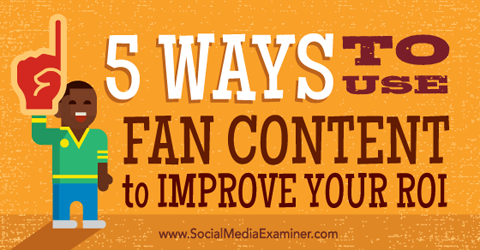 Listen to this article:
Where to subscribe: Apple Podcasts | Google Podcasts | Spotify | YouTube Music | YouTube | Amazon Music | RSS
Why User-Generated Content Campaigns?
With the proliferation of online channels in addition to those of traditional marketing, you're in a constant battle for your audience's attention. Rather than rely solely on your creative team to produce content, consider turning to your customers.
Putting in the time and effort to develop customer relationships typically means that your social media program will consume a large share of your marketing budget. For this reason, you may be asked to justify spending by providing concrete social media ROI. It's true that it's difficult to measure the business value of a like or a shared post, but you can successfully run social marketing campaigns and see real returns for your efforts.
Take a look at how these five brands have launched and managed user-generated content campaigns across Facebook, Instagram and Twitter.
#1: Turn Fans Into Product Models
Charlotte Russe ran an exceptional social media marketing campaign to showcase the #CharlotteLook (how influencers were styling their clothes). Instagram users were asked to upload their favorite Charlotte look and use the campaign hashtag in their posts.
The company selected the most on-brand user-generated content from the campaign and displayed it on their homepage.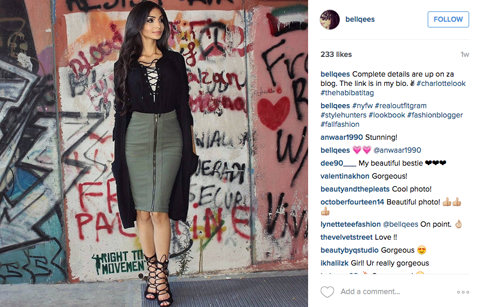 Charlotte Russe linked each winning photo to the product pages of the items that were featured in the photo. This tactic resulted in viewers who engaged with the customer photos being 28 times more likely to end up on a Charlotte Russe product page.
#2: Reward Your Fans
6 Pack Fitness launched their #LeadThePack campaign with a weekly bag giveaway. They asked users to submit a photo for a chance be featured on the website and win a bag of their choice.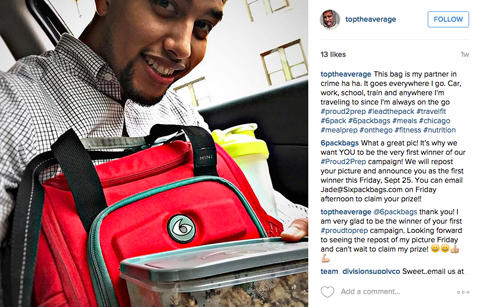 6 Pack Fitness's social media marketing strategy included displaying the best customer photos featuring their bags on the company's product pages.
The company saw an immediate impact on their ecommerce performance. Customers who interacted with one of the customer photos on their product pages were 2.7 times more likely to make a purchase and had 12% larger order sizes.
#3: Build on Local Pride
The Breckenridge Colorado Tourism Office ran a successful social media campaign that asked: Why do you love Breckenridge? Fans were asked to share their thoughts on Twitter, Instagram and Facebook.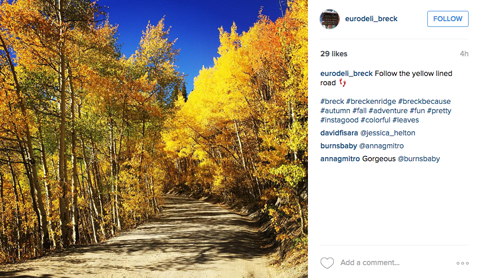 Under the tagline #BreckBecause, fans formed an online community that showcased the authentic Breckenridge experience.
As a result of this campaign, GoBreck.com increased web traffic from social media by 841% and increased Instagram followers by 93%.
#4: Celebrate Customer Stories
Ahnu has a customer base of active adventurers who wear their shoes. The brand launched its #Ahnu campaign to collect photos of cool things their fans were doing and interesting places they were visiting. The company displayed #Ahnu campaign submissions on their Facebook page, and viewers could vote on their favorite content.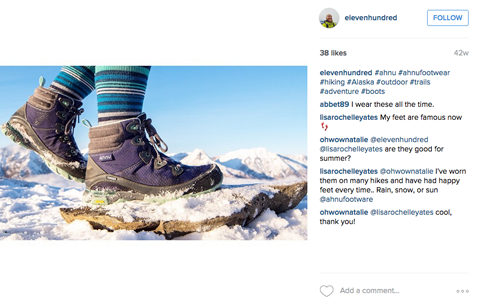 The users who engaged with these customer photos were 12 times more likely to end up on the Ahnu website.
#5: Tap Into Customer Lifestyles
California Natural Products wanted to increase brand awareness about their Svelte protein shakes on social media. Under the hashtag #DrinkSvelte, they asked fans to post photos of themselves and their Svelte drinks.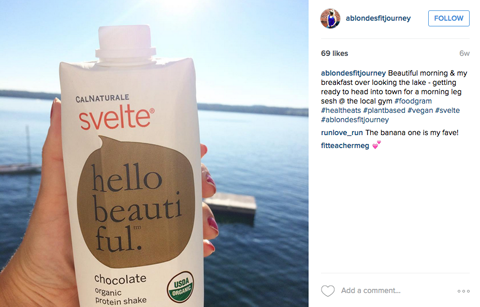 The best photos were displayed on the Svelte website, and the photos generated more than 2 million impressions online.
Conclusion
User-generated content campaigns are a great way to monitor and participate in social conversations as they develop and evolve. Visual user content can increase the ROI from your social media campaigns. There's no one-size-fits-all solution, but through trial and error, you can learn how to get the most out of your campaign content and celebrate your loyal customer base.
What do you think? What are some of the best user-generated content campaigns that you've seen? Feel free to share in the comments below.