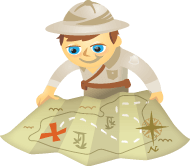 Do you use Facebook advertising?
Have you considered incorporating customer reviews into your ads?
Facebook ads that include customer reviews blend in with other news feed stories and are better received by people browsing Facebook.
In this article, I'll share how to improve your Facebook ads with customer reviews.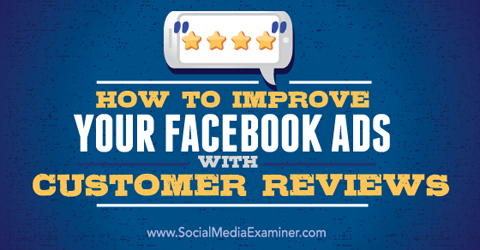 Listen to this article:
Where to subscribe: Apple Podcast | Google Podcasts | Spotify | RSS
#1: Choose the Right Review
In social advertising it's vital to target the right people with the right message at the right time. If you want to use positive online reviews from your customers in Facebook ads, the first step is to find the right ones.
It's preferable to share a review where the customer tells a personal story. For example, personal reviews such as, "I bought this game for my daughter's birthday and she absolutely loves it," have a greater impact than generic ones like, "It's a great toy."
The ecommerce store Pawstruck used customer reviews with great images and positive text in their Facebook ads.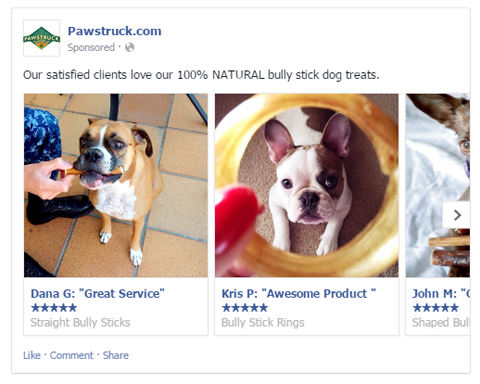 When choosing reviews or any other type of user-generated content (UGC) for Facebook ads, also consider which stage in the buying cycle your customers are in. First-time visitors will need to see a different type of ad than people who are familiar with your store.
Ads that show top-selling products favorited by customers are great for attracting first-time customers, because they're lured in with a specific item. This approach gets them interested in your brand, even if they're not yet ready to buy.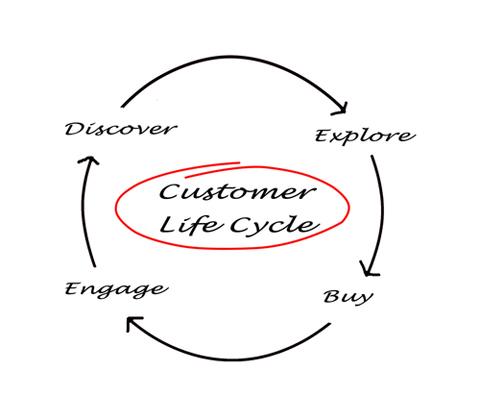 After they've seen an ad, retarget them with authentic user reviews that deal more with your brand or site as a whole. Site reviews emphasize the authenticity and strength of your brand, not a specific product, so the reviews will reinforce that.
The bottom line is use product reviews to target first-time visitors and site reviews for people who already know your store.
#2: Craft Compelling Copy
Content from users is the most powerful part of the Facebook ad for building trust, instilling social proof and encouraging new visitors to come to your store, but you should also pay attention to the ad copy.
Keep your brand voice consistent; don't alter it to match a user's review. Also, you don't want to refer to UGC directly. For instance, when your copy says, "Check out this awesome review from our customer" or "Look at this great photo from one of our fans," your copy seem salesy and forced.
Get Expert Social Media Marketing Training from the Pros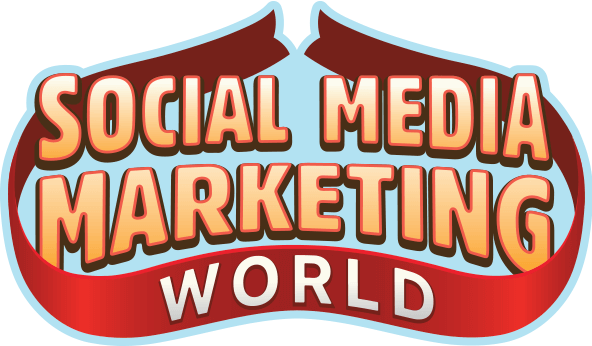 Want to get ahead of the competition or learn how to diversify your strategy?
Learn from dozens of the industry's most trusted experts, rub elbows with other smart marketers, and take your marketing to the next level during this 3-day event in sunny San Diego, CA.
CLICK TO LEARN MORE
The keys are to keep your text short and don't refer to the review in your copy.
For a great example of how the ad should look, Perfect Locks does a fantastic job of combining short, snappy, on-brand copy with a personal experience review. The result is a super-effective ad.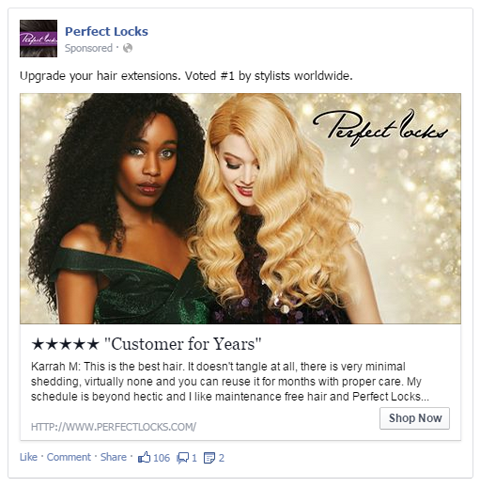 Don't Overdo It
Reviews are wonderful because they offer authentic, credible opinions from real people. However, using reviews that are too enthusiastic or overly positive can actually have the opposite effect. It takes away from the content's credibility. You'll want to use reviews with just one exclamation point rather than those with multiple exclamation points.
For example, Life BEAM combines copy that reads authentically with personal experiences.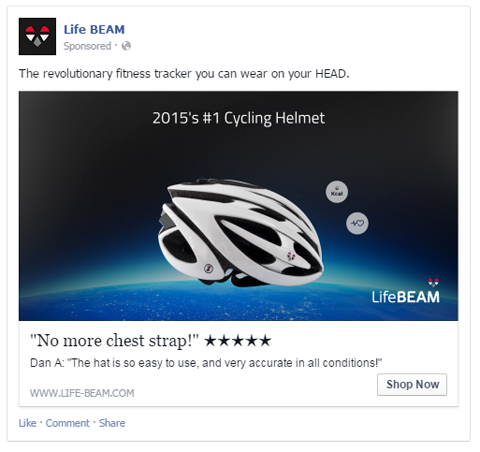 Remember, UGC and reviews that refer to personal experiences have great impact. For the best results, find stories and reviews that use words like "I," "my" or "we."
#3: Set Up Your Ad
Once you pick the right review or other user-generated content and polish your copy, get your ad ready to launch.
When setting up your ad, here are a few ways to get better results:
Make sure your ads target the right audience. When setting up Facebook ad targeting, be specific rather than general. Target direct niche competitors, not big brands. Plus, avoid targeting Facebook's default interests. You want your UGC to closely relate to the exact audience you're targeting, not a general interest group, which is much too broad.
Don't create more than two ads to target the same audience. Then you're only competing against yourself. Also, take advantage of relevance scores. Try to get at least a score of six to ensure your ad is relevant to your intended audience.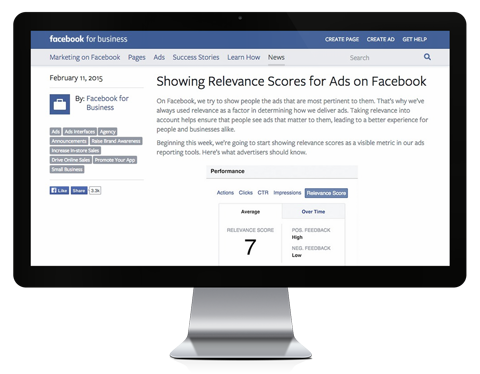 Finally, remember, even the best ad fails to be effective if your audience gets bored with it. Regularly switch up your ads, even your most successful ones, to increase Facebook ad visibility.
Maximize retargeting campaigns. As previously mentioned, certain content is ideal for different stages in the customer lifecycle. Set up retargeting ads for recent website visitors. While the reach is smaller, the chances of winning conversions are much higher, so your money is better spent. In these retargeting ads, use UGC that doesn't necessarily relate to a specific product, but broadly speaks about your brand and service.
Get the most for your money. Be sure to test your ad before you spend any budget. Try it organically on your community, and then tweak images, copy and audiences to see what gets the most engagement. When you do start to spend, it's better to run fewer ads with a higher budget than many ads with a lower budget.
Some Final Thoughts
Reviews and other user-generated content allow you to turn the experiences of satisfied customers into powerful advertising fuel. I've seen UGC in Facebook ads show a 300% higher click-through rate (CTR), 50% lower cost per click (CPC) and 50% lower cost per acquisition (CPA).
Your customers' voices are your most powerful marketing tool. Combine customer-created content with social advertising, and you'll see the difference.
What do you think? What has your experience adding UGC to social been? Do you share customer reviews, other UGC or both? What are some other ways brands can use user-generated content in Facebook ads? Please share your experience and suggestions in the comments.
Facebook ad relevance webpage image created with Placeit.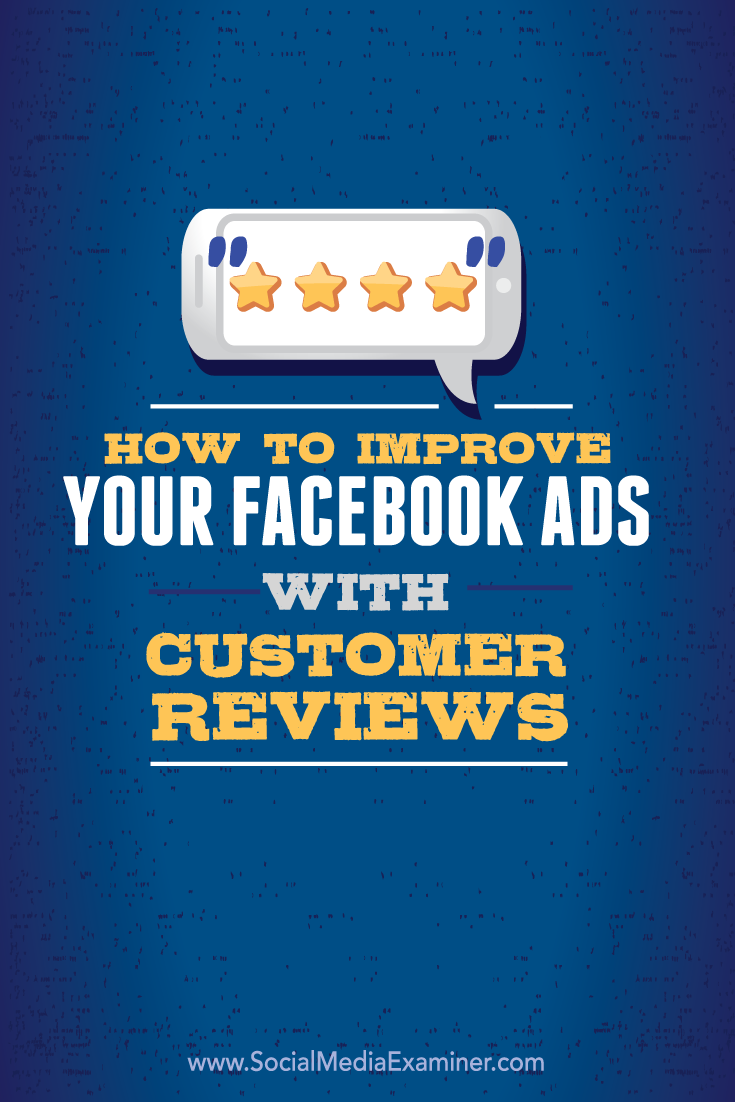 Experience The World's Largest Social Media Conference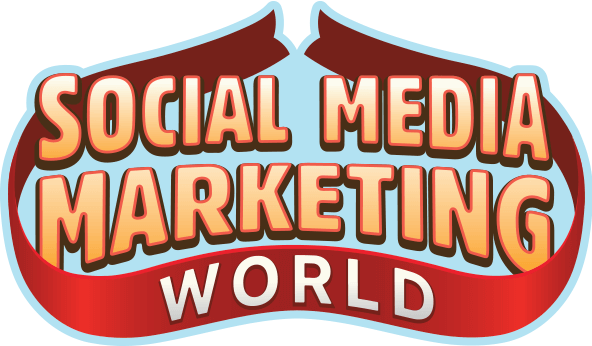 Quality marketing training, actionable takeaways, and beneficial connections—that's just a fraction of what you can expect at Social Media Marketing World! Join thousands of smart marketers in sunny San Diego this spring and level up your marketing.
🔥 Sale ends Tuesday! 🔥
GET TICKETS NOW