Want to make sure your Facebook ads account isn't shut down? Are you sure you're not violating Facebook's ad policies?
In this article, you'll discover common reasons why Facebook ads accounts are suspended and learn how Facebook's tools can help you better monitor your account's status.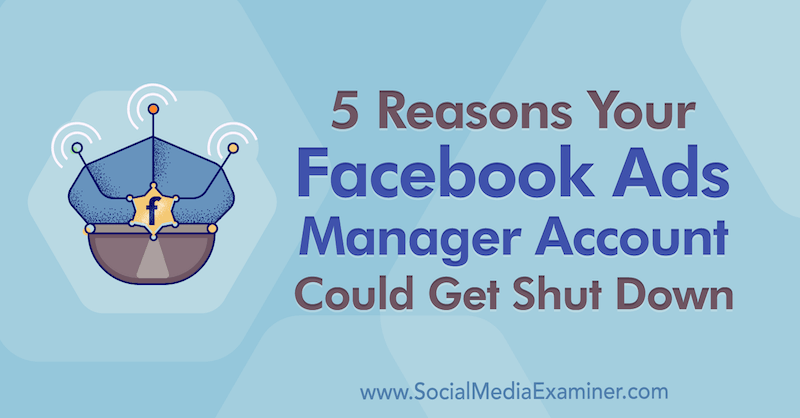 #1: Repeated Declined Payments
If you consistently have payment methods declined for your ad account, Facebook will see this as a red flag and may suspend your account if the pattern continues. Your ad account gets seen as a "bad debtor" and too many late payments or declined bills could put your ad account at risk.
#2: Low Facebook Page Quality
Repeatedly violating community guidelines on your Facebook page can result in a low page quality score, which can put your ability to advertise at risk. Sharing misleading content like fake news or inciting antisocial behavior can make your page look like a troublemaker within the Facebook community and result in your ad account being banned as well.
You can find the full list of Facebook community guidelines here. Note that the community guidelines are different from the ad policies, and advertisers need to understand both.
Review the Standing of Your Facebook Page
To check your Facebook page quality, click the More menu at the top of your page and choose Page Quality from the drop-down menu.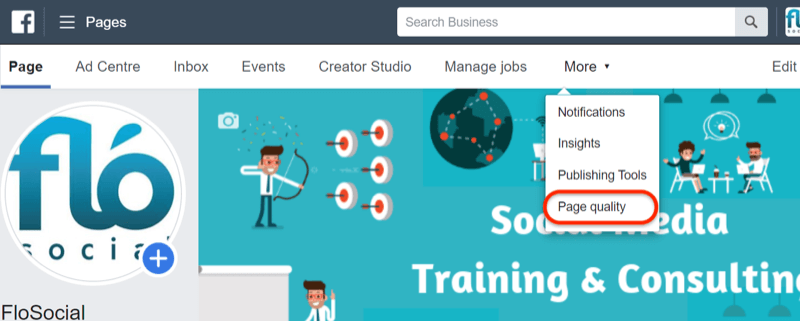 You can then see if your page has been flagged for any quality issues.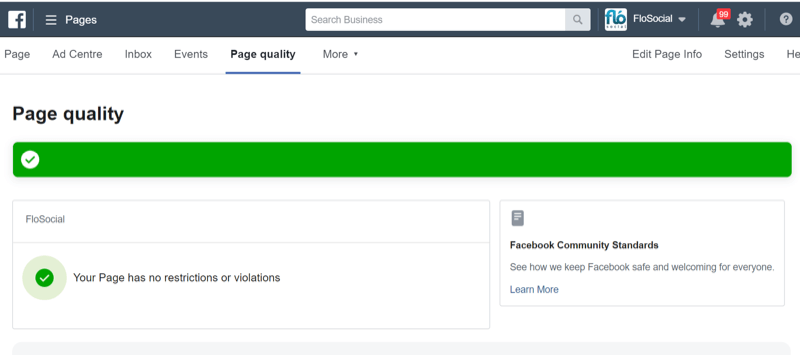 #3: Low Quality Ranking Scores for Facebook and Instagram Ads
Your ads will be scored for their accuracy and relevance for the targeted audience. Ads that get approved but are still considered to be low quality can also lead to your account being banned or taking longer in the future to get your ads approved. Ad quality is affected by things like:
Using clickbait or engagement bait: Using copy that doesn't show all of the information or baits people to interact will be considered low quality.
Too much text over an image: Facebook allows ads to run with more than 20% of text over the image, but it considers these ads lower in quality, which can reduce the reach and ad quality score. To see if the proportion of text in your image is too high, use Facebook's Image Text Check tool.

Ads that get hidden or trigger users to Hide All Ads From This Advertiser also will affect your ad quality score.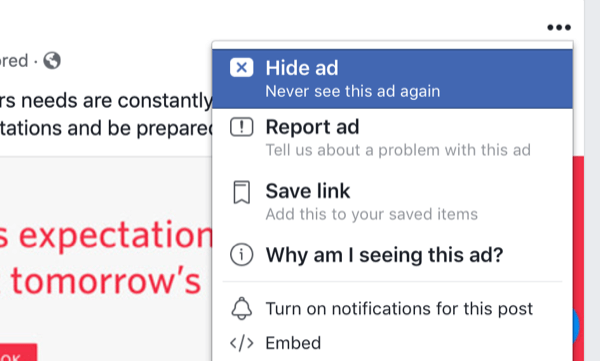 Review the Quality Ranking of Your Ads
You can check your ads' quality score in the Ads section of Facebook Ads Manager. The quality ranking score is one of three metrics that replaced the relevance score.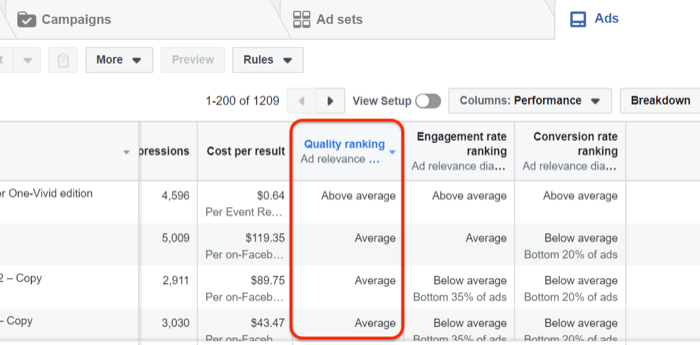 #4: Poor-Quality Landing Page
Facebook screens any links to websites or downloads to ensure they follow the same set of ad rules. Facebook will scan your landing page and apply their same screening tools to it. A low-quality experience on a landing page includes:
Too many pop-ups or distractions
Not enough information or a higher volume of advertising
Content that's misleading or not relevant to the ad
Lack of functionality—broken links, low-quality images, videos that don't play, and so on
Review Your Landing Page With the Facebook Link Debugging Tool
Facebook's Sharing Debugger allows you to see what information Facebook is pulling through from your link or landing page. If you have a landing page that looks like it should be compliant with Facebook's policies but still gets disapproved when used with your ad, use the debugging tool to make sure the information being pulled through is correct and no flagged terms or policy violations are hiding in the page description or metadata.
This process will also force Facebook to clear their cached version of your content if you've made changes to align your landing page with Facebook's ad policies.
To use this tool, go to https://developers.facebook.com/tools/debug and paste your URL into the search box. Then click Debug.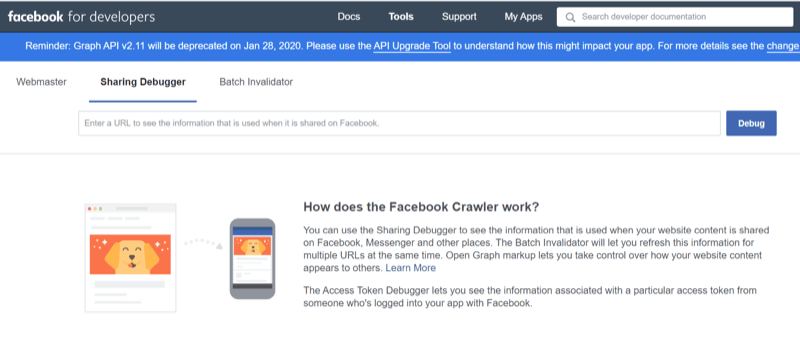 If the URL is new, you'll need to click Fetch New Information to ask Facebook to go and fetch the URL and populate the information for you.

Facebook will then populate the information.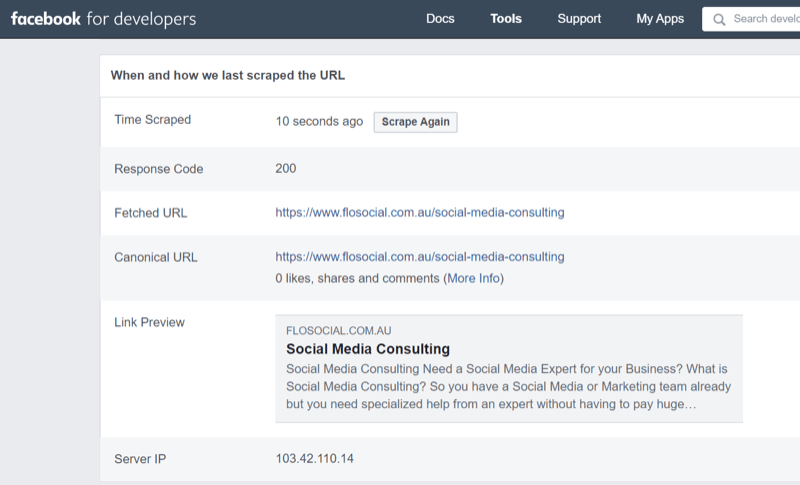 Suppose you had a landing page for a weight-loss product that violated Facebook's policies by using terms not allowed so you updated the landing page to remove these terms. You can use the debugging tool to check the information Facebook is now reading about that page. Double-check that you've updated all of the terms and that Facebook will now allow the landing page to be used.
#5: Repeated Facebook Ads Policy Violations
All advertisers get flagged for an ad breaking policy every now and again but if you consistently break the rules and have your ads disapproved, you run the risk of having your Facebook ad account shut down. If you can't play by the rules, Facebook will simply kick you out of the sandbox.
Review Facebook Ads Policy Violations via the Account Quality Tool
Facebook now allows you to review your previously disapproved ads to see which policies you've broken and why your ads weren't approved. You can also check the history of your ad account and monitor any ads that are under review or appeal.
To do this, open Facebook Business Manager and select Account Quality in the Create & Manage section.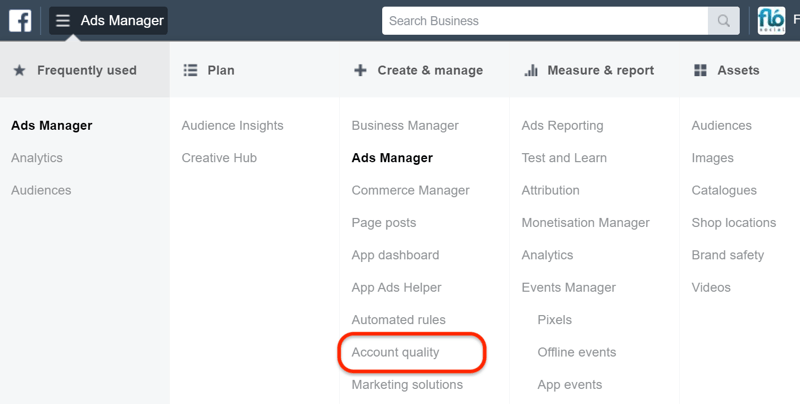 On the next page, choose the date range you want to review from the calendar at the top right.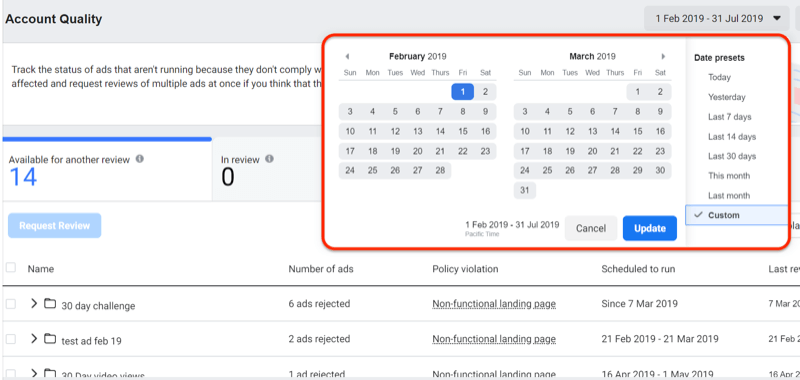 Facebook will show each ad that's been flagged or disapproved. You can also see exactly which policy those ads violated.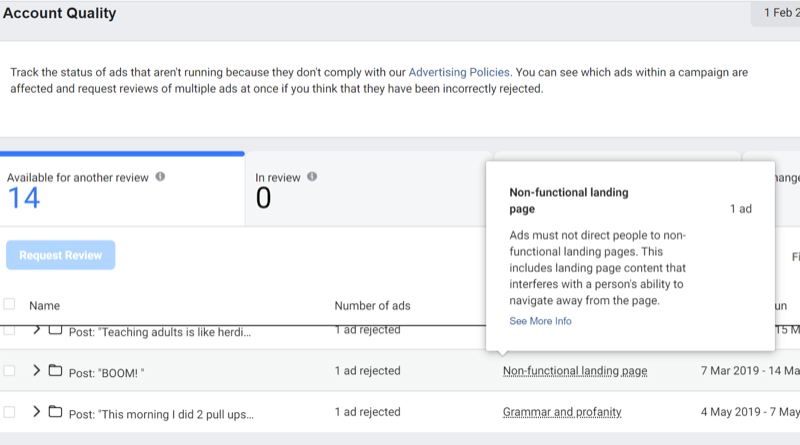 If you want to request that multiple ads be reviewed again, select the checkboxes next to each of those ads and then click Request Review.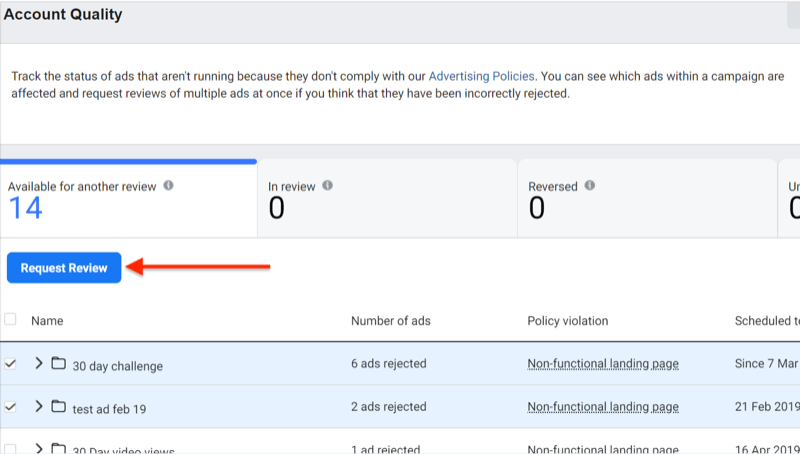 Conclusion
If your client's or your own account is often getting ads disapproved without good reason, you may have ended up on Facebook's "naughty" list. That means you're now undergoing more scrutiny than others due to previous mistakes.
Fortunately, Facebook has tools that allow you to see where the issue lies and why you've been flagged for policy violations so you can avoid them in the future.
Facebook is simply protecting the user experience and asking that businesses play by the rules and provide good-quality, relevant experiences when advertising. Although frustrating at times, the ad policies are designed to help protect everyone including advertisers.
Make sure you're familiar with the ad policies that affect your industry, check out the common pitfalls and policy violations you could stumble into, and have a plan in place to avoid them. Use Facebook's Ad Library or creative inspiration tools to get ideas for how to run successful, easily approved ads.
If your Facebook advertising account has been suspended or shut down, watch this video to learn how to submit an appeal for reinstatement to Facebook.
What do you think? Will you make any changes to how you manage your Facebook ads account? Share your thoughts in the comments below.
More articles on Facebook ads: