Looking for a cost-effective way to improve your LinkedIn lead generation? Wondering how to engage more effectively as your business on LinkedIn?
In this article, you'll learn how to use valuable LinkedIn page features including organic lead generation forms, company page engagement tools, event promotions, and more.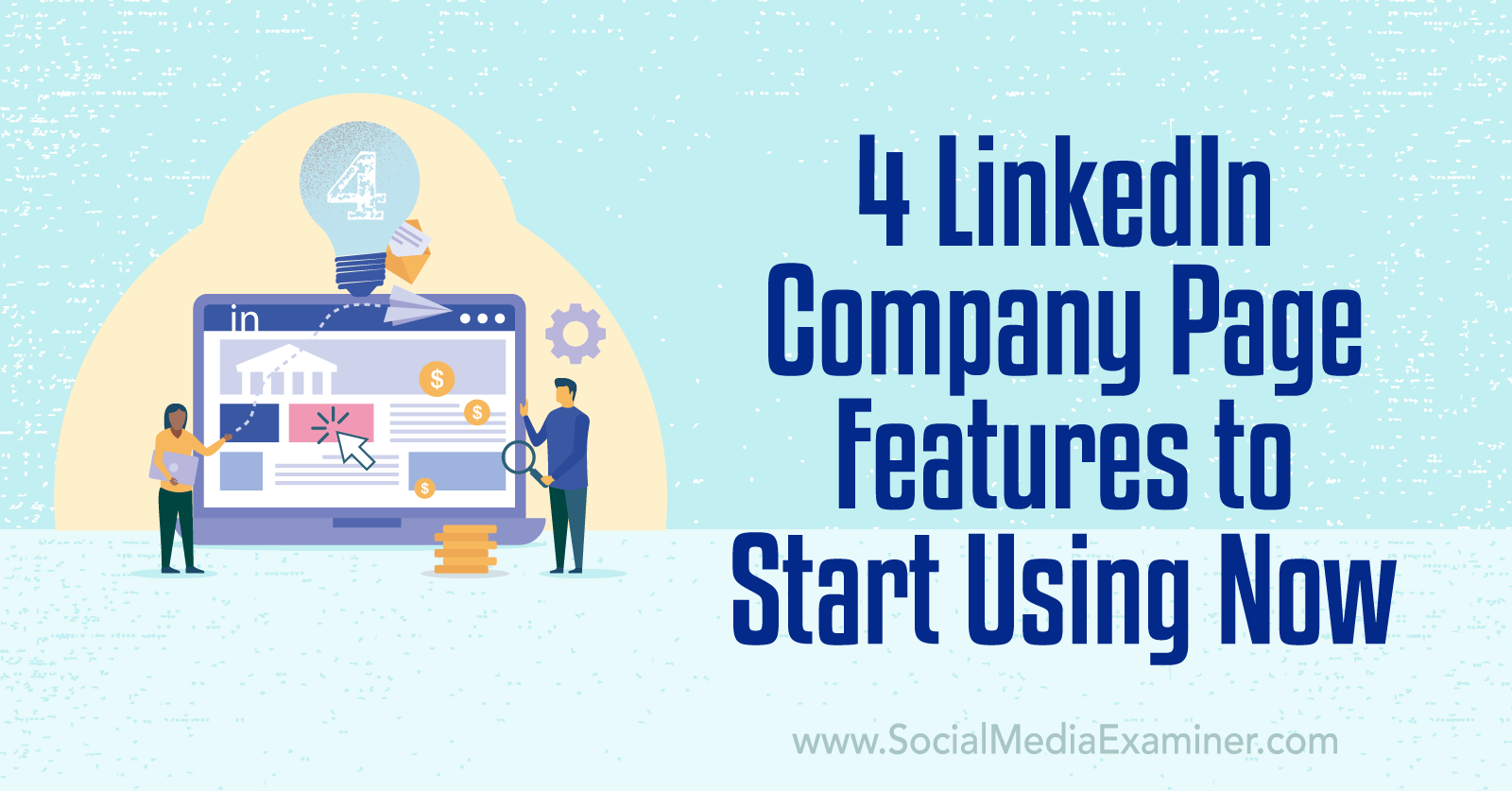 #1: Organic LinkedIn Lead Gen Forms
For years, LinkedIn has allowed businesses to advertise their products and services via native lead gen forms. Ideal for business-to-business (B2B) companies, these forms collect prospects' contact information and other relevant details without making them click away from LinkedIn.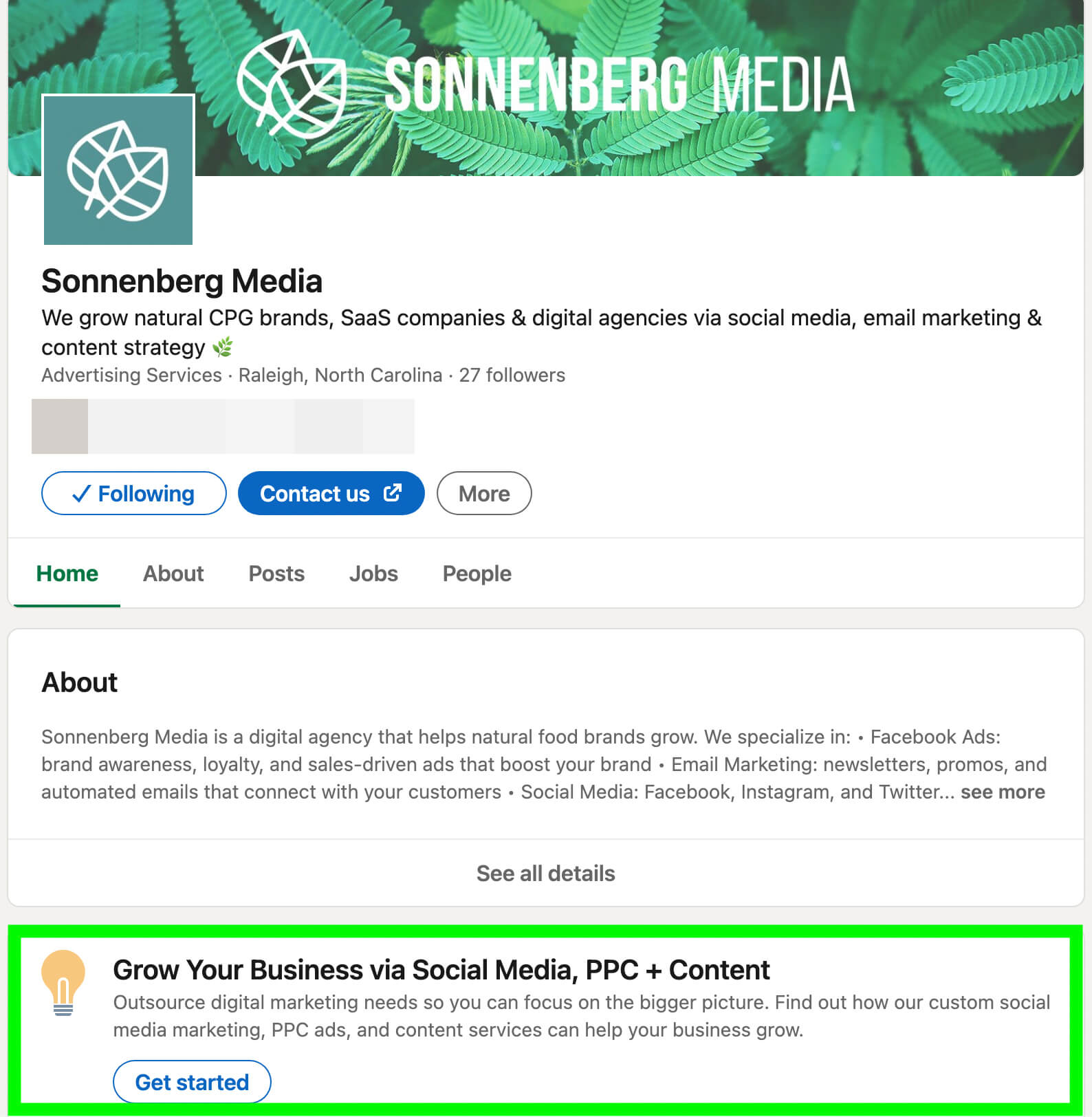 Along with using lead gen forms as a paid tactic on LinkedIn, you can now incorporate them into your organic social media strategy. As of June 2022, you can create a lead gen form to display on your company page, giving you an opportunity to convert organic visitors.
Why You Should Create a Lead Gen Form for Your Page
Should you take the time to set up a lead gen form? While the network hasn't shared analytics for organic lead forms yet, the results from paid lead gen forms are pretty impressive.
According to LinkedIn, native lead gen forms convert at a 5x higher rate than linked landing pages. In addition, the network's lead conversion rates outpace other platforms by 3x. To see if native lead forms work for your business, add one to your page and compare the results against those from the landing page in your custom button.
How to Create a Lead Gen Form for Your Company Page
To create an organic lead gen form, navigate to your LinkedIn company page. In the left-hand menu, scroll past the page analytics and click the Add Lead Gen form link. Click to review the LinkedIn Page Terms, and then switch on lead gen forms.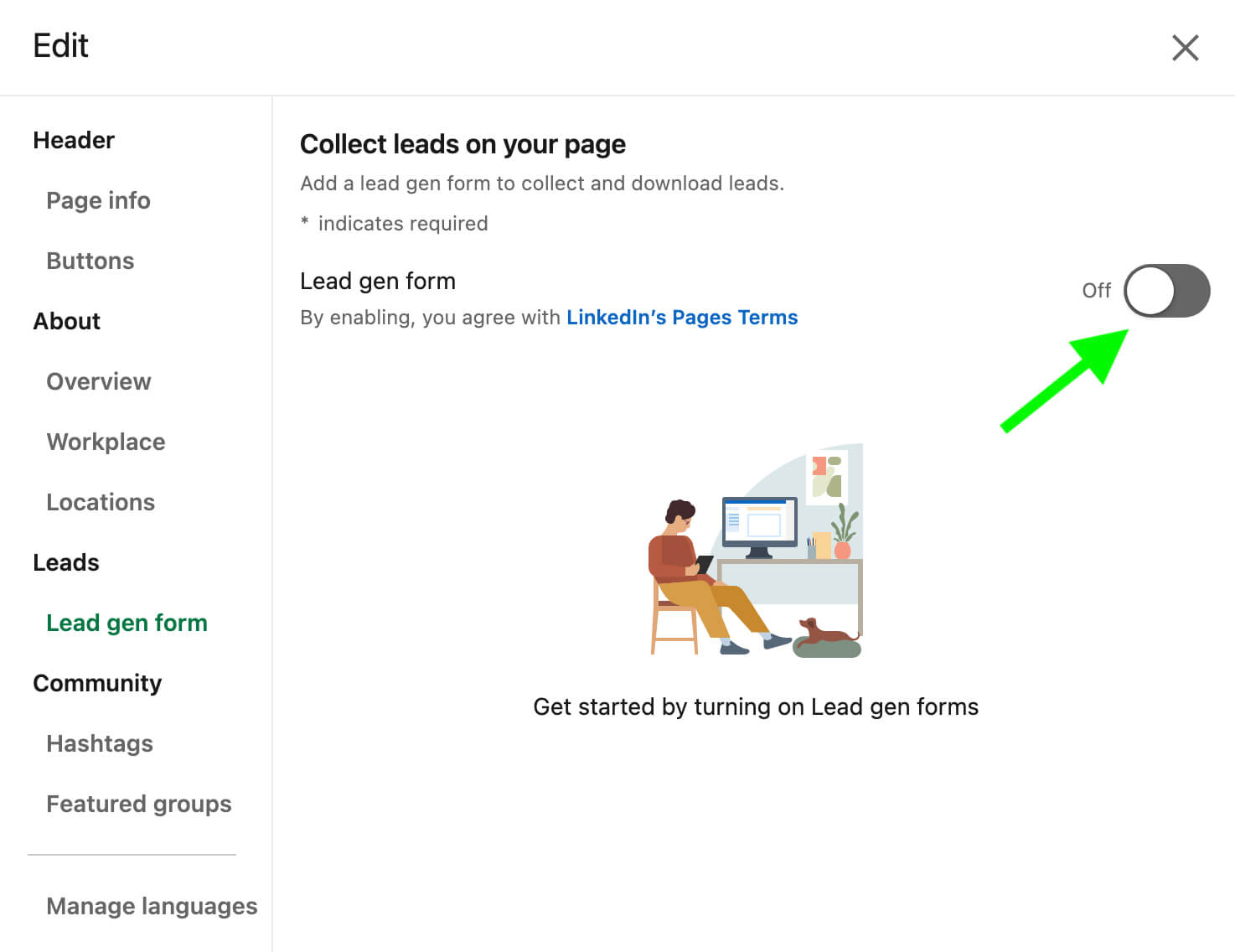 Then start building your form. Begin by choosing a call-to-action (CTA) button that fits your offer. "Get started" is likely to work for top-of-funnel prospects, while "Request a demo" and "Start free trial" have the potential to attract more serious decision makers. "Contact Sales" is ideal for a wider range of prospects seeking more information about your business.
After selecting a CTA, enter the link to your organization's privacy policy. If you've run lead gen ads in the past, you can use the same privacy policy link you entered in Campaign Manager.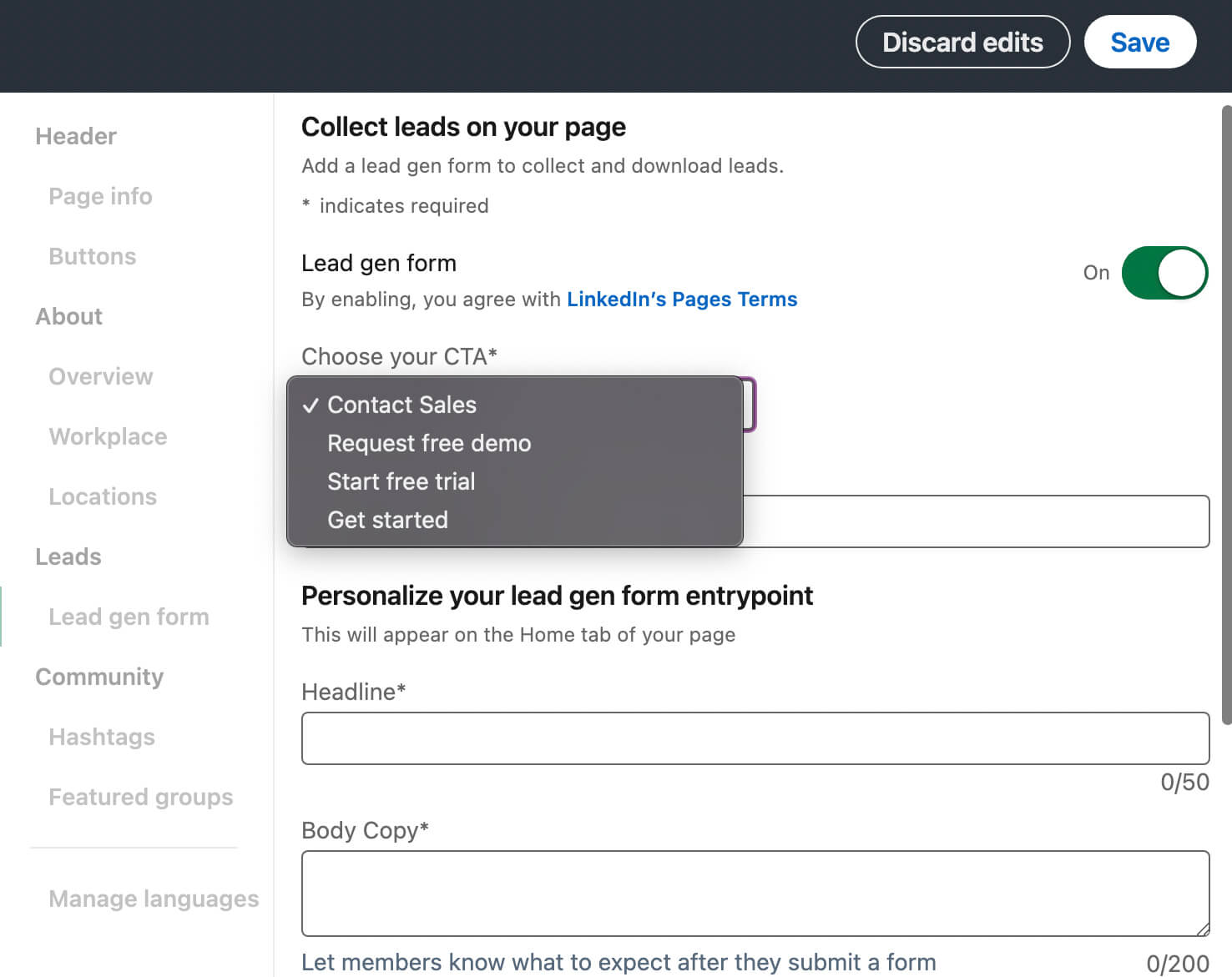 LinkedIn's organic lead forms also support customized headlines and copy but the character limits are relatively small. You get 50 characters for an attention-grabbing headline and 200 characters for a brief introduction and explanation of what users can expect after filling out your lead form.
Unlike paid lead gen forms, these organic forms don't allow you to configure custom questions. Instead, company page lead forms automatically collect members' first and last names, company names, job titles, and email addresses, with no option for requesting additional information.
What does that mean for your business? Since you can't collect many specific details from one of these lead forms, you'll need to do so after receiving a submission from a prospect. It's a good idea to have a workflow in place so you can process lead forms efficiently. For example, you may want to ask a few qualifying questions or ask prospects to schedule a call.
How to Access Your Company Page Leads
Once you create an organic lead gen form, it appears on your company page, directly underneath the About section. Any LinkedIn member can fill out the form to get in touch with your sales team.

You can track the form's performance and access leads from your company page. Scroll to the place you started creating your lead form directly below your page's analytics. Now you can see your lead form analytics, including a total tally of new leads for the past 30 days.
🌟 Ready to Supercharge Your Social Marketing Strategy? 🌟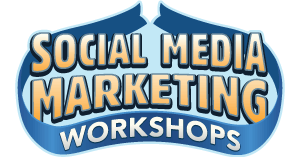 Struggling with your social marketing? You're not alone. The solution? The Social Media Marketing Workshops!

During these live 2 hour deep-dive workshops, you'll discover what's working now on Instagram, Facebook, TikTok, YouTube, and LinkedIn. Skyrocket your engagement, broaden your reach, and amplify your sales.

Become the marketing hero your company and clients need—without leaving your home!
🔥 Save $670 on an All-Access Ticket! Sale Ends Tuesday! 🔥
GET YOUR TICKETS NOW

Click the New Leads box to access more details. You can see the status of your lead form and the number you've accumulated overall and in the last 30 days. You can also click the Download button to collect contact details and get in touch with your leads. Note that lead data is available for only 90 days after submission.
#2: Paid Promotion for LinkedIn Company Page Events
Over the past 18 months, LinkedIn has rolled out a variety of tools such as LinkedIn Live to help you host more successful events. As of June 2022, company pages can now boost LinkedIn events and sponsor LinkedIn Live events to maximize attendance.
How to Boost a LinkedIn Event
Start by creating an event for your company page. From the LinkedIn feed, click to create a new event. Select your page as the organizer, and choose the event type: online, in person, or LinkedIn Live. Then set a date and time and write a brief title and description.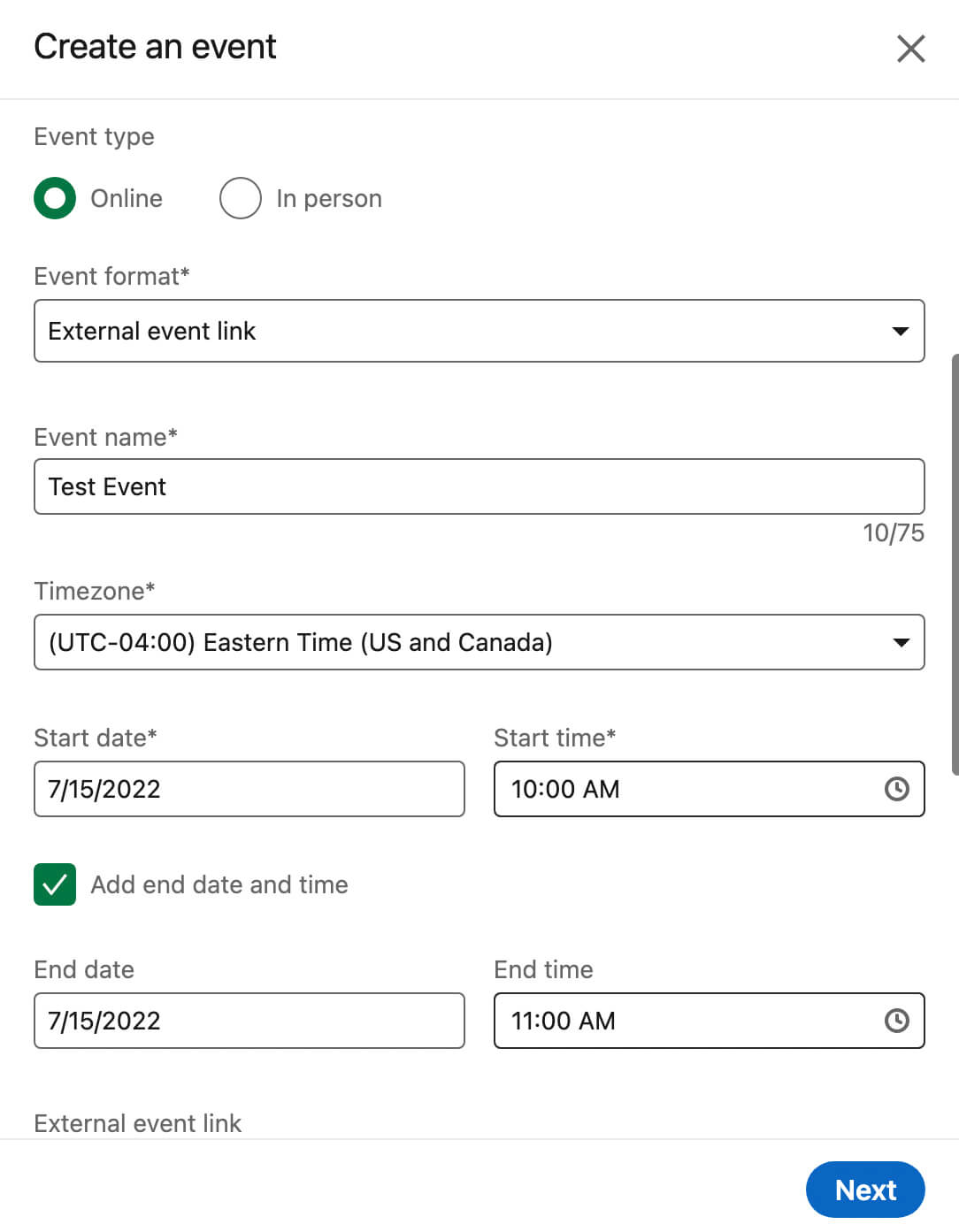 You can also add speakers to generate more interest in the event. In addition, LinkedIn gives you the option to collect attendee details. If you want attendees to register, check the Use a LinkedIn Registration Form box.
In addition to generating an event page, LinkedIn also prompts you to create an organic post to promote your event. Write a caption to capture the attention of your target audience and publish your event.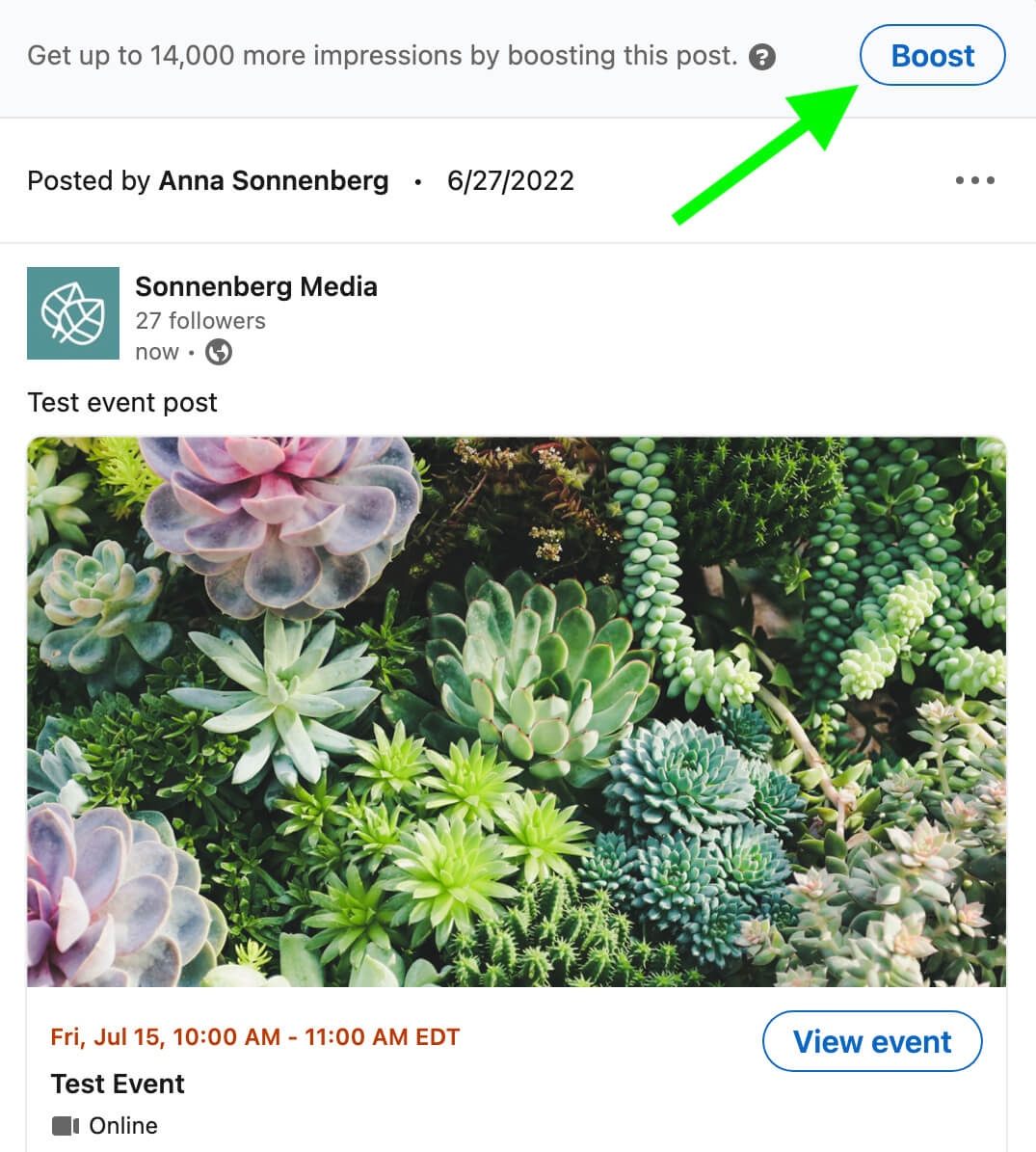 Navigate to your company page and find your event. From the event post or the event page, click the Boost button. Then adjust the settings to meet your needs. For example, you can choose between engagement and brand awareness objectives and choose which profile attributes to target.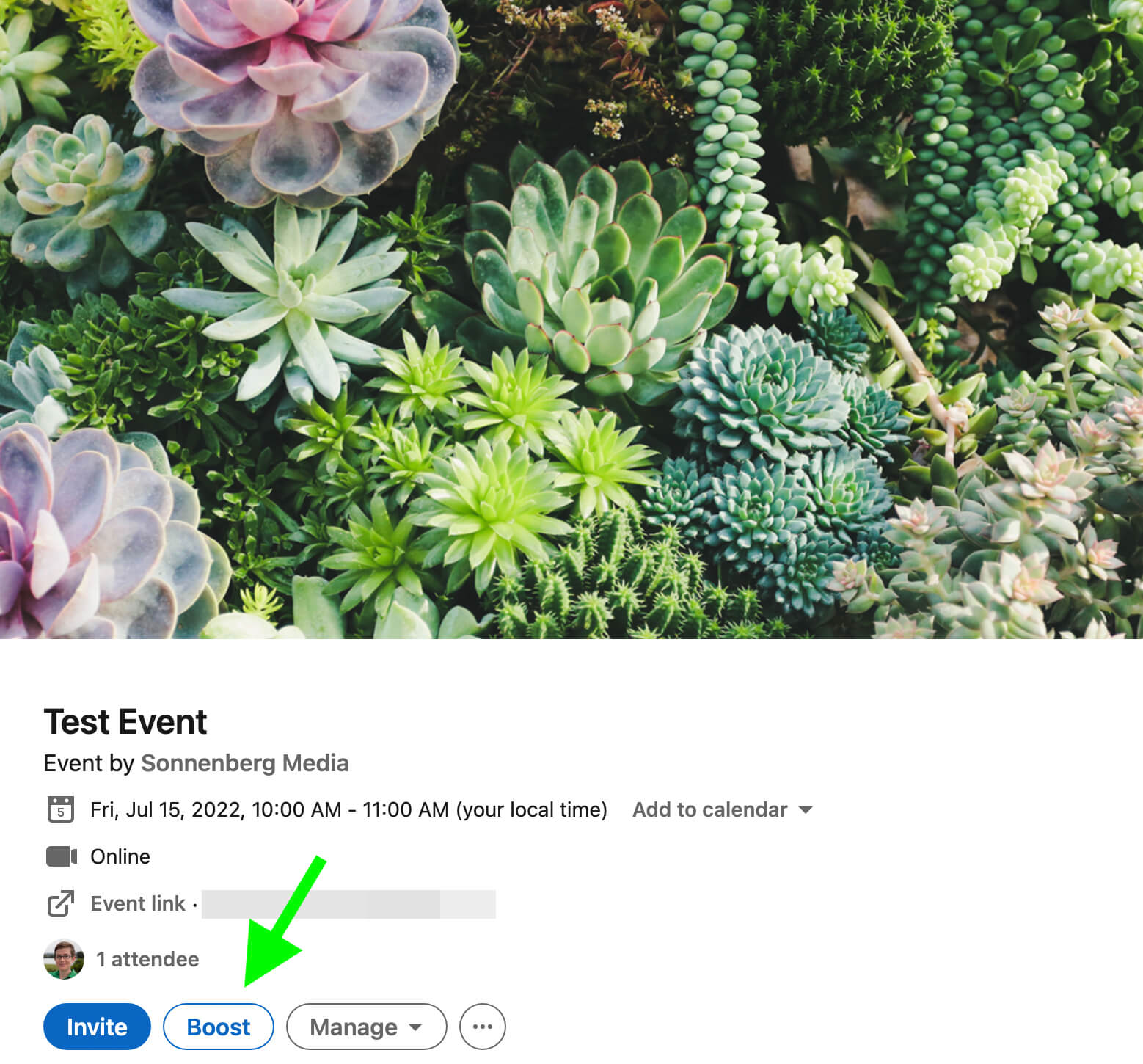 Note that you can add a saved audience to a boosted event, but for more advanced audience targeting, it's best to create an event ad in Campaign Manager. If you opt to continue with a boost, you can use the Forecasted Results feature at the top of the screen to estimate the outcome of your campaign.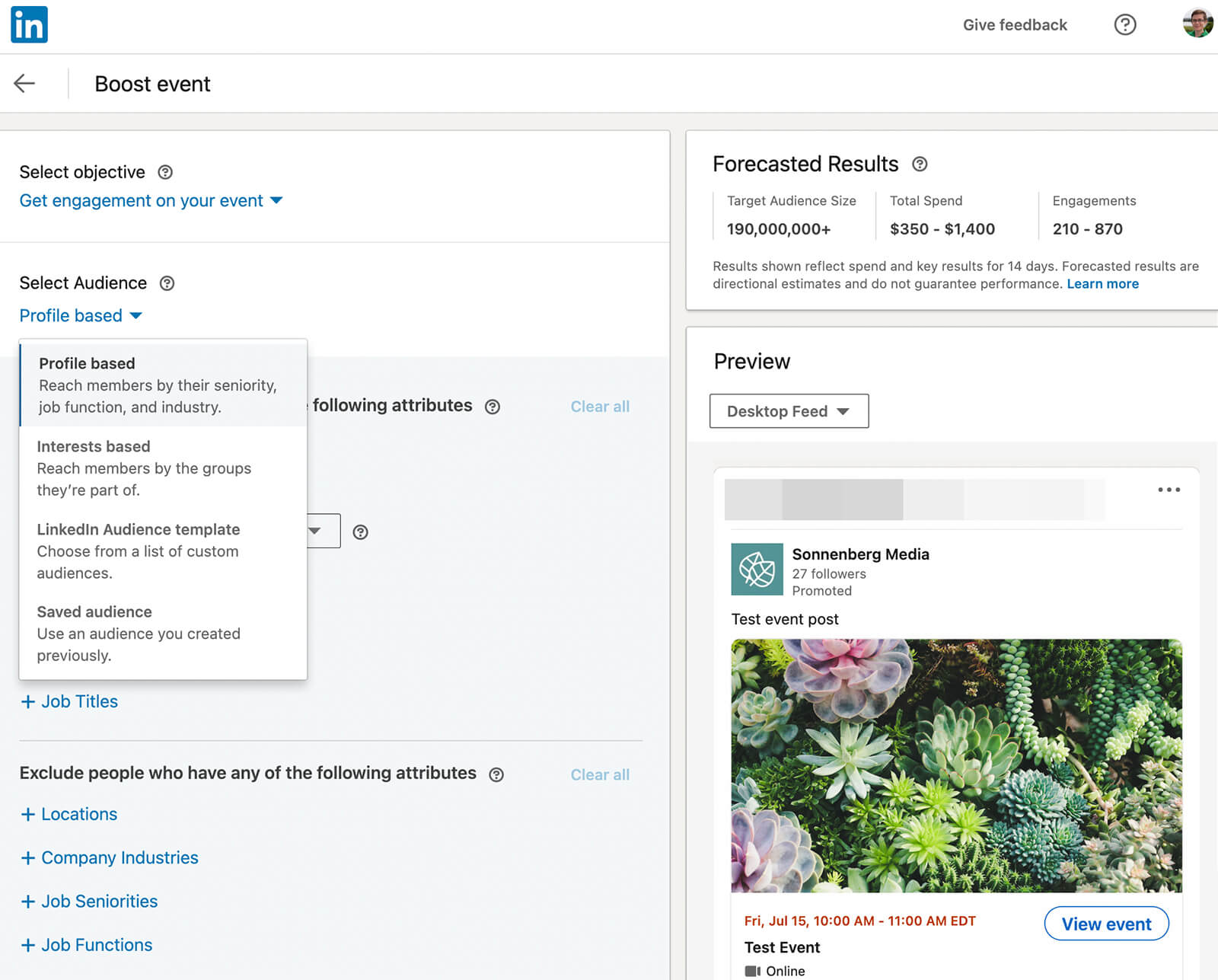 How to Sponsor a LinkedIn Live
To promote a LinkedIn Live, use the workflow above to create a new event. For the event format, be sure to choose LinkedIn Live.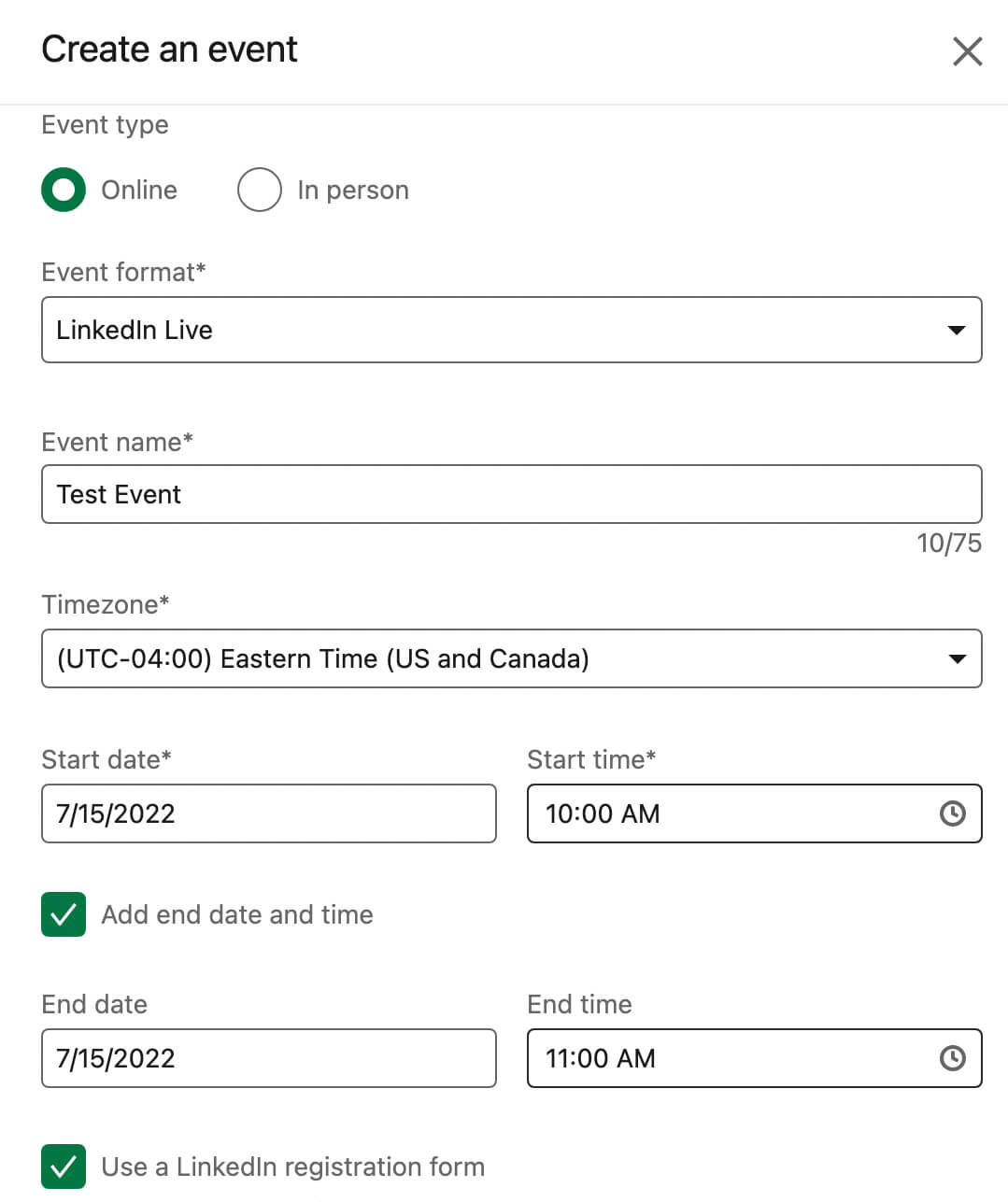 After publishing your event, open Campaign Manager and choose an objective that's compatible with events such as brand awareness or engagement. For the ad format, choose event.

At the ad level, you have the option to sponsor the LinkedIn Live event post you already published or build a completely new creative. If you opt for a new creative, make sure you have your LinkedIn Live URL handy so you can incorporate it into the ad.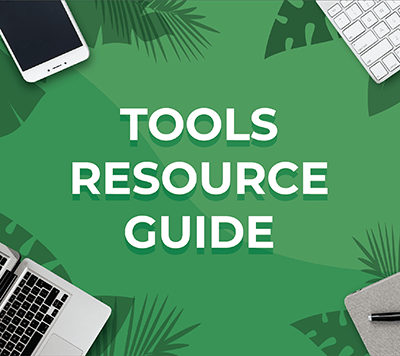 Looking for something to make your life easier?
Discover the tools we recommend to drive engagement, save you time, and boost sales across your entire marketing funnel or business.
Whether you need help planning content, organizing social posts, or developing your strategy, you'll find something for every situation.
FIND YOUR NEXT FAVORITE TOOL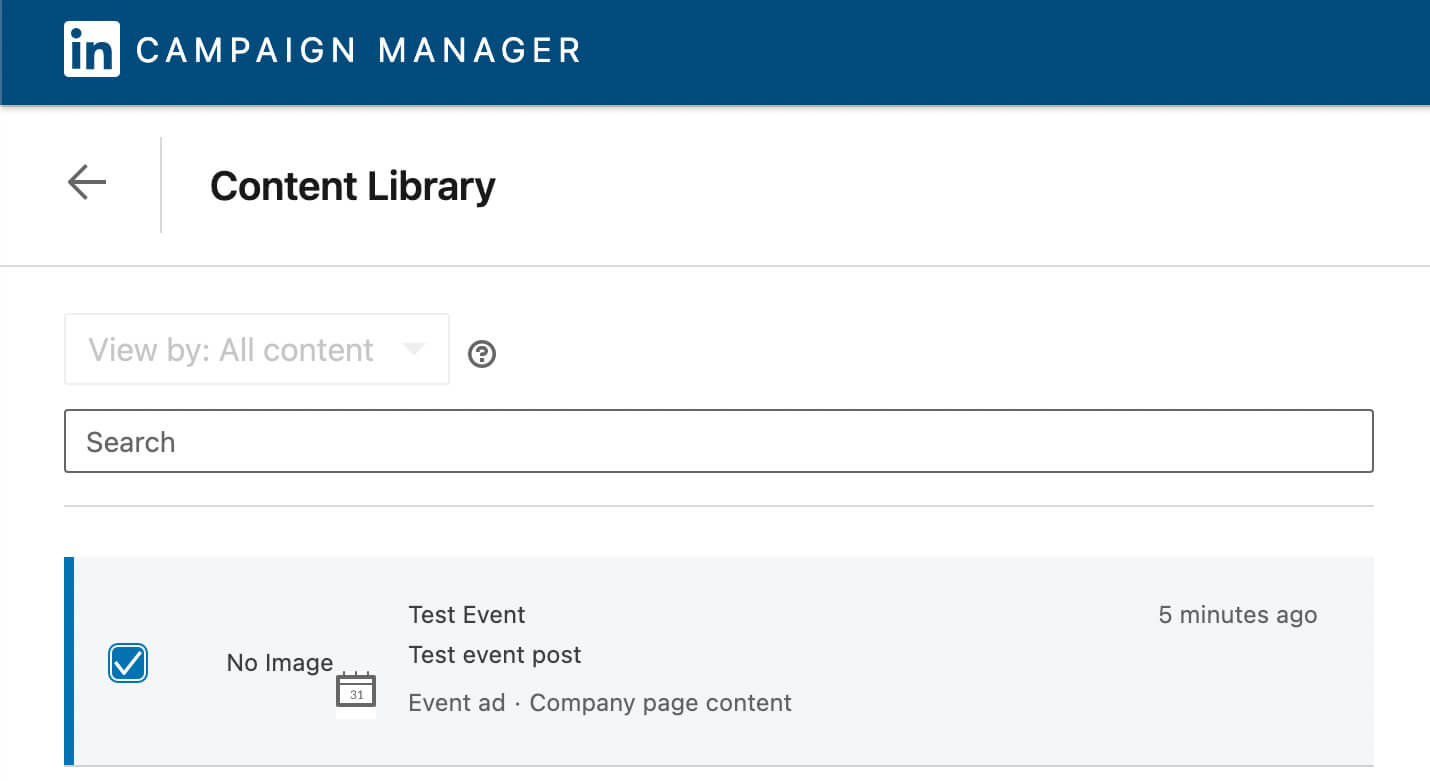 #3: LinkedIn Company Page Engagement Features
LinkedIn hasn't always made it easy for brands to join conversations across the social media network. In fact, you've likely noticed that until recently, LinkedIn allowed brands to engage only with content on their own company pages or when responding to mentions and followed hashtags.
As of June 2022, brands have tons of new options for interacting with LinkedIn content. You can now engage with any feed post as your company's LinkedIn page. The post doesn't have to tag your company page or include one of the hashtags your brand follows.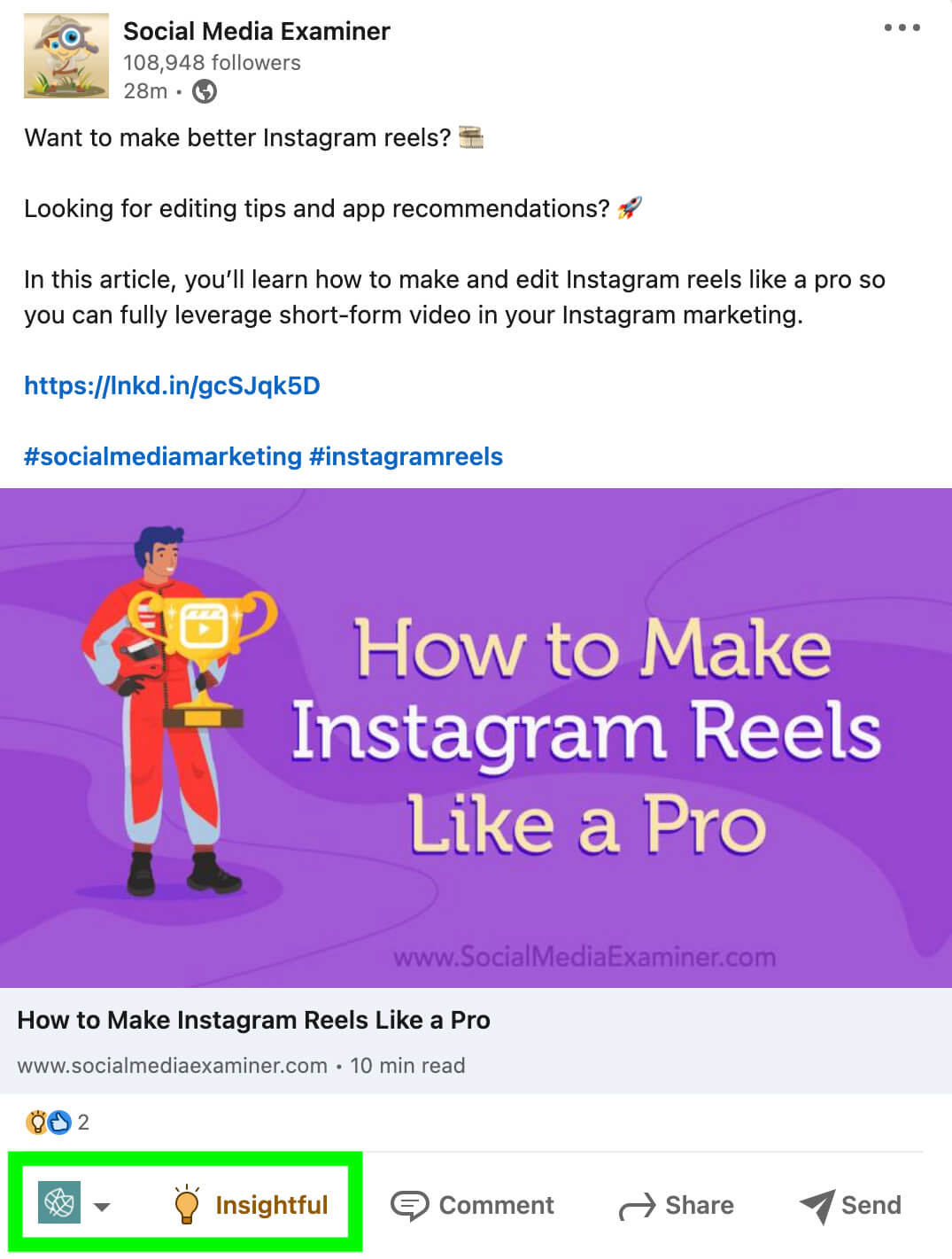 You have several options for finding content to engage with, including:
Your own personal feed, which includes all of the people and pages you follow
Any member profile or company page you visit, which all have their own feeds
The company page feed, which includes page posts, employee posts, and hashtags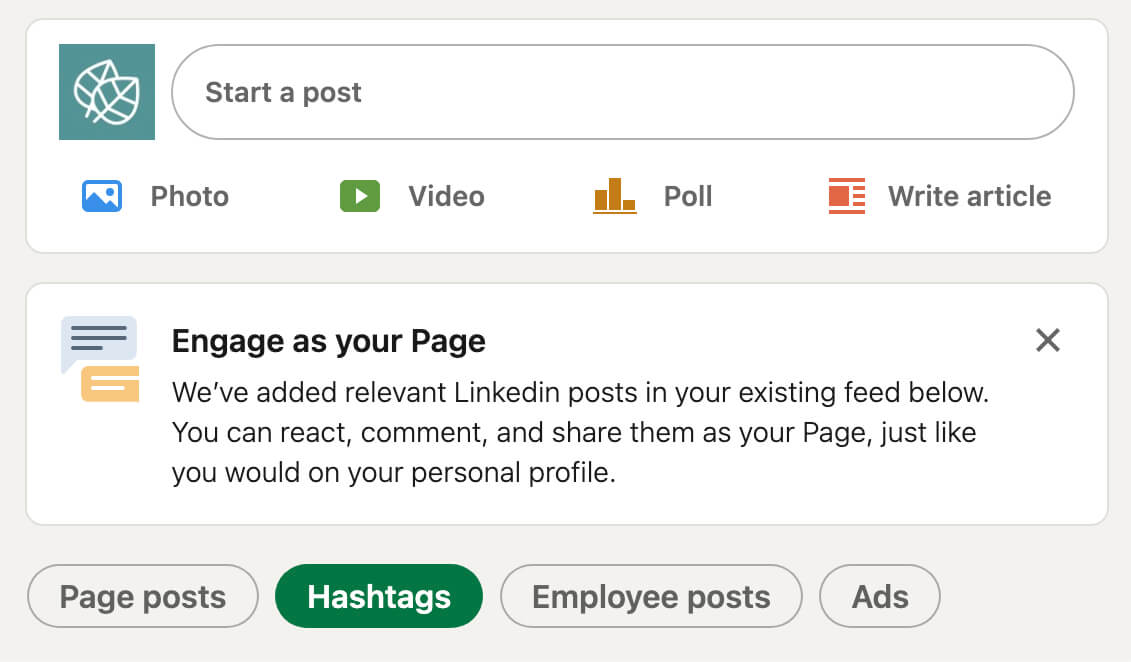 What kinds of posts can you engage with on your page's behalf? You can respond to all types of content in your feed, including:
Text posts
Link shares
Image and video posts
LinkedIn Live and event shares
Document posts
Article and newsletter shares
Reposts from other members and pages
What type of content can't you interact with on your page's behalf? Currently, it isn't possible to comment as your page within events, articles, newsletters, or groups—essentially any content that doesn't appear in your feed.
Because it gives brands so many options to engage, this feature opens up countless opportunities to achieve objectives like:
Adding your company's unique take on trending issues
Providing exclusive insights on niche industry topics
Building relationships with potential partners
Thanking members and brands for sharing your company's content
Sharing other creators' content to your company page
How to React to Content as Your LinkedIn Page
Want to show your brand's support for a feed post? To react to LinkedIn content, locate your profile picture in the lower-left corner of the post. Click the down arrow to bring up a menu of all of the options you have for interacting with the content. In addition to your personal profile, you should see a list of all the company pages you manage.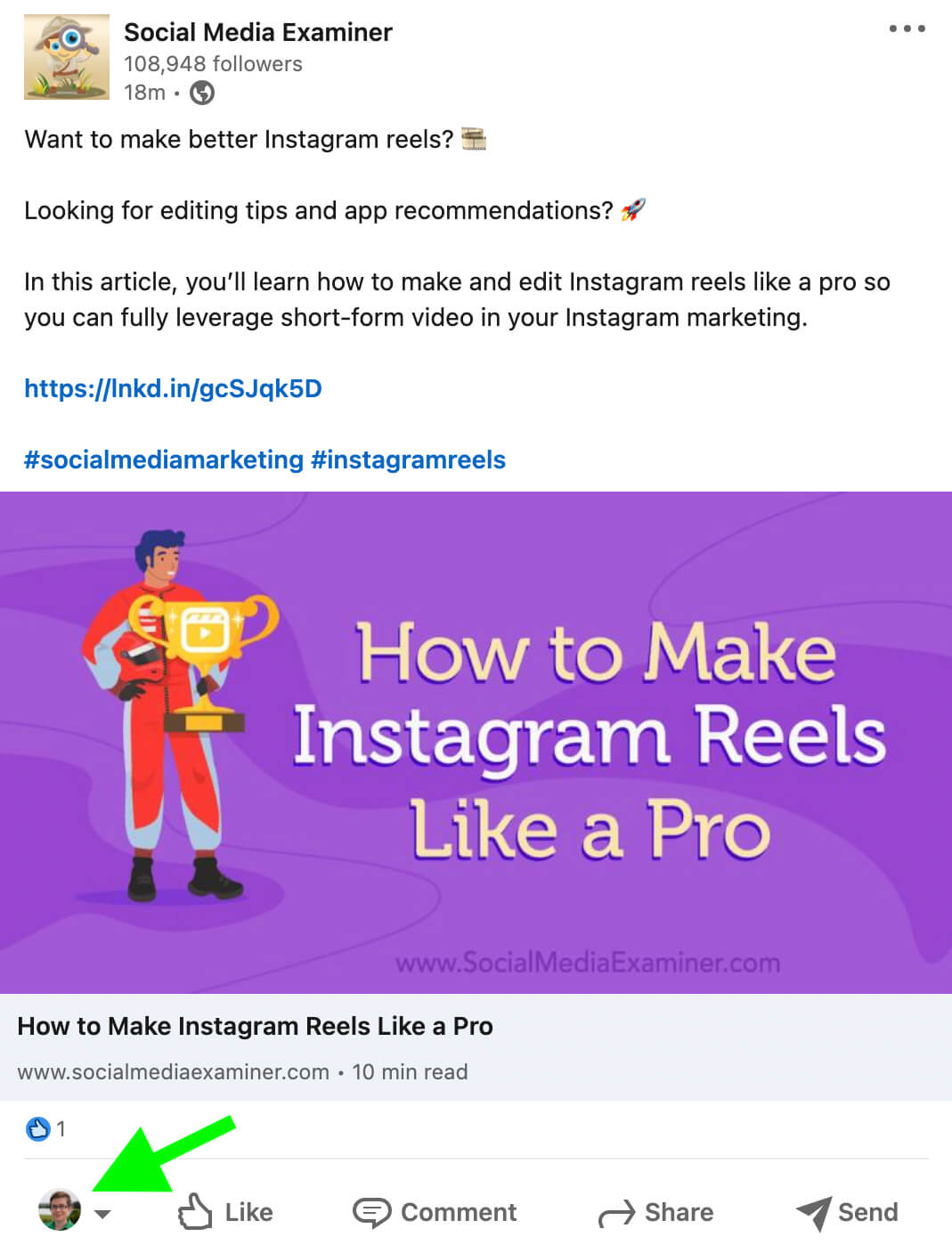 Select the page you want to use to engage with the post and click the Save button. Instead of your profile picture, you should now see your company's logo in the lower-left corner of the post. Hover over the Like button to see all of the reaction options and click to choose one. If you click to view all of the reactions on the post, you'll see your company page listed.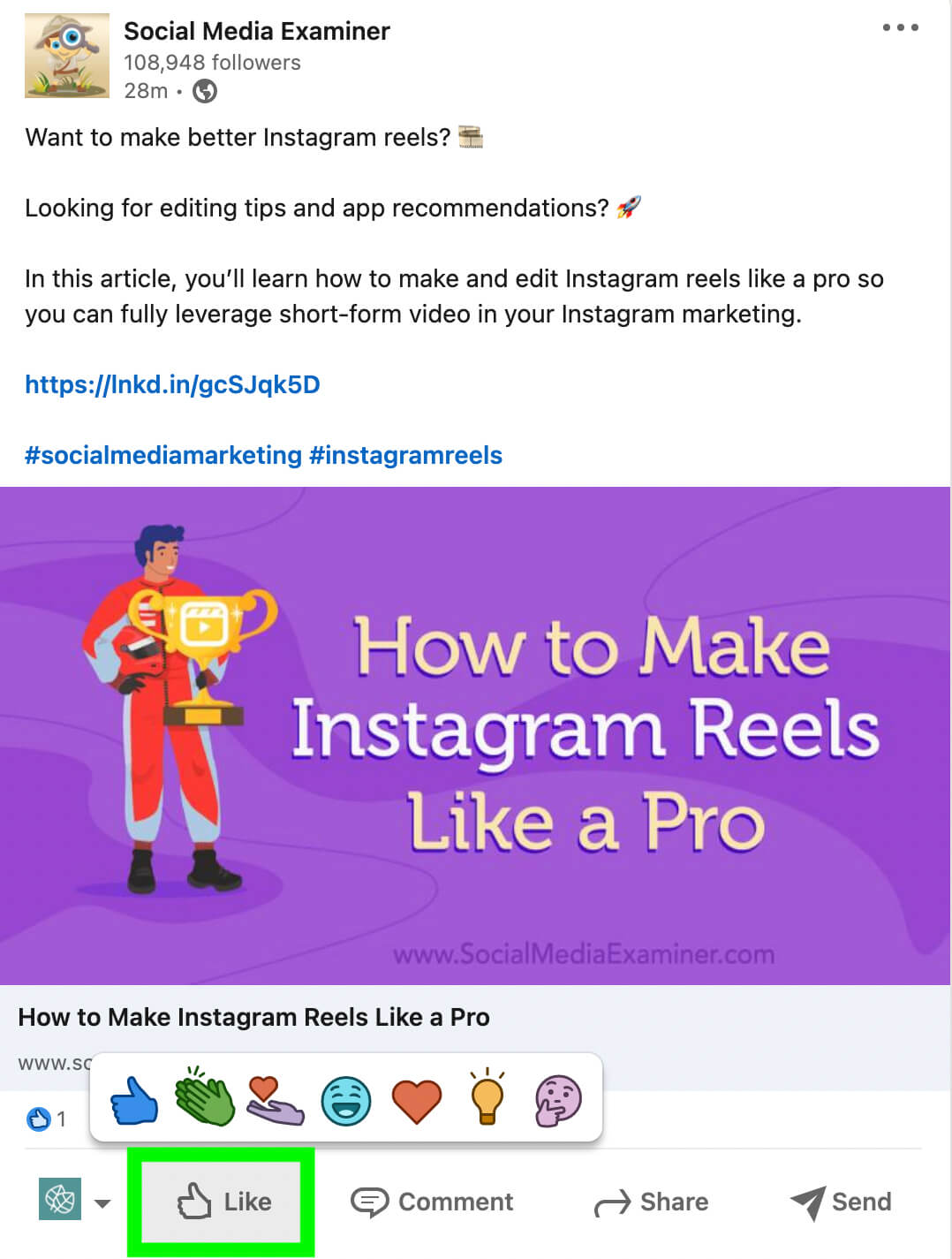 How to Comment on a Post as Your LinkedIn Page
To comment on a post as your brand, follow the steps above to interact as the company page of your choice. Then write and post a comment. If your comment sparks a conversation, you can return to the post and respond to follow-up comments as your brand.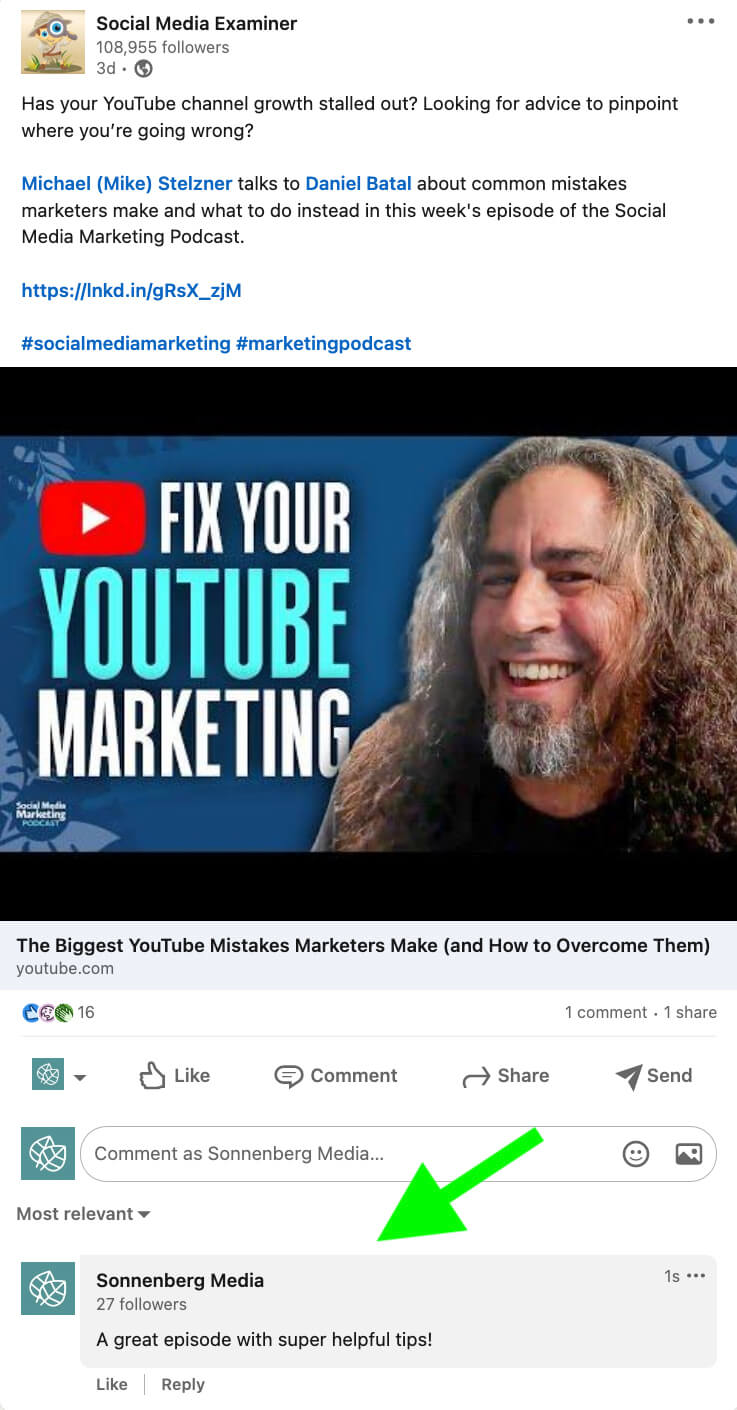 Keep in mind that you don't have to limit yourself to commenting only as your company page or personal profile. You can toggle between profiles and pages, effectively building both your personal and corporate brands.
How to Share LinkedIn Content as Your Company Page
Whether you want to repost content to increase visibility or add your organization's insights, LinkedIn now lets you share content to your company page. First, select the company page you want to use for engagement. Then click the Share button.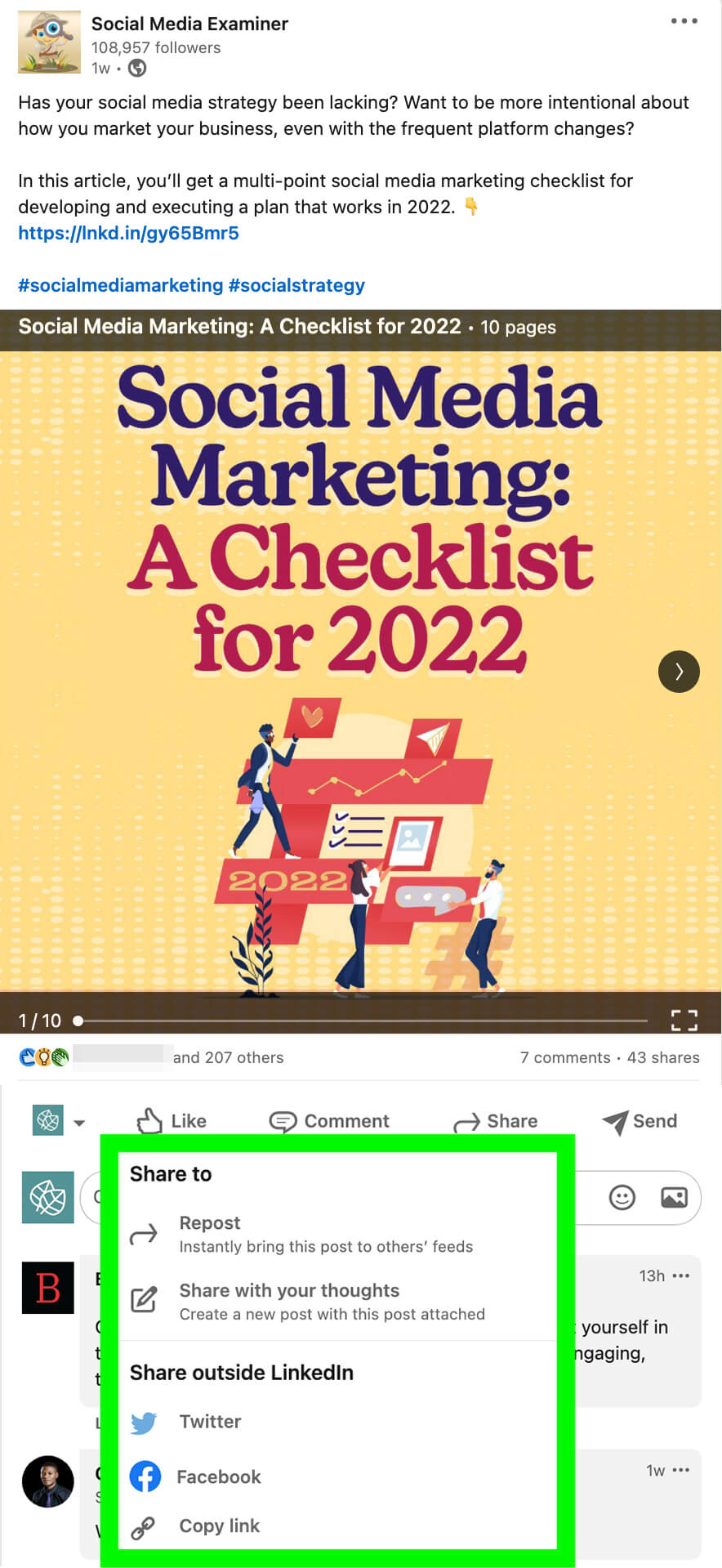 To share the content to your brand's feed instantly, select Repost. To add your take, select Share With Your Thoughts. Then write a caption for your post. Like any LinkedIn post, you have the option to mention company pages or personal profiles and add relevant hashtags.
By default, all content you share from your company page is visible to anyone on or off LinkedIn. If you want more control over who sees your share, click the Anyone button and select Targeted Audience.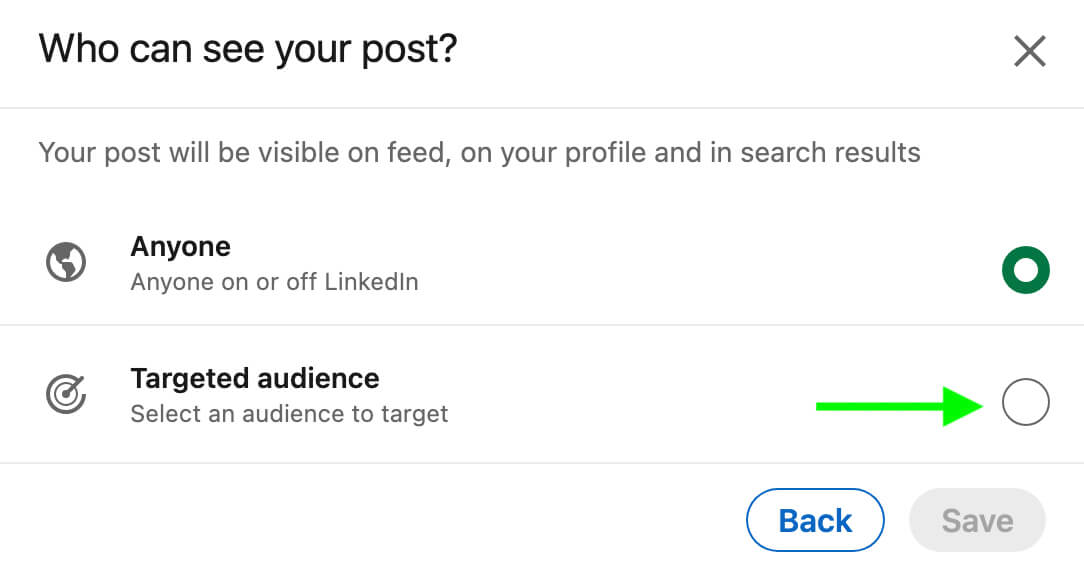 Then choose your audience parameters. For example, you can target users by demographic settings like language, region, or location. You can also reach users based on professional parameters like job function, industry, or seniority.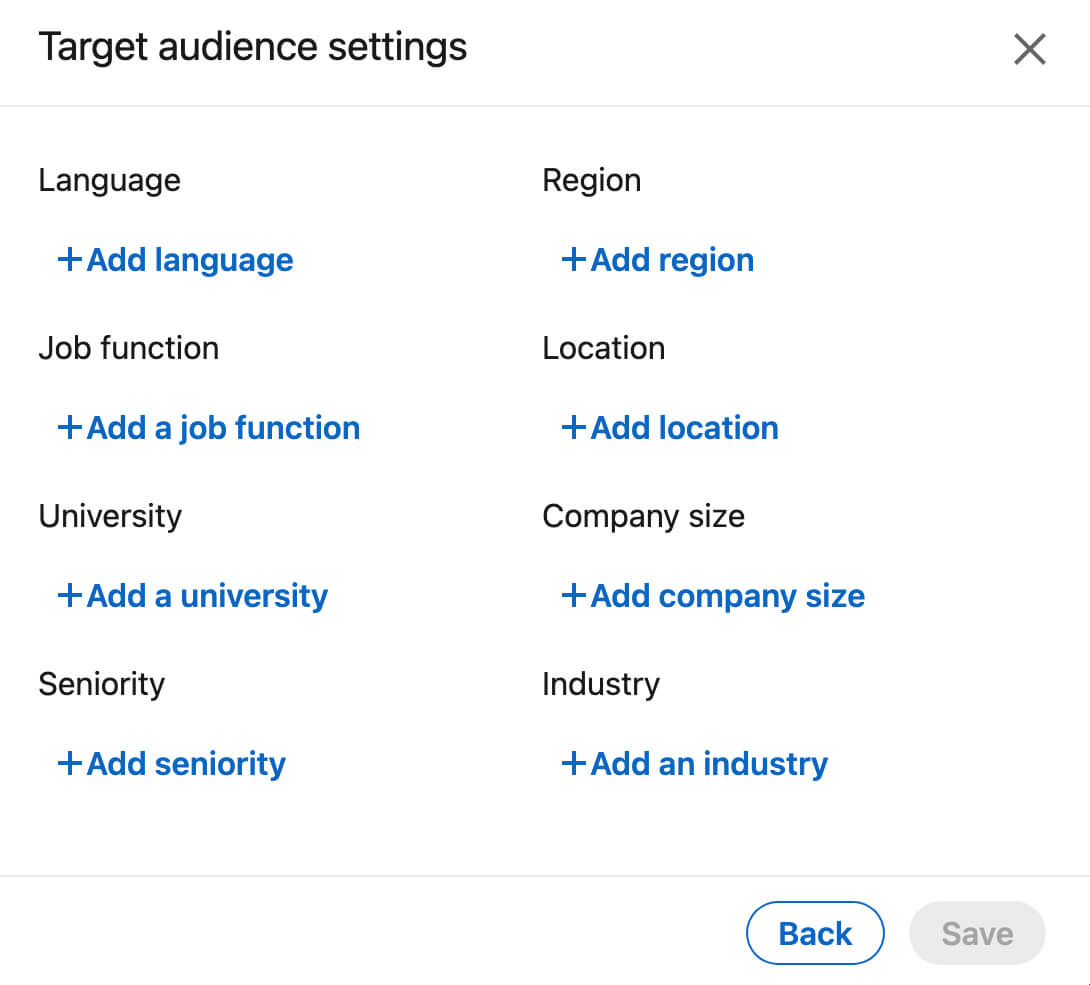 Keep in mind that choosing a target audience limits the reach of your content, sometimes significantly. But if you want to spark a conversation with a certain group of industry peers or clients, setting a specific audience can be a smart move.
LinkedIn also gives you the option to share outside of the platform. Select Copy Link to get a sharable link that you can paste into an email or another social media site. Alternatively, you can select Twitter or Facebook to open either platform instantly and auto-generate a post.
Note that it also appears as though your page can share content directly through a LinkedIn message. Since LinkedIn doesn't currently support company page messaging, however, this option isn't available for brands. If you do click the Send button and attempt to send a message as your company page, it will automatically send as your personal profile.
#4: LinkedIn Article and Newsletter Discovery and Visibility Features
Reacting to, commenting on, and sharing posts are all smart ways to engage with other brands' content and improve the visibility of your LinkedIn company page. But these are far from your only options.
In addition to publishing posts and documents, LinkedIn has allowed brands to publish articles from company pages since mid-2021. Since March 2022, the platform has also launched newsletters for company pages—essentially serialized articles that allow LinkedIn members to subscribe.
Now, as of June 2022, LinkedIn is rolling out options to add hashtags and mentions to your company page's articles and newsletters. Both have the potential to increase reach and visibility for your page. Here's how:
Anyone you mention will receive a notification that they can use to read or engage with the article.
Any hashtags you add can drive discovery, helping LinkedIn members find content on topics they follow.
To use these new features, go to your company page and click the Write Article button. Choose whether you want to create a stand-alone article or an issue of your newsletter. Then start writing.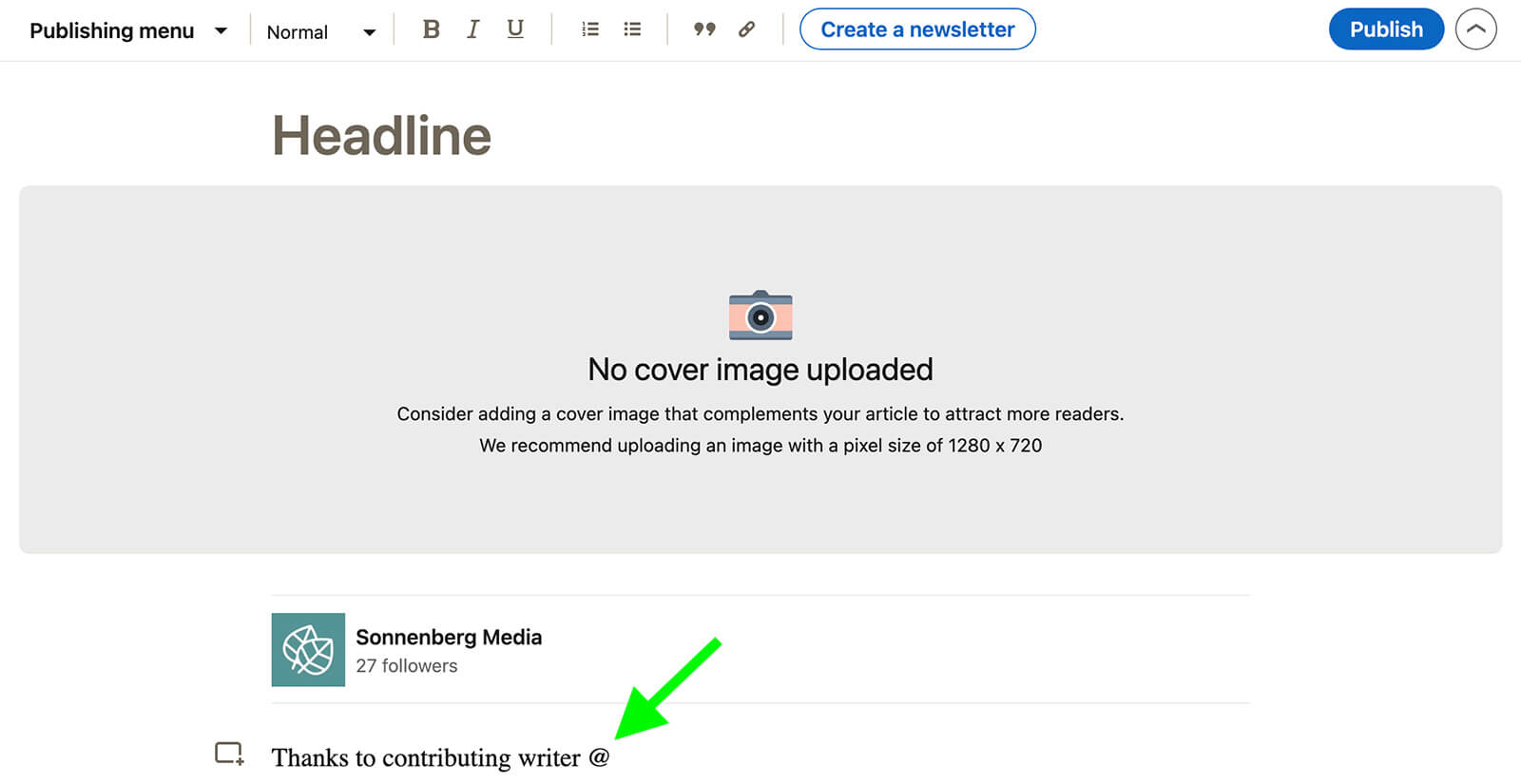 You can use the @ symbol to mention any company page or member profile. When you type "@" into the article or newsletter interface, a drop-down will automatically appear, displaying recommended people or businesses.
Who should you tag in your articles or newsletters? Consider mentioning individual contributors, highlighting accomplished employees, or tagging business partners.
To add hashtags to LinkedIn articles and newsletters, use the same workflow detailed above. Use the # symbol to automatically generate a drop-down list of hashtags. Then select the one you want to add to your content.
How many hashtags should you add to articles or newsletters? LinkedIn generally advises adding three hashtags to posts, making this number a good starting point for longer-form company page content.
Conclusion
Whether you want to focus on paid or organic tactics, these new LinkedIn company page features give you new growth opportunities. From engagement and content creation to lead generation and event promotion, your team has an even wider range of tools to help you reach your goals.
Get More Advice on LinkedIn Marketing:
---
Stay Up-to-Date: Get New Marketing Articles Delivered to You!
Don't miss out on upcoming social media marketing insights and strategies! Sign up to receive notifications when we publish new articles on Social Media Examiner. Our expertly crafted content will help you stay ahead of the curve and drive results for your business. Click the link below to sign up now and receive our annual report!
Get Your FREE Course: Web3 for Beginners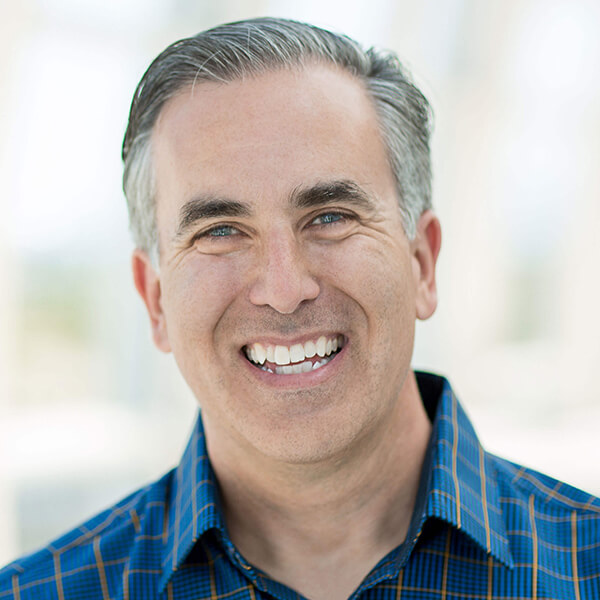 Curious about Web3, but don't know where to start or who to trust?

Introducing Web3 for Beginners, a course taught by Michael Stelzner, the founder of Social Media Examiner.

Learn the basics of Web3 and apply it to your business with this FREE comprehensive course.
CLICK HERE TO GET FREE ACCESS