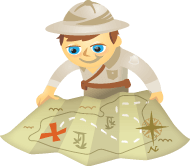 Do you want to improve your social media marketing?
Are you curious about what works for large companies?
The best way to add techniques to your repertoire is to look at what brands with high levels of engagement are doing.
In this article I'll share 26 tips, an A-Z guide, from brands doing an excellent job of social media marketing and getting results to match.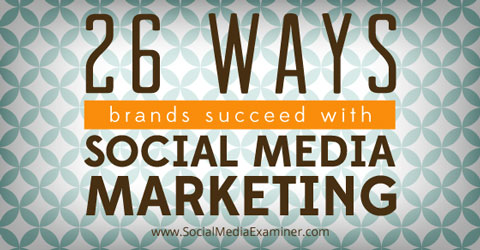 #1: Add Related Hashtags
To make your posts automatically recognizable to your fans and followers, use a hashtag that relates to your brand or product consistently.
Samsung uses the hashtag #SamsungTips whenever they share information about their products or related helpful content.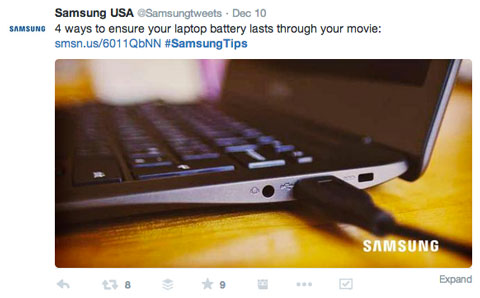 Create hashtags that make sense for your brand and expand them when appropriate.
#2: Build Branded Communities
Forrester Research addressed Facebook's announcement that beginning in January 2015, users will see fewer promotional posts in their news feeds. The suggested solution is that brands build alternative communities on their own sites.
Create an on-site alternative with bonuses that followers can't get anywhere else. It's an effective way to offer incentives to engage while controlling what followers see.
#3: Create a Facebook Cover to Promote Events
Your Facebook cover photo is prime real estate. It's something you can leave as-is for consistency or change regularly to showcase special events, promotions and even a change in season.
Guitar Center posted a behind-the-scenes video on YouTube on November 10 to promote the Gaslight Anthem's Guitar Center Sessions "all-new episode on November 14th at 9pm on DIRECTV's AUDIENCE."
That same day, they changed their Facebook cover image to help promote the event.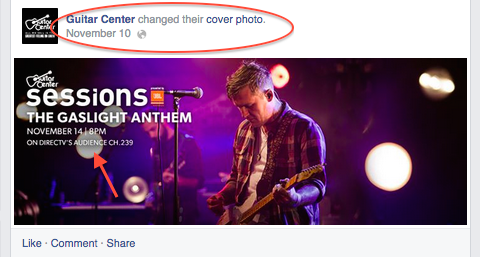 While Facebook has cover photo guidelines, it shouldn't be too hard to create something special that still adheres to their rules.
Get Your FREE Course: Web3 for Beginners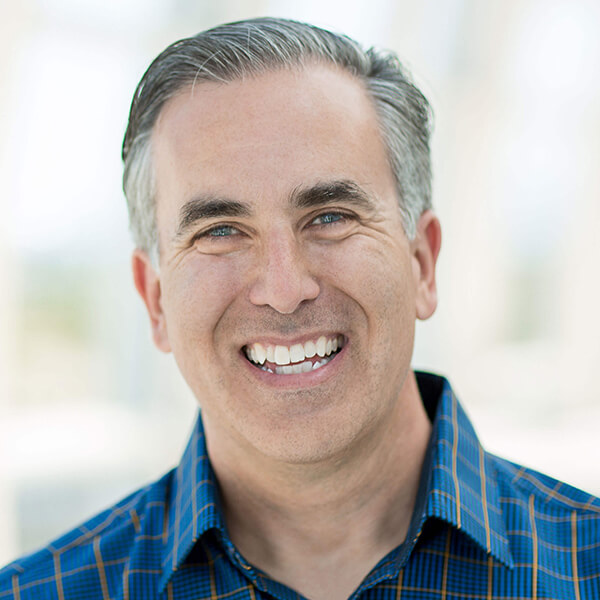 Curious about Web3, but don't know where to start or who to trust?

Introducing Web3 for Beginners, a course taught by Michael Stelzner, the founder of Social Media Examiner.

Learn the basics of Web3 and apply it to your business with this FREE comprehensive course.
CLICK HERE TO GET FREE ACCESS
#4: Develop a Regular YouTube Schedule
If you've identified video as an important component of your social media strategy, then maintain an active presence. Add new videos to your YouTube channel regularly.
During a two-week period, the top brands added an average of eight new videos to their YouTube channels. Average video length was 3:08 minutes.
In Monster High's top video link (over the two-week period), the length was only 39 seconds, and was viewed 152,689 times, received 55 comments and 757 likes.
As Monster High proves, videos don't need to be long. However, it's helpful if they're consistent.
Need a little more insight for developing length guidelines? Orbit Media and others suggest 3 to 3.5 minutes for the optimal video length, while comScore reports the average online video content as 4.4 minutes. Figure out a length and strategy that's in line with your brand.
#5: Evaluate Your Approach
What works for one brand may not work for another, which means it's important to consistently evaluate your social media plan and tweak it.
On Facebook, the top ten brands posted on average 35 updates over two weeks. Interestingly, iTunes, which was on the higher end with 61 updates, experienced significantly lower percentage of fan growth (.04% ) than Subway, which only posted 9 updates and grew their fan base (.10%).
While there can be a number of contributing factors, the most striking difference was that Subway received 192 questions and responded to 61% of them. iTunes received 32 questions and responded to none.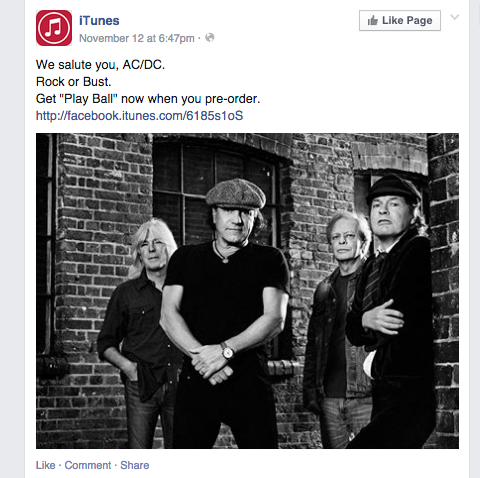 Engagement matters. If you don't receive the type of activity you'd like on social channels, take a look at your plan and see where you can make improvements.
#6: Fulfill Followers' Requests
Customers rely on social media for product and website support increasingly frequently. Keep an eye on your Facebook fan page and Twitter notifications to keep your response time to a minimum.
For example, Target responds to questions in a little over an hour on average.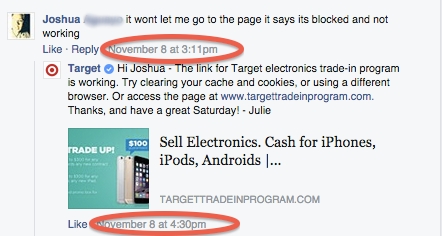 Respond to followers in a timely manner. It will impact likes and shares, as well as the overall impression of your social media efforts.
#7: Generate Interest With Instagram
Instagram has been touted as having 15 times the engagement of Facebook and the fastest growth of the top 10 mobile apps.
Leverage engagement on multiple channels by tweeting links to your Instagram photos, as Playstation did in the example below.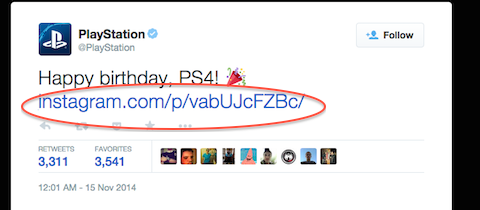 Tweeting the photo resulted in massive recognition on Instagram. It received more than 59,000 likes.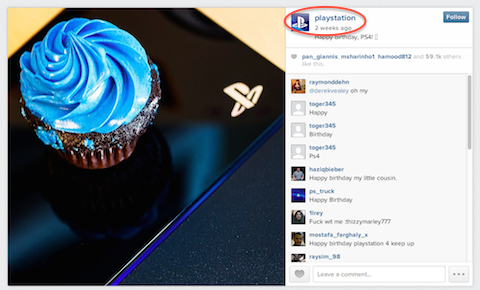 When multiple platforms work together, the results can be phenomenal.
An average of 55 million photos are uploaded to Instagram every day. So if you're not on Instagram already, bring your brand on the bandwagon.

#8: Hide Facebook Ads With Dark Posts
We're so used to hearing about the importance of having a presence on social media that at first the idea of a dark Facebook post sounds like an oxymoron.
However, many brands discovered success when publishing a post that doesn't hit fans' news feeds until they convert it into an ad. It's a great way to run an A/B test before going more widespread with a specific public post.
When Walmart posted their Black Friday ad as a dark post, they received 8,250 interactions (3,733 likes, 781 comments and 3,736 shares). The ad took followers to Black Friday discounts from multiple departments and a list of the stores in close proximity to users.
In another ad they posted around the same time period (this one appeared in their news feed), they promoted electronics as a way to target specific product interests. They received much more engagement from their dark post.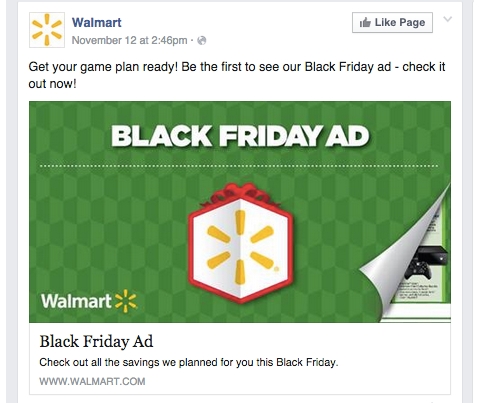 Testing an ad with a dark post may help you get more bang for your Facebook ad buck. Try it! What have you got to lose?
#9: Influence Followers' Friends on Twitter
Any deal or discount a follower will share with a friend is an excellent way to extend your reach.
To get their followers' friends on board, Starbucks makes offers available to them too. In Starbucks' holiday drink promotion, they encouraged followers to bring a friend for a free holiday drink.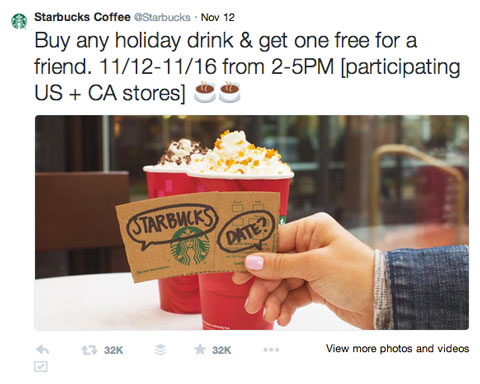 Offers that extend into followers' personal networks are a great way to maintain existing customers and add new ones.
#10: Join Relevant Public Conversations
Sometimes it's difficult for a brand to take a stand on an issue without worrying that their position may alienate customers. If you're an online company and your position has something to do with the Internet, it may not feel as risky.
When Etsy tweeted a message about Net Neutrality, thanking President Obama and linking to whitehouse.gov, they chose an effective way to communicate without having to restate a lot of information. By linking to whitehouse.gov, they offered their fans the option to watch a YouTube video where the President Obama explained his plan. Fans could also read the text of his statement.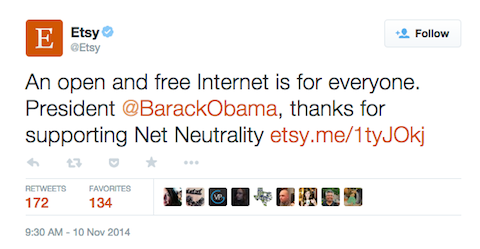 Reply to conversations that are relevant for your company or industry that won't make your customers feel uncomfortable.
#11: Keep Facebook Updates Brief
The ideal length for a Facebook update has been cited as fewer than 40 characters, even though you can add as many as 63,000.
Samsung Mobile USA used 47 characters in their November 10 update, Clumsy Crops No More. The S Pen > Your Fingers.
The post may have been small in number of characters, but was effective in terms of engagement. It received nearly 30,000 interactions (28,000 were likes, the rest shares and comments).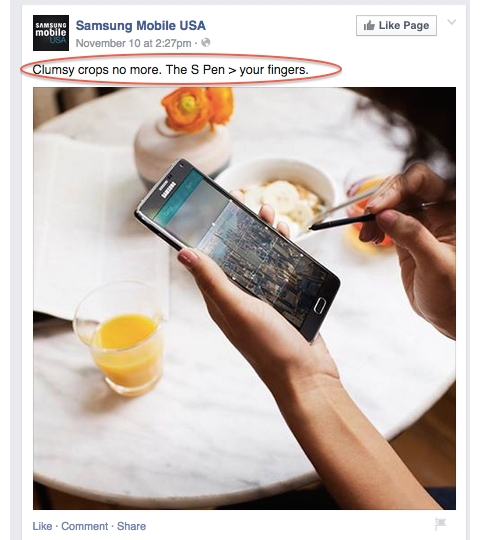 Experiment with brief updates. You never know what will be a hit.
#12: Launch New Products
If you have a something new to promote, your first and best audience is on social media.
Buffalo Wild Wings posted a Facebook update and photo about their new potato offering, Wilder Wedges. They also shared info on Twitter and Yelp, which helped generate interest and product enthusiasm.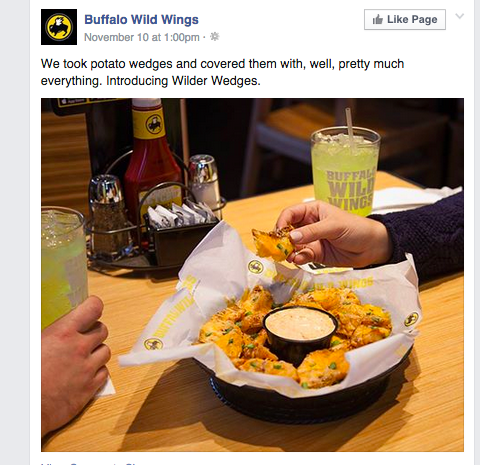 Social media provides a number of creative ways to introduce a new product to fans and followers.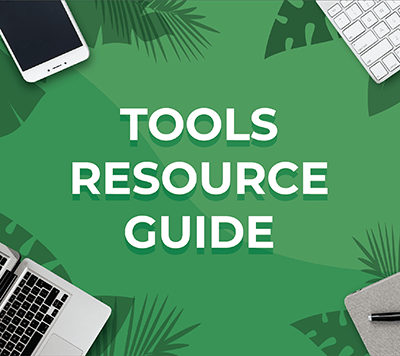 Looking for something to make your life easier?
Discover the tools we recommend to drive engagement, save you time, and boost sales across your entire marketing funnel or business.
Whether you need help planning content, organizing social posts, or developing your strategy, you'll find something for every situation.
FIND YOUR NEXT FAVORITE TOOL
#13: Minimize Negative Feedback
When companies post on social media, they open themselves up to positive and negative feedback. Respond to customer concerns in a timely manner and minimize any negative buzz about your brand.
When Subway posted their message about their Simple $6 Menu, they received favorable and negative comments.
After one customer complained about the bread being too dry, Subway responded and directed the customer to their contact page. Subway asked the customer to please share the details and the location, so the company could contact the owner, fix the problem and bring the customer "back to your favorite Subway restaurant."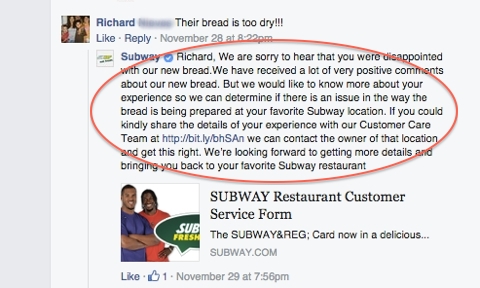 Gather information about any complaints to make your customers feel heard. This also allows you to rectify a problem you may not have realized you had.
#14: Navigate Users to Landing Pages
A landing page is a great destination for your audience, whether it's your home page, one of your social sites or a place to purchase your product. Use your social platforms as a hub for the links you want to share with your audience.
On LeanSecrets' YouTube video page, they have the URL for their website, Facebook, Twitter and Instagram pages.
When Guitar Center posted a video with a clip of the musician Slash, they linked to iTunes where users could buy his album World on Fire.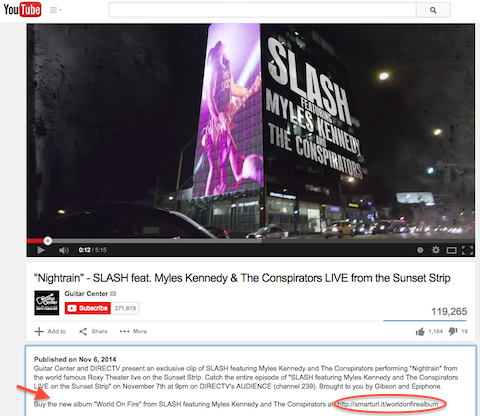 Landing pages are a core part of a brand's marketing strategy. They offer opportunities to lead people to the pages you want them to see.
#15: Optimize YouTube Videos
YouTube is the second largest search engine. To get the best exposure, optimize the video's title and description with keywords for search.
This example from NikeSkateboarding is detailed, with a strong intro sentence.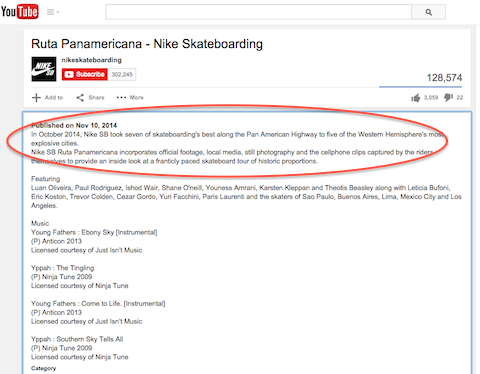 The beginning of your description is what shows up next to the video in your YouTube search.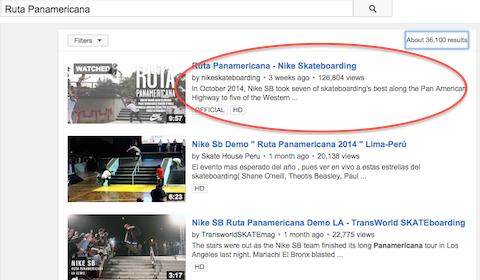 Need extra tips? YouTube provides detailed information on how to optimize your video's metadata.
#16: Pay Attention to Your Best Times to Tweet
There are no hard and fast rules about the best day and time to send a tweet. A lot of trial and error goes into creating a Twitter plan. Review your Twitter activity, see what gets the most engagement for your brand and plan tweets accordingly.
Sony's top three tweets during the two-week period we studied tell us something, but not everything.
The top update that contained a video and hashtag was posted on a Sunday morning at 6:08 a.m. (EST) and received 399 interactions, their second top update with a link was posted on a Wednesday at 2:29 a.m. (EST) and generated 265 interactions. Six hours later, another tweet that included a video received 192 interactions.
Based on these facts and figures, we could possibly surmise that Sony followers are more likely to be online on Sunday. Or that they prefer videos and hashtags. Or (fill in the blank).
It doesn't tell you everything, but it's something to go on.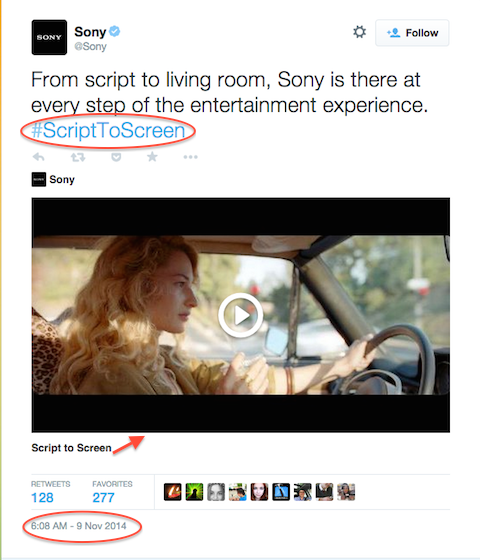 Do a deep dive into your Twitter engagement to find the most effective day and times to tweet.
#17: Question on Facebook
Questions are great conversation starters and serve as market research. Tie a post or pic into a question about an event, holiday or trending topic with a hashtag, and your engagement may skyrocket.
Subway asked their followers why they love sandwiches with the hashtag #NationalSandwichDay. The post received 3,350 comments and 107,367 interactions.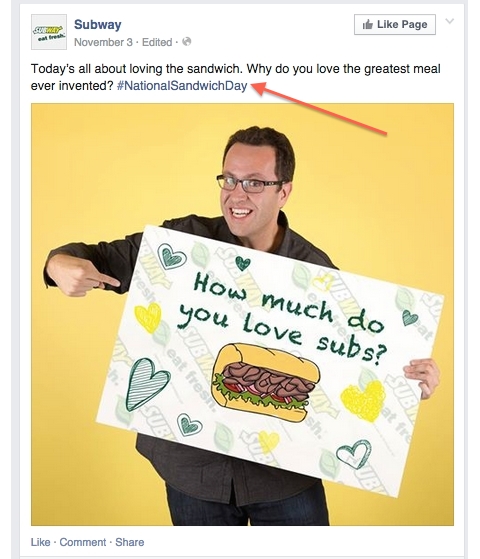 Want to know what your customers think? Come right out and ask.
#18: Return to an Update and Edit
The edit function on Facebook makes it easy to update original posts and inform fans who won a contest or giveaway on your page. It also lets people know your contests are legit.
Amazon updated the original contest announcement post with the name of the winner.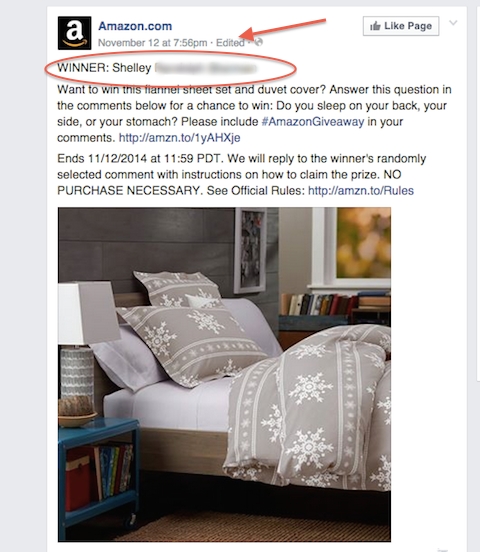 When you update posts to tell your community the outcome of a giveaway, it validates your promotions and keeps people coming back for more.
#19: Spend Time Interacting on Twitter
Maintaining a presence on social media requires give and take. Don't just tweet. Respond to tweets from followers.
Over a two-week period, Starbucks sent 31 tweets, but didn't stop there. Their community managers replied to followers 3,806 times, mentioned them 4,229 times and retweeted messages 14 times.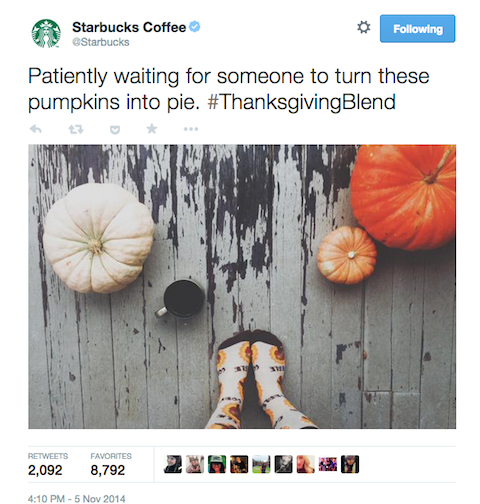 Go beyond only sending tweets. Interact with your fans. It demonstrates that someone is active on your Twitter account and cares about connecting with followers.
#20: Try a Short Branded URL
Shortened URLs have become the norm. Take it a step further and create a branded URL (one that uses part of your domain). It'll keep your domain top of mind when users come across it and provide valuable tracking information.
Short domain names need to be 15 characters or fewer (including the dot). Use tools such as Domainr and 101domain to search for and create a short domain name URL.
In the example below Someecards shortened their long URL, http://www.someecards.com/christmas-cards/holiday-gift-in-person-funny-ecard, to 15 characters with the use of some.ly/asBYpLF.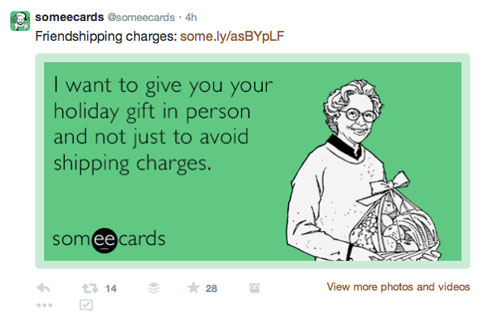 Short URLs help us make better use of the limited-character real estate on platforms such as Twitter. Brand them to add name recognition to that shortened space.
#21: Use Succinct Calls to Action
Whether it's to buy, save, comment or explore, ask your followers to take action with a few carefully crafted words.
Kohl's Facebook update with the message, "Save online with code FALLFB10 or in store with the pass" did short and sweet beautifully. The offer, which was good for four days, was claimed by 31,227 people on Facebook.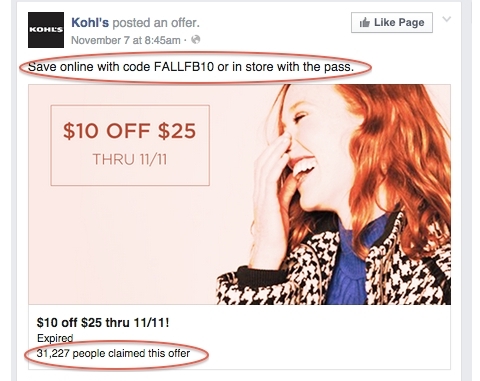 Whatever the call to action, make it short and sweet to get substantial response from your fans.
#22: Value Voting From Fans
There are a lot of creative ways brands can use social media to learn about their audience. Create a poll or just ask fans' opinion as comments to a post.
Kohl's asked fans for a "yea or nay" about a poncho. It received a ton of engagement, not to mention a lot of mixed reactions.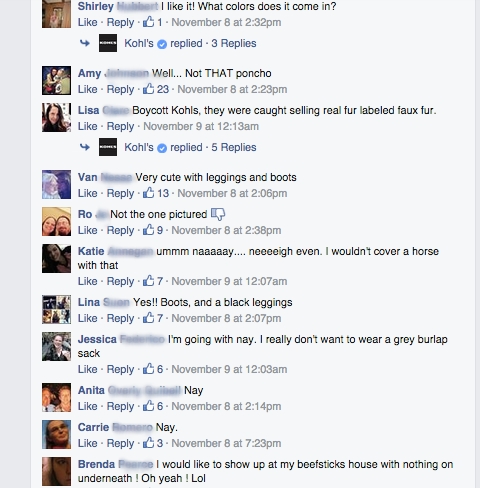 Go public with customer feedback. It shows brand confidence and that you're willing to hear what your customers have to say.
#23: Wish for Wish Lists
Tap into your followers' needs and encourage them to submit something on their wish list. It's a simple call to action that helps customers get excited about your offerings.
Amazon offered a chance to win a $500 gift card for fans who included the wish list hashtag in their comment.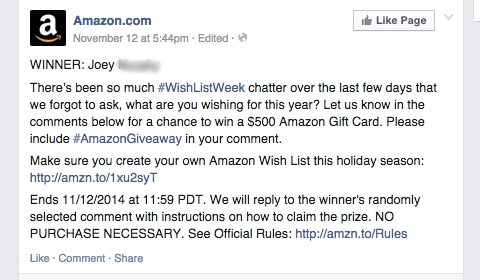 Wish lists create another effective way to engage.
#24: eXplore Vine Videos
Looking to grab attention on Twitter? Spend time creating content on Vine.
In just 6 seconds, Samsung Mobile's tweet with a Vine video does a lot to get followers excited about their S Pen. On Twitter the update received 1,030 interactions (replies, favorites and retweets) and on Vine more than 3,000 interactions.
Vine offers many creative uses for businesses. Check it out.
#25: Yield High Return
The more you share, question and respond to fans, the better your levels of engagement.
Do this to create a strong identity on social media and gain loyalty in the process.
#26: Zero in on Notable Days of the Year
Notable days of the year provide topics for content and serve as a great addition to a company's editorial calendar.
Walmart thanked the country's veterans. Buffalo Wild Wings noted the end of election campaign ads. Starbucks mentioned pumpkin pie.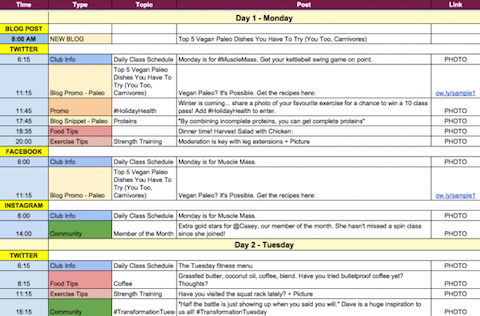 Find ways to connect your brand to notable days, then craft related posts to increase your visibility and reach.
Over to You
Large brands have more resources and time to dedicate to social media strategy than small businesses. There are lots of good ideas that can be used in just about any industry. Adapt and emulate their ideas and techniques for your marketing plans.
For this article, I took information shared by SocialBakers on activity of the 30 top brands over a two-week period, November 1 to November 15, 2014.
What do you think? What lessons have you learned from brands on social media? Which of these tips will you use in your social media marketing? Share your comments and thoughts below.
Get Your FREE Course: Web3 for Beginners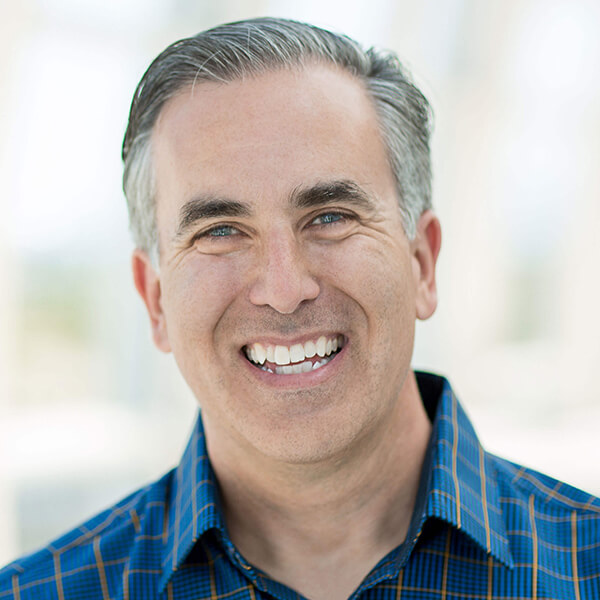 Curious about Web3, but don't know where to start or who to trust?

Introducing Web3 for Beginners, a course taught by Michael Stelzner, the founder of Social Media Examiner.

Learn the basics of Web3 and apply it to your business with this FREE comprehensive course.
CLICK HERE TO GET FREE ACCESS