Speaker Support Page
We're so excited to have you speak as part of Social Media Marketing World. This page will help you prepare for your session and your time in San Diego.
Use the quick links below to guide you through the information and due dates. We'll also be sending out friendly reminders as due dates get closer.
Quick Links
Key Dates
Facebook Event Page
LinkedIn Group
Slack
Your Presentation
Audio/Visual Equipment
Book Store and Signings
Table Talks
Dietary Restrictions
Pre-Networking Party
Join the SMMW17 Chorus
Private Speaker Party – Save the Date
Can We Quote You?
Facts About Our Audience
Room Diagrams – Coming Soon
Ground Transportation
Traveling Internationally?
Questions?
Key Dates (top)
January 20 – Session Descriptions Due
February 15 – Schedule Released
February 24 – Last Day to Order Books for the Networking Plaza Book Store
March 3 – Your Presentation Slides Due
March 8 – Additional Audio/Visual Equipment Requests Due
Facebook Event Page (top)
If you haven't already, please RSVP on our  Facebook event page . Many attendees are excited to meet you in person and this will give them a chance to interact with you before the event.
We will be highlighting sessions, providing insider tips and even going Live a few times. If you might be interested in going Live with us, send an email to Jen Cole (jencole@socialmediaexaminer.com)  and we'll try to schedule you.
LinkedIn Group (top)
You should have already received an invite to our private LinkedIn group. If you have not, please send an email to Jen Cole (jencole@socialmediaexaminer.com) and she will make sure you get in. Hundreds of attendees have already joined the group. Please jump in on the conversations where you can add value here. You can also ask questions to gain insights for your session.
Slack (top)
We are using Slack for networking again this year. Our Slack Group provides various "channels" designed to help you focus your networking. Follow these four steps to network with others in Slack:
Use this LINK to sign up for our SMMW17 Slack Group.
Look for an email invitation from Slack with a link to get started.
Create your profile in Slack.
Once you're all signed up in Slack, join the channels that interest you.
NOTE: If you are new to Slack we created three videos to help. 1) This one explains what is Slack. 2) This shows you how to get started on Slack. 3) Finally, this one explains Slack DM notifications.
Your Presentation (top)
By way of reminder, we are asking that your presentation be non-promotional and original content created uniquely for this event (scroll down for our template). This year we are encouraging speakers to use their own computer to present– an AV tech will be in your room to help you get connected during the break before your session. Your computer must have an HDMI connection (or an adaptor)- for additional options, special AV requests, or if you'd like to us to provide you with a computer and preload your slides please let us know here.
Slides Due Date
Please send a pdf of your finalized slides to your primary point of contact (Jessamyn, Liz, Christina, or Wendy) by March 3rd. If you will be using one of the computers we provide instead of your own to present, please send us your actual slides (Keynote or PPT) so that we can preload them for you.
NOTE: We understand some speakers may find it necessary to make changes after this due date. We request a copy of your slides by March 3rd so we can review and have them as a backup. We do post a copy of your slides to paid attendees, so we would appreciate a final copy of your slides before your session.
Panel moderators: We expect some panels will be discussion based and therefore won't require slides. However, you can prepare slides if it will help set up your discussion. If submitting, please send panel slides to your primary point of contact (Jessamyn, Liz, Christina, or Wendy) by March 3rd. We also request you set up a pre-conference call with your panelists so they feel comfortable with what you expect from them.
Breakout Session Length
All sessions are 45 minutes long, including a suggested 10 minutes for Q&A. For most presentations this means an ideal slide length of 35 slides.
Every presentation should follow the below model:
Welcome from Track Leaders including housekeeping and speaker introduction (2-3 mins)
Presentation (30 – 35 mins)
Q&A (~10 mins)
Workshop Session Length
All workshops are 90 minutes long with a focus on hands-on experiential learning, including a suggested 20 minutes for Q&A (which can be interspersed through the session or reserved for the end).
Every presentation should follow the below model:
Welcome from Track Leaders including housekeeping and speaker introduction (2-3 mins)
Presentation (65 – 70 mins)
Q&A (~20 mins)
Note: If you have materials you would like attendees to download for your workshop we'd be happy to provide them- please send a download link (or the file) to your point of contact and we'll post it to our secure site. You are also welcome to bring printed handouts to your session.
Please plan on arriving to your assigned room at least 20 minutes prior to your presentation. A Speaker Handler will reach out to you prior to your session should you need assistance finding your room.
Slide Template
To create a consistent visual experience, we strongly request you use our template. However, we understand that may be impossible for some of you. Even if using your own template, please send a pdf of your presentation to your primary point of contact (Jessamyn, Liz, Christina, or Wendy).
A few notes about your slides:
Slide format should be 16:9 aspect ratio to fit appropriately on the screens
If over 10MB please use an ftp service such as Dropbox, WeTransfer, Google Drive, etc when sending to your point of contact
Please work with the AV tech to test any videos, web pages, animations, etc during the break prior to your session.
Below is a link for downloading our template in PowerPoint or Keynote format. You will find instructions inside the template.
If you are having trouble downloading the Keynote file, please see the screenshots below. If you are still unable to download the file, please reach out to your point of contact and they can send you the file directly.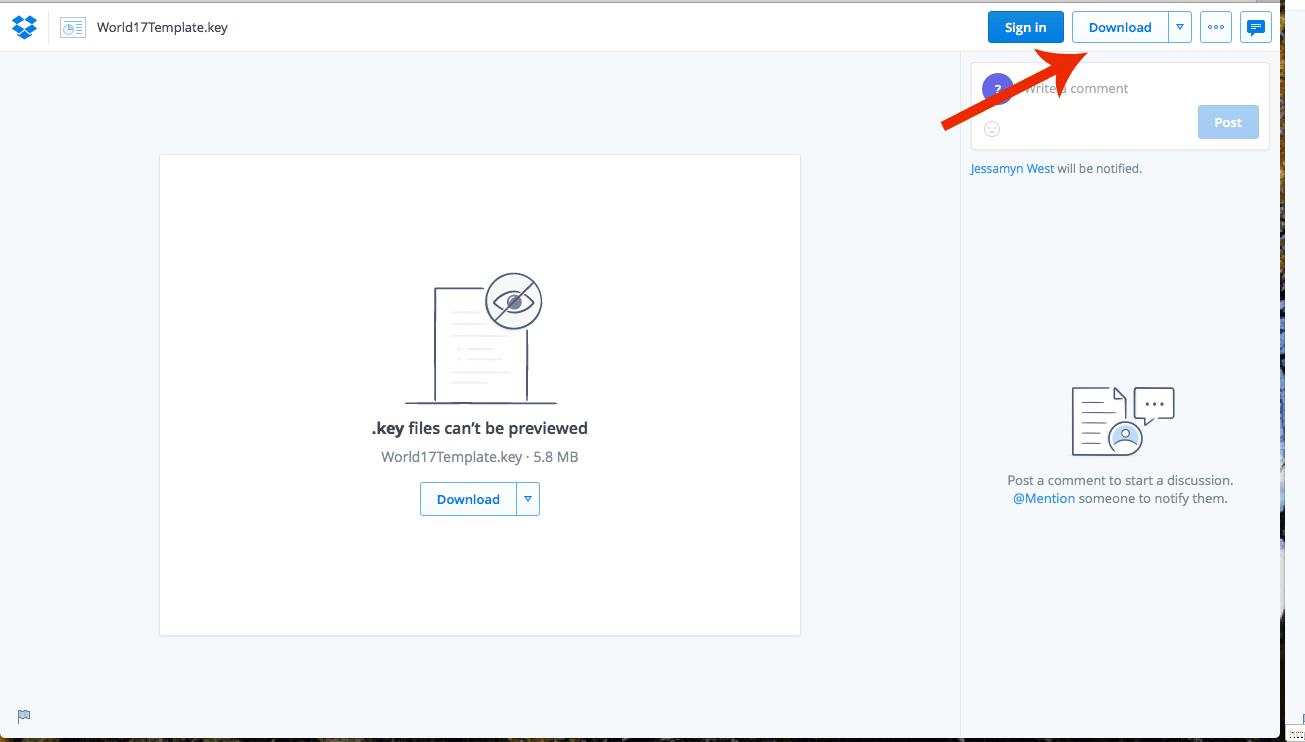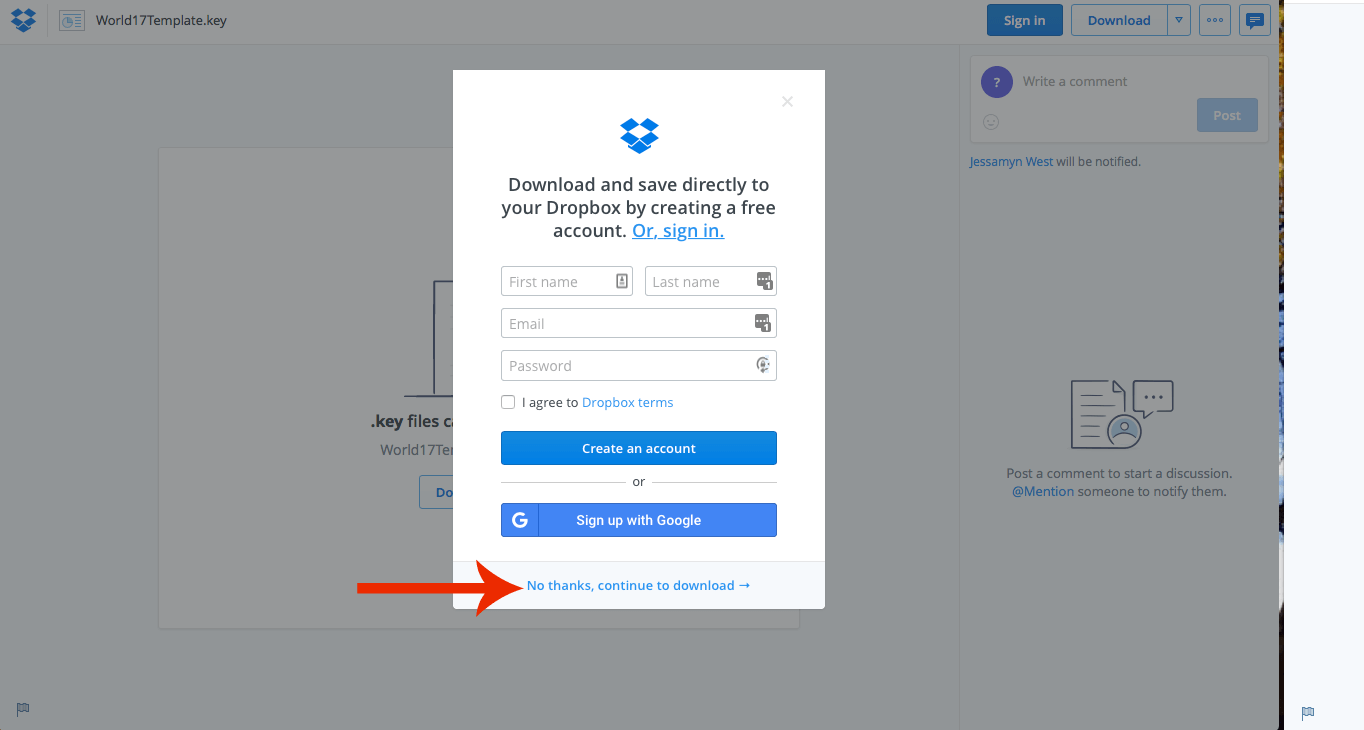 Audio/Visual Equipment (top)
Here is a list of the equipment we will provide in each training room:
For Individual Speakers: Podium, screen/projector, lectern microphone, wireless lapel mic, computer (Mac), slide advancer, digital clock, audience participation mic
For Panels: Same as above plus table, chairs and panel microphones (2 speaker sessions will have 2 lapel mics, but panels of 3 or 4 will use panel microphones)
Keynote speakers: Shawn Quintero (shawn@socialmediaexaminer.com) will be in touch with you directly to coordinate your set-up, rehearsal time and schedule.
Please submit your additional A/V requests or set-up needs using the form below, such as chair(s) or a stool, table, flip chart, markers, whiteboard, etc. If you plan on presenting using anything other than your own computer (ie tablet, phone, the Mac we provide in the room), please indicate this in the form below so we have appropriate cables and connections available.
Book Store and Signings (top)
Do you have a book that you specifically want available within the bookstore at the networking plaza? Barnes & Noble will be managing our bookstore and author book signings from 7am-7pm on Thursday and 7am-6pm on Friday.
We plan on having the following books available. If a book you would like is not listed, please list it in the form below by February 24th. If there is a book listed you'd rather us not order please also let us know in the form below by February 24th.
Schedule your book signing by filling out the short form below. We have 30-minute time slots available on a first-come, first served basis. Joanne (joanne@socialmediaexaminer.com) will confirm your exact time slot via email within the week of your request.
Table Talks (top)
We are offering limited table talks on both days at lunch. This is a chance for attendees and speakers to discuss a wide variety of social media topics over lunch.
If you're interested in facilitating a discussion in your area of expertise, please fill out this simple form. You can choose to do this on one or both days.
Many of our speakers have found this to be a valuable way to create deeper connections with their fans and provide helpful insights.
Dietary Restrictions (top)
Vegetarian? Vegan? Kosher? Gluten-or Lactose-Free? Please note your food restrictions in this form by March 8th and we'll have information about your meals ready for you at registration.
Pre-Networking Party (top)
Arriving early or already in San Diego? Join us Tuesday evening at 8:00 PM at the Hyatt bar for a little informal gathering before the official festivities begin on Wednesday.
Join the SMMW17 Chorus (top)
Do you like to sing? Enjoy being on stage? We are looking for 40-50 singers to join our third annual Social Media Marketing Chorus. If you're interested, please fill out this form. Send questions to Joanne (joanne@socialmediaexaminer.com) for more details.
Private Speaker Party – Save the Date (top)
We will be hosting a private party for speakers and VIPs on Wednesday, March 22nd from 4:30-6:30pm (watch for an invite via email with details). Please plan to arrive in time for this, if you're able. Many of our speakers find this to be one of their favorite gatherings.
Can We Quote You? (top)
Leading up to the conference and during the conference we plan to share graphics featuring quotes from many of our speakers. It would help us feature you if you provided a short quote highlighting one of your core mantras about social media. Keep it to 140 characters or less.
Here's a sample: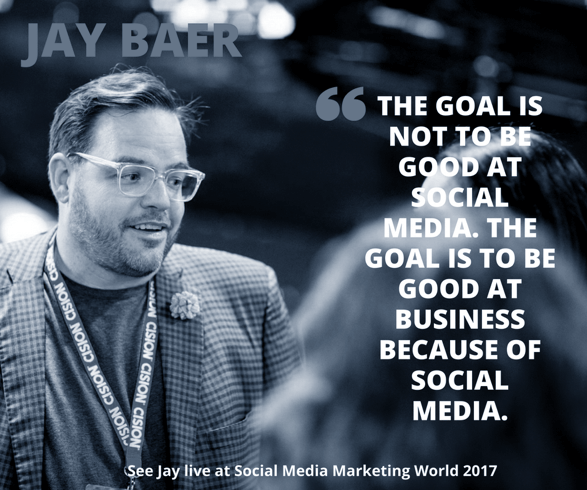 Just drop your quote here and we'll do the rest or you can also email your quote to Joanne (joanne@socialmediaexaminer.com).
Facts About Our Audience (top)
We anticipate over 3000 marketers to attend this year's event. The crowd consists primarily of savvy marketers who are eager to improve their knowledge and skills related to social media marketing. They prefer no-fluff, highly tactical sessions that provide insights and tips that can be applied right away. Here are some findings from a recent survey:
Experienced social media marketers: 70% have been using social media for at least 2 years; 38% for over 5 years
Business size: 48% work for businesses with 10 or fewer employees; and 20% work for companies with 500+ employees
Job titles: 28% managers, 17% specialists, 33% CEO/President/Owner
Audience: 43% B2B, 57% B2C
International: 15% come from outside North America representing nearly 50 different countries
Time Invested: 60% of the audience is spending more than 10 hours per week on social media marketing
Room Diagrams (top) –
Coming Soon
Ground Transportation (top)
We've partnered with Lyft to provide your transportation to/from the airport. The details will be provided after March 1st.
Traveling Internationally?(top)
Visit our international resource page for networking ideas, travel tips, and more.
Questions? (top)
Jessamyn, Liz, Wendy and Christina are here to help you with anything you may need regarding Social Media Marketing World.

Jessamyn | jessamyn@socialmediaexaminer.com | (503) 791-5657


Liz | liz@socialmediaexaminer.com | (858) 245-7211


Wendy | wendy@socialmediaexaminer.com | (801) 822-9807


Christina | christina@socialmediaexaminer.com | (206) 999-5119
Questions? Visit us in the Speaker Office Room (23A).