Experience all Social Media Marketing World sessions
Get Your Marketer Ticket to Social Media Marketing World 2020
Is an All-Access Ticket to Social Media Marketing World 2020 outside your budget?
Consider the Marketer Ticket to Social Media Marketing World 2020.
With this ticket, you'll get full access to all of our sessions, tracks, keynotes, and our massive Networking Plaza.
Simply said, the Marketer Ticket provides access to ALL of our content presented on Monday, March 2 and Tuesday, March 3, 2020. It's ideal for marketers who want to focus on sessions.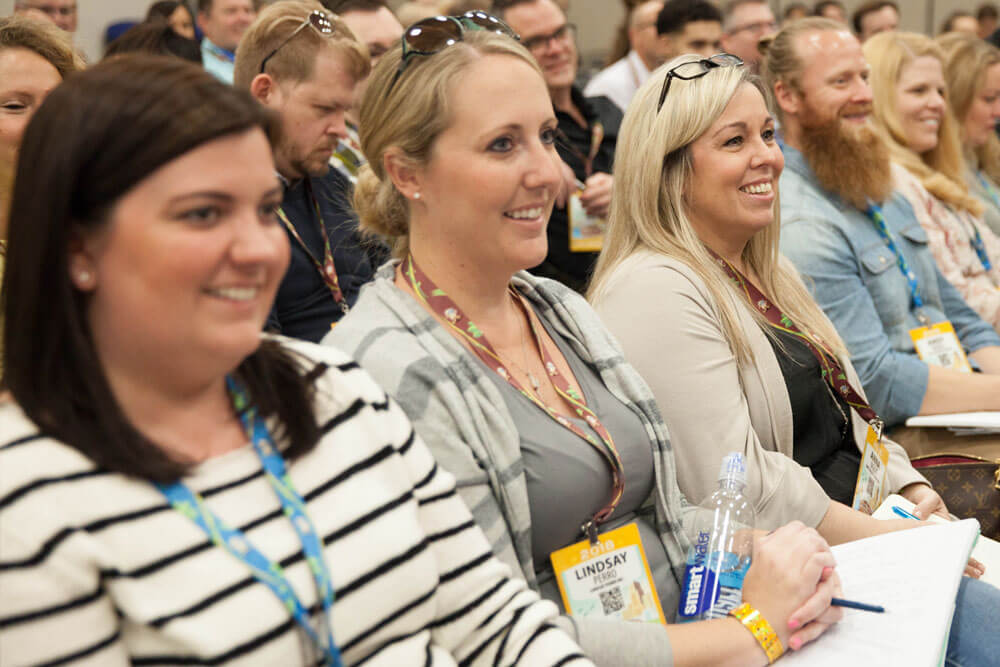 Why Consider a Marketer Ticket?
Attend ANY of the sessions, tracks, and keynotes at Social Media Marketing World
Network with the world's leading social media marketers and influencers inside our Networking Plaza
Take advantage of table talks, where you'll connect with people who could become your future business partners, mastermind members, influencers, or customers
How the Marketer Ticket Works
1. Access ANY of our sessions, tracks, and keynote presentations
With the Marketer Ticket you be able to attend ANY of our sessions across 17 tracks.
You'll enjoy continuous learning opportunities in ALL of our tracks (Facebook ads, Facebook organic, Instagram marketing, Messenger bots, live video, social strategy, content marketing, analytics, video creation, YouTube for business, corporate marketing, local business marketing, LinkedIn marketing, Twitter marketing, Pinterest marketing, and Snapchat marketing).
"Whatever the trends are, you learn them here, so you can stay sharp, you can make sure that your business stays relevant and increases profits," said Sean Cannell.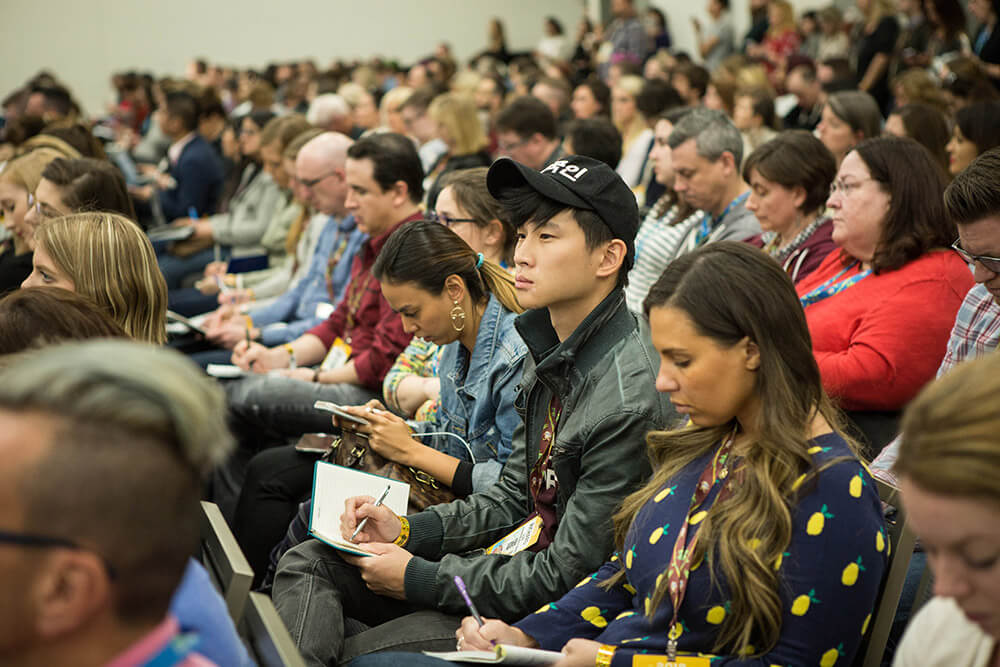 Each morning and afternoon we bring all of the event attendees together for spectacular entertainment and keynote presentations. You'll get access to them all.
"I just couldn't take notes fast enough," said Joycelyn Boudreaux.

Click to Explore the 2019 Agenda
2. Network in our massive Networking Plaza
Want a place to sit and talk? Thinking about doing interviews? Our Networking Plaza is a large, centrally-located space where you can do some serious connecting—on your schedule. We provide opportunities for: (1) brands and businesses to connect with influencers, (2) marketers to connect with fellow marketers, and (3) influencers to connect with each other.
Here's how we do it:
Table Talks: We provide a wide array of "topic-based" tables for you to meet and talk about topics of interest—around-the-clock. During lunch, many tables are frequented by speakers and other experts.
Connections Corner: We have dedicated staff to help you make the connections you want to make!
"The chance to meet fellow social media folks was fantastic," said Rebecca Kowalewicz.
What am I missing by not getting the All-Access Ticket?
#1: Workshops: The All-Access Ticket provides exclusive access to an extra day of Workshop content. Our 90-minute workshops focus on content creation, business building, and more.
#2: Parties: All-Access Ticket holders also are provided exclusive access to our famous networking parties.
#3: Recordings: The All-Access Ticket also includes recordings of all sessions, workshops, and keynotes. This makes it easy to review what you missed.
Just the Facts
WHO: This Marketer Ticket is ideal for any marketer, business owner, or influencer who wants to have full access to all of our sessions and tracks.
WHAT: The Social Media Marketing World Marketer Ticket provides in-person access to all of our sessions, tracks, keynotes, and our massive Networking Plaza.
WHERE: Inside the San Diego Convention Center.
WHEN: Monday, March 2 and Tuesday, March 3, 2020.
WHY: You'll be able to experience valuable sessions that could further your marketing while making the type of connections that simply are not possible online.
HOW: When you purchase your Marketer Ticket, we'll email you instructions for pre-event activities and on-location experiences.
Get Your Ticket Now

Sale ends
Friday, July 19th, 2019
.
If you discover just one new tactic or strategic connection that furthers your marketing success, the investment in your ticket will have paid for itself many times over.
Refunds/Transfers: You may cancel your participation in Social Media Marketing World 2020 at any time, but please be aware of the following cancellation policy: If you cancel before October 31, 2019, you will receive a full refund. If you cancel between November 1, 2019 and November 29, 2019, you will be refunded 50% of your registration fee. If you cancel after November 29, 2019, you are not eligible for a refund but may send someone in your place. You may resell your ticket up until 2 weeks prior to the event. To request a refund or fully grant your access to the event to another person, email world@socialmediaexaminer.com. Only requests made by the original purchaser/registrant will be honored.
Common Questions Answered
How do I convince my boss to send me?
Great question! Simply use the letter we created for you here.
Does the Marketer Ticket include recordings of content?
This ticket includes access to live content only. You have the option to purchase a Virtual Ticket, which provides full online access to all recorded sessions from the physical conference.
Will I be able to access the evening networking parties?
To keep the costs of this ticket exceptionally low, you won't be provided access to our very costly evening networking parties. Only All-Access Tickets gain access to those special events.
If I purchase a Marketer Ticket, can I later upgrade?
Indirectly yes. If you purchase an All-Access Ticket and you had previously purchased a Marketer Ticket, we will issue you a refund on your Marketer Ticket.
What is the schedule?
Click here for the schedule.
What if I still have questions?
Option 1: Click here for the most common questions people ask and our answers.
Option 2: You can also email world@socialmediaexaminer.com.
div
Home | Agenda | Networking | Speakers | Travel | Hotel/Venue | About | FAQ | REGISTER