Experience All of the Social Media Marketing World Live Sessions
Get Your Marketer Ticket to Social Media Marketing World 2024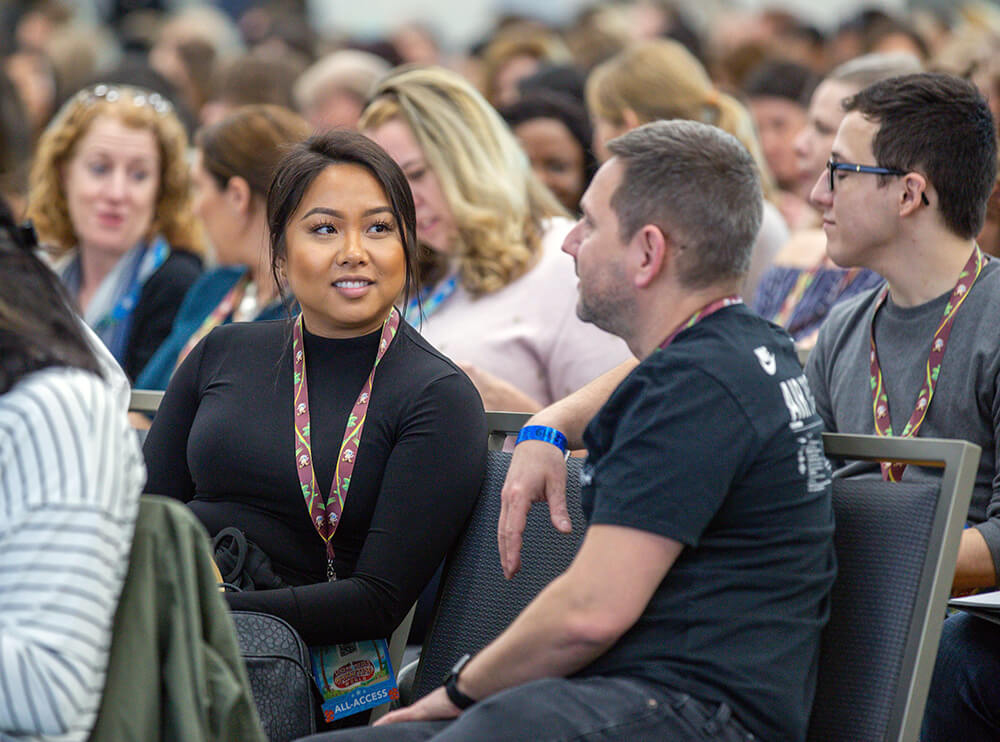 Is an All-Access Ticket to Social Media Marketing World 2024 a little outside your budget?
Consider the Marketer Ticket instead!
With this ticket, you'll get full access to all of our sessions, tracks, and keynotes.
Simply said, the Marketer Ticket provides access to ALL of our content presented from February 19 to 20, 2024. It's perfect for marketers who want to focus on learning.
How the Marketer Ticket Works
Access ANY of our sessions, tracks, and keynote presentations
With the Marketer Ticket, you are able to attend ANY of our sessions across 3 tracks: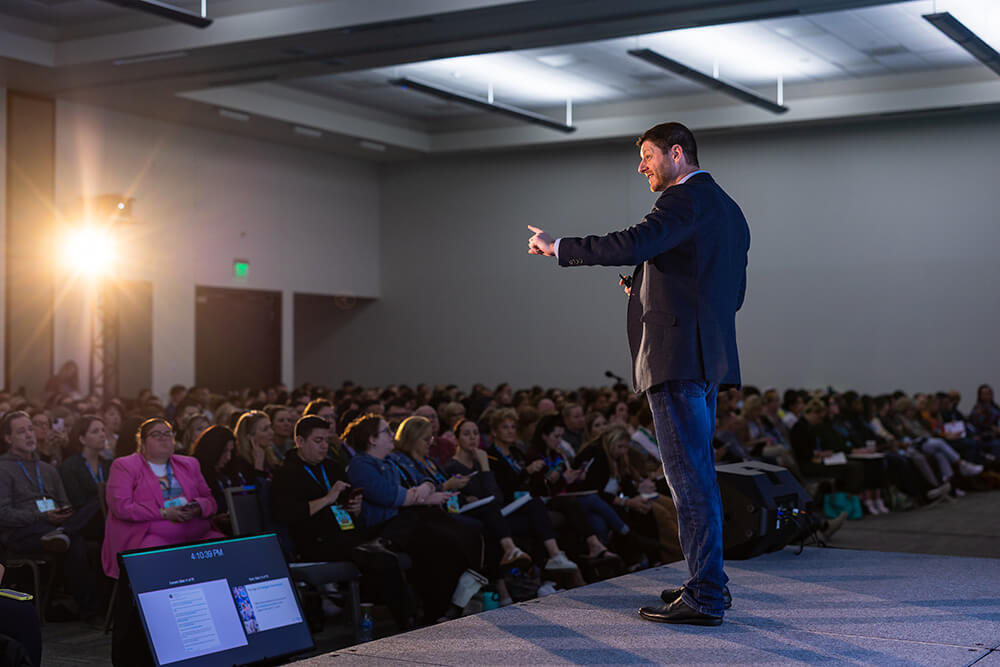 ✅ Marketing strategy: Wondering what to do about AI? Are you looking for a master plan to guide your future marketing? Let our expert trainers show you different ways to achieve your objectives.
✅ Organic social marketing: Covering Instagram, Facebook, LinkedIn, TikTok, and beyond, you'll improve your exposure, engagement, and sales.
✅ Paid social marketing: Want to master paid acquisition from Facebook to YouTube? Let our expert trainers show you precisely how to capitalize on ads across all the major social platforms.
"Whatever the trends are, you learn them here so you can stay sharp, you can make sure that your business stays relevant and increases profits," said Sean Cannell.
SEE THE LIST OF SPEAKERS AND SESSIONS
What Am I Missing By Not Getting the All-Access Ticket?
#1: Workshops: The All-Access Ticket provides exclusive access to an extra day of Workshop content. Each 90-minute workshop focuses on expanding skills in critical areas including, storytelling, search engine optimization, copywriting, and beyond.
#2: Recordings: The All-Access Ticket also includes recordings of all sessions, workshops, and keynotes. This makes it easy to review what you missed.
#3: VIP Networking Party: All-Access ticket holders receive exclusive access to our famous VIP networking party. Connect with amazing marketers AND have a lot of fun at this party that is not to be missed.
#4: Streaming: Wake up late or miss your flight? No worries! All-Access ticket holders can stream all keynotes or sessions live.
Just the Facts
WHO: This Marketer Ticket is ideal for any professional marketer who wants to have full access to all of our learning sessions and tracks.
WHAT: The Social Media Marketing World Marketer Ticket provides in-person access to all of our sessions, tracks, and keynotes.
WHERE: Social Media Marketing World is held at the San Diego Convention Center, located along the San Diego Bay at 111 W. Harbor Dr., San Diego, CA 92101.
WHEN: The Social Media Marketing World conference takes place February 18 to 20, 2024.
WHY: You'll be able to experience valuable sessions that could further your marketing while making the type of connections that simply are not possible online.
HOW: When you purchase your Marketer Ticket, we'll email you instructions for pre-event activities and on-location experiences.
"Within minutes, I knew I had made a great decision. The speakers and attendees were some of the most distinguished people in social media sharing their knowledge first-hand. The connections I made and the information in the sessions have paid off tenfold for me and my team," said attendee Noah Stanley.
Get Your Marketer Ticket Now
If you discover just one new tactic or strategic connection that furthers your marketing success, the investment in your ticket will have paid for itself many times over.
🔥 Sale Ends Soon! 🔥
Need to convince the Boss? We've got you covered! Click here for an email template.
Register risk-free! You can cancel your registration within 24 hours of purchase for a full refund*.
Refunds: Here's how our policy works. You may cancel your participation in Social Media Marketing World 2024 within 24 hours of your purchase (*prior to January 15, 2024) for a 100% refund. If 24 hours have passed since your purchase, please be aware of the following cancellation policy: If you cancel before October 31, 2023, you will receive a full refund. If you cancel between November 1, 2023, and November 29, 2023, you will be refunded 50% of your registration fee. If you cancel after November 29, 2023, you are not eligible for a refund. To request a refund, email [email protected]. Only requests made by the original purchaser/registrant will be honored.
Wondering Whether It's Worth It?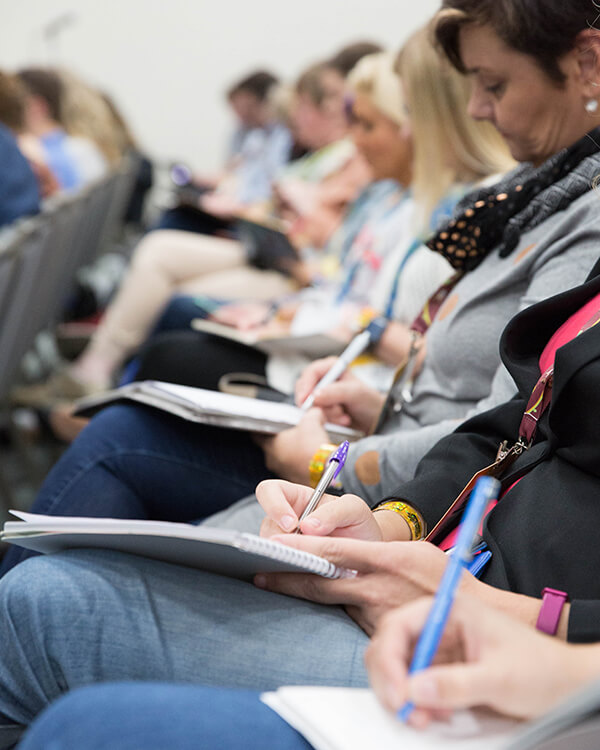 Still on the fence? Hear what other marketers have to say about the conference:
"Unless you've been here, you can't know how incredibly life-changing it can be for your business. It is by far, bar none, the best content-driven conference I have ever been to. I can't say enough good things about it," said Sarah Brodie.
"Social Media Marketing World is the best thing that I've ever done professionally, and I love it," said Scott Duehlmeier.
"Everything has changed, and this is where you're going to get the latest, greatest information–the stuff that's hot right now. And you're not going to learn it anywhere else in the world, other than Social Media Marketing World," said Rita Balos.
"It's definitely worth it. The investment is going to pay off in spades when you look at all the stuff you come away with and if you take full advantage of the opportunities. You make these lifelong connections. I've made a lot of friends here that I continue to pick their brains and vice versa, and it's a really rewarding experience," said Jared Lyman.
"Everyone is here who matters and who wants to learn and hang out with like-minded people. So, this is a good investment. Money and time. It's worth it," said Bea Ploe-Bokor.
Take the Virtual Tour:
Have Questions About the Marketer Ticket?
What is the schedule?
You can find the current schedule here.
Are workshops included in the Marketer Ticket?
No. Live workshop access is included in the All-Access ticket.
Will recordings be available?
No. Recordings are only included in the All-Access ticket.
How do I convince my boss to send me?
Great question! Simply use the letter we created for you here.

What if I still have questions?
Option 1: Click here for the most common questions people ask and our answers.
Option 2: You can email [email protected] and we will get back to you right away.
div